One of my favorite things to DIY are sugar scrubs, because they are a cinch to put together (even kids can do it!), they make great gifts, and you end up smelling like a spa when you're done.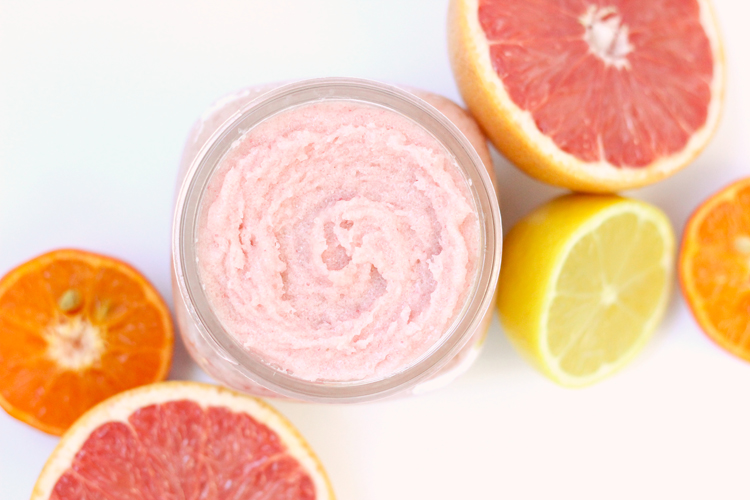 (deep breath)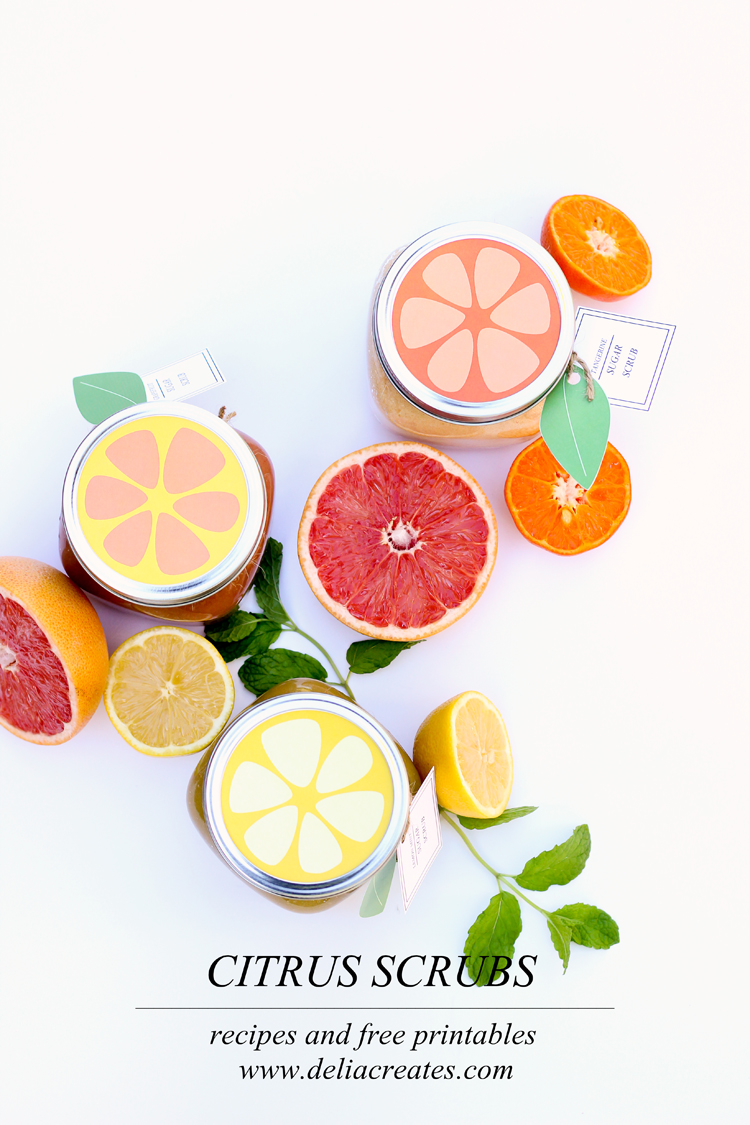 aaaahhhhh. :)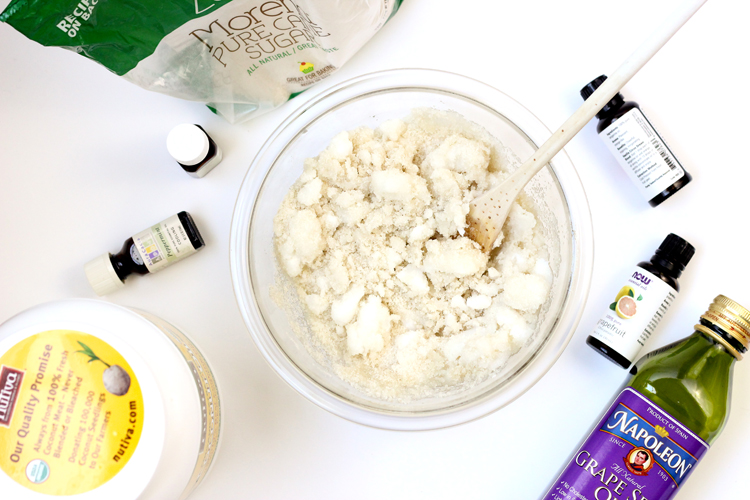 BASIC RECIPE
Sugar scrub recipes are as flexible as flexible can be. This recipe ratio is helpful and easy to remember though:
***Combine two parts sugar to one part carrier oil.***
Then add essential oils to your desired scent strength. I like mine to smell strong, so I use about 30 drops per cup of sugar.
Mix well, until completely incorporated and smooth.
Optional: Add ONE drop of food coloring to add a tint of color. Be careful not to add more than one or two drops. You just want to add enough color so that it looks attractive and natural.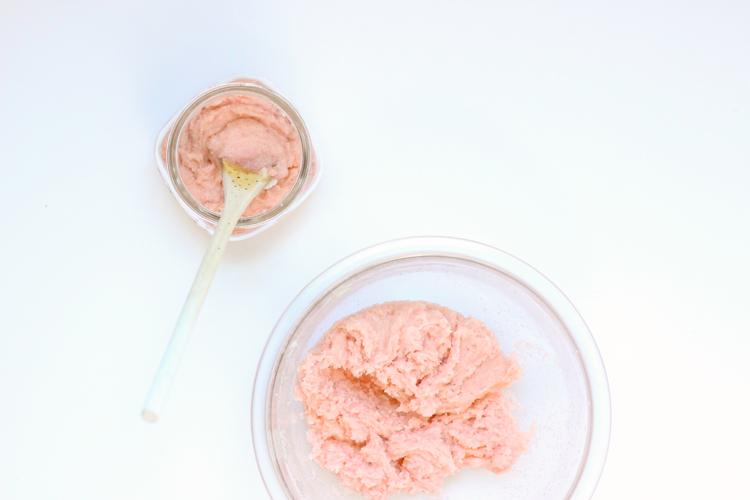 That's it! Easy right?
If you use a runnier oil, like olive oil, this ratio will give you a consistency that is similar to the sugar scrubs you get at Trader Joe's. Once it's spooned into a jar, the sugar will settle at the bottom and it will be a little oily at the top. If you want a less oily mixture, simply add more sugar and add less oil. You really can't mess a sugar scrub up!
Note: If using coconut oil, the ratio is 1.5 parts sugar to 1 part oil. The mixture will be creamy and thick.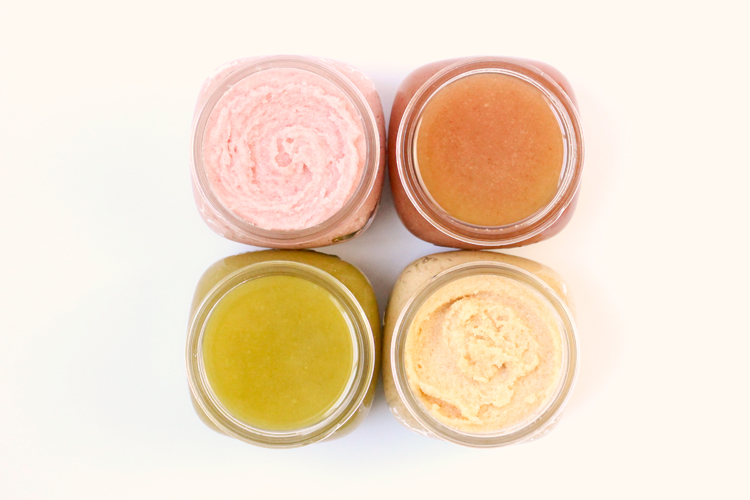 INGREDIENTS
Let's talk a minute about the ingredients:
Sugar: White sugar or brown sugar. Either works great. You can use a mixture of both if you want. I used a natural cane sugar for all the recipes in this post.
Carrier oil: You can use olive oil, grapeseed oil, coconut oil, avocado oil, sweet almond oil, etc. I wouldn't use canola or vegetable oil. You want to use oils that are nourishing to your skin.
If you use coconut oil, keep in mind that some oils smell of coconut more than others and may affect your recipe.
Essential oils: I buy mine at the health food store for about $5-9 per bottle. Use your nose to pick your scents. The same scents can smell different from brand to brand.
CITRUS SCRUB RECIPES
As I mentioned before, sugar scrubs are flexible and fun to experiment with. If you want some tried and true recipes though, here are a few of my own, along with some coordinating labels and tags (free printable at the end).
Please note: These recipes make about 2 cups of sugar scrub, just enough to fit into a pint sized jar. 
Grapefruit Sugar Scrub 
2 cups cane sugar + 1 cup grapeseed oil + 65 drops of grapefruit essential oil + 2 drops of pink food coloring
2 cups cane sugar + 1 cup grapeseed oil + 40 drops of lemon essential oil + 20 drops of peppermint oil  + 1 drop of yellow food coloring (my lemon essential oil, was already pretty yellow)
Tangerine Sugar Scrub
1 1/2 cups cane sugar + 1 cup softened coconut oil + 60 drops of tangerine essential oil + 1 drop of red and 1 drop of yellow food coloring
*Notes:
– Remember the ratio for coconut oil is different: 1.5 cups of sugar to 1 cup of oil.
– I used a high quality, organic coconut oil with a strong coconut scent and probably could have labeled this a tangerine coconut scrub. Tangerine and coconut complement each other well, so it works. If you don't want a strong coconut smell, consider using Lou-anna brand cooking coconut oil, which has a less noticeable scent.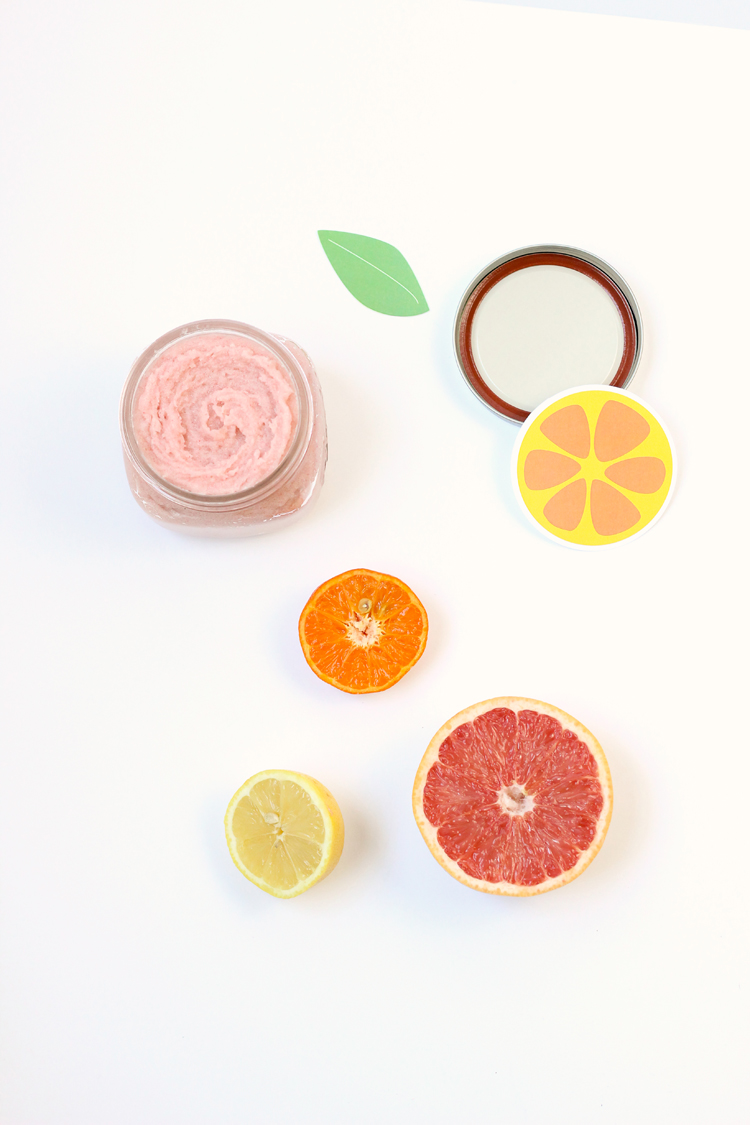 For my last batch, I just blended all the oils together in equal parts and used coconut oil as my carrier oil. Then I dropped in a drop of pink food coloring. It turned out to be my prettiest scrub!
TAGS + LABELS
To make the scrubs gift-worthy, I spooned my scrubs in to wide mouth pint sized mason jars and then added lid covers, leaves, and labels.
Ta da! :)
To get your free copy of the pdf printable for the lid covers, leaves and labels, click HERE.
The file includes a mixed variety of labels, as well as each orange, pink, and yellow citrus slice on it's own page. There is also a page of white filled in tags, and a page of blank tags.
Please Note:  The pdf file is sized to 8.5 by 11 inch paper and is available instantly through Google Drive. If you have trouble downloading instantly it from there, please email me at delia.randall@gmail to request a copy. Email delivery may take up to 10 business days. This file is for personal use only. Please do not copy, or redistribute this file on your own site or social media outlet.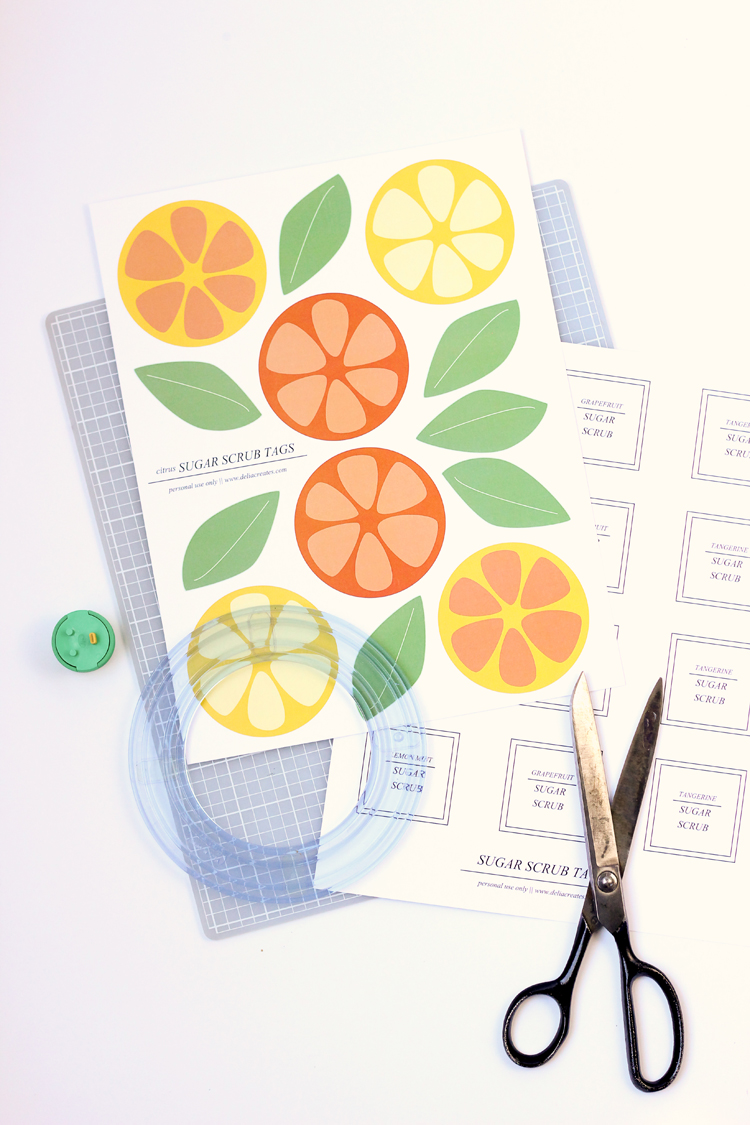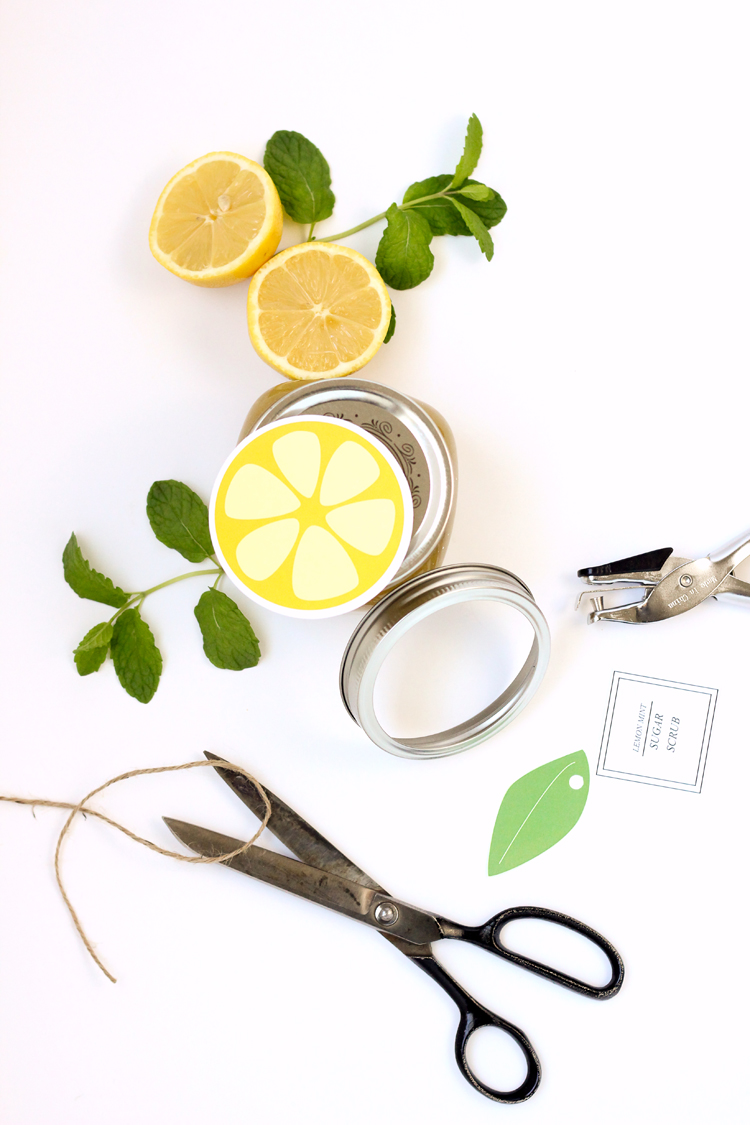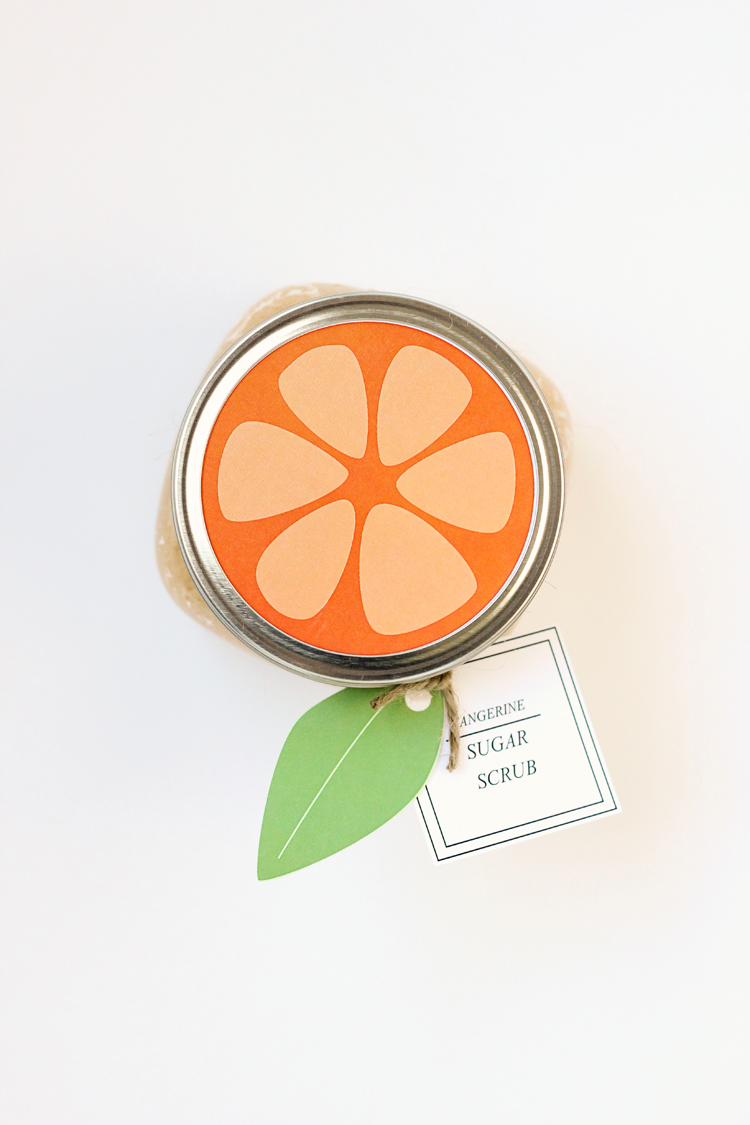 Simply cut out the circular citrus slices to cover the top of the mason jar lids (be sure to leave at least 1/8″ of white space around the perimeter) and screw the ring over the top to hold the lid cover in place.
Then tie some jute around the neck of the jar and add a leaf or two and a label.
Enjoy! :)