I hope you have all been enjoying your week!
My belly is full - in more ways than one,
my family is near, and we have what we need.
I am indeed very thankful this year.
I also tried a new pie crust recipe this week that has rocked my pie making world.
Now...it's not low-fat, but when you eat pie, what can you really expect?
It's the Lion House pie dough recipe, but I found it
here
.
Instead of using a mixer to blend everything, I used two knives and cut everything together before digging in with my hands. I also used cold milk instead of powdered milk and cold water.
This dough is incredibly forgiving and bakes up deliciously.
It made for a mighty fine breakfast the next morning too. :)
But sadly, I never got to taste this cherry pie.
I made it for a family dinner with some cousins, but my kids got fevers and nasty coughs. So the pie went over but we did not. I think it was good...I hope. :)
I'm still going to be on Thanksgiving "break" probably until next Tuesday, but before I go here are a few things I think you should know about...
Should be fun. Click on the button to find out more about it.
- If you're still on a Black Friday high...check out some handmade goodies available through this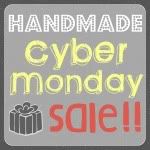 Vibrant Designs
will have a listing of some etsy sellers participating in Cyber Monday.
And I planned on posting this earlier, but if you want to take advantage of the Paper Coterie free $30 credit code, check out
this post
. You have about an hour and a half before it expires.