We are just over half a year into our new house, our first house (!), and I still feel like we are unpacking and organizing.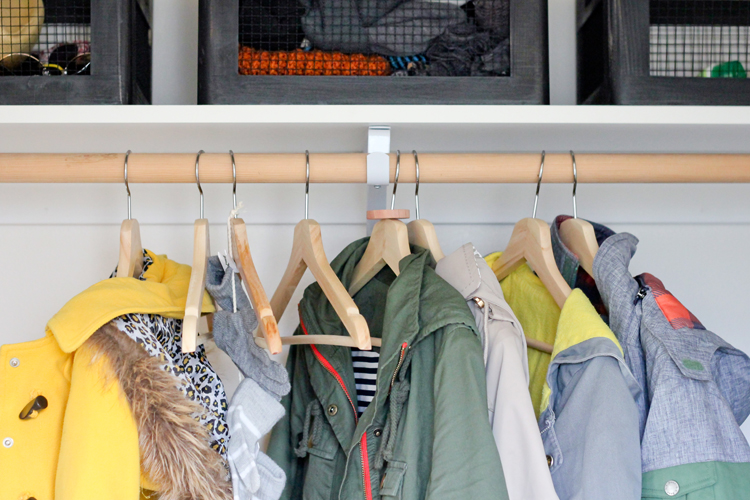 With so many house projects going on, we constantly feel busy but the progress is slow. One project I knew I needed to tackle for the New Year was our entry way. When I found out that the Michaels Makers project for January was organization I knew just what I was going to do!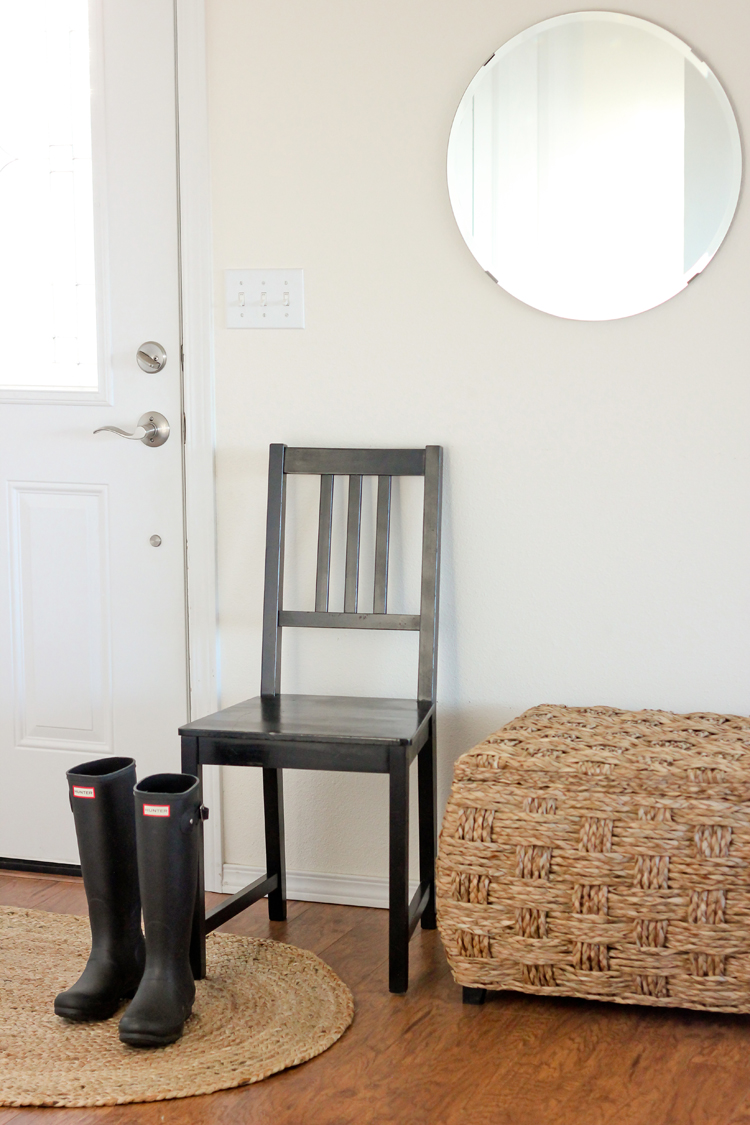 This is the before:
I wish this was staged, but it's all real and it's not even near it's worst.
Even though we are lucky enough to have a dedicated coat closet by the front door, our stuff still goes all over the place and it's hard to keep clean. My initial thought was to completely overhaul the closet by adding a bench and custom shelves, etc. As the rest of the house projects started piling up, that idea quickly got scrapped (at least for now!) and I started a simpler plan by adding some back pack hooks to one side of the closet. That helped a little but the closet still needed some more work.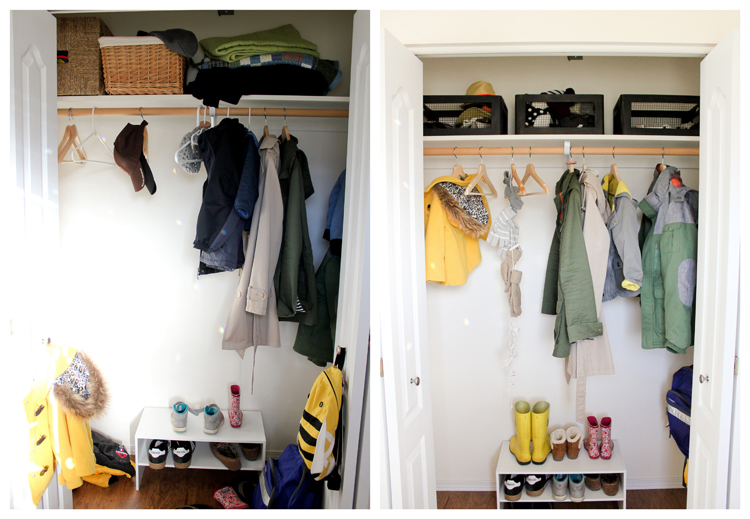 One trip to Michaels and I came home with a bunch of baskets, hooks, and rope to get the job done!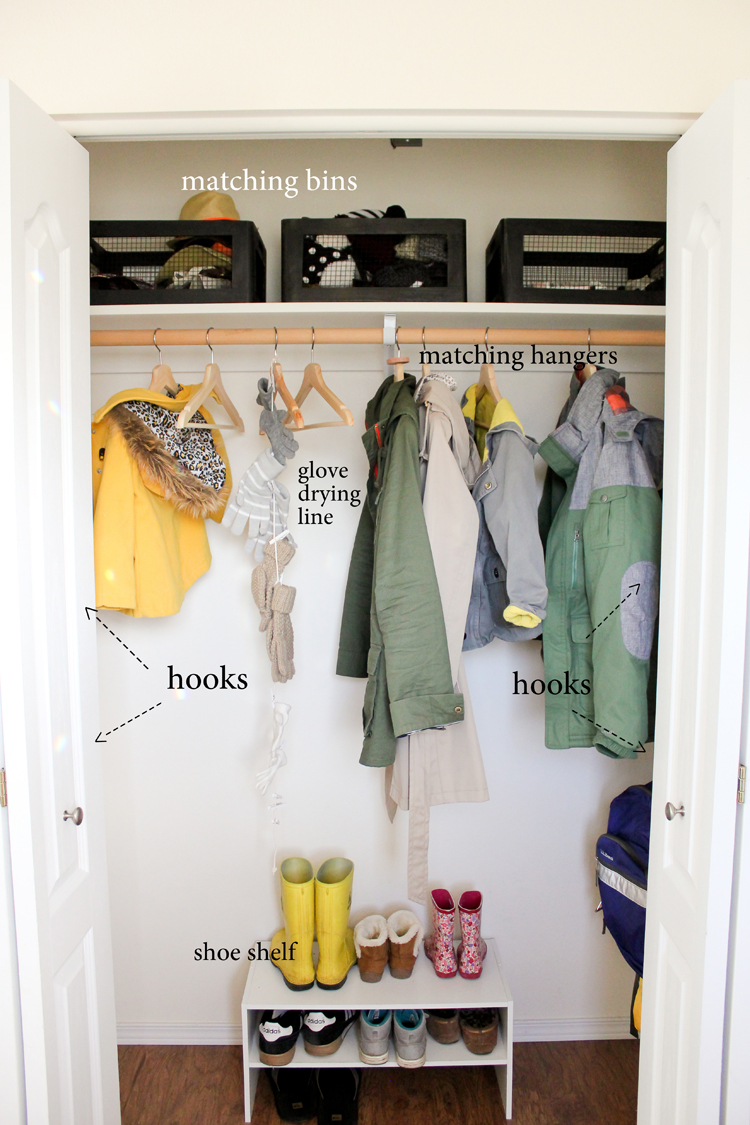 Using matching baskets on the top shelf organizes our summer and winter hats, gloves, sunglasses, and sunscreen with a little room to grow. I always like to purge and organize to the point where there is room to grow…because we always do!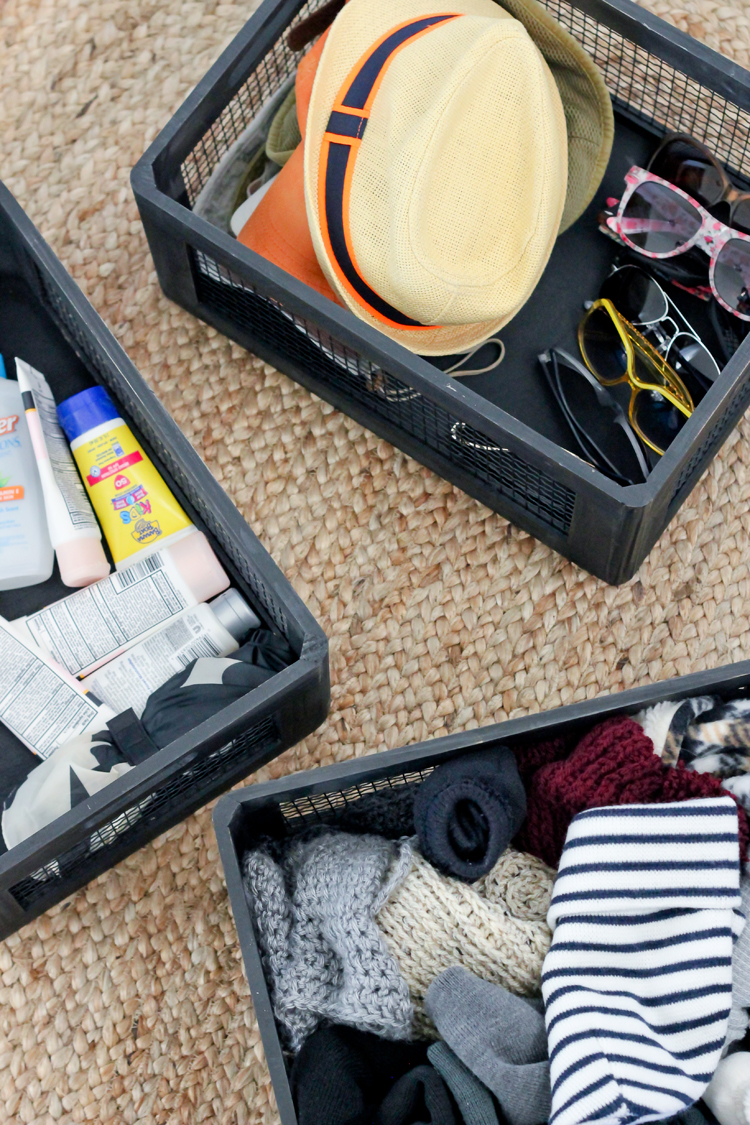 I really like these smaller black wood/wire baskets because I can easily see what's inside them but they're still designed to disguise the mess. I love them so much I'm actually thinking of goingback to get more of the smallest ones for some of my other shelves. (They come in three sizes. The ones pictured here are the medium size.)
They are light weight for easy access, which ensures that we will actually use them and keep our mess contained in them. The problem with the baskets that were there before is that one basket was heavy and awkward to  pull down and the other was too big so it was heavy and hard to pull down once it filled up with stuff.
The smaller, matching baskets add symmetry and functionality to the space.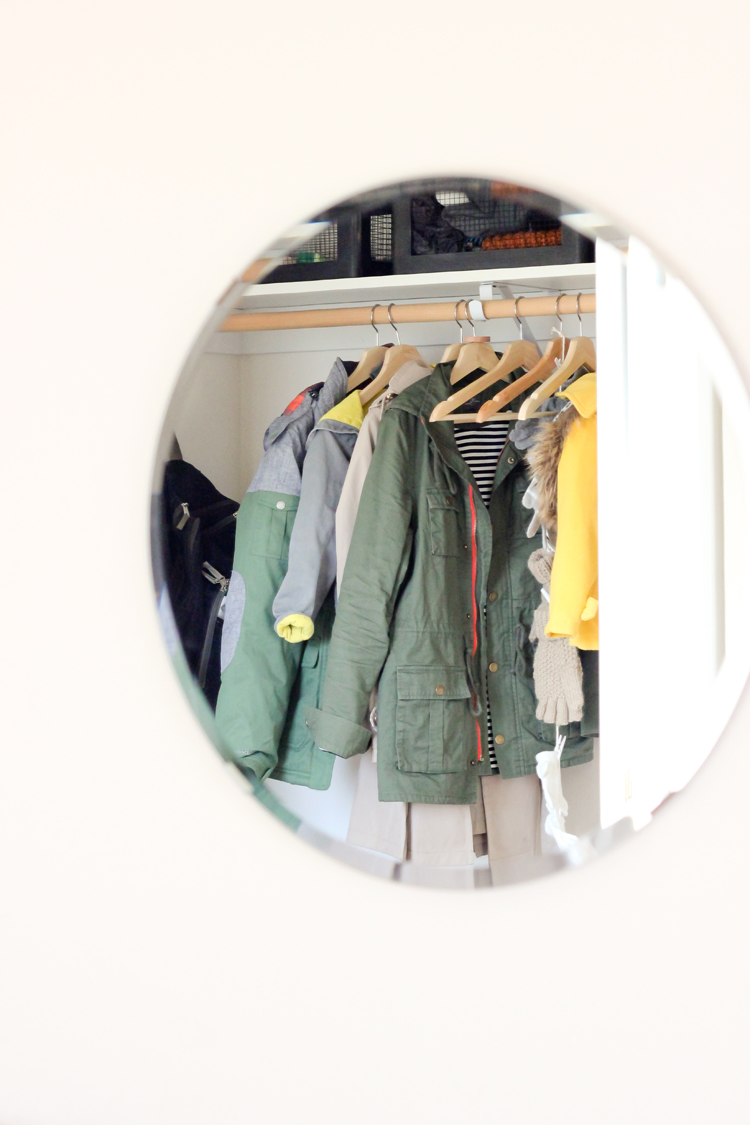 I added two 3M Command hooks (found in the framing section at Michaels) to the other side of the closet for my purse and Nat's preschool back pack. I may have to replace Nat's hook with a screw in heavy duty hook later when her backpack gets heavier like her brothers', but for now it works and is a much better solution than the closet hardware knob!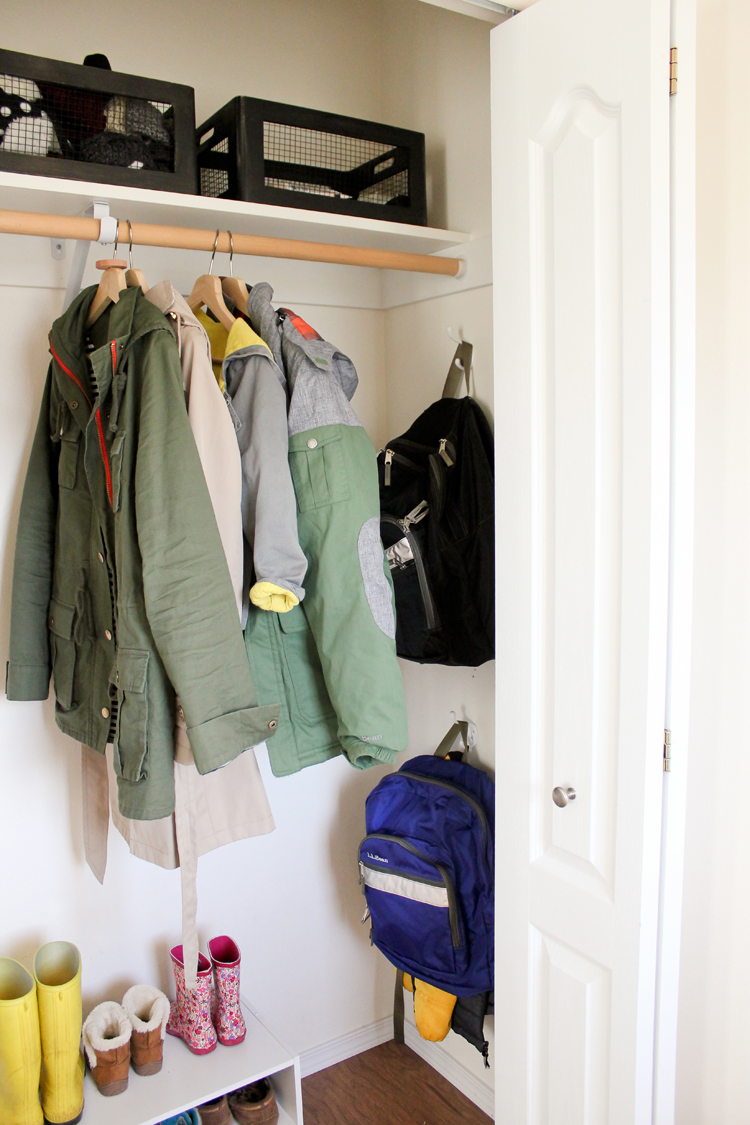 I added this little shoe shelf early on ($10 from Target) and it's helped us keep our shoes organized…most of the time. We still need to work on actually putting them there! I try to limit everyone to 1-2 pairs and then put the rest in their bedroom closets.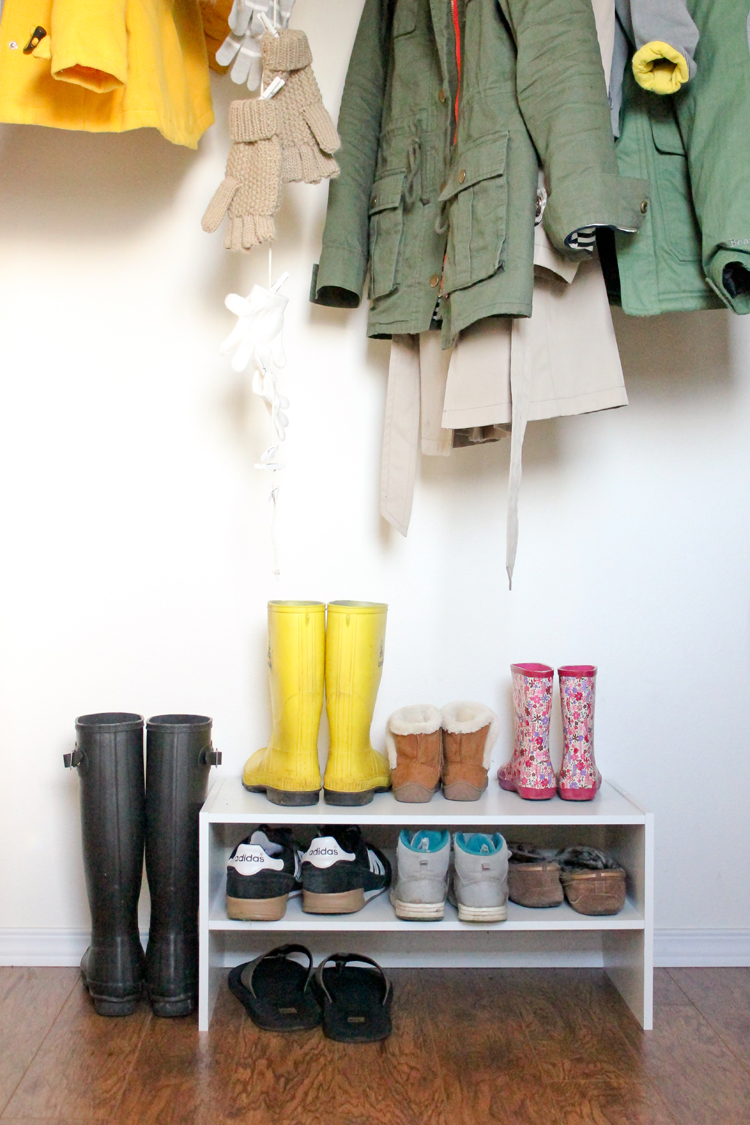 I switched out our hangers with all wooden ones from IKEA so that they would all match. It gives it a much more polished look.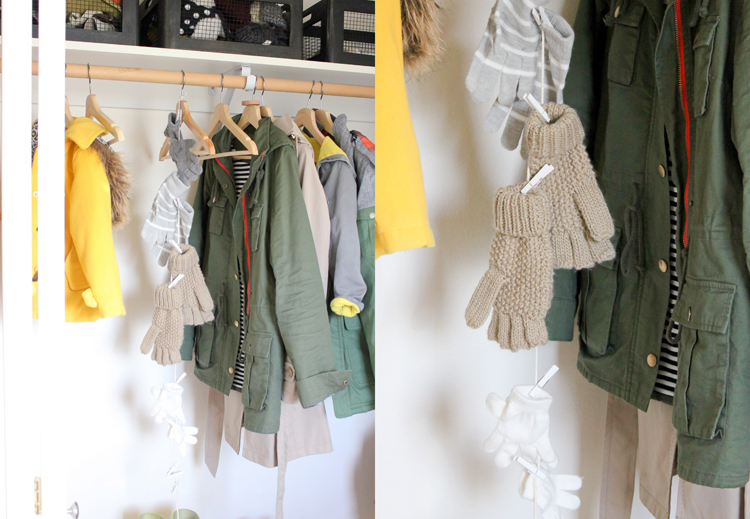 Hanging from one of those hangers is a piece of cotton rope and some wooden clothes pin clips from Michaels. I refuse to put wet gloves into the storage baskets, so I decided to hang this rope for clipping them up to dry. It also works as a way to store them through the winter, since we'll probably need to use them again by the time they're dried! It's also more accessible to my kids.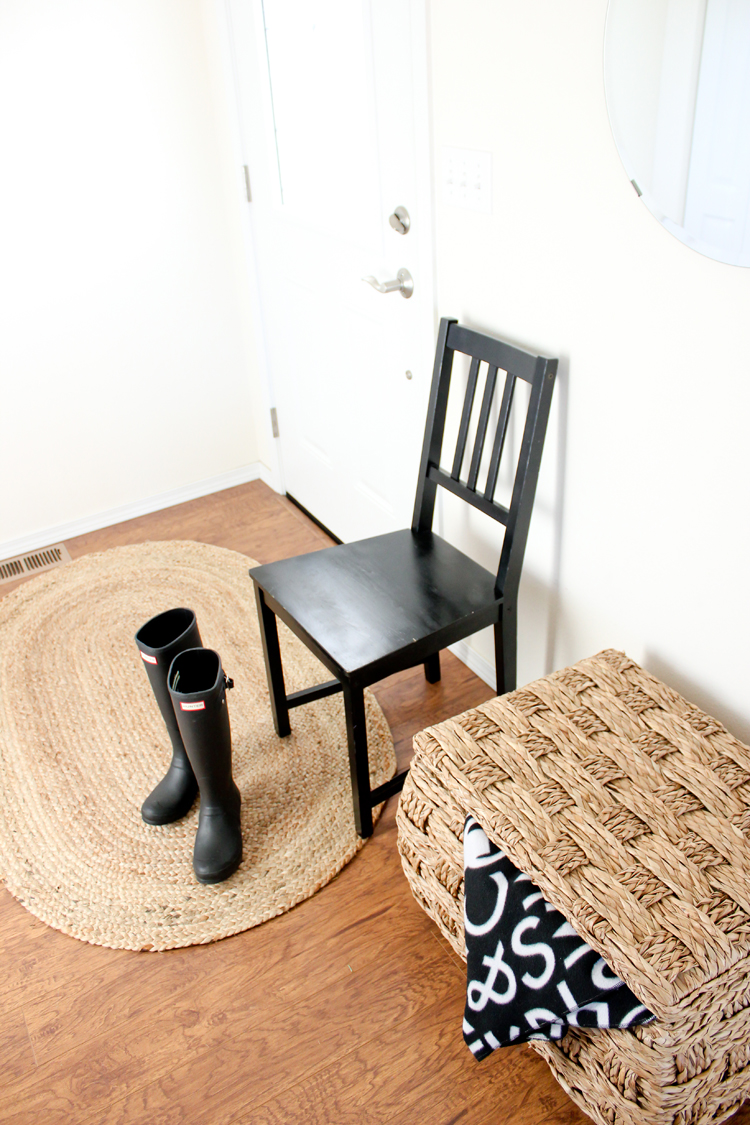 As for the extra blankets… Instead of storing them in the closet where it constantly looked messy, despite my constant folding, and where it was hard to access for my kids, we got a catch all chest sized basket (also from Michaels) to put by the front door. It holds extra blankets, as well as my husband's lunch box when he comes home from work.
It made the hair pin leg bench that was there before look out of proportion, so we've replaced it with a dining chair for now. I kind of like it though, so maybe we'll keep it? The hair pin leg bench is now hanging out as the piano bench I love it there (pictures to come).
I also added a jute rug from Rugs USA. It was less than $30 (including shipping and tax) and I seriously want one for every room in the house now.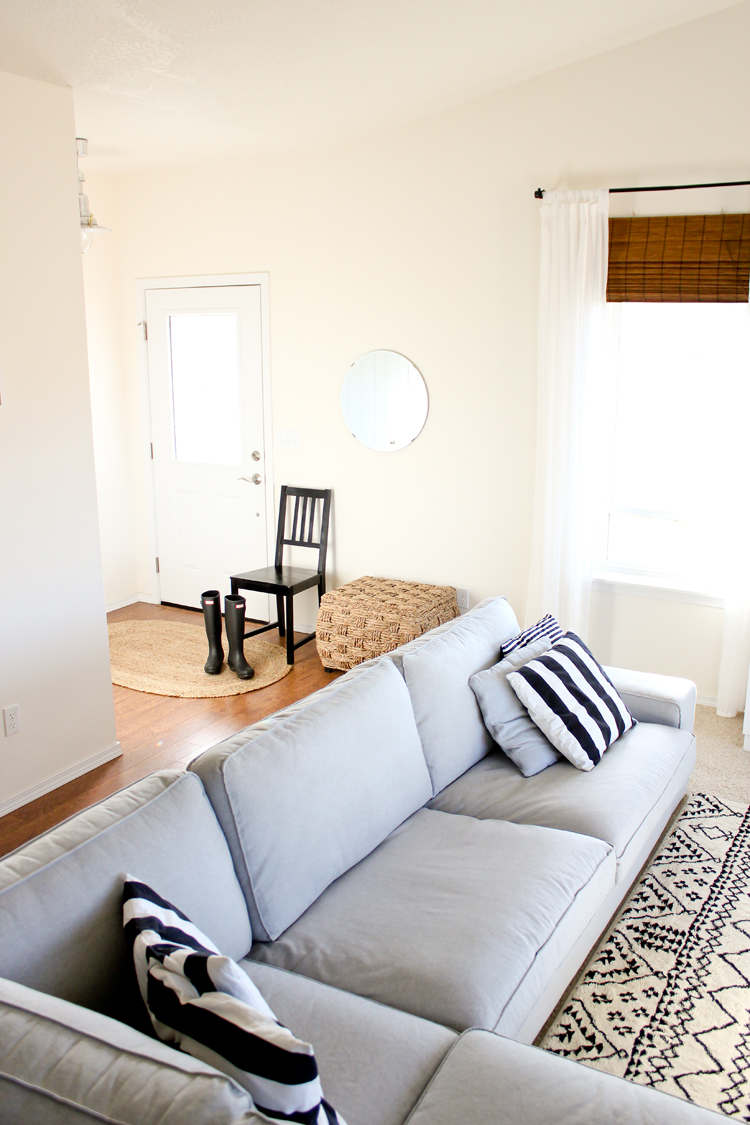 I think a clean, welcoming entry way is important in any house, but it feels especially so, since it opens right up to our open floor plan, living/dining/kitchen space!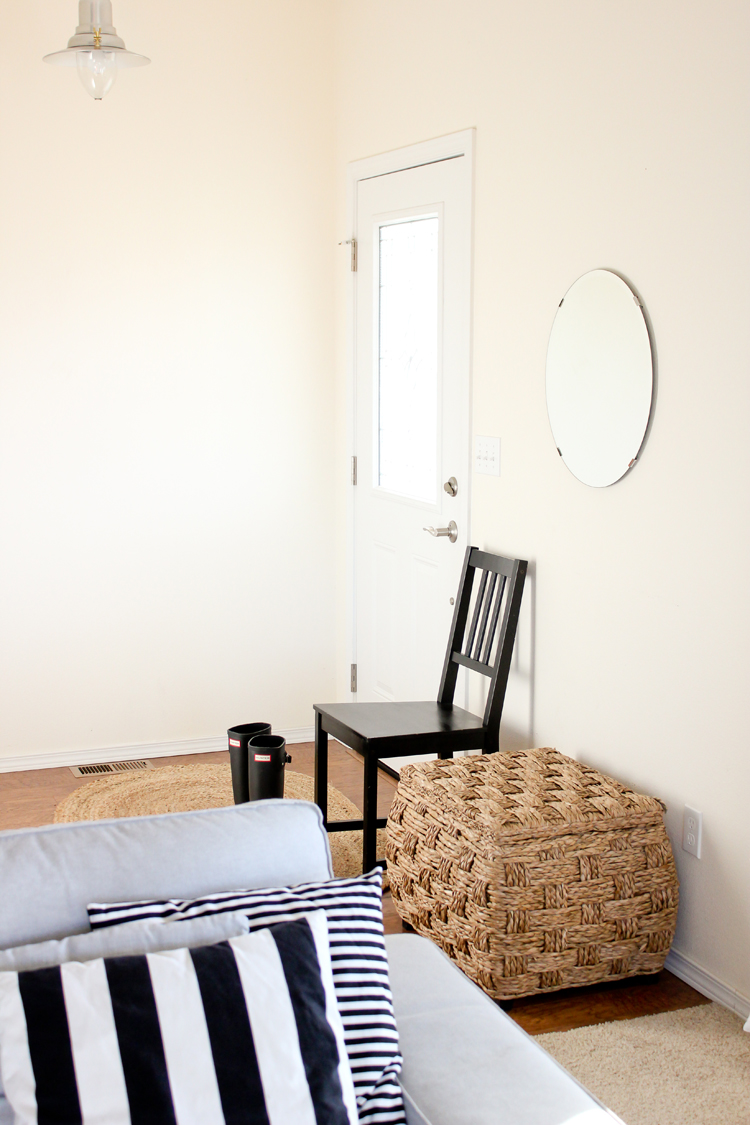 Having a designated place for everything makes keeping this space so much easier to keep organized, which is the ultimate goal when you're organizing. Amirite!?
We still have some decorating to do, but now I feel like I can since it's clean and ready to go!
Sources: All baskets are from Michaels (and are on 50% off right now!)|| cotton rope, clips, and hooks are also from Michaels|| rug is from Rugs USA || chair, mirror, and hangers are from IKEA || hairpin leg bench in before picture is from Amazon (links and more info to come) || shoe self is from Target.
(Psst…Michaels also just released a new organization project called Cre8ted Spaces available in stores now!)
For more organization ideas, take a look at some of the fun storage projects on Michaels.com or the other 49 makers' ideas on The Glue String for tips on designing, organizing and decorating their favorite places!