After the kids and I visited a u-pick farm to pick cherries, we have been on a cherry kick! I gathered a hefty load so I could do some recipe experimentation. One of the five recipes that turned out well, which I'll be sharing this week, is this Easy Cherry Lime Freezer Jam.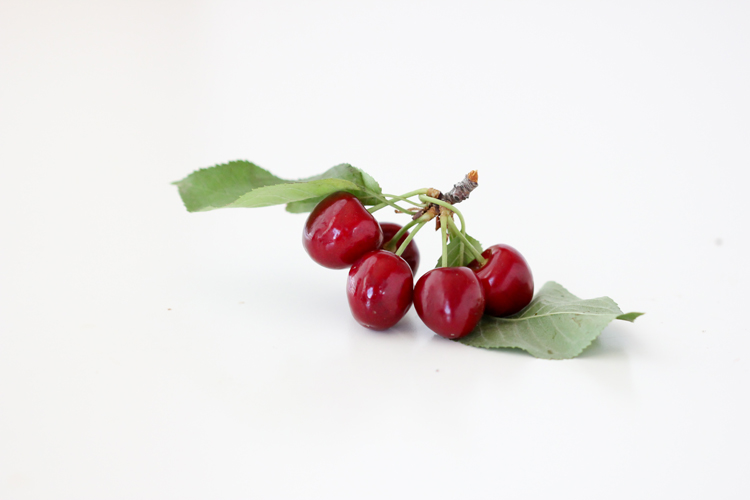 Let me tell you, cherry + lime = match made in heaven. I mean…really good.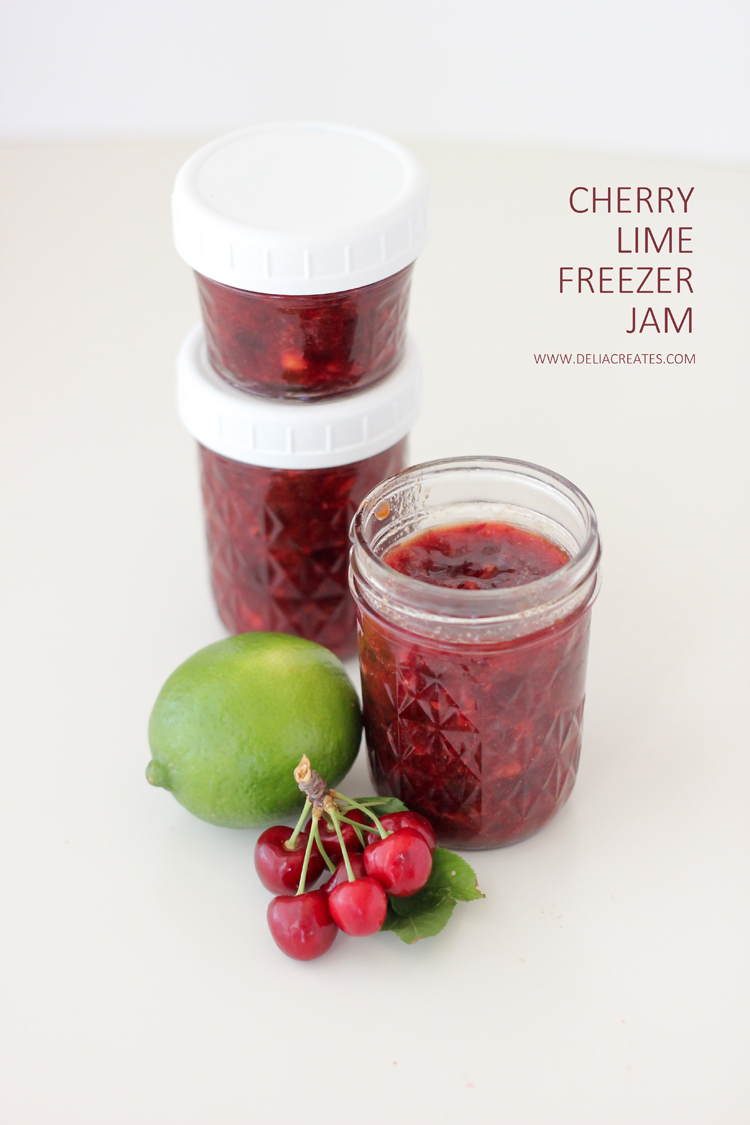 Now, a word about freezer jam. I prefer it for several reasons:
One, it uses significantly less sugar. I mean significant, as in about 1/6 of the amount, or less depending on the recipes you are comparing (between freezer and bottled jam recipes).
Two, it's as easy as not making pie! 😉 In fact, I think it's easier than making a cake mix. So, so simple.
Three, it's less expensive, less messy, and less time consuming. You can put freezer jam in any air tight container you can freeze. Yep…reuse old plastic containers, tupperware containers, or jars. It all works. No meticulous sterilizing of jars and lids and rings, and getting lids to seal properly; and no sticky, sticky, stickiness! Have I convinced you yet too? 😉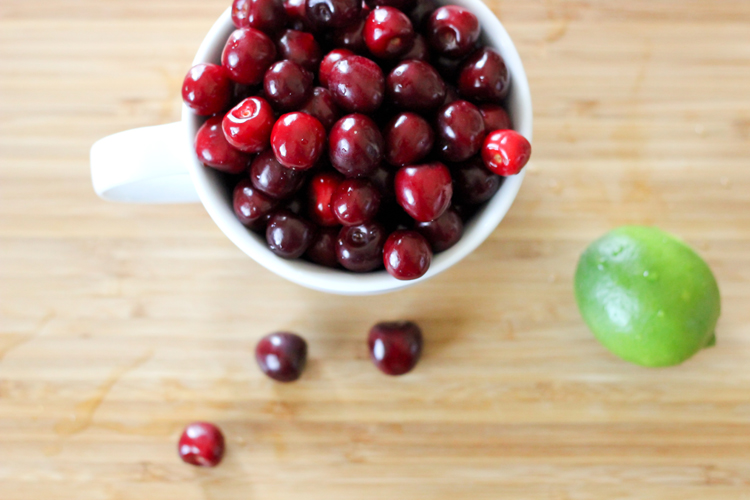 Don't get me wrong, I do love homemade bottled preserves. But, when I have the freezer space I almost always err towards freezer jam.
The lids you see below are freezer jam lids, which you can pick up along side canning supplies at almost any grocery store. But again, you don't have to use special lids or containers. Just make sure they are clean and airtight and you are good to go.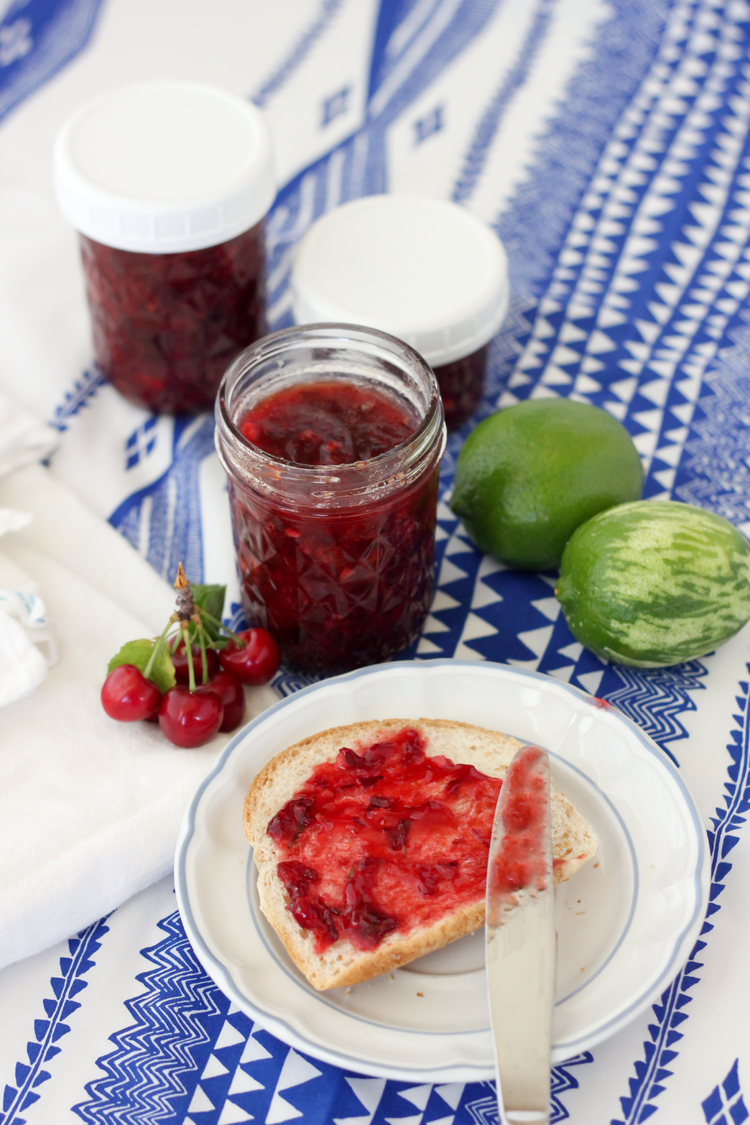 Let's get jamming, shall we?!
Before we totally jump in, let's talk about the elephant in the recipe. The biggest draw back to cooking with cherries is the pits, right? They are…the pits!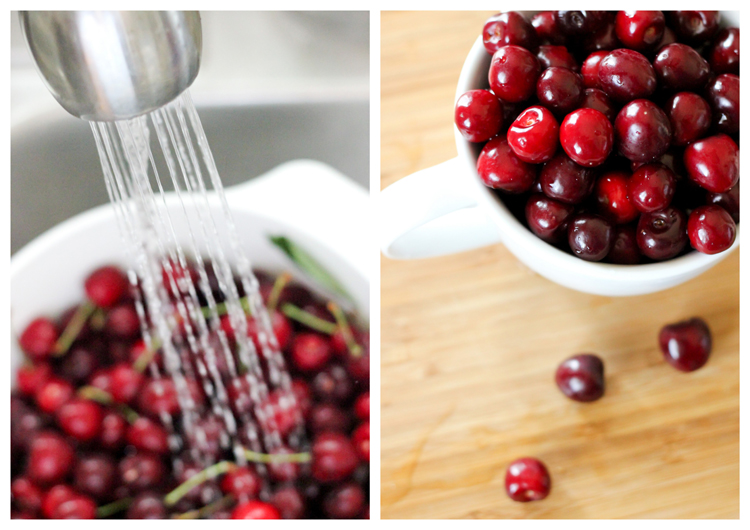 You can do a couple of things: get a cherry pitting tool, pit the cherries by hand (which I do), or…try this.
Wash the cherries first…of course.
Then mash them up with a potato masher. For a recipe like jam, you are going to mash it anyway, so why not get a head start?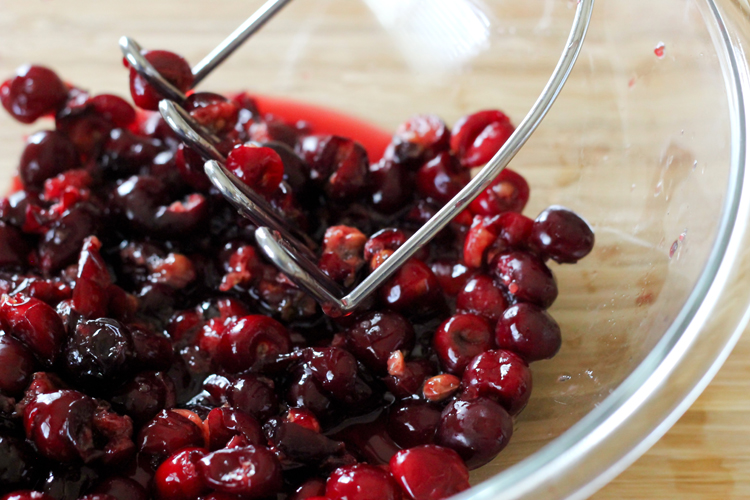 This doesn't take care of ALL the pits, and yes, you do still have to fish those pits out. But…it does go by a little faster. I grabbed another bowl to put the pitted cherries into and pitted whatever cherries didn't get properly smashed, by hand.
Warning: this is super messy. When you mash the cherries, just like when you use a pitting tool, juices can fly everywhere. Wear an apron and expect some clean up afterward.
Before I talk you out of cooking with fresh cherries, let me remind you that it is SO worth it. It's super yummy. I promise.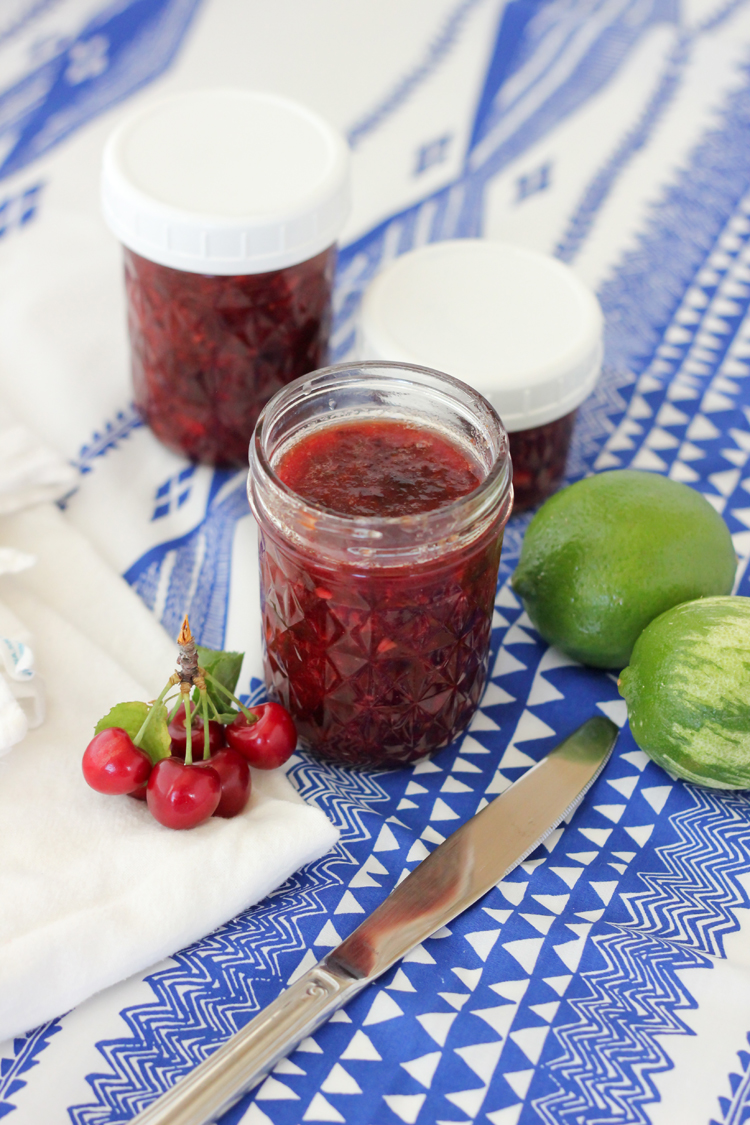 Now that you have your cherries all washed and pitted. The rest is a breeze. Here is the recipe:
EASY CHERRY LIME FREEZER JAM
Makes about two 8oz jars worth.
3 cups of cherries (after pitting = about 2 cups) 1 TBSP of lime juice (or the juice of one lime) optional: zest of about one lime to your liking (I used zest of about half) 1/2 cup of sugar or sweetener of choice (I err on less sugar, but you can add more if desired) 2 TBSP instant pectin or freezer jam pectin  
1. Mash cherries into a chunky, but mostly even pulp. Add lime juice and lime zest.
2. Combine pectin and sugar in a small bowl. Mix well.
3. Add pectin mixture to cherry mixture. Mix well.
4. Add to air tight containers.
Storage and Use:
Stores in freezer for about 1 year.
Keep in fridge when in use. Keeps in fridge for about 3-4 weeks.
Enjoy!