After hauling in a load of delicious sweet bing cherries at a local u-pick farm, I busied myself in the kitchen cooking up the cherries in about every which way, except for cherry pie. I like the idea of savory cherries, so I made a Sweet Cherry Lime Vinaigrette.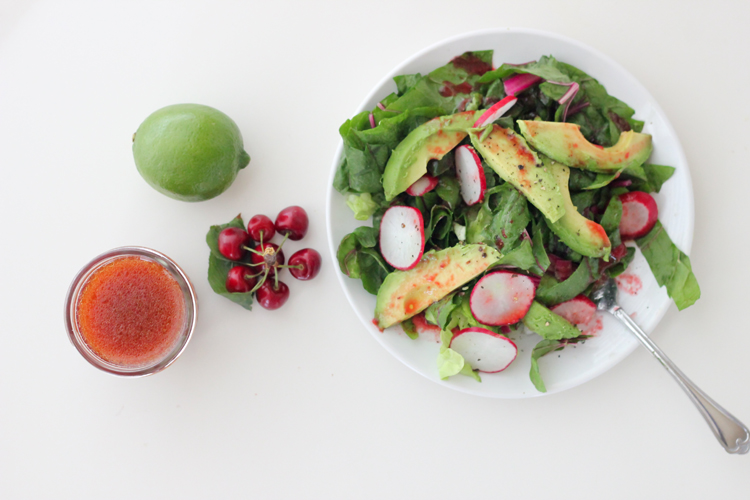 Which…is still actually pretty sweet, but not sugary sweet. I added lime to this recipe as well because…how could I not? The flavors are meant to be together in my book. (See another cherry lime recipe HERE) This dressing is also more juicy than oily, which produces a really nice light dressing, perfect for summer. Bonus: it's waistline friendly too. 😉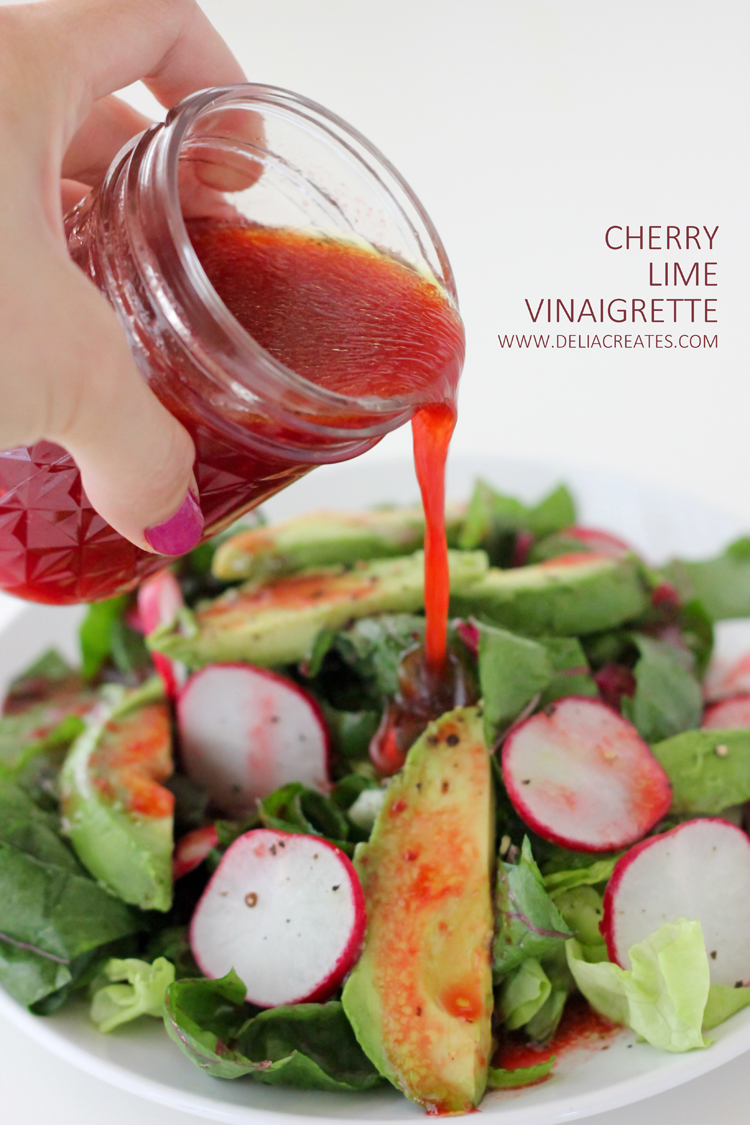 This time, I decided to steam the cherries before mashing them, which made the pitting process even easier!
Be aware. You do lose the pulp with the pits. While that wouldn't do well for jam, it works great for a vinaigrette, because all you need is the juice.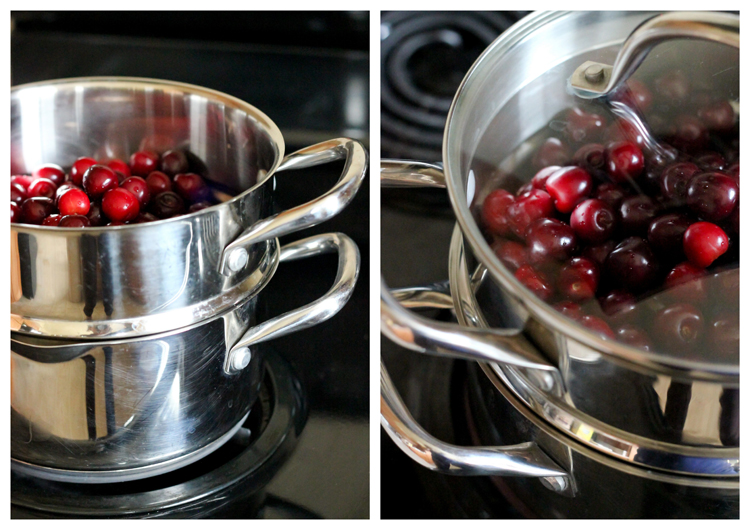 Simply wash the cherries and then put them into a vegetable steamer. This picture shows way more cherries than the recipe calls for, but I used the extras for another recipe.
Cover the cherries, bring the water to a boil, and steam them until they start to become soft, about 3-5 minutes.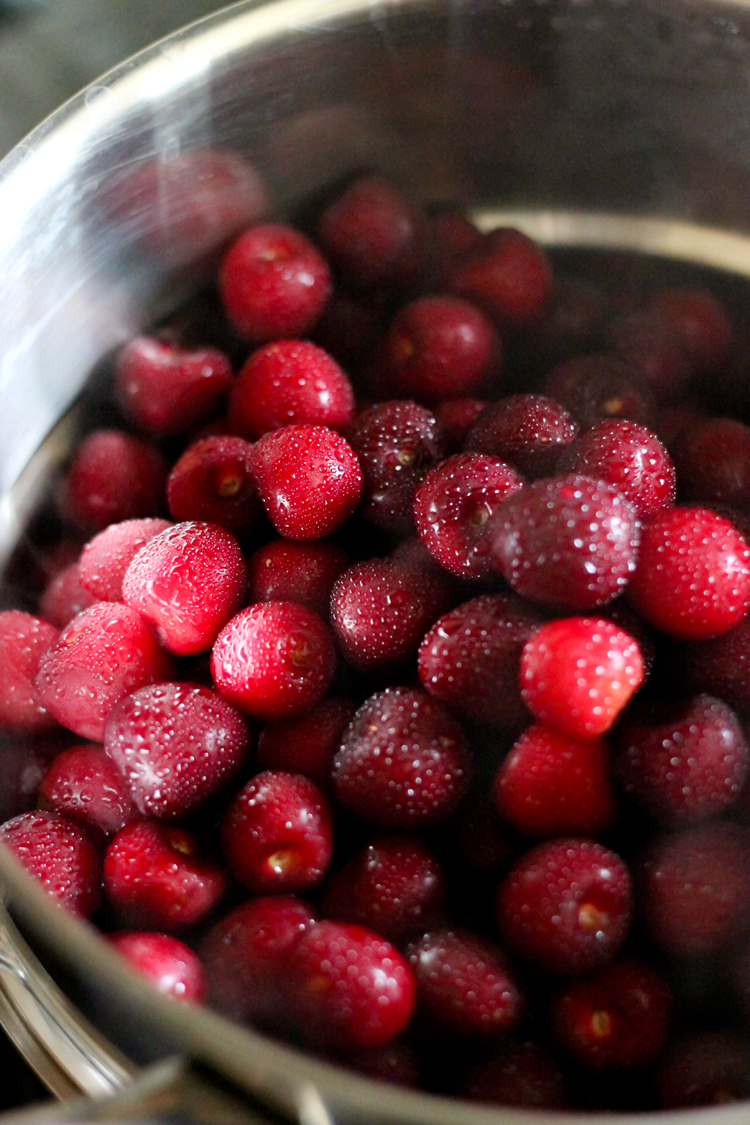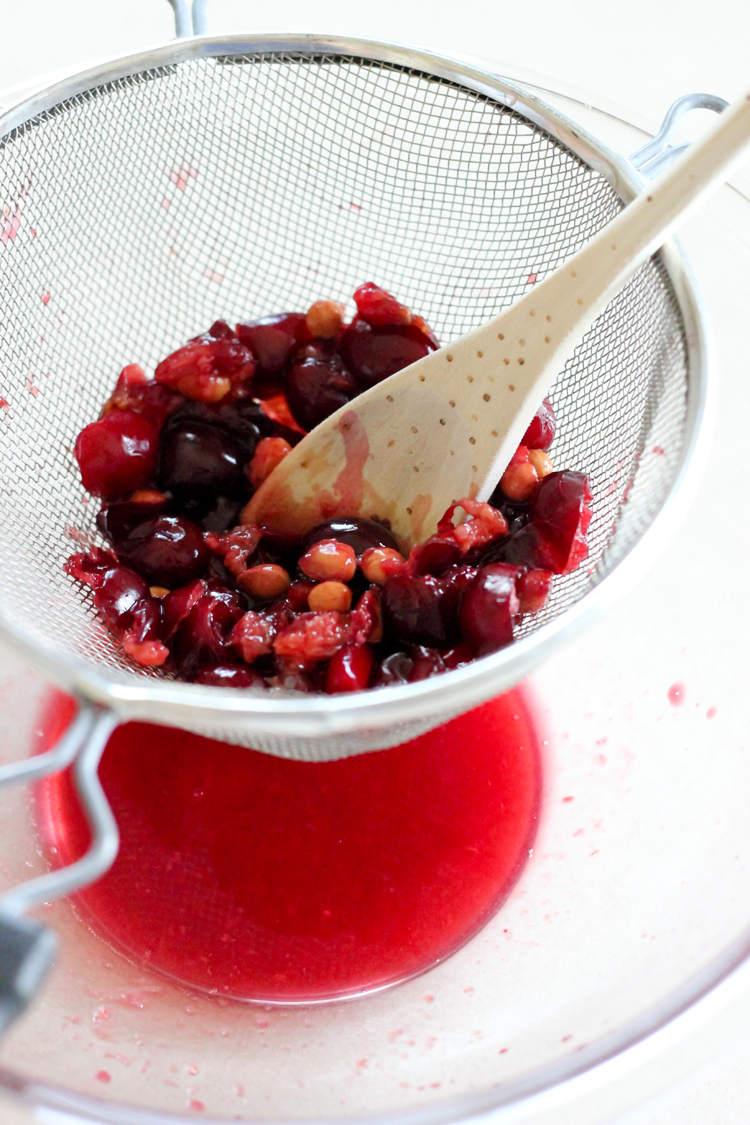 Place a fine mesh strainer over a large bowl. Add the steamed cherries to the fine mesh strainer and press on them with the back of a wooden spoon. Keep pressing and mashing until you have released all the juices possible.
Make sure not to overload your strainer. Small batches work best.
Discard the pits and pulp in the strainer, and you're done! Not too hard, right?! Much easier than pitting, if you ask me. And now you have a strained cherry juice perfect for making a vinaigrette with.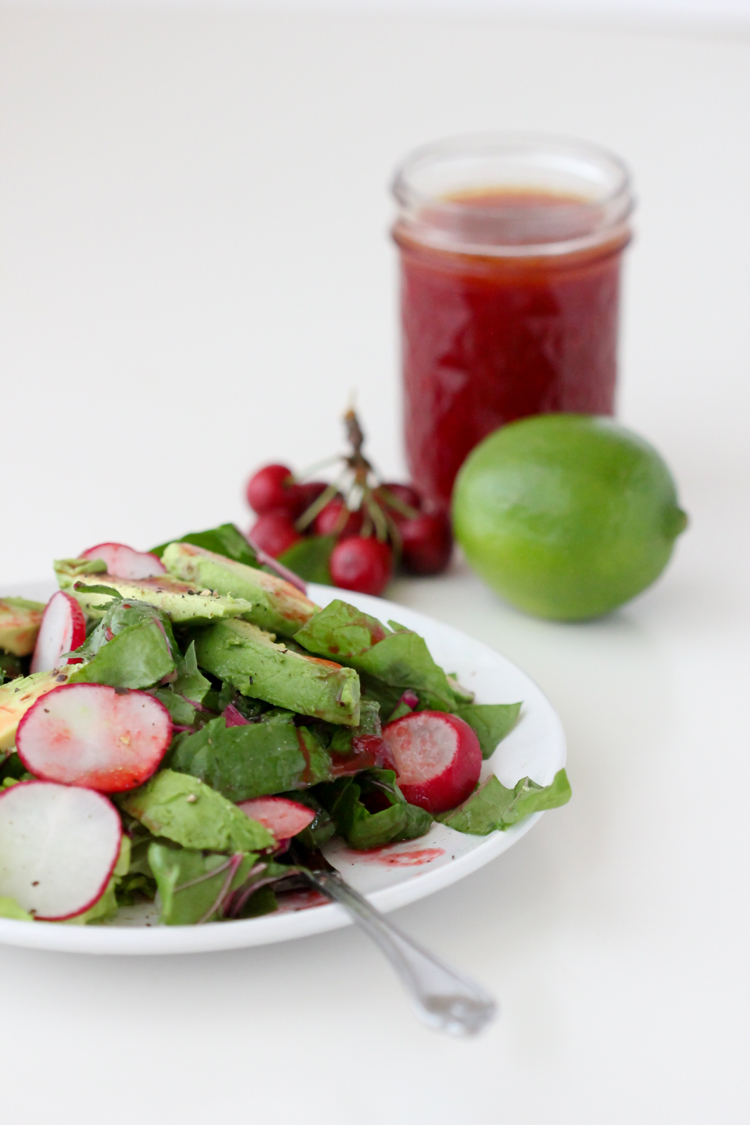 CHERRY LIME VINAIGRETTE
Makes just over a cup of dressing.
1 overfilled cup of sweet bing cherries (about 1 1/4 cups unjuiced  = about 3/4 cups juice) 2 TBSP. olive oil 2 TBSP. lime juice or the juice of two large limes 1 TBSP. red wine vinegar 1/4 tsp prepared dijon mustard 1 tsp. of honey or to taste 1/2 tsp. salt or to taste  
1. Wash, steam, and juice cherries. Let cherry juice cool. 2. Mix remaining ingredients together with cherry juice. Whisk well. Keep in fridge for up to a week.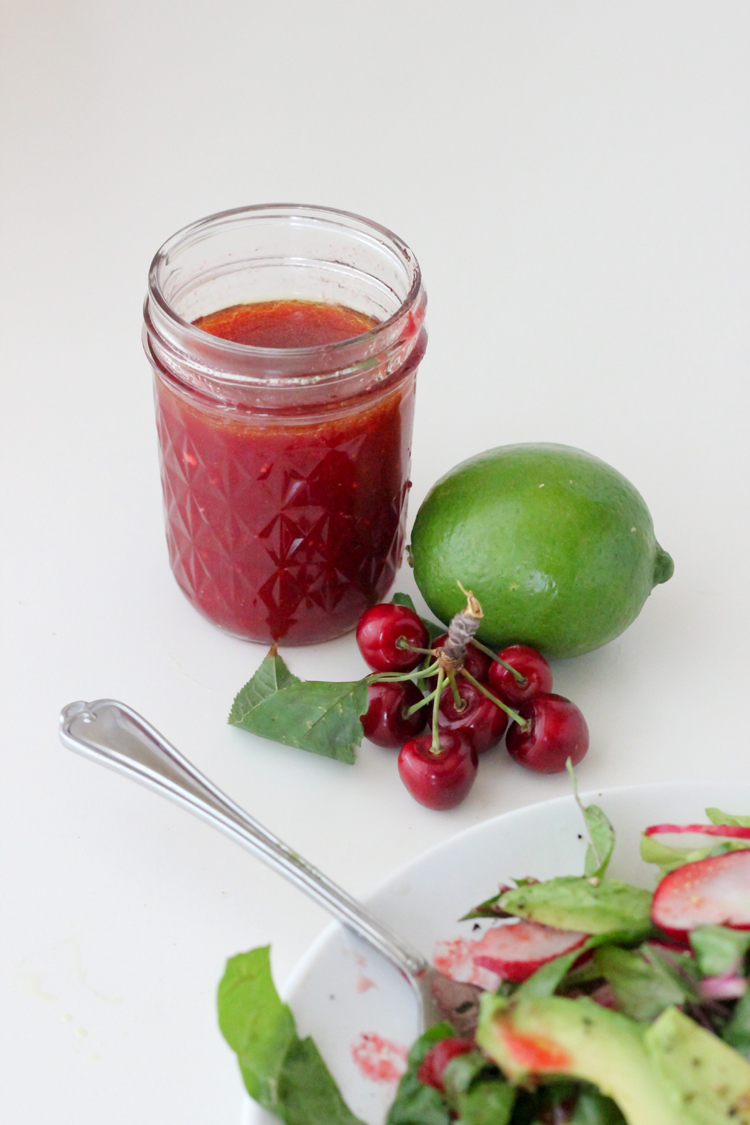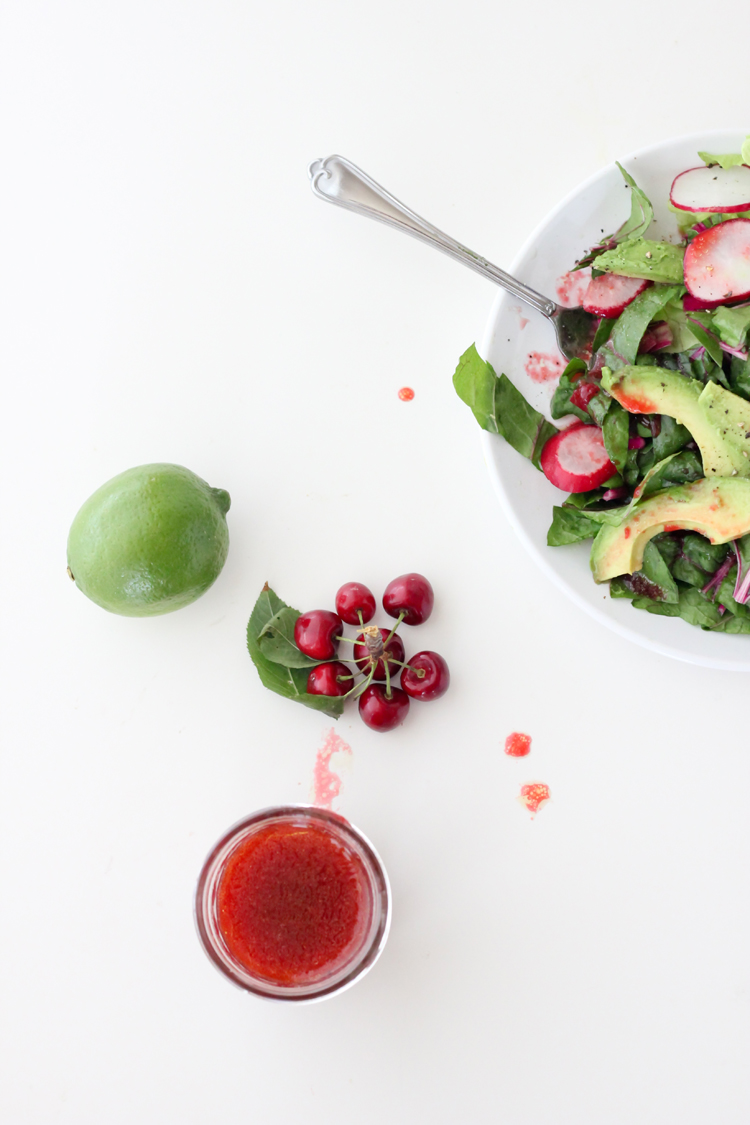 That is…if you think it will last that long. We devoured ours in just two meals. I knew I should have made more… 🙂