One of my favorite, favorite things about summer is hitting up the farmer's market. For me, it's not only about the fresh, local produce, it's about the experience.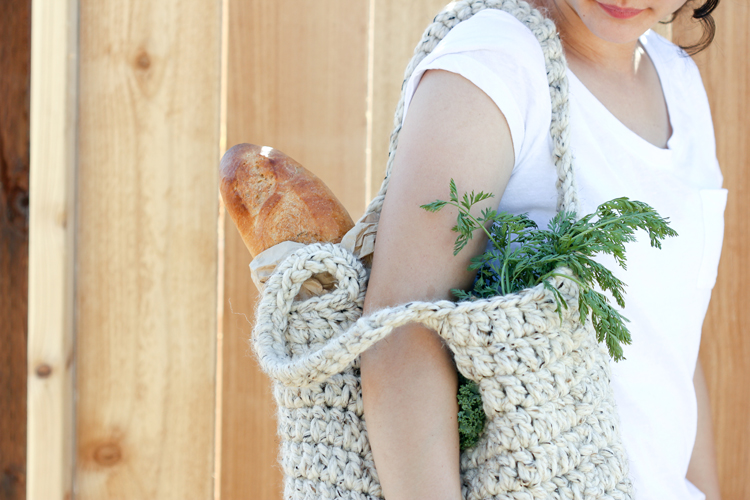 Yes? Yesssss. 🙂
This weekend I've teamed up with Lion Brand and Michael's to bring you a free pattern to celebrate Michael's Big Brand Sale happening next week ( Aug. 2-8, 2015)!
It's a FREE crochet pattern for a sturdy market tote, perfect for taking to the farmer's market and more!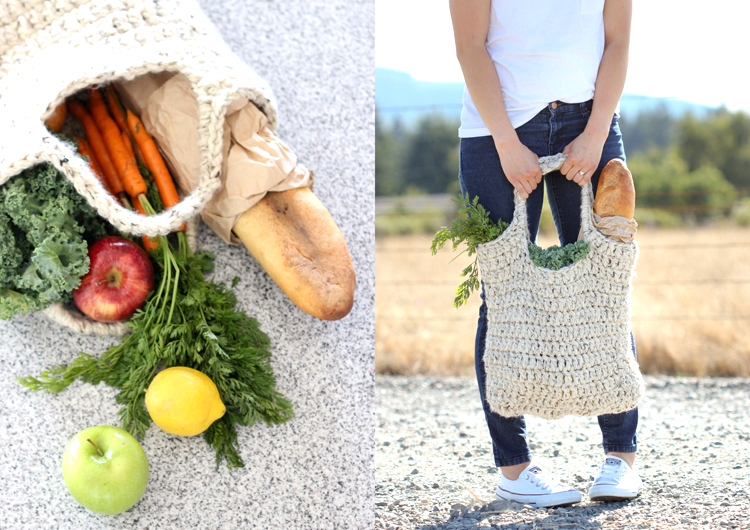 If you followed my scarf week series from earlier this year, then you already know I am a big Lion Brand Yarn fan. I just love that I can always find different textures and weights in such classy colors.
For this bag, I used Lion Brand Wool-Ease Thick & Quick in Oatmeal. To achieve an even bulkier weight, I doubled up the strands; meaning, I crocheted the bag using two strands together the whole time. This is key to creating the bag's chunky texture, as well as it's sturdiness. It also makes the final skein count pretty high for a bag this size ($$). I highly recommend using coupons when buying yarn for this project, or taking advantage of a sale (like the one next week…hey hey! ;)).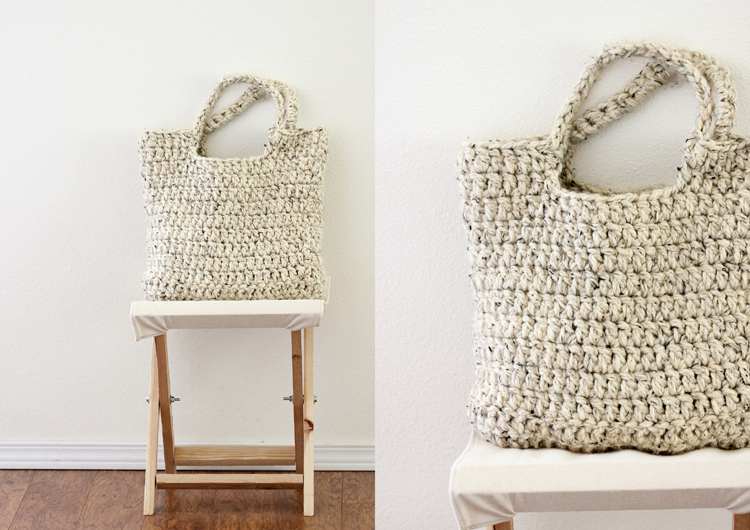 One more thing I want to mention before jumping into the pattern, is that this pattern is worked in an oblong round. As you can see in the pictures (scroll down after the pattern), you will be chaining a short chain, double crocheting into the end of that chain several times, then turning with your work and working right into your first oval like round.
Cool? Cool…let's get started!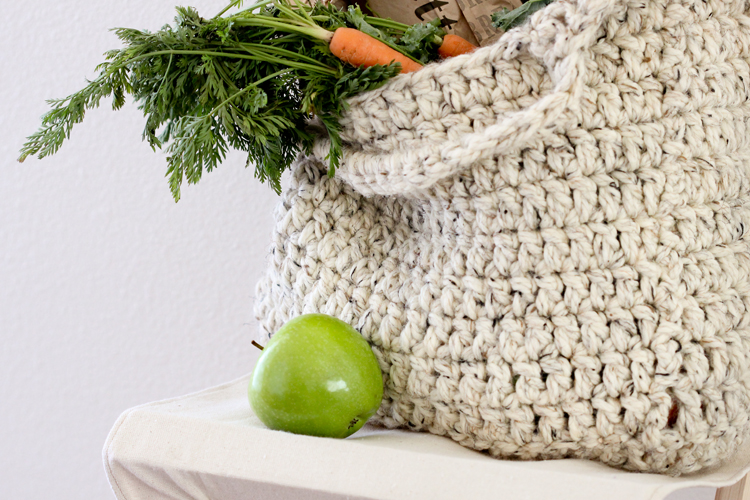 MATERIALS
About 5 skeins of Super Bulky, 6 weight yarn* (6 oz. or 106 yards per skein)
9.00 mm hook (or size N)
Yarn needle and scissors
* You will use all of the first four skeins, but only a small amount of the fifth skein. You probably only need about 28 oz. or 450 total yards of yarn.
ABBREVIATIONS 
ch = chain
st, sts = stitch, stitches
sc = single crochet
sl st = slip stitch
dc = double crochet
GAUGE
4 x 4 inch square = almost 4 rows x 7 dc
PATTERN
Working with two strands together, ch 20.
Round 1: dc into 3rd ch from hook, four times (count as five total dc into 3rd ch including 2 ch from beginning). Dc across (16), 5 dc into last ch and turn with work, dc across underside of initial ch (16), sl st to top of 2 chains from beginning. (42 total sts, including 2 beginning ch)
Round 2: Ch 2, dc in first st, 2 dc in each of next four sts (10, including initial ch 2). Dc across (16), 2 dc in each of next five sts (10), dc across (16), sl st into top of initial ch 2. (52 total sts, including beginning ch 2)
Round 3: Ch 2, dc in each st around, sl st into top of initial ch 2. (52)
Round 4-12: Repeat Round 3.
Round 13: Ch 2, dc in next 7 dc, ch 22 (creating first handle), skip 10 dc, dc into next st. Dc into next 15 dc, ch 22 (second handle), skip 10 dc, dc into next st. Dc into next 7 dc, sl st into top of initial ch 2.
Round 14: Ch 2, dc in next 7 dc, sc across first ch handle 22 times, dc into next dc, dc into next 15 dc, sc across second ch handle 22 times, dc into next dc, dc into next 7 dc, sl st into the top of initial ch 2. 
Tie of ends, cut tail to 10 inches, weave in tails. 
Note: You can sc into the ch handles, but I chose to simply sc around the ch strand as a whole. It's much easier to do it this way and it makes your handle more flexible. 
***Here are some pictures to help illustrate how the pattern works.***
Simple as that!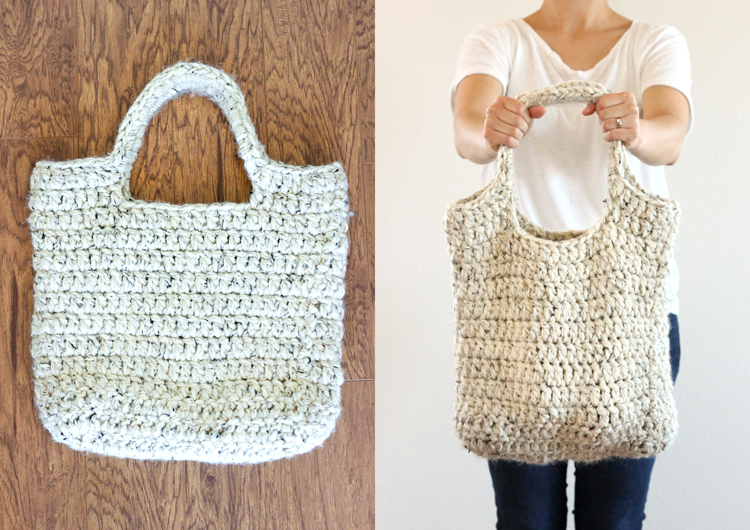 More notes:
– When you get to the last skein, use the end wrapped around the outside of the skein, as well as the one tucked inside the middle of the skein, so that you can continue to work with two strands but just one skein.
– If you can't get super bulky yarn, try crocheting with three to four strands of worsted weight yarn together to see if you can achieve the same gauge. Or try some jute! Jute can get squeaky and hard to use when you try to crochet it tightly, but if you're up for the challenge, jute would make a gorgeous bag.
– More experienced crocheters may notice that I use one fewer chain at the beginning of my rounds and rows than is traditionally accepted. I find that as long as I don't yank my chains really tight, it tends to create nice square, even rows, and a less visible seam. If you're used to the traditional chain to stitch type ratio and my rebel pattern habits drive you nuts ;), ( ch 2 for sc and hdc, ch 3 for dc, etc. ) please feel free to add a chain. Do what works best for you!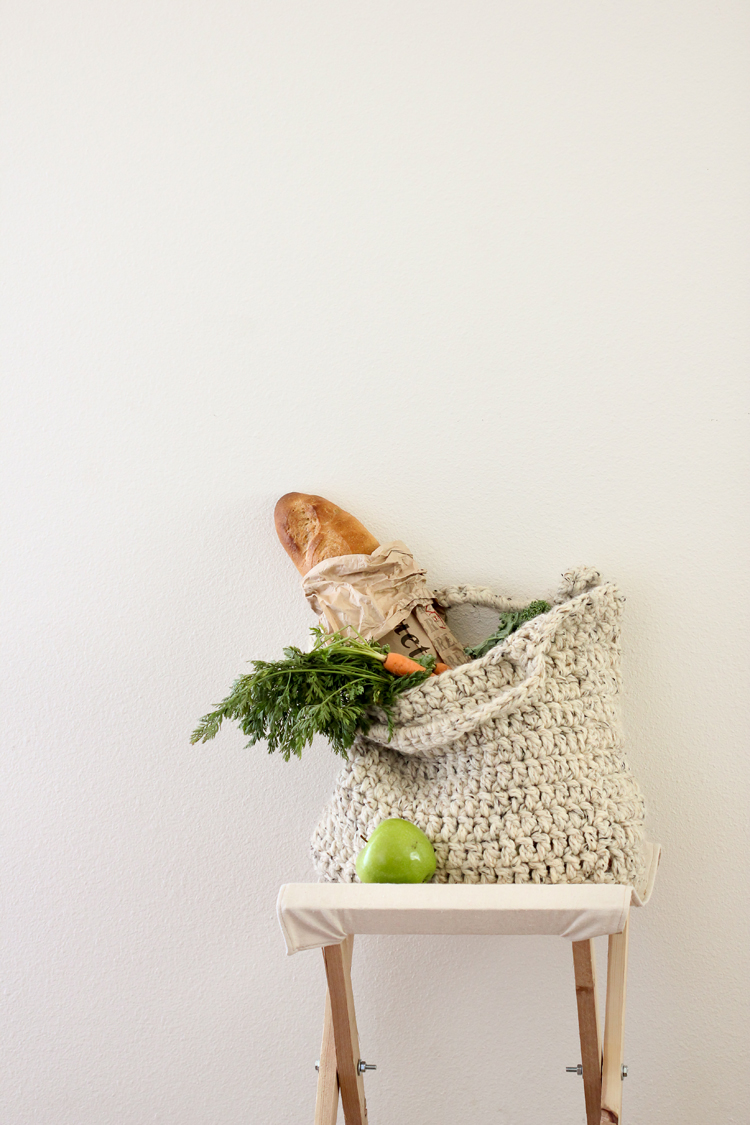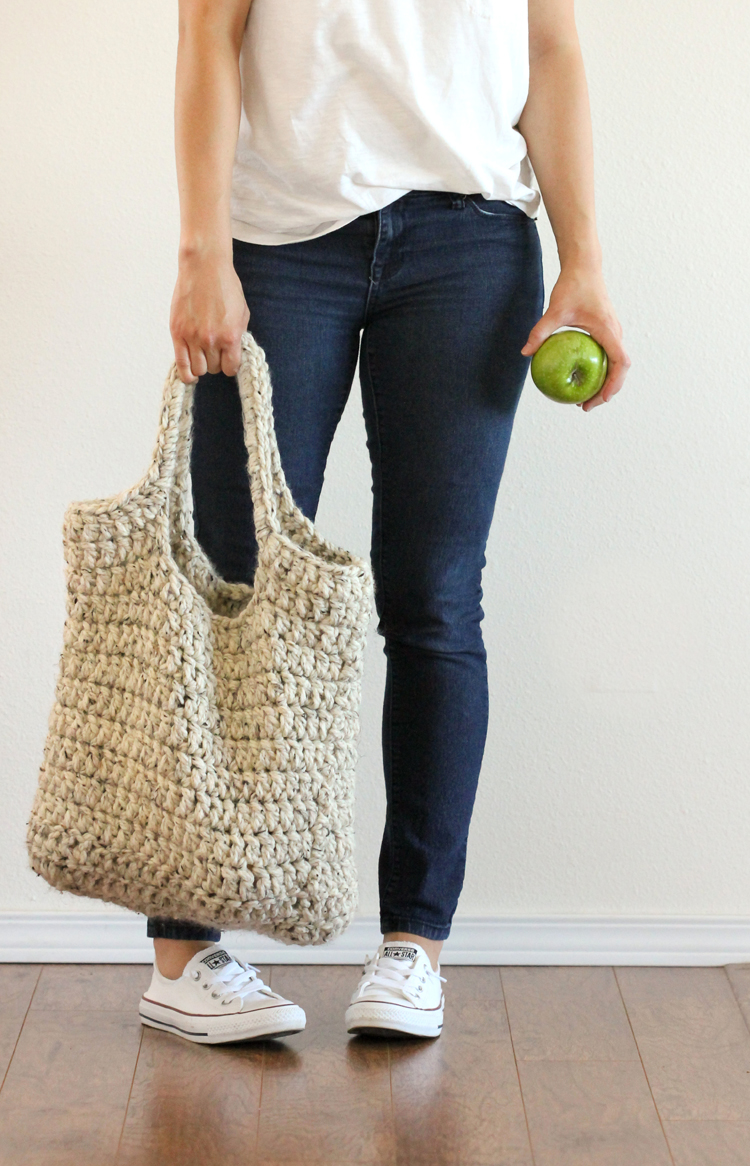 For a crocheted bag, this thing is really tough stuff. There are just under a dozen medium to large apples in there and it handles it like a champ. It makes a great library book tote as well.
The only thing it doesn't work well for is small things, like change. It has a fairly tight, strong weave, but it's still chunky and big, so consider placing a sewn fabric pouch inside to hold small items.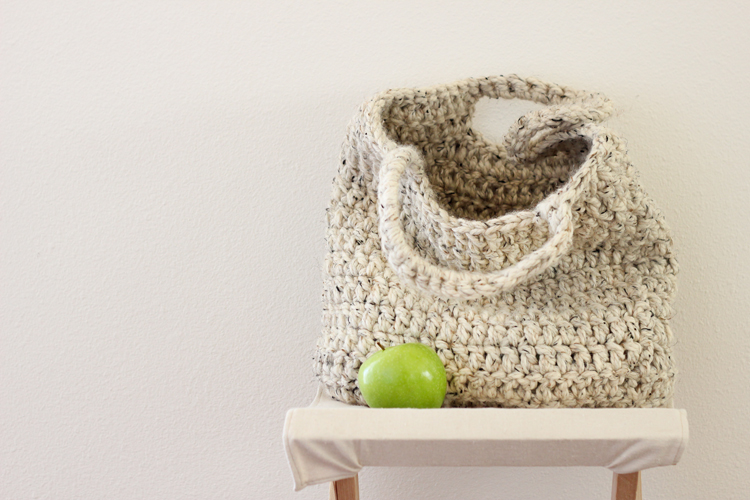 Disclaimer: This post was sponsored by Lion Brand and Michael's, but my love for them is real. 🙂 🙂 All words and photos are my genuinely and enthusiastically my own!