Earlier this year, I released a free crochet pattern called the Skip Twist Cabled Beanie. Shortly afterward, I got requests for video, because sometimes seeing it in pictures just isn't enough!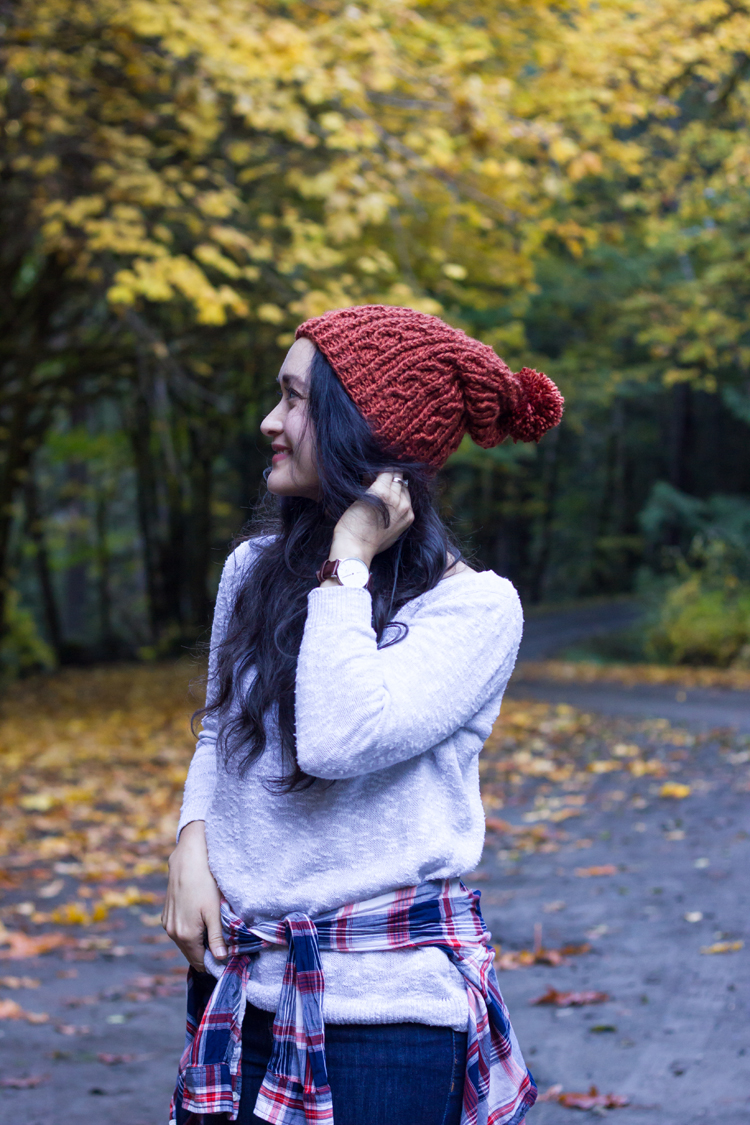 First, I have to sing my praises for crocheted cables. They are not as hard as you think they would be and they look fancy schmancy. Once you work a few, you'll totally see what I mean.
I would even go as far as to say, that they are easier than other intermediate type stitches I've used….because they fit together like a puzzle! Once I get my cabled row established, I NEVER have to do a stitch count again. It is AWESOME. You know almost instantly if your stitch count is off, because each cable takes a set number of stitches in a repeating pattern.
I do say the skill level of the hat is intermediate, but if you're an adventurous beginner, definitely don't shy away! Cables use basic stitches like double crochet and triple crochet, but in a different order. The hard part is keeping all the loops from falling off of the hook as you work the stitches out of order. And the only way to get the hang of that is to just try it. Work a row or two of cabled stitches, and you'll be smooth sailing after that.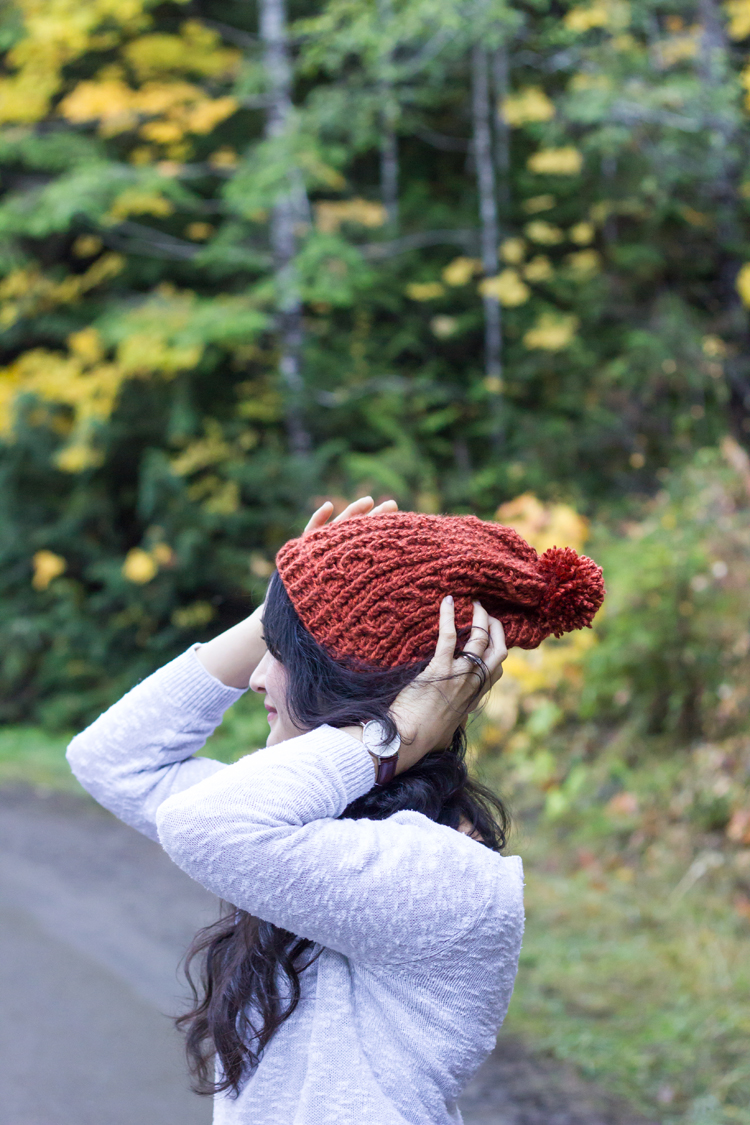 Okay, okay…enough chit chat about why I love cables.
Let's talk about the pattern and then get to the video.
First, if you want a written copy of the pattern…
…you can find that in my original Skip Twist Beanie post HERE.
I threw in a little extra something, something, and beefed up the band of the hat with some ribbing. So you'll see the original pattern, plus a new bonus addition for the ribbed band version I show in the video.
Note: If you're running low on yarn by the end of the hat, the original pattern uses slightly less yarn.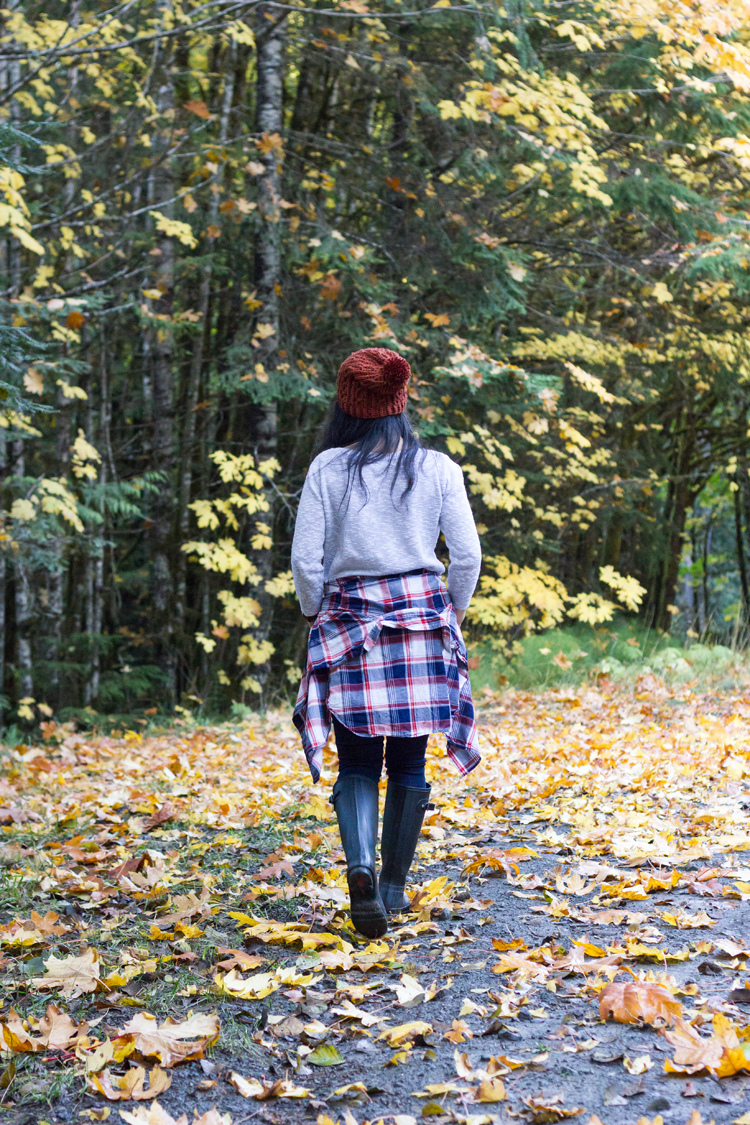 Second, let's talk yarn.
The pattern calls for worsted weight yarn. This can absolutely be any worsted weight yarn and it will come out fine. But…there's always a but right? 🙂 I like to approach my yarn like I do fabric. Think about how you want your hat to feel and wear. Yarn can be in the same weight class (worsted weight, size 4), but look and feel completely different. Sometimes it's thinner, or silkier, or itchier, or fuzzier than others. All of these attributes will impact the final look and feel of your hat…and sometimes even the sizing (see "Notes" section). And sometimes it comes down to how easy it is to wash <—-practical me speaking here. 😉
I prefer using Lion Brand Heartland yarn (not sponsored, just speaking truth here) because it takes just one skein to finish a hat (yay!). It's also so silky soft, but it's made with acrylic so it's super to easy to wash and will still stay looking nice after many washes. It's also on the thinner side, and it has great drape. For those sewists out there, I would liken it to a rayon fabric maybe? You get different results when you sew with cotton versus rayon. The same goes for the type of yarn you use.
So, if you can find a softer, smoother worsted weight yarn, that is the yarn I recommend! You'll love your hat that much more.
Note: This pattern is geared toward this smoother, slightly thinner worsted weight yarn. If you would like to choose a fluffier yarn in the same weight, I recommend crocheting a swatch (see the original pattern for the gauge) to see if you need to go down a hook size to get the right sizing.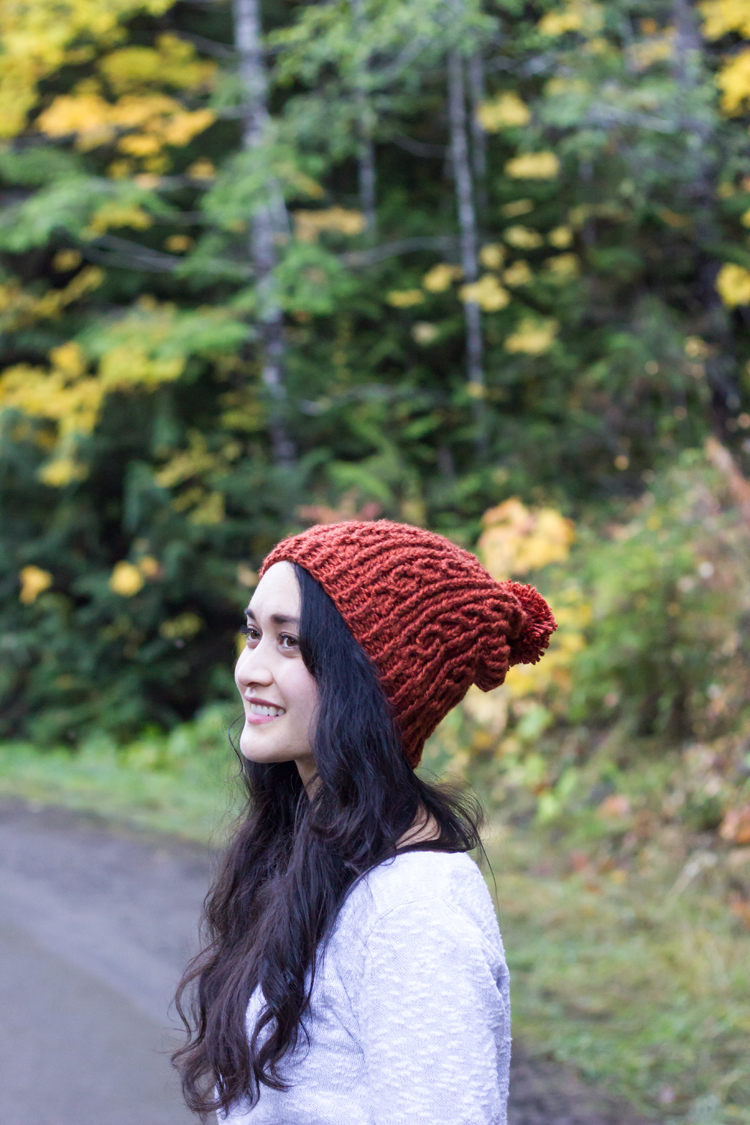 A note about hooks.
I used an I/9 or 5.5 mm hook for the entire hat. Now, I did a silly thing and switched to a different colored hook halfway through the video…I know, rookie vlogger mistake because I am truly a rookie at this video thing. I rarely have the time to finish a hat in one sitting, so I misplaced my gold hook at some point and didn't even think about it when I pulled a pink one from my stash. So, please know, that even though my hook goes from gold to pink, it's the same size! <3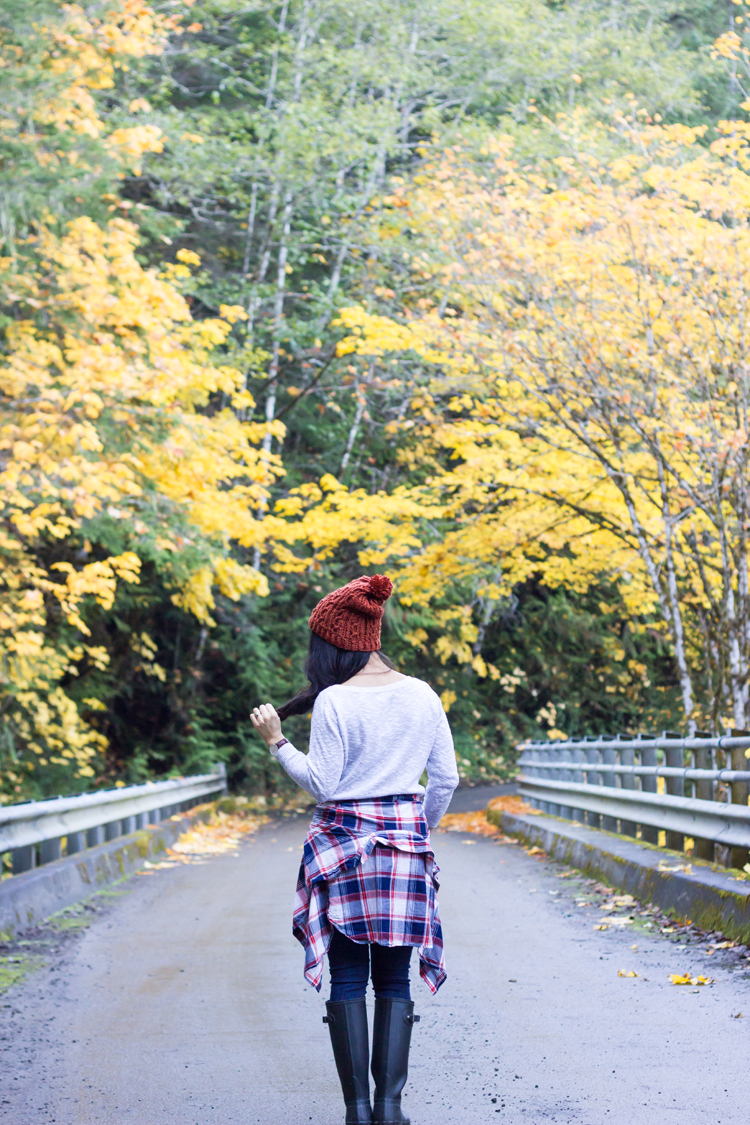 Yay! Video time!
Are you ready for 10 minutes of hearing me talk about crochet cables?
Here ya go! Happy hooking!
If you just can't get enough of this cabling business, then I've got a hat pattern you might like. It's called the Ashton beanie and it comes with some thick and juicy cables. I like to think it sort of levels up your cabling game. It comes in all the sizes from newborn to adult so you can make matching hats for the whole family. hahaha…kidding…. Or not? 😉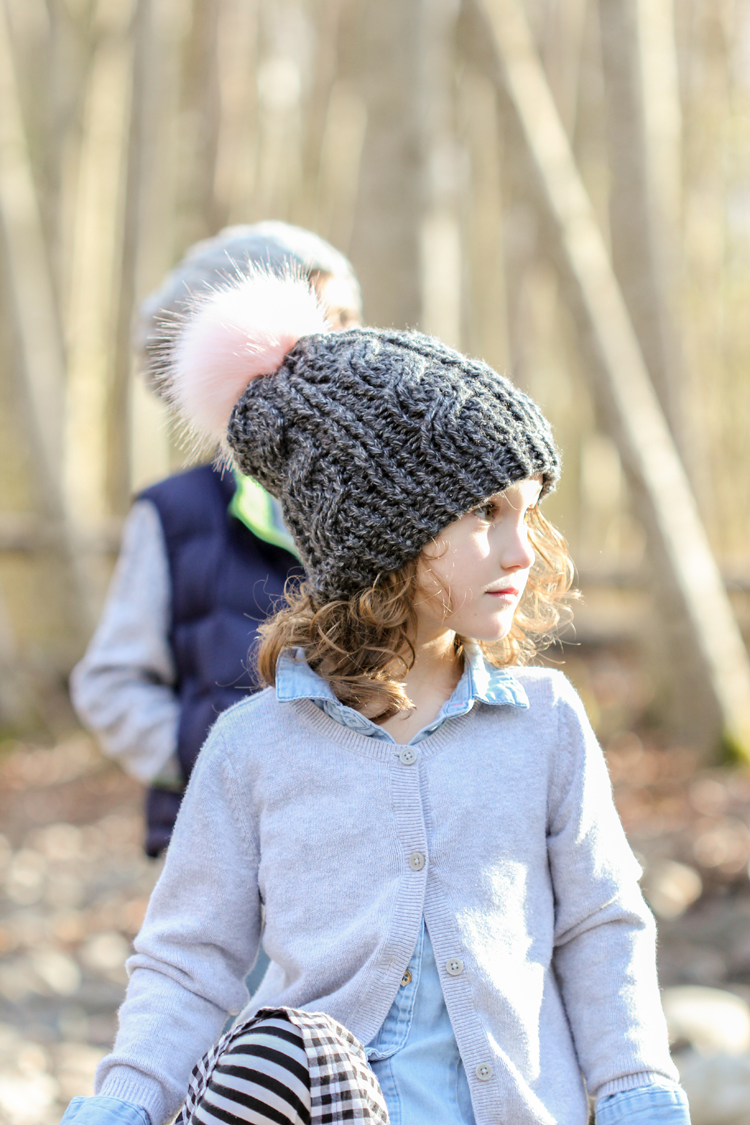 I also have a video coming out soon, to show you just how to do the cabling part, if you need video for that too. <3