By now you may have watched Marie Kondo's The Magic of Tidying Up on Netflix. Who hasn't!? 😉
I can attest to the truth of the title of that show! It really does feel like magic when you find a way to organize your things in a way that you, and most importantly, your kids can maintain long term. (Hence…me hugging this plastic bin- ha!)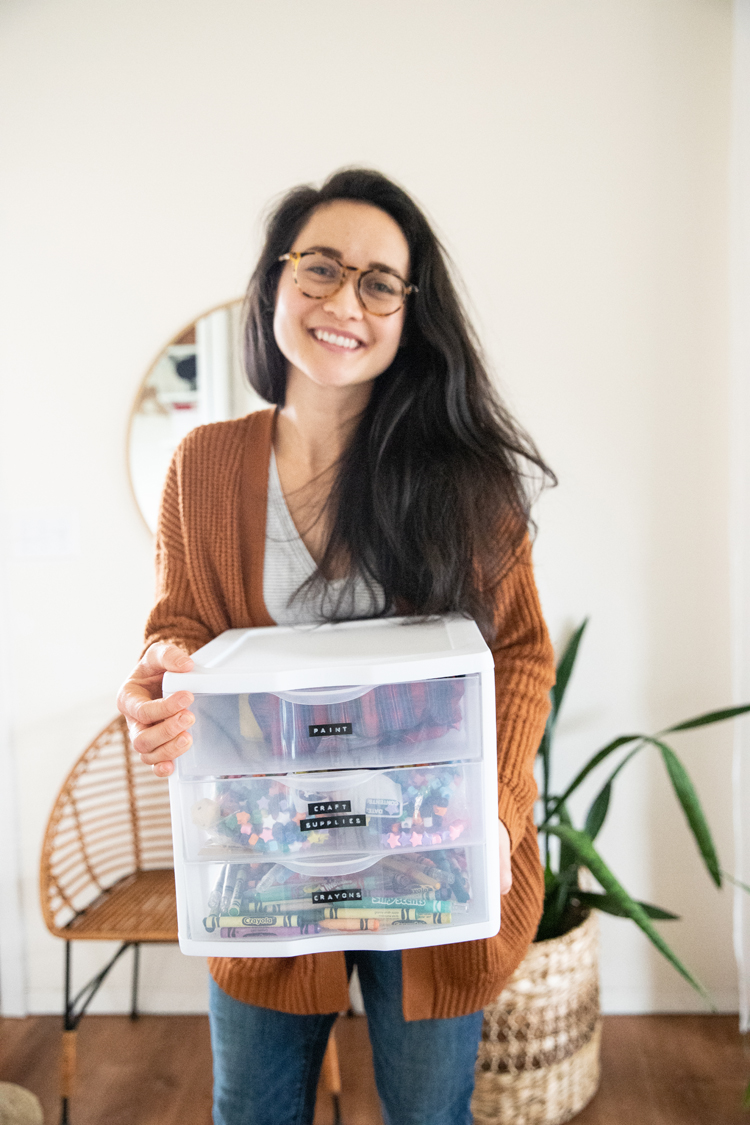 I think the key to that is to find a system of organizing that makes it easier for you to use and put away your things. Which is why I LOVE these drawer organizing bins, especially for organizing my kids' craft supplies. This is not sponsored at all…just me confessing my love for something that has made our home so much more functional.
I am a firm believer that you should not need to go out and buy all matching bins to make your house organized. But I also believe that if you have a space that consistently spins out of control every few months, then you need a new system.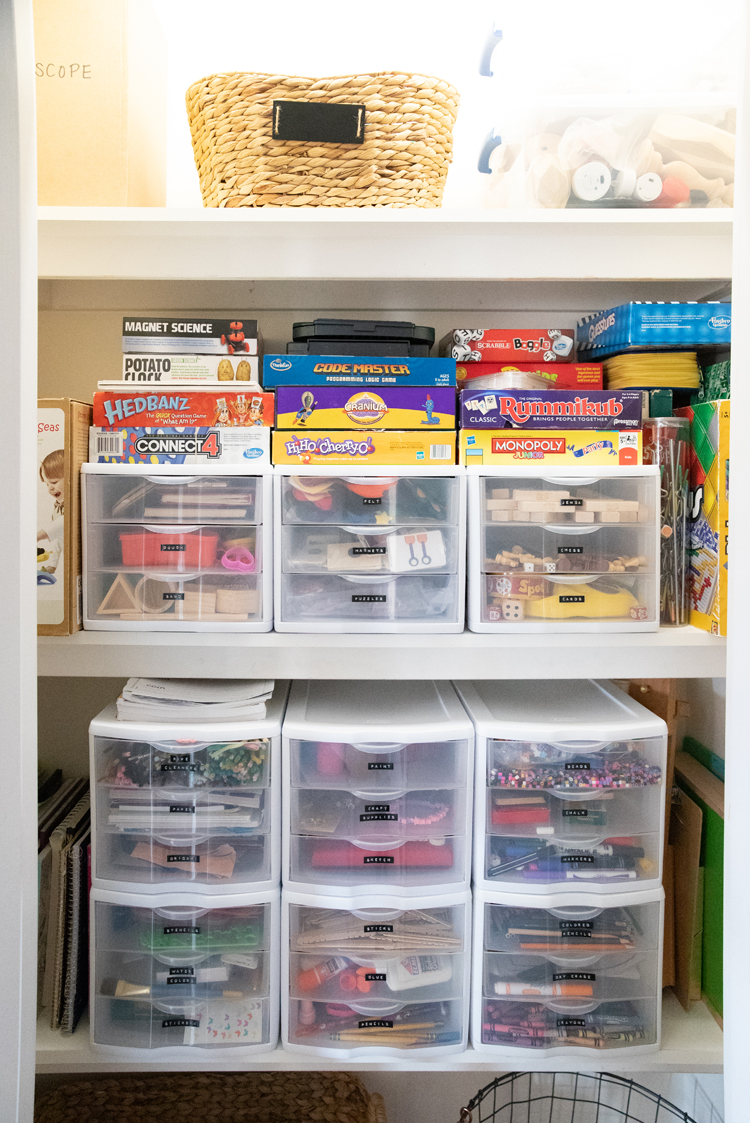 That was my kids' craft closet to a T. Our board games were getting stacked on top of random sized plastic tubs and shoe boxes full of craft supplies. My kids would go digging under a pile of games to find just the right markers or stickers. No matter how many times I reorganized, it would turn to complete chaos again weeks later.
I wish I had a before picture, but I honestly didn't even think I would post about this. After over six months of their craft closet looking spic and span…while still being used daily and no intervention from me…I just had to share about it!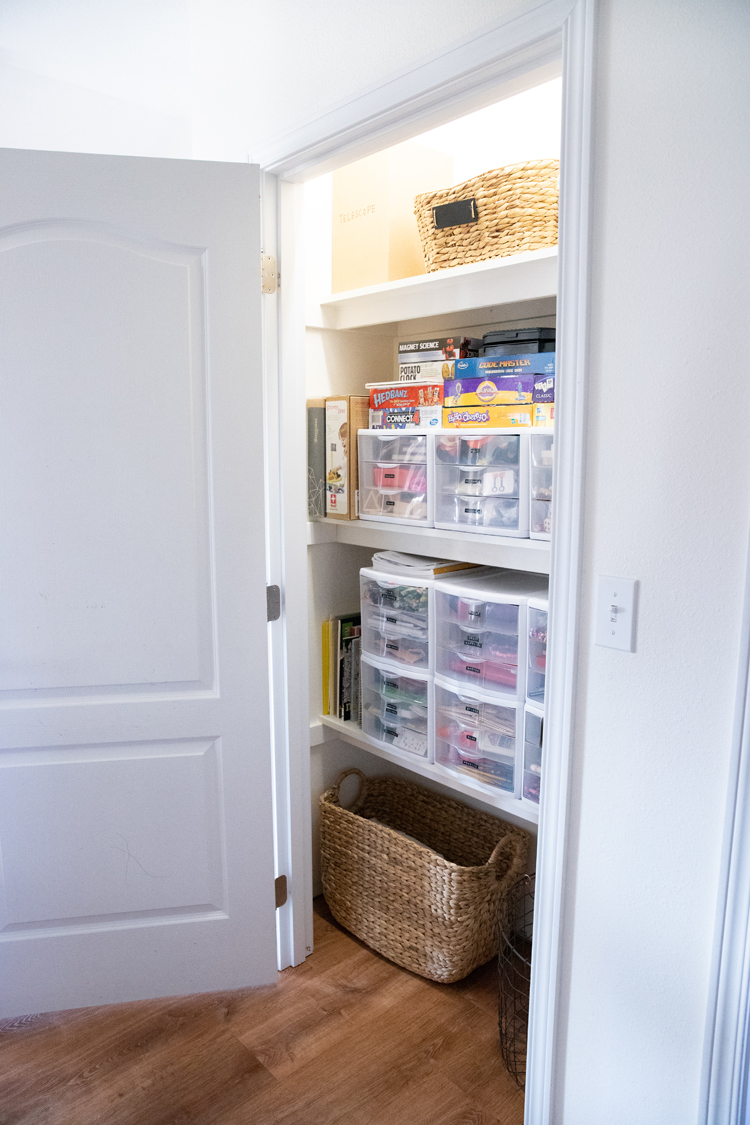 I found these three drawer plastic drawer bins at Walmart for about $10 each. The drawers are just large enough to hold U.S. letter sized paper. They aren't Pinterest pretty but they are game changers!
You can get larger, smaller, taller, and deeper ones as well. I use the deeper ones under my kitchen and bathroom sinks. They expand useable storage space under sinks by a lot!
Okay…back to the craft closet.
I took inventory of all my kids' art supplies, discarded dried out markers, busted glue bottles, etc. and pared down their supplies to what they really needed and what they were honestly using.
I put all of their art supplies into the drawers, and stacked them in the center of the closet, so opening and closing the drawers wouldn't be impeded by any doors or frames. There was still room on either side of the drawers which made for the perfect place to store coloring books, notebooks, and taller games.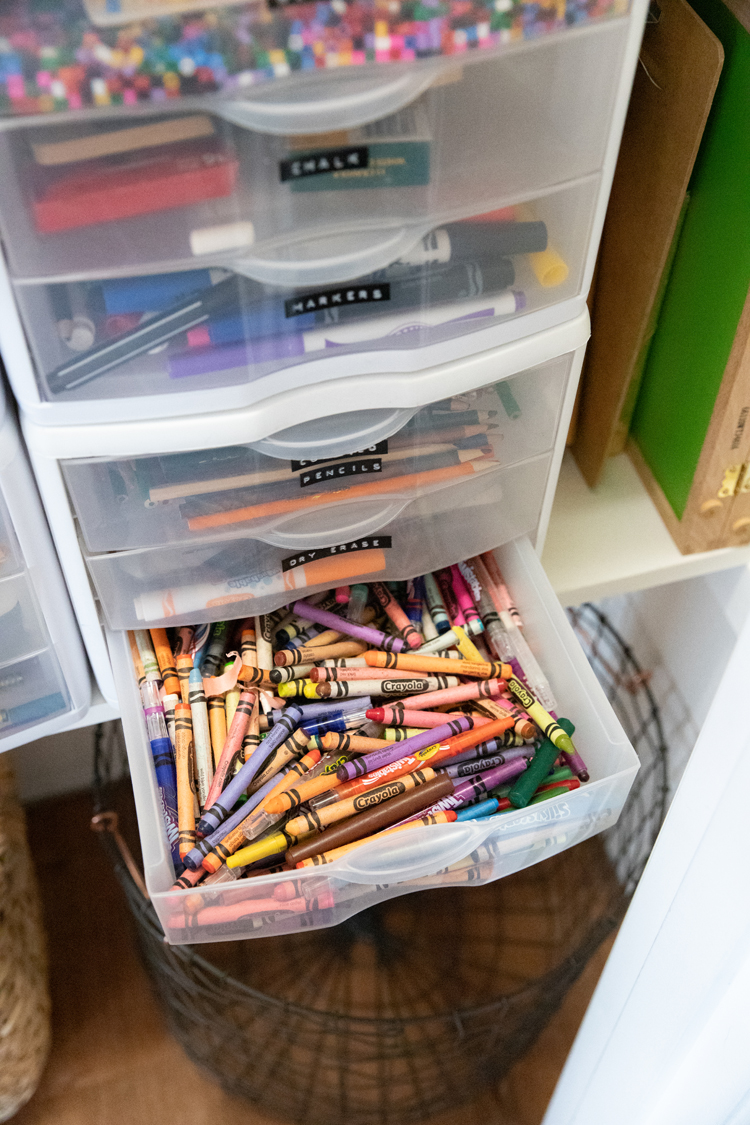 We had soooo many broken crayons that we just didn't need. I filled one drawer full of crayons and then donated the rest. Now, my kids can pull out the entire crayon drawer and then tuck it neatly away when they're done. The drawers are shallow enough, that they can sift through them to find what they want without making a big mess.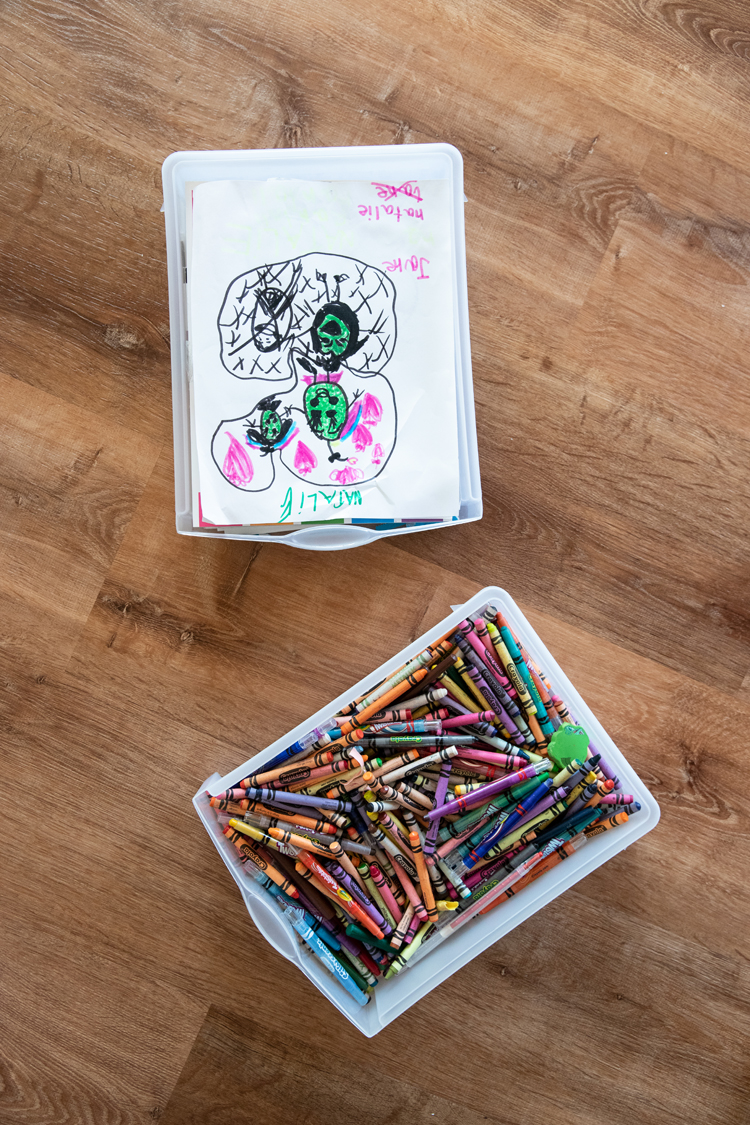 It has been a huge improvement over our old big old crayon bucket that was so deep that either the kids would dump it out to find colors, or they would open new boxes so they didn't have to go searching for colors (forehead slap).
It works fantastically for our perler beads as well. They pull out the whole drawer and easily see all the colors they need to make their creations without making a mess.
I almost considered putting all of our games in the drawers too…well, actually I tried, but so many of the games didn't fit that I decided against it; except for a few of them like card games, Jenga, and chess boards. The games stack nicely on top of the drawers anyway, and now my kids don't have to disturb those stacks to find supplies!
This is going to sound like meaningless platitude, but it has genuinely made all the difference.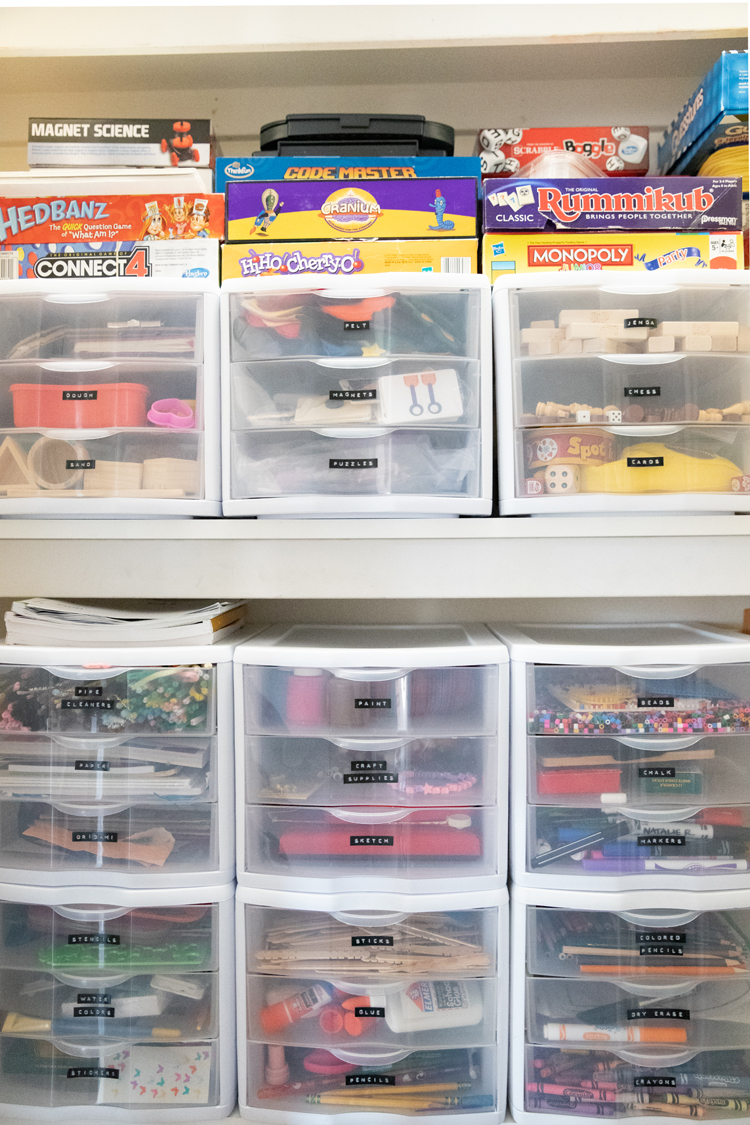 By the way…I got this label maker (affiliate link) on recommendation from Nesting with Grace. It's old school but I love it. I actually bought mine from Office Depot for almost half than the price (about $10) than I found it online, so if you have one close by, it's worth checking in store.
This drawer system has worked wonders for our first aid kit as well.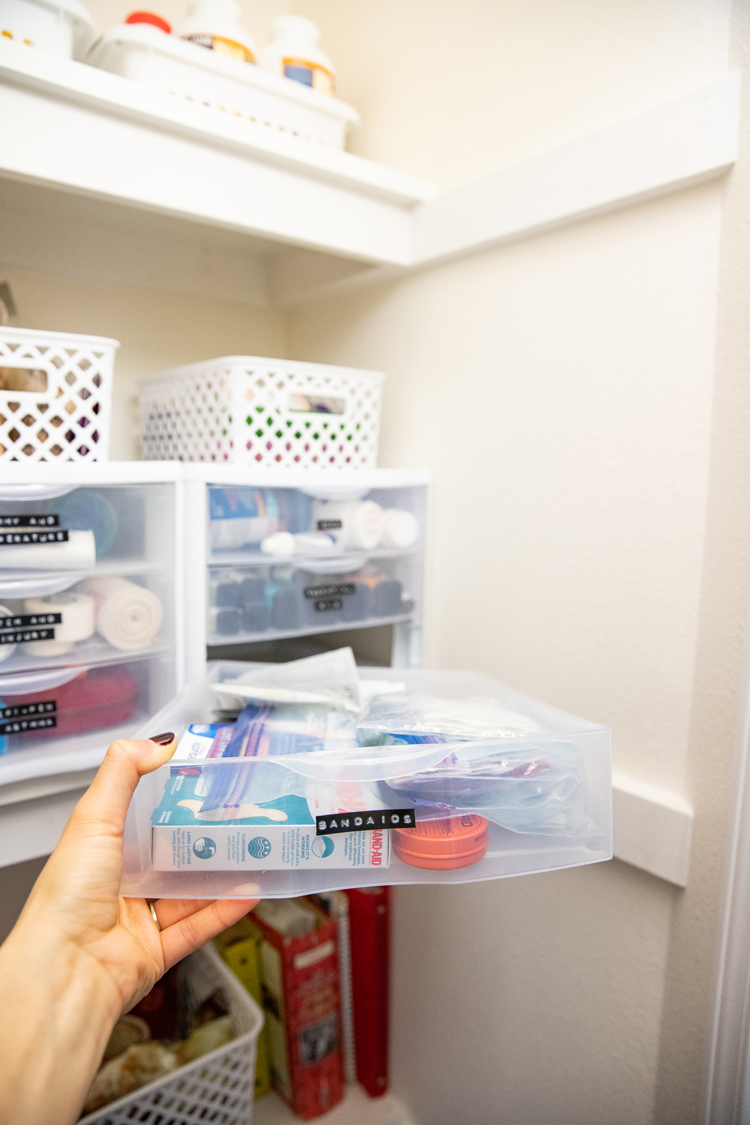 It is not the prettiest or most pinterest worthy storage solution, but it really works!
Instead of my kids digging through a box to find the band-aids, I made a drawer for just band-aids. Because the drawer is shallow, they can pull it out, easily find the size they need right away, and then put it back. Even when they make a mess of the drawer (always! ;)), I know it's just band-aids and wound cleaning supplies in there, so I don't have to search through the mess to find the Tylenol…which I put in the medications drawer. Tada!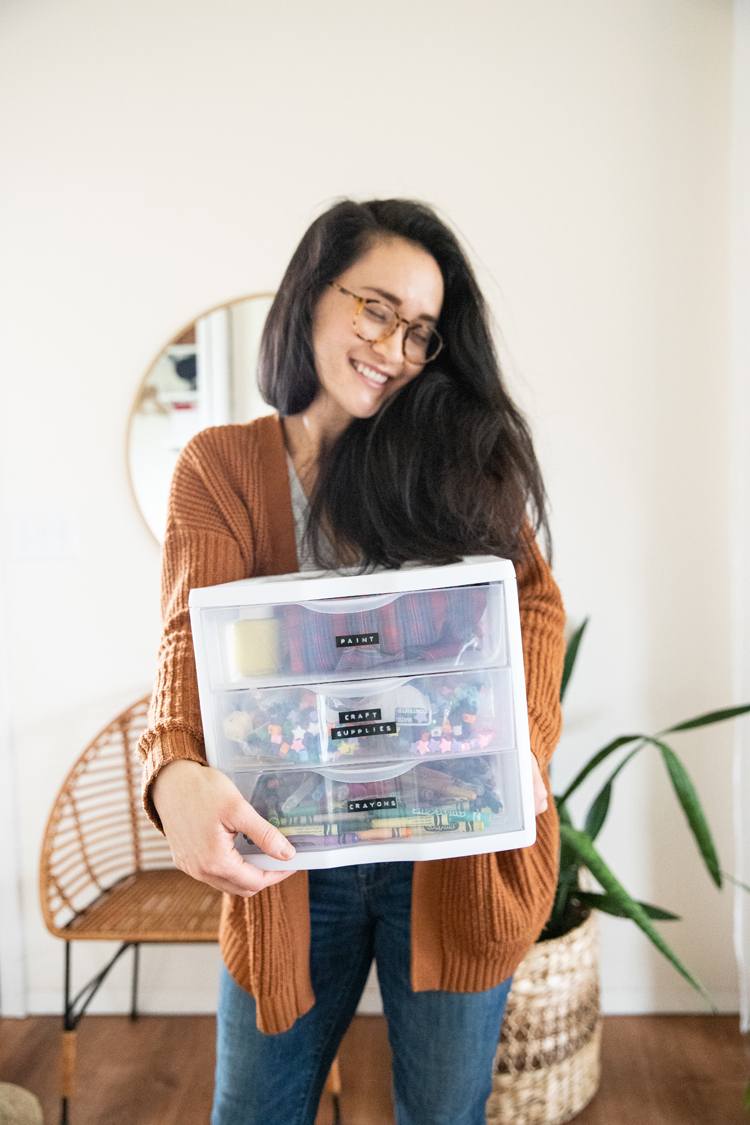 So tidy! So magic! 😉