These valentines combine two of my great loves: plants and puns.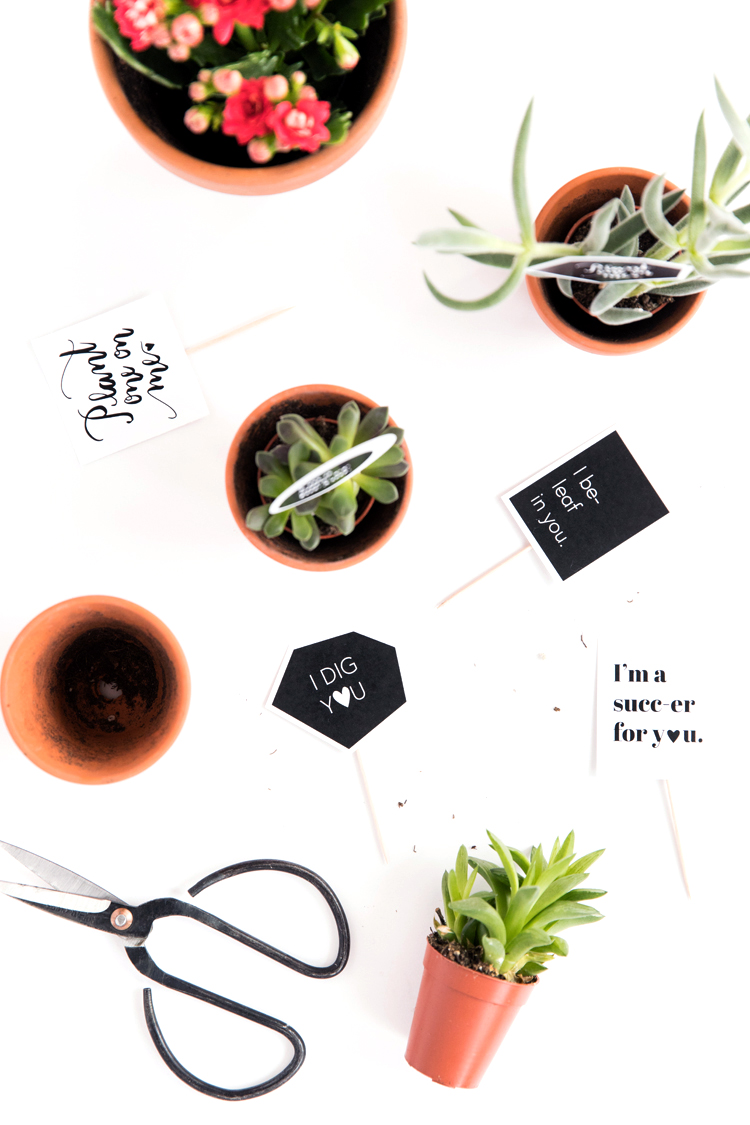 They're unbe-leaf-able. 😉
(I swear. The worse it is the more I love it. Haha!)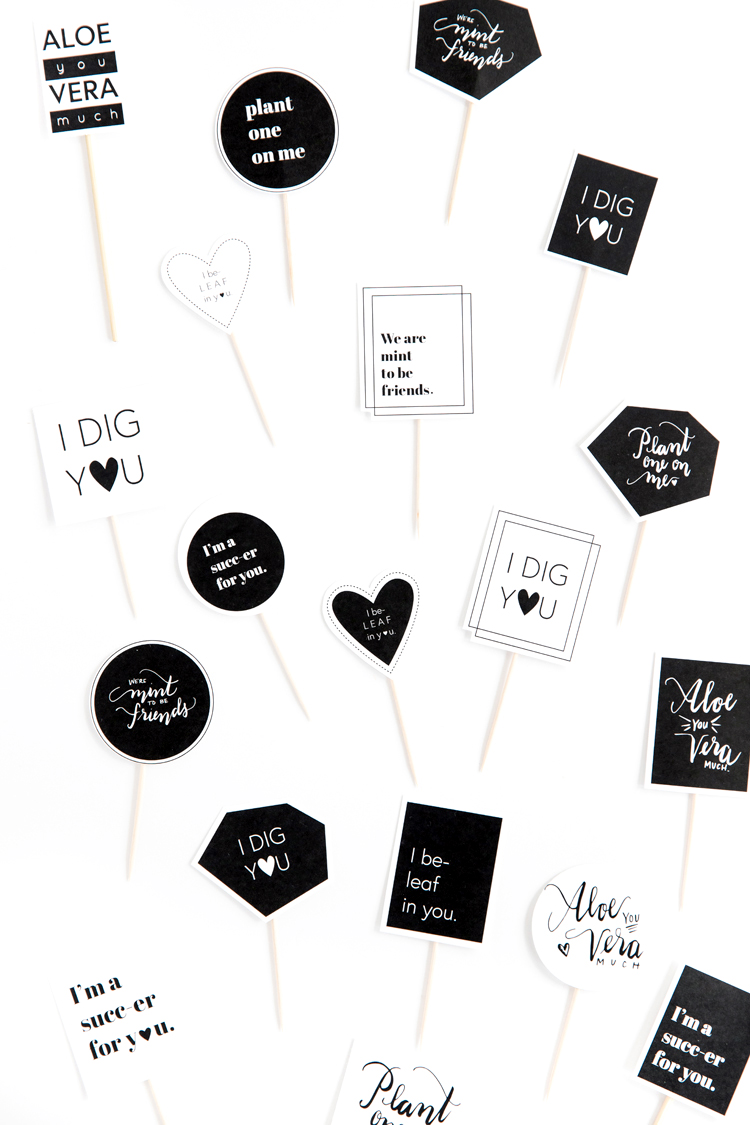 Some are specific to certain plants, and some can go with anything plant related.
Seeds, shovels, cut bouquets of flowers, bulbs, succulents…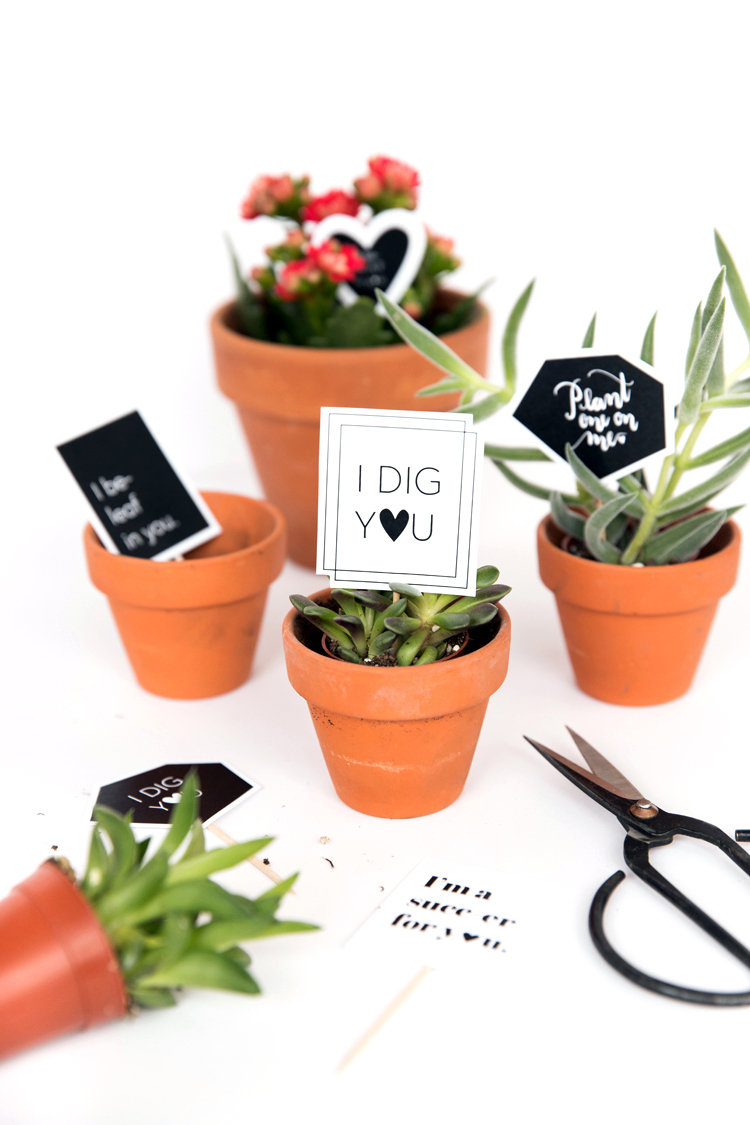 Ahh! It all makes my plant loving heart go pitter-patter.
I also tried to make most of the puns less romantic and more friendly. Because it can get a little awkward giving your sweet elderly neighbor some tulips and a card that references her putting her two lips on you. Amiright?….Ha!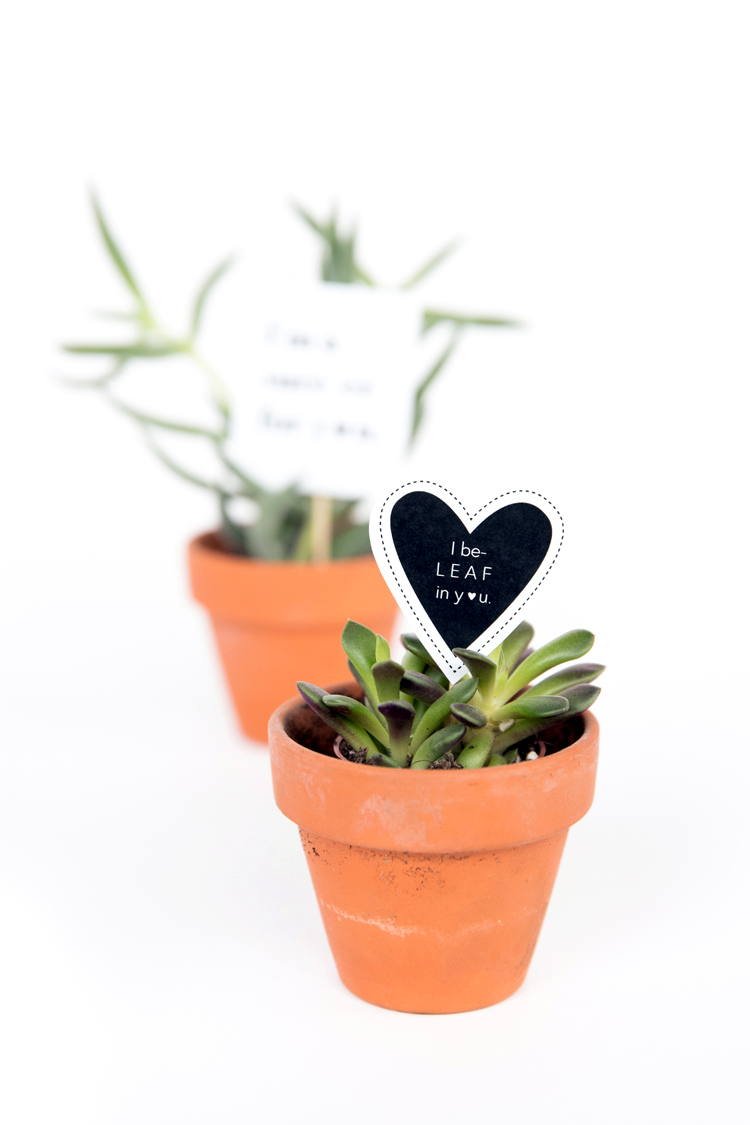 I dig you. We're mint to be friends. I be-leaf in you. Aloe you vera much. They're mostly in the friend zone.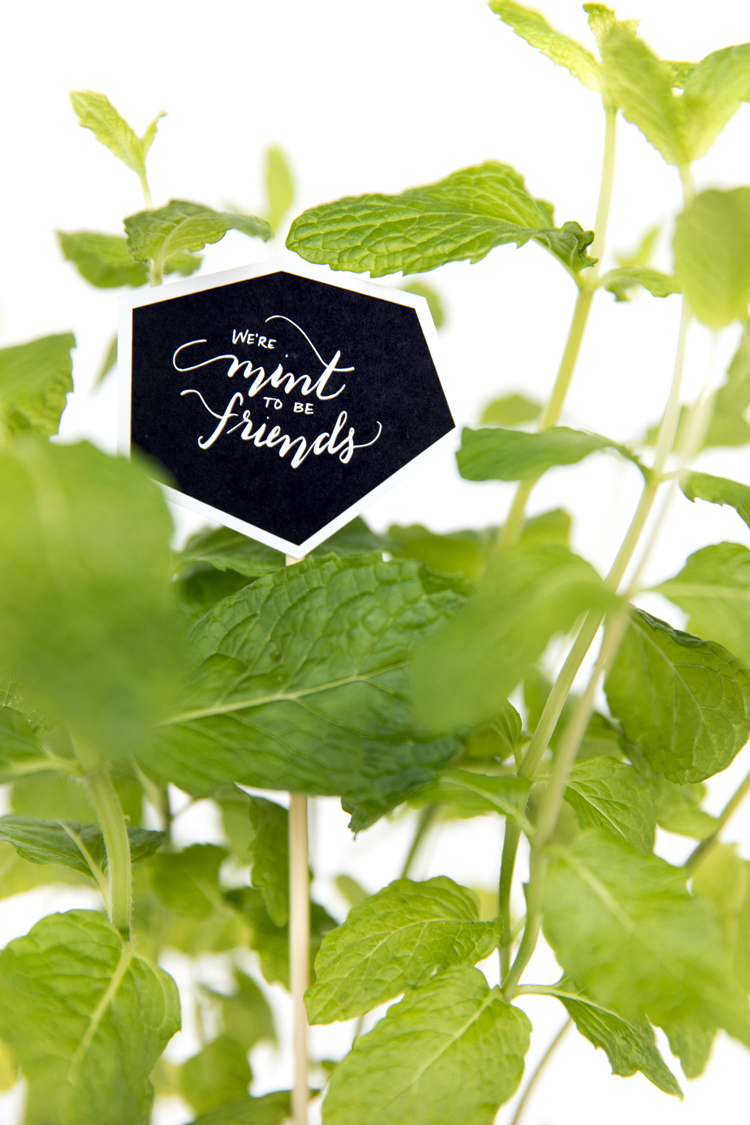 Even "I'm a succ-er for you" and "plant one on me" are a little more clever and cute, than hot and steamy.
They're also pretty flexible so you can use one card, or a whole bouquet!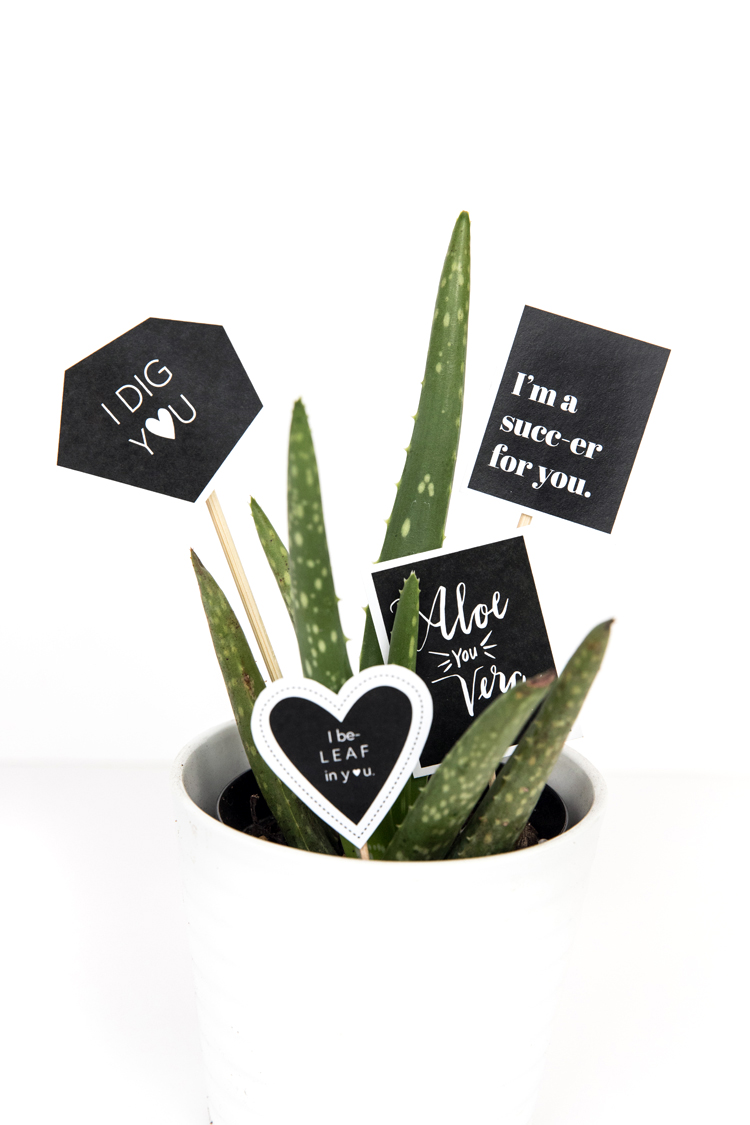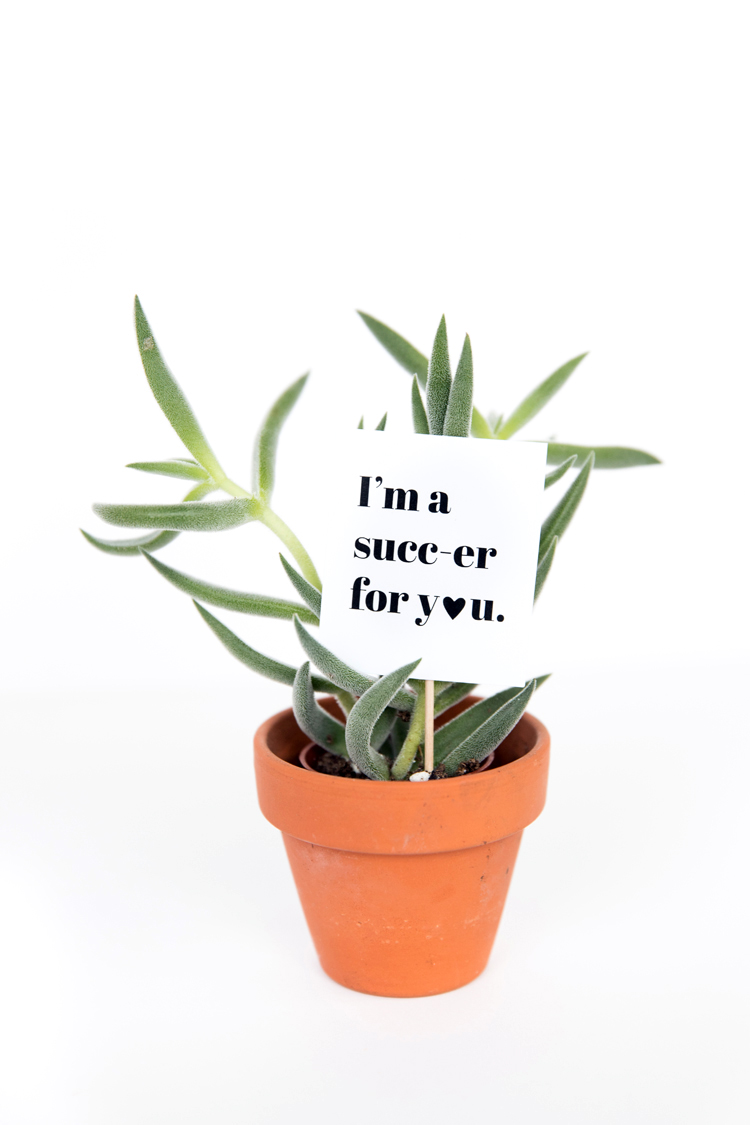 I included all the cards in a two-sheet, black and white printable.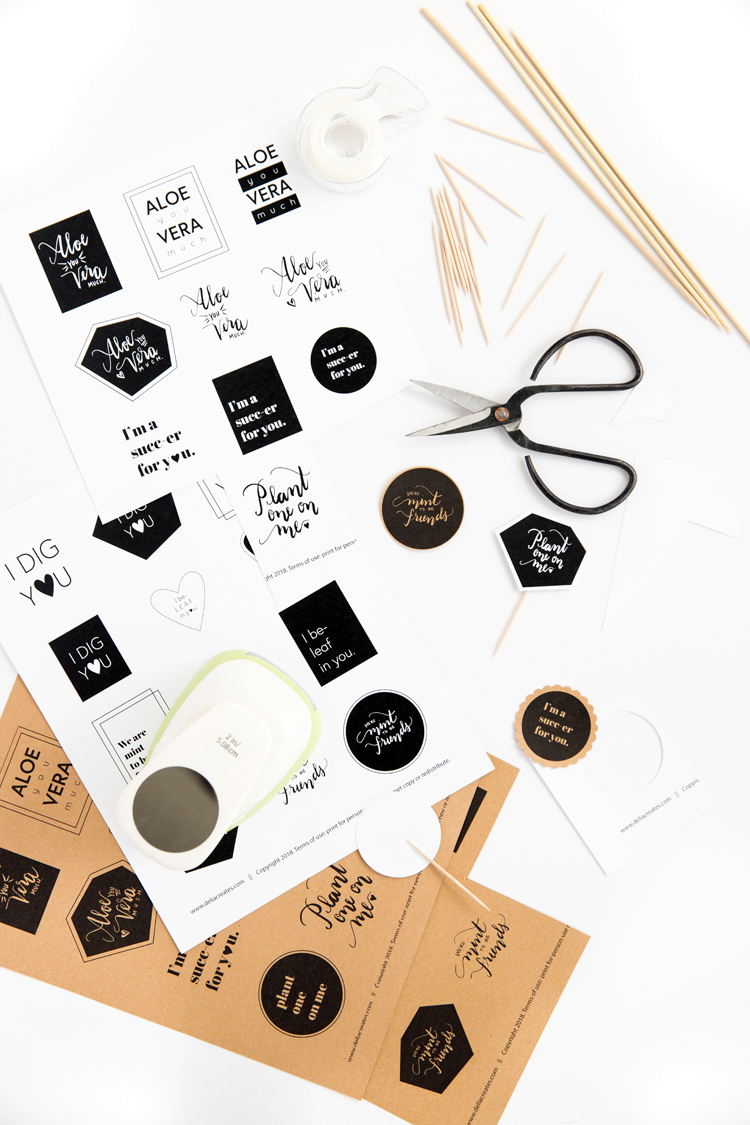 CLICK HERE TO DOWNLOAD THE FREE PRINTABLE:
It's a pdf file. Just print it out on card stock, cut, and tape to a skewer or toothpick.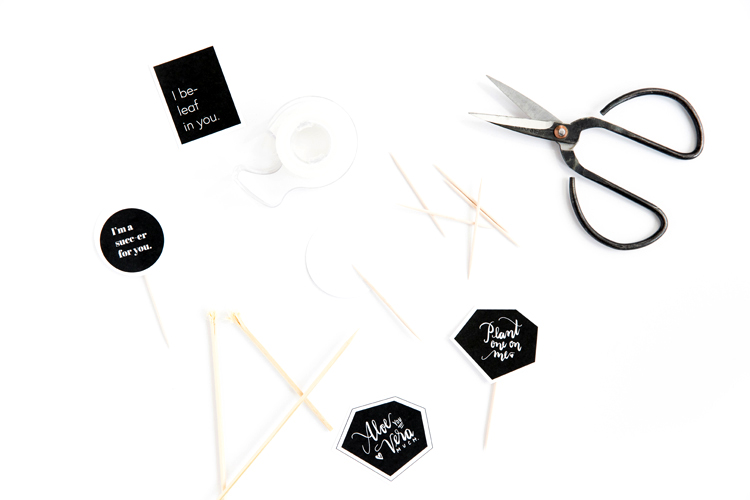 You can use a circle punch if you have one, but you can also just cut a square around the circle and it will look just as nice.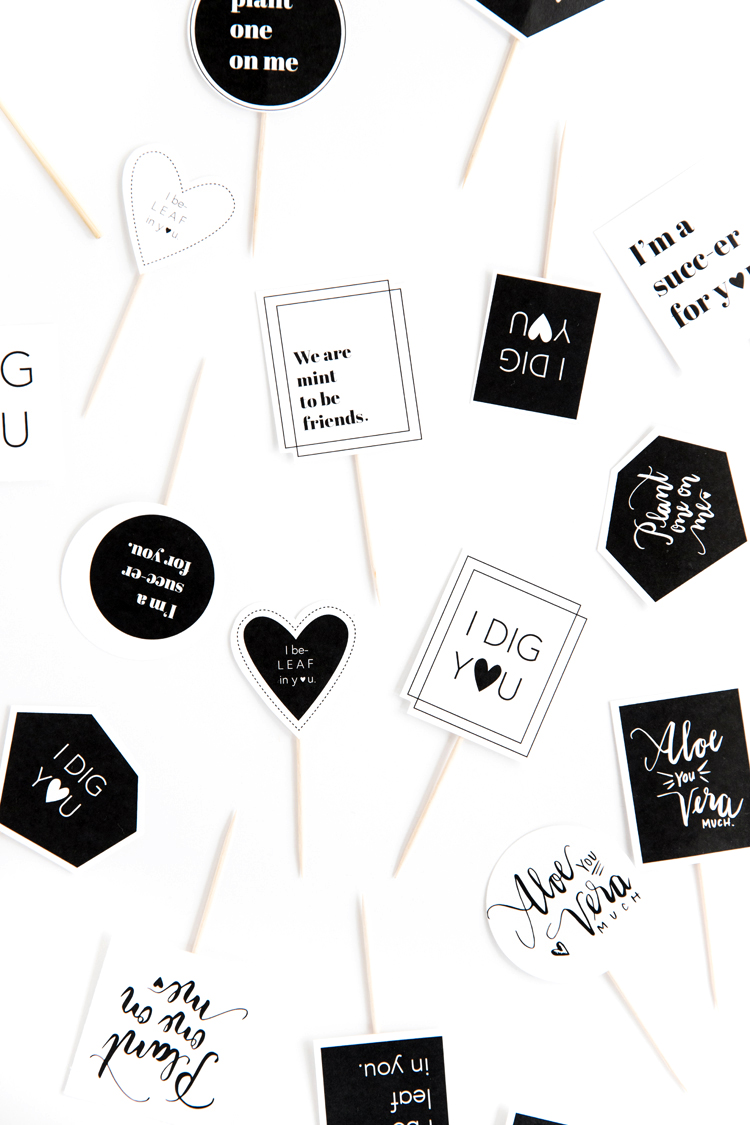 Easy peasy (and very inexpensive!).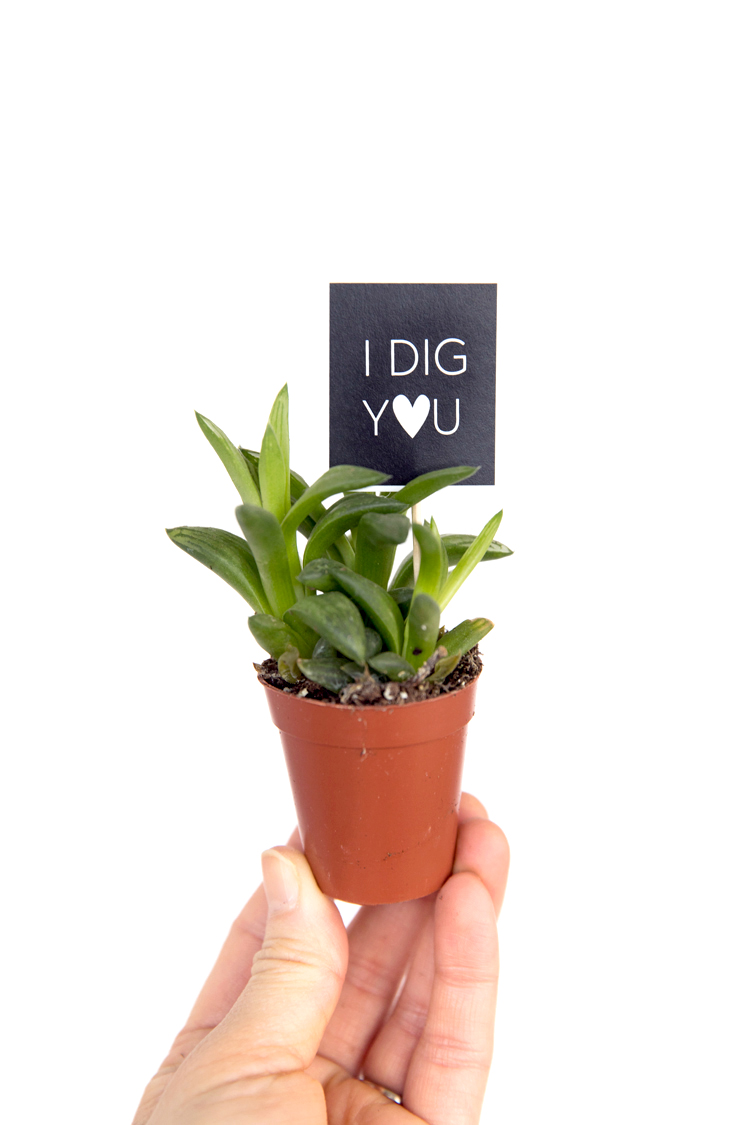 You can buy indoor plants year round in most stores. I found these cute, teeny tiny succulents for $2 at Walmart.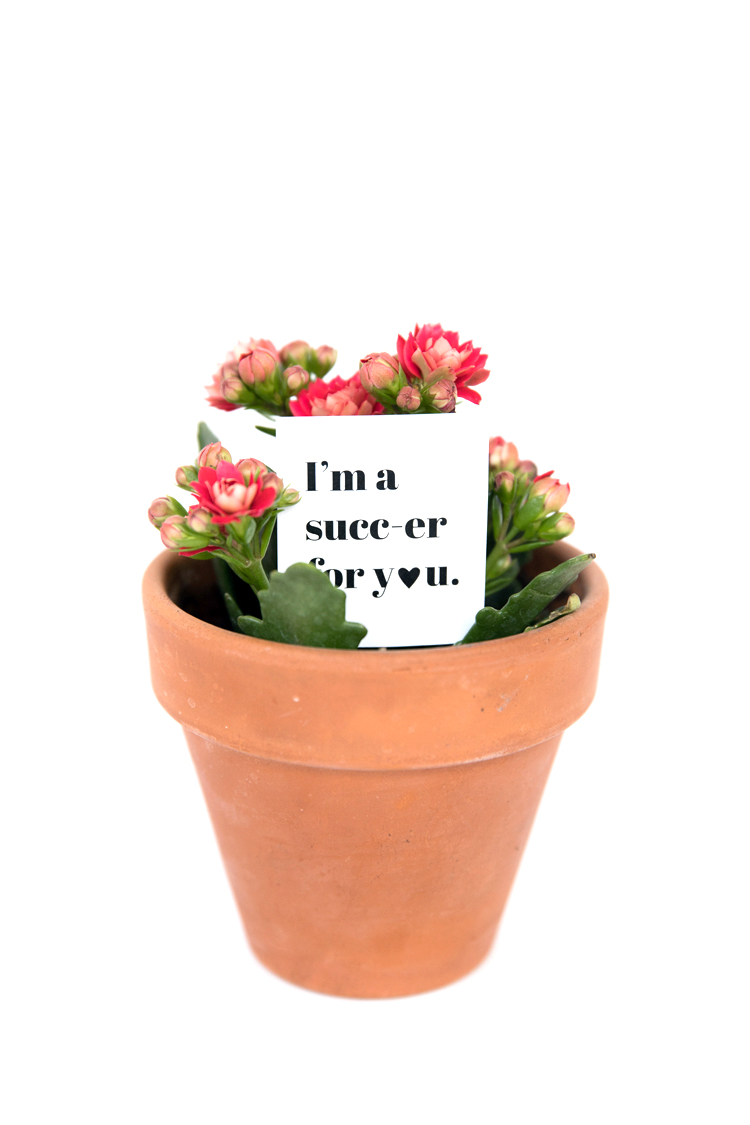 This flowering Kalanchoe is a winter-blooming succulent that is so pretty and festive. The blooms can last weeks to even months!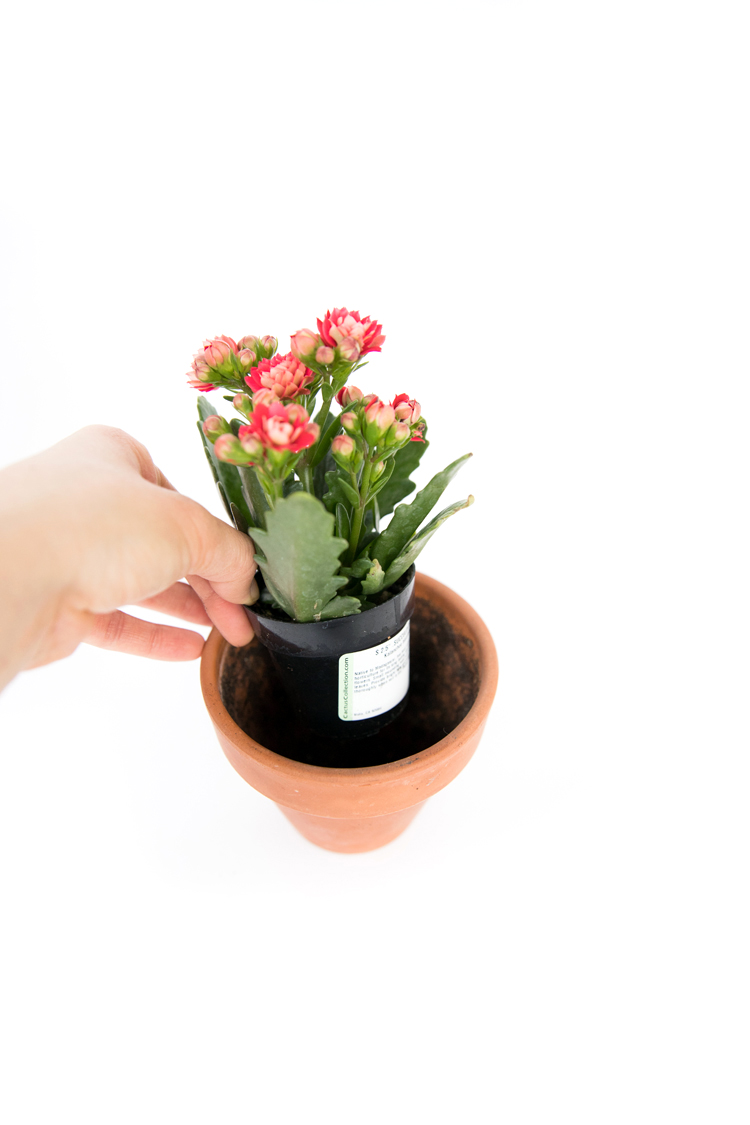 If you're not a fan of the pot the plants come in, you can slide them into a more decorative pot. They sell tiny terra cotta pots of various sizes at Michaels and Home Depot.
Spring annuals are also a great choice and usually cost only $1-2.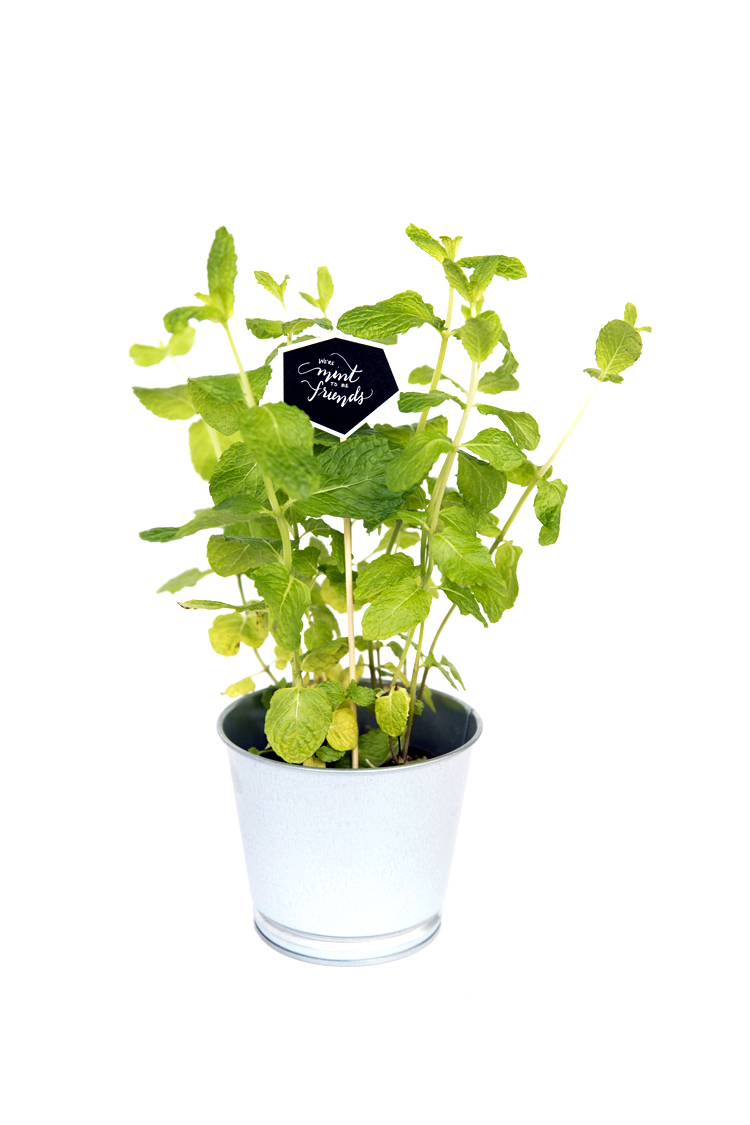 Mint is not as inexpensive but it's easy to find. Most grocery stores sell herb starts in the produce section.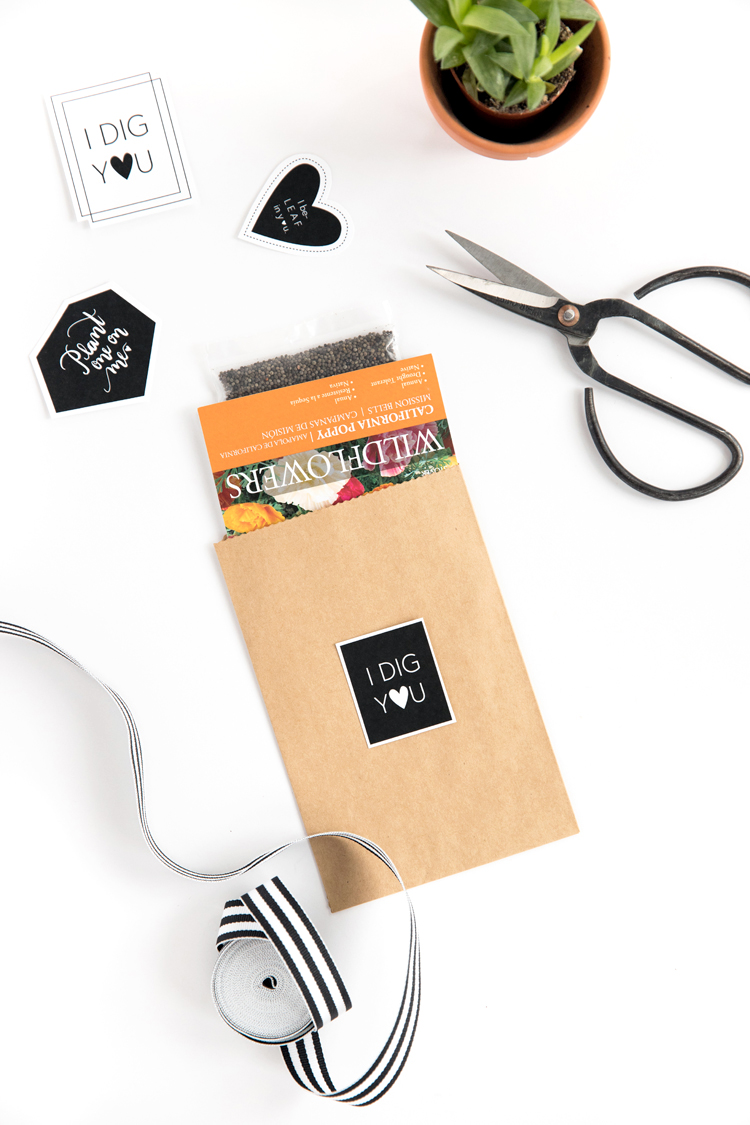 Since we're having a mild winter this year, Valentine's Day is about the right time to sow wildflower seeds. I slid a seed packet into a small kraft party bag from Michaels, and stuck a tag on top with some ribbon. It's a practical gift that will keep giving all Spring.