If you caught the basic gathered skirt pattern re-mix, this is almost the same, but with a chiffon twist!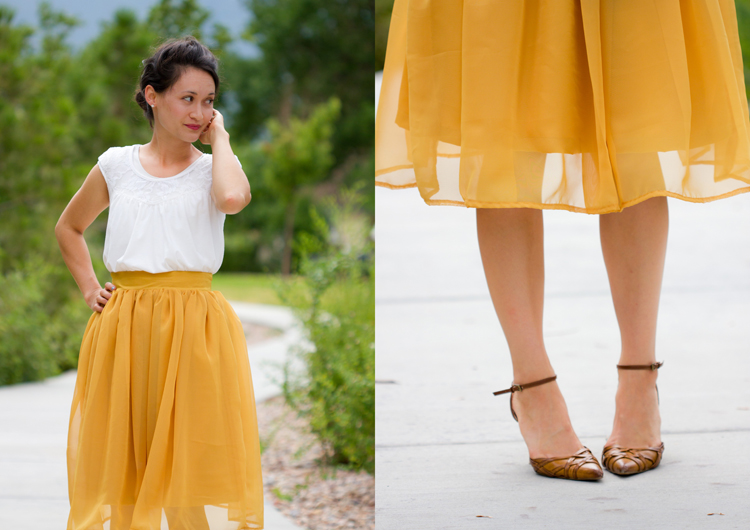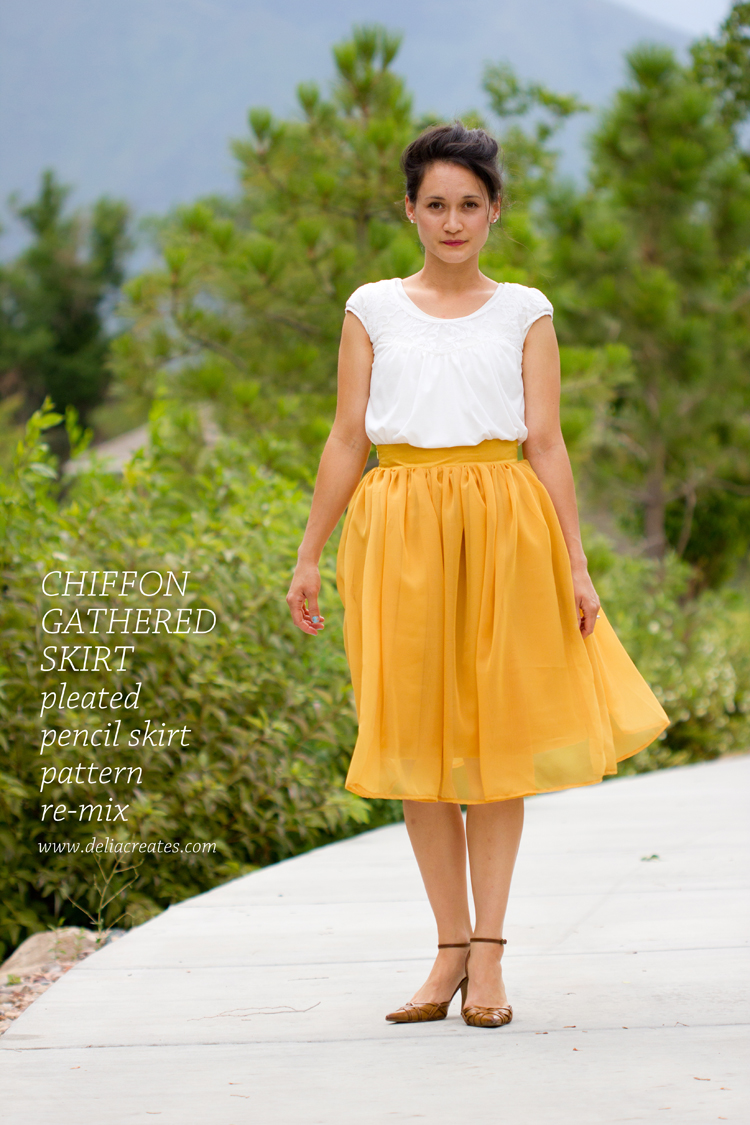 The process is very similar but there are differences and adjustments you have to make to suit the chiffon.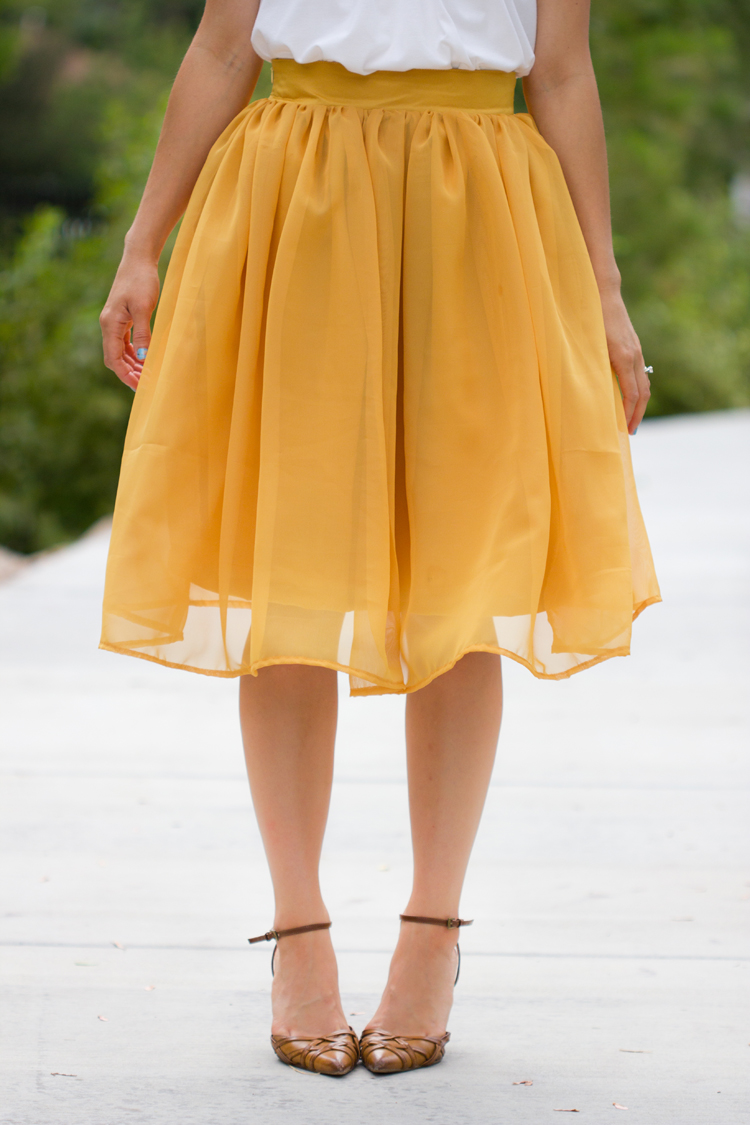 Read through the instructions for the basic gathered skirt HERE, and then go through the differences below.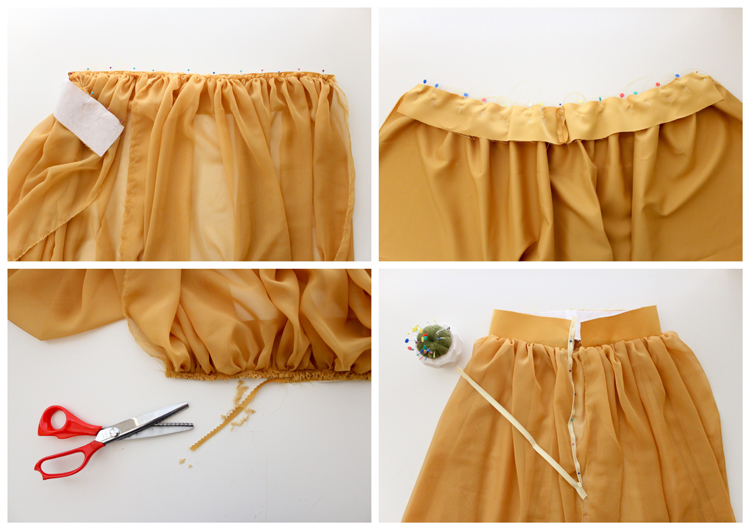 1. The chiffon fabric is your main fabric and looks better the more gathered it is. Multiply your waist measurement by four or more, instead of two, to decide how wide you cut your skirt. Chiffon doesn't really have a significant grain difference. If  you are a size 10 or above, instead of cutting the skirt pieces selvage to selvage, consider cutting the yardage to  the skirt width you need. Most chiffon comes 60″wide. You can cut your chiffon into two, width wise, to get your two skirt pieces; since your skirt pieces need only be 26″ in length.
(You'll notice that my zipper doesn't match that well. I had to just find a close match. If you have to do the same, don't fret. The chiffon is so gathered, that all but the zipper pull will be disguised)
2. Your lining needs to be a nicer quality polyester/silk/crepe fabric that matches or coordinates with your chiffon.
3. Instead of using the chiffon, your waistband is made from your lining fabric.
4. Since chiffon is polyester, instead of trying to finish raw seams, simply singe raw edges with a flame. I also used pinking shears to reduce bulk at the waistband seam before singe-ing, but that is optional.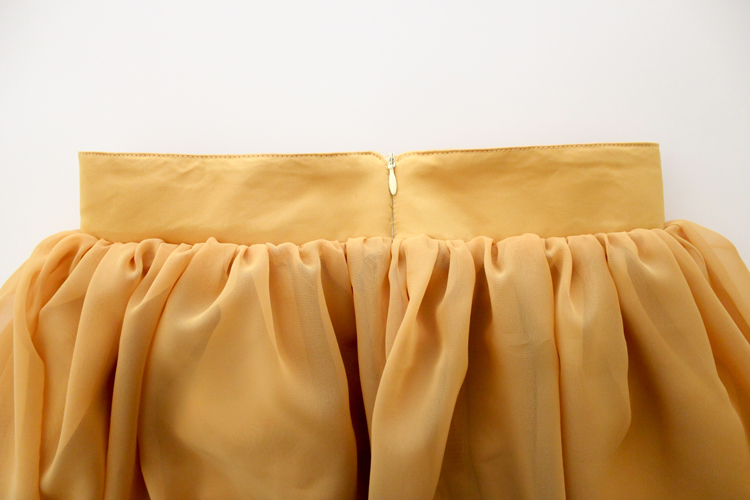 5. Attach your waistband pieces, zipper, and lining in the same way as the basic gathered skirt. Top stitch the waistband's top edge.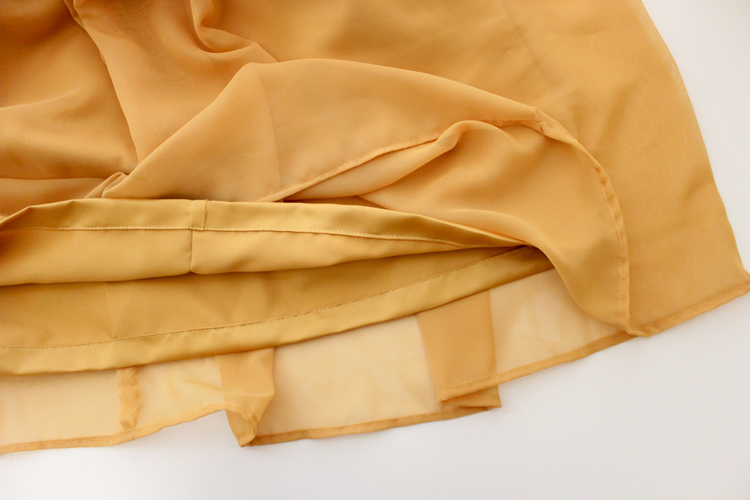 6. Hem the lining in the same way as the basic gathered skirt. For the chiffon main skirt make the hem narrower to about 1/8- 1/4″. This makes for a longer skirt, but allows for a little peek-a-boo design feature at the hem of your skirt as well.
7. One other tip that I did not implement, but will probably add now after pictures, is top stitching at the bottom of the waistband. The satin fabric visibly twists and wrinkles at the waistband, unlike my cotton skirt. I believe that top stitching the bottom of the waistband would help remedy that.
That's it!
I'm anxious to make this in a maxi length. Don't you think that would be super elegant?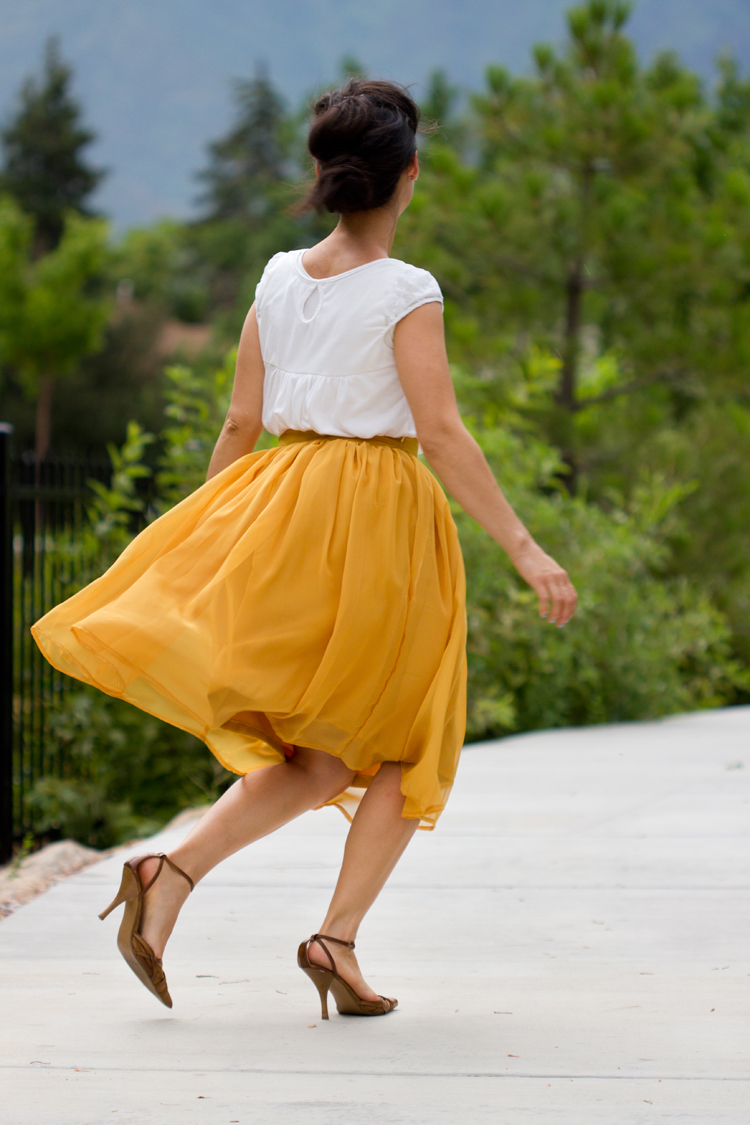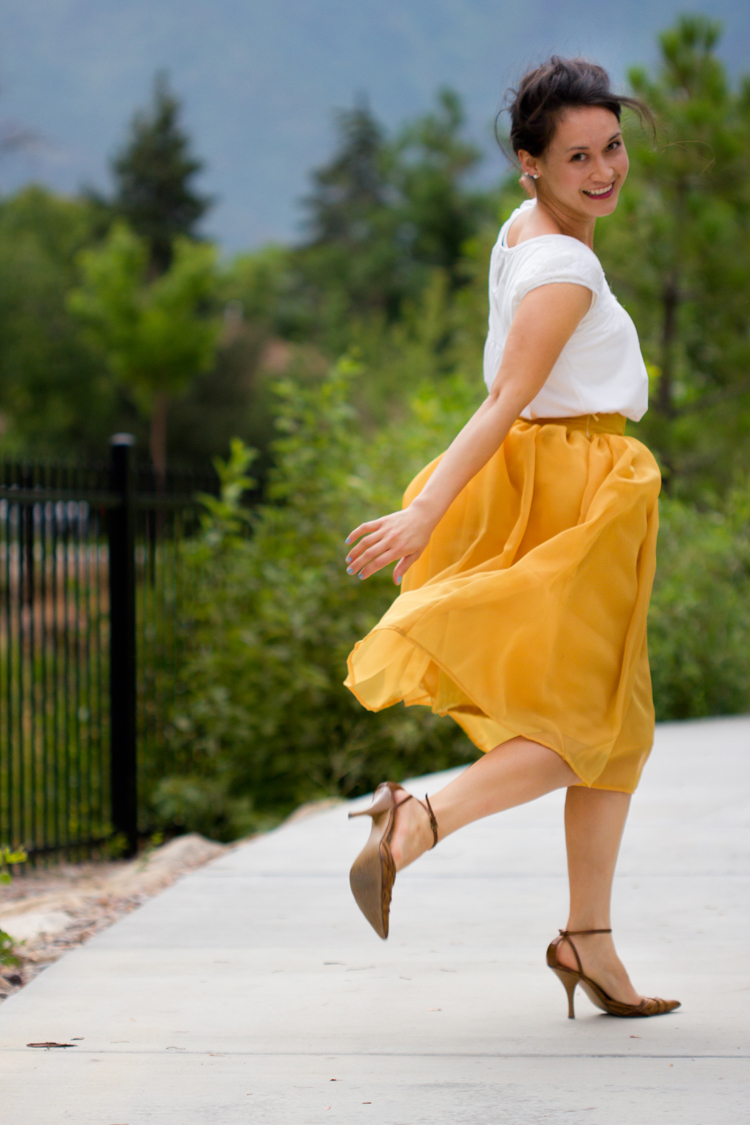 The more skirts I make, the more I want to make! It's addictive! 😉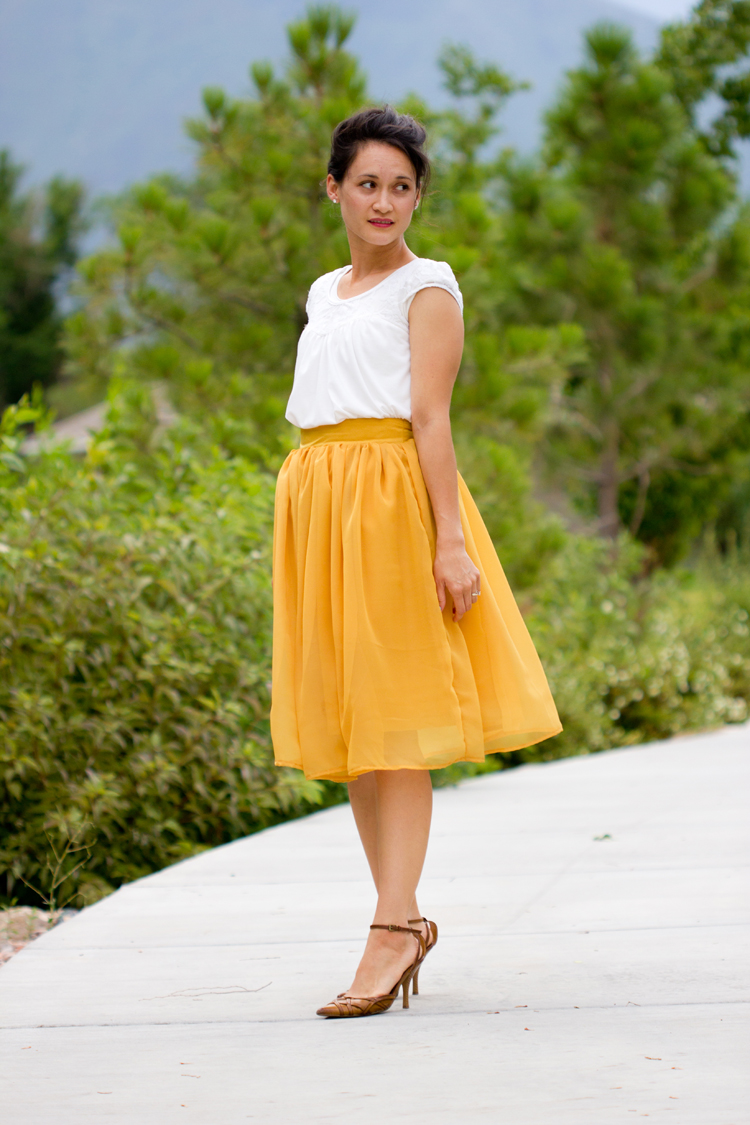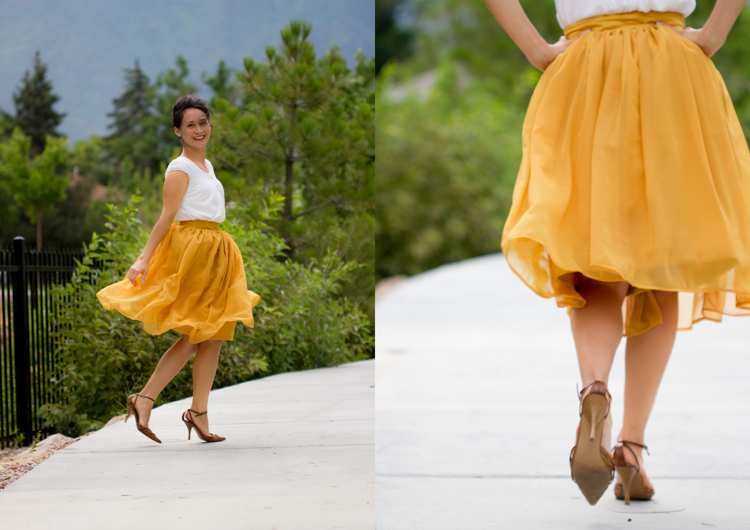 Sources: Chiffon and Satin fabric is from Jo-Ann's Casa Collection in  "Mineral" || Blouse is thrifted || Shoes from Head Over Heels