Part crochet, part… weaving?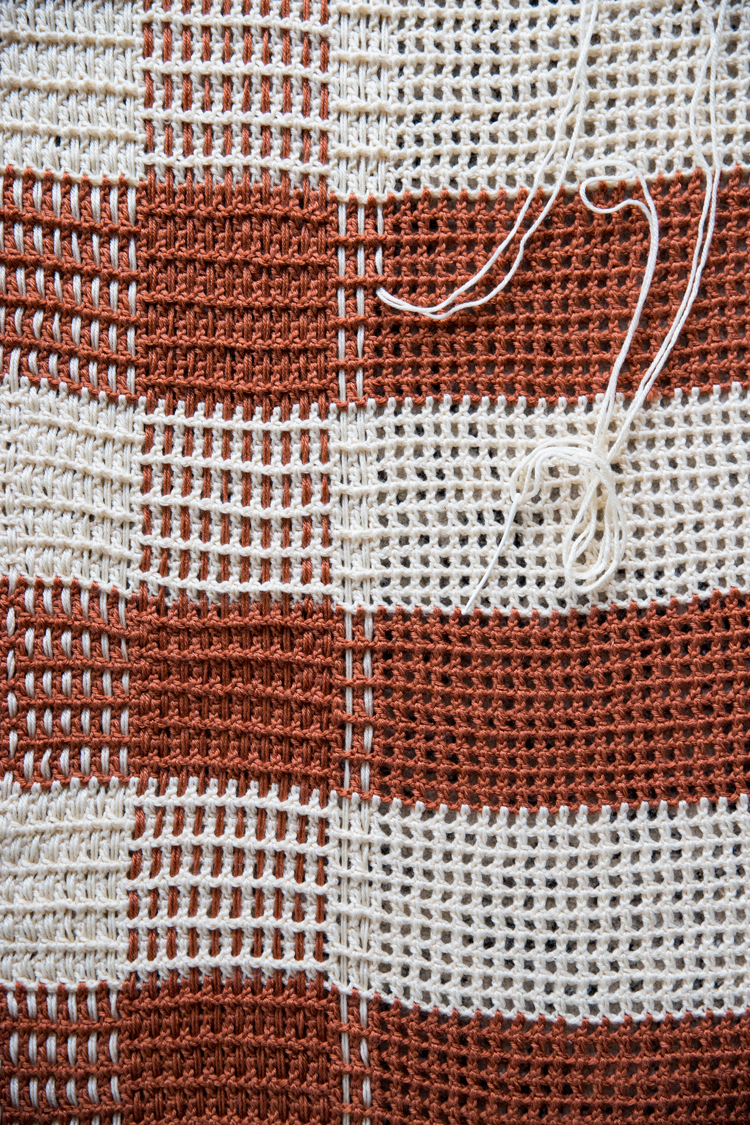 That's right! This blanket is made up of a crocheted grid work base, and then yarn is woven through it to create a gingham pattern.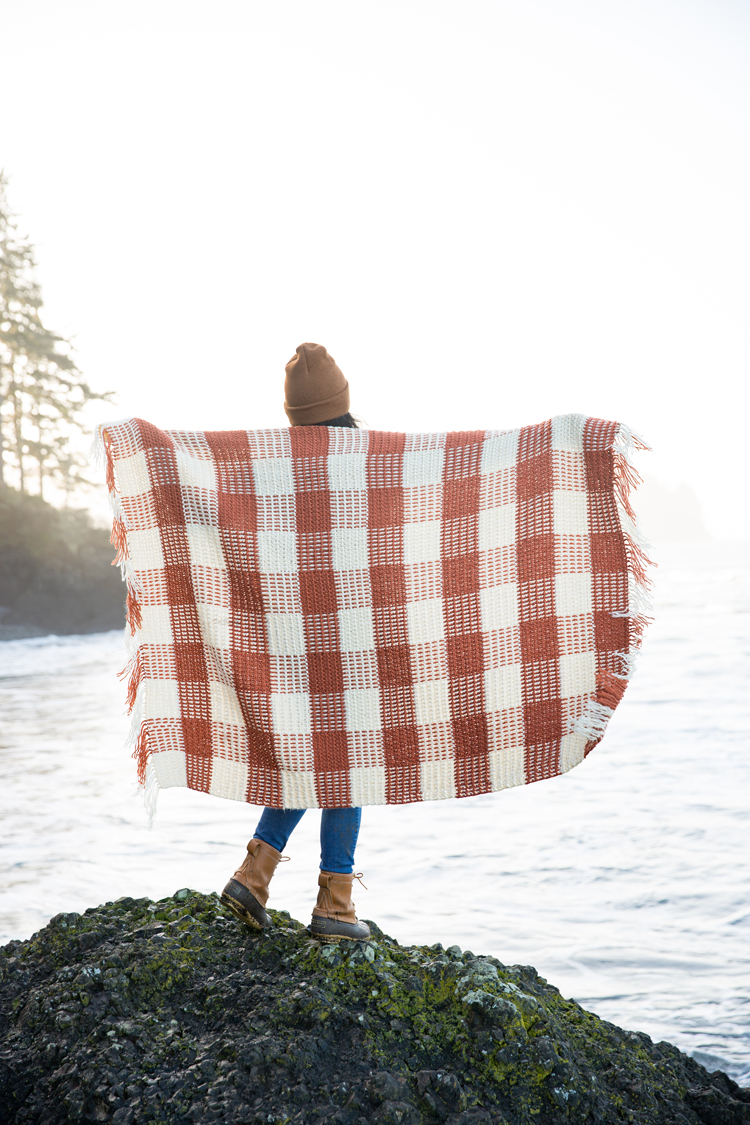 It's totally beginner friendly too. All you need to know is how to chain and double crochet, and then sew a running stitch.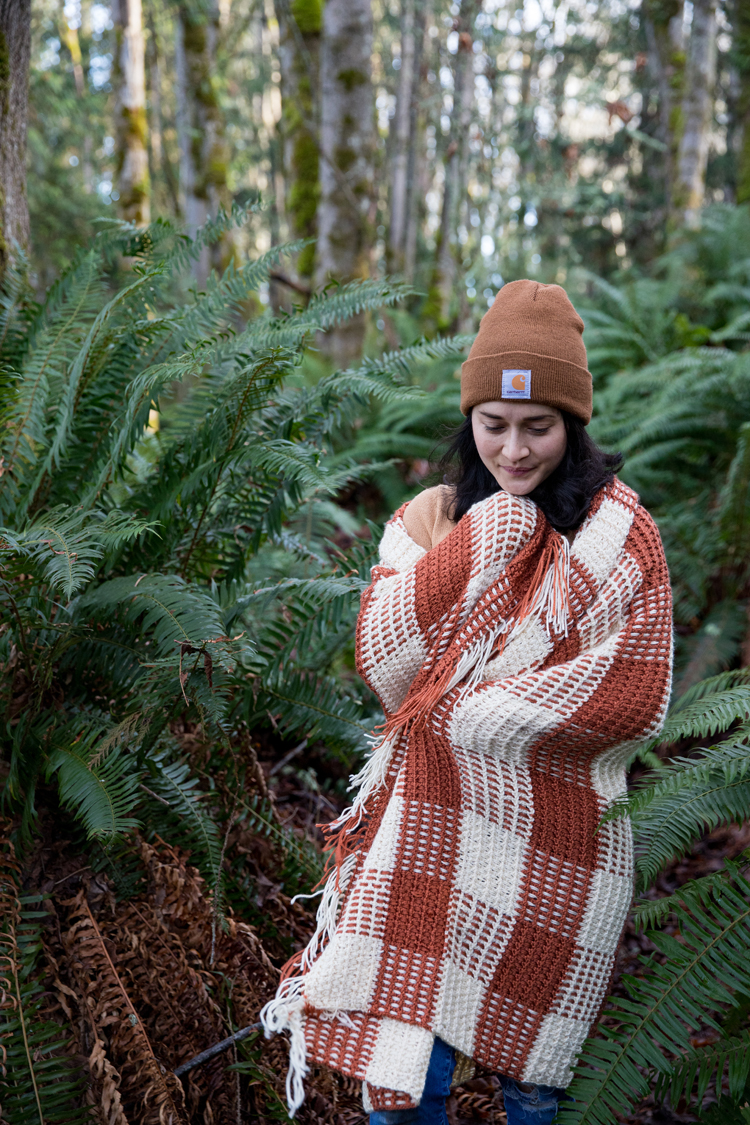 The trick is to have patience. I am convinced that there are two types of crocheters…blanket crocheters and impatient crocheters. I definitely tend to fall into the second category.
I REALLY wanted to try this technique though, so I persevered and slowly finished this throw sized blanket over almost a year. Yeah…I started in February of 2020. Haha. If you ever feel like you're a slow crocheter, take comfort in knowing I'm soooo much slower. 😉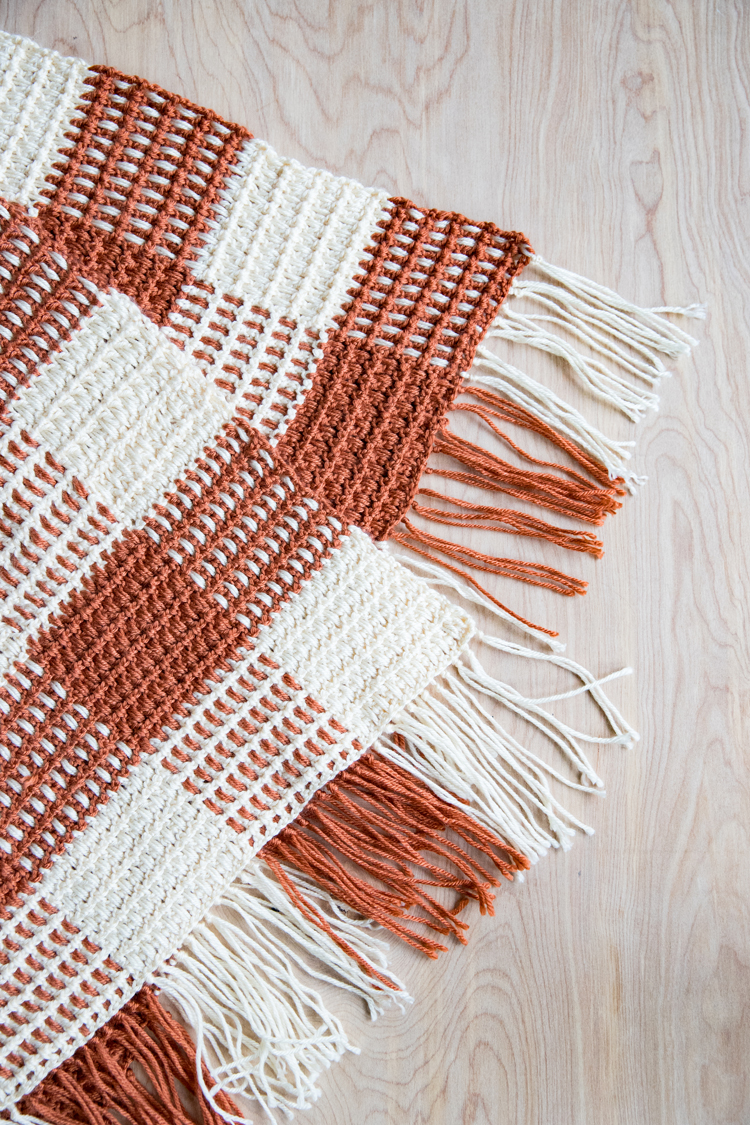 I think that if you don't mind the repetition, it should go much quicker for you.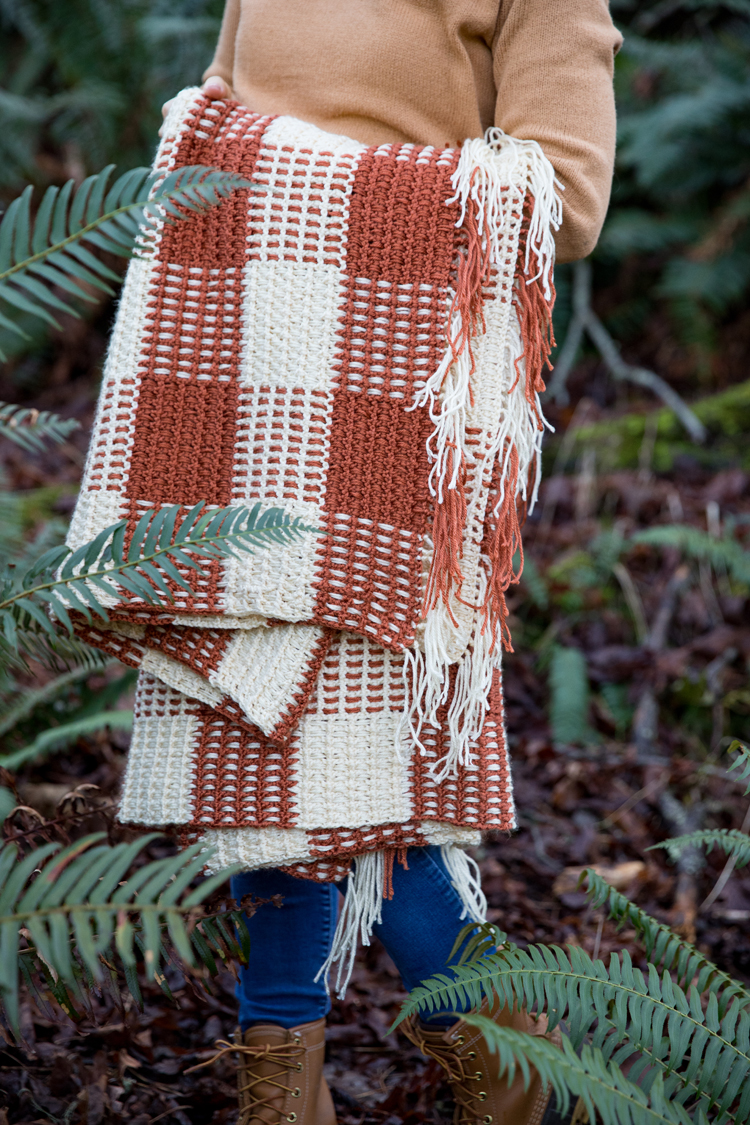 Let's get started…
MATERIALS
Two colors of worsted weight yarn (see material notes for amounts)
F/5 or 3.75 MM hook
Yarn needle
Scissors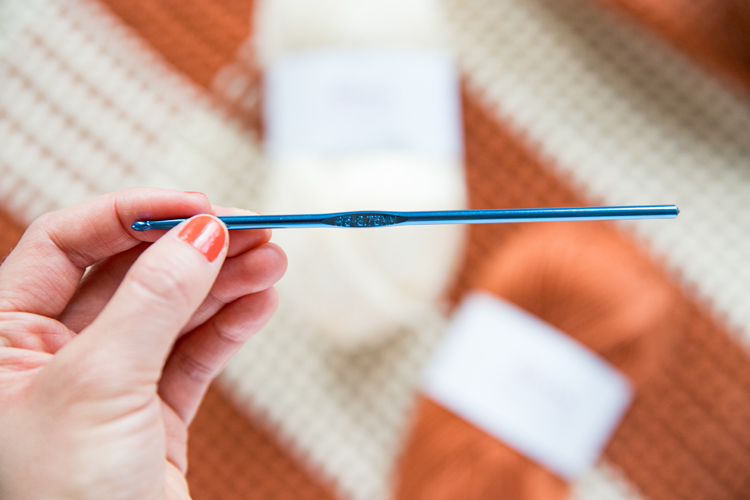 Material Notes:
I recommend getting 700 grams of yarn for each color.
This pattern requires approximately 1200 grams or 2,600 yards of yarn. I used this Brava yarn from WeCrochet that comes in skeins of 218 yards or 100 grams each. I used Persimmon and Cream (although I really wanted to use Brindle but it's super popular and always out).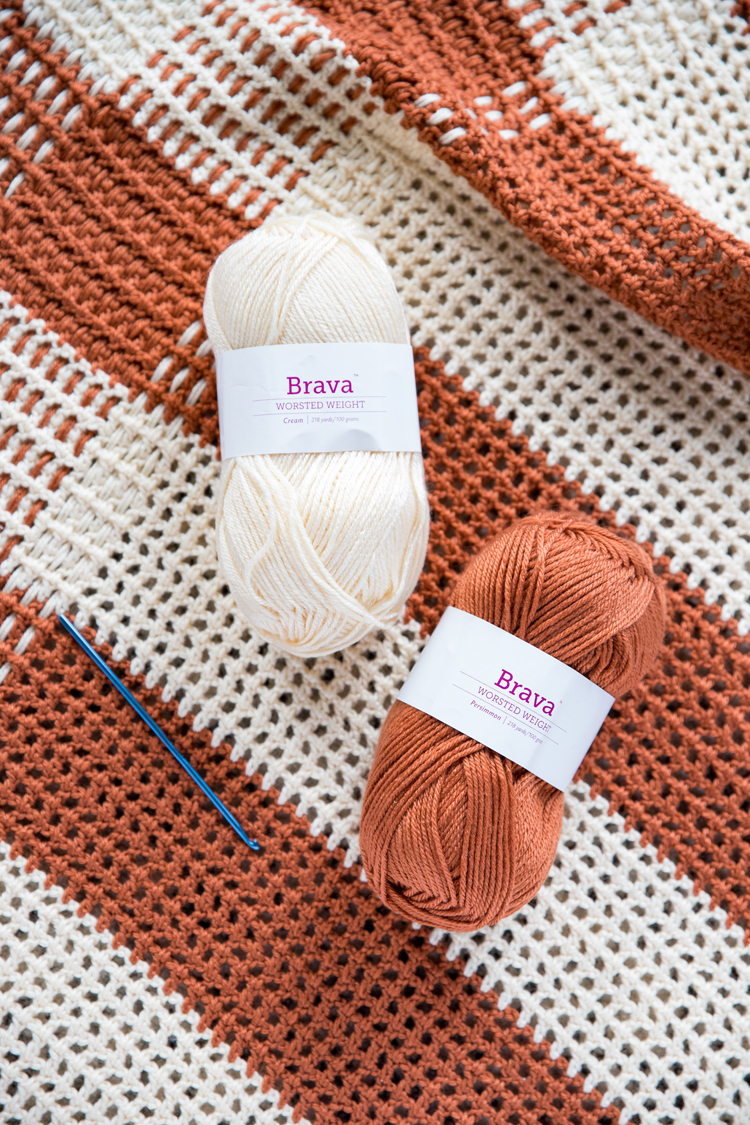 I technically used 12 skeins (6 skeins of each color), but was glad to have a couple of extras because I made a mistake (skipped a stitch while distracted crocheting) and had to redo a portion of the blanket.
Disclaimer: WeCrochet gifted me this yarn, but my love for their yarns is genuine. They are quickly becoming one of my favorite yarn suppliers! This particular Brava yarn comes in 40 different colors, is so smooth and easy to use, and is regularly $2.49 per skein. I've seen it go on sale for less than that before too!
ABBREVIATIONS
ch = chain
dc = double crochet
GAUGE
4 x 4 inches = 10 dc (9 ch in between) x 10 rows
The finished size of this blanket is about 53 inches (minus the fringe) by 46 inches.
VIDEO TUTORIAL
Scroll past and the video will bump to the side or top of the screen so that you can read the pattern while you watch.
PATTERN
Note: This pattern is worked in groups of ten. The width of the blanket is divisible by ten stitches and each color is worked in rows of ten.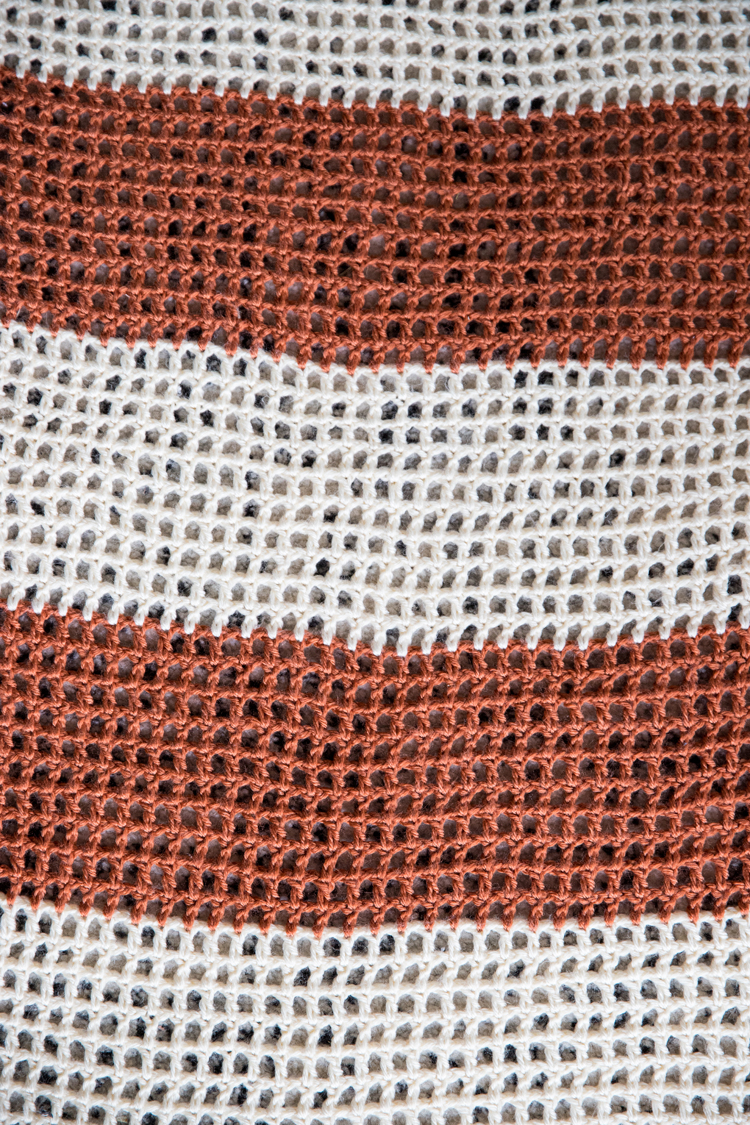 Chain 224 in first color.
ROW 1: Dc in fifth chain from hook. *Ch one, skip ch, dc in next.* Repeat from * to * 107 times. Ch one, skip ch, dc in last ch in the row. (total dc stitches, including beginning chains but not including ch spaces = 111)
Row 2: Ch 3, skip ch, dc in dc from previous row. *Ch, skip ch, dc in dc from previous row.* Repeat 108 times. (111 dc)
Rows 3 – 10: Repeat Row 2.
Switching Colors:
In the final dc stitch of Row 10, switch colors. As you work the dc, you will yarn over, insert your hook into the dc from the previous row, yarn over, pull through so you have three loops. Yarn over and pull through the first two loops. Then STOP. Pick up your second color, yarn over and pull through the remaining two loops. Start Row 11 in the next color.
Rows 11 – 20: Repeat Row 2 in second color. Switch colors.
Rows 21-30: Repeat Row 2 in first color. Switch colors.
Continue working the grid pattern and switch colors every ten rows for a total of 140 rows.
Weave in tails: At the end you will have a lot of tails from color changes and tying in new skeins. Weave in all the ends before moving onto the next step.
Weaving The Gingham Pattern
Lay the blanket out flat. This is important for helping the blanket stay square while you weave into it.
Working with two strands of yarn at a time, thread them onto a yarn needle and sewing a running stitch between the grid lines. I staggered my stitch lines between colors, but I don't think you need to per se.
Leave long tails, longer than you need, on either end of the blanket. Tug on the blanket to make sure it is flat and even before tying the ends. I like to weave them through the edge of the blanket one more time before knotting them to ensure the yarn strands who slide out. Then I knot it with a simple knot with both strands.
Work ten rows of each color, switching back and forth until you have completed the blanket.
Trim the yarn tails at the ends to create an even fringe.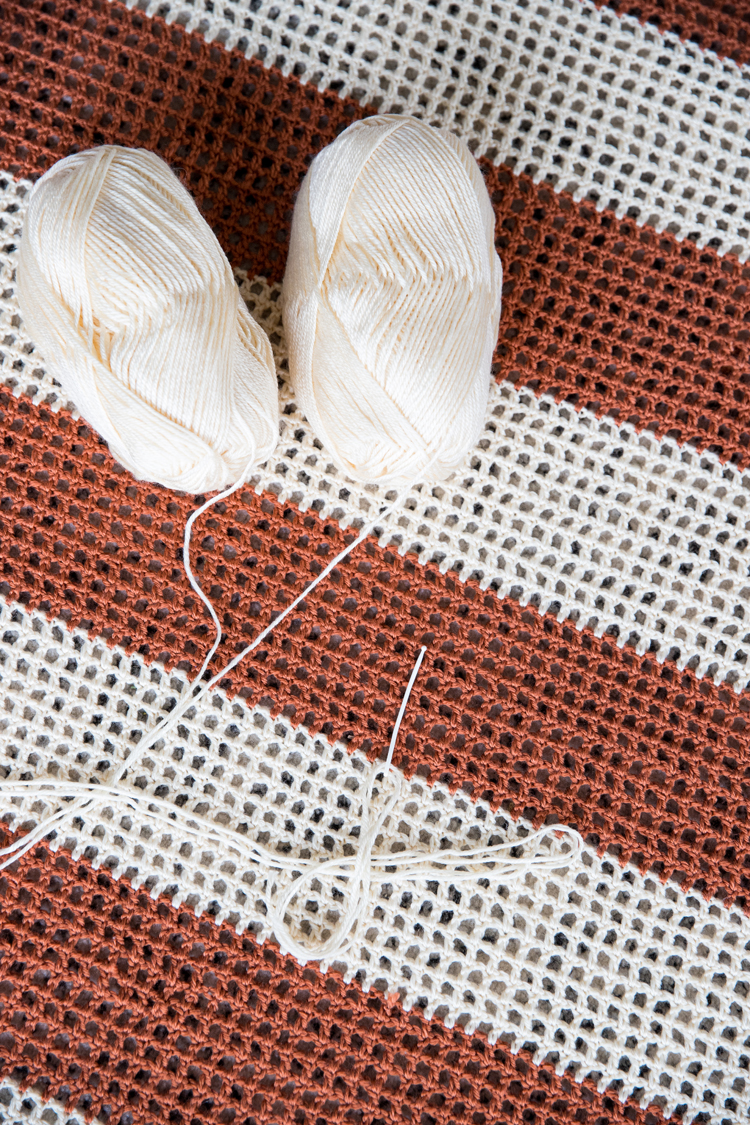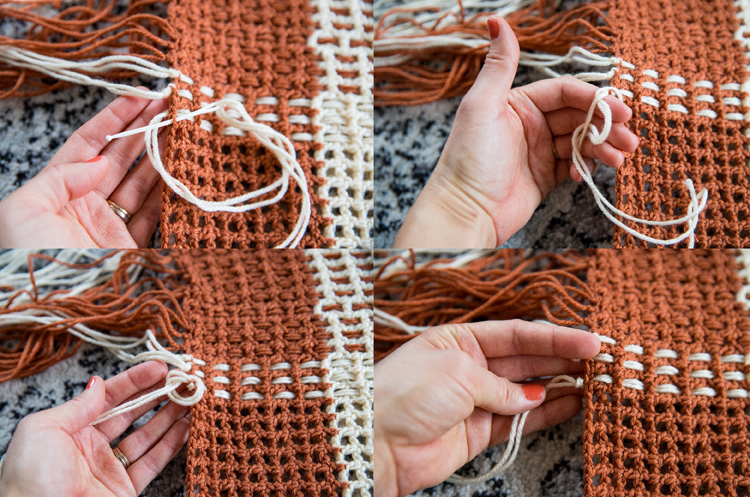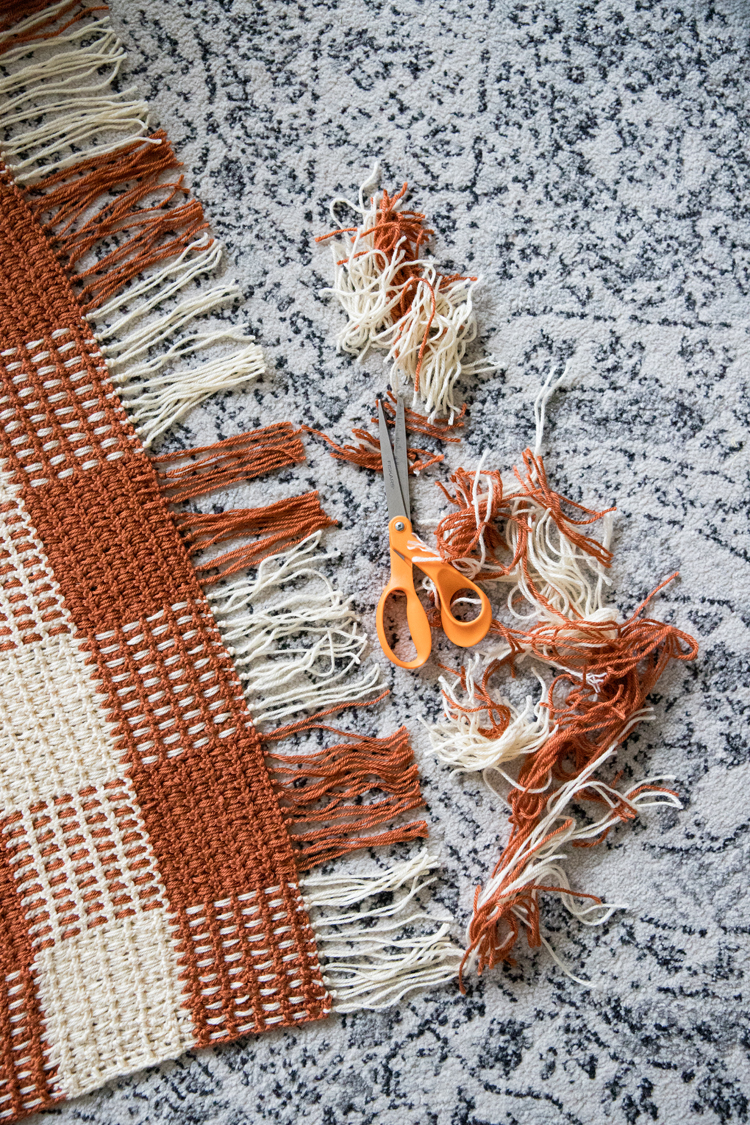 You're done!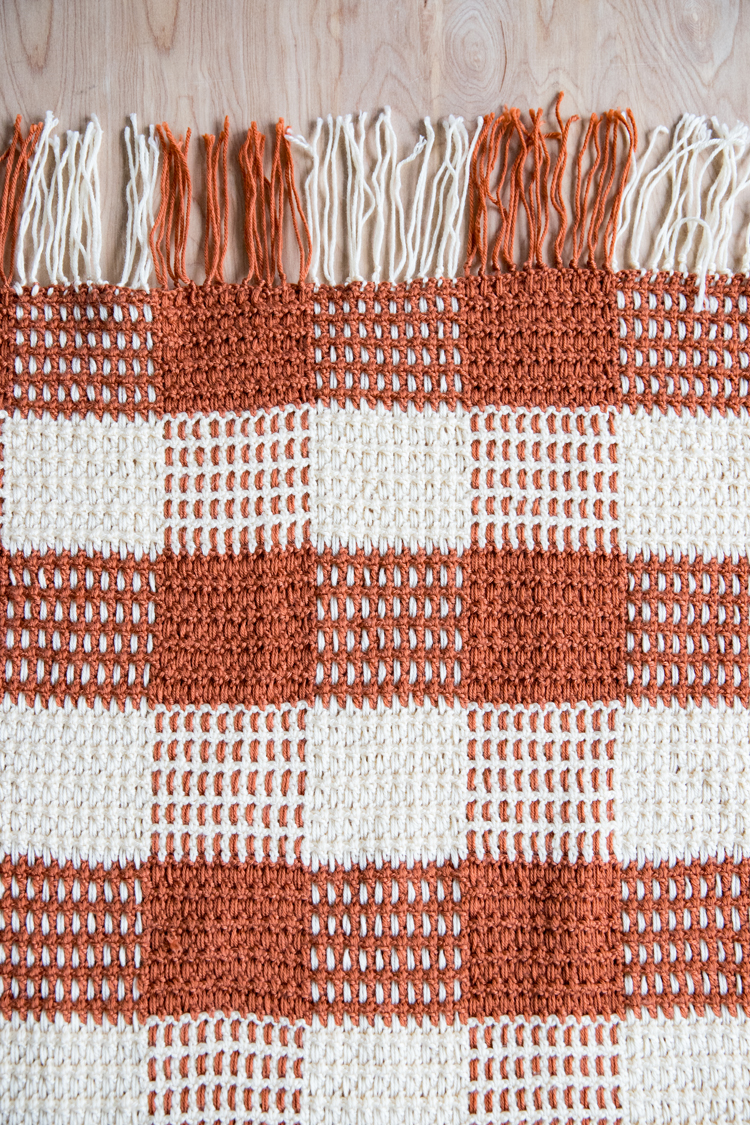 The finished size of this blanket is about 53 inches (minus the fringe) by 46 inches. To make this blanket larger or smaller, add or minus groups of ten stitches and/or rows.
Looking at the finished blanket now, I think I could I add another 10 rows to make the blanket a little larger…Maybe I'll make another. Maybe. Probably not. Ha! 😉
For now, I'm going to wear this blanket as a coat in the forest and at the beach…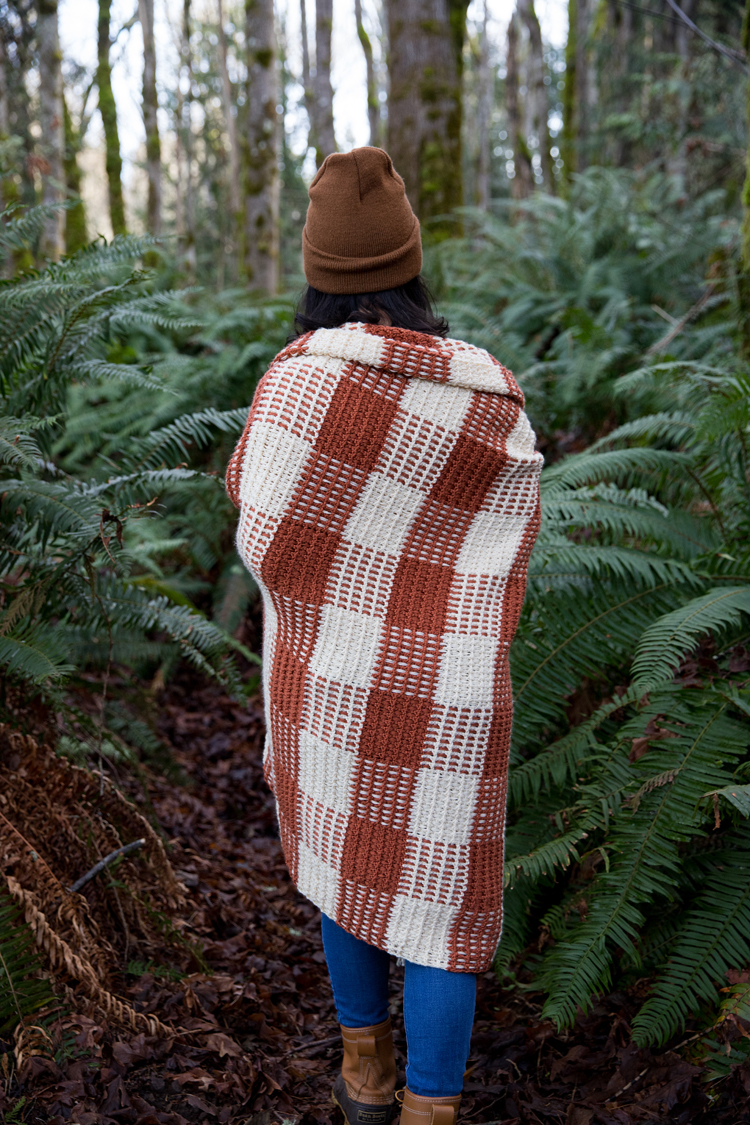 Haha! Of course I'm just doing this for pictures, but I'm laughing at how I look like the kid who forgot we live in the NW, refused to wear a jacket, and then got too cold.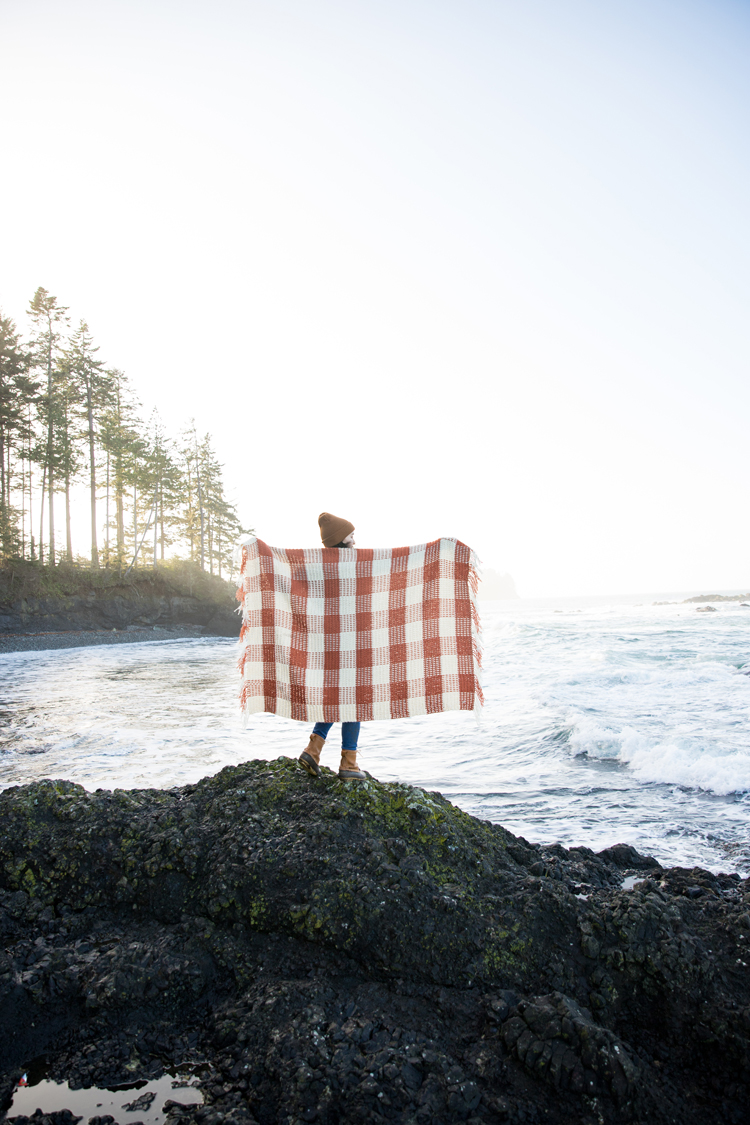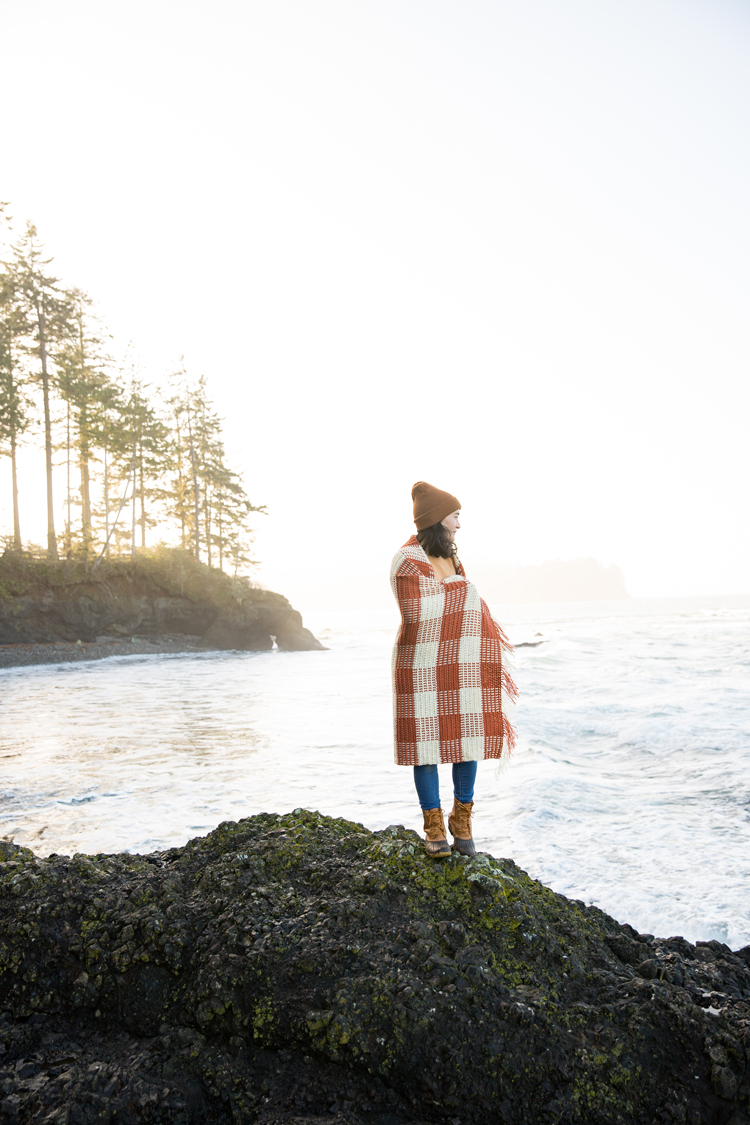 It was effective though and it also cushioned my butt from the pointy rocks. Ha!