My Natalie is 2 and starting to love all things girly girl. Necklaces are at the top of her list of favorite accessories.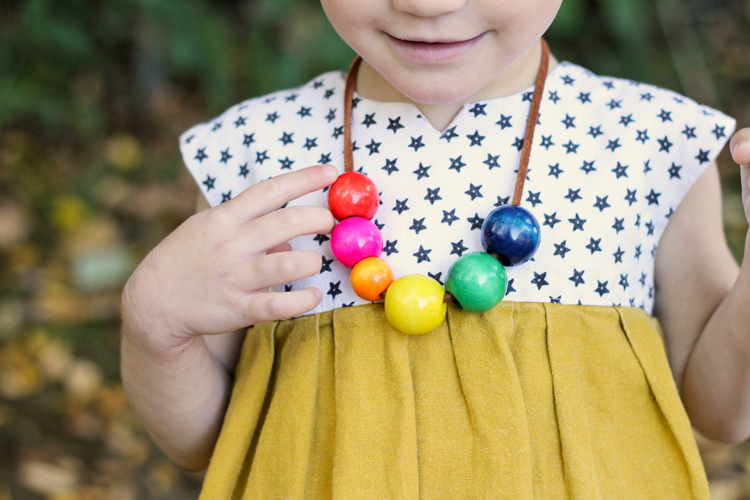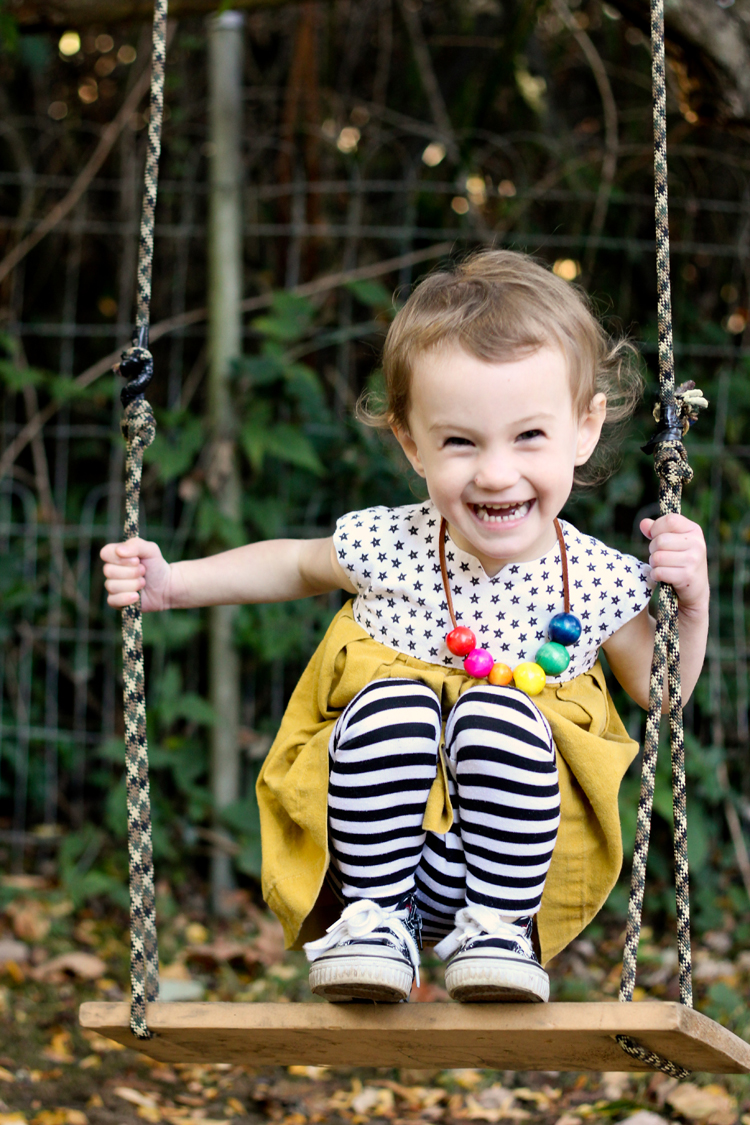 She is always asking to wear one, so I thought we would DIY one together!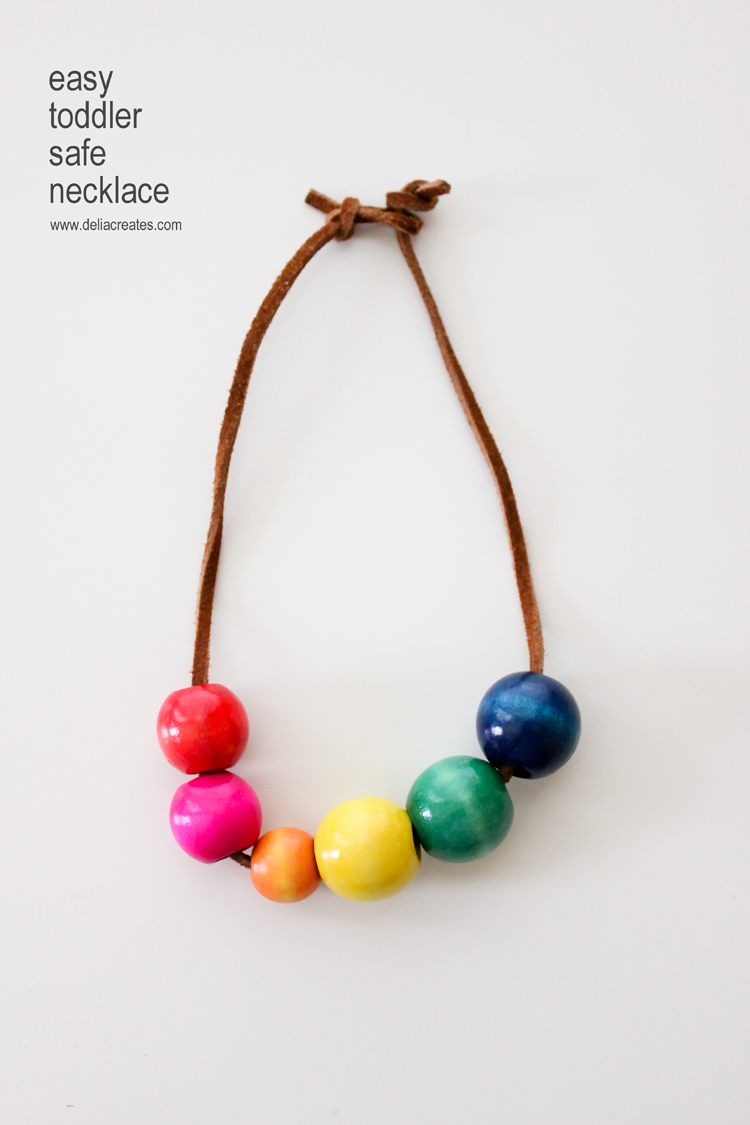 Instead of installing a clasp or just knotting the necklace, I came up with another way for the necklace to stay on, but pull apart easily enough in emergency situations to help prevent strangulation.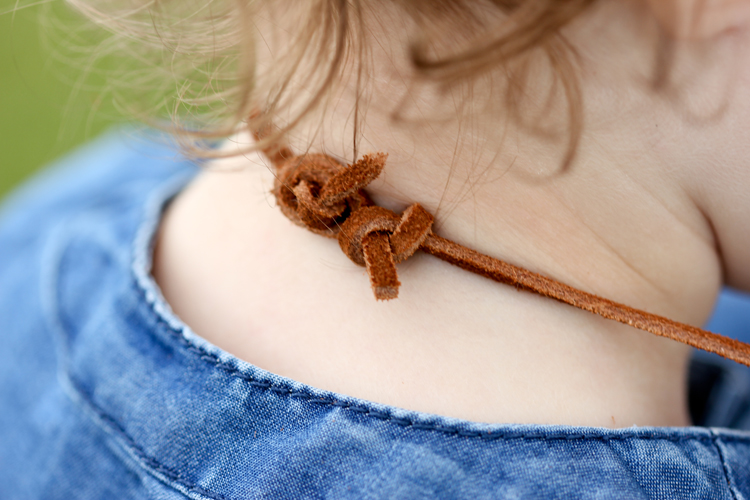 The leather cording will also snap if tugged on very hard, so that adds another element of safety. Of course…I have to add the disclaimer that it is not fail proof. Always supervise your children when wearing the necklaces, as the beads may also pose a choking hazard. 🙂 Good?
Alright! Let's get to the fun stuff!
MATERIALS
Wooden beads (they come pre-painted at Jo-Ann)
Leather cording (get it by the yard from the trims section at Jo-Ann)
INSTRUCTIONS
Cut leather cording to desired length + 5 inches for knotting. Assist your child in stringing the beads on the leather cording.
Tightly and securely knot the ends like so…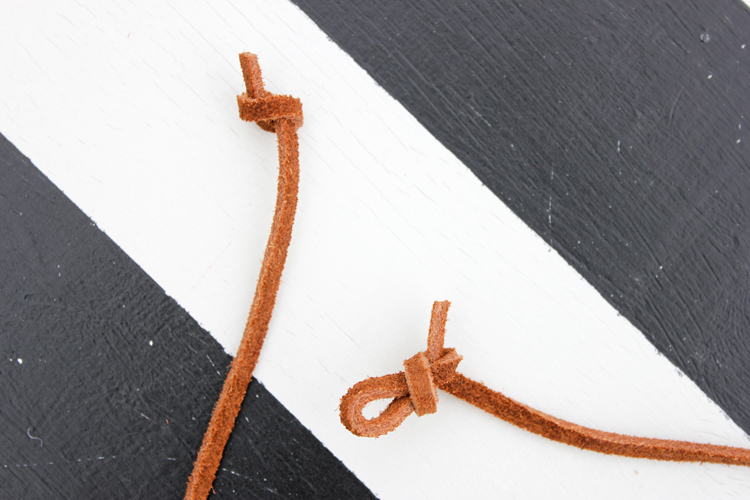 There is a knot and a looped knot. To close the necklace, insert the knot into the loop.
Note: This "clasp" is toddler friendly in that if it gets pulled on it will come a part to prevent strangulation, but your toddler will still likely need help putting the necklace on and off. The loop and knot can be tricky for little fingers to manage independently.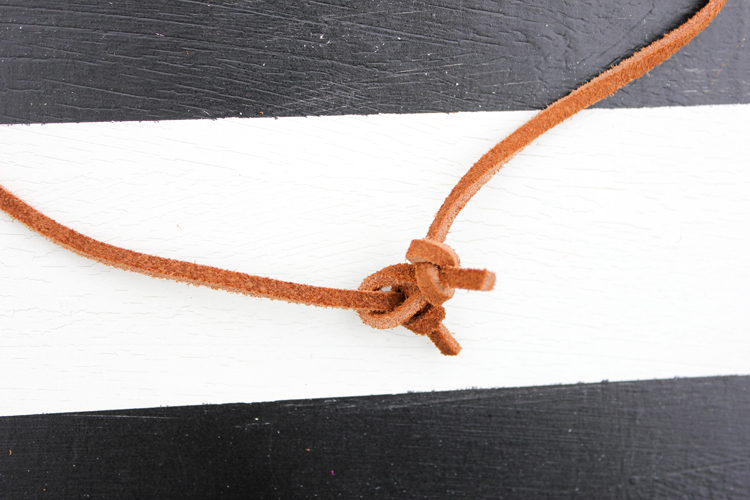 Easy right? That's the gist of how the necklace itself comes it together, but that's only half of the project…
LEARNING
The great thing about this project is that it's part crafting and part  educational. You can tailor how to present the beads to your child to create different learning experiences.
– Sort the beads by color or size and place them in coordinating dishes before making a necklace. Talk about what else is the same color as each bead. When the necklace is complete, do a color scavenger hunt around the house to find other items that match the beads.
– If having all the beads out at once overwhelms your child, set aside a smaller selection. Maybe choose just one color and focus on the different sizes of beads, and  then categorize them (talk about big, bigger, and biggest).
– Count the beads as you string them on.
– Create patterns. Alternate colors and sizes.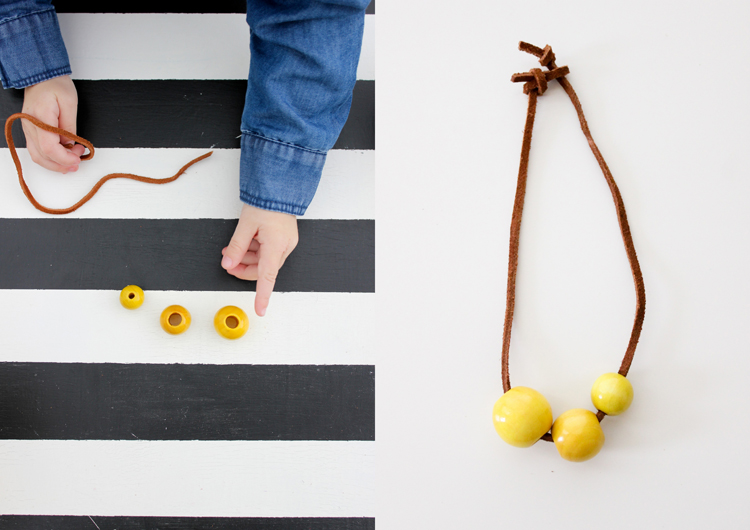 And…the very best part, is they get a necklace they will love because they designed it and helped make it …with no mess for mom to clean up! Wins all around. 🙂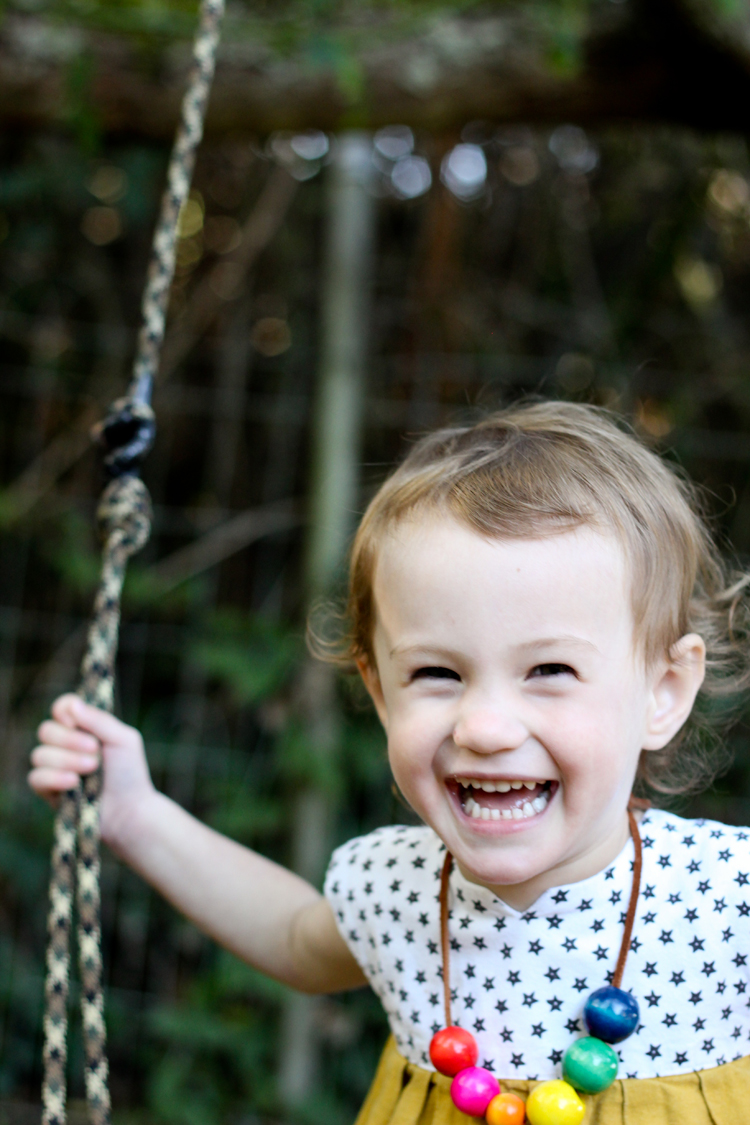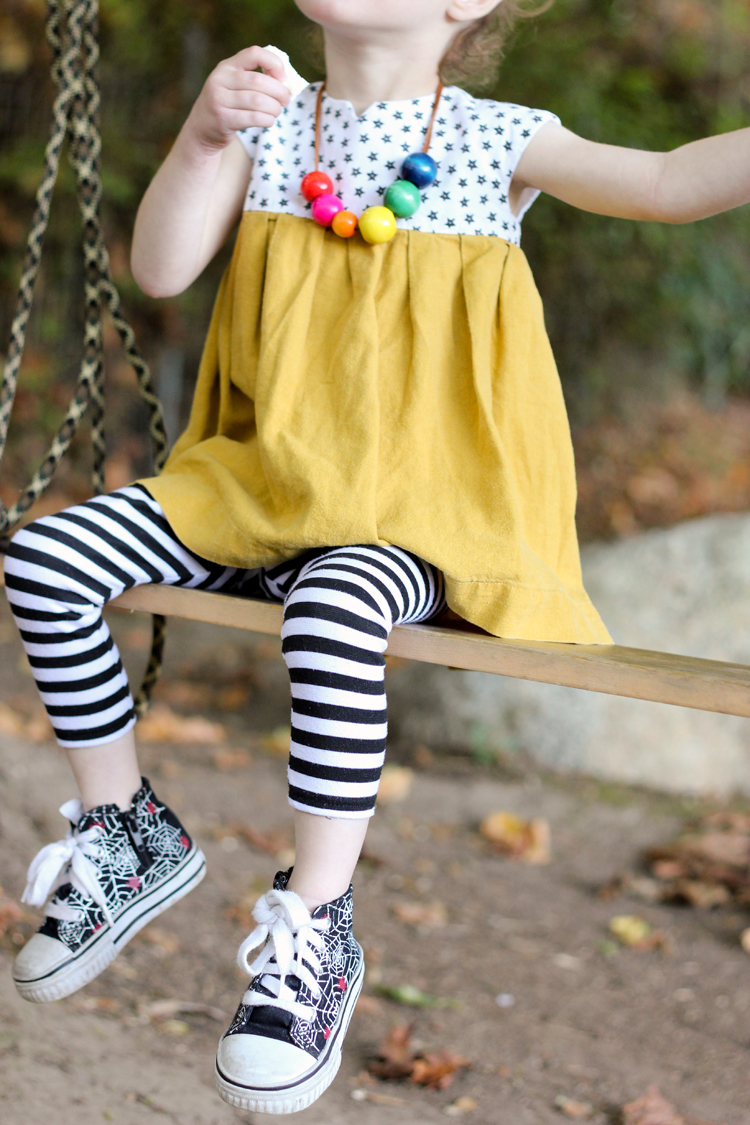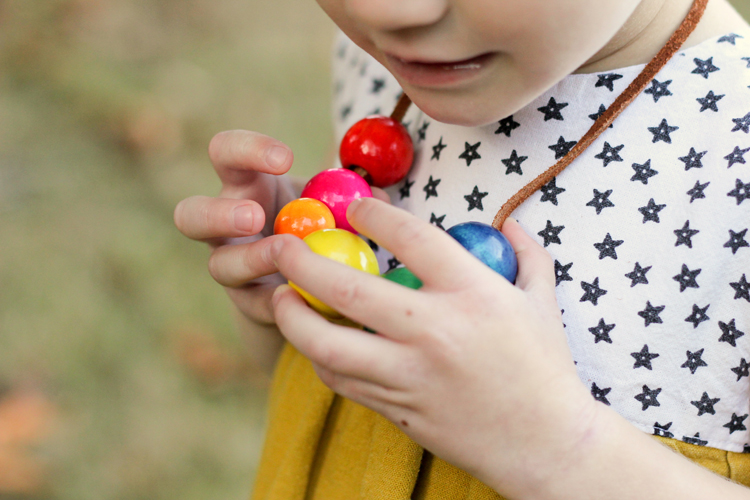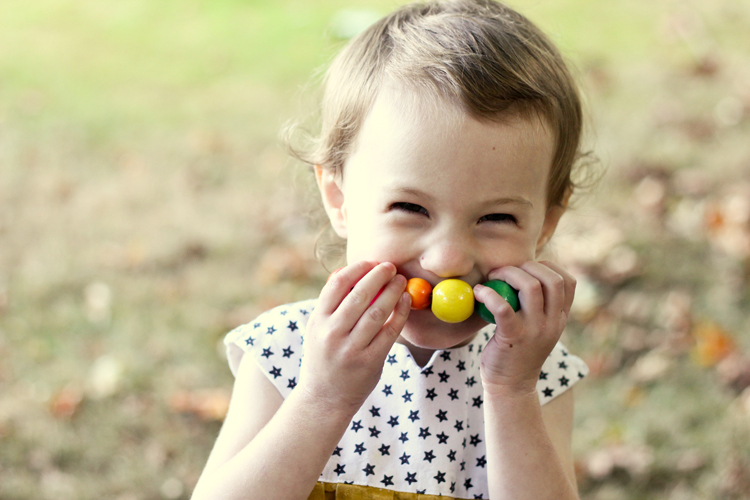 Another perk is that these necklaces are inexpensive and easy to replace. If one becomes lost, chewed on, or broken, no problem. Totally toddler friendly!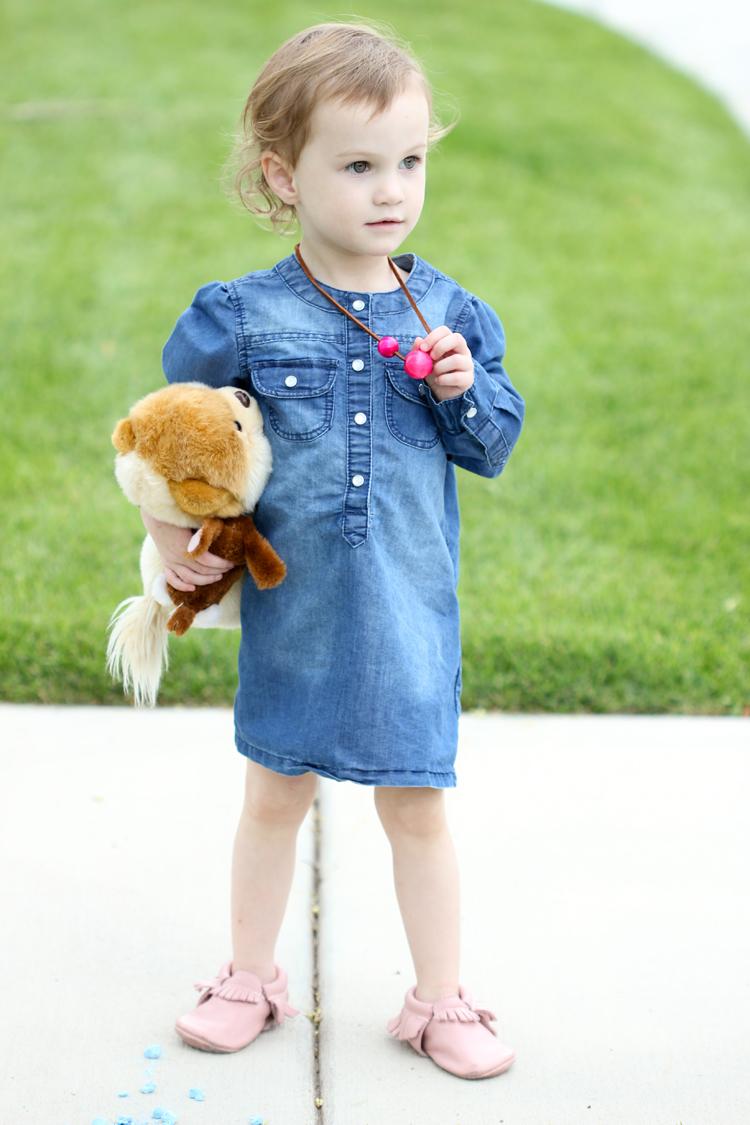 If your child doesn't like the painted wooden beads, maybe try small faux flowers, a felt bow, or other shapes of beads that you paint together. Just try to keep it to toddler friendly materials to keep things safe and fun.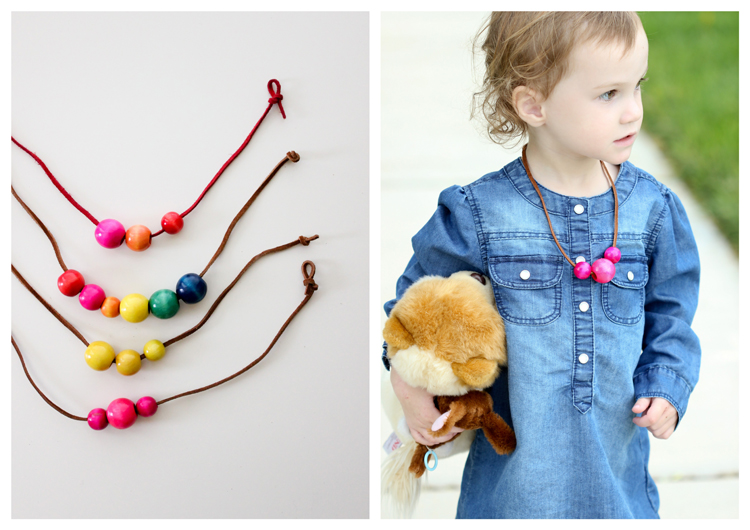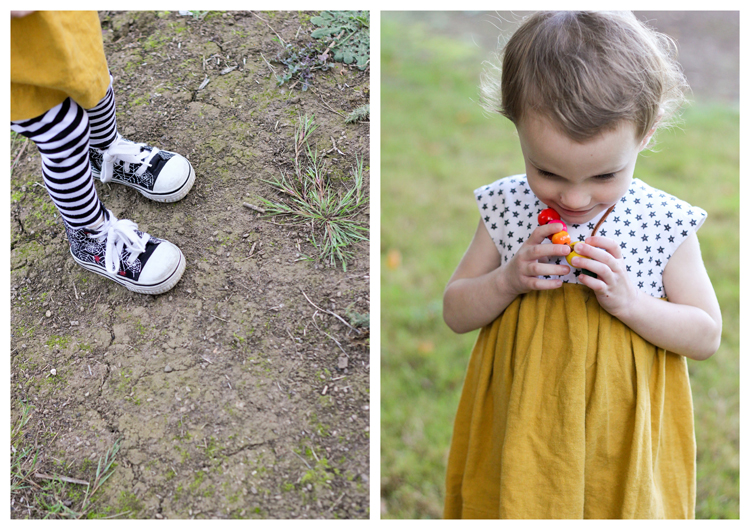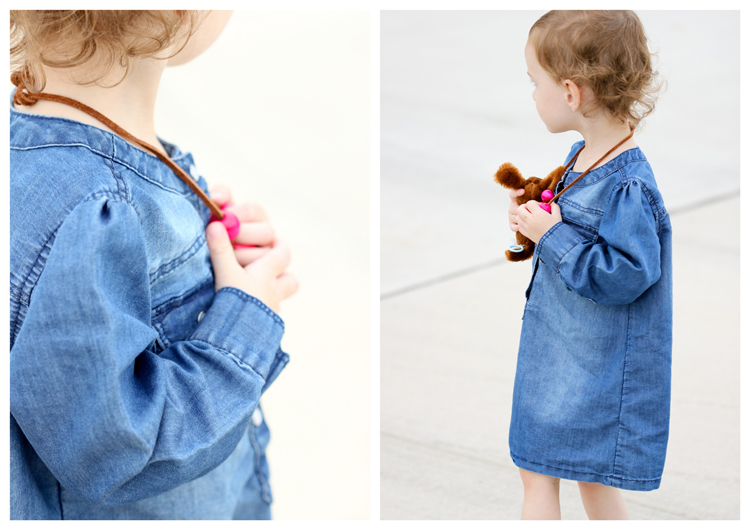 SOURCES: Painted beads and leather cording – Jo-Ann || Denim dress – H&M || Yellow dress made using Geranium Dress Pattern || Leggings – made using Go To Leggings Pattern || Pink moccasins – Freshly Picked