Are you and the kids in the mood for a wintery fun project because of the Winter Olympics?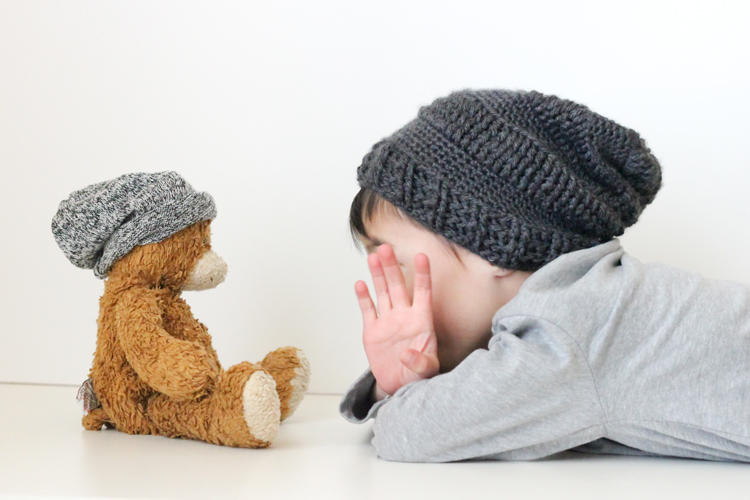 Or are you going nuts with cabin fever from too many consecutive snow days, and need something to do?
Either way…we've got you covered! Today's post is for kids!
All it takes is some scrap fabric, a snip of yarn, and one line of sewing.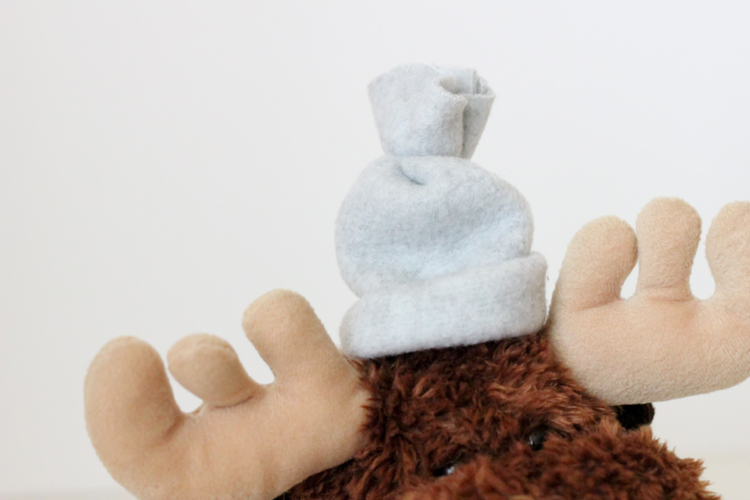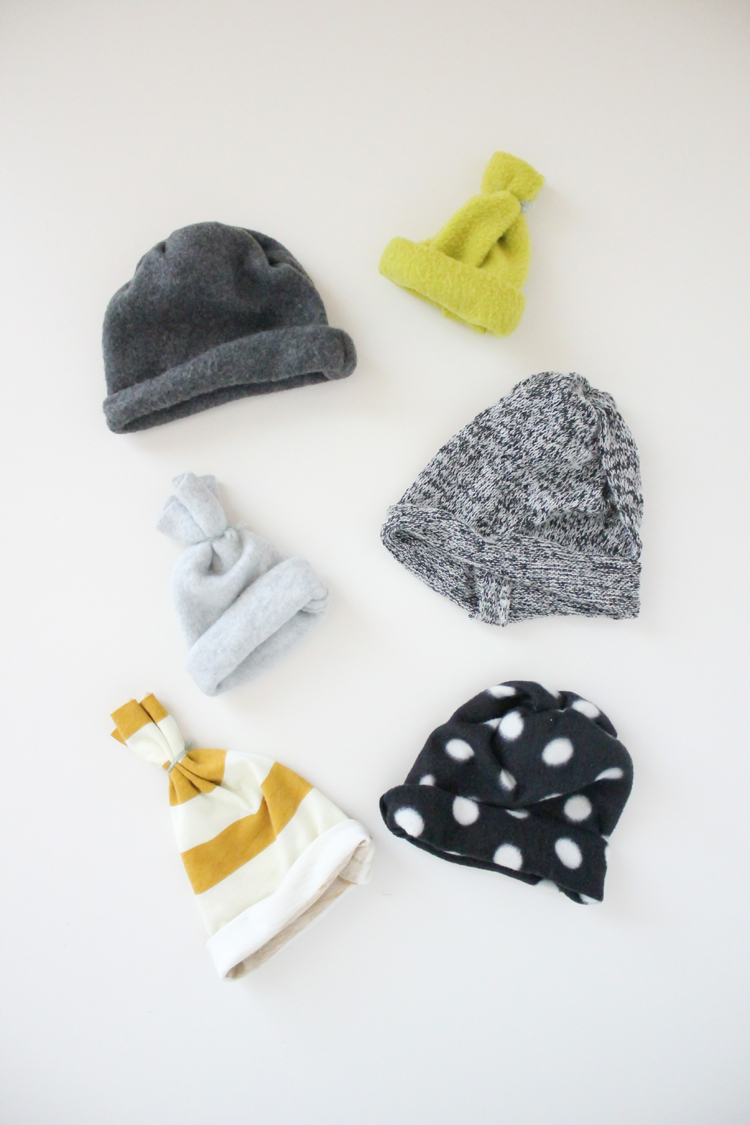 Simple, easy, and fast enough to keep a young child's attention span.
Let's make some!
Materials
1/4 yard or a scrap of fleece, knit, or sweater fabric (anything with stretch) thread machine or hand sewing needle measuring tape scissors 8 inch piece of yarn pins or wonder clips (quilter clips) your favorite furry friend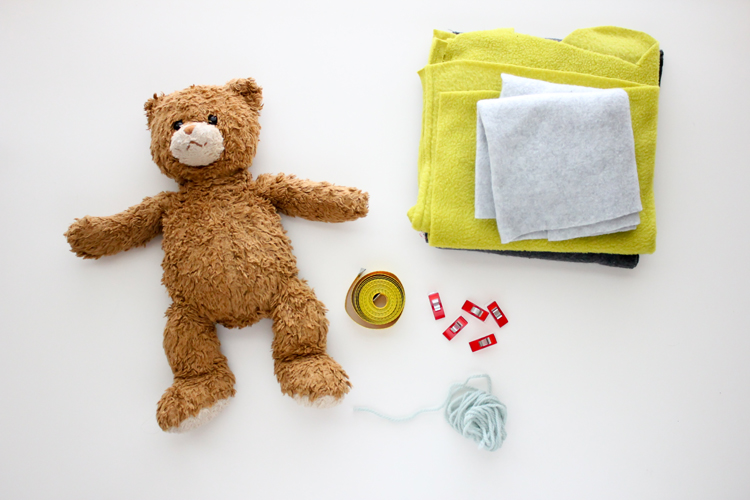 Notes:
– Wonder clips are great for kids, because they are easier to use than pins (just clip and go), and they are safer (no sharp points!). I got a pack of 10 from Joann for a few bucks with a coupon. You can also buy a pack of 50  HERE
 on Amazon for $15-20 (affiliate link). They are great for attaching bias tape as well.
– This tutorial is for kids, but is written with the purpose of helping adults complete the project with their young children.
FIRST
Measure your stuffed animal's head.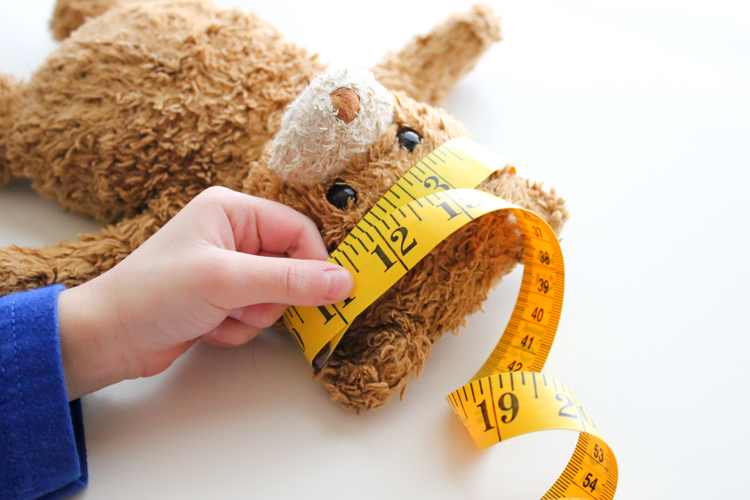 Take your measurement and add one inch. That will equal the length of fabric you need to cut.
You also need to make sure your fabric is about 9+ inches in height.
Now, stretch your fabric. The direction that stretches the most is going to be your length and the other direction is going to be the height of your hat.
SECOND
Cut your hat piece out.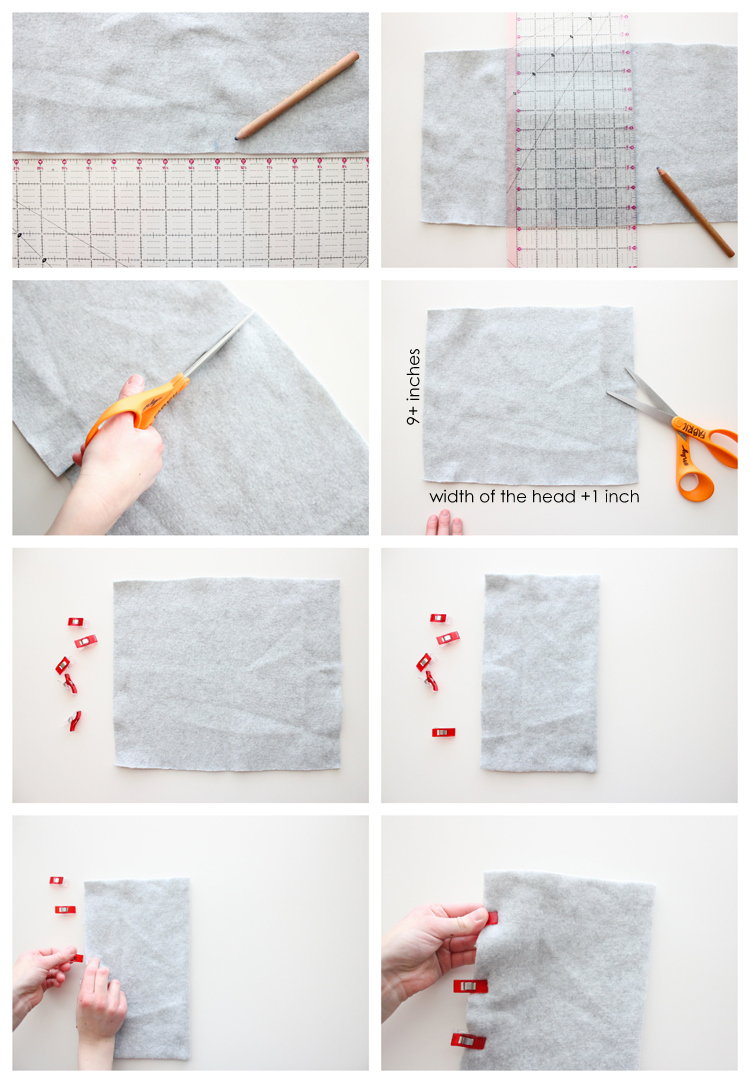 Fold the piece of fabric in half. Clip or pin it together.
THIRD
Sew your hat.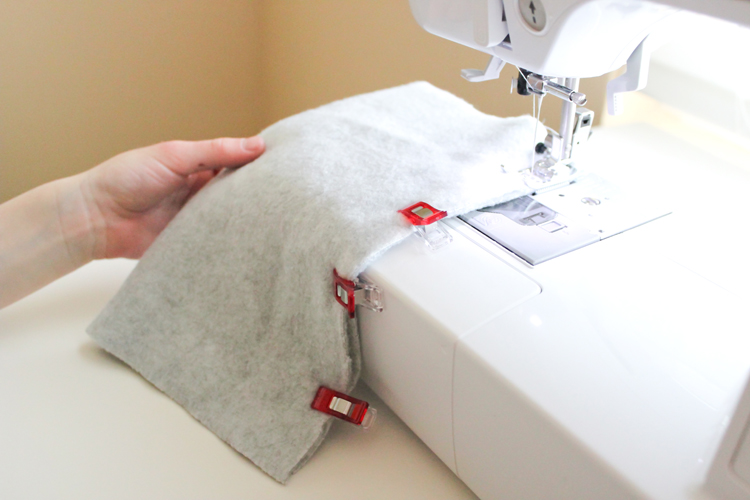 Sew along the side with the pins or clips with a 1/2 inch seam allowance. You can hand sew this or machine sew it.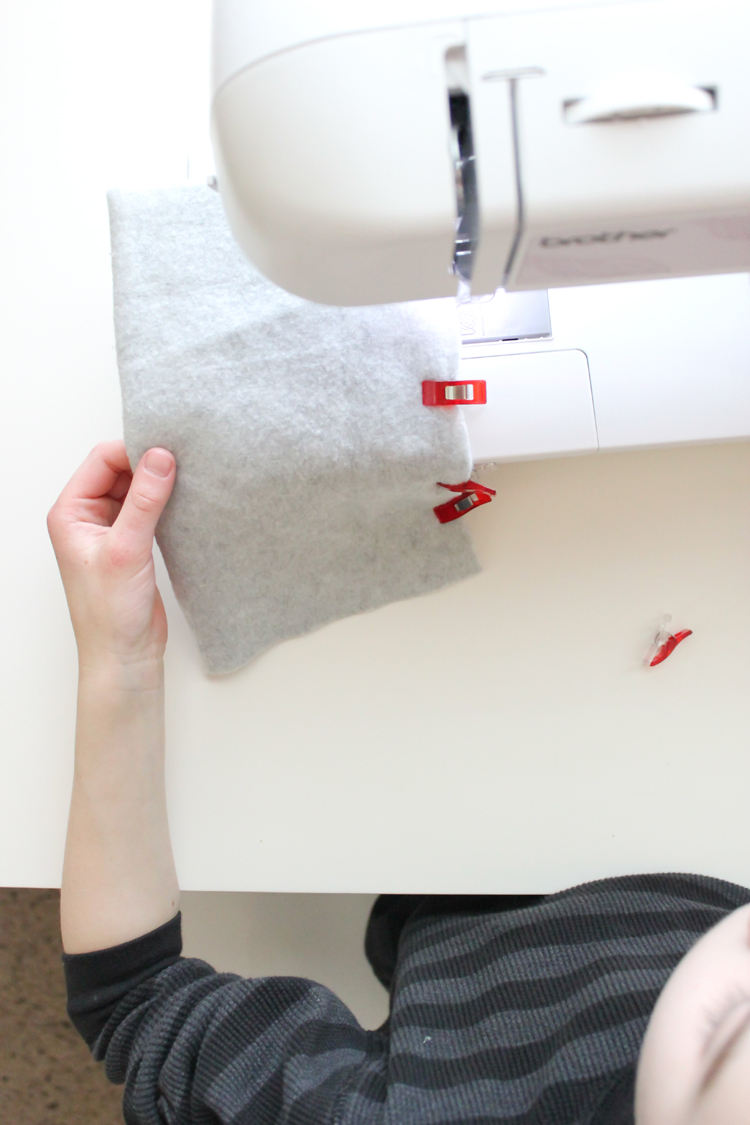 Be sure to remove the clips or pins as you sew.
If you are machine sewing your hat, and the foot pedal is too hard to reach. Bring it to the table and use your hand to push it down. Be sure your sewing machine speed is on slow!

FOURTH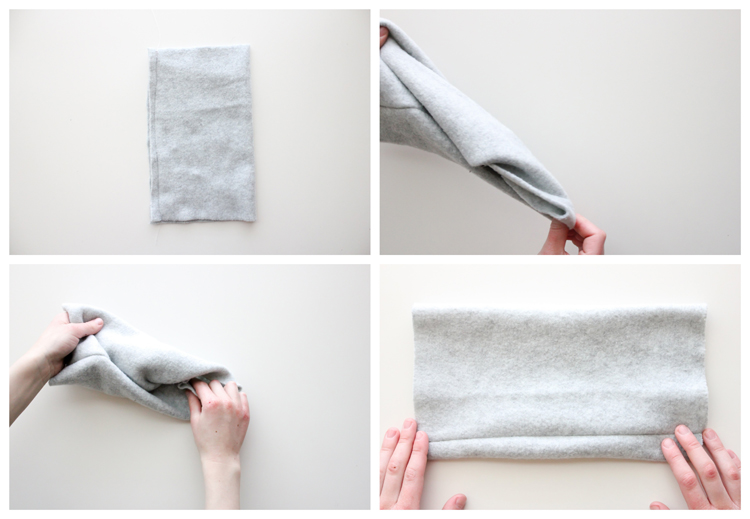 Once the hat is sewn up the side. Turn it right side out.
FIFTH
Tie your hat together.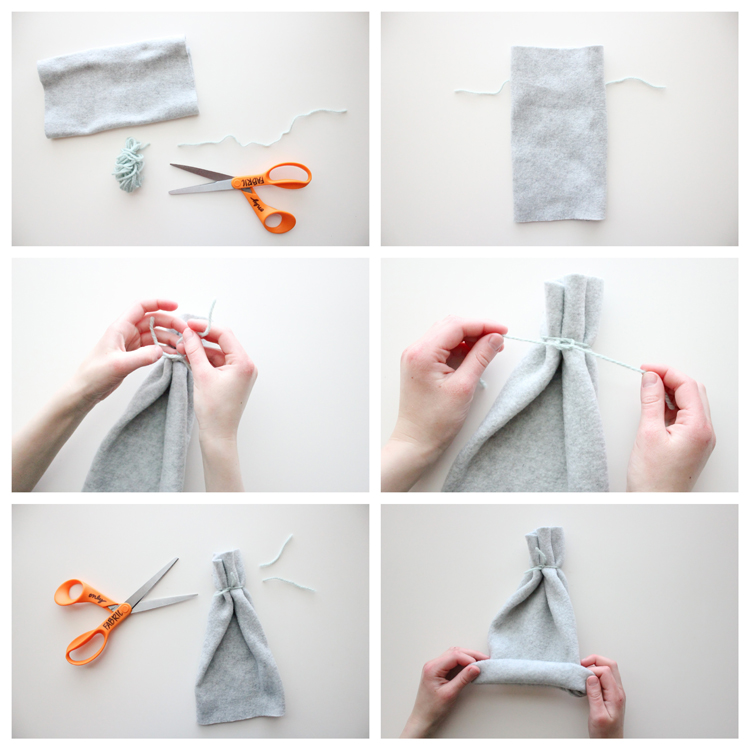 Tie the yarn tightly around the top of the hat in a double knot and trim the yarn tails. 
Cuff the button of the hat by rolling it up once or twice.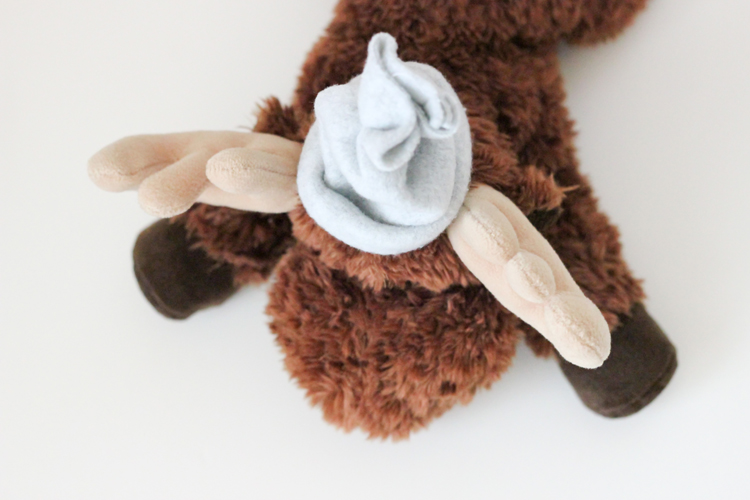 Tada! You made a hat!
(Mr. Moose requires a safety pin to help keep his hat on ;).)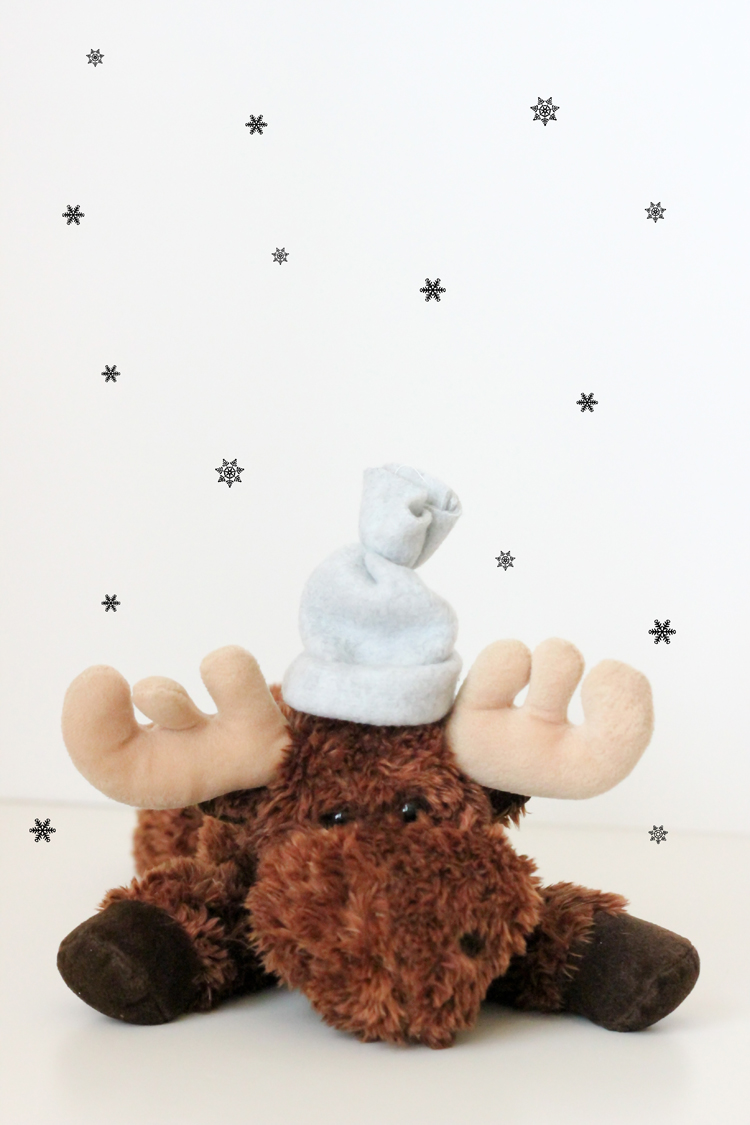 Just in case the tutorial seemed more complicated than it needed to be, here is a quick review: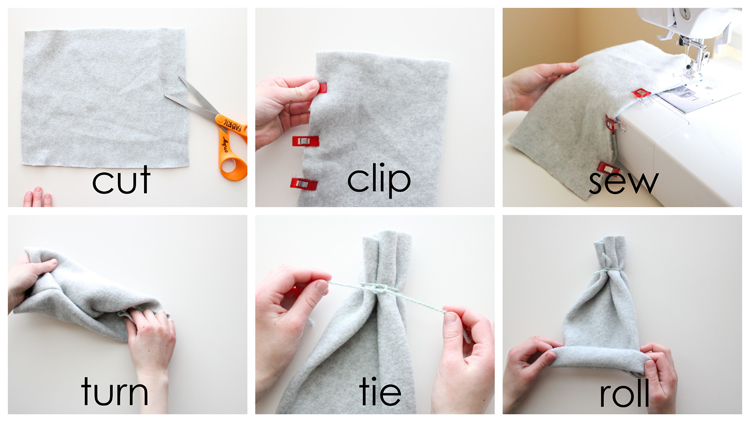 That is all there is to it!
If you don't want the top of your hat to have a poof of fabric, you can make a slouch beanie by tying the top of the hat, BEFORE turning it right side out. Then, when you turn it right side out, the poof is on the inside of the hat.

It's more thug life than hipster slouch on this puppy. 😉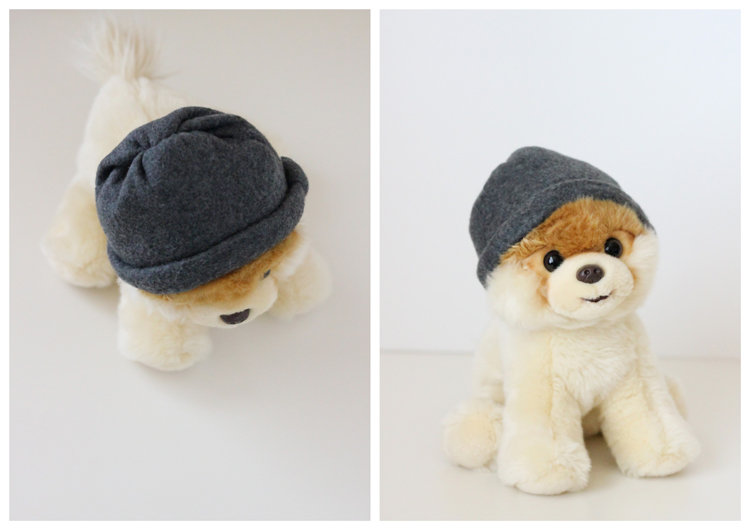 But you get the idea.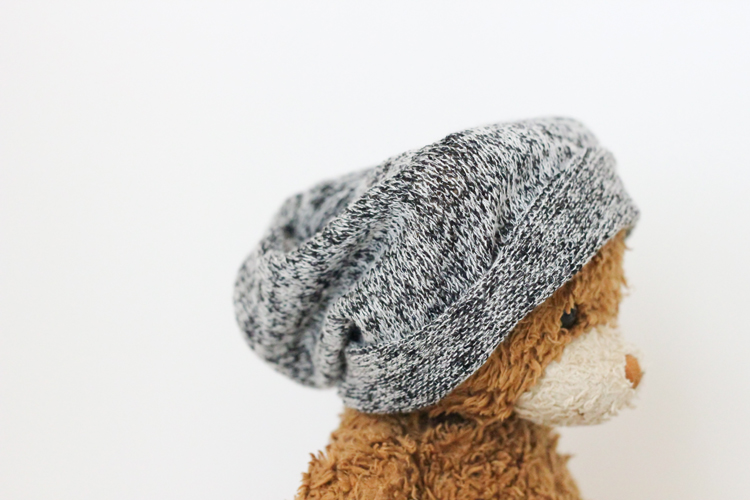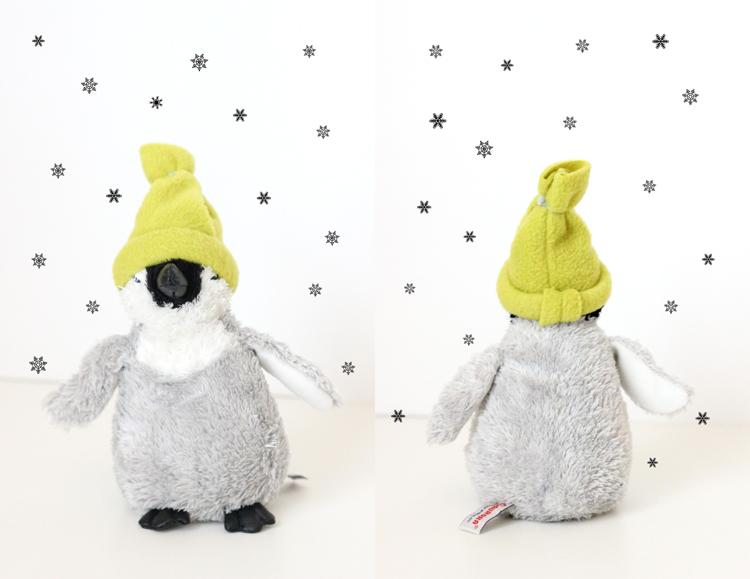 Make your own Chilly Willy the Penguin.
Or make matching hats so you can be twins.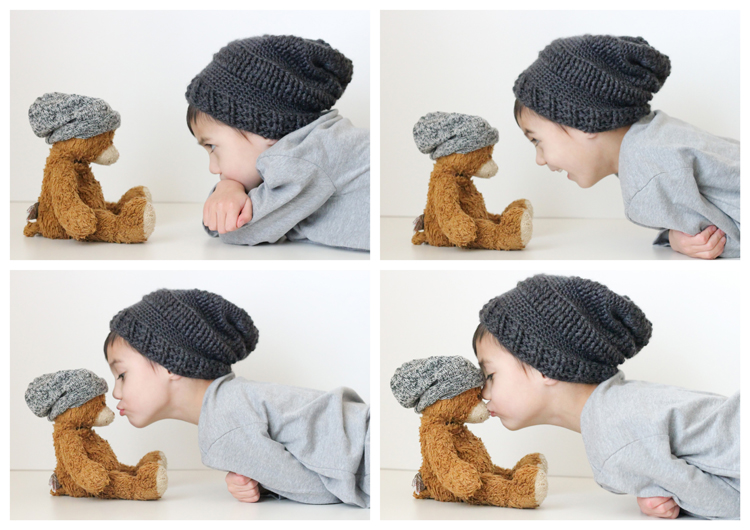 Make one for the one you love best…
Or one for all your furry friends…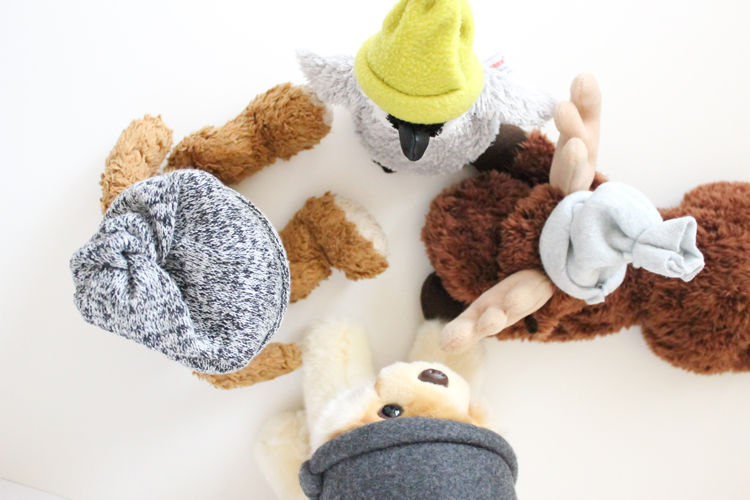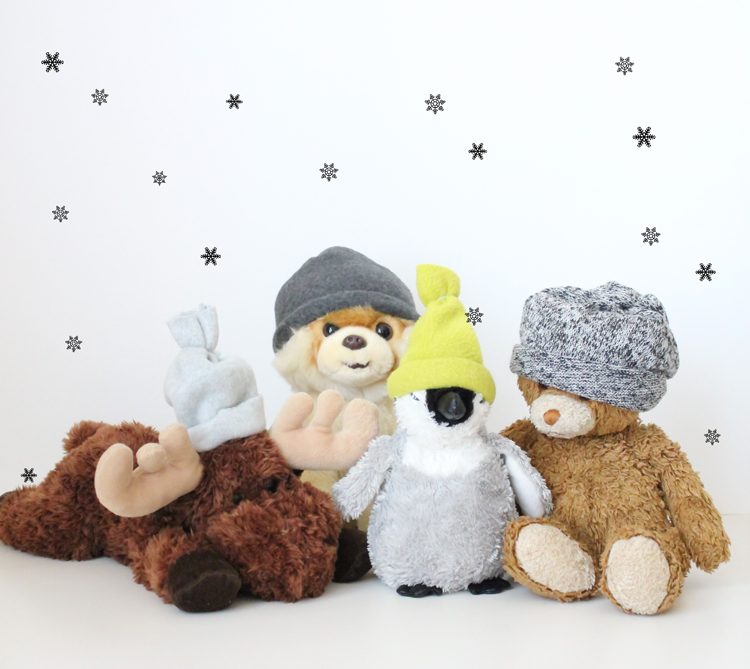 Or make a sleepy time night cap for the friend you like to share your Z's with.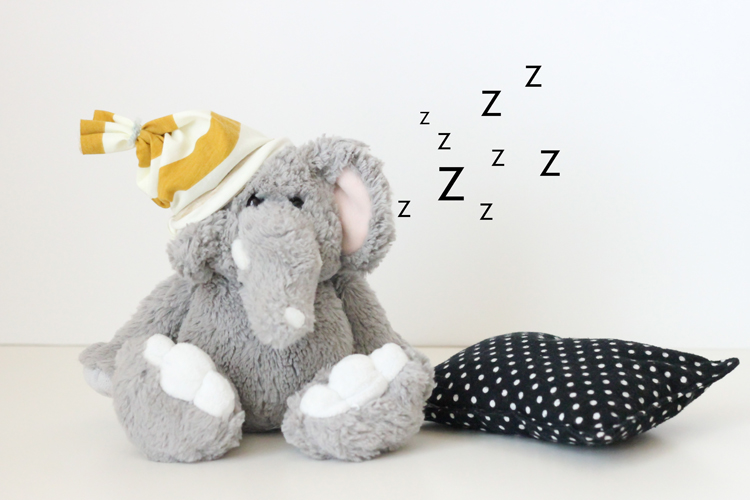 You make the night cap the same way as the regular hat, just use knit/t-shirt fabric instead. Make sure the hat is nice and tall and it will flop over nicely.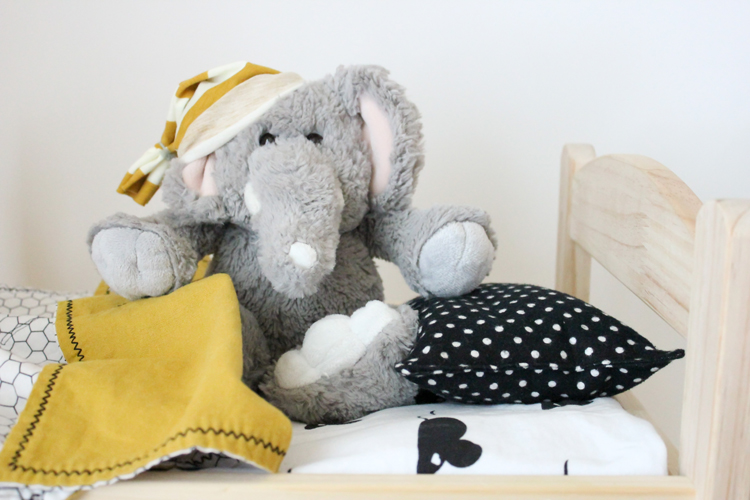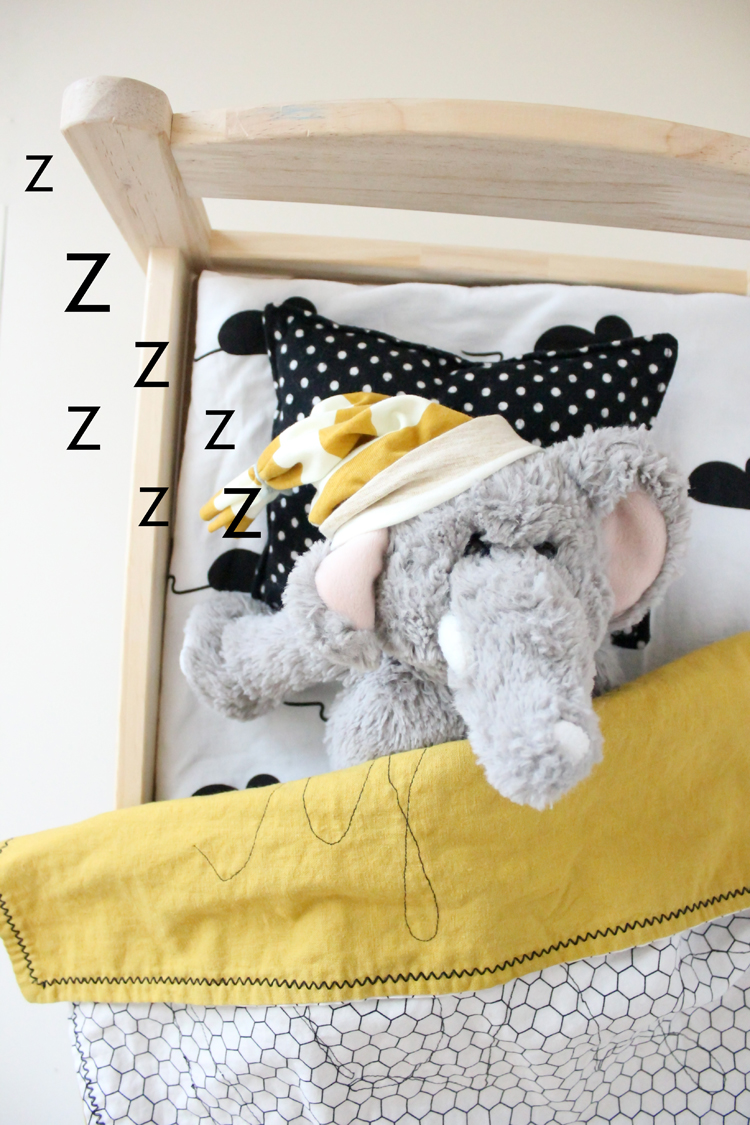 Sweet dreams and thank you for sewing up some hats with us today. 🙂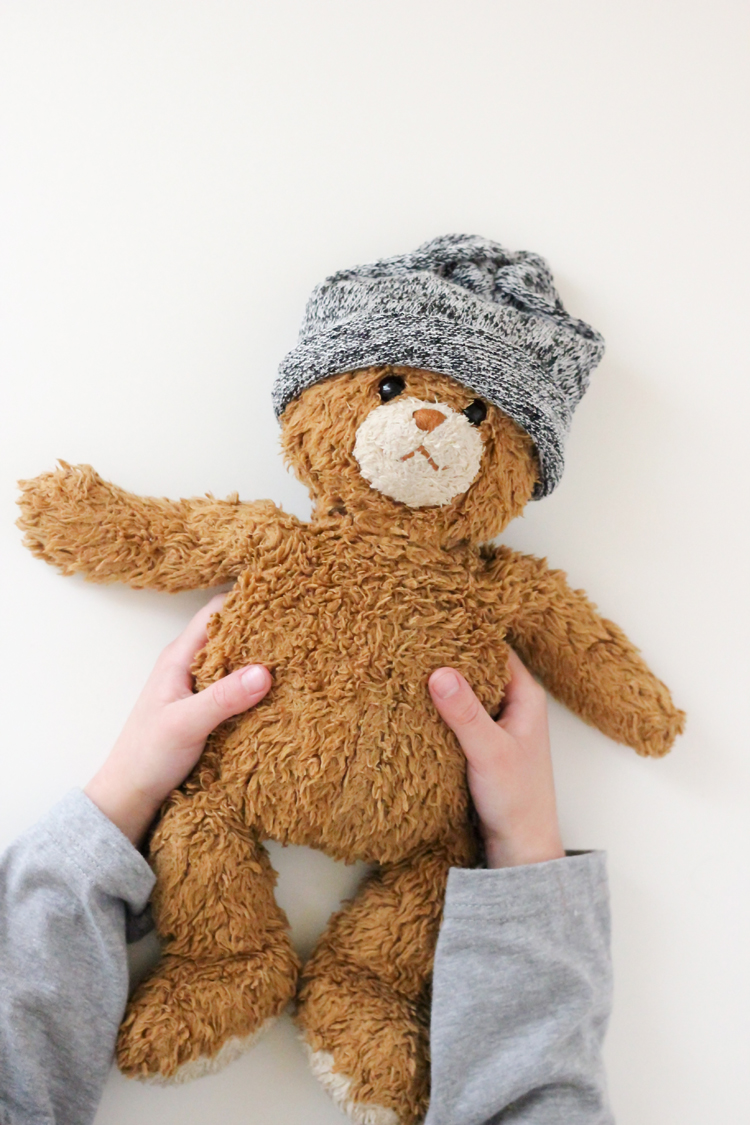 Sources:
Reid's beanie was made using my
Sloane Hat Pattern
. Fleece is all from Joann fabric. Hacci Knit and yellow stripe knit fabrics are from
Girl Charlee.