The kids and I came up with some fun Halloween games this last week. They are inexpensive, super easy to put together, and lots of fun!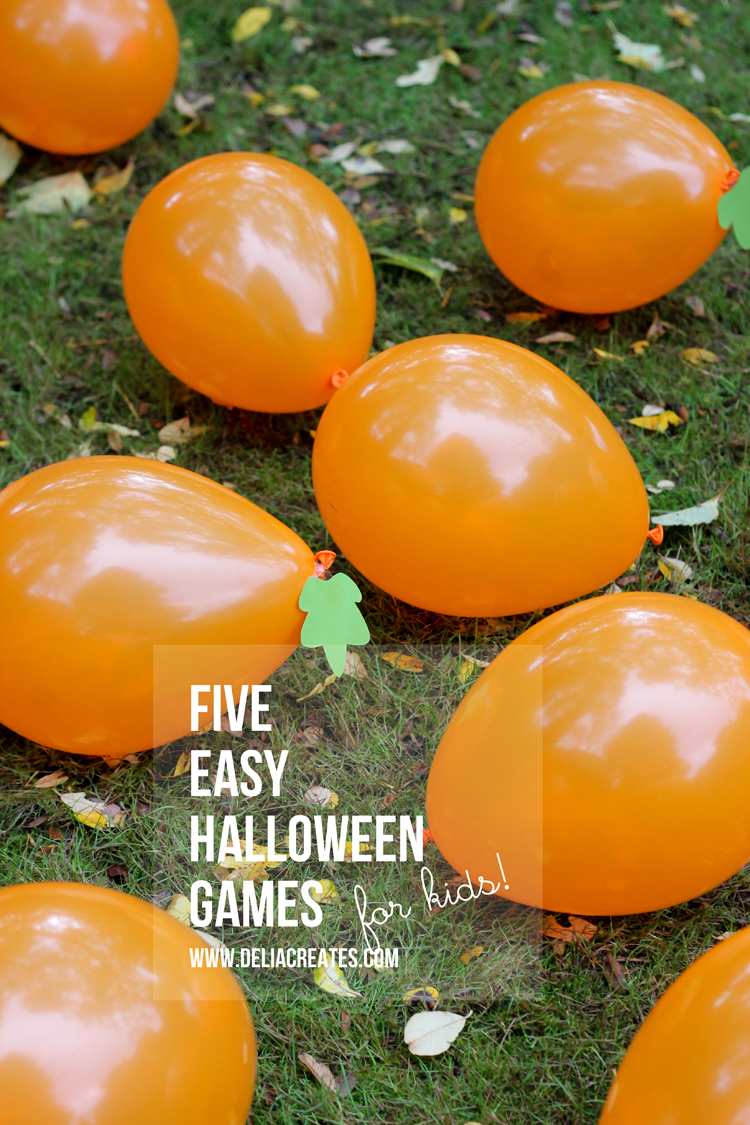 They are great for a Halloween party or for a quick, impromptu get together with the neighborhood kids.
Let's play shall we?
The first game is called…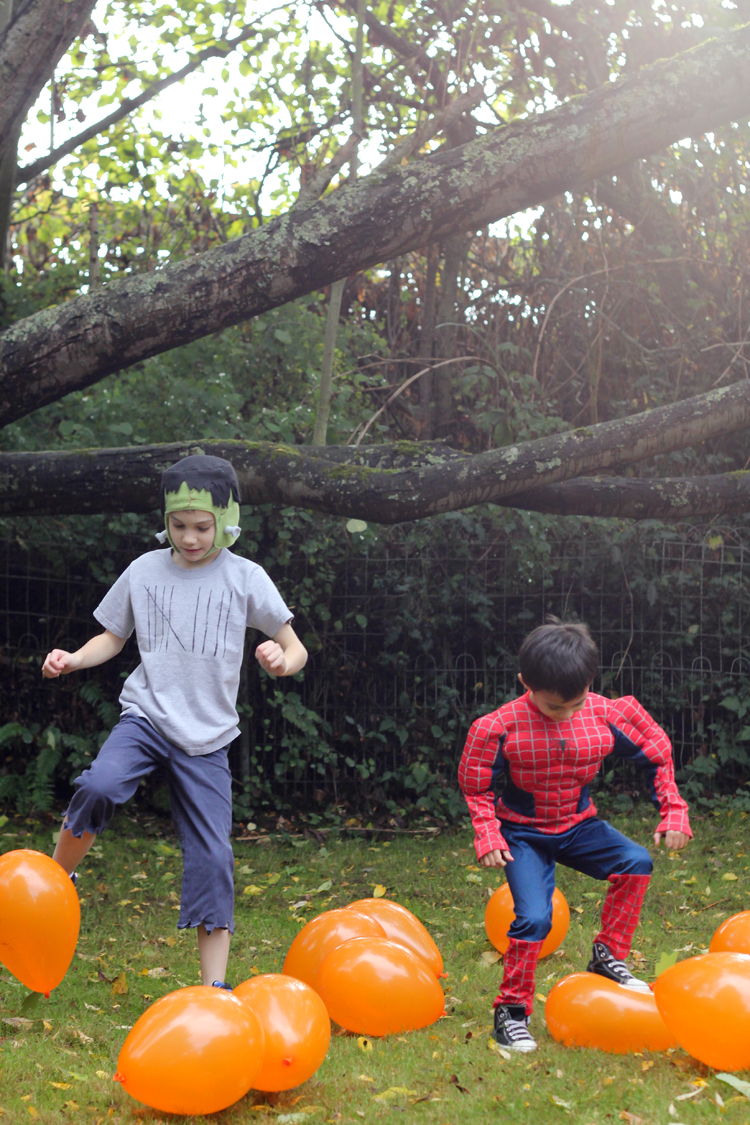 PUMPKIN PATCH STOMP
Out of all five games, this one does take some prep work, but not too much. All you need is a pack of orange balloons (I got mine at Walmart) and some candy or small coins. Before you blow the balloons up, slide the candy or small coins inside.
Be sure the candy is small enough to fit through the neck of the balloon. I used Dubble Bubble (the berry variety is allergy friendly, original is not) and it was a tight fit, but still worked. I knew that if it got stomped on it would still survive.
As for coins, I wasn't able to go any larger than a nickel.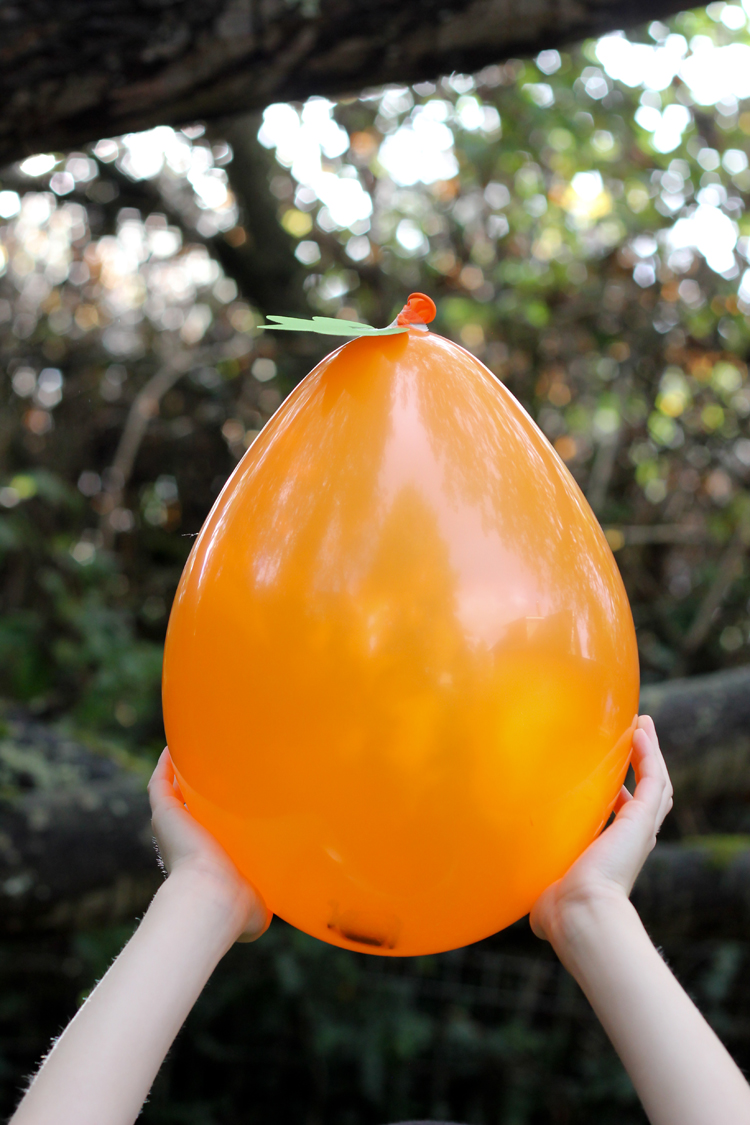 The prize inside is not only incentive to get them to stomp, but it also holds the balloon in place so it doesn't float and roll around like crazy.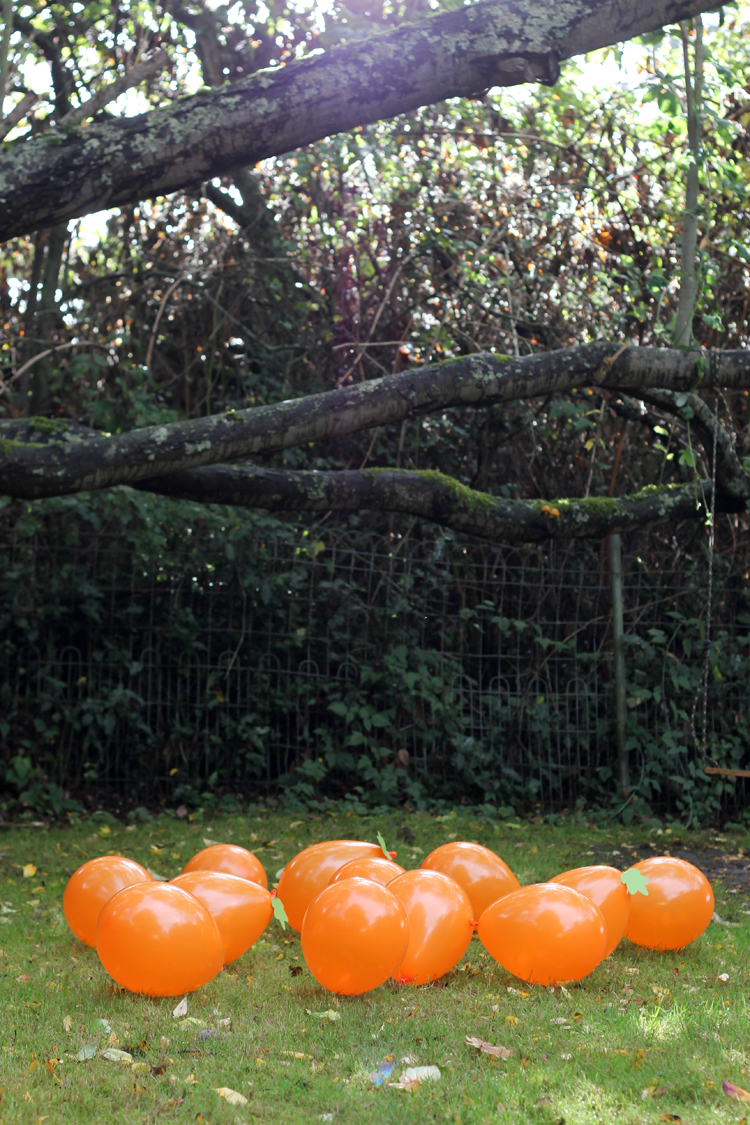 Add a leaf on top if desired. I have a free printable for the leaves HERE if you're interested.
Then let your little monsters stomp their hearts out and claim their prizes!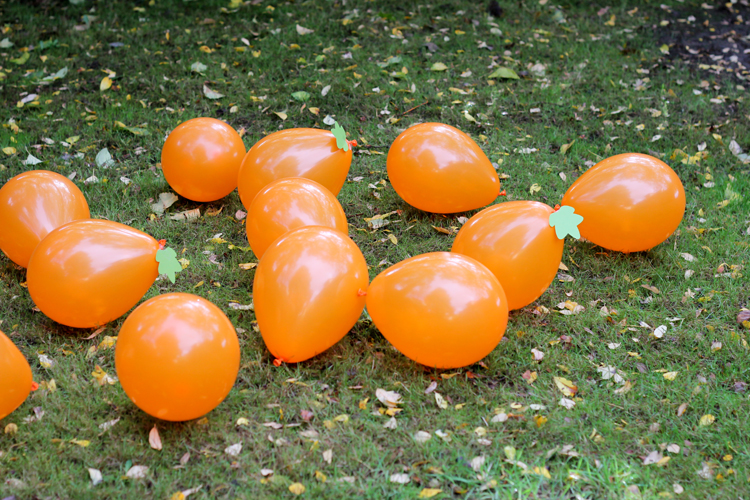 Bonus game: Make clean up a competition with candy prizes.
GHOST TOSS
This next game also involves balloons.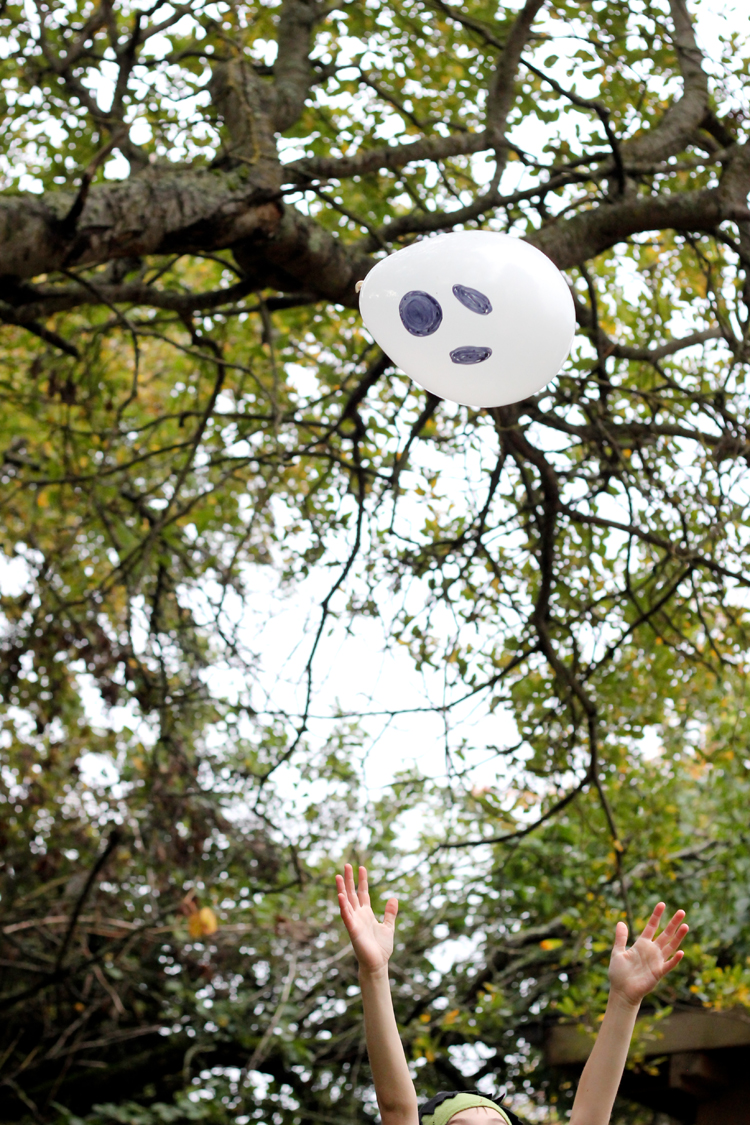 Simply blow up a white balloon and draw on a ghost face with a black permanent marker.
Have the kids toss them high and keep them floating up in the air. Let them volley them as teams, or give them each their own and see who can keep their ghost floating the longest.
ZOMBIE TAG
Have them play tag, but this time, every time someone gets tagged, they become "it" too! The last person left not to become a zombie or "it", starts out as "it" for the next round. Make it easier to distinguish the zombies by making them keep their arms straight out.
PIN THE SPIDER ON THE WEB
A spooky spin on a old classic.
Make a web, or print one up. I have a free printable for a 2×3 ft. web here:
Pin the Spider Web Poster 2×3 ft.
You can print it as an engineer print at most print shops for just a few dollars. (If the above link doesn't work for you, I've included a download button at the end of this post).
Then have them "pin" on their spiders!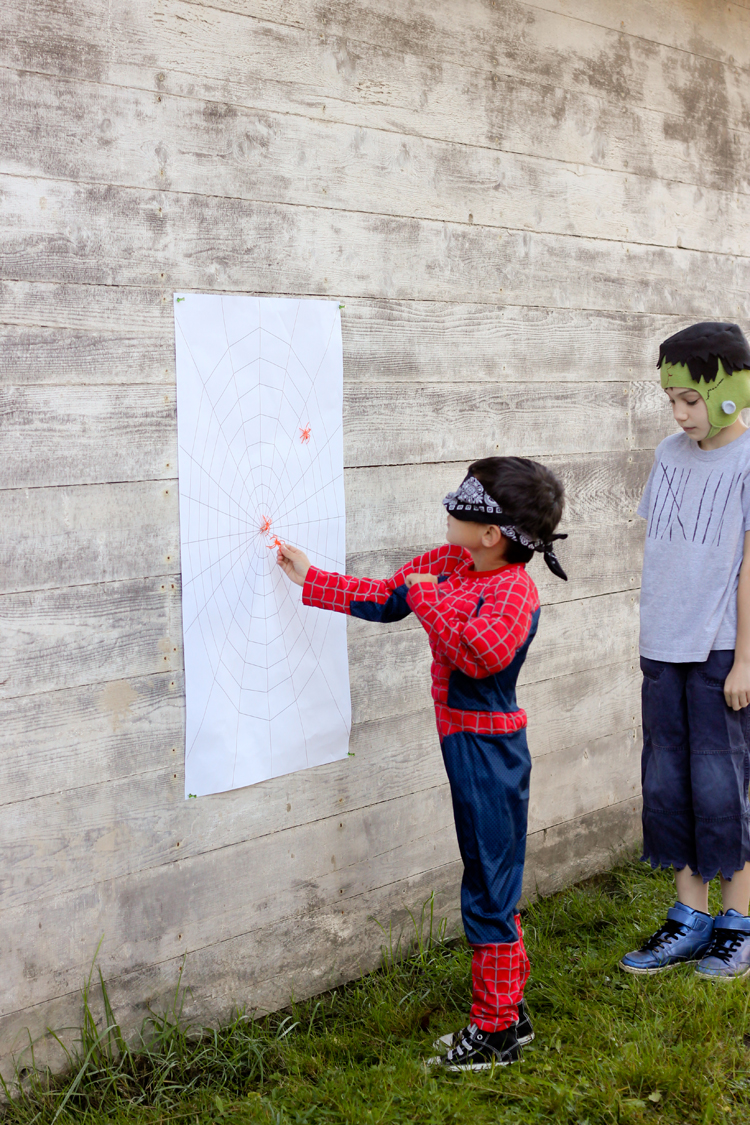 We used orange plastic spiders and tape. This worked…okay. I might use paper spiders next time.
MUMMY-SACK RACE
This one might be my favorite. Simply wrap white crepe streamers around their legs and have a mummified gunny-sack race! They have to cross the finish line, keep their wrappings on and not tear them through to win!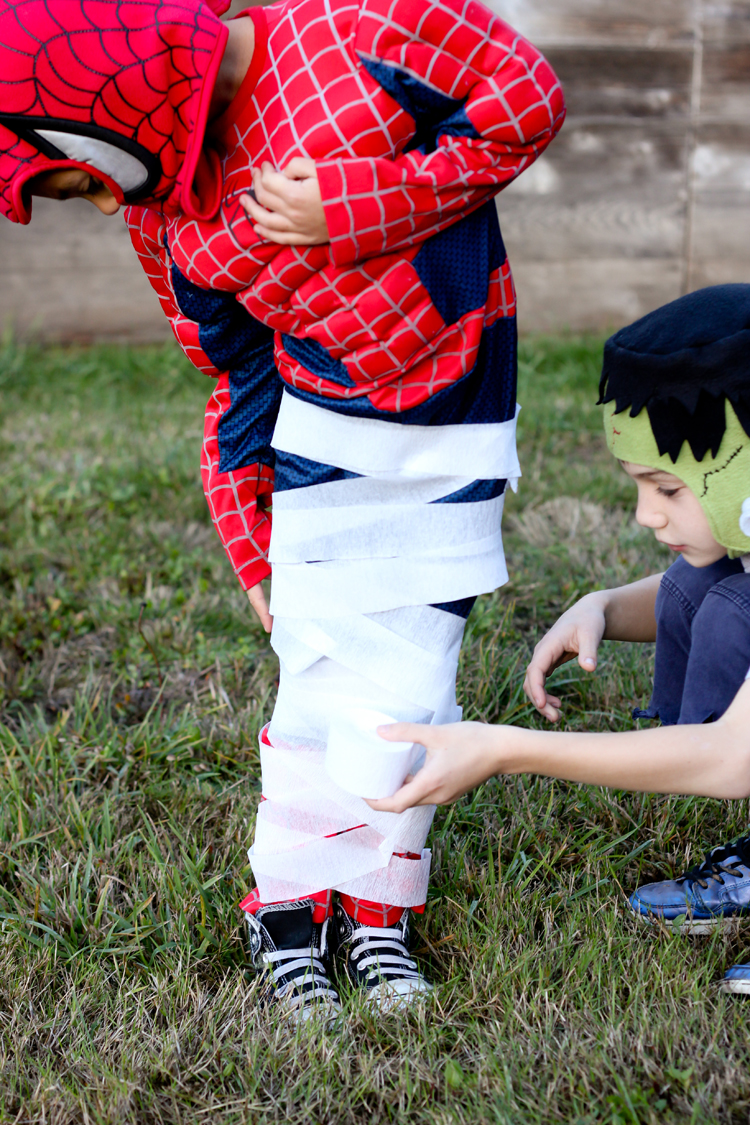 If the previous link for the spiderweb poster didn't work for you, there is a download button before the preview screen that should work.