For parents with children who suffer from food allergies, Halloween can feel like a different kind of fright night.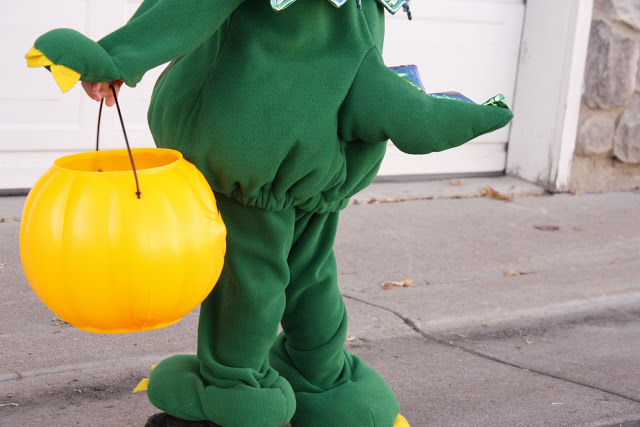 Thrusting your child into a situation where dangerous foods that are poisonous to them are everywhere, is, as you can imagine, daunting to say the least.
I remember feeling very overwhelmed myself at the thought of taking my daughter trick or treating last year, after finding out that she is contact allergic to dairy, peanuts, and egg. You can read more about her allergies HERE.
Instead of just sitting out of this holiday tradition altogether, I have come up with a seven ideas to help make the experience less stressful.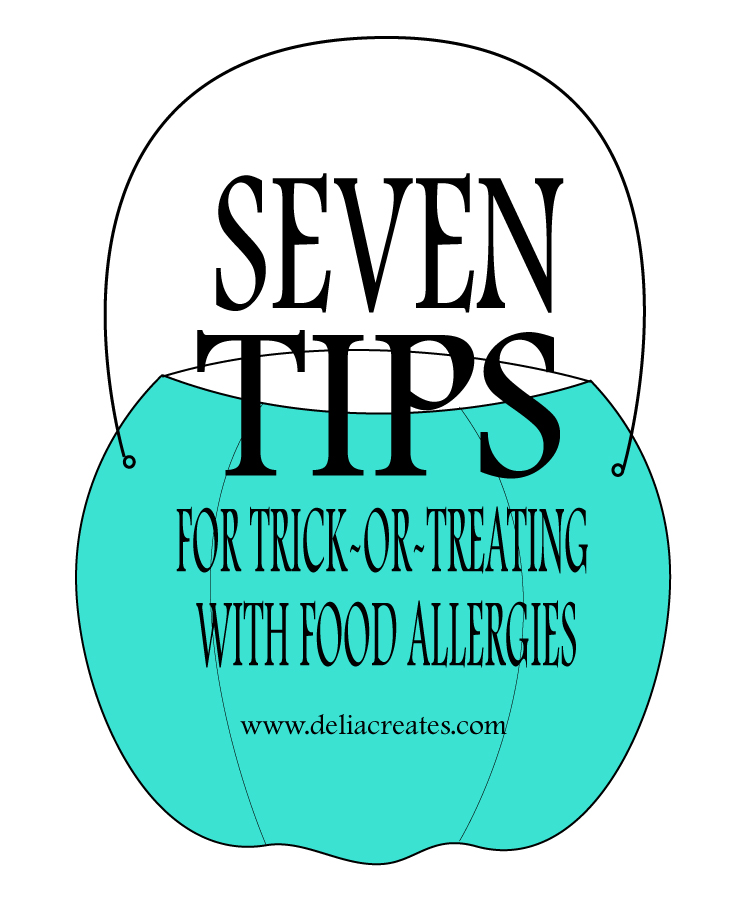 1. Participate in the Teal Pumpkin Project.
You can read more about it HERE and HERE.
Basically the idea is to pass out non-food, non- latex items to make trick or treating safe for everyone! It's a really great idea. Those links provide you with a list of ideas of what to pass out as well.
2. Use gloves. 
My sister-in-law came up with that idea and I love it! Since my daughter can have a reaction even if she touches the offending foods, wearing gloves can protect her from accidental exposure. She is two this year and unwilling to wear gloves for two year old reasons. 😉 I am sure this tip will help her as she grows older though, especially when I won't always be right there with her.
3. Pass out candy to your neighbors beforehand.
You can purchase a mix of candy that is safe for your child, bag individual pieces in a zip top bag, and pass them out to your neighbors beforehand with a note explaining what it's for. Maybe describe your child's costume in the note, so the neighbors will recognize her more easily when she come to the door.
Keeping it in a zip top bag will prevent it from getting contaminated by other candy and keep it safe until your child comes knocking.
4. Monitor carefully and have swap out candy on hand.
What we did last year is simply monitor our daughter carefully. We limited the amount of doors she knocked on, and helped her pick out pieces she could have. When there were too many offending candies at a certain house, we had a stash of safe candy in our pockets to use instead.
5. Trade candy in for a prize.
For older children who maybe trick or treat on their own and have to trade out most of their stash when they get home because it's unsafe, it might feel very unfair to have to give up their stash. To ease the disappointment, consider offering a prize or money in exchange for the unsafe (or even safe!) candy.
6. Donate the candy.
In the same vein as number five, consider donating the candy to children who are unable, for one reason or another, to go trick or treating. Giving the candy up for a cause can lessen the disappointment and turn it into a positive experience.
7. Candy helper.
You can also involve them in passing out candy. Get an allergy friendly mix of candies that you and your child can snack on while you wait for trick or treaters to come to you. After our daughter hit up a few houses for candy last year, she came back to our house to be my candy helper and loved it! She had a blast being in charge of passing it out, and got plenty of a sugar high from the candy from our own bowl. 😉
Of course, this almost has to go without saying to a fellow allergy parent, but don't forget your epi-pen, antihistamines and other medicines. It's also helpful to bring a stash of wet wipes to wash off offending foods from hands as well!
Let Halloween be scary for the right reasons this year.
I hope these tips help you and your children stay safe this Halloween season!