I'm joining the ladies from Simple Simon and Co. today for their Skirting the Issue Series, with this free basic flexible waist skirt pattern.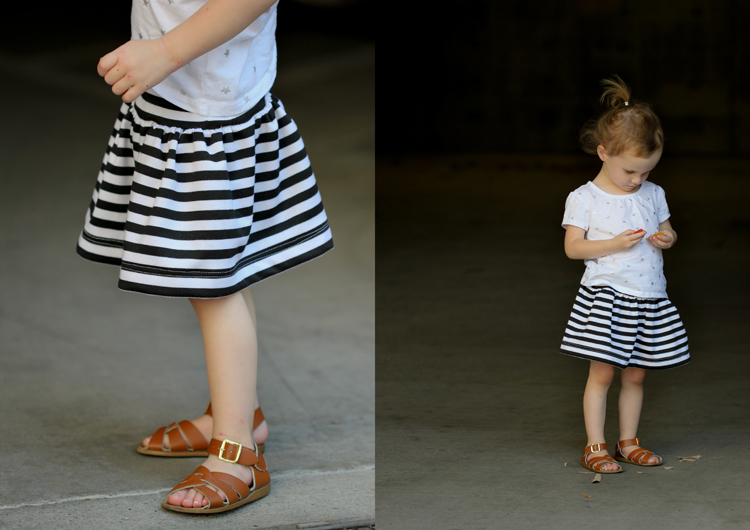 Since, the skirts are for a good cause and are to be given to foster care girls to get them ready for school, I decided to go ahead and make this skirt pattern sizes newborn through size 17 Juniors. That way, we can make skirts for every girl!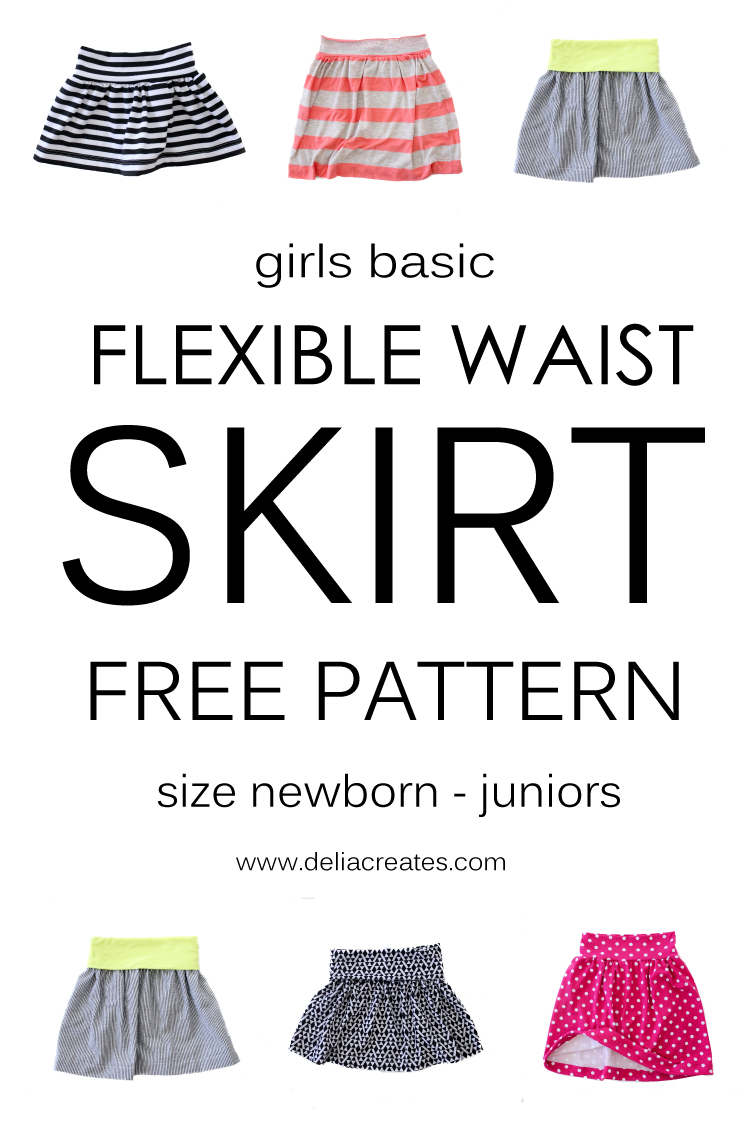 I also wanted a skirt that would be a good wardrobe staple for any age. This skirt is a great basic you can dress up or down and wear almost anywhere. It sports a yoga knit waistband, which not only makes it comfortable, but also allows it last longer as the child grows.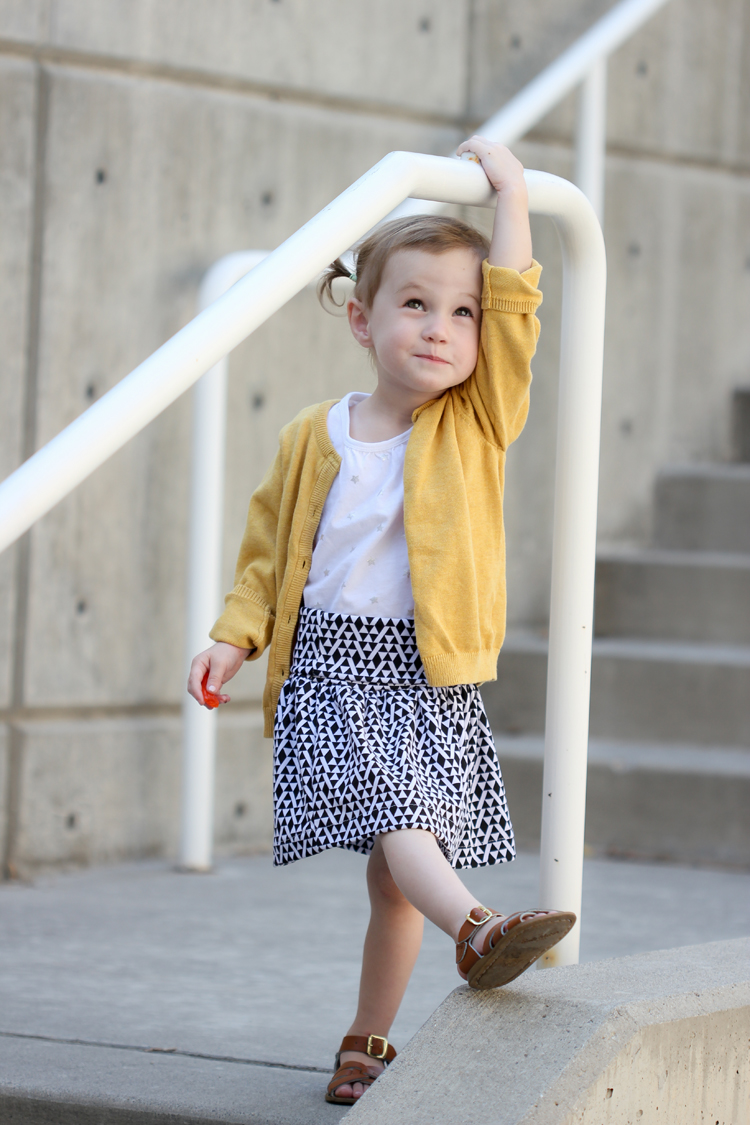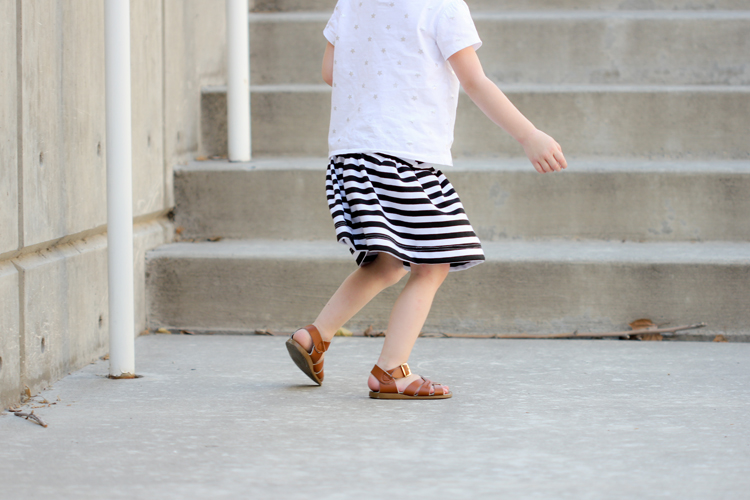 There are two waistband options. A basic waistband and a fold over waistband. The fold over waistband gives even more flexibility. You can shorten a skirt by folding the waistband farther down toward the hem. You can wear it as intended, and just fold it in half. Or combat a growth spurt, by unfolding the waistband a bit to lengthen the skirt. Super helpful right?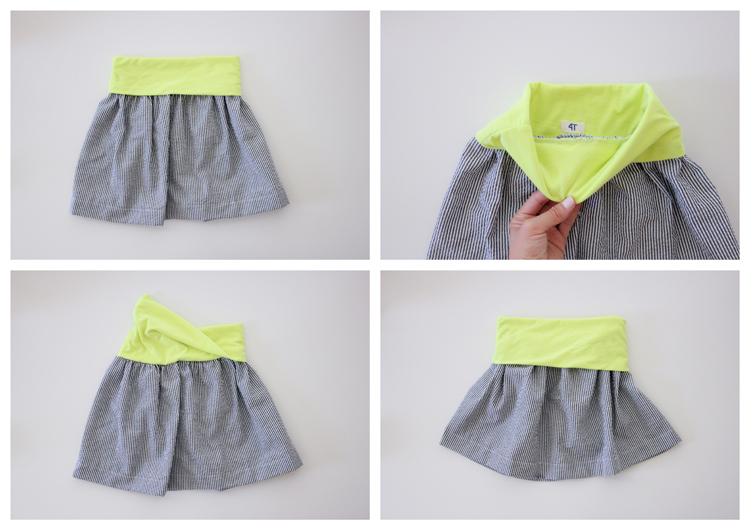 This pattern, is different in that there are no pieces to print. All the pieces are just rectangles, so I thought would save us all some paper and just provide the needed measurements.
There is a yardage chart, so that you don't have to do any guess work when fabric shopping. There is also a sizing and cutting guide, of course, so you know what and how much to cut.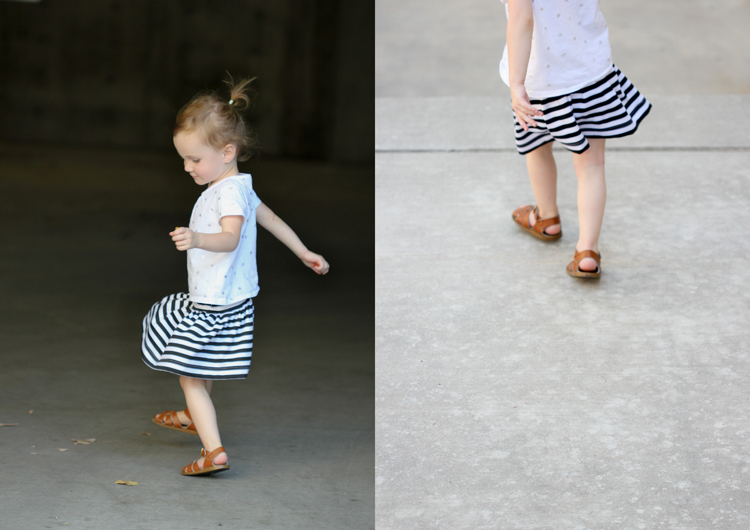 PLEASE READ before continuing… (It's a lot to read, but important)
SIZING
*All sizing charts in this pattern were heavily based on THIS sizing chart provided by the Simple Simon and Co. ladies over at Project Run and Play. The tutorial and skirt design are based off THIS baby skirt tutorial, I shared a couple of years ago. You can refer to that tutorial for more clarification and for a pleated version, which is not included in this post.
*The measurements provided, create a skirt that is knee length from true waist to knee. You can shorten or lengthen the skirt as you wish. If you know that the wearer wants to wear it on her hips, then you may consider shortening the skirt a few inches. You may also want to widen the waistband to her hip measurement. All Junior sizes are 21″ in length. This creates a skirt that hits just above the knees for a 5'5″ girl.
*If your child is in between sizes, no problem! This skirt is REALLY flexible. Use her waist measurement for the waistband and then her waist to knee measurement to determine how long you should cut it. If the discrepancy between her waist measurement and her waist to knee measurement is more than 1-2 sizes, you may want to widen the skirt so that she has enough room in the skirt to run and twirl. How much should you widen it? See how much her waist to knee measurement size recommends and use that as a guide. Keep in mind that her skirt look more gathered at the waist when sewn.
*FYI: Because knit fabric stretches, there is no ease added to the waistband measurements. As a general rule, whatever the waist measurement is, that is exactly how wide your waistband needs to be cut. After sewing, it will be even smaller, but this is intended and necessary for a good fit.
FABRIC
*I have included a little bit more information in the cutting guide, so that you can use scraps in your stash if you want to. For example, in the yardage chart, I don't provide yardage for a size 2 girls waistband that has two seams (cut into two pieces); because if you are buying fabric for the project, all fabrics come wide enough for you to make a single seam waistband. BUT…if you are using scraps from your stash you may need to cut two pieces for your waistband, for a toddler skirt. I tried to design these charts to anticipate most of the cutting variations and possibilities.
*This skirt requires knit fabric for the waistband, but the skirt can be almost any fabric  you like. As long as it has some body and drape, you can use it. Wovens such as quilter's cotton, shirting, seer sucker, linen, silk, satin, etc. Stay away from bottom weights, and thicker fabrics. You can, of course, sew the whole skirt in knit fabric, which I have done here.
* Recommended knit fabric…You can use almost any weight of knit for this skirt. It is however, preferred that you use a mid to heavy weight knit for the waistband that has at least 30% stretch. If you need help determining how stretchy your knit fabric is, THIS post from Go To Sew has a helpful guide. For your reference, I used a light weight knit for the entire coral and tan stripe skirt. The waistband will likely slink to the hips because it doesn't have as good recovery as heavier weight knits. I am sure it will wear fine, but keep in mind that it does affect fit.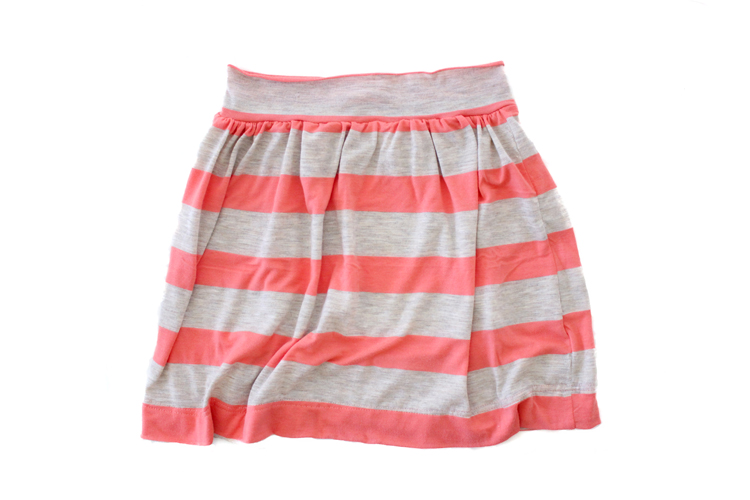 Ready to get started?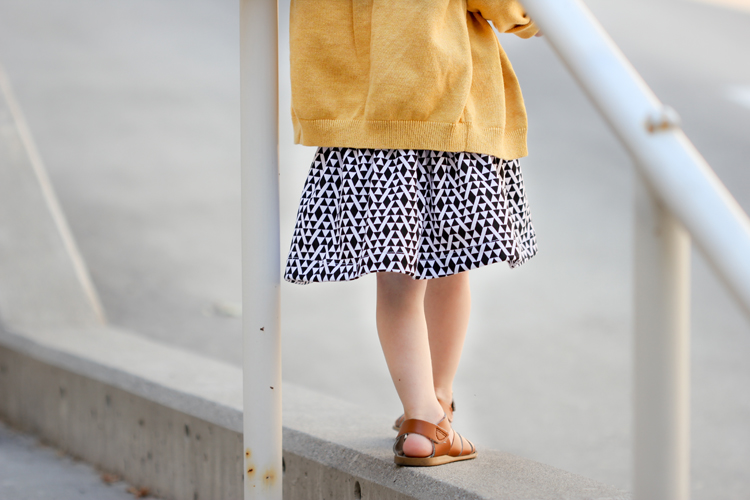 First, gather your supplies:
ball point or jersey needle (for sewing with knit fabric) universal needle (if sewing with wovens) matching or contrasting all-purpose thread iron seam ripper basic sewing supplies and machine serger*  
*You can work around this skirt without a serger by using a zig zag stitch instead, but I highly recommend using a serger. Photos in the tutorial will only show how to make this with a serger.
Gather your fabric: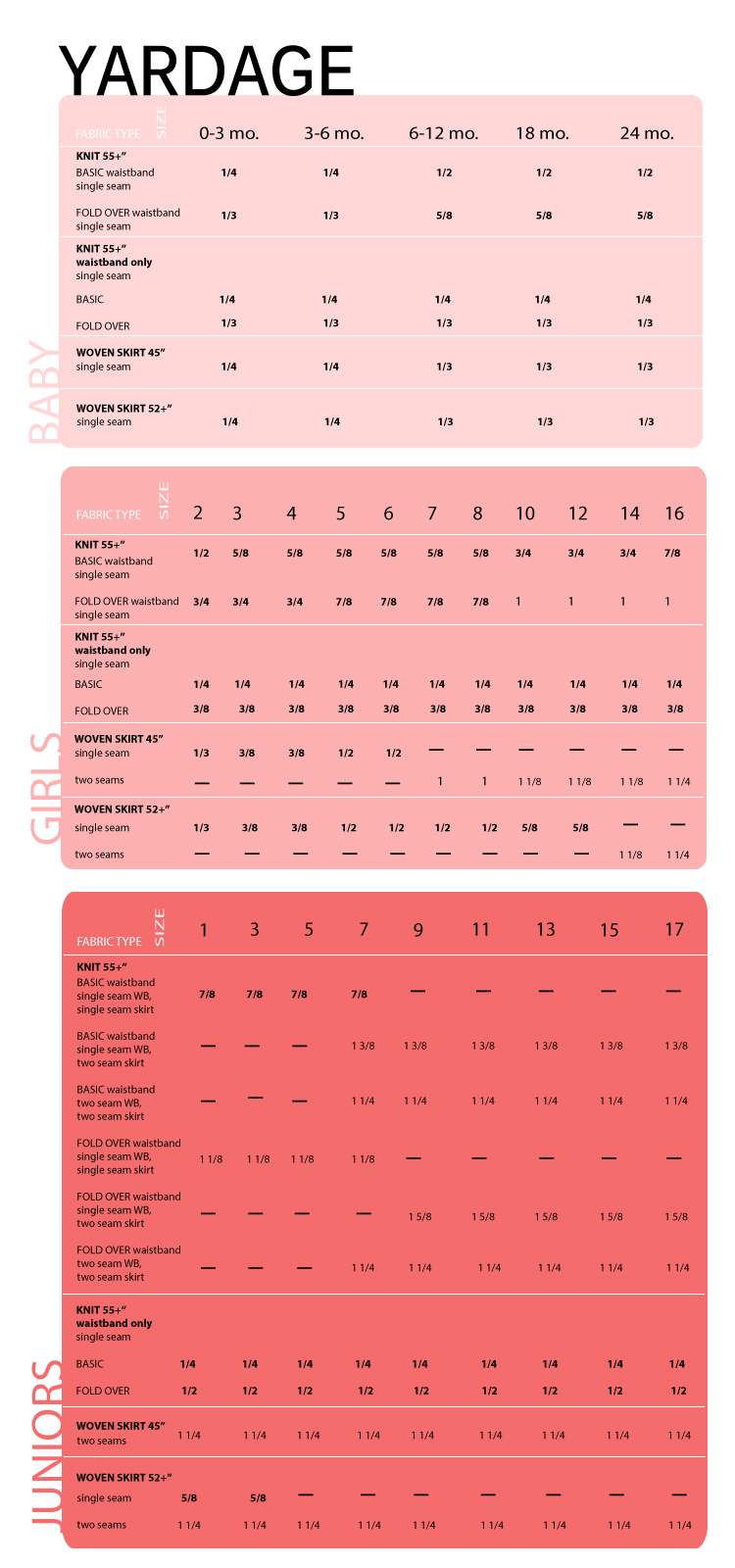 Now, cut your fabric:
– Always cut one piece for the specifications provided unless otherwise noted.
– Make sure to cut your fabric so that the direction of greatest stretch follows the width measurement. For example, the longer measurement should run from selvage to selvage.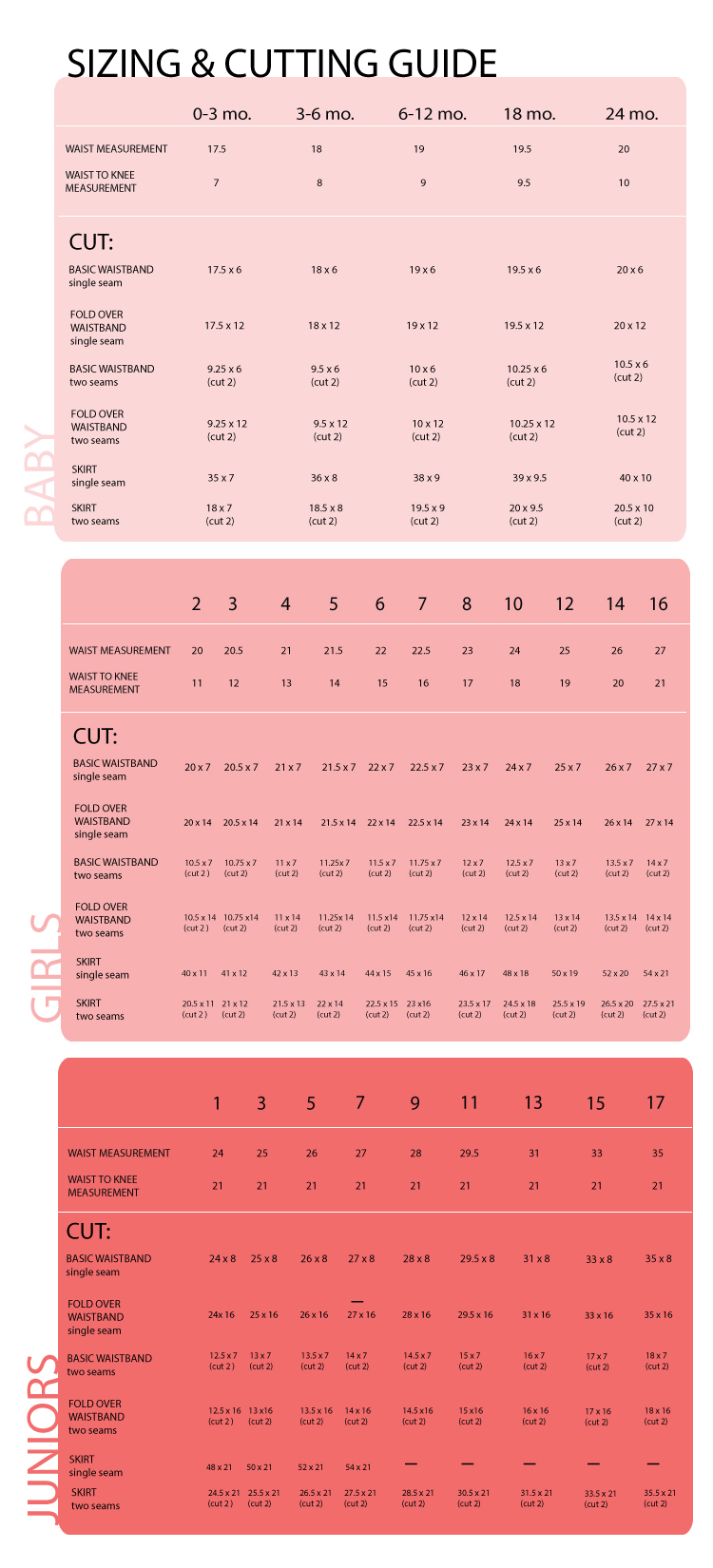 ALL SEAM ALLOWANCES ARE 1/2 inch. 
STEP ONE: Sew waistband.
KEY: Dark grey = wrong side of fabric || Light grey = right side of fabric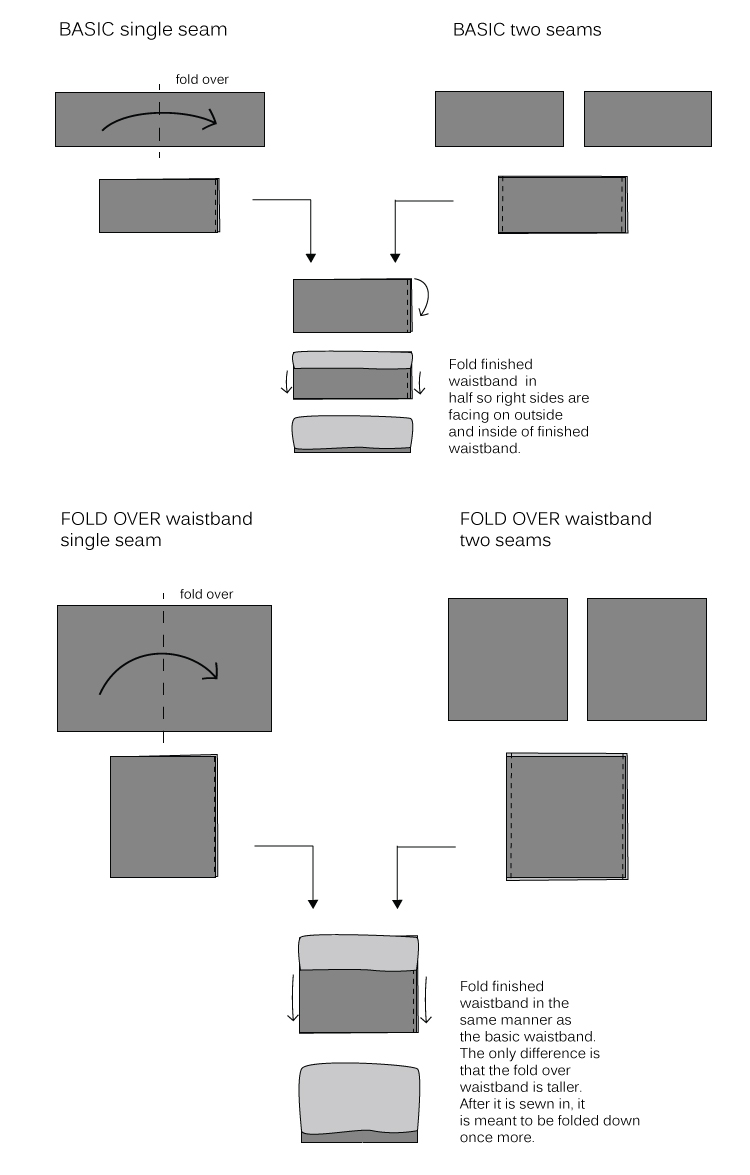 Single seam means that you cut one piece, fold it in half width wise, right sides facing, and sew one seam.
Two seams means that you have two pieces, that you pin together, right sides facing and sew two side seams.
BASIC waistband refers to the first, simple waistband. FOLD OVER waistband refers to the tall waistband that folds over itself when being worn.
For your reference, below is a photo of  a basic waistband with two seams. This photo shows it inside out with two side seams sewn.
Above: This is how it looks after it is folded down and in half.
STEP TWO: Sew skirt piece(s).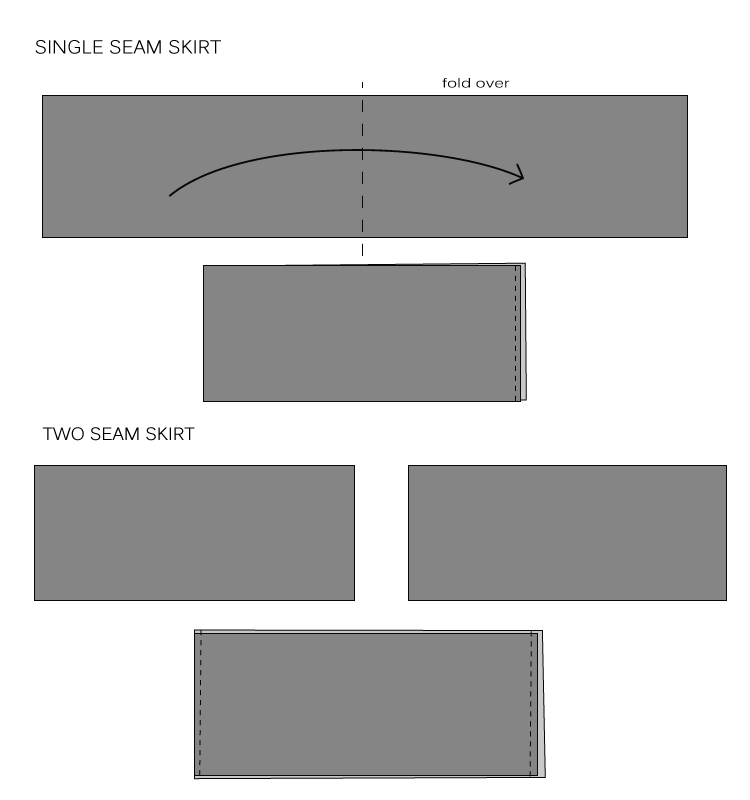 As with the waistband, single seam means that you cut one piece, fold it in half width wise, right sides facing, and sew one seam.
Two seams means that you have two pieces, that you pin together, right sides facing and sew two side seams.
STEP THREE: Gather skirt.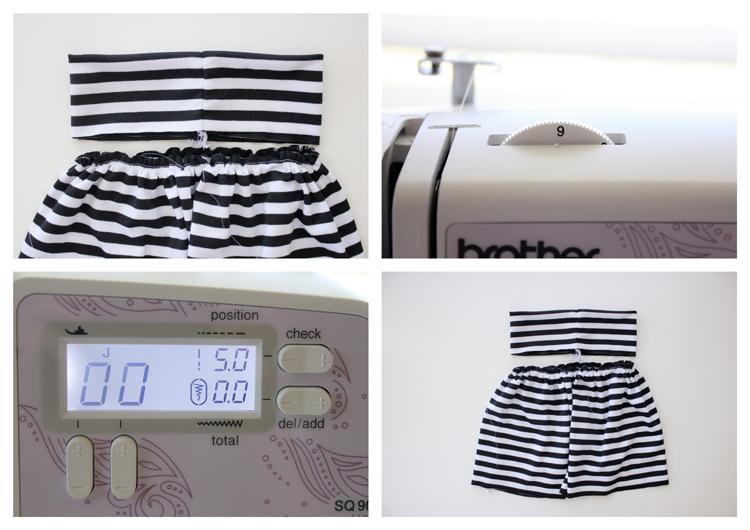 Change the settings on your machine, so that the stitch length is as long as it can go, and the tension is at it's highest setting. Without back stitching, sew two lines of stitching around the top edge of your skirt piece, with 1/4″ and 3/8″ seam allowances, respectively. Leave long tails.
Now, pulling on the bobbin threads, gather the skirt as evenly as possible, until the top of the skirt matches the width of the waistband.
STEP FOUR: Attach waistband to skirt.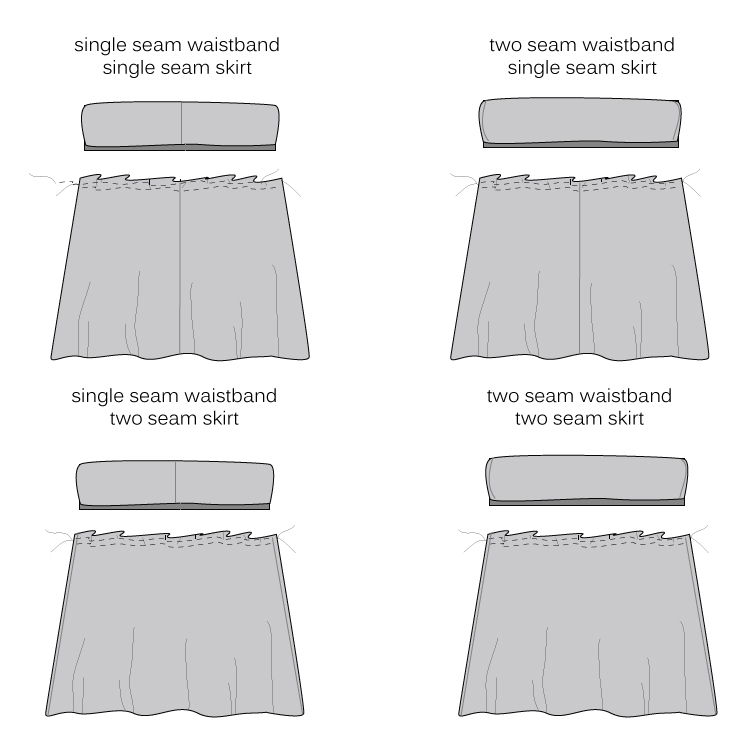 Determine where your seams are on your waistband and skirt pieces. Use the guide above to line the seams up correctly. Single seams should be centered at the back.
Now, with the skirt right sides out, flip the waistband down and slide it over the skirt, so that the raw edges of the waistband and the raw edge of the skirt match up.
Pin pieces together evenly. This helps prevent the skirt from stretching out of shape as you sew.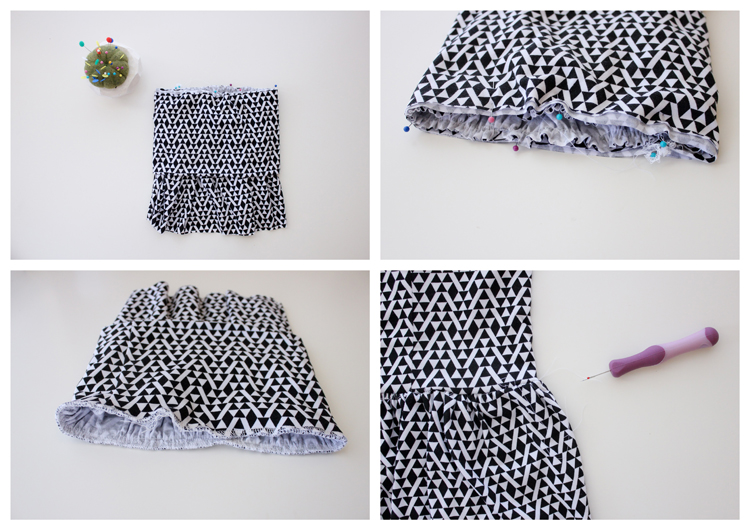 Serge waistband and skirt together, being careful to not stretch the fabric too much as you sew.
Note: This will limit the stretch of the waistband a bit, but the serged edge + the knit waistband + the gathered skirt will still allow enough stretch for the skirt to fit  over the hips (even with a woven skirt fabric).
Flip the waistband up. Using your seam ripper, remove any hanging basting stitches from when you gathered your skirt.
STEP FIVE: Hem skirt.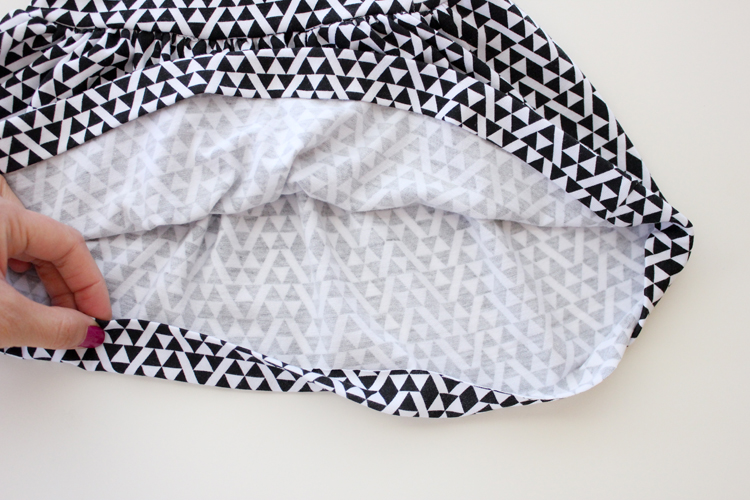 Iron under the raw edge of the skirt 1 inch and then iron it under again 1 inch, encasing the raw edge.
Top stitch around, close to the inside folded edge. Sew one line, or sew two parallel lines of stitching if desired.
Optional: Add a tag.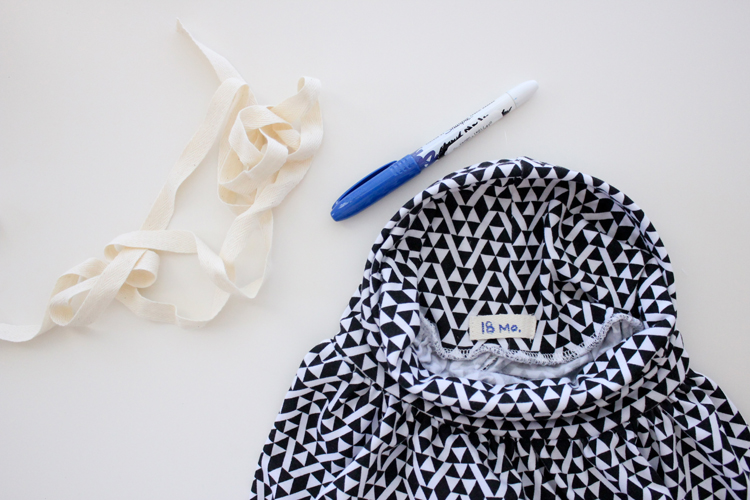 That's it! Five easy steps, and you're done!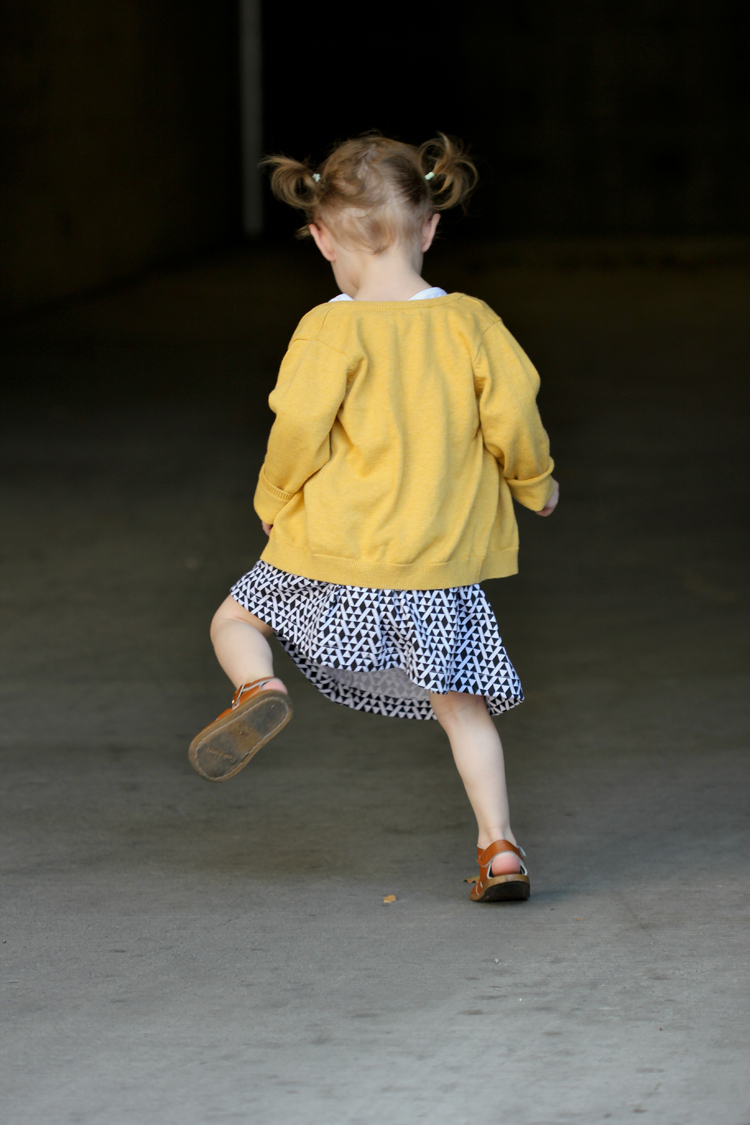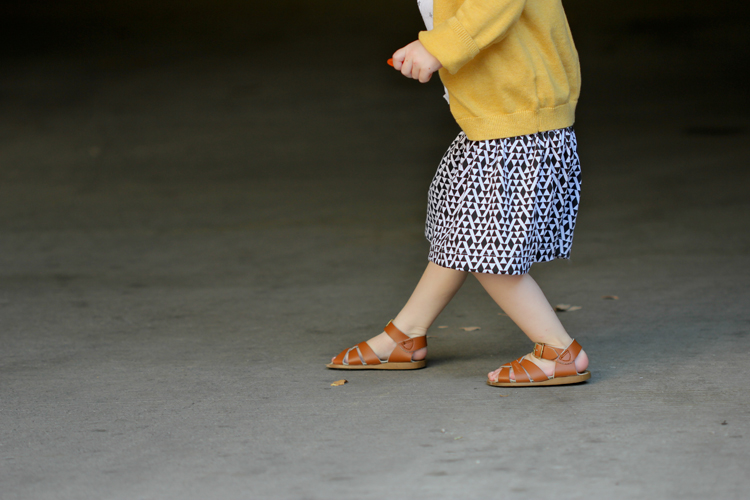 Here's a quick look at how the fold over waistband works:

Nifty, eh?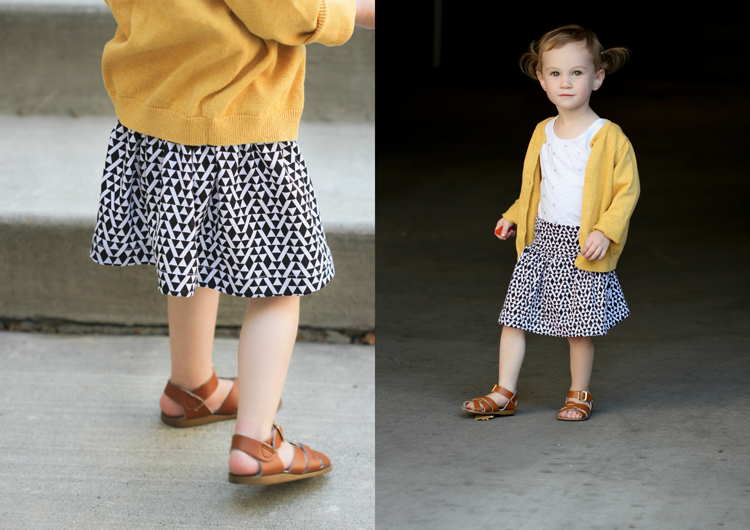 I made a couple of skirts for Nat because she has been going through a growth spurt. She tends to grows tall more than out. I have a feeling the fold over waistband is going to be a need this year! 😉
The rest of the skirts, plus some I didn't photograph, are headed to the local Foster Care program. I grabbed a bunch of fabrics from my stash, and I made skirts that were closest to the size the scraps already were. It's the perfect stash busting project and it's for a great cause! Total win-win.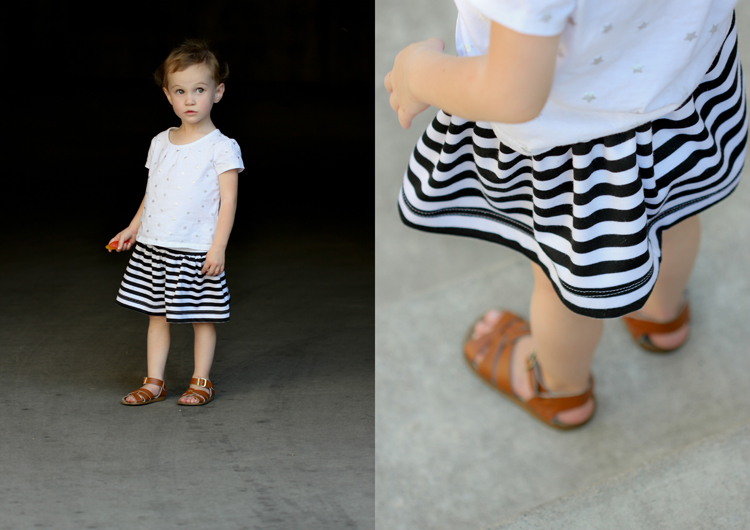 Check out more skirt sewing inspiration over at Simple Simon and Co.
Happy Sewing!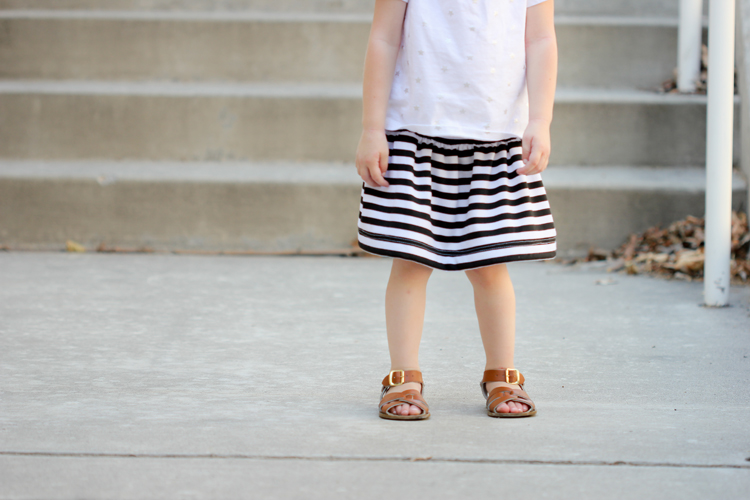 Fabric sources: All knits except for the fluorescent yellow knit are from Girl Charlee || seer sucker woven is from a friend || fluorescent yellow knit is a seasonal fabric from Hobby Lobby a couple of years ago.
Style sources: White star shirt – Old Navy || Yellow cardigan – H&M || Salt Water Sandals from Amazon, affiliate listing found here: Salt Water Sandals by Hoy Shoe The Original Sandal