I almost talked myself out of today's project…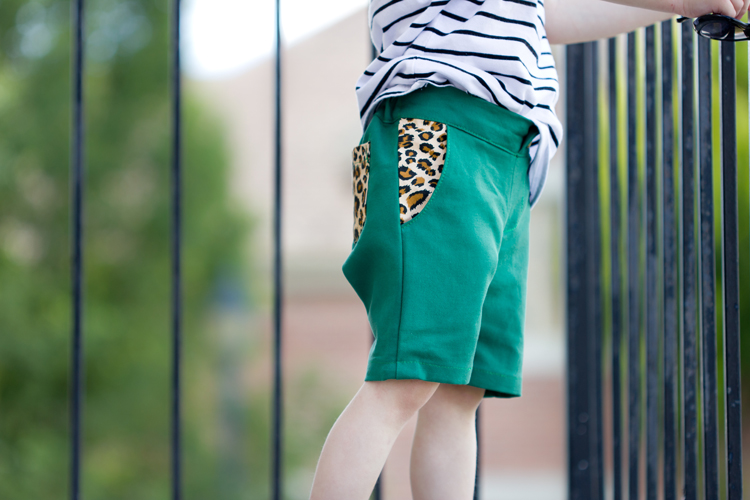 …but I am so glad I didn't!
The more Natalie wears these shorts, the more I love her as a cute little skater girl.
It made me happy that she likes them too. She has become obsessed with pink lately, so I was nervous she would reject them, but when I pulled them out, she couldn't wait to put them on! I was so relieved. Negotiating with this two year old is like trying to negotiate with tiny dictator. ha. 😉
I made these for the Shorts On The Line Series, hosted by Carla and Rachael, which is one of my favorite sewing series. You can see my entry for it last year HERE.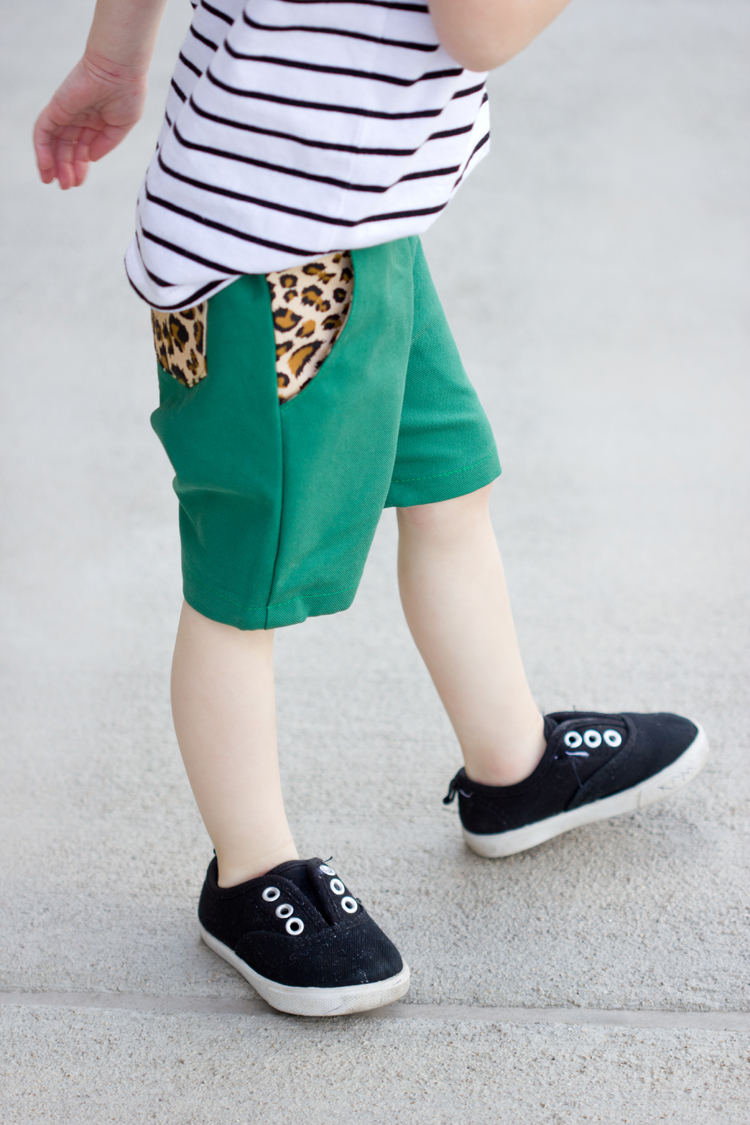 You maaaay notice similarities in the shorts too. 😉 I totally made a schedule mistake and thought I had another week until it was my turn to post. I double checked the schedule Monday (yes, two days ago!) and realized I had less than two days to sew, photograph and put together a post. Combine that with my busy summer schedule with the kids….ack!
I had already been thinking about using  Blank Slate Pattern's Clean Slate Shorts/Pants pattern again, but once I knew I had limited time, my mind was made up.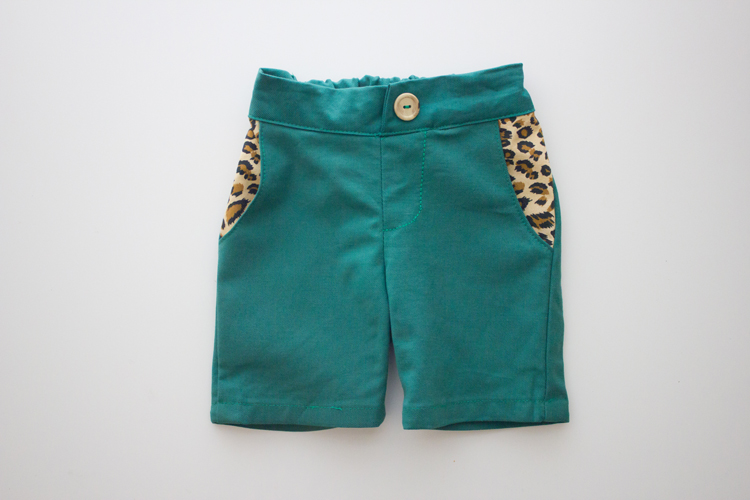 I have sewn this pattern up so many times, I knew I could do it without reading the instructions. It's one of my fave go to/wardrobe staple patterns! ( In full disclosure…Blank Slate is a sponsor, but is not paying me to say that. They are a sponsor because I sincerely love their patterns.) I also opted for the no fly option which made it go even faster.
The size range starts at 18 months which according to Nat's measurements is still a little too large at the waist, but good for length (she's petite). I knew I wanted the shorts to be a little slimmer than the original shorts as well. To adjust the sizing and fit, I shaved off almost an inch from the outer seam and about 3/8 inch from the inseam, of each pattern piece. I also trimmed down the pocket pieces an inch and the waistband two inches. I lost a good portion of the pocket curve when I slimmed the sides, so I scooped the pocket curve deeper as well.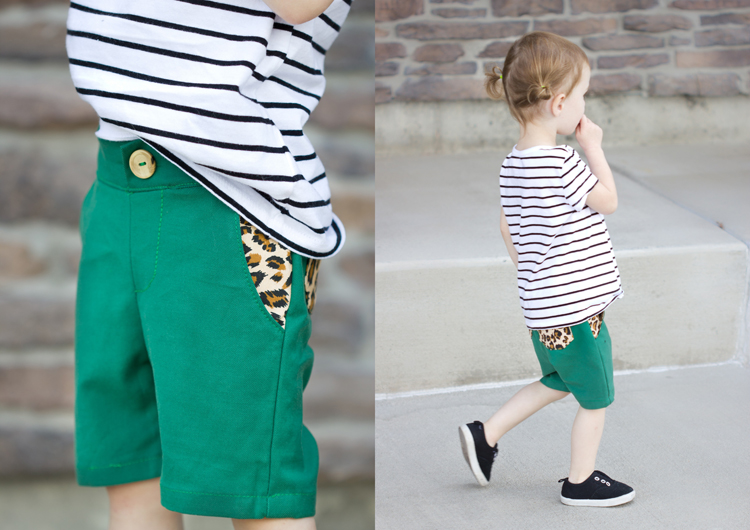 I color blocked the shorts and added back pockets the same way I did Owen's shorts from last year, but I used green stretch twill from Britex Fabrics and added cheetah fabric accents to the pockets fabric from Jo-Ann Fabrics. Britex Fabrics is a sponsor for the series and provided me with the twill. As expected, the twill is excellent quality and sewed up like budd-a. I have a lot left over, so you can bet you'll see it again in future projects.
When deciding what kind of fabric to add as accent to the twill, it was really no debate for me. I think cheetah and kelly green are a match made in heaven.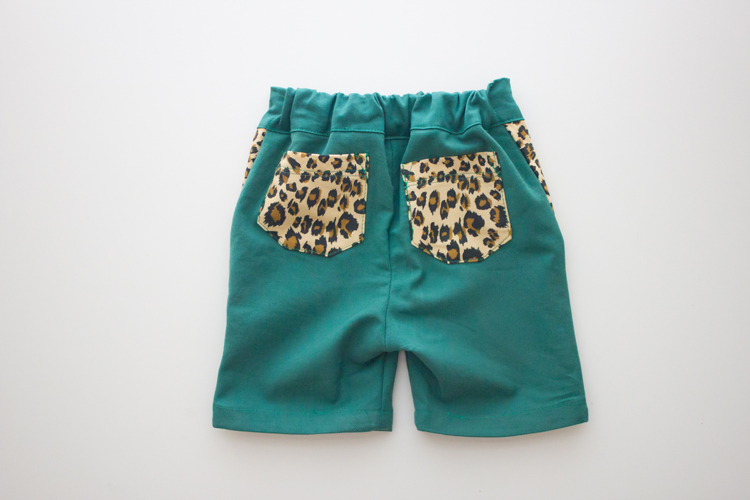 The waistband elastic bunches up the back pockets all funny when not worn, but you get the idea.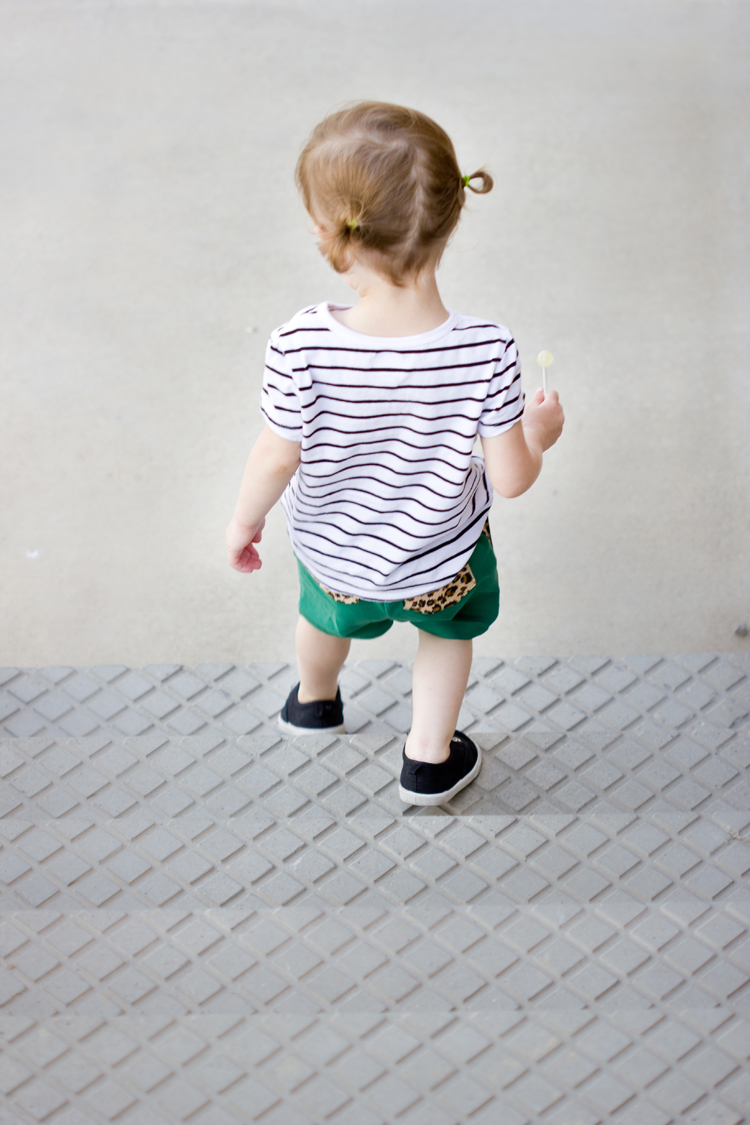 I've been calling these skater shorts, but I think they will look super cute as little Bermudas with a denim shirt and flats. I have been on the hunt for a cute denim shirt in her size, but because she still wears baby sizes, I haven't found one for girls (just boys). I guess I'll have to get sewing!
Sources: Green Twill – Britex Fabrics || Cheetah fabric  – Jo-Ann Fabrics – similar ||black and white striped shirt – Old Navy || black and white sneakers – Wal-Mart || Shorts Pattern  – Blank Slate Patterns.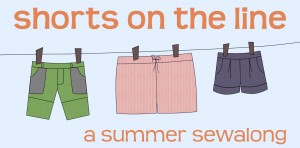 This post is part of the Shorts on the Line sewalong.  Shorts on the Line 2014 is sponsored by: Britex Fabrics, Hawthorne Threads, miss matatabi, and Soak Wash.  Hosted by imagine gnats, small + friendly, and Kollabora.