I don't know about you, but as I get older and as my time becomes more limited, I dreeeead shopping.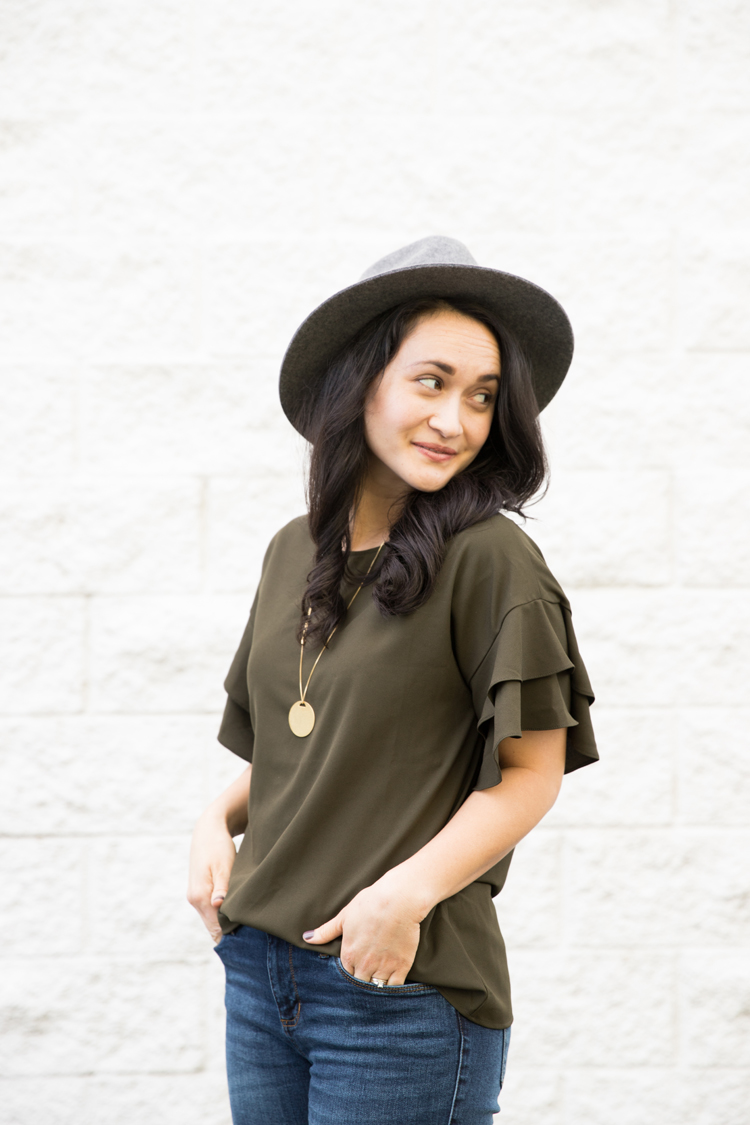 I don't mind the new duds, but the time it takes to browse and try things on makes me impatient.  Especially when I could use that time for making and crafting. Amiright!?
Well…I've teamed up with Stitch Fix, to help ease that dilemma! Today, I'm sharing how I gave my basic jeans + a t-shirt mom-i-form a little refresh – on a budget! – and let Stitch Fix do all the leg work.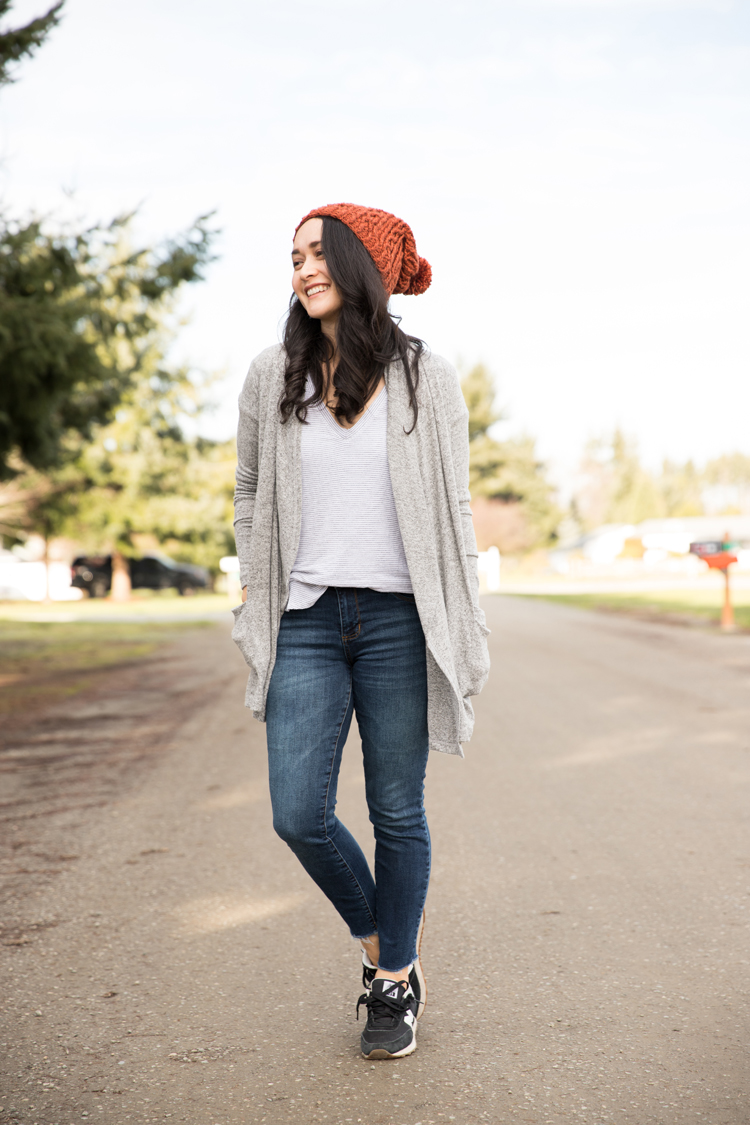 Just a heads up: Almost all the links in this post are affiliate links, but if you use them they waive the styling fee through the end of January, so you can try Stitch Fix for free. 😉 You scratch, I scratch. <3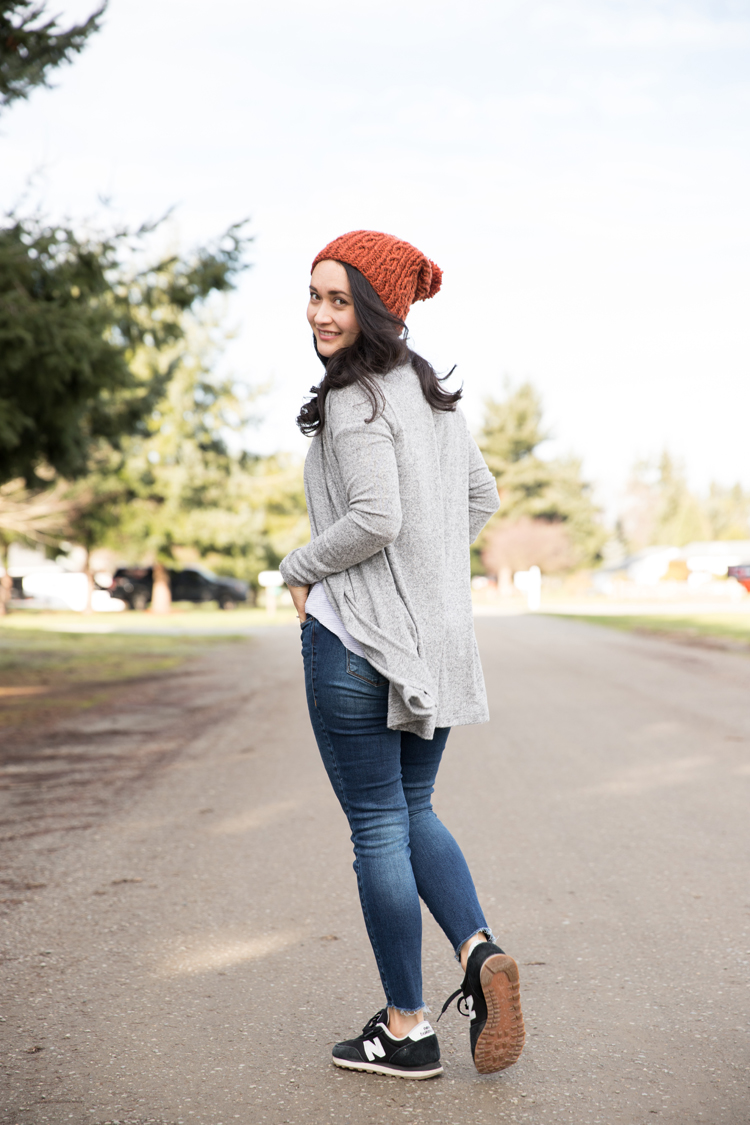 If you haven't used Stitch Fix before, it's basically like shopping online, but easier. You tell Stitch Fix what you like and what you don't like. Then, one of their stylists will send you a box of cute clothes and accessories that's tailored to you. You keep what you want and send back the rest. It's like have an instant bestie who has great taste and who knows your measurements.
Sounds easy right?… and it is! But there ARE a few things that help make the process go more smoothly. Having had about a half dozen fixes myself, I've learned the do's and don'ts for getting a fix you're happy with, on a budget.
1. Communicate + Be Specific
Like any good relationship, communication with your stylist is the way to get a fix that you love. I've heard people say that it can take a few fixes to get a box that really nails it. That may be a little true, but I believe it doesn't have to take that long.
When you first sign up, you have to fill out a style quiz (or stylist profile) which includes your measurements and a questionnaire about your likes and dislikes. There is a notes section where you can add additional input. Use every character allowed in those notes sections. Do you only like high-waisted jeans, or hate rips in the knees? Add that in! Don't like clothes that need to be dry cleaned? Leave no stone unturned. I once got a cropped shirt in my fix…I never bare my midriff. It's one of those deal breaker things for me. It was then that I realized I never told my stylist that. Doh!
I believe that the more you say, the happier you will be with your fix. Think of it like speed dating your stylist. She/he can't read your mind. Get it all out on the table, all your raves and your deal breakers, so she/he can really zero in on what will make you happy.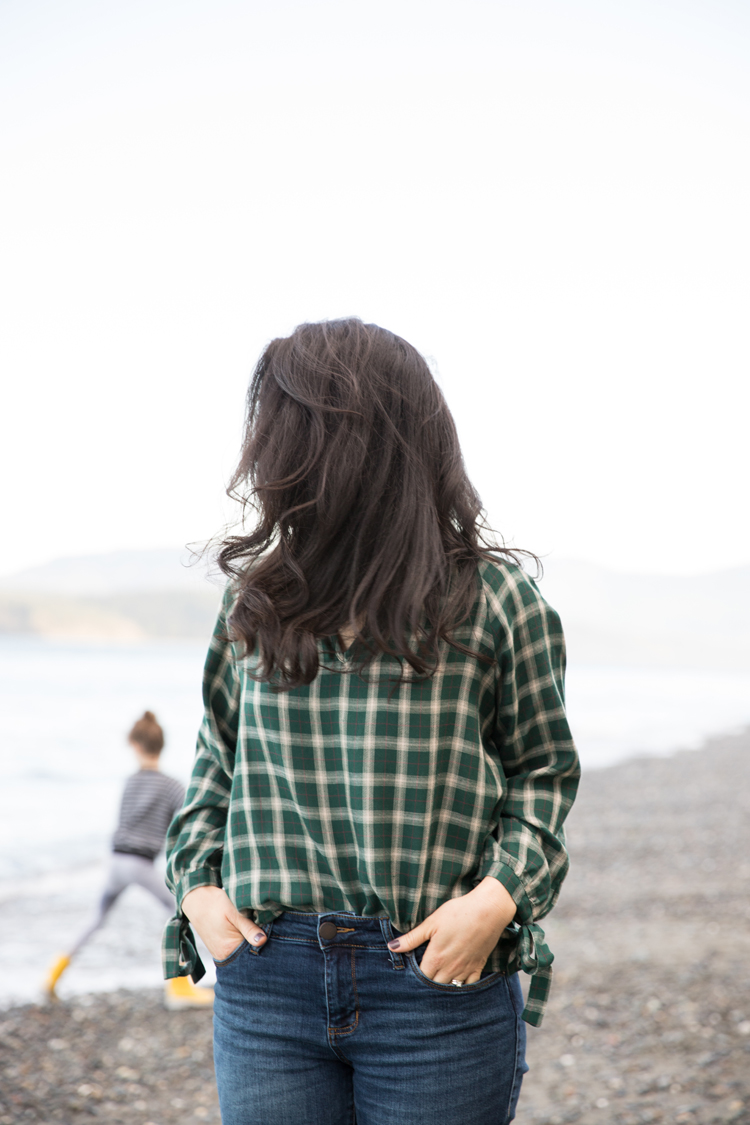 2. Change Your Profile For Each Fix
One of the biggest mistakes I've made with my profile is that I kept it really general at first. I listed everything I liked, which includes several different styles. What ended up happening is that I would get a lot of really great items, but they wouldn't necessarily complement what I already had in my closet, or they wouldn't be what I was looking for at the time.
Then I realized that you can edit your profile as much as you like. So, why not change it for each fix? That really shouldn't be a question. I mean, definitely change it for each fix! 🙂 At minimum,  change the notes section each time.
If you're going to a wedding and want some new duds and accessories, select only the style you want. Even though you may like boho for everyday wear, if that's not the direction you want to go for the event, uncheck it. You can always add it back in later.
Looking for some pants to go with some tops you've sewn, or are you needing more sweaters for the season? Say so! Tell your stylist about the gaps you have in your closet, so she/he can help fill it. Chances are, you'll be a lot happier with what she sends you, if it's meeting a need.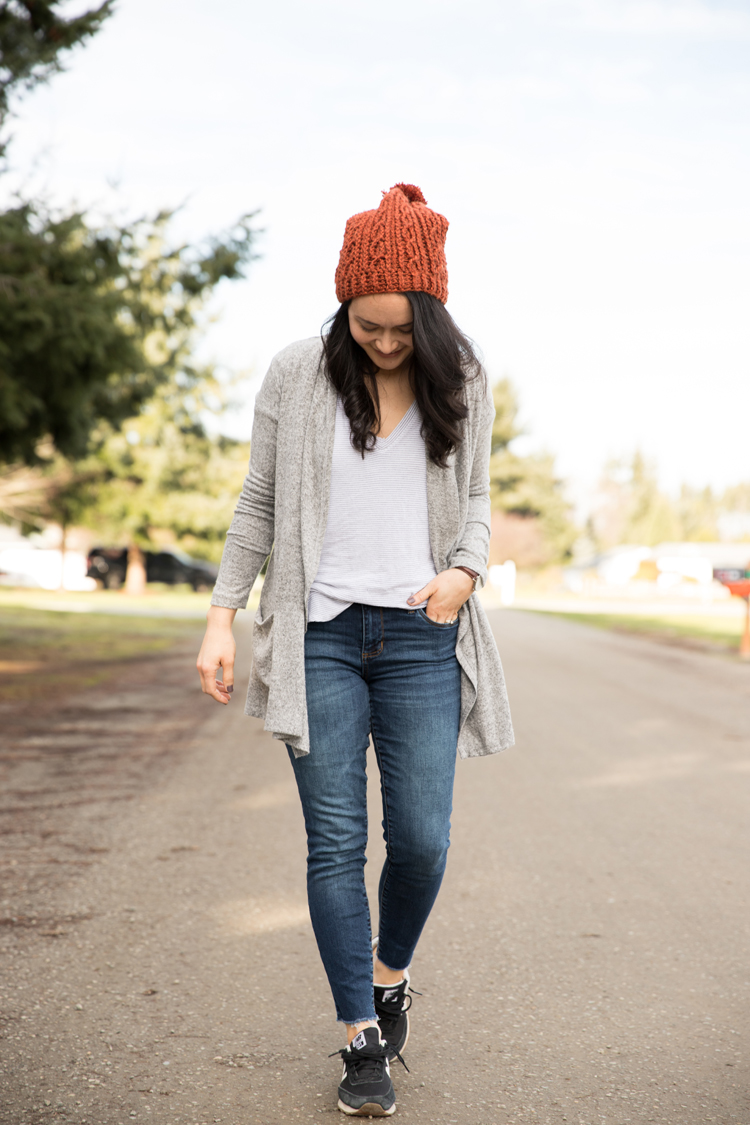 3. Try it on dressed up. 
I admit it. There have been a few fixes that I received when I was not in love with some of the pieces at first sight. Part of the fun and the challenge of having someone else pick out your clothes is that it may not be what you would necessarily choose for yourself. My advice is to not try it on with your pajama sweats and your hair all messy. It just won't look right. Give it a reeeeal shot. Try it on as if you were going to go out in it and you may surprise yourself.
I'm all for a statement sleeve, but I honestly did not like this green flutter sleeved blouse out of the box. I thought it looked too big and boxy and I'd never tried on short sleeve flutter sleeves. When I tried it on with the jeans, added a necklace, and booties. Bam…cupid's arrow through the chest. Tucking it in the front, adding the touch of gold… it all helped me see the potential the stylist saw in it.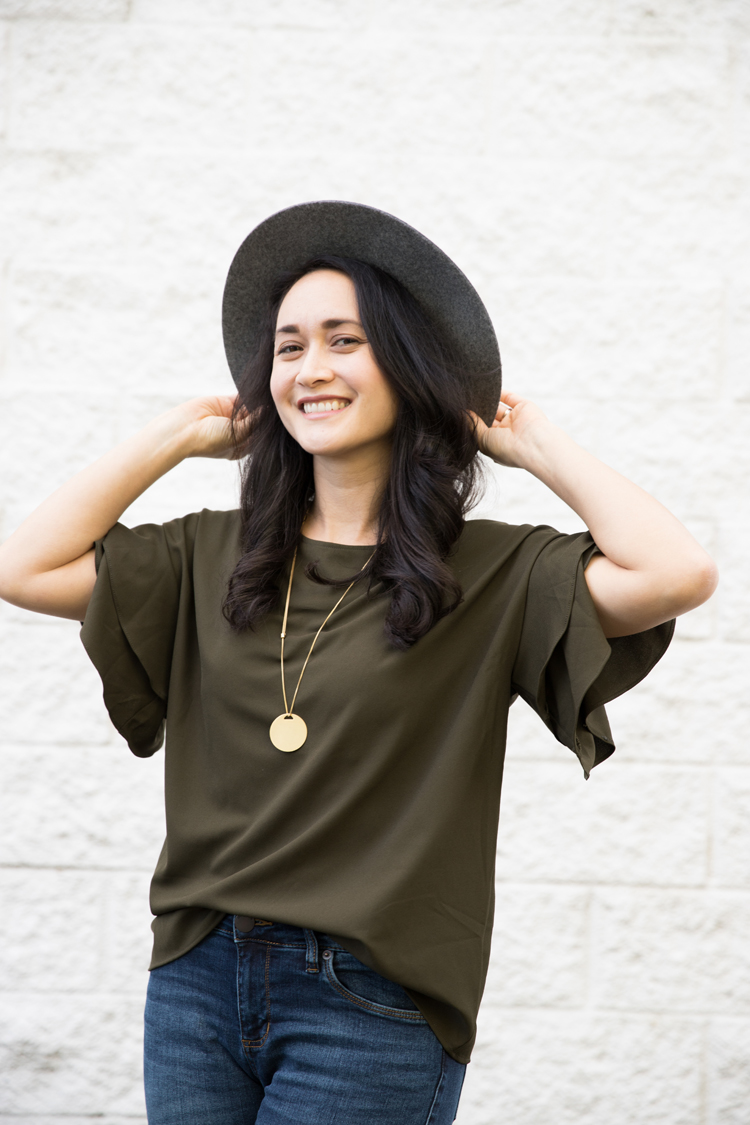 4. On A Budget?
Psst…I have a way for you to try it for free. Scroll down for more details. 
I challenged my stylist to send me items to refresh my basic jeans and a t-shirt routine for under $150. Remember, that clothing from Stitch Fix is not fast fashion. It's quality clothing that will last (and everything I've bought from Stitch Fix has). So, I felt like $150 would be a fair challenge.
I wanted items that would:
be unique but still felt like "me" –> clean lines and somewhat minimalistic
that would be versatile
that would look great with my usual jeans
And did she deliver! For around $130, she sent three tops that checked off all the boxes.
A cozy cardigan with pockets and a super cute collar.
A ruffle sleeve blouse, that I can dress up or down.
And a plaid top that has a bow detail at the sleeves. I like that it's similar to the plaid button-ups that I usually wear, but with some fun detail twists. It's exactly the refresh and update I was looking for.
Btw…I looove that all the tops are great at hiding my three kid mom pouch. 😉 😉
My stylist also sent along a pair of designer jeans, which were $50. I know, I know, that puts me over budget. Since you can style the tops with any jeans, I originally didn't include it in my total but then I did the math, and if you have say… a $20 accessory, you can get the standard 25% discount for buying all five items. That makes the whole fix….drum roll… $150! It all comes back to being specific with your stylist and telling her what your budget is. She'll do her best because wants you to be happy!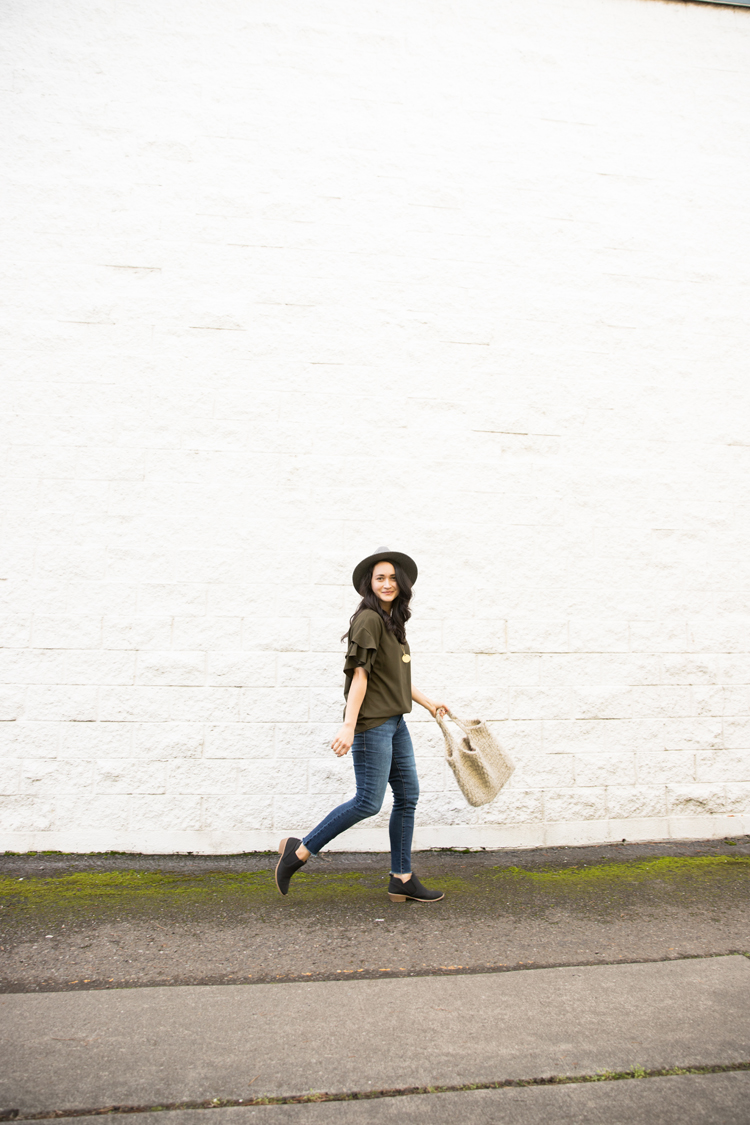 NOTE: You also want to make sure you check "as inexpensive as possible" in the price range section of the style quiz to ensure you get the best price. I was a little worried that it would equate to less exciting or inferior quality pieces being sent, but that was not the case at all.
If you're still not sure or if you're just curious, you can use use my affiliate link to sign up and try it for free through the end of January!
Normally, there is a $20 styling fee for each fix. If you buy something, the $20 fee gets waived. If you use my link though, whether you buy anything or not, your first fix is totally free. No risk! 🙂
It really is so simple. Sign up, fill out the quiz, get your fix, have a little fashion show in your living room, keep what you want, put what you don't into the provided pre-paid mailing envelope and send it back. It's easy, FUN, and quick!… so you have more time to do other things you love.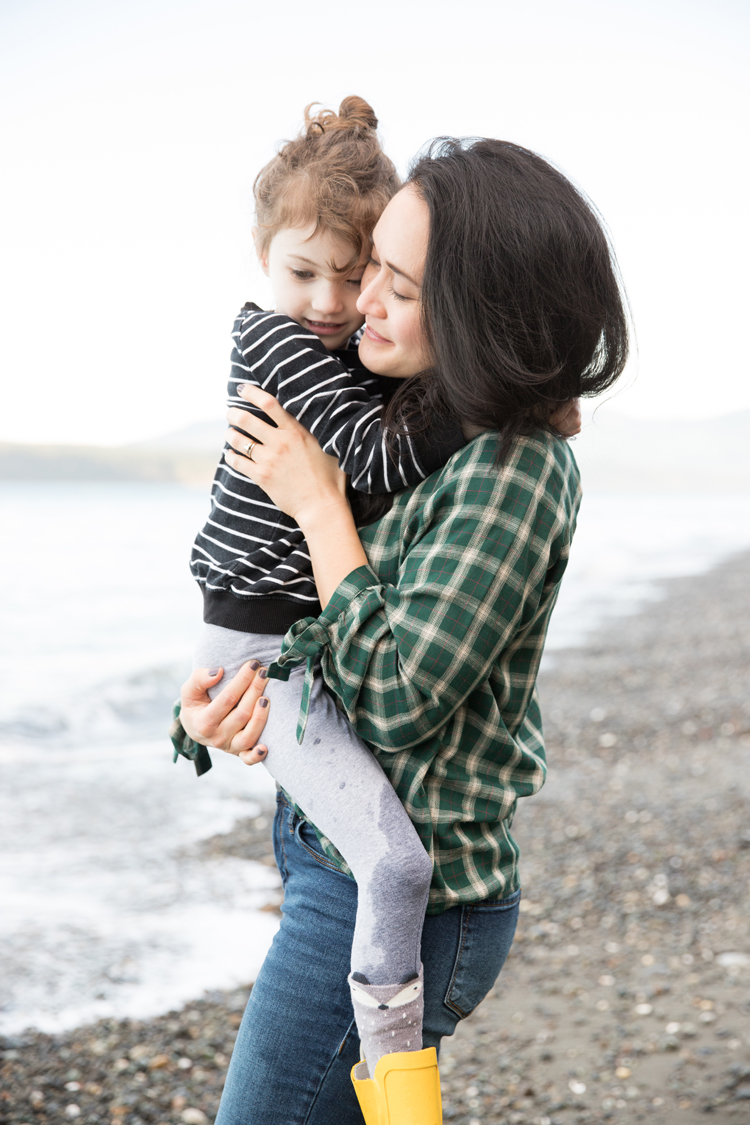 If you try it, please let me know. Send me a DM on insta (@deliacreates) so I can see your cute outfits. Or if you're a Stitch Fix pro and have any more tips you would like to add, please share in the comments! <3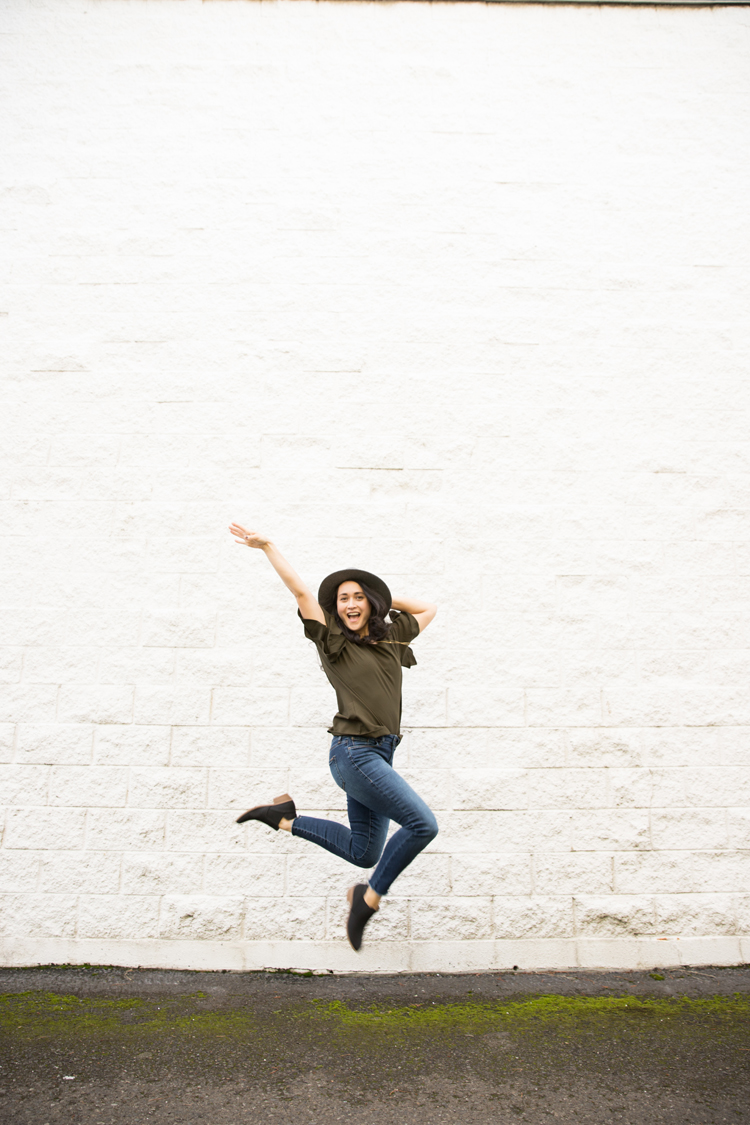 Disclaimer: This post was sponsored by Stitch Fix. I'm so grateful I get to share more about a company I genuinely enjoy, and that supports the many other posts, free patterns, projects, and tutorials I share here. <3 
Sources: Jeans and top – Stitch Fix // Crochet bag – free pattern // Orange beanie – free crochet pattern