About a year and a half ago, we ripped out 3/4 of the flooring in our house and put in LifeProof luxury vinyl flooring…by ourselves (and lived to tell the tale! 😉 Just kidding…it's very DIY friendly).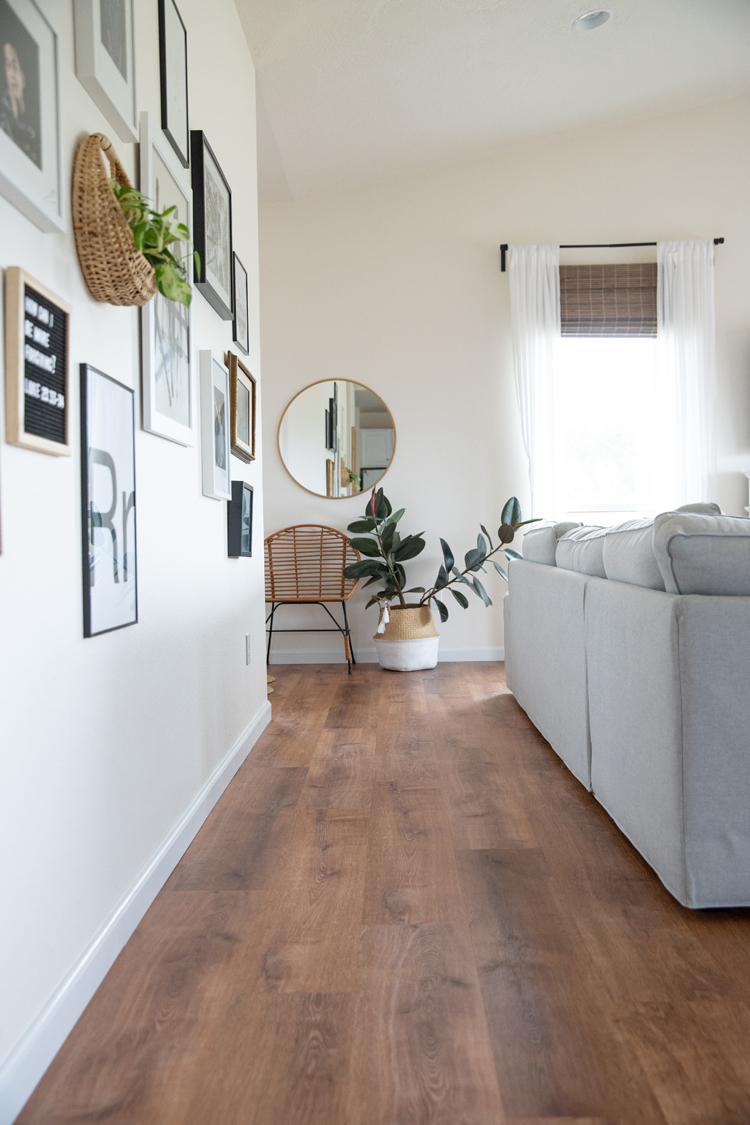 We live in a small-ish house, but it was still quite a project because we put it in our living room, both bathrooms, kitchen, laundry room, closets, hallways…basically everywhere but the bedrooms.
I have SO much to say about the whole process and I don't want to leave anything out, so you can have all the information you need if you are thinking about installing LifeProof in your home too! So buckle up…this post is going to be a doozy!
I'm going to cover:
Ordering the flooring, choosing a color, and how much it cost and how to get a discount.
The prep work involved, tools we recommend, and how the floating floor system works.
Installation, including layout, process, and how to install the planks.
A review of how life proof it actually is a year later.
Full cost breakdown.
How long it took us and would we do it again.
If video is more your thing, here's a video that gives an overview of the process and a tutorial on how to install it.
It doesn't dive deep into the details but it gives you the nuts and bolts you need to get started.
ORDERING
In this section, I'm going to talk about why we went with luxury vinyl, how to choose a color, and how to get a discount on your flooring.
Why LifeProof?
When we first bought our home, it came with laminate plank flooring in the living areas, cheap sheet vinyl in the bathrooms, and a carpet island in the living room that I loathed. Our house is pretty small (1700 square feet) with an open concept living, dining, and kitchen area. I can see how the builder may have wanted to help separate the areas using the flooring, but it really just made our house look smaller.
We wanted continuous flooring that would match throughout the house, from bathrooms to living areas. So, we knew we needed to look into waterproof flooring. Tile is too cold for our northwest climate and we needed something that we felt we could do ourselves, since we didn't have the budget to hire it out. Enter luxury plank vinyl. We hit up our local Home Depot for brands, and LifeProof seemed to have the best price and availability at that time.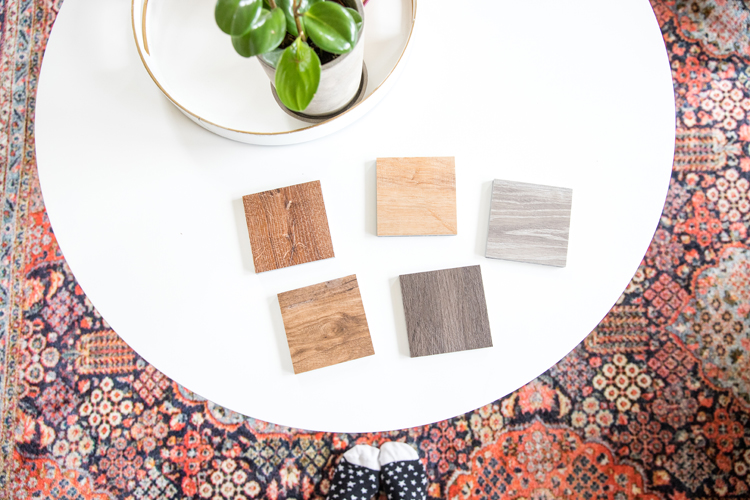 Choosing A Color
At the risk of sounding like a complainer…I promise I love our flooring and have no desire to change it…I am just not totally in love with the color. I know, I know. I'm the one who chose it, which is why I feel the need to caution you at this step. It can be tricky.
When you go in the store, they often have a small display of planks, and they may have a small 3-inch sample you can take home. The problem with such a small sampling of the flooring is that it's hard to grasp how the variations in the different planks are going to play out on a larger scale. You have to go online and see the flooring installed in the product photos to get a better idea of how it's really going to look. I would say that they are pretty accurate too. My sample squares weren't quite as red as the photos online because some of the planks are lighter than others, so I thought it would be a little more toned down in person. After it was all installed, the tones ended up looking as red as the photos. So, trust the pictures! We went with Trail Oak. If I could do it all again, I would have gone with a lighter color like Fresh Oak or Dusk Cherry.
How To Get A Discount
We saved about 20% off our flooring by signing up as a "pro" at Home Depot. Anyone can get a discount by signing up for Pro Xtra. It's free and pretty much like signing up for a membership card at a grocery store. You get discounts on certain items when you buy them in bulk…like flooring! I am uncertain what the minimum amount is that you need to order to qualify for the discount, and I imagine it varies from product to product and between seasons.
The flooring is normally about $64 per case. With our discount, we got each case at $51.33 before tax, which is just under 20% off.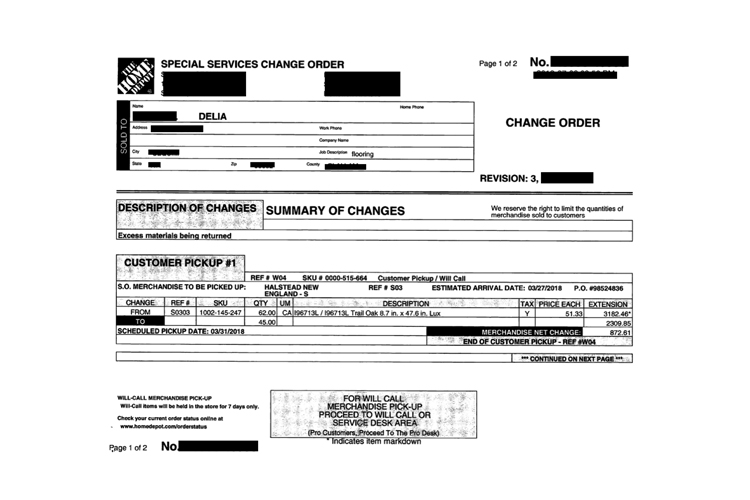 How much to order?
Give yourself as much time as possible and order at least a month in advance. We had shipping delays so I was glad we gave ourselves plenty of time to get it in.
We worked with the in-house flooring specialist to determine how much flooring we needed and we still ended up over shooting by kind of a lot. We ordered 62 cases and returned 17 of them when we were done. We just didn't have as much waste as we expected. I'm glad we had too much rather than cutting it close though, because it would be really annoying if we had to wait another 3-4 weeks to order more to finish the project.
PREP WORK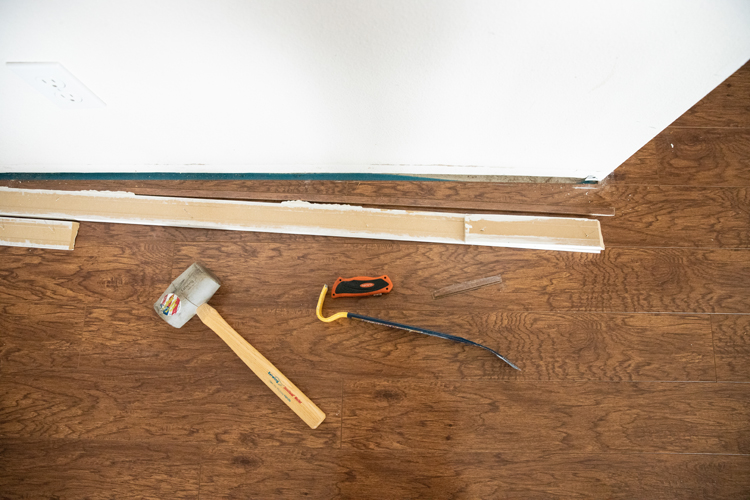 If there is one thing we underestimated the most, it would be how much prep work is involved. It took half a day at least to remove the old flooring, displace the furniture, remove carpet, and remove baseboards in just our living room. Our new flooring is a different height than our old flooring, so we decided it would be best to start from scratch. Also…removing and hauling all the carpeting to the dump is actually kind of a project of its own!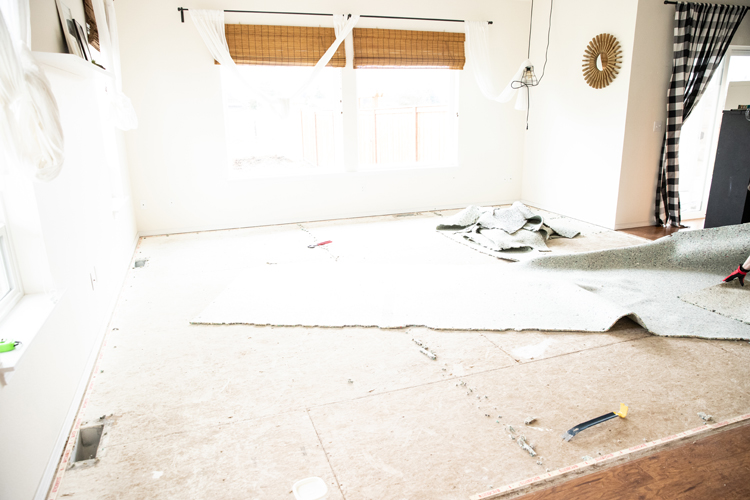 If you are removing carpeting, make sure to remove every single staple as well. Even the littlest staple left behind will ruin the integrity of the floating floor.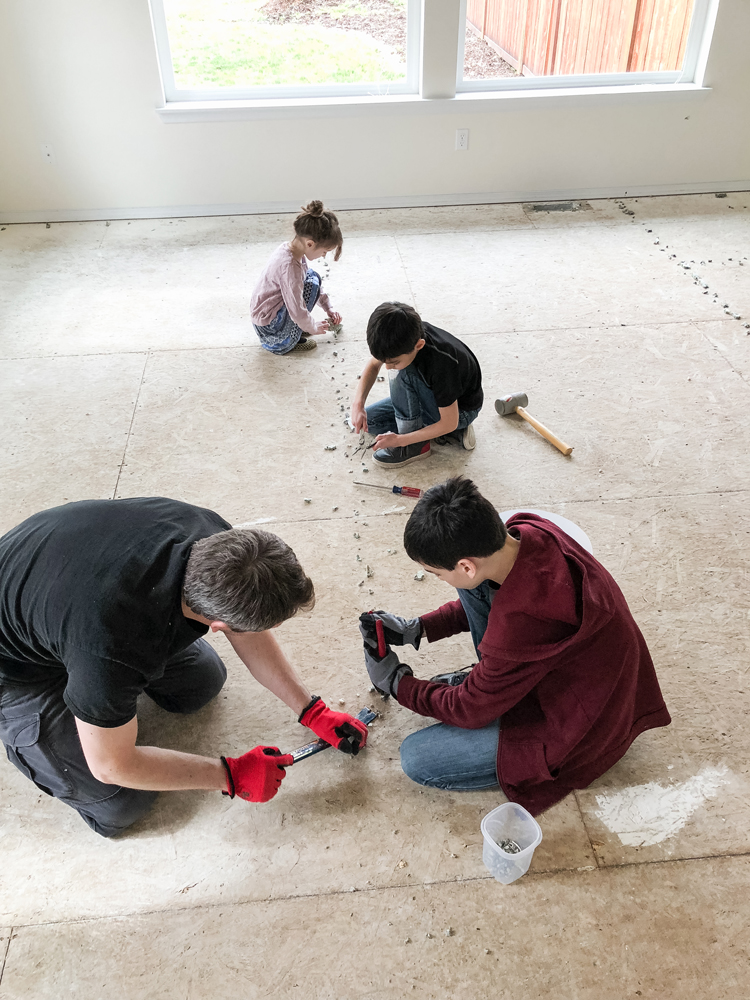 We worked through the house room by room since we were living through the renovation, so we couldn't remove all the flooring ahead of time. But if we had to do it again, I would have at least removed all the baseboards while I waited for the flooring to be shipped.
One big plus, is that LifeProof comes with its own underlayment, so you don't have to worry about that step.
TOOLS
Tapping Blocks and Mallets
They have the tapping block and mallet you need to buy, conveniently located next to the flooring displays for a reason. The right tools make everything so much easier to install. We tried getting by with our large bulky mallet to save money, but the smaller one makes tapping the sides so much easier. We kept the larger mallet around just for tapping in short ends.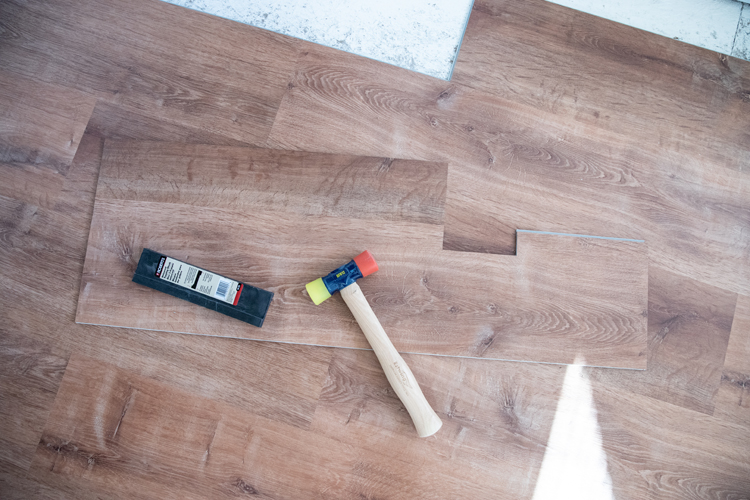 If you are putting in as much flooring as we did, I also recommend getting more than one tapping block. They have lipped edges that help protect the sides while you tap in the plank. Eventually those edges start to wear down and cause damage to the planks instead of protecting them, so it's best to get a fresh one after a while.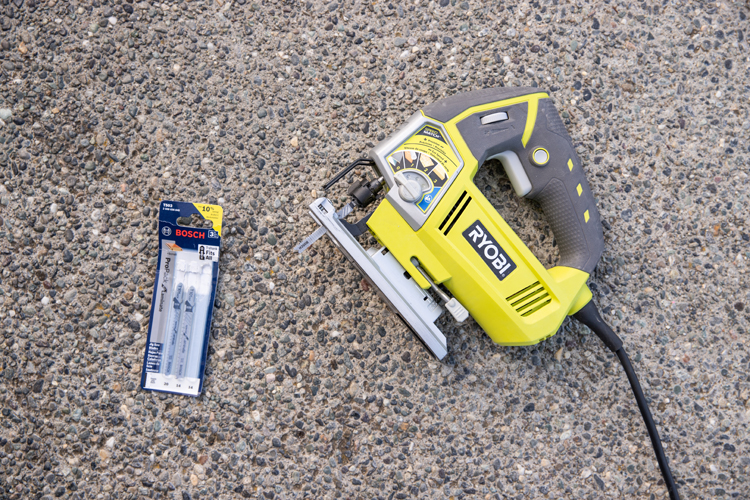 Cutting Tools
One of the selling points for LifeProof is that it's so DIY friendly that you don't need special tools to install it…just a utility knife. While this is technically true, you can score the vinyl side with a utility knife and then snap the rest off to cut the plank, I don't recommend it. It's hard on your hands which matters a lot when you're installing a lot of flooring. It is also harder to be accurate and it can only handle straight cuts.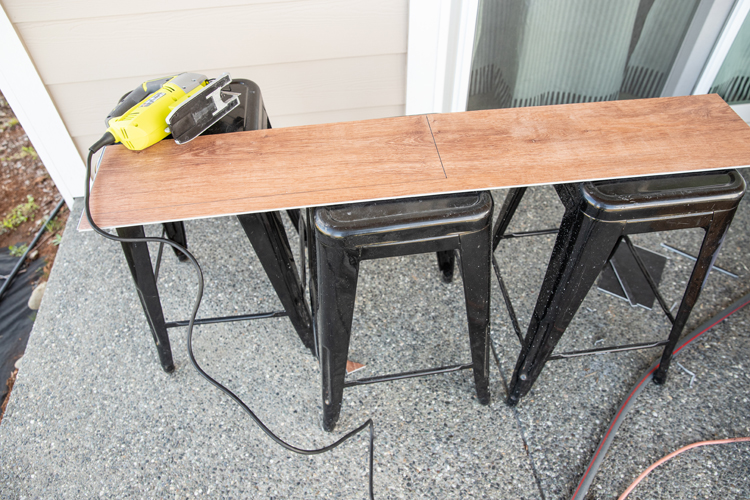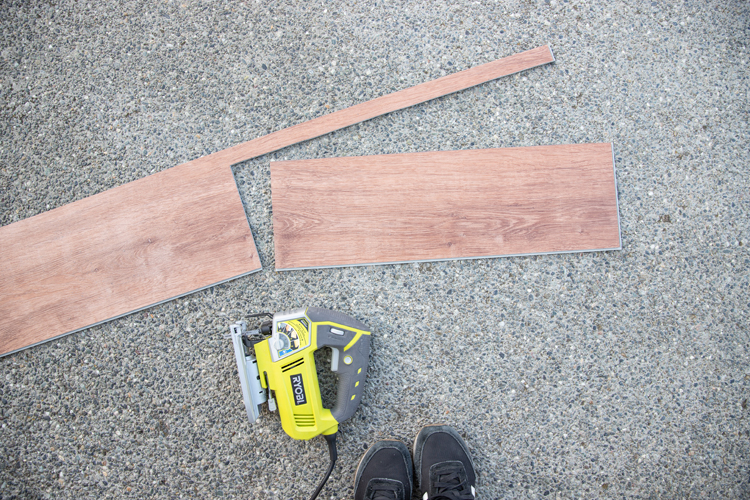 We ended up relying on our jig saw quite a bit. Because we wanted to have as few transitions as possible, that meant we had to do a lot of puzzle-piece cuts with funky curves and angles to get around door jams and corners. We didn't have a professional set up or anything…just a bunch of metal stools propped up on our back porch to use as saw horses. It looks janky but it was actually really functional. Aside from the puzzle piece cuts, it was just so much easier to do our straight cuts with it as well. Sometimes we used our miter saw for straight cuts which was even easier. With each tool, we always made sure to use a blade that is rated for use with laminate. Other blades rough up or melt the planks.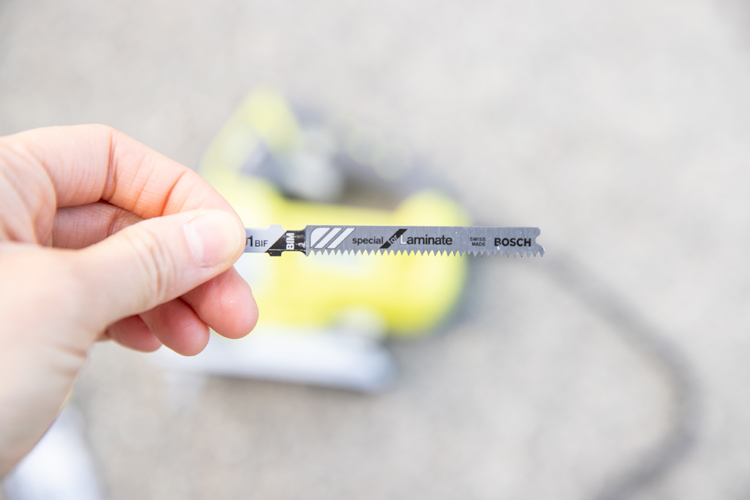 Other Helpful Tools
Newspaper
Quilting Ruler
Vacuum
Crow Bar
Staple Remover Pliers
Spacers
Knee pads or gardening pad
Newspaper – If you have a lot of corners and angles to contend with like we did, I recommend using grocery ads, newspapers, or any large pieces of paper, to help create paper templates for funky cuts. This helped us cut down on flooring waste a TON.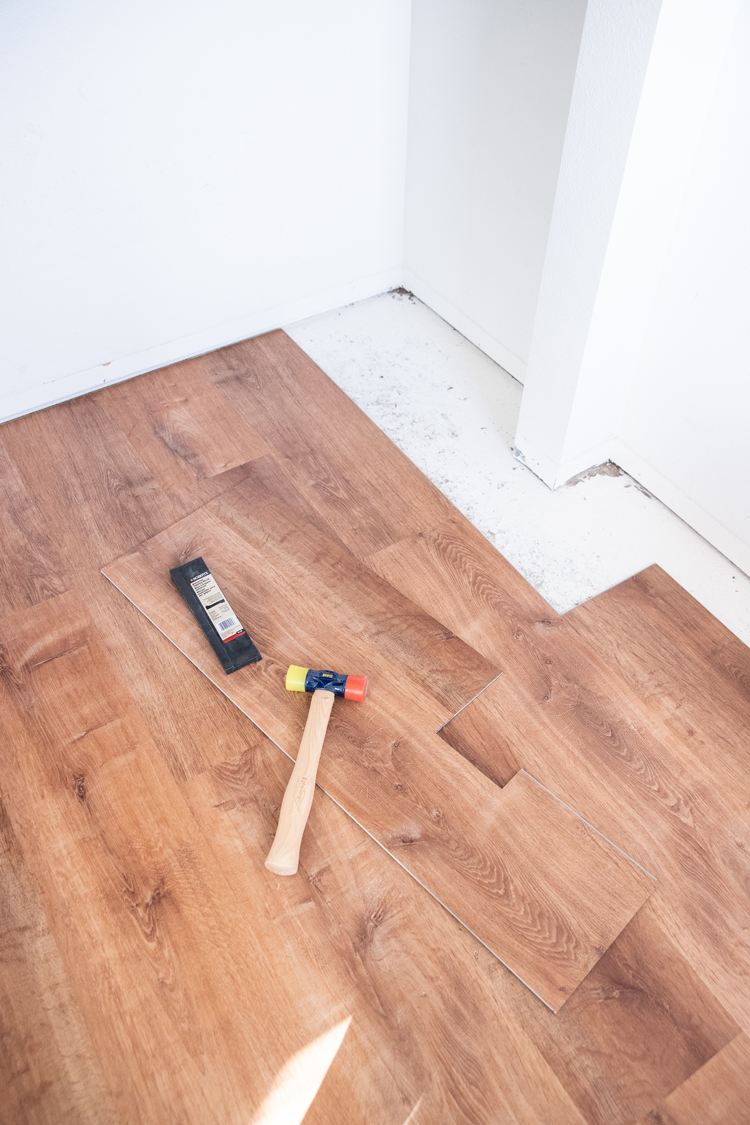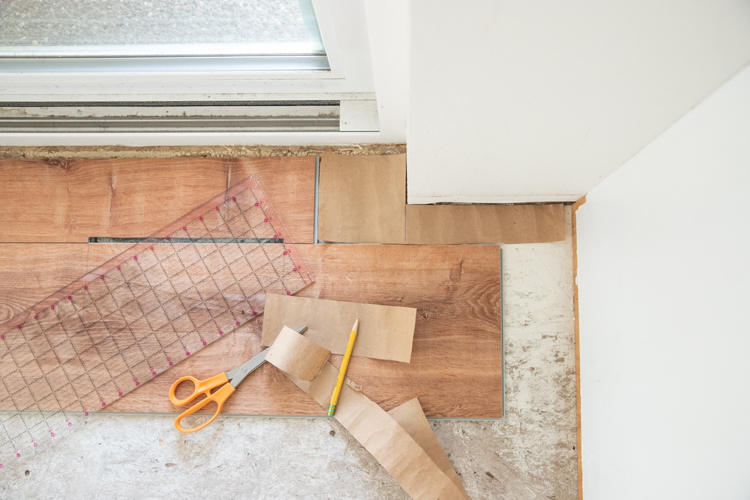 Quilting Ruler – Another helpful tool is a quilting ruler. I think it's the MVP of tools in any medium actually. 😉 It gives you a see through grid of measurements that are much more accurate than using a straight edge ruler.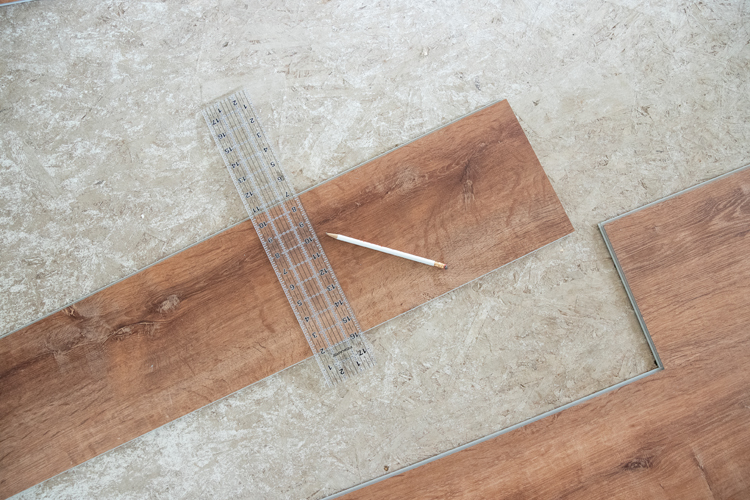 Vacuum – No matter how well we swept and vacuumed an area before we started laying planks, dust and rocks would creep their way under the the planks and into the connector grooves. Having a hand vac on hand helped us keep the sides and ends clean so they could provide a secure connection.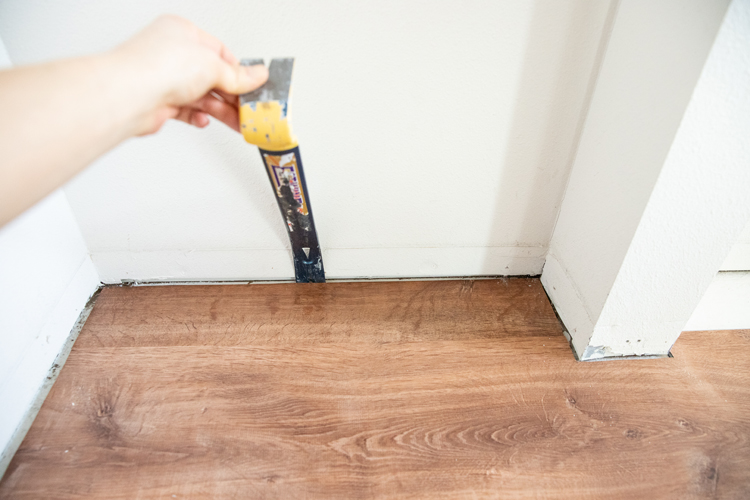 Crow Bar – this not only helps with removing baseboards but is great at snapping in the last row of planks when the tapping block won't fit anymore.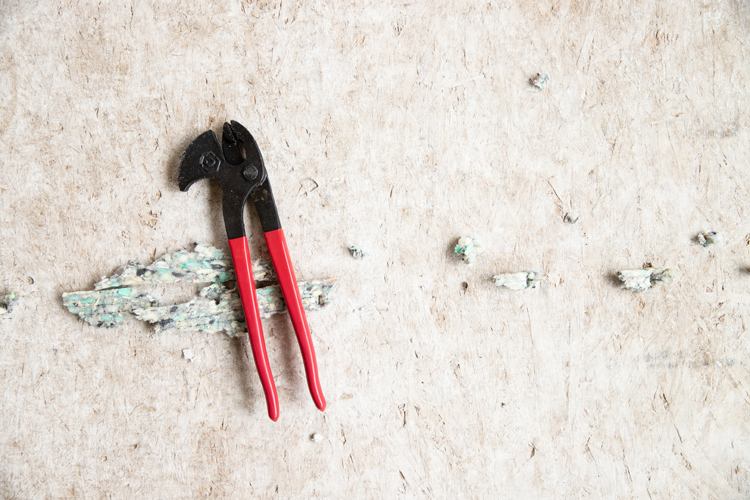 Staple Remover Pliers – If you are removing carpeting or baseboards, these pliers are awesome. They make removing all the staples and pin nails so much easier. If you're removing hundreds of staples like we did, it's worth it to spend about $18 on this puppy.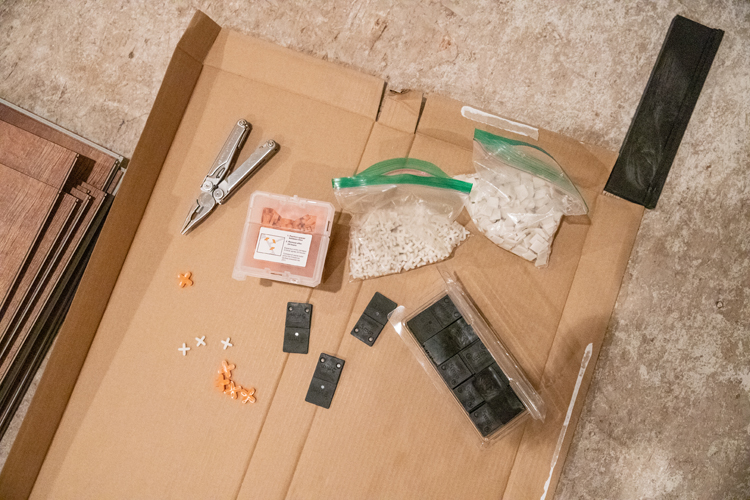 Spacers – To give your flooring room to expand and contract, you don't want to lay your planks flush with the wall. We picked up a variety of spacers to help us keep the proper distance from the wall. Smaller spacers were great for tight spaces.
Knee pads – Because you will be kneeling on a hard surface for a long time, it helps to get knee pads or a towel you can kneel on. I also used a gardening pad.
Before you get started:
LAYOUT
I've seen vinyl plank flooring installed from both sides of a plank. I've also seen it hooked together and then unhooked to get the configuration correct. I don't know if it's just us, but I have NO idea how this could be possible with LifeProof flooring. Once the long sides are hooked and tapped together, it is impossible to disconnect them without damaging at least one of the boards. The short ends are a different story and you can usually salvage the planks by sliding them apart. To show you what I mean, we have to talk about the anatomy of the planks or boards.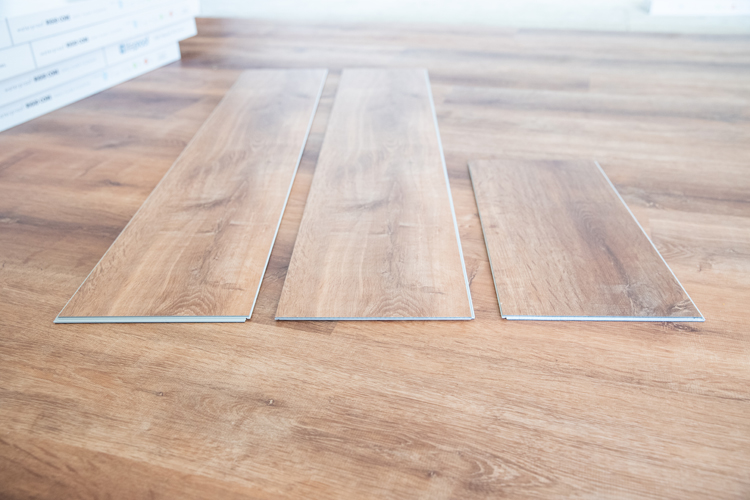 Plank Anatomy
Luxury vinyl is a floating floor which means that the planks are hooked together rather than adhered or nailed into the subfloor. Each plank has a long side and a short end that hooks OVER, and a long side and a short end that hooks UNDER. When these get hooked together, it is what creates the floating floor and seals out the water. This picture above shows the under hook, over hook, and what it looks like when it's cut straight, from left to right.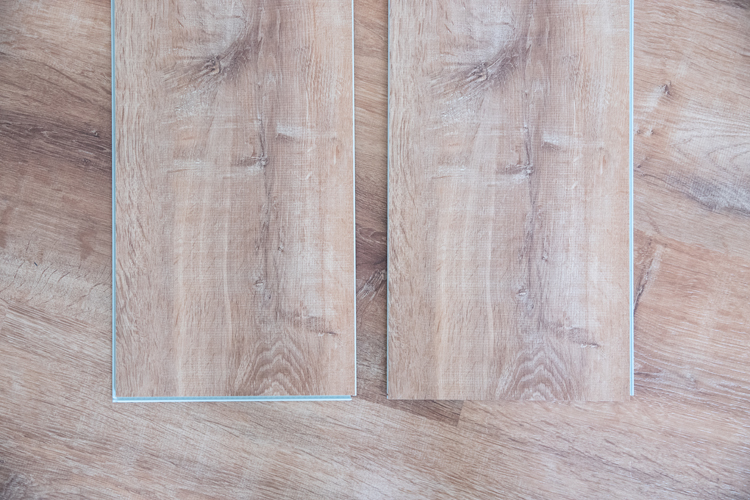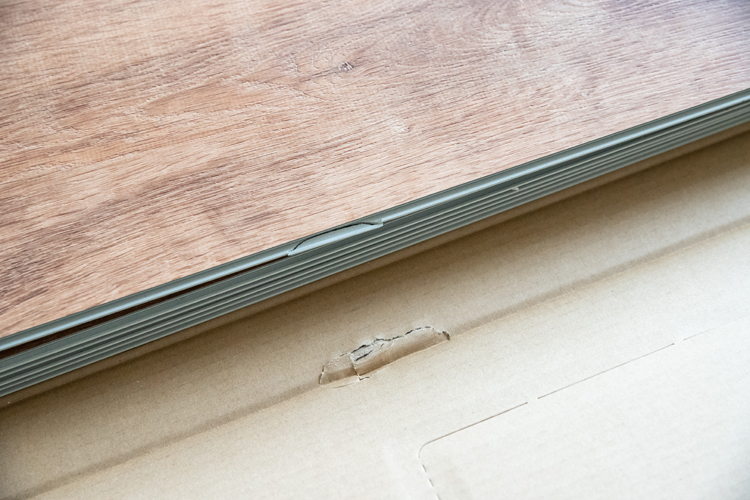 While these foam hook sides are very durable once connected and installed, before installation they can become damaged fairly easily. Hence, once you pull them apart, at least one of the planks will break and will not give a water tight connection after that.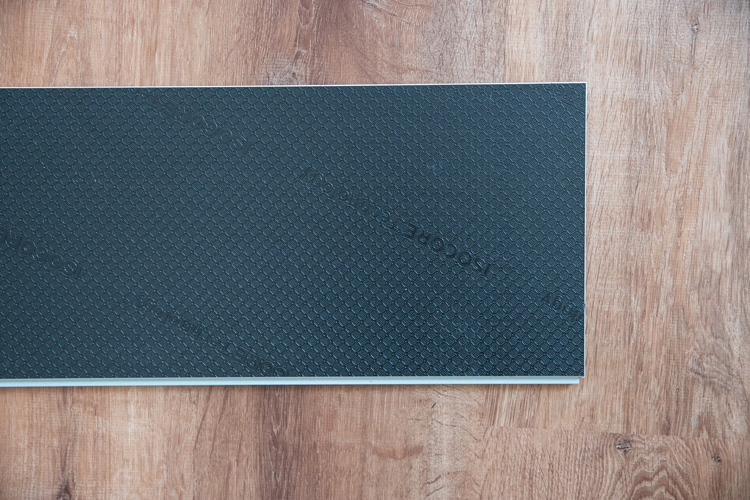 The top side of the plank is vinyl and the underside is the foam core with built-in waterproof underlayment.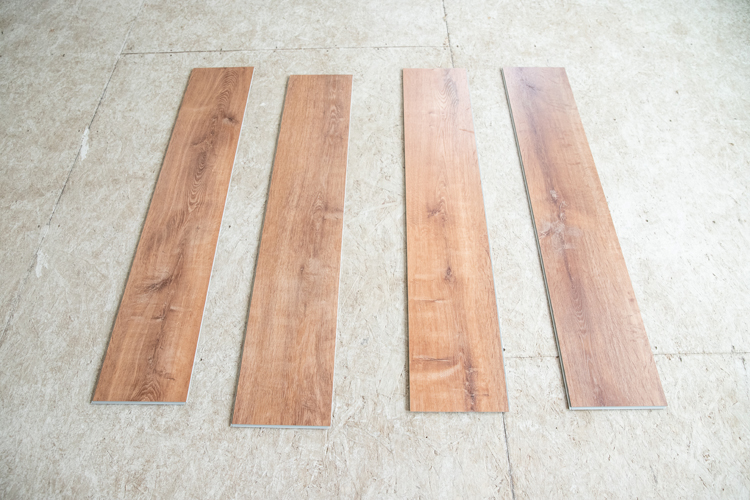 There are four repeating styles of planks. Whenever we opened a box, we sorted the planks into those four types, to help us maintain variety as we laid them.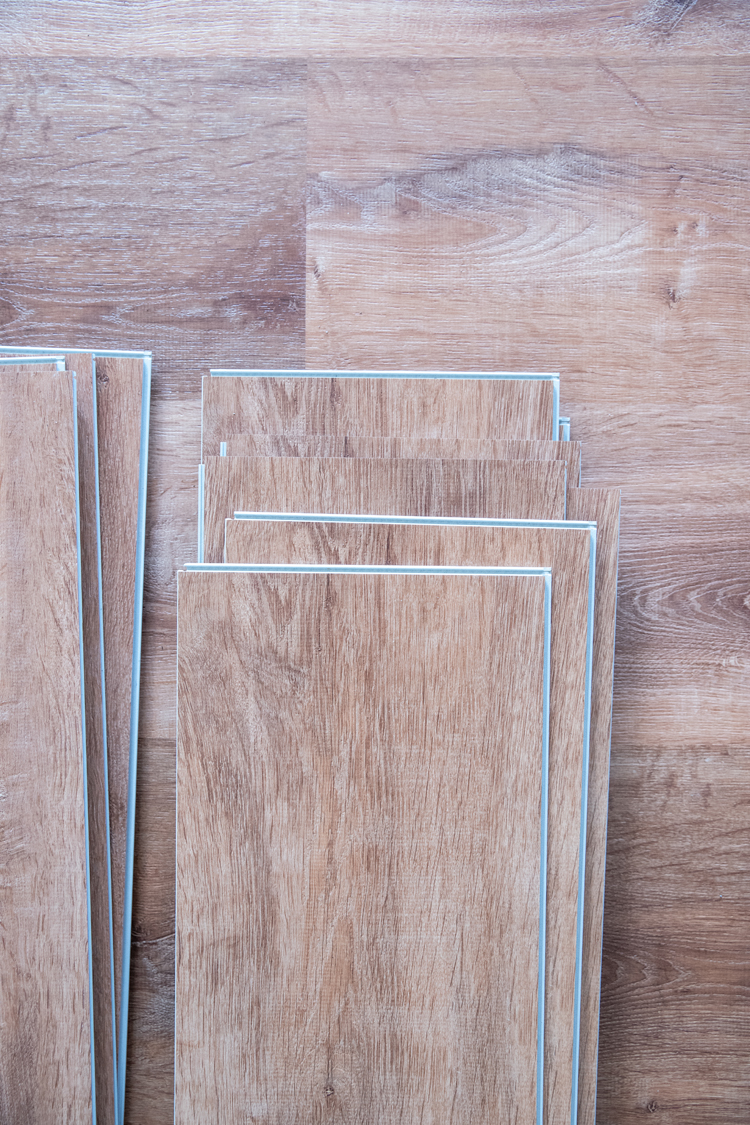 Where to start and which direction to go?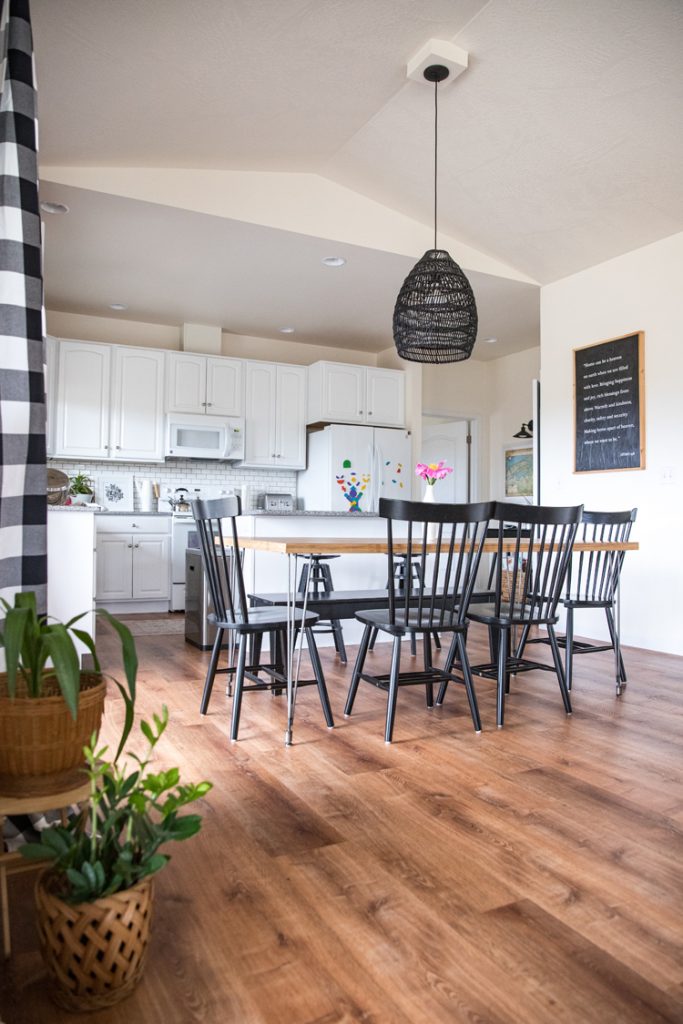 You usually want the flooring to flow vertically with the longest part of the room. Once you have determined the direction you want your flooring to go, face the room in that direction and determine your bottom, left hand corner. That is where you want to begin. Place a plank with the UNDER hooks exposed (away from the walls) at the short end and long side, so that it is easier to hook in subsequent planks. You then want to work your way from bottom to top, left to right.
Staggering
You never want your short end seams closer than 8 inches to ensure the stability of the floating floor. We didn't want the planks to look like brick work, so we varied the starting plank lengths to help the layout flow more naturally. We also tried to avoid cutting planks shorter than 8 inches.
When we got to tricky corners and especially in closets, this was impossible. Thankfully, we haven't had any issues with the smaller pieces buckling or shifting…even though some of the pieces are an inch long! I think it's partly because those areas see much less foot traffic.
INSTALLATION
Prepare sub flooring
Remove old flooring. If the sub floor is not flat and level throughout, consider patching and leveling it before you begin. You can lay LifeProof over existing flooring if it is uniformly flat and level. Tile with deep grout grooves is not recommended. Sheet vinyl flooring works great. We had sheet vinyl in our bathrooms, so we just laid the LifeProof flooring right over top in those areas.
Cleaning
Make sure the floor is clean and clear, that any carpet staples are removed, and that rocks are picked up. Any little rock or staple trapped under a floating floor will cause the floor to buckle later. We also swept and vacuumed beforehand and as we worked to keep dust and rocks from getting in the way of the planks connecting properly.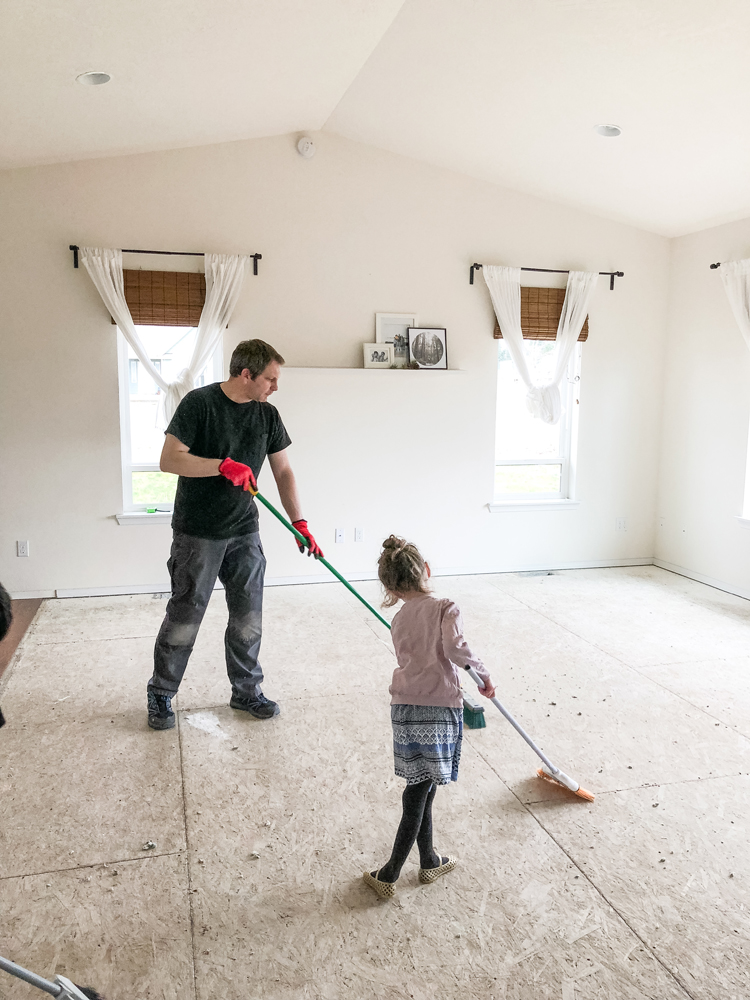 Lay Flooring
To install, first connect a row of planks at the short ends. Then add a row to the right of the first row. Angle a plank into the previous row to get the long sides to hook together. The hooks are like a track that you can slide the plank up and down. Slide it down to the meet the short end of the board before it.
Push the tapping block up to the side of the plank and use the mallet to snap it in place. Then use a mallet to snap the short ends together. My video shows the installation process in action if you're more of a visual person.
Continue working from bottom to top and left to right.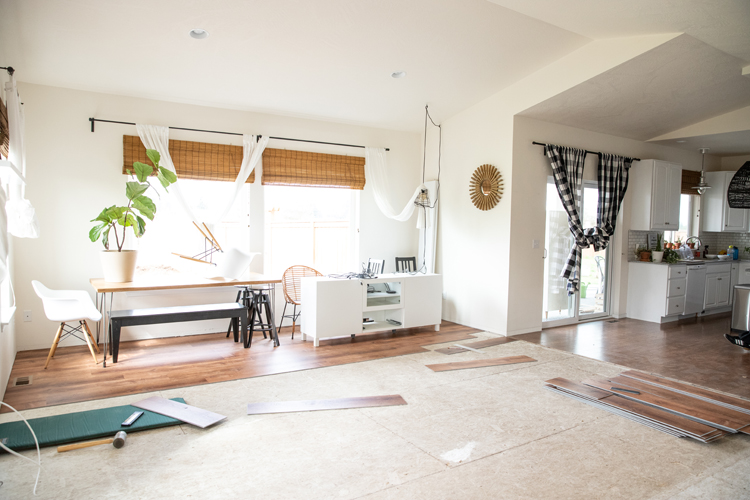 When you get to the right side of the room and the tapping block won't fit anymore, a crow bar helps snap the planks in place.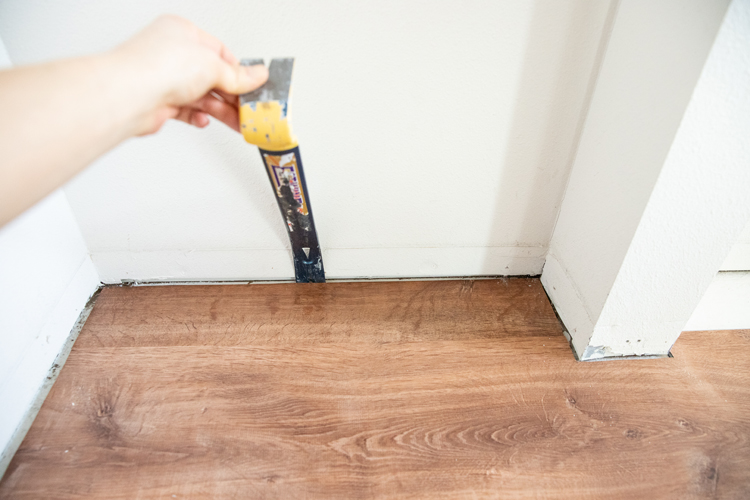 For this tricky part of the closet, I snapped the last little skinny piece into the last full-width plank first, so that I could snap it in place as if it was one big plank.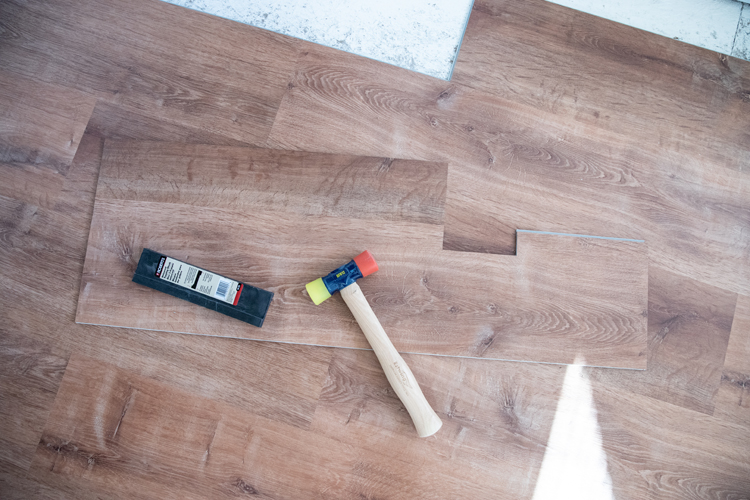 Transitions
We used these vinyl transition strips at every exterior door, or where the flooring met with a different kind of flooring. We ended up having to do a stepped transition piece into the kids' bathroom as well because the sub flooring had an extra layer of plywood glued to it and we didn't want to have to try to remove it. It made the floor just slightly taller, so this reducer transition piece smooths out that height difference.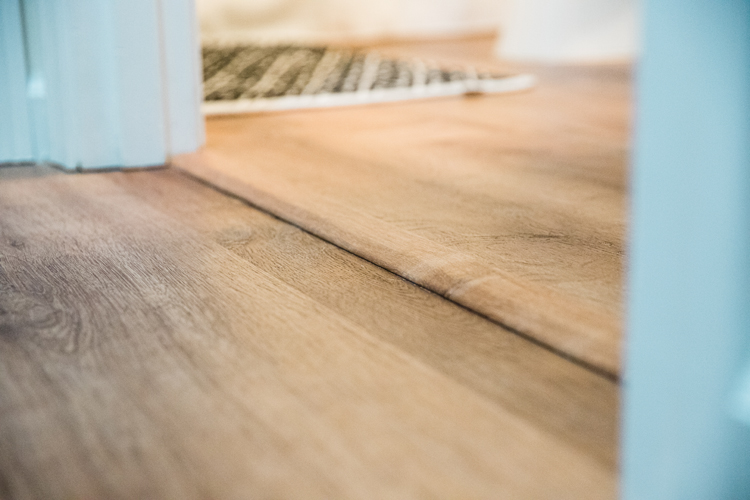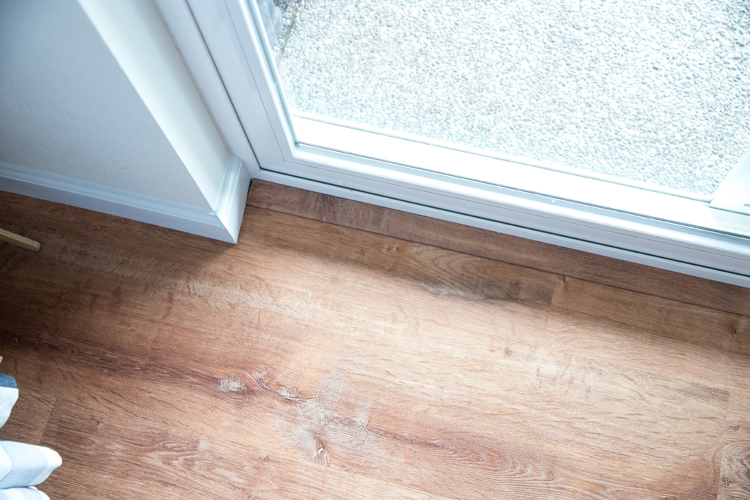 To install them, you simply cut the metal brackets that come with it to the size you need and screw them into the sub floor. Then cut the vinyl piece to size and snap it into the metal bracket. Easy peasy.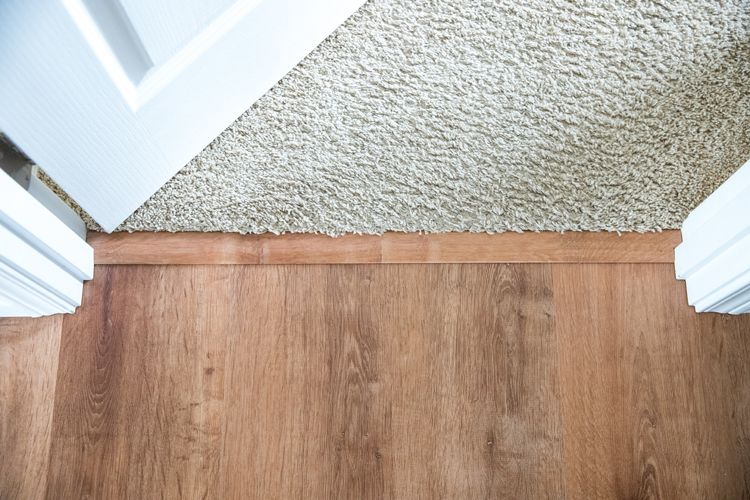 Then replace the baseboards…which sounds easy, but we ended up hiring this out eventually. We were just so burned out and couldn't find the time to do something that someone else could complete better and faster than us. 😉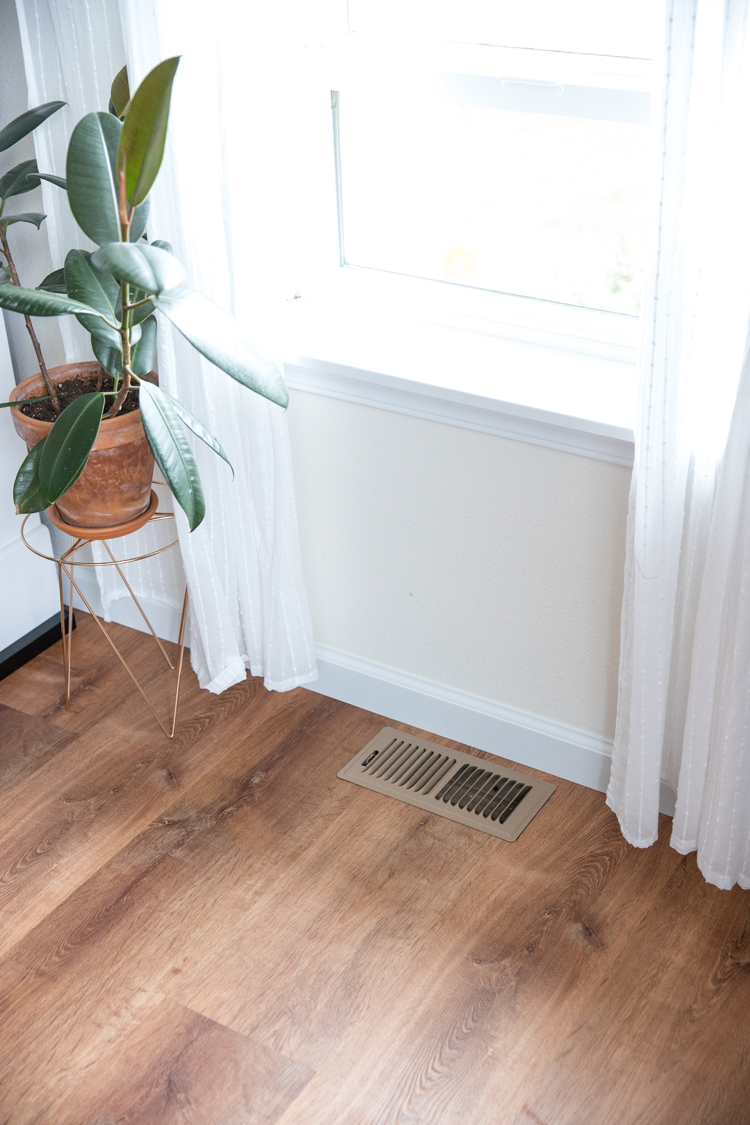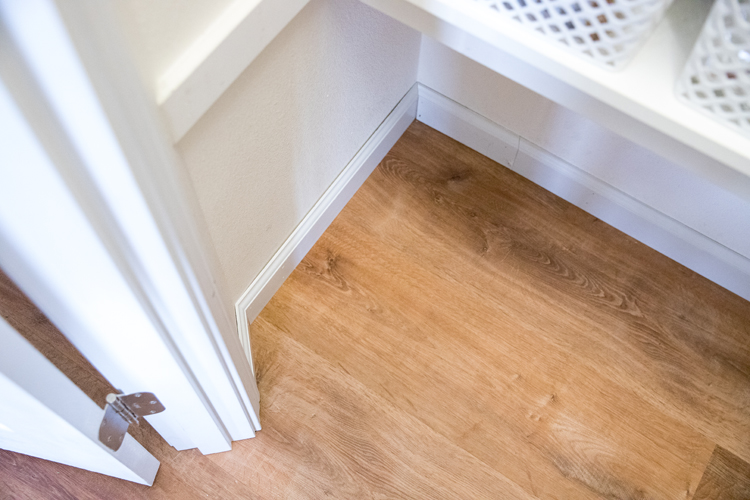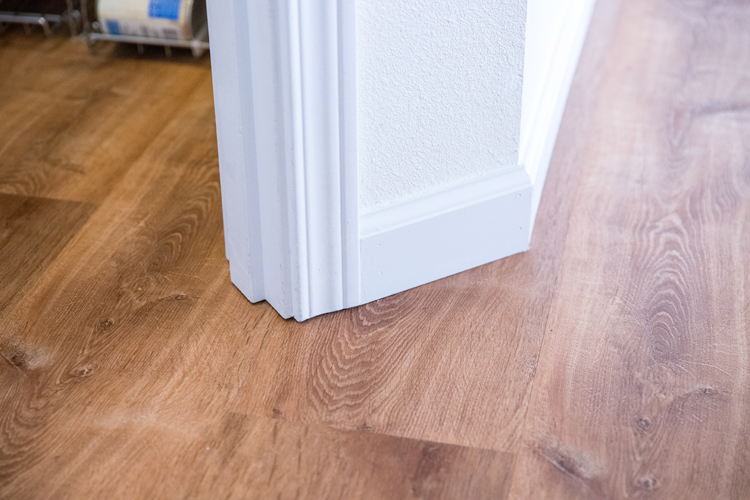 How it's holding up a year later.
The one good thing about me putting off sharing this process for so long is that I can give a more comprehensive review of how "life proof" it really is.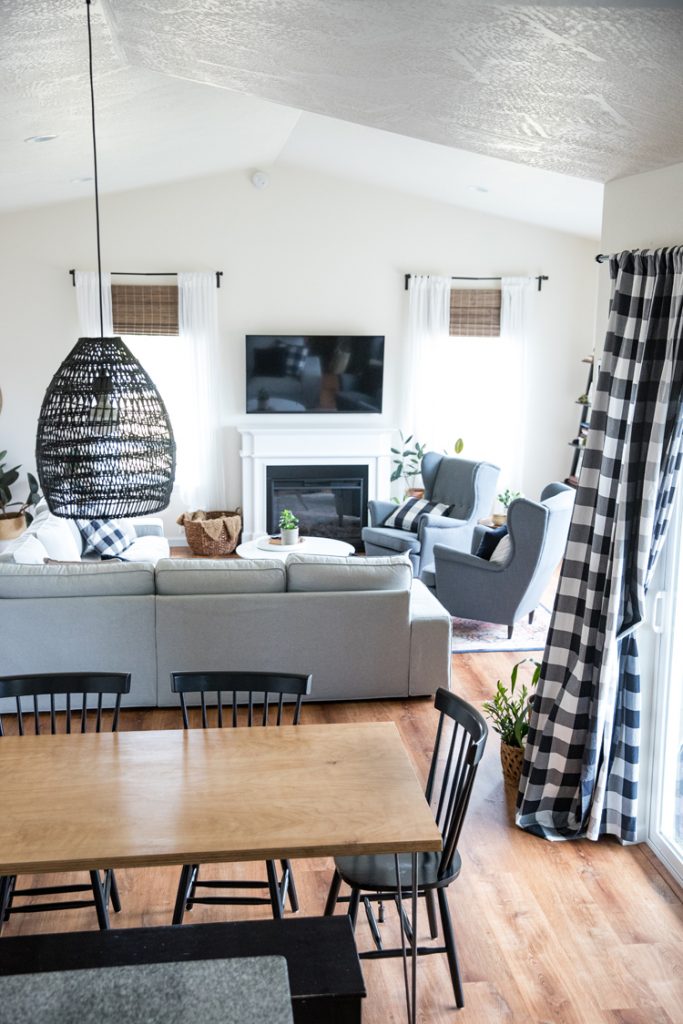 While we do like the flooring and we like how we were able to install it with no prior training or experience, it is not totally "life proof" in my opinion. It still gets scratches and cuts that you can't buff out like you can with wood flooring. Rocks stuck in shoes or on the legs of furniture can leave behind marks. You can't replace boards in the middle of the flooring either because it will just break its water proof seal. Thankfully the grain of the "wood" pattern is busy enough that you can't really notice scratches all that much.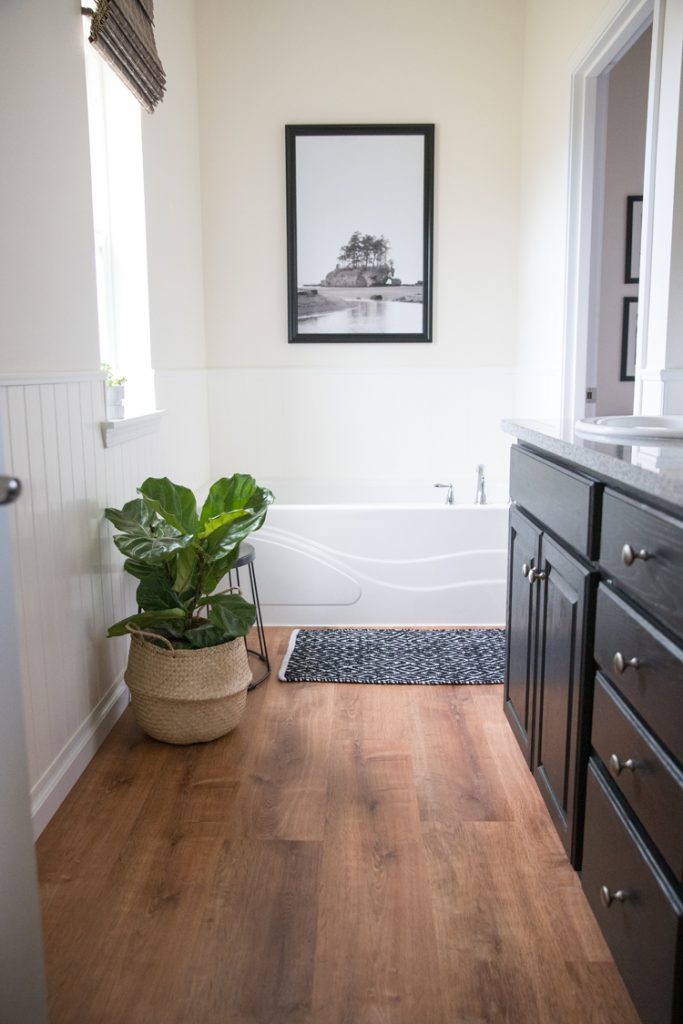 That said, its claims to be waterproof have held up beautifully, which was the biggest selling point for us since we wanted it in wet areas like our bathrooms. There hasn't been any shifting or buckling and it still looks as good as the day we finished it, minus a few scratches that are hardly noticeable. So…not life proof, but definitely waterproof and for that reason, we recommend it.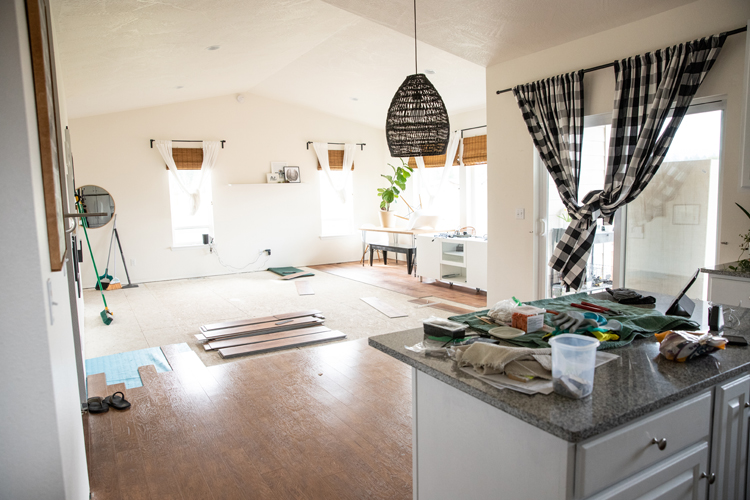 Cost Breakdown
*These amounts are pre-tax.
LifeProof Flooring (with the discount and after the overage that we returned) – $ 2309.85
Transition Strips (4 at $22.98 each) – $91.92
Laminate Blades (5 at $5.97 each, they dulled fairly quickly) – $29.85
Jig Saw (we already had it, but I'm including to show it's not that expensive) – $49.97
Nail Pulling Pliers (only needed if removing carpet and baseboards)- $17.97
Spacers (We used three varieties) – about $18
Tapping Block ($7.97 each, we used two because the first one wore out) – $15.94
Specialty Mallet – $14.97
Crow Bar (great for removing baseboards and installing the last row of planks) – $6.67
Total before tax: $2.555.14
This doesn't include the cost of replacing our baseboards because we decided to replace them with nicer material, but we could have kept them the same. Overall, that total is amazing considering what an impact it made. If we hired it out, it probably would have almost doubled this total and it may not have been completed as precisely as we wanted it.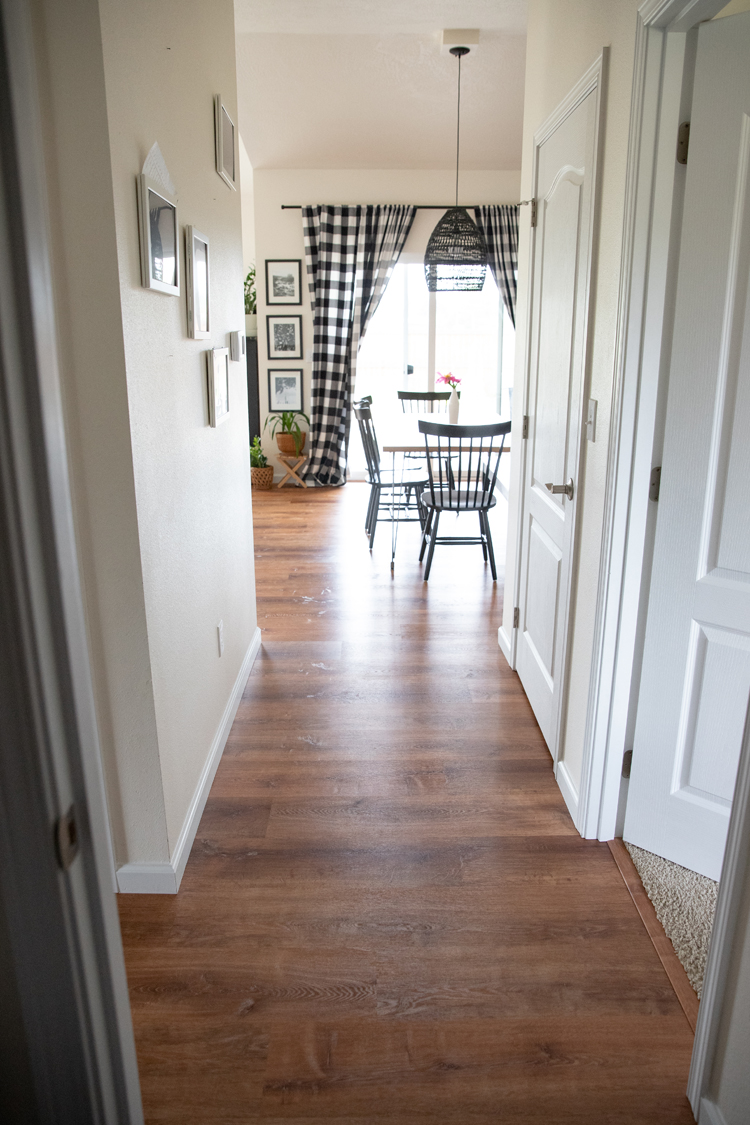 How Long Did it Take?
Overall, the process took us about 6 months, not including adding new baseboards. It's not that actually installing it took that long, but finding the time in our busy schedules and making it a priority was not the easiest. For certain rooms like the bathrooms and laundry room, it wasn't something we could pick and up and put down very easily. We tackled each bathroom one at a time because we had to remove the toilets. We also wanted the baseboards and caulking to go in right after installation to keep things water tight. So a lot of the timeline got sucked into juggling our schedules and fighting burn out.
Would we do it again?
Yes and no. If we're doing it in an empty house or if we're just tackling one room, I'd definitely go for it again. Otherwise, we'd save up money and hire it out. Living in a renovation for this long can be kind of depressing!
I also like the benefits of LifeProof for certain areas of the home. It's not nice as wood, but it's less maintenance. We've actually had several visitors mistake it for real wood so I know I'm probably on the picky side. One thing I am sure of, is I would definitely never go with laminate flooring that isn't waterproof. It's either luxury vinyl, or go for the real stuff.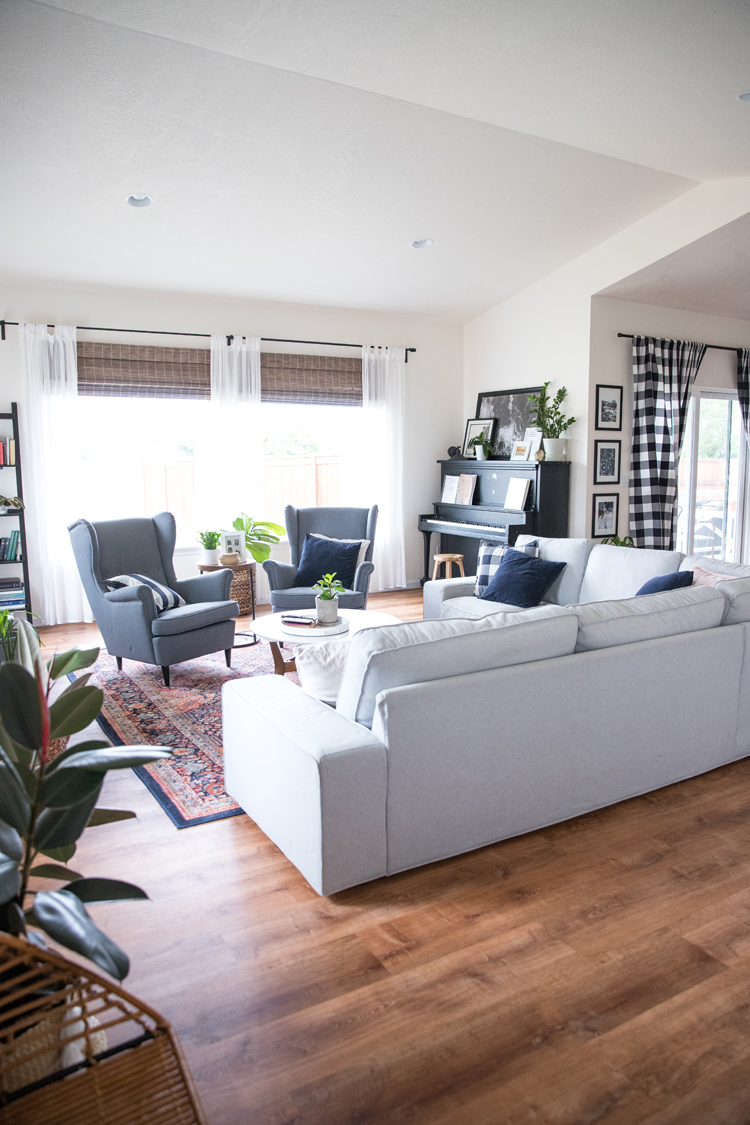 All in all…I am so happy it's done. It has added value to our home and it makes me so happy to walk in the bathrooms and laundry room and not see the yellowing vinyl flooring that was in there before!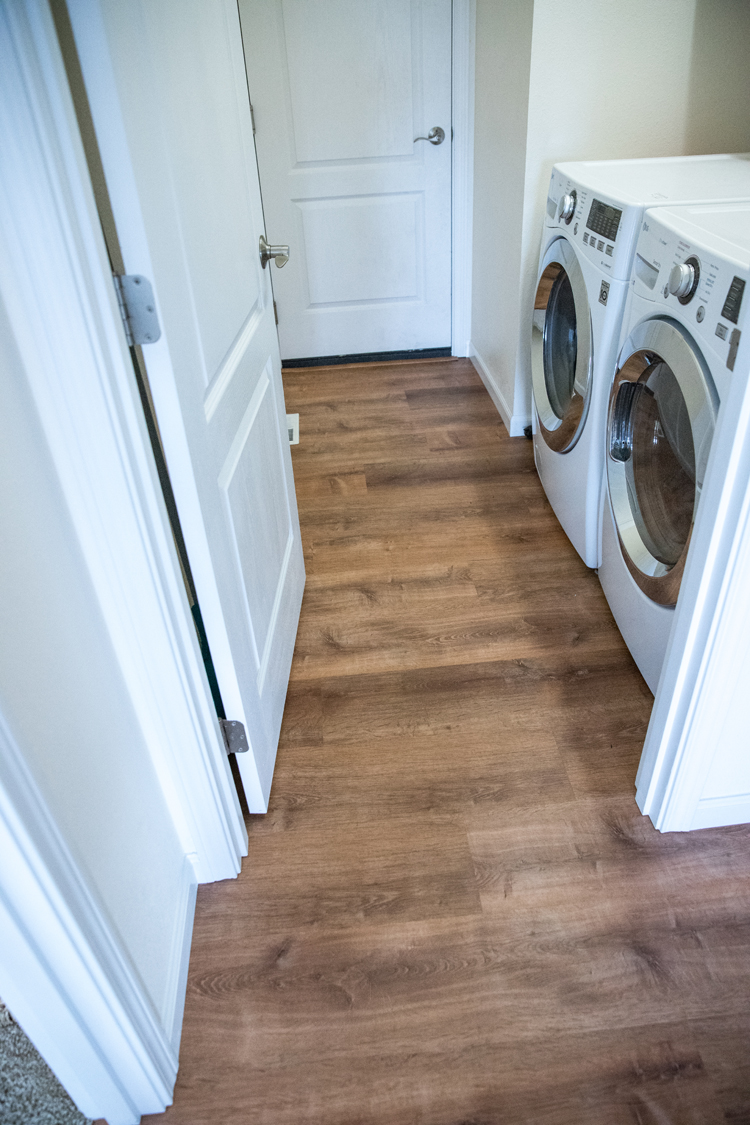 Phew! What a post! If after all that you still have questions, I would love to try to help answer what I can. Drop a comment or email me at [email protected].