Back before IKEA replaced their Expedit line with the slimmer Kallax versions, we bought a bunch of them for our apartment.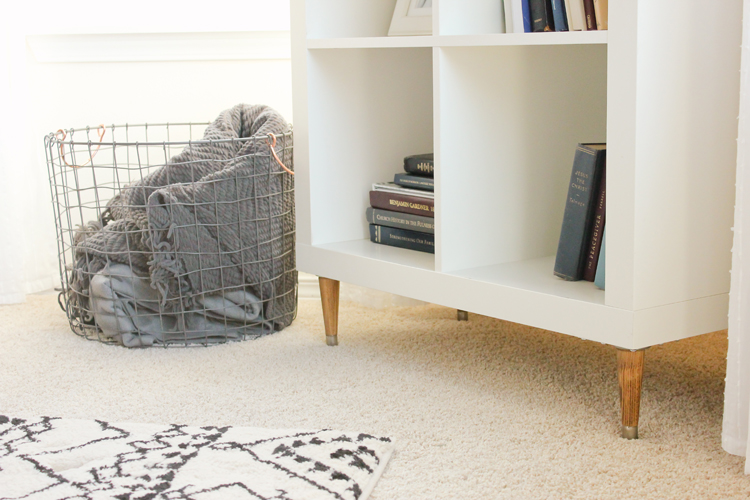 They make the perfect apartment furniture because they are SO flexible. Turn them on their ends or their sides for whatever you need… bookcases, fabric storage, kitchen storage, toy storage, night stands, TV stands…anything!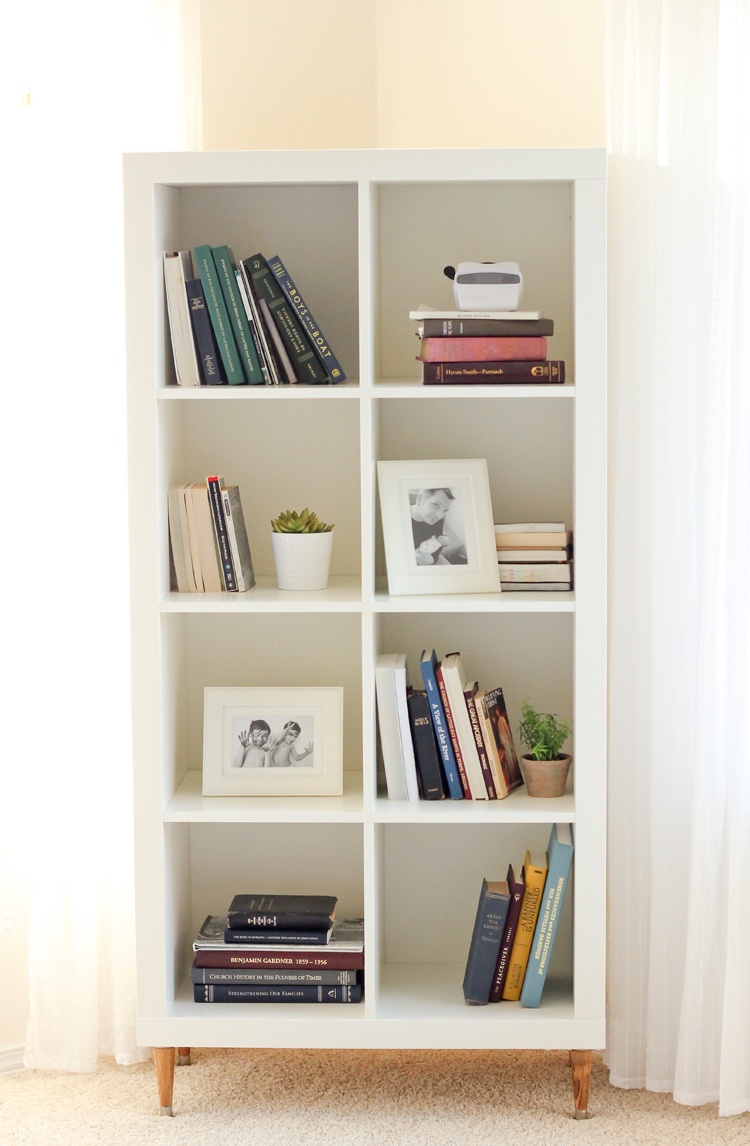 Since we bought our first home, we've slowly been collecting more permanent pieces and phasing the expedits out, but I've hung onto a few to work some DIY magic on.
This hack is really simple, but with just a couple changes you can transform it from ho-hum apartment staple, to mid-century modern marvelous!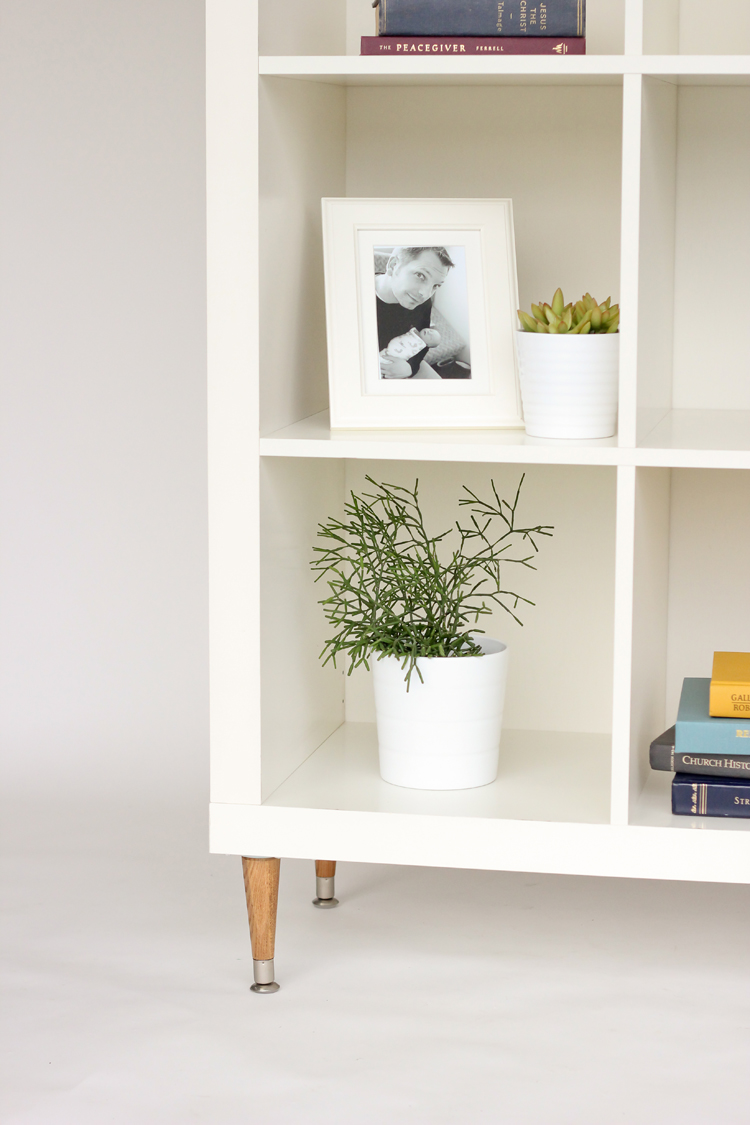 MATERIALS
1/4″ plywood sheets (4 x 8 feet size – from Home Depot or Lowe's)
20-30 1″ nails (best if they have a wide, flat nail head)
heavy duty top plates (I used these plates from Home Depot)
furniture feet (I used these feet from Lowe's)
hammer
power drill (screwdriver)
optional: wood stain for the legs (I used Miniwax Golden Oak) and white paint for plywood backing (I used Behr brand in Dove from Home Depot)
STEP ONE: Get your plywood cut at the hardware store.
It is totally worth it to have them cut the wood for you, even if it's just so that it's easier to put in your car. Most places will do it for free. Some will charge you 25 cents per cut.
Measure out the size of your bookcase and cut a piece about 1/8 – 1/4″ smaller on all sides from the 4 x 8 foot plywood sheet.
STEP TWO: Paint and stain.
Paint one side of the plywood backing with the white paint or an accent color. It doesn't take much. A sample can is plenty.
Dove white is the color IKEA used to use for all it's white furniture, but it has since started using a brighter white. So, if you are using an older Expedit, you will likely need Dove white like I used. If you using a newer Kallax, you'll have get some paint chips to help you find a match.
If desired, paint or stain the furniture feet according to manufacturer's instructions. Let dry.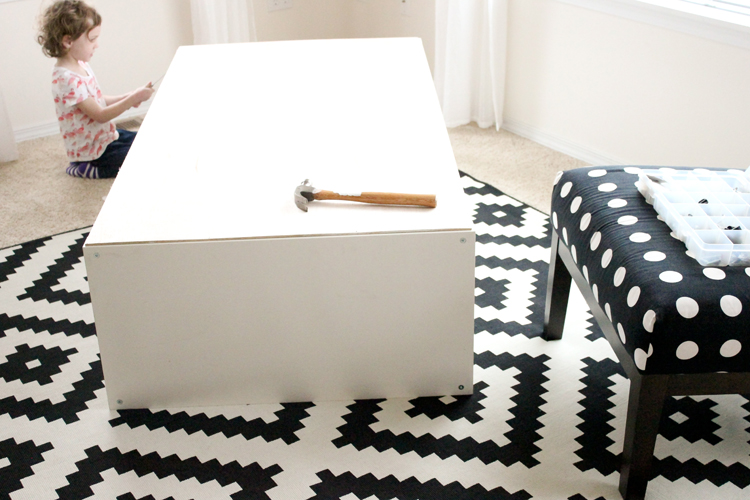 STEP THREE: Attach plywood backing.
Lay the expedit/kallax  face down on the ground. Lay the painted plywood backing face down onto the back of the bookcase and make sure it's centered.
Nail the backing to the bookcase every few inches around the perimeter, until it is entirely secured.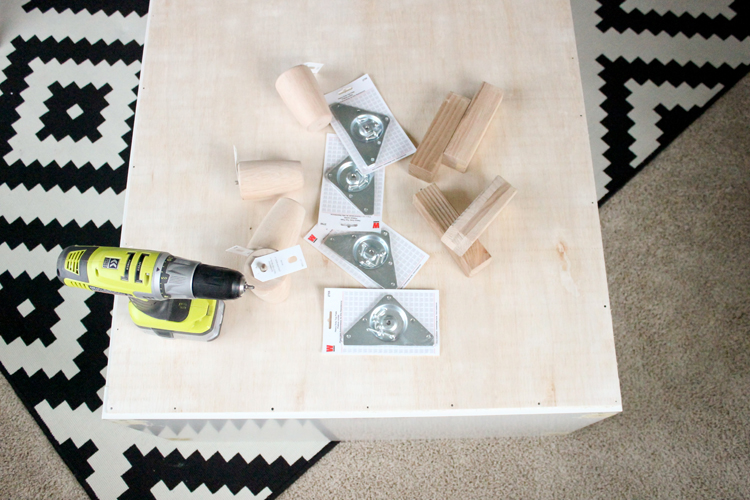 STEP FOUR: Attach furniture feet.
With the bookcase still face down, screw in top plates to the four corners of the bottom of the bookcase.
Once all top plates are secured, screw in furniture feet by hand.
As you can see, I went through a few options before deciding on the tapered feet. And actuallllllly…I even tried to skip the top plates altogether and just use wood glue to help secure the feet straight into the bottom (you can see my gluey mess peeking out behind the top plate). That was dumb. Don't try that because it doesn't work well. Trust me…use the top plates! 🙂
That's all there is to it!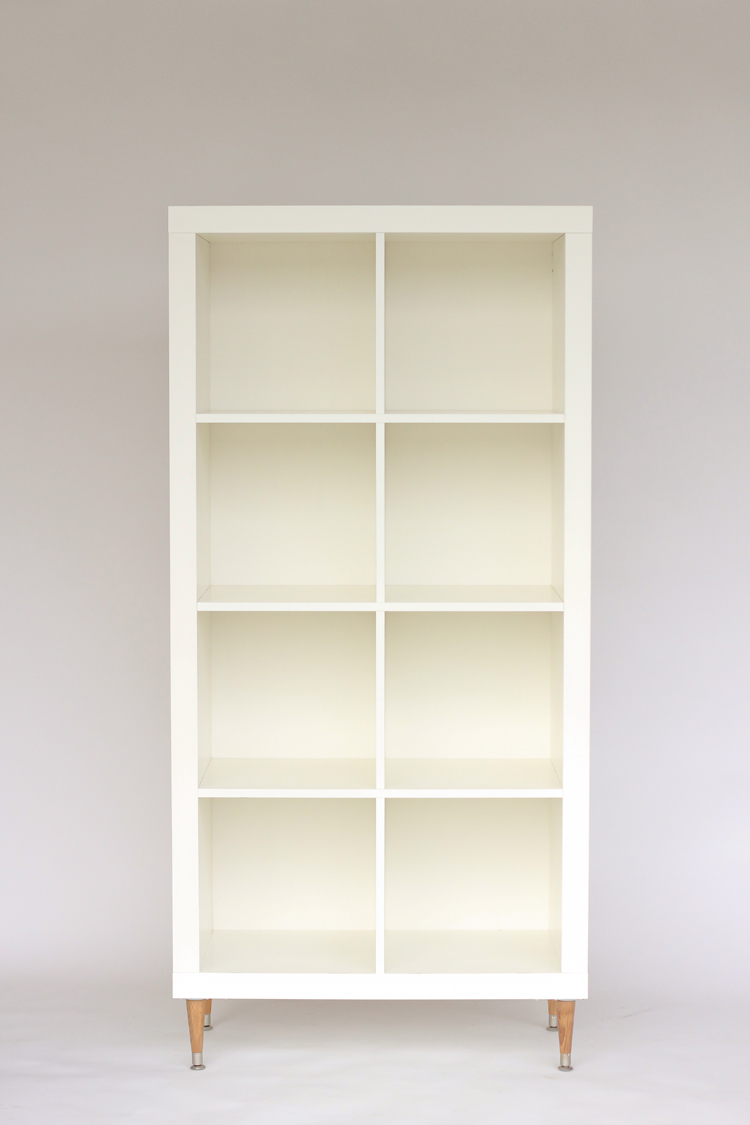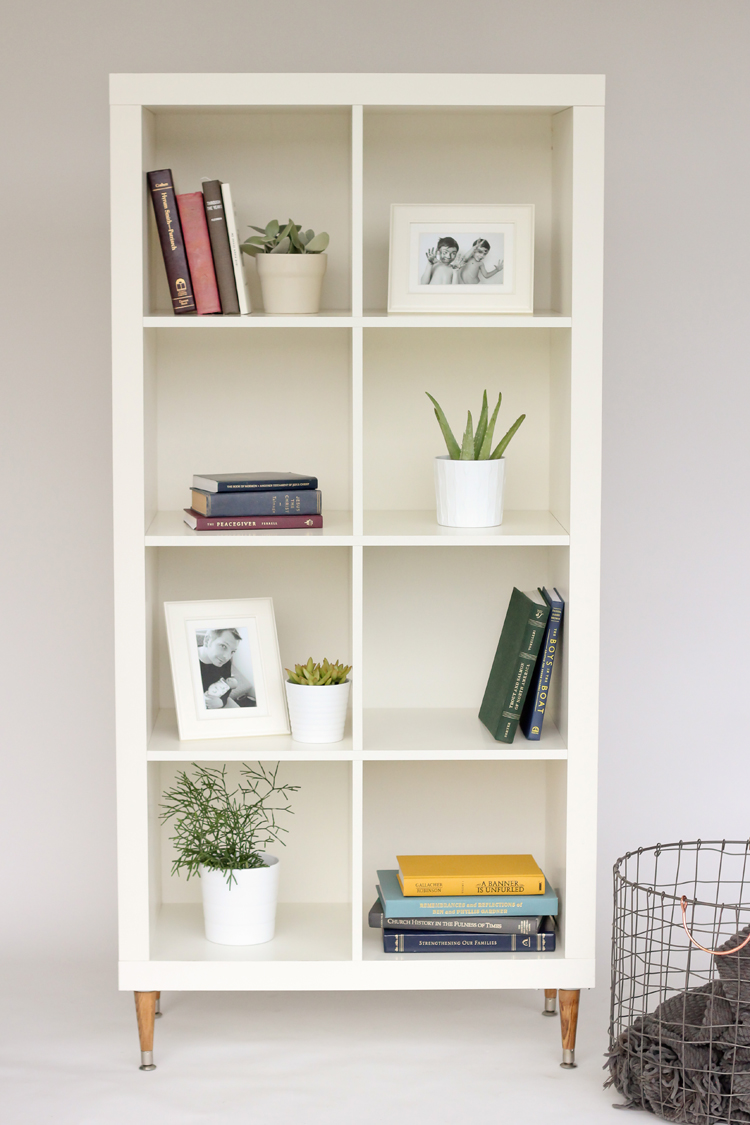 I'm still messing around with shelf styling, so I brought it into my photo studio for a few "clean" shots. I'm so torn with how minimal I want it to be, and how much stuff we actually have that we need to put somewhere…ha! #notrealproblems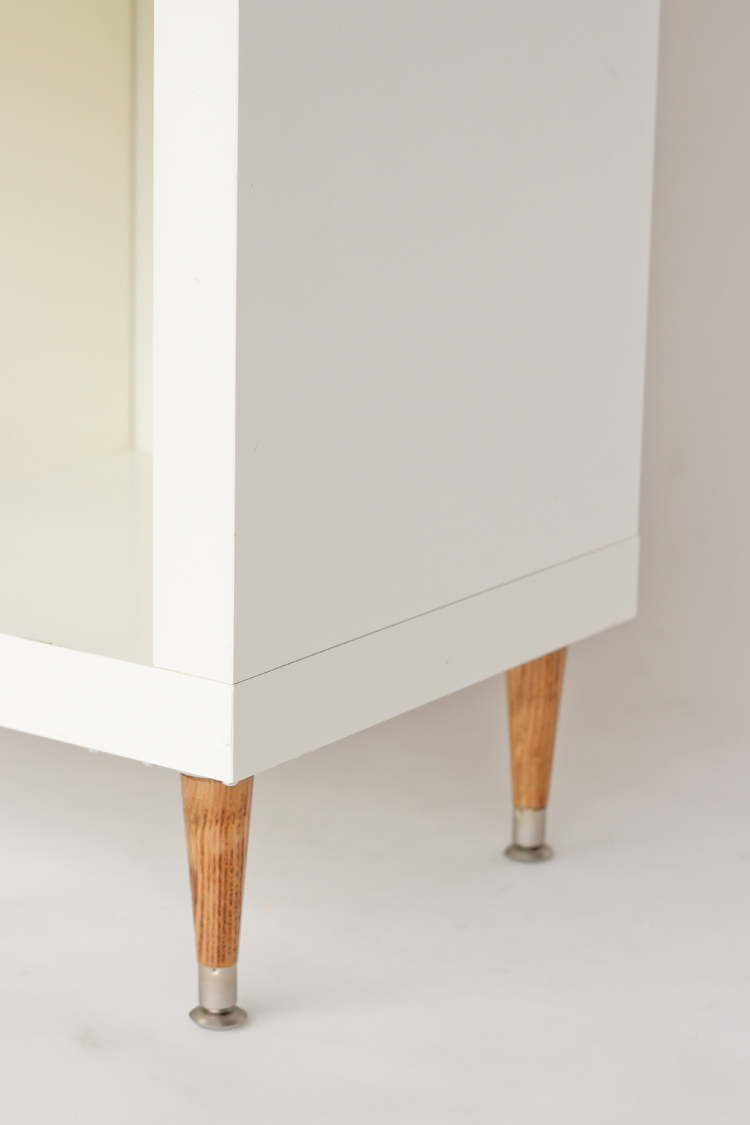 NOTES: For good measure, I thought I would throw in a few more tips and things I learned along the way.
– If you want to attach feet to the long side of the expedit/kallax get a fifth foot to put toward the center back. We added feet to an expedit for our daughter's room. Without the fifth foot, there was some noticeable bowing after a few weeks.
– Lowe's sells top plates that work fine (I'm actually using some for an upcoming project!), but the heavy duty Home Depot ones are noticeably sturdier. I knew this bookcase was going to bear a lot of weight, so I sprung for the heavy duty plates.
– The expedit/kallax will become much harder to move around. The backing and feet add a little bit of weight and you lose the ease of carrying it from both sides. I only mention this, because it kind of surprised me. It went from being easy enough to move on my own, to being a two person job.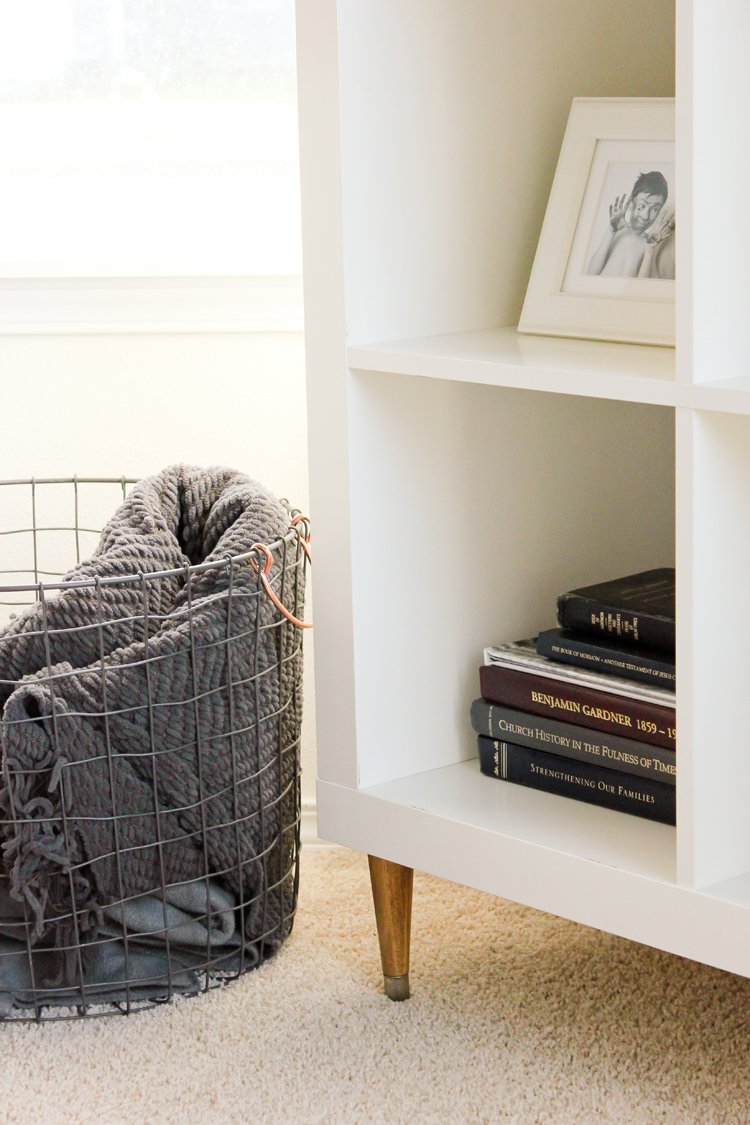 I wish real plants could survive in this thing, but they won't get enough sun, so I'm replacing a few of these plants with fake ones soon. I think a real plant could survive on top though, so I'm on the hunt for a good vine plant if you have any good recommendations!