I actually wasn't quite sure what I should name this project. Is it a keychain? A fob? A strap?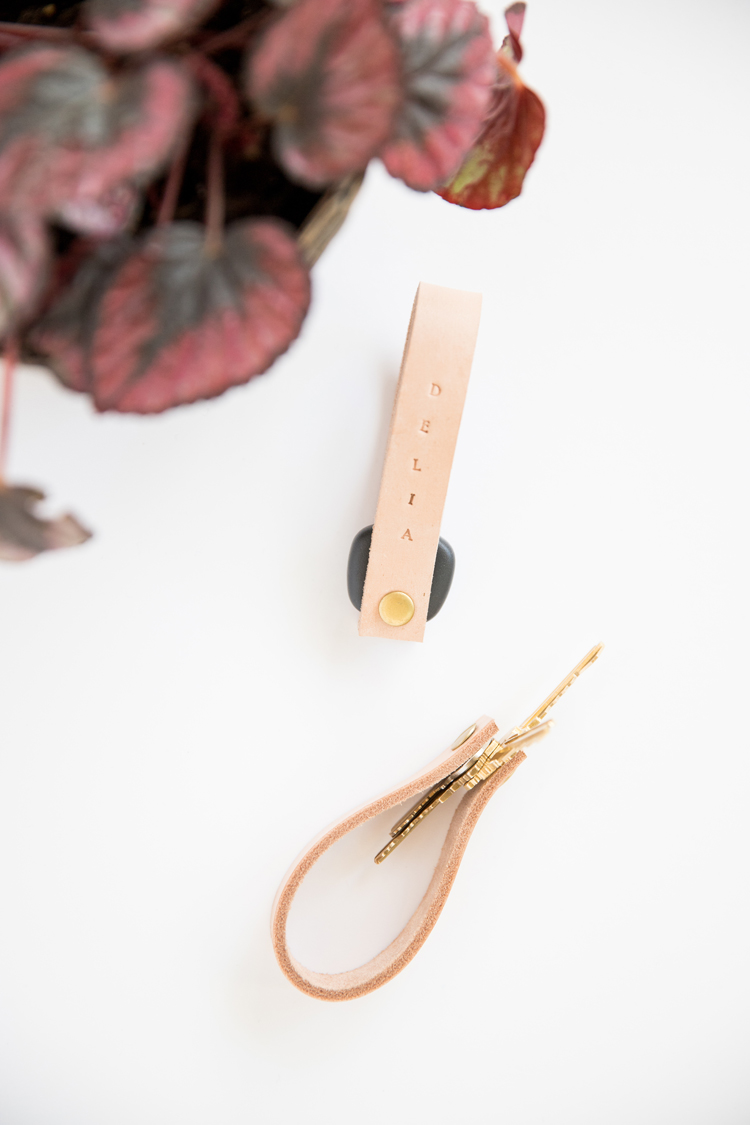 I guess you could say that it's kind of all of the above!
It's a leather strap that organizes your keys into a compact, dangle free, mess free stack.
Don't like your keys clanging around? This is a sleek and classy solution.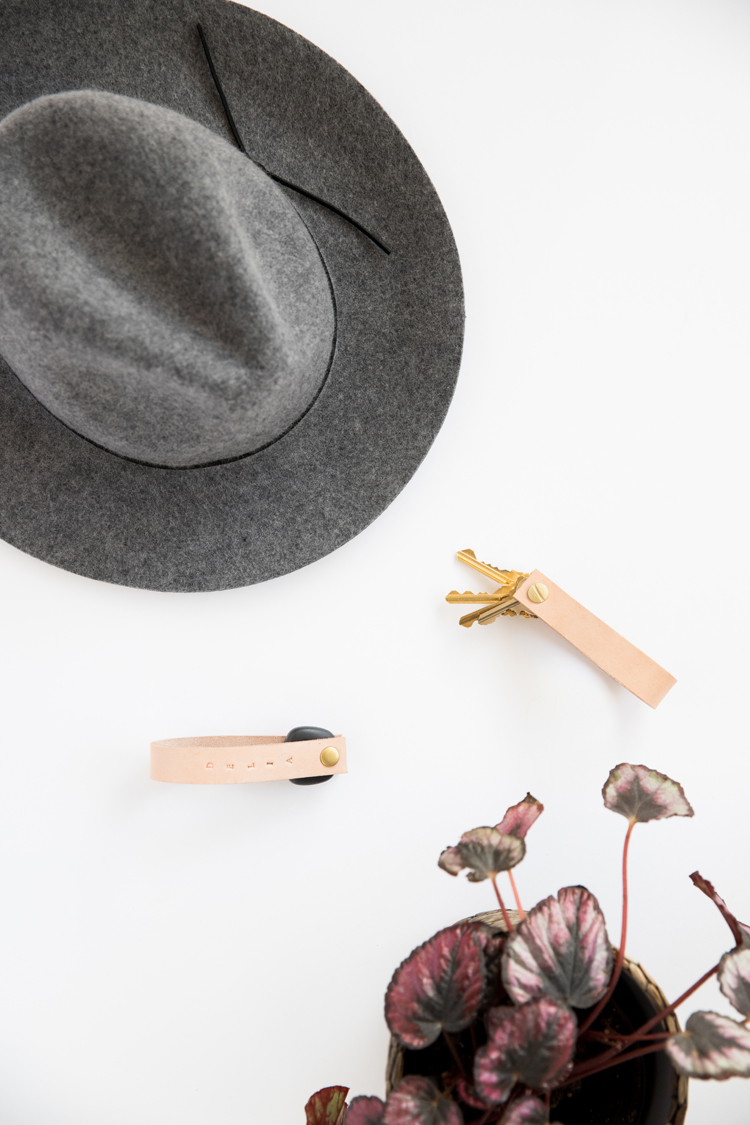 It can also be beautiful way to label different sets of keys. Simply stamp the label, or the owner's name into the strap.
The key element 😉 to this leather key chain strap is the Chicago screw or screw post that holds everything together.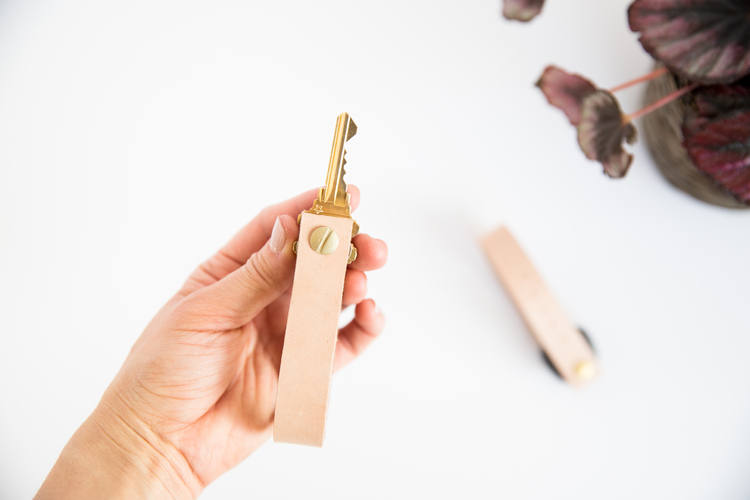 They can be a trick to find, but I have found them at leather work stores, farm supply stores that have horse tack supplies, and local specialty hardware stores (I haven't found them at places like Home Depot or Lowes). I'll include a link to an Amazon listing, which sports a pretty great price if you don't mind buying in bulk.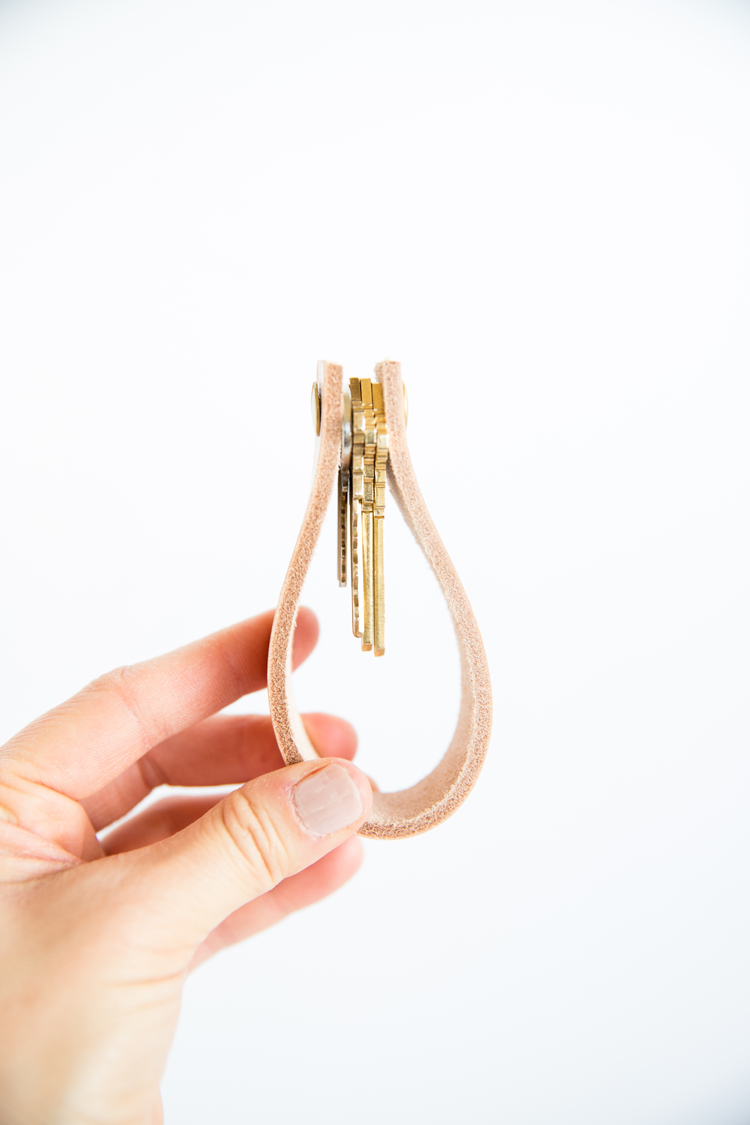 You also need to make sure your key will fit onto the screw. Some of my keys do and some don't. I stopped by the local locksmith to compare keys, and it doesn't seem to matter too much what brand it is. Some key designs have larger openings. These keys were in a box of keys that were cut incorrectly (so, don't worry, they don't go to anything ;)).
I'm sure you can guess at it's construction just by looking at it, but let's do a quick tutorial, shall we?
(Please note that this post contains affiliate links. This doesn't change your buying experience, but will help support this blog if make a purchase from my links.)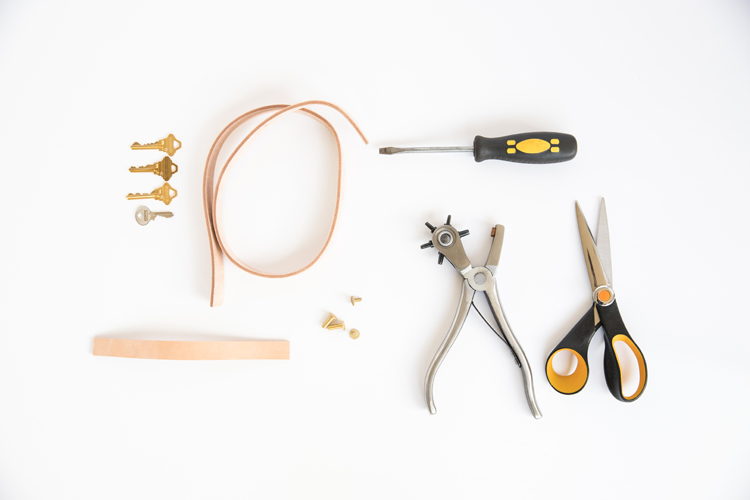 MATERIALS
3/4 inch wide vegetable tan leather strap
Heavy Duty leather hole punch
Chicago screw
Flathead screw driver
Optional: Leather letter stamp kit + hammer
Materials Notes:
– You can use other kinds of leather, but I like to use vegetable tan leather because it's usually thicker and sturdier. Michael's sells 1 1/2 inch wide vegetable tan leather belt kits which I often use. I cut off the belt hardware and then I slice it in half lengthwise to get a 3/4 inch strap. See this bag DIY to see what I mean. You can also get it on Amazon.
– I used unpolished brass screw posts from my local hardware store. If you need a link to something similar, these Chicago screws look like they would work great.
– The size of the screw determines how the long the post is. If you have a lot of keys, you'll need to get a longer post. I used a 5/8″ post for the one with four keys and a 1/2″ post for the car key.
– I got my leather stamp kit from Michael's.
TUTORIAL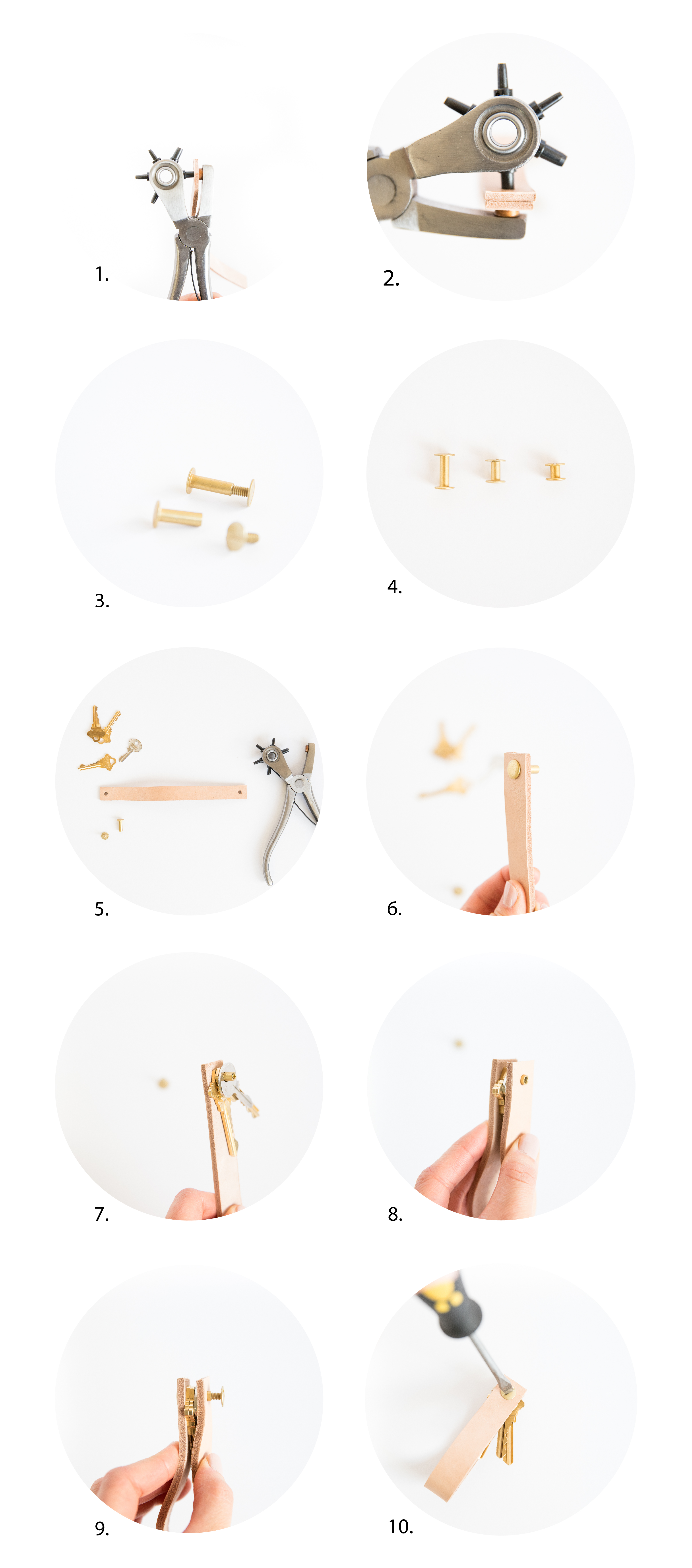 1. Cut your strap about 8-9 inches long. Punch a hole at one end of the strap.
2. Fold the strap in half, and punch a hole in the other side of the strap, while lining it up with the first hole.
3. + 4. Prepare your screw post or Chicago screws. Make sure to account for the thickness of the leather plus the keys. If you have more keys, you'll need a longer screw. I saw some as long as 1 1/2 inches and some as short as 1/4 inch at the hardware store.
5. + 6. Insert the smooth side of the screw post into one end of the leather strap.
7. Stack the keys onto the post as well.
8. Fold the other half of the strap onto the post.
9. Add in the other end of the screw post.
10. Tighten the screw post in place with a screwdriver.
Optional: Use a leather stamping kit to personalize and/or organize your strap.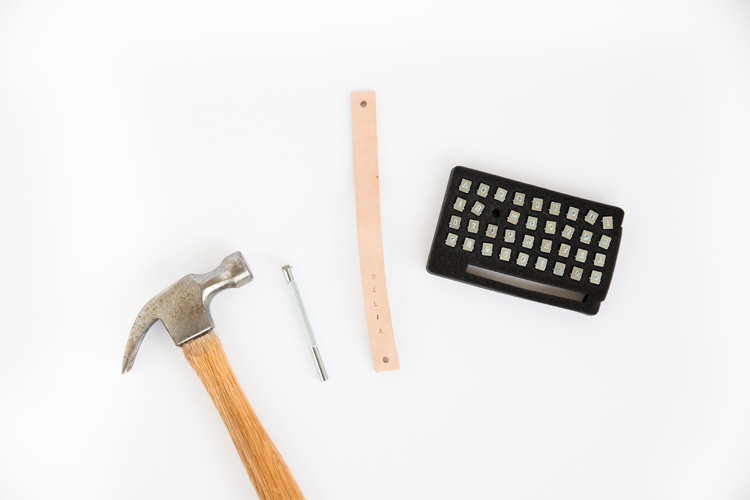 That's it! It's easy peasy, and makes for a great handmade gift.