For this lovely Thursday I'm having the ladies from Simple Simon & Co. over!

Elizabeth and LiZ are a sister-in-law blogging duo who wow me every week with their fantastic sewing projects – these girls really know how to sew!, beautiful photography, and incredible creativity. If I could describe them in one word, it would be classy. They are seriously classy chicks and it shines in everything they do.
They are also the creative geniuses now running one of my favorite blogging competitions:
Project Run & Play.
Today we get an adorable onsie project from liZ. Get ready to say awwww….
_________________________________
Hello Everybody!
I'm liZ from over at
Simple Simon and Co
.  Over there my sister-in-law (whose name also happens to be Elizabeth) and I spend most of our time making things for our children. So when Delia asked us if we would participate in her nesting series we were super excited.  Not only would we get to hang out over here with Delia for the day (and who wouldn't want to do that…Delia's got style!) but I could talk about one my very favorite things….Ruth!
Five months ago I had Ruth.  Bald, beautiful, blue-eyed baby Ruth.  I'm in love.
I'm perpetually convinced that all my babies are the most perfect things I've ever seen.
I'm not vain—I realize every that mother thinks this about her baby.  And that's ok.
That's the way it should be.
We're mom's, that's what we do—we see the best in our children.
With all my babies I've had their photos taken in white onesies.  A pristine, white onesie is far and away my favorite baby item.  No fancy dress or adorable sleeper can compete in my mind.  I love me a baby in a onesie.  I don't know if it's the white or the simplicity or the fit but they have always been my favorite item.  So today I'm sharing with you how to personalize these little gems.
Ruth has some legs….seriously…they are AWESOME…and not that I need to draw more attention to them but I just can't help myself.  So one of the things I like to do is cut a little shape out of felt (in this case a heart) and place it by the top of her thigh in the back.  Then I attach it by running a stitch around the outside edge of the shape with embroidery floss.
While I was expecting Ruth I had some complications and spent a lot of time "resting".  During that time I embroidered for the first time (a onesie in fact) and I was hooked.
 It is such an easy process!  Just draw what you want on your fabric and stitch over the top!
 I made Ruth these wings the other day during a phone call with my brother on his lunch break.  Like I said…it's easy and the possibilities are endless.
You can even make something like this.
 and now Ruth has Xavier Robert's name written on her baby bum…and I totally love it!
(Come on…I can't be the only one who had a Cabbage Patch doll when I was little.)
Onesies are the best and embroidery is just plain fun.
(And did you know that February is National Embroidery Month?  It's true.)
So even if you've never embroidered before grab a onesie and some floss and get going. I promise you'll love it—and I know you're going to want to make your little doll Xavierized bum.
Thank you Delia for inviting us over today and letting me talk about Ruth and my love of white onesies.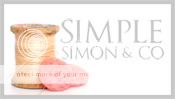 _____________________________________________________


I agree…those chubby baby legs are awesome. 🙂 I love, love the simplicity of this project.
I have never really done much embroidery but this project really has me itching to try. 

Thank you for nesting with me liZ!