If you follow me on instagram (I'm @deliacreates) you may remember me posting about being at SNAP! Conference a few weeks ago.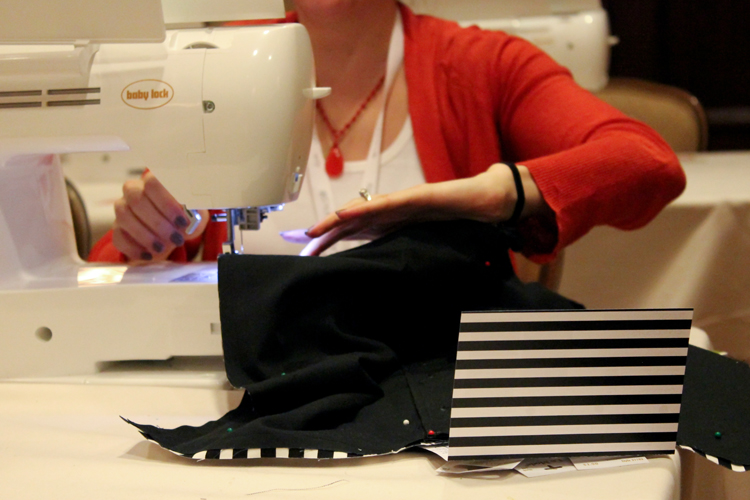 It was a blast as conferences usually are. 🙂 It is just so fun to share the same space with so many kind, wonderful, creative women. The synergy is tangible!
I wish I had more pictures to share, but I totally packed everything but my camera battery. Can you believe it? I left it charging at home. hahaha. It's funny now, but I was bummed for a bit.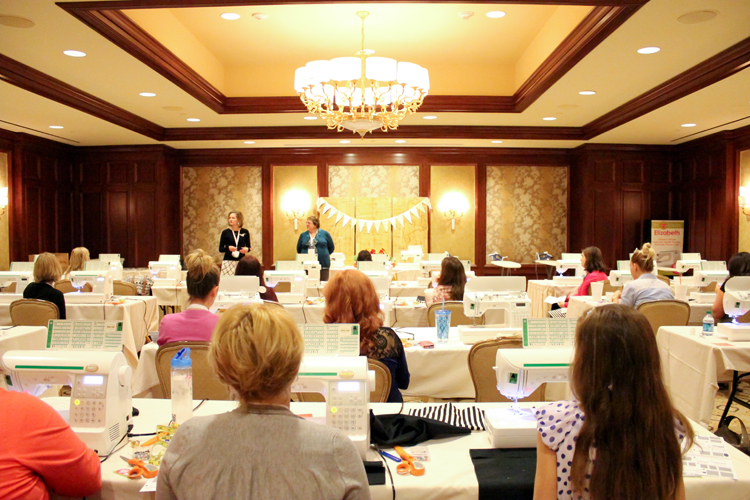 Luckily Stef, from Girl.Inspired lent me her battery to snap (pun intended) a few pictures of my sewing class. Ironically we didn't get any pictures together. (weep) I love that girl!
I taught a pillowcase class which was a lot of fun. I wrote about my business cards and handouts that I spent way too much time on 😉 HERE.
It was so fun to make friends in the class, old and new. There were experienced sewers and some who were learning how to sew their first buttonhole!
Here are some of the awesome people I got to hang with…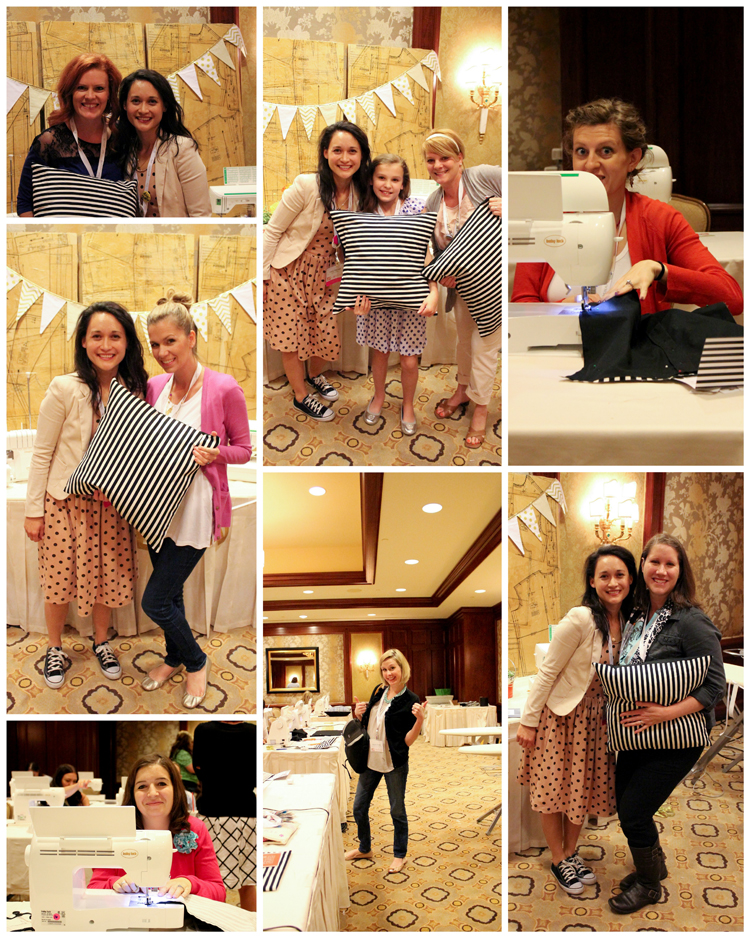 Top to bottom, left to right: Infarrantly Creative, Mom 4 Real (she brought her daughter who rocked it, future blogger?), Mabey She Made It, Blue Cricket Design, Sew Creative, Mouse House Creations, A Jennuine Life.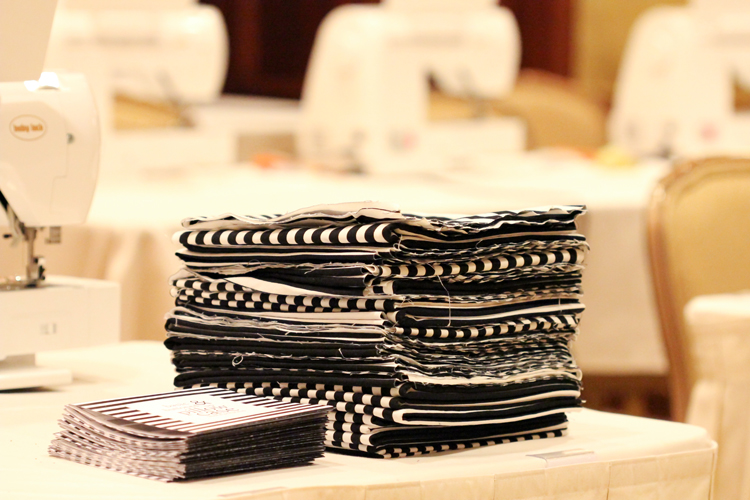 Katy from No Big Dill brought flowers to put at the front of the room. Is there no end to her class and style?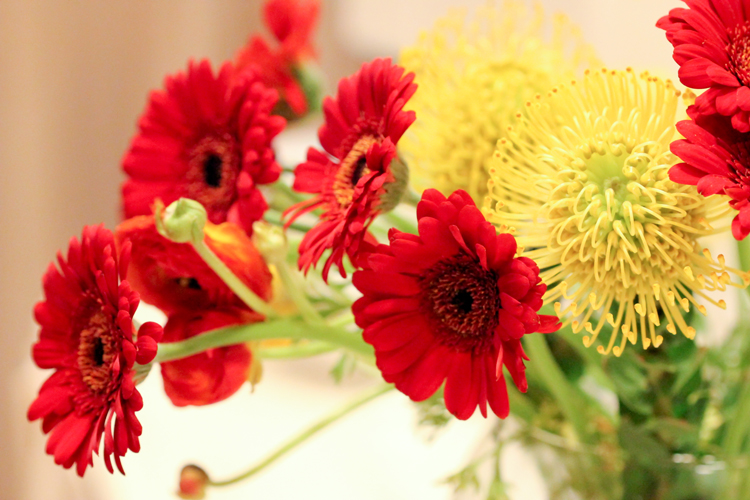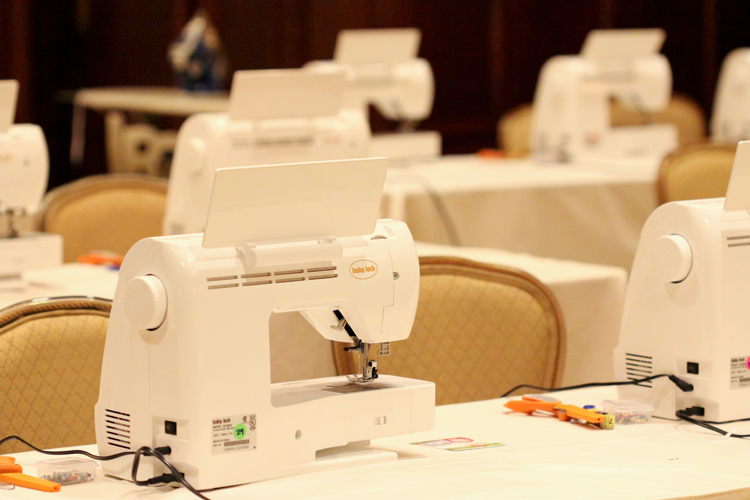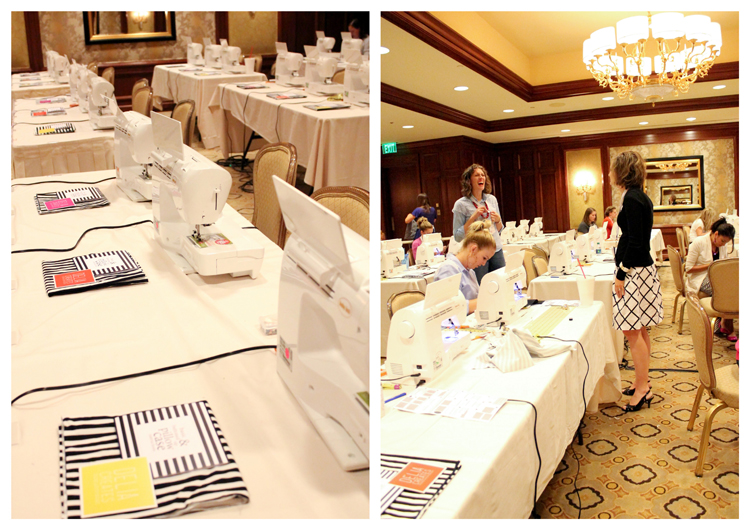 I want to give a big humongous thank you to the Liz and Elizabeth of Simple and Simon Co. who ran the sewing room and organized the sewing teachers. Their hard work was  reason the sewing room was so successful. Plus, they bedazzeled a gold sewing machine for the event. A eleventy bonus points for that!
Oh and I believe they have a giveaway for SNAP sewing materials still going on HERE!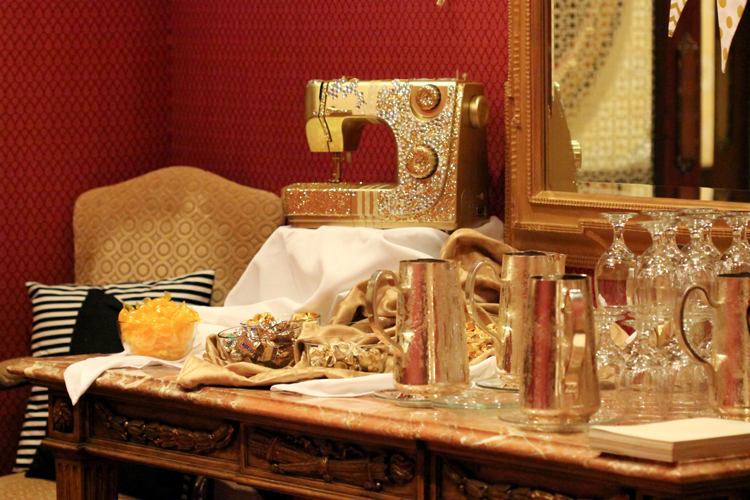 Speaking of machines, I want to thank Baby Lock for sponsoring the sewing machines which were awesome! I totally fell in love!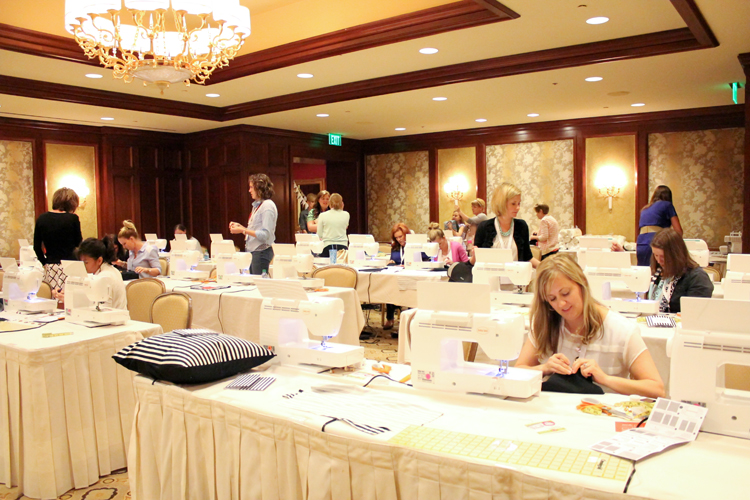 (check out Becky from the Crafting Chicks in the front row…total sewing stud 🙂 )
Thank you to Jo-Ann and Ikea for sponsoring the fabric, pillow forms and notions. It was so fun meeting the Jo-Ann reps and singing karaoke with them (let's all be grateful there are not many pictures of that though…for my sake. hehe).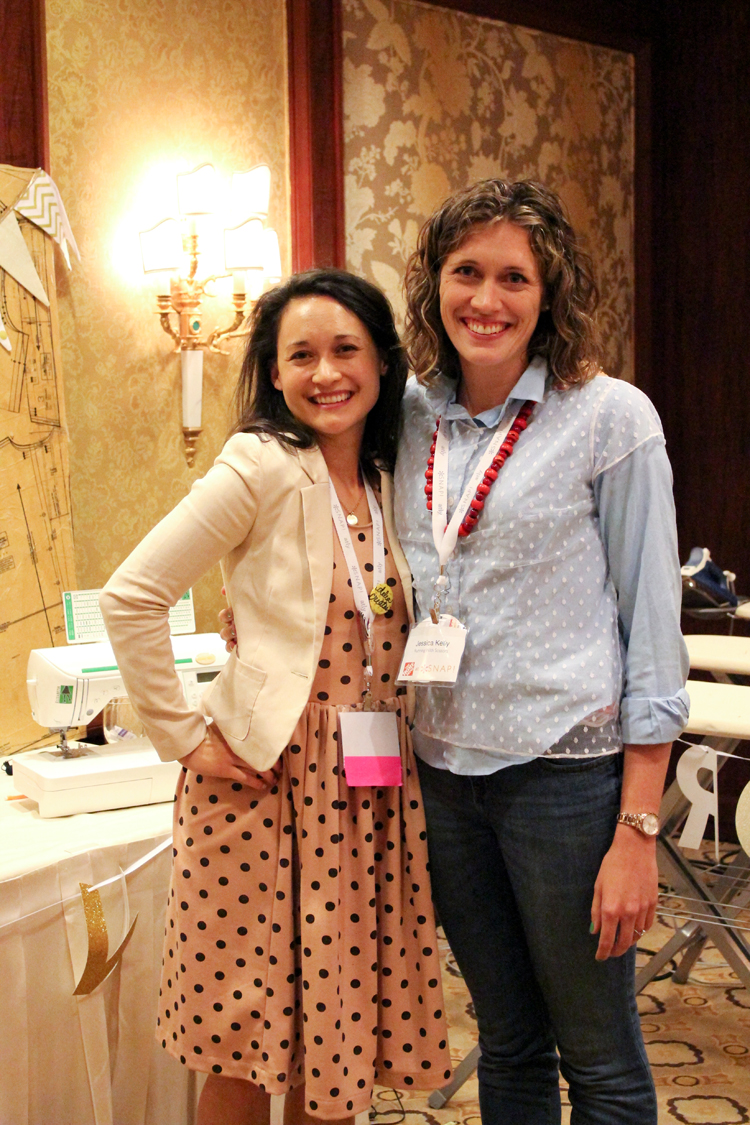 And thank you to this awesome gal who stuck around to help me with the class. Jessica from Running With Scissors is one of the most genuine and talented people I know.
I really, really enjoyed SNAP. It is a little less circumstance and pomp than Alt, but totally super fun and relaxed which I liked. Plus, the sponsor contacts and the swag were over.the. top. I am still buried in swag and I made some really cool connections that have already led to really exciting projects. I can't wait to share them with you in the coming months.
I feel so lucky to be in this industry doing what I love with people I call friends. 🙂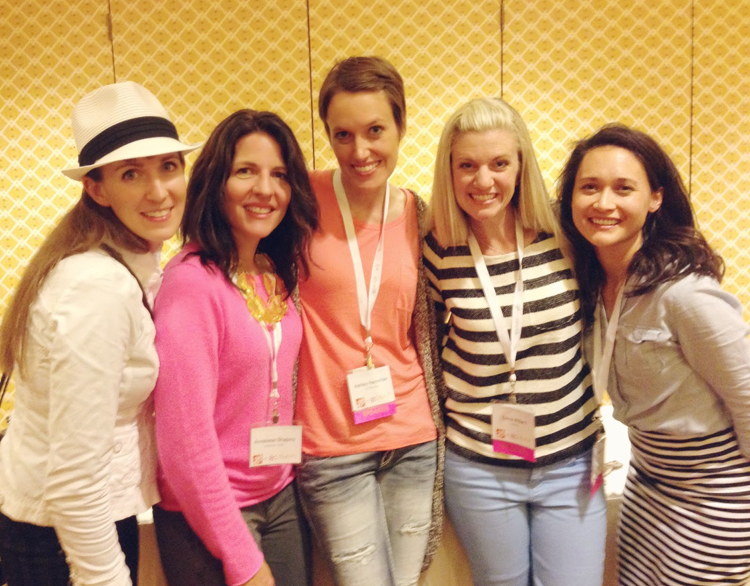 My roomies Katy, Ashley, Dana, (me), plus Anneliese in the pink.
I'll leave you with a few of my favorite business cards from the conference. To say I felt star struck to meet so many amazing, talented people is an understatement!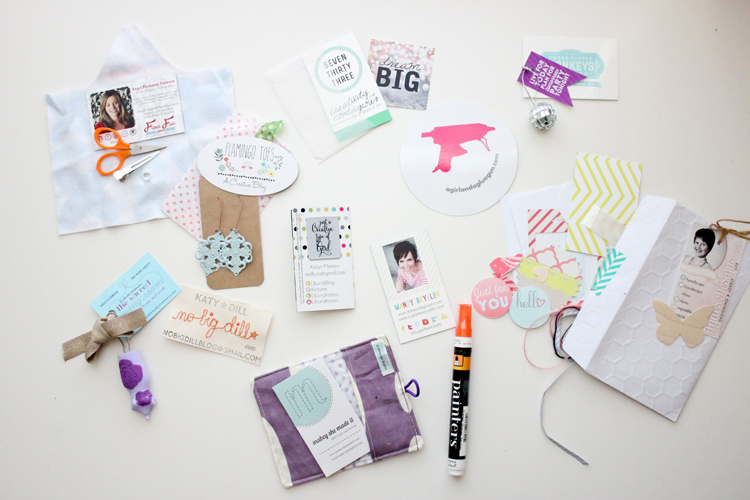 Top to bottom, left to right: Fleece Fun, Flamingo Toes (earrings!!!), Seven Thirty Three, A Girl and Glue Gun, Three Little Monkey's Studio,   Baby Lock, No Big Dill (she embroidered them!), Lil Luna, Sugar Bee Crafts (she had a coloring one too that went with the marker, but I lost it in my mountain of swag!), Fynes Designs, Mabey She Made It.