If you like modern sewing, you probably already know about Willow & Co.'s  Wanderlust Glamping collection. And if you don't, you MUST.
The collection is extremely gorgeous, well put together, and beautifully done. Their Look Book is like a magazine…lovely indeed.
I had the privilege of reviewing two of the patterns in the collection, the Clover Shorts and the Fawn Lily Tunic & Dress.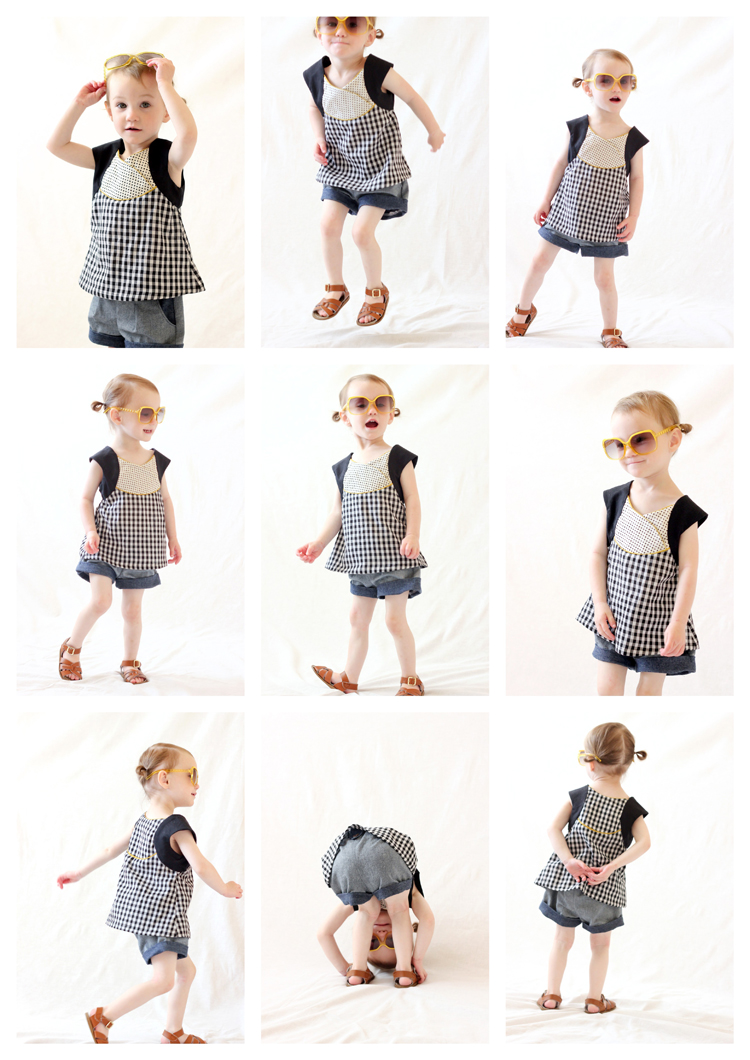 I honestly loved both.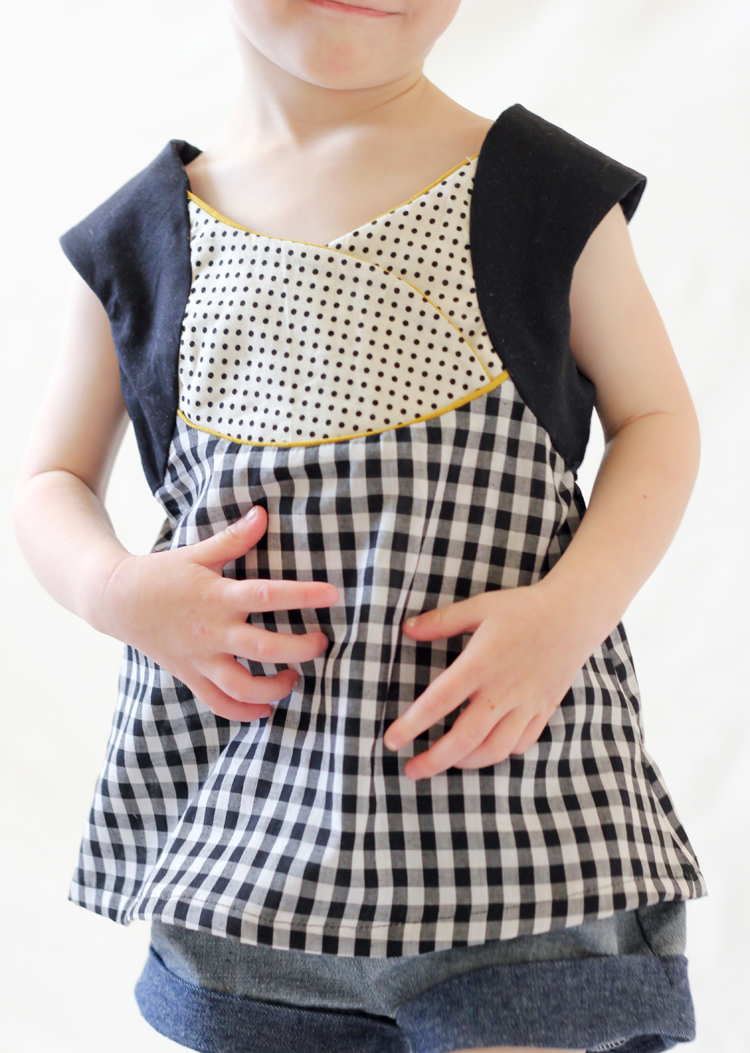 I usually go for dress length with patterns, but I decided to try something different this time and opted to make a top for Natalie so that she could wear it with the shorts.
I love it! The construction was like a fun puzzle that fit together perfectly. I especially like the built in cap sleeve and the overlapping yoke option so I could forgo the buttons in the back.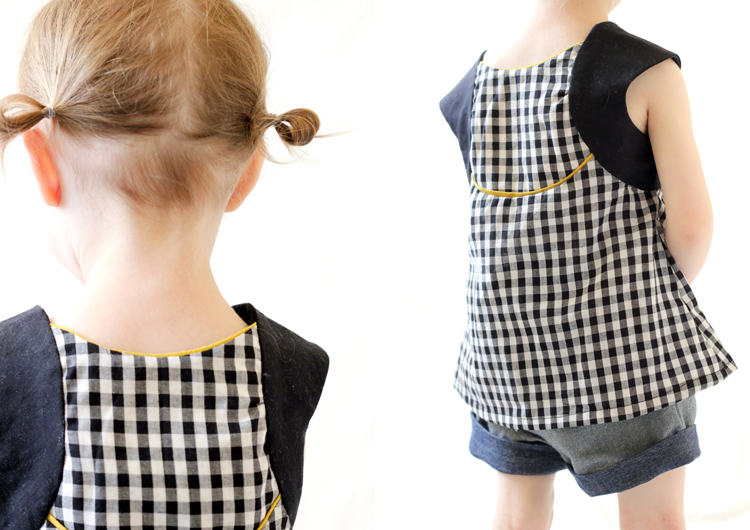 It's perfect toddler wear to just slip it on and not have to worry about buttons. I did make both the top and shorts a size larger so she could grow into them, but they still fit well enough to wear now. Only a litte shoulder slippage now and then…
Really…according to Natalie's measurements I could have made the 6 month shorts…SIX months people! She's you know…two, but she is such a tiny thing. Still in true Mom fashion I had to go up a size (12 month with 18 month length) just in case. (shakes my finger).  My mom always did that to me which worked well until sixth grade when I peaked out. I think I went all of middle school wearing shoes and clothes that were one size up, just in case. It drove me nuts, but now that I'm a mom I understand even though I annoy myself as I understand it. 😉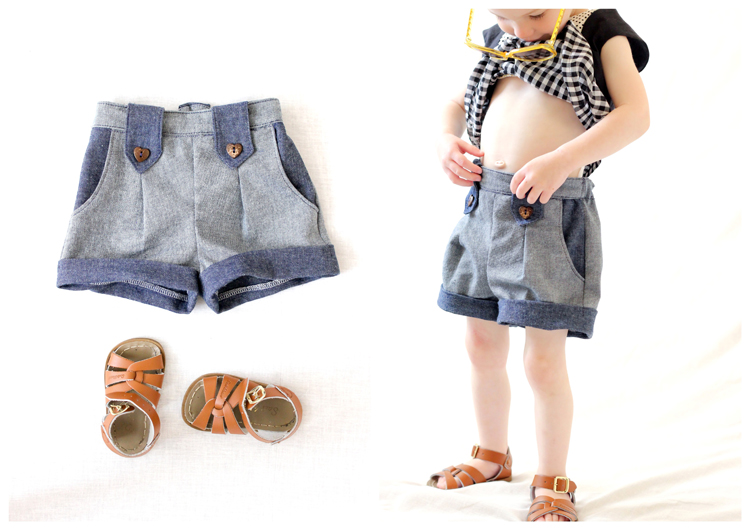 Speaking of the shorts though, they were a really fun sew. Everything matched up so perfectly. Nothing puts me in a better sewing mood when pattern pieces match up just right. I hardly picked up my seam ripper. It came together so…so…swimmingly. Whatever that means. 😉
I only wish I had used matching thread when serging the cuff seam allowance. 😉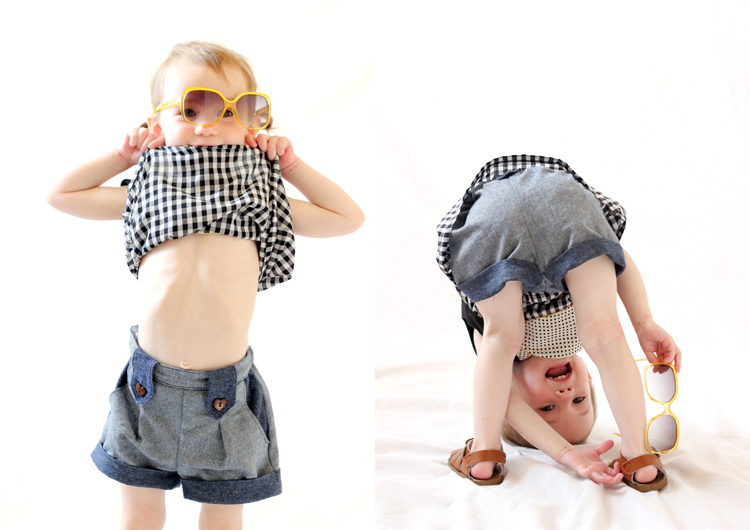 I used the right and wrong sides of the denim material I was using to add some contrast to the shorts. If I were matching the shorts with the top, I probably should have used black buttons, but these heart shaped coconut wood buttons from Lots of Buttons were too cute to not use.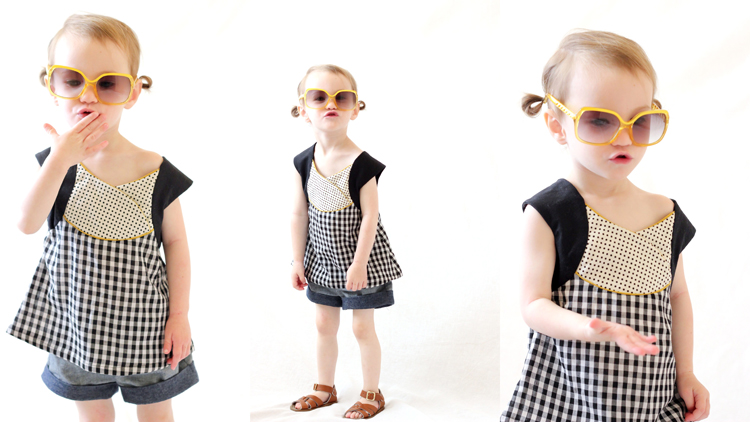 Plus, I have this thing with mixing black and brown…judiciously of course. It usually makes people uncomfortable which is why I think I like doing it. Did I just admit that? he he. I'm sick people.
All in all, we love the collection! Well done Hayley (Clover Shorts designer) and Rebecca (Fawn Lily Tunic designer)! And thank you to Mie from Sewing Like Mad who invited me on the tour and served as editor to the collection. She made the Clover Shorts in a floral fabric and I'm dying to make a pair like it. Gah…girls are so fun.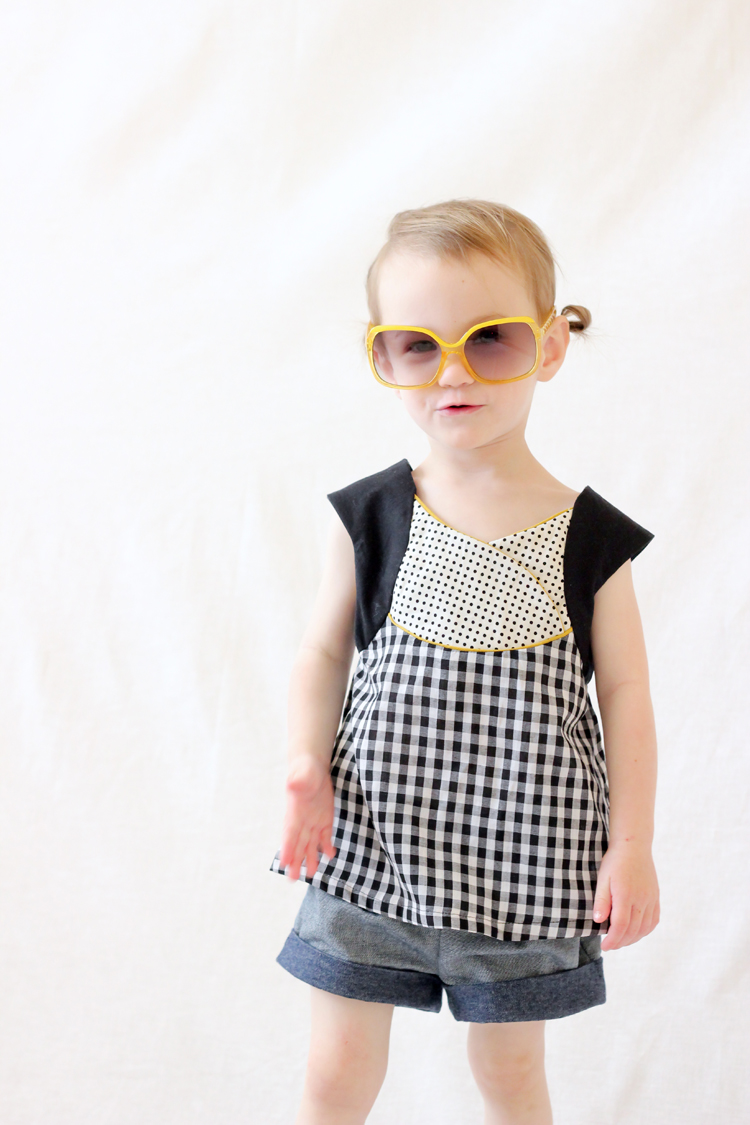 Fabric sources: Denim, black cotton, yellow linen (to make the flat piping) and gingham fabrics are from Jo-Ann, polka dot fabric is from Hobby Lobby.
If you want to see more, check out who else is on the tour…