I have to be totally honest. I sort of feel like I just made myself adult sized Osh Kosh overalls from the 90's, but like…I'm really liking that look right now and I don't know what else to say about that. Should I put this into the it's 2020 who needs a reason column? I say yes. haaaa.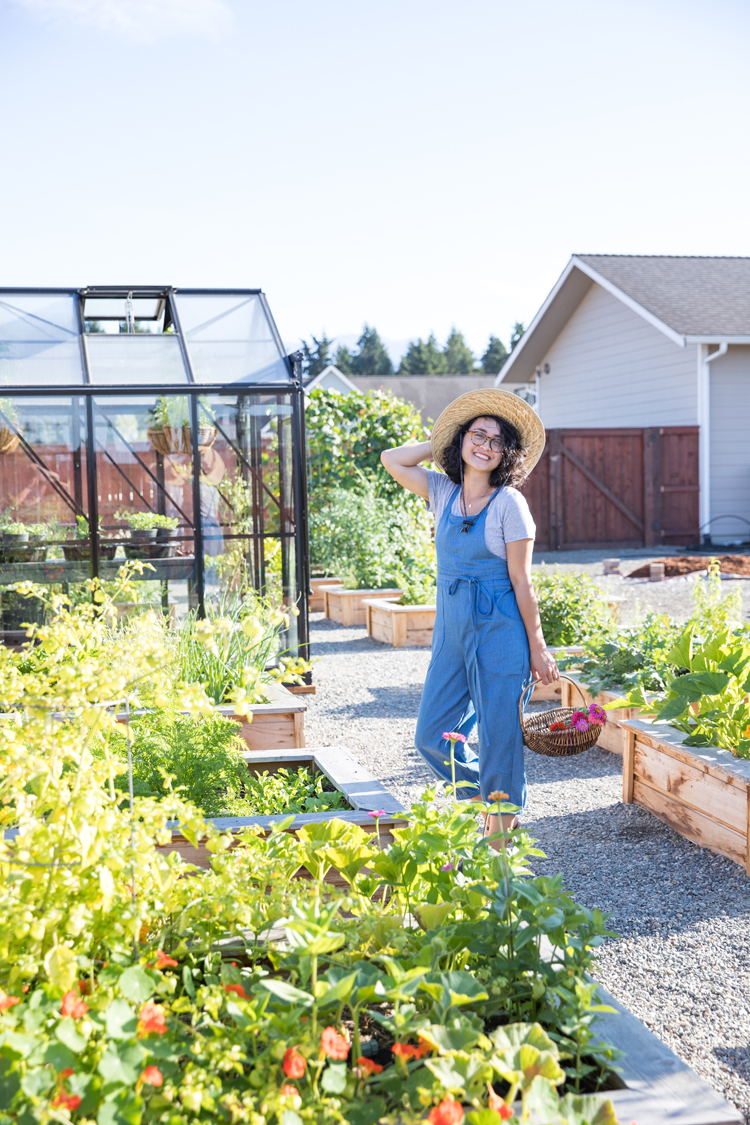 This is my second pair of Burnside Bibs from Sew House Seven. You know I'm a fan if I make a pattern more than once! For my first pair, I made it in a stretch (term to be used lightly) poly crepe fabric and I kept the hem of the pants as is. I love them, wear them often.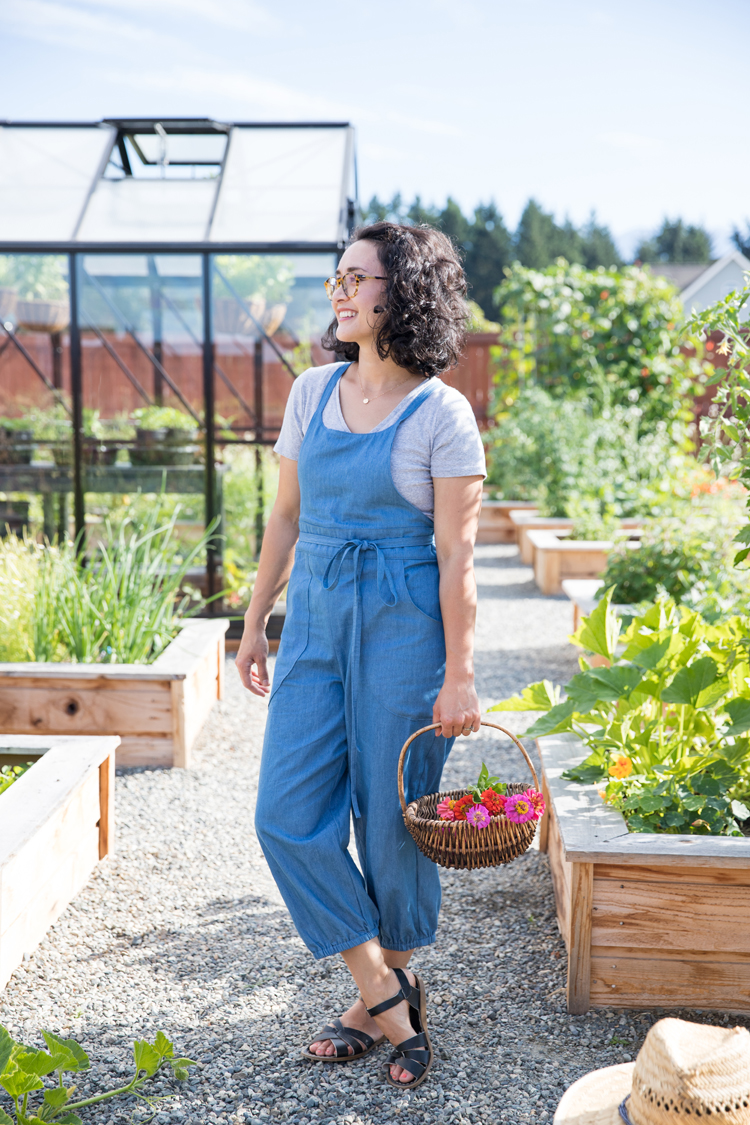 When I made them in denim…hold up…let me back track. So I cut these as like 7 months ago?? Who's even keeping track anymore…and I cut them as full length pants. The thing about the crepe pair that I made is that I cropped them so I can only wear them half the year. This time I cut them full length in the winter so I could wear them in the winter. Fast forward back to when I actually sewed them in the summer and tried them on before hemming them, and I just could not. I don't know if I just wasn't as motivated by the weather this time, but there is something about being short with short legs and a long torso and having wide leg pants go from my chest to the floor that just wasn't working for me. Maybe it's the fabric, but it made me look and feel like a block of blue denim.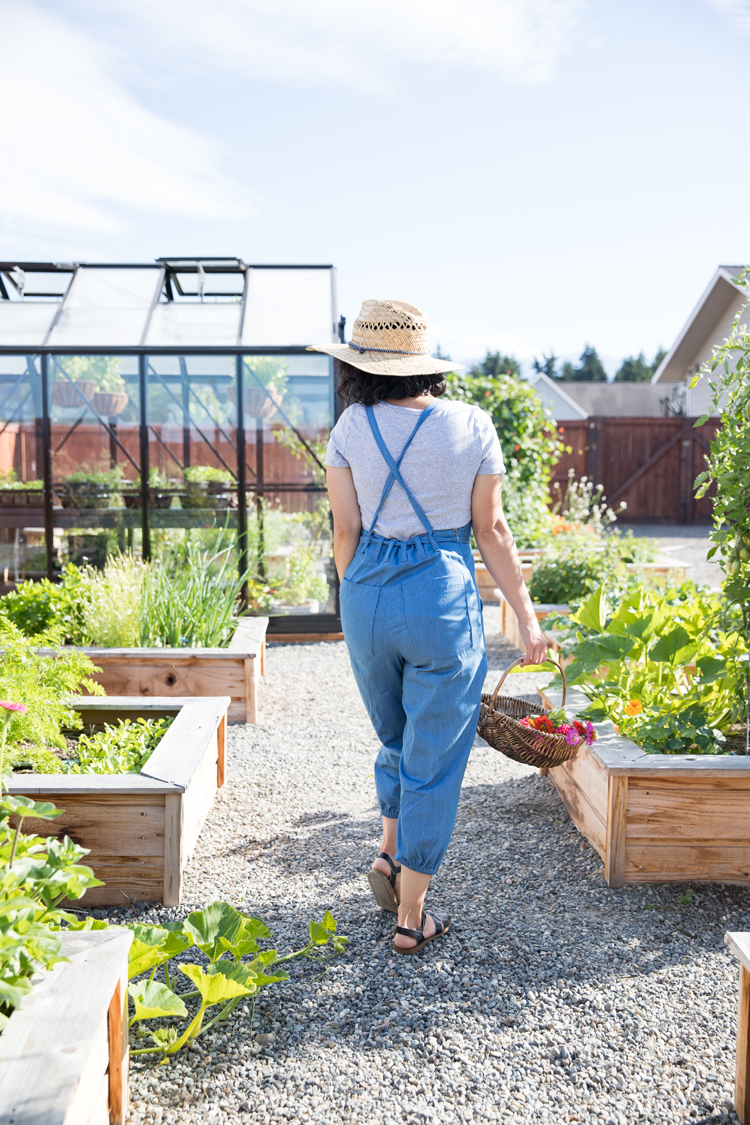 So, I cropped them. Better…but still not what I wanted.
In the drapey black crepe fabric, the wide leg looks right. In the denim, I wasn't feeling it.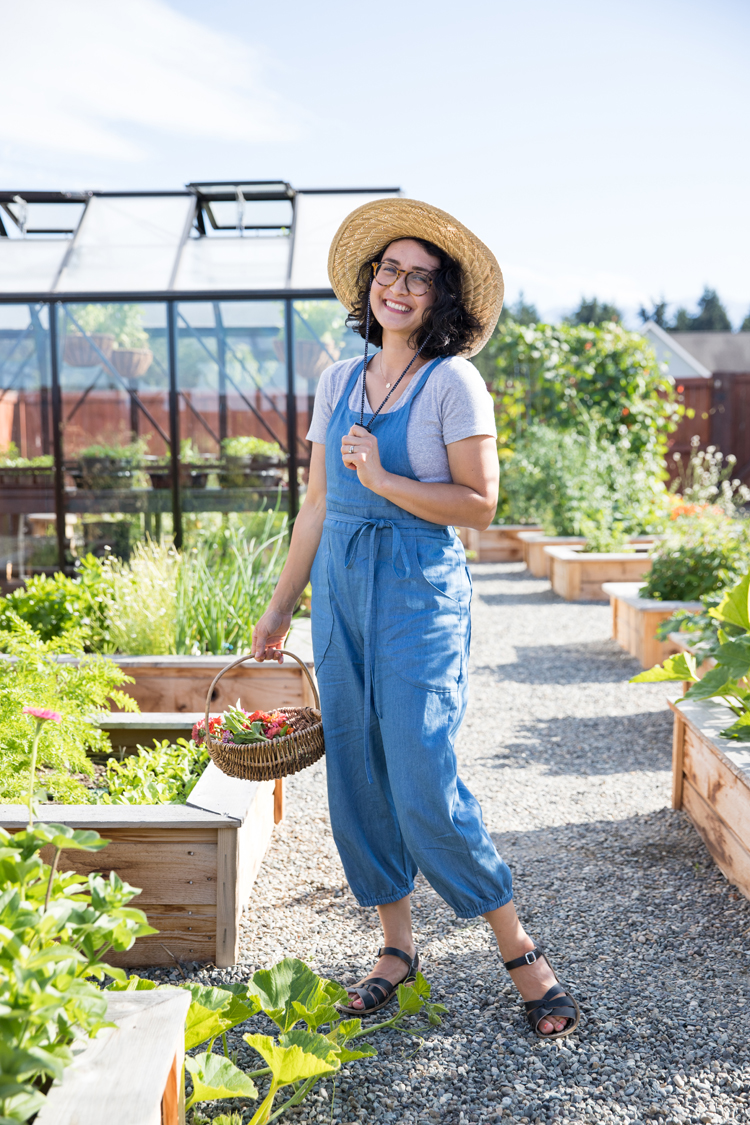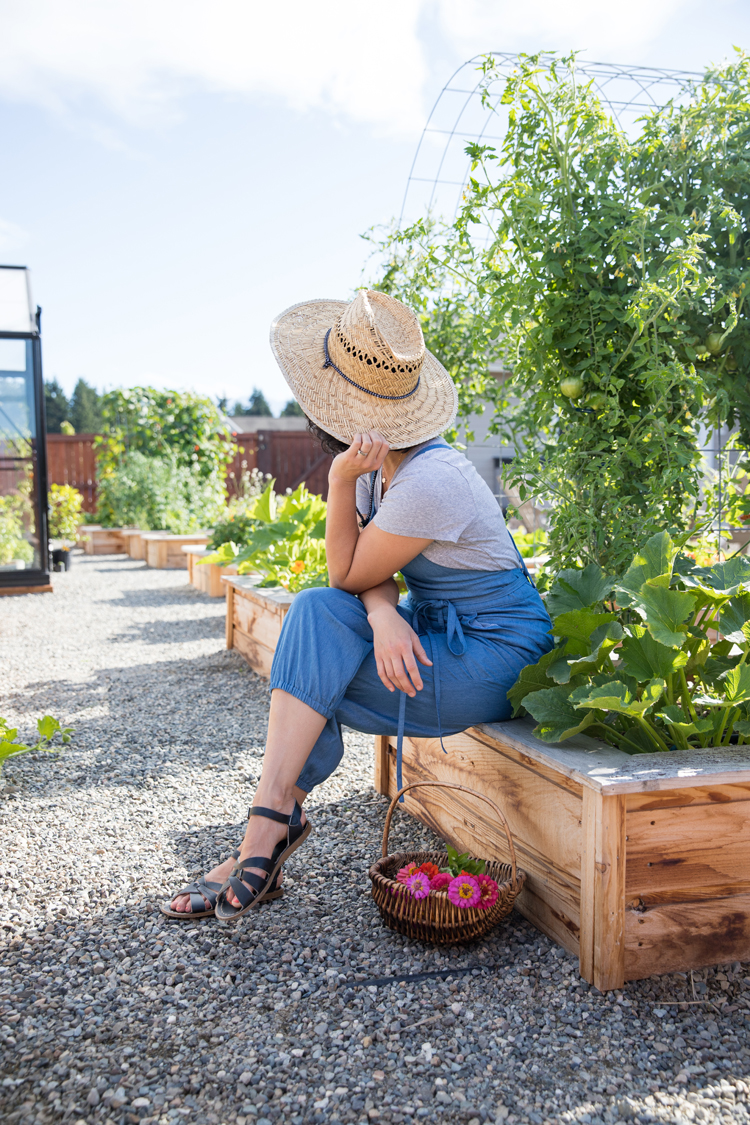 So I tapered the legs, then tapered them again…and again and then added an elastic casing for the hem until I got something I liked much better. (The inside leg seams are not the prettiest – ha!) I think I probably could have even gone full length with this tapered, cinched leg look, but I had already given it a chop.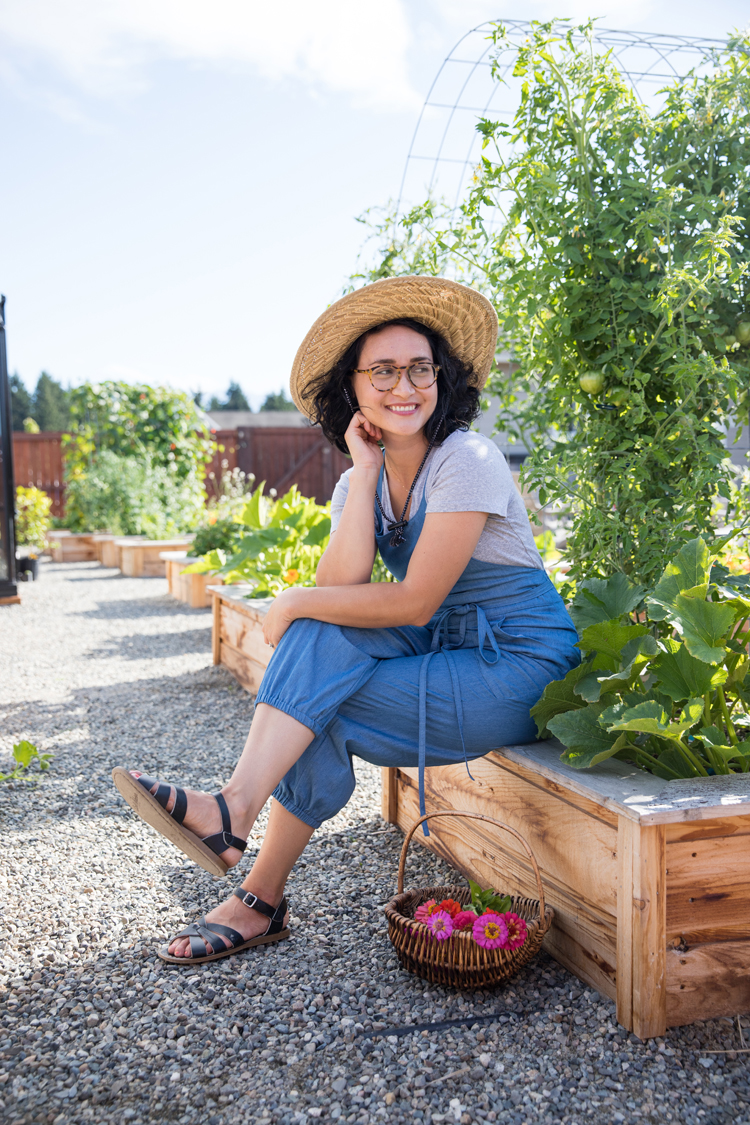 Kind of funky, fun, very comfortable…I couldn't resist going full farmer with my look because gardening is pretty much my life now. 😉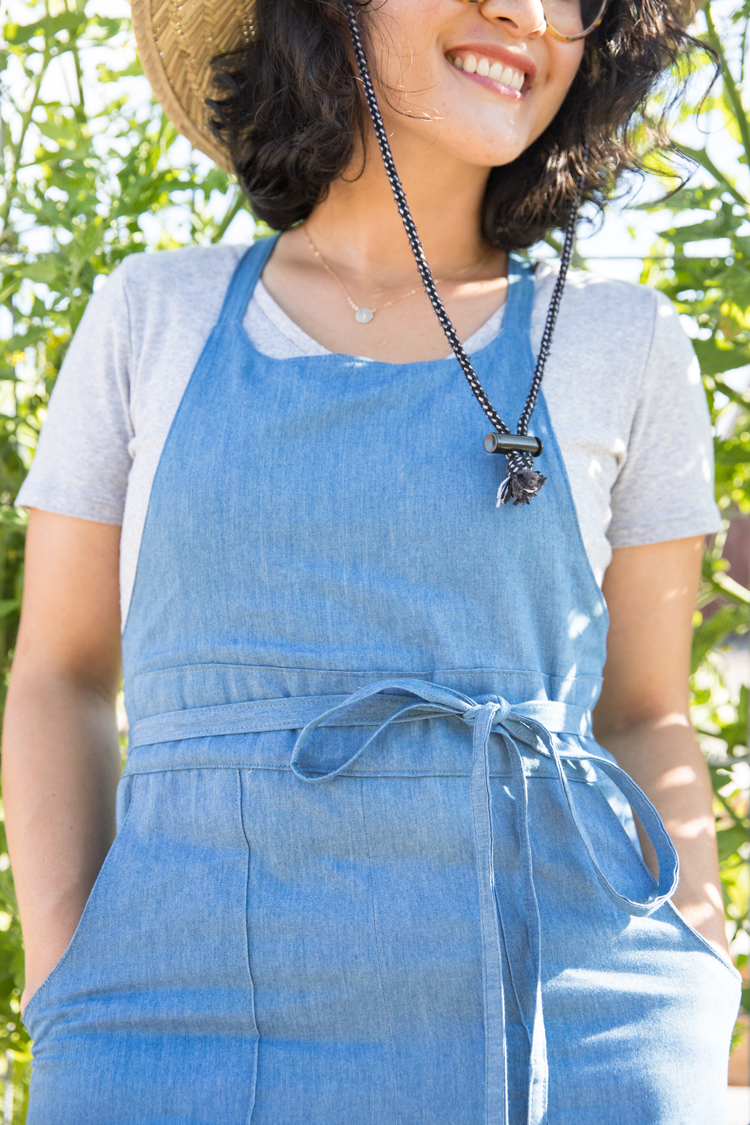 Here are the details in a list if that's your thing (it's mine):
Pattern: Burnside Bibs from Sew House Seven
I sewed Version 1 with the darts and invisible zipper.
I like to cross my ties in the back AND tie it in a bow in the front, so I added lots of length to those.
I cropped, tapered (played it by ear), and added an elastic hem to the pants.
I used Sew Classic lightweight denim from Jo-Ann. It's comfortable, but of course wrinkles. I prefer wearing and sewing this in a poly blend. Linen too would wrinkle, but I think the wrinkles in linen are pretty for whatever reason.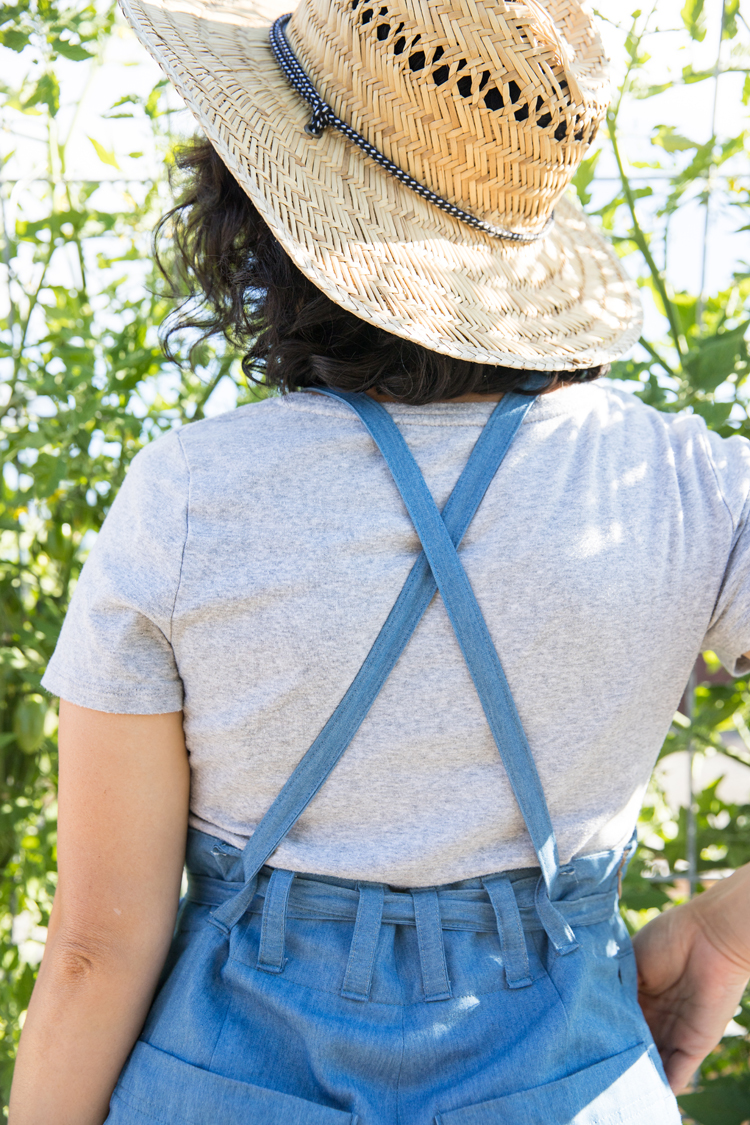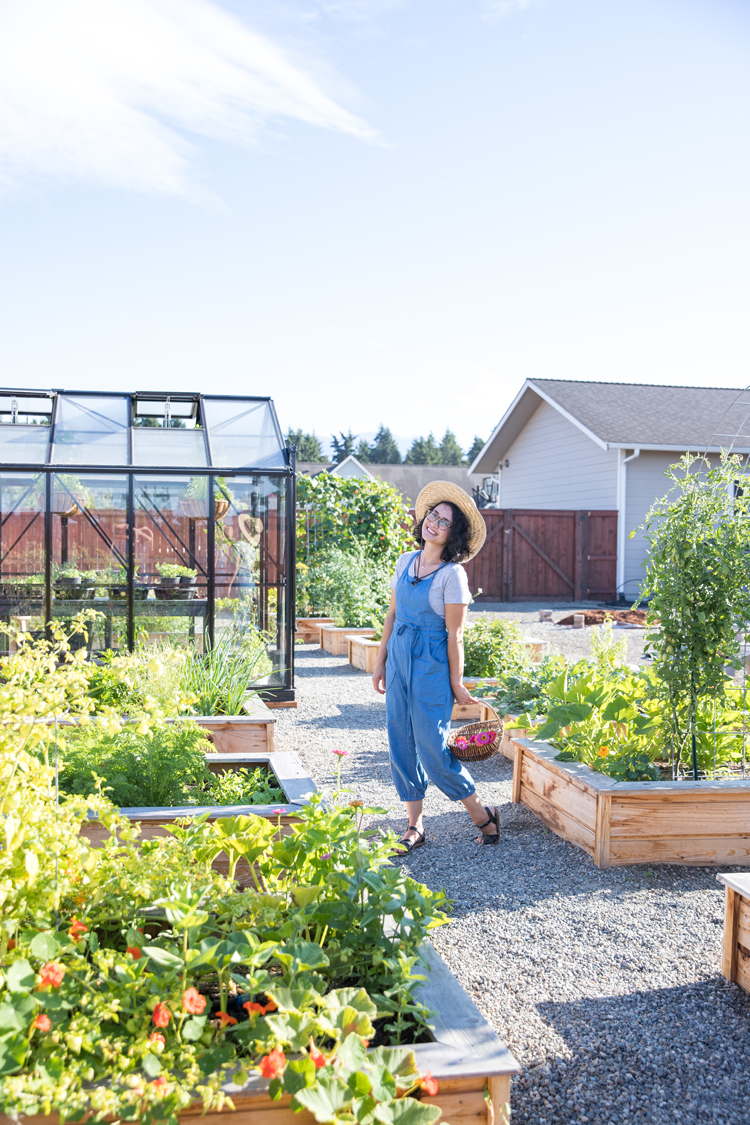 All in all, I'm happy with them and might sew another pair with a tapered, elasticized leg again at full length this time. Considering it took me most of the year to get this crossed of my to-sew pile, I'm not going to hold my breath ;), but it feels good to be sewing again!