This past weekend, during my online shopping frenzy, I got stumped on what to get a few people on our list. So, I started googling things like "gift ideas for runners" and "what to get a foodie for Christmas" to help me brainstorm. A few times, I hit the jack pot and got a bunch of lists that really helped get the gift idea juices flowing, and I was SO grateful! It also made me wonder…why not make a list of what I know about…makers!? You know…in case you find yourself googling "gift ideas for sewers, knitters, or crafters." I hope this list helps you out!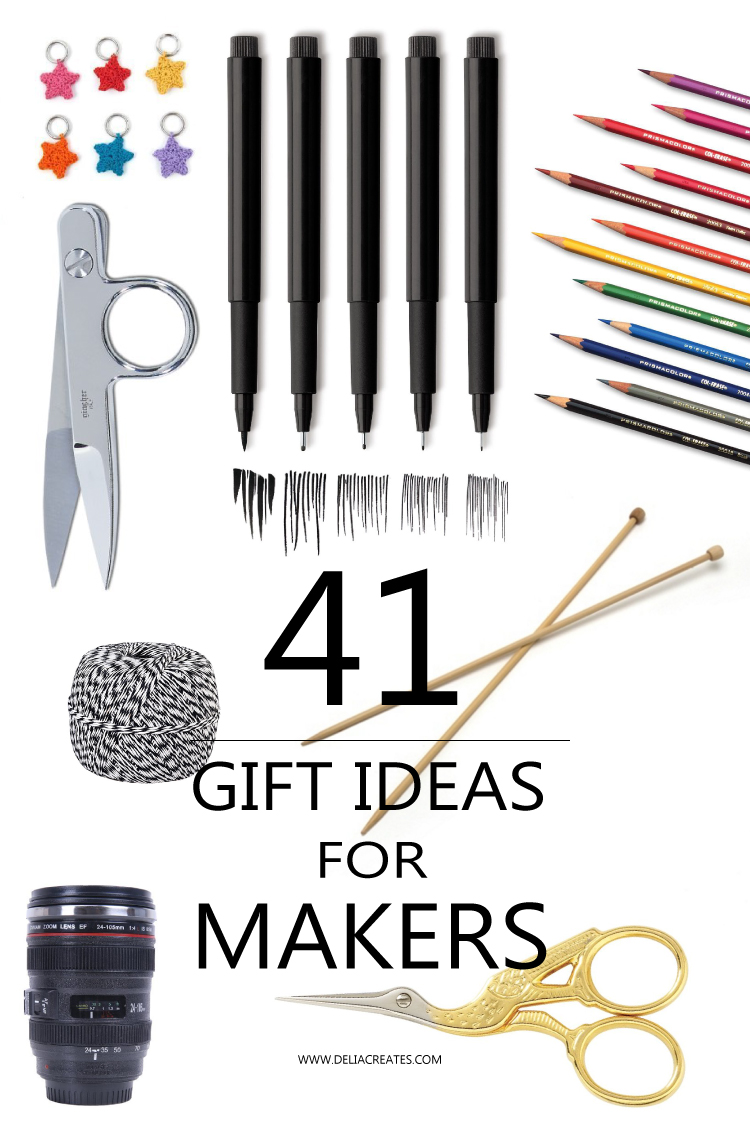 All these ideas are $60 or less, with many of them less than $25! (pssst…that camera lens isn't what you think it is, scroll to the bottom to read more)
I have divided my list into three sub categories: sew-ers, knitters and crocheters, and craft-ers.
Let's start with sew-ers!
*Please note: All photo credit belongs to the source linked to beneath each collage, unless otherwise noted. There are also affiliate links in this post. That means if you click on a link and make a purchase, I receive some commission. The compilation of this list was not in any way influenced by the affiliate nature of the links.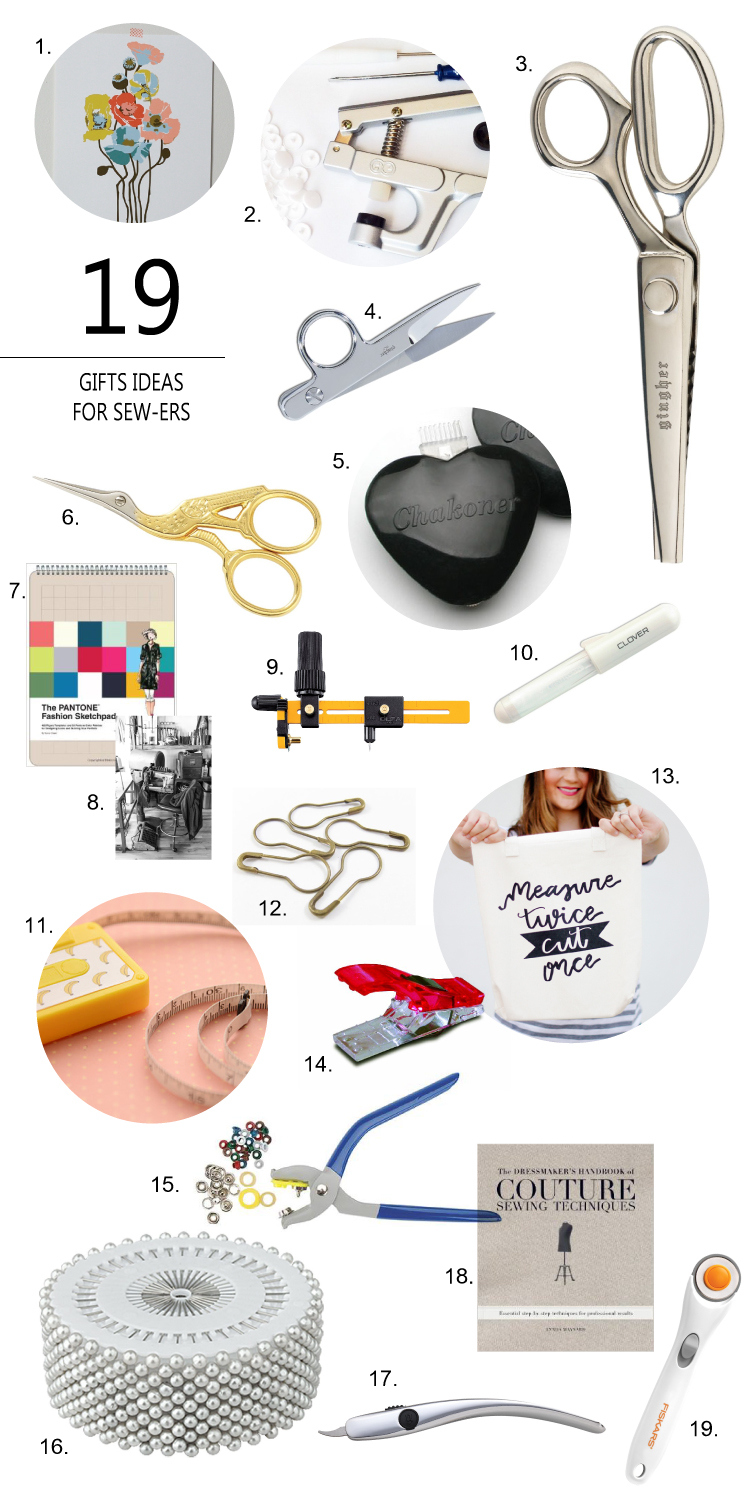 1. Anna Maria Horner Print (there are also really pretty cross-stitch kits that are less expensive) 2. KAM Snap Pliers Hand Press Setter Tool and 100 KAM Snaps, White Plastic Snaps
 3. Gingher 7.5 Inch Pinking Shears  4. Fiskars 4.5 Inch Knife Edge Thread Nippers
 5. Chakoner 6. Gingher 3.5 Inch Stork Embroidery Scissors 7. The PANTONE Fashion Sketchpad: 420 Figure Templates 8. Industrial Vintage Sewing Print 9. OLFA 1057028 CMP-3 Rotary Circle Cutter
 10. Clover Pen Style Chaco Liner White 
11.. Banana Cassette Tape Sewing Measuring Tape 12. Antique Brass Safety Pins 13. Measure Twice, Cut Once Bag 14.  Clover Wonder Clips, Red, 50-Pack
 15. Dritz Eyelet Plier Kit
 (photo source here) 16. 480 Pcs White Decorative 3mm Manmade Pearl Straight Head Pins
 17. Gingher Seam Ripper
18. The Dressmaker's Handbook of Couture Sewing Techniques 19. Fiskars 28mm Stick Rotary Cutter
Scissors, scissors and more scissors. As you can tell from this list, that scissors, cutters, and clippers are always appreciated. Our blades are always running dull, and even when they aren't, it's fun to have a few pretty pairs to choose from. A small rotary cutter is not the basic, most common kind of rotary cutter but it should be! Buying a stick rotary cutter for your sewing enthusiast is sure to make her happy as she cuts out curvy patterns. And…. Clover clips and pins? You can pretty much never have enough of those.
Stay away from gifting fabric or patterns, unless you really know what they like. Maybe consider a gift card to a favorite fabric store, or to Jo-Ann's instead.
For even more ideas, you can check out THIS gift idea round up for sewists from Melly Sews.
This next list is for the crocheters and knitters in your life. If you aren't sure which one your recipient is, a crocheter or a knitter, consider sticking to the stitch markers, hand cream, and yarn. Otherwise…you will really want to do some sleuthing so you are sure which yarn craft they prefer.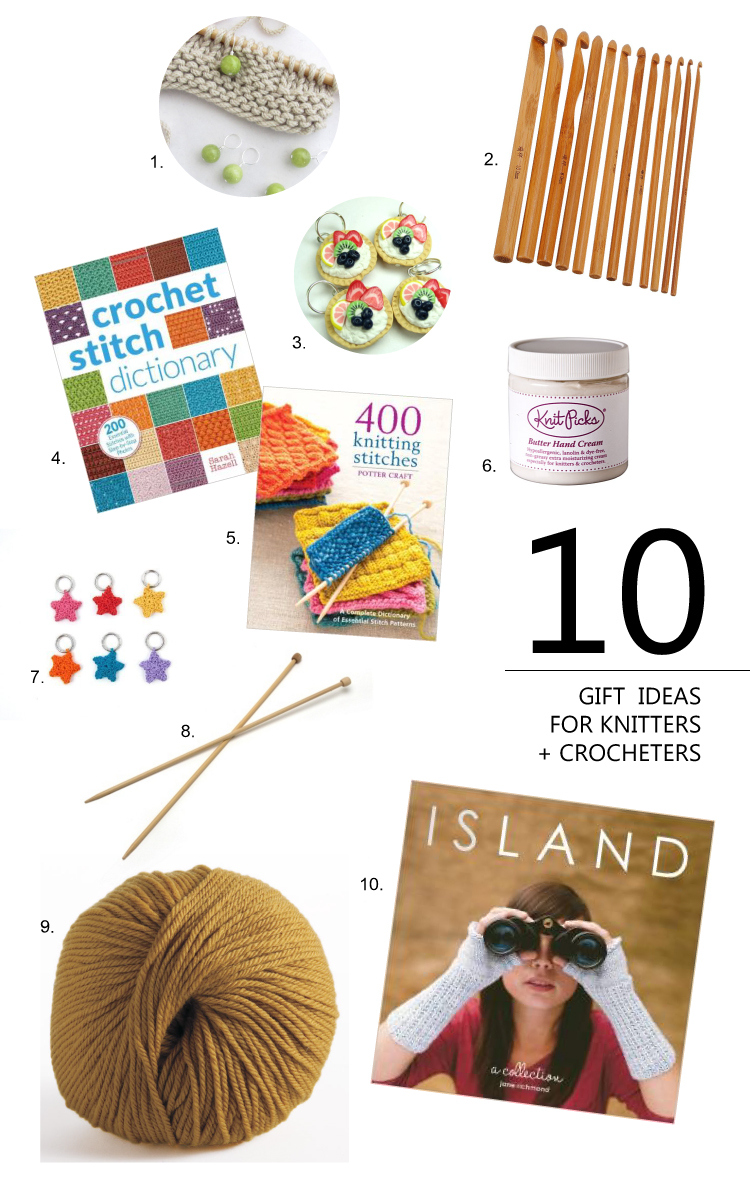 1. Bead Stitch Markers 2. 12pcs 6″ Bamboo Handle Crochet Hook  3. Fruit Tart Stitch Markers 4.Crochet Stitch Dictionary: 200 Essential Stitches with Step-by-Step Photos
 5.Potter Craft Books 400 Knitting Stitches 6. Knit Picks Butter Hand Cream 7. 
 Lantern Moon Star Stitch Markers, Pack of 6
 8.Clover Takumi 13-Inch Single point, Size 8
 9. Cashmere Yarn 10.Island
Needles and hooks are to knitters and crocheters, like scissors are to sew-ers. We can never have too many! Especially if you buy novelty or fancy ones. You can find really creative, personalized stitch markers with just a little searching on Etsy. Are they a dog enthusiast? They have stitch markers for them! Or use the ones I linked to. The little fruit tarts are my favorite! And…quality yarn is always appreciated. If you splurge for some cashmere, wool, alpaca, or other specialty yarns you will make any crocheter or knitter very happy! When choosing a color, think about their favorite color or what color they wear most often. Gray is a safe bet if you're unsure, or consider getting a gift card to a yarn shop.
This last list, is kind of  a mixture of ideas for the generally "creative" or "crafty" person in your life.
1.Fiskars 28mm Stick Rotary Cutter
 2.Lychee Craft Azalea Floral Fabric Washi Tape Decorative DIY Tape
 3.Reeves Assorted 12-Milliliter Watercolor Paint, 18-Pack
 (then introduce them to THIS water color tutorial series) 4.Plaid Hot Glue Gun Helpers Kit
 (image source here) 5.Pitt Artist Pens
6.Martha Stewart Iridescent Glitter 12/Pkg- 7.Martha Stewart Crafts Large Circle Cutter
8. Deluxe WOOD BURNING Tool Set w/Stand & 4 Tips 120V 30 Watt & Heat Shield
9. Black White Baker's Twine 1/2 Lb Spool (Approx 1500 Feet / 500 Yards)
10. Beyondtek New Looks Like Canon SLR Lens 24-105mm Travel Coffee Mug / Cup / Thermos 11. INDIARY FIRST Pocket Journal Diary Luxury Buffalo Leather
12. Prismacolor Col-Erase Erasable Colored Pencils
Hey! Isn't number ten a trip? It's a thermos not a camera lens! For about $10-15, it's definitely on my list.
Most of us makers love a cool new pen, so you can't go wrong there. A nice set of artist quality colored pencils, or a cool place to jot down ideas is appreciated as well. Not all glitter is created equal, and Martha Stewart glitter reigns supreme. A set of those are sure to please. I use my circle cutter set…like all. the. time. So that's a good one. Oh and a wood burner! They rock! See here for all my projects using a wood burn tool. When you want to buy something for a crafter, look for tools that look versatile (like a leather punch tool, alphabet stamp set, letterpress kit, or paper punches) but maybe are too expensive to justify as an everyday expense.
Stay away from paper packs, decorative blade scissors, and scrapbook embellishments unless you know specifically that they would love that and you are familiar with their tastes.
I hope this list helps you with your gift giving this holiday season!
MERRY GIFT GIVING!
A special thank you to my fellow blogger friends Sabra, Amy, Lindsay, and Adrianna for contributing ideas to these lists. <3