One of my favorite cake trends right now, is a naked cake with paper typographic topper. It's just so simple and pretty!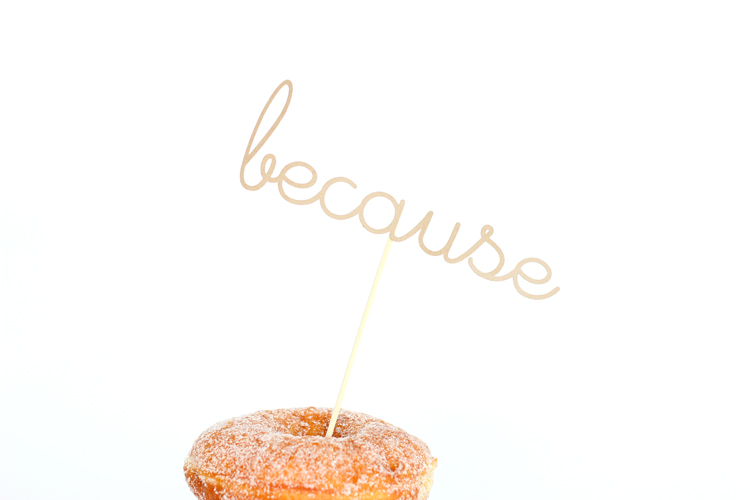 I just got my first cutting machine, a Silhouette Cameo, so I thought I would give the trend a go.
I didn't really have an excuse to make a cake and a special occasion topper to go with it, so I thought, why not just make a topper…for any occasion. Or no occasion at all, as the case may be. 😉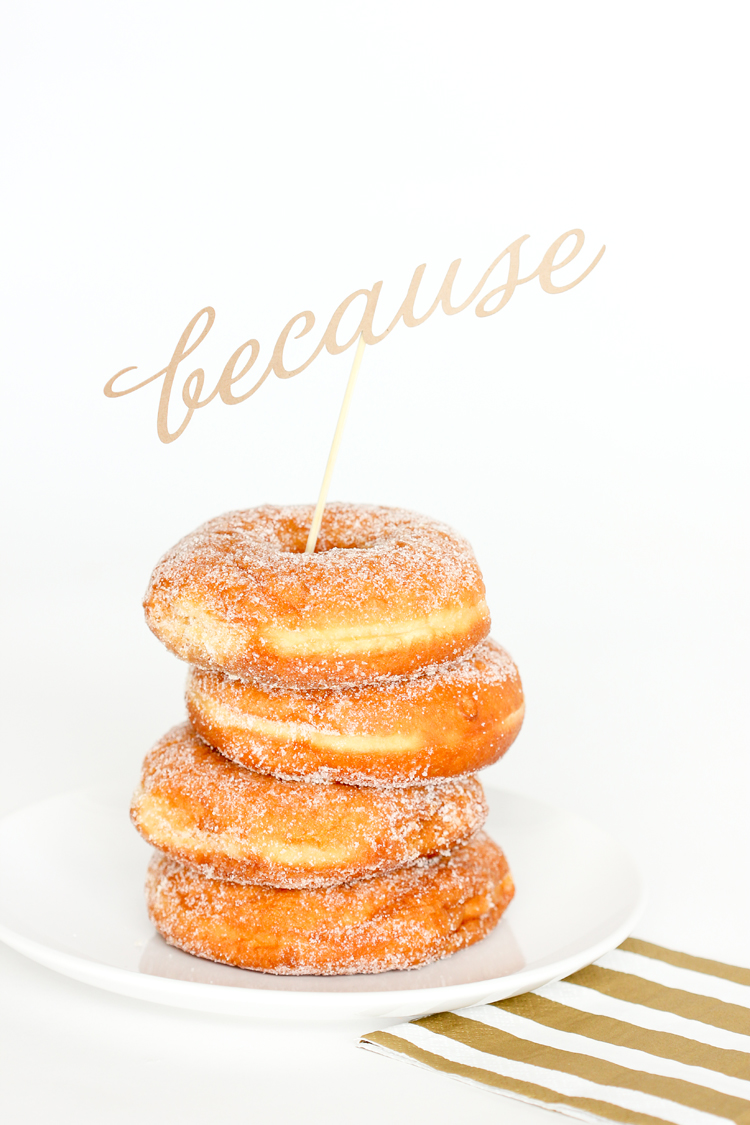 Because…doughnuts.
Need I say more?
Or… Because…flowers. Those are the best.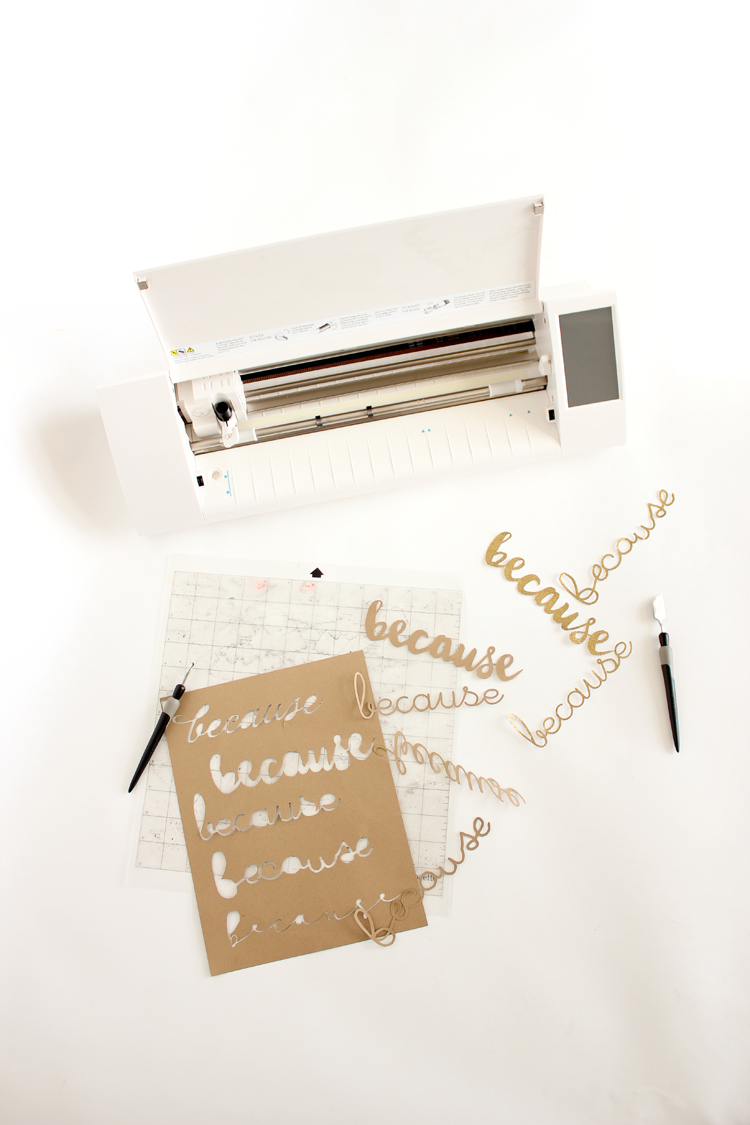 All you need, is to the cut out the word, weed it out and tape or glue it to a skewer.
For such a fancy touch, it is super easy and inexpensive to achieve.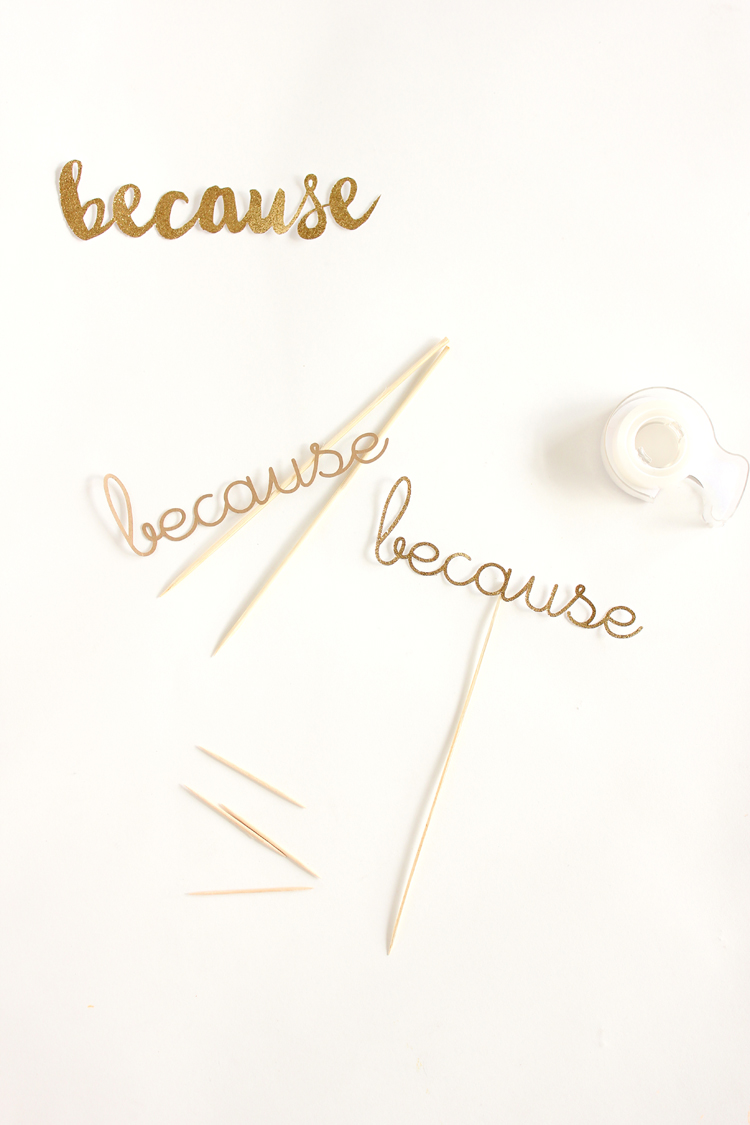 These pictures make me feel like singing that song from the Wizard of Oz…"because, because, because, because, because…Because of the wonderful things he does." ha!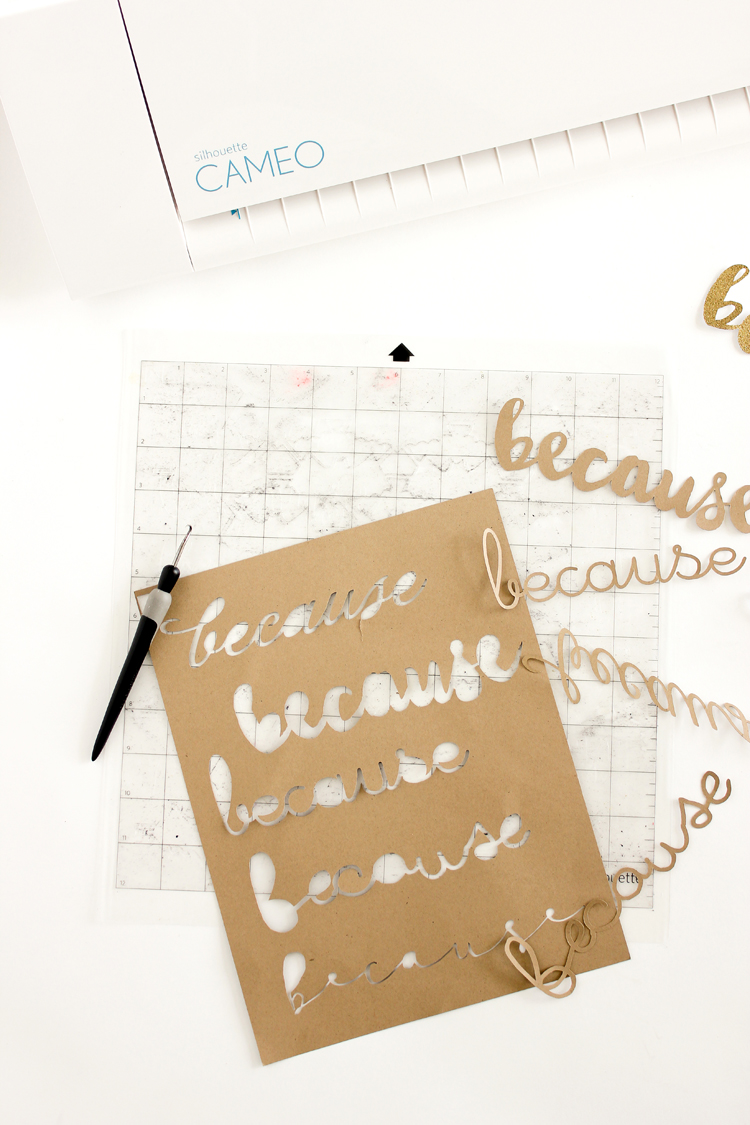 To create the words, I simply used the type tool in the Silhouette Studio software. All of the extra fonts I have downloaded to my computer popped right up in the list of fonts, which was great. I actually prefer to use Illustrator and export designs into the Silhouette software, but for such a simple word and design, creating it right in Silhouette Studio was the easiest way to go.
If you want to use my file, you can grab it for free HERE. (It's a Silhouette doc designed for 8.5 x 11 inch paper)
The only change I made was to replace the last "because" (see picture above) with a bolder font. The delicate font was pretty, but too fragile to stand up on a skewer.
Or if you want to make your own file, here are the fonts I used: La Portencia de La Boca (free), Wanderlust (not free), Soymilk (free), and Cursive Standard (free).
As you can tell from my cutting mat, I have already put this baby through a lot.
I am probably the last crafty person in the blog-o-sphere to get a cutting machine. ha! It's had some advantages and disadvantages. The learning curve is a little steeper than I originally thought, so I ended up googling things a few times to troubleshoot my issues.  On the plus side, my google searches brought up a wealth of answers. On the down side, some of those answers were not applicable, not correct (argh), or they took for granted some things a total cutting machine newbie just doesn't know. It was so confusing to sift through it all.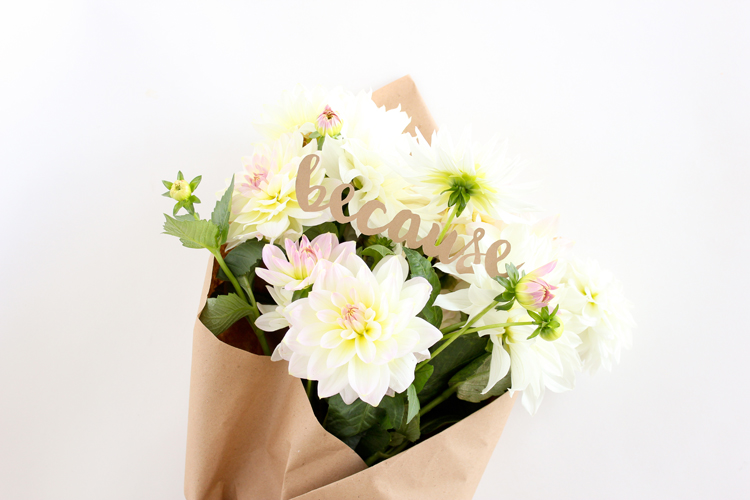 I finally called Silhouette's support line and they kindly walked me through alllll my issues. The person who helped me has a Silhouette herself, so she really knew her stuff. She gave me expert tips and tricks on how to use my machine more effectively, on top of fixing the problems I was having.
She taught me things like, using a lint roller to clean my mat, selecting yes to line segment over-cutting and setting it to .1 over the lines to get a cleaner cut, and that a fabric blade is the same as a regular blade (it's just a different color to help you remember to only use it for fabric). Good stuff, right!?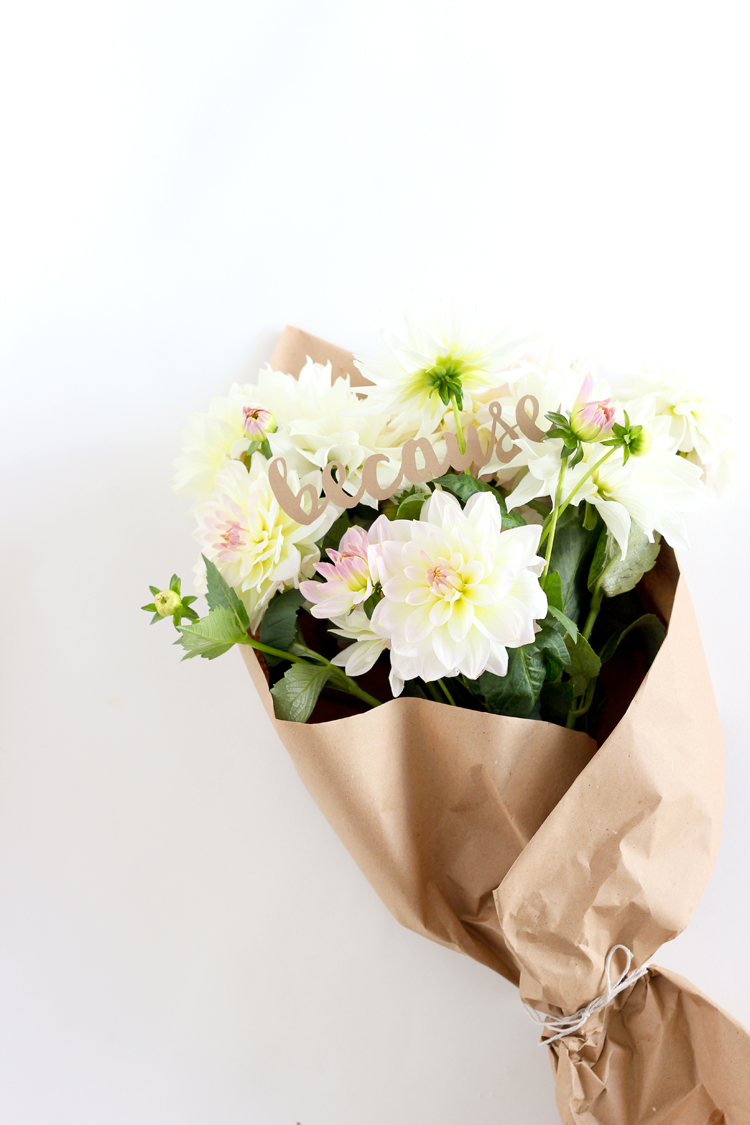 Now, that I know how to use my machine properly, I love it! I started out simple with my first project, but I already have a bunch more projects I can't wait to use with it. One thing I can say for sure is that if I do another Christmas card like this one….I am totally using the my Silhouette this time!
Because…yeah. 😉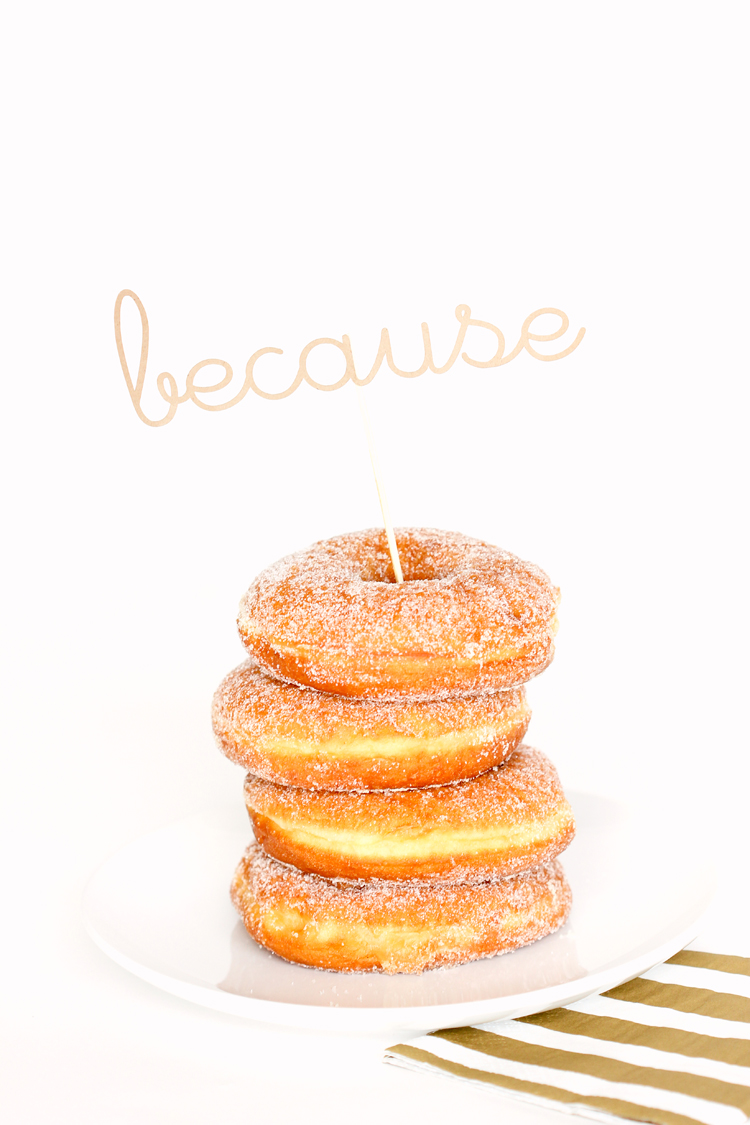 Disclaimer: My Cameo was generously provided to me by Silhouette for this review. All opinions are sincerely, honestly, and enthusiastically my own. Thank you for supporting the great brands that keep this blog running.