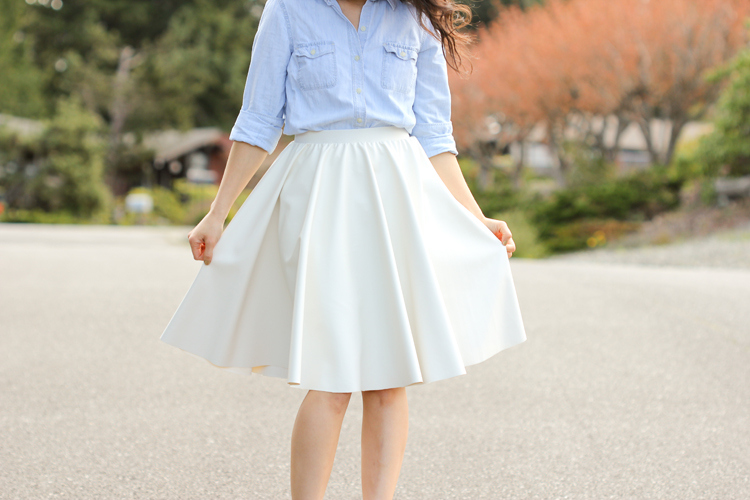 I added an exclamation to the title because I felt like it deserved it. I mean circle skirts are awesome for one…they are oh so flattering, they drape beautifully, and they are super fun to twirl in Marilyn style.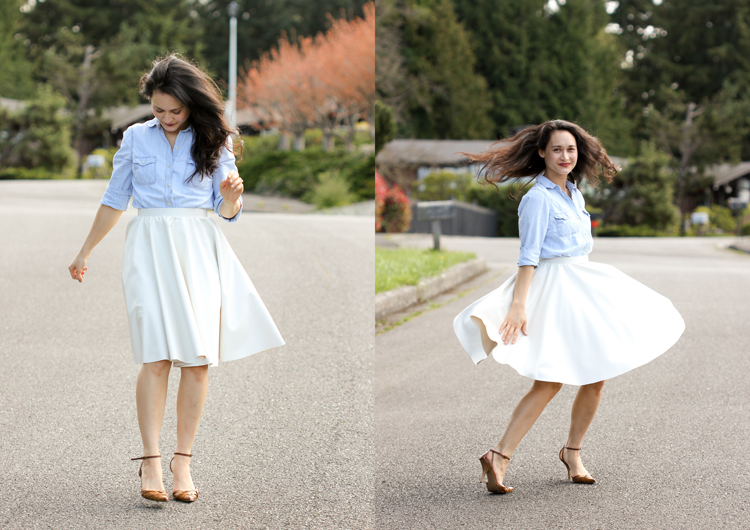 But then add vegan leather into the mix and it's a real party! (<—- exclamation point worthy!) I say vegan leather, but that's Tarjay speak for pleather. You know…fifteen years ago when shopping at Target wasn't trendy and cool like it is now, so you told your friends you got your jeans at Tarjay so you didn't feel so cheap? Vegan leather definitely sounds more sophisticated…yes? Yaaasss.
So, back to the point…. 🙂 …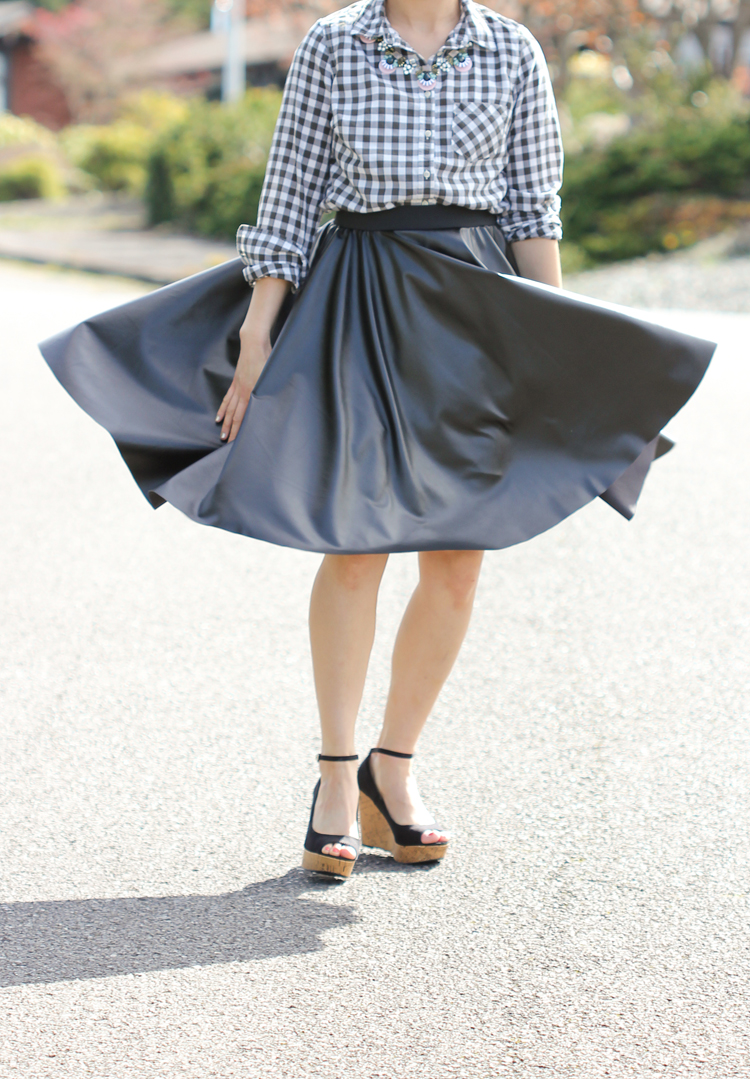 Vegan leather circle skirts are the bomb diggity because you don't have to hem them! If you've sewn a circle skirt before, you know the hem takes like a eleventy billion minutes because it is soooooooo long. With vegan leather you get to skip that step without having to worry about fraying or losing a polished finished look.
It will literally take you like 10 minutes to sew this skirt. I know!! Right!? High fives all around.
I used MADE's tutorial to make my circle skirt. Dana dices it all up in easy to follow steps and covers pretty much every base, there is to cover.
I only made a couple of changes…
1. I cut the skirt to be the exact length I needed and did not add a hem allowance.
2. Instead of sewing the elastic on top of the right side of the fabric, I sewed it so the finished waistband looks like this: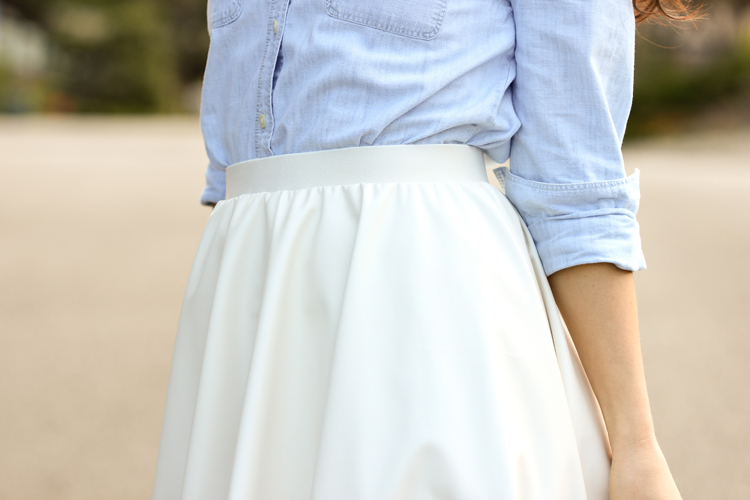 To achieve this look:
Line the edge of the elastic up with the skirt waist opening right sides together.
Sew around (for extra strength I use a triple stitch) and then flip the waistband up!
Ta da!
Of course, you don't have to make this change, but I personally prefer it because it's easier to keep the elastic and skirt even with each other during sewing. It also creates a nice clean finish to the waistband, with no visible stitching.
The white skirt is my Easter skirt this year. As a mom of three, white skirts would normally scare me off, but I am hoping the vegan leather will resist the dirt better. We shall see…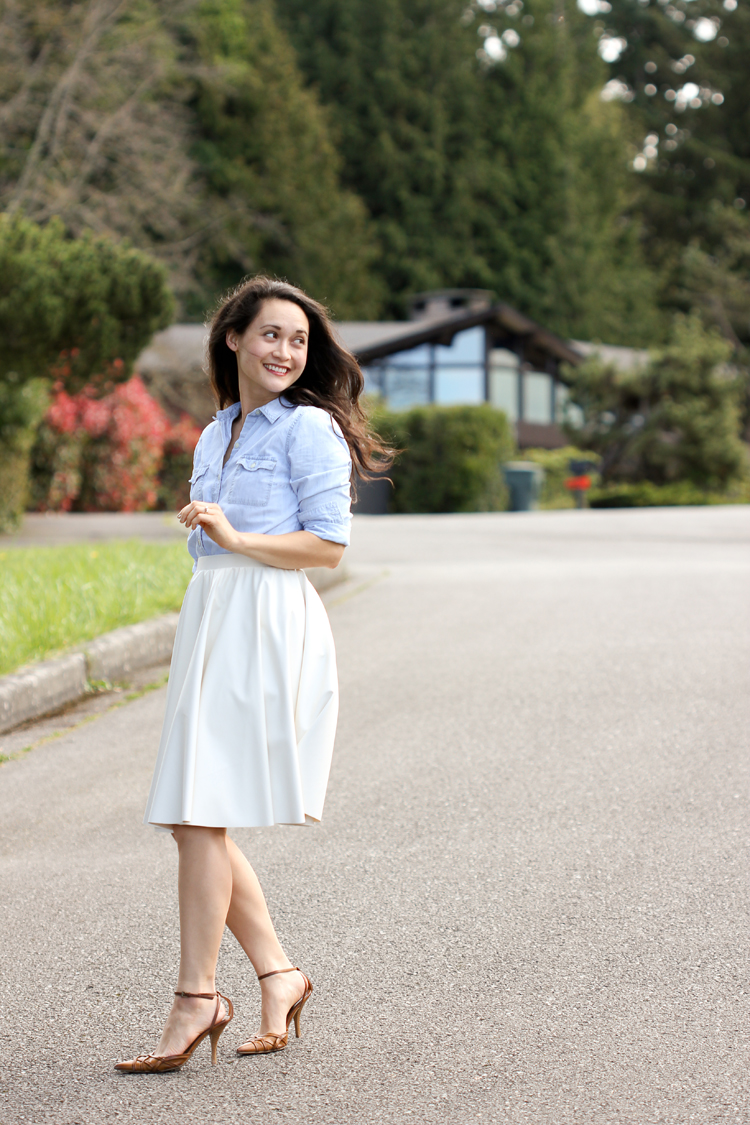 Want to make some yourself?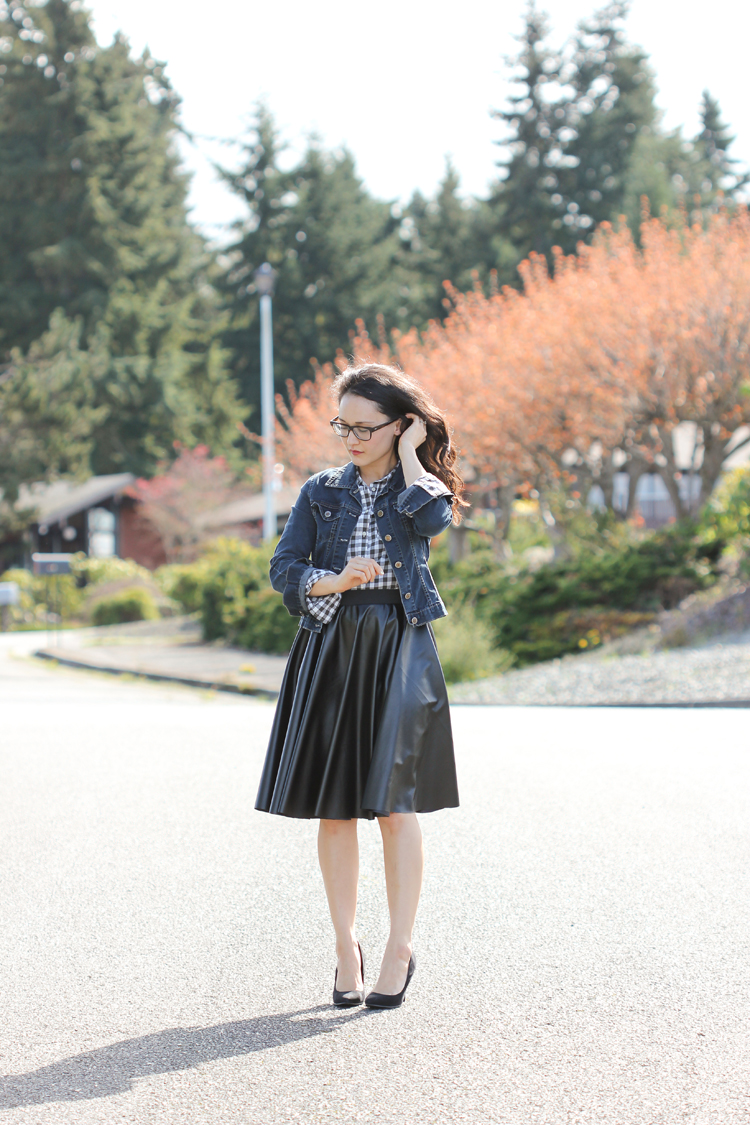 Here are the source deets:
Vegan Leather – Girl Charlee. I used ivory and black. They also have mint, pink, metallics and all sorts of colors! It's stretchy pleather too. I made a knit pencil skirt from their copper vegan leather last year.
Elastic – Jo-Ann. I used 2 inch black for the black skirt and 2 inch gold for the white skirt. I thought about making the gold the right side so it would serve as an extra detail to the skirt, but ended up using the white side instead to maintain it's versatility. I almost did a black waistband for the white skirt as well, which I think would look really hip.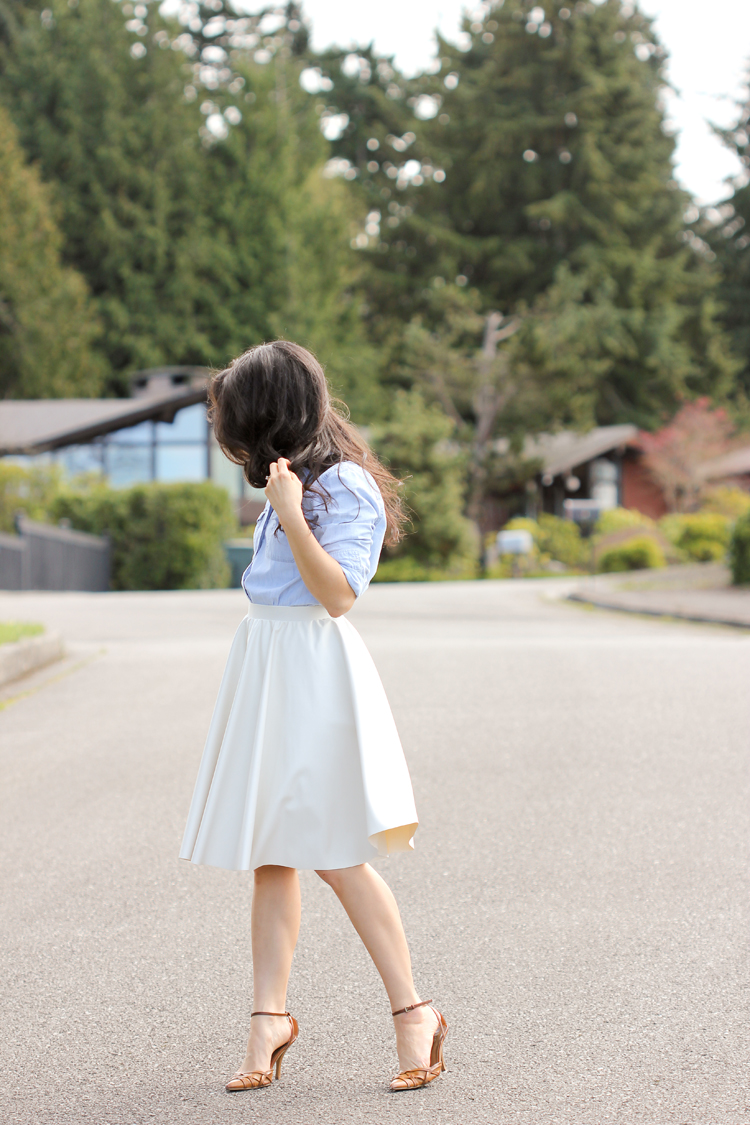 More sources:
Chambray shirt – Old Navy || Black pumps – Head Over Heels (old) || Tan Shoes – Head Over Heels (old) || Jean jacket – Old Navy (very old) <—-not really a fashion blogger here || Gray Sewers Gonna Sew tee – See Kate Sew || Black peep toe wedges – Ross || Mustard sweater that is really more autumn looking than spring looking but I don't care – Forever 21 || Statement necklace – Sole Society || Black and white gingham shirt – Tarjay  ;)||Glasses – David Kind – they're new and I'll share more about them soon…but, basically I'm in love with them!