I love holiday fashion, because it's a great excuse to wear bling and shine.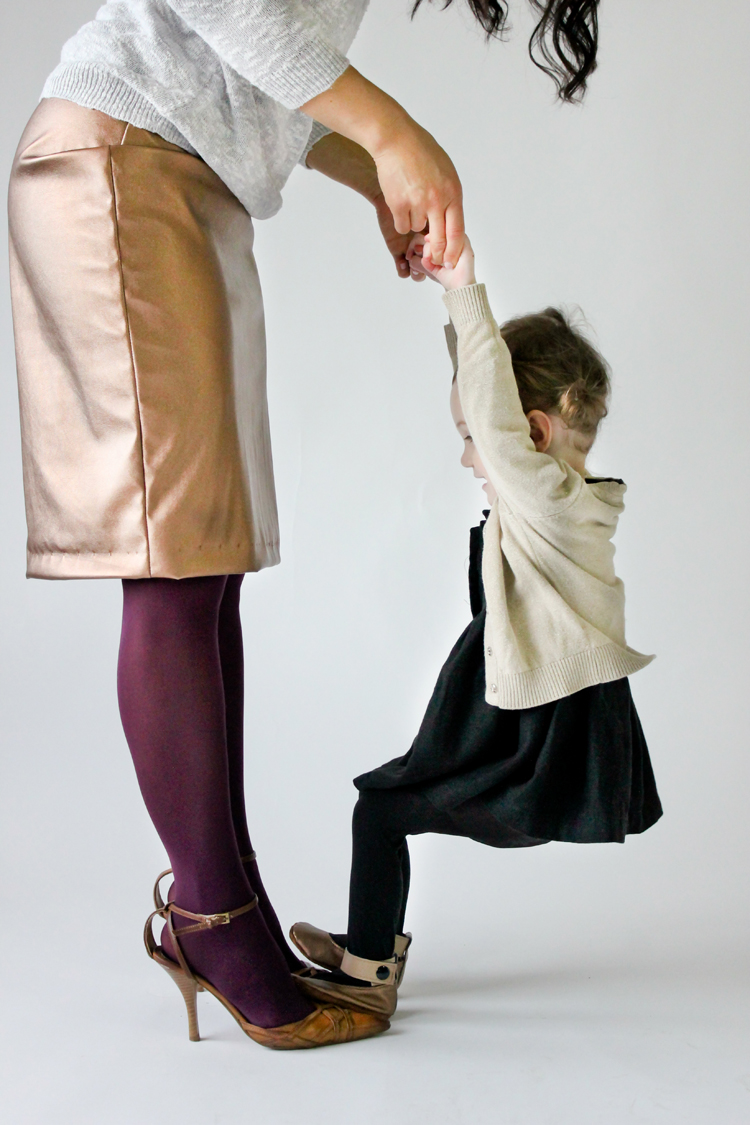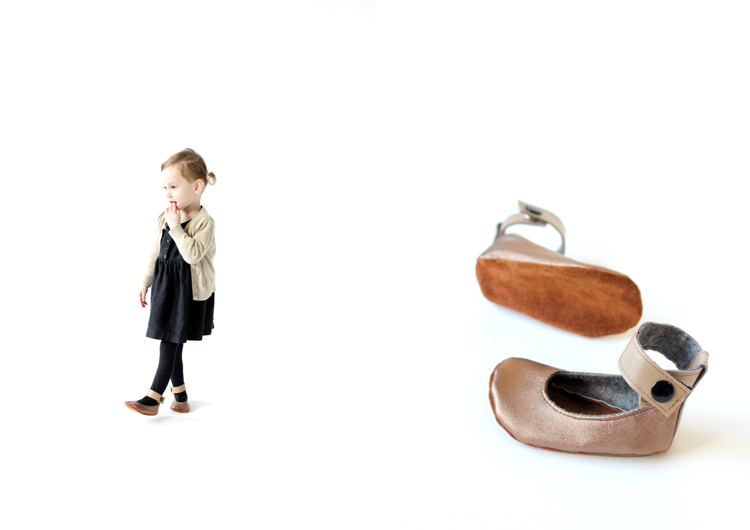 This copper vegan leather is from Girl Charlee and it is deeeelicious. So pretty .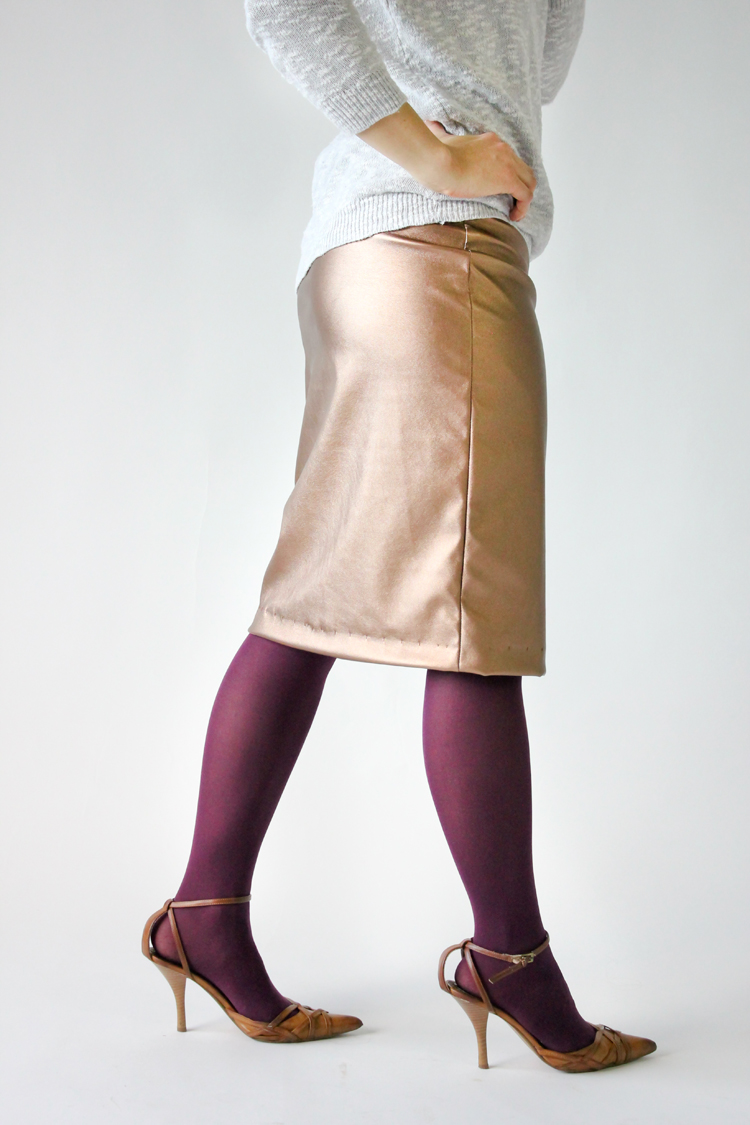 Oh yeah…Did you know Girl Charlee carries vegan leather now! (and I'm giving some away…see the bottom of the post!)
It's stretchy too! They have different weights and different colors. I think their metallics take the cake though.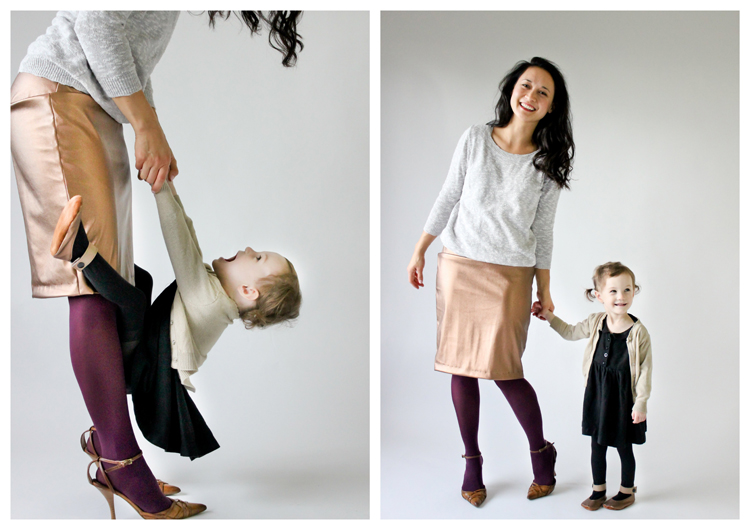 I sewed up my Pleated Pencil Skirt Pattern and my Natty Janes Baby Shoe Pattern up in the Metallic Copper Matte.
It's one of their thicker vegan leathers/pleathers, so it holds up well enough to be a baby shoe upper. It is not as thick as vinyl though. I would compare it to suede almost? It's a stretchy pleather. Like a cross between vinyl and suede maybe.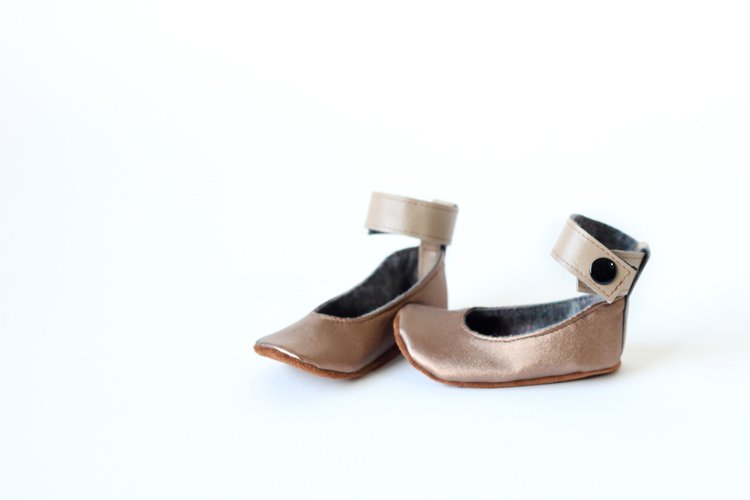 Because it is more pliable than leather and vinyl, I lined it with a felt backed costume vinyl. It worked really well at adding enough body and firmness for the shoe. I really could have done the same for the straps, but I liked how this tan colored vinyl (from my stash) looked with the copper and genuine leather brown sole.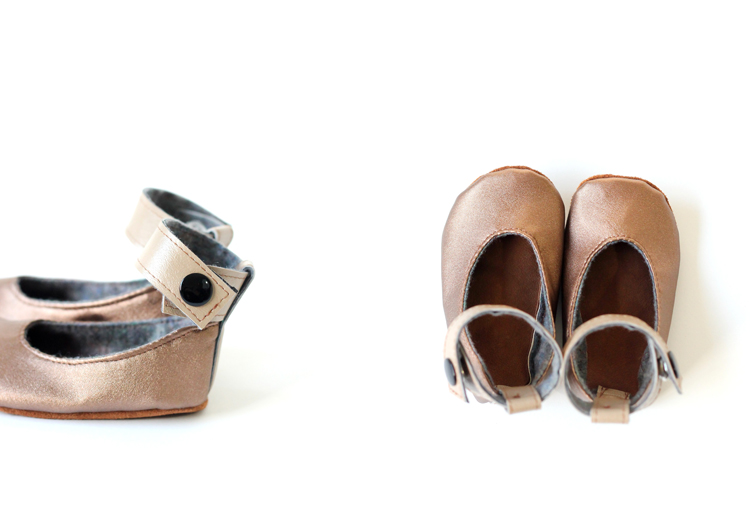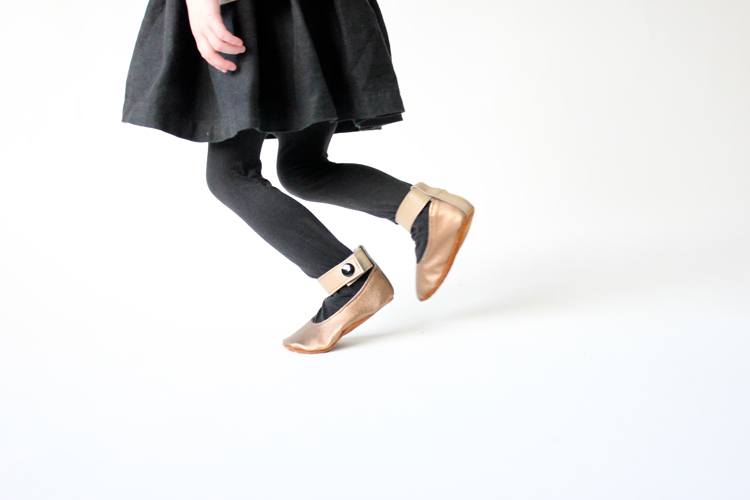 I sewed up the size 5, which Natalie just barely still fits into! Luckily the flexible sole helps the fit of the shoes last a little longer.
My Natalie Jane in her Natty Janes. It never gets old. 🙂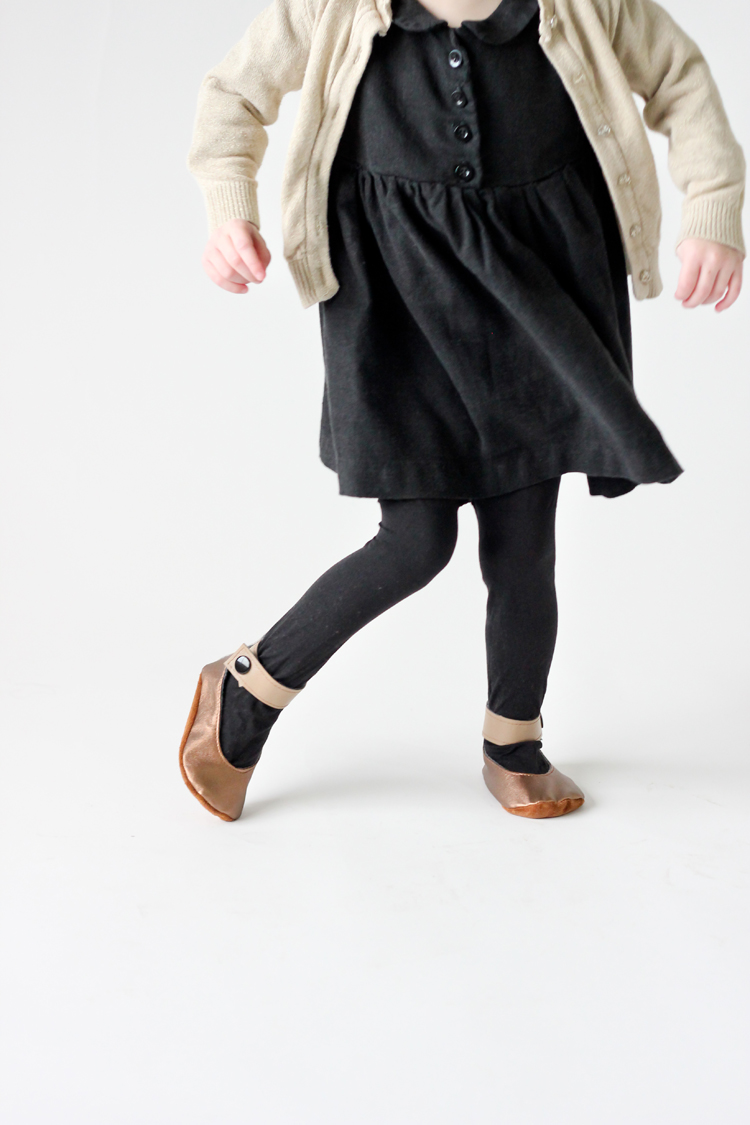 The only change I made to the pattern was to widen the ankle strap. I also had to add some height to the back  tab to accommodate the thicker strap.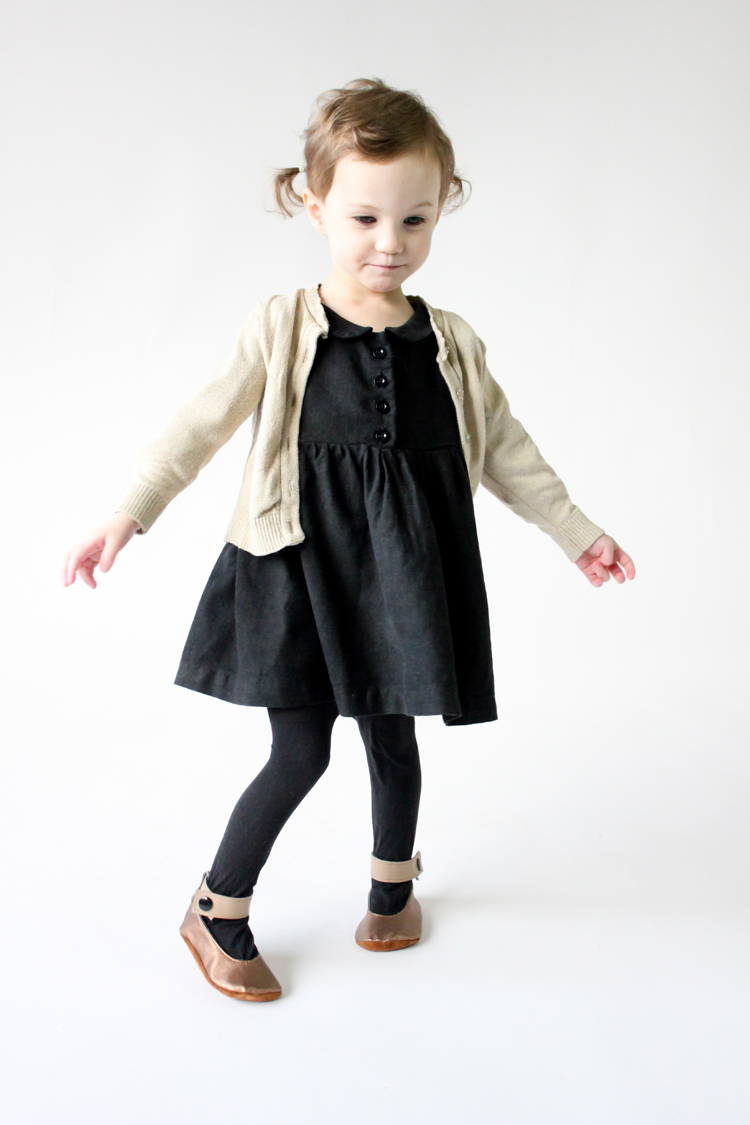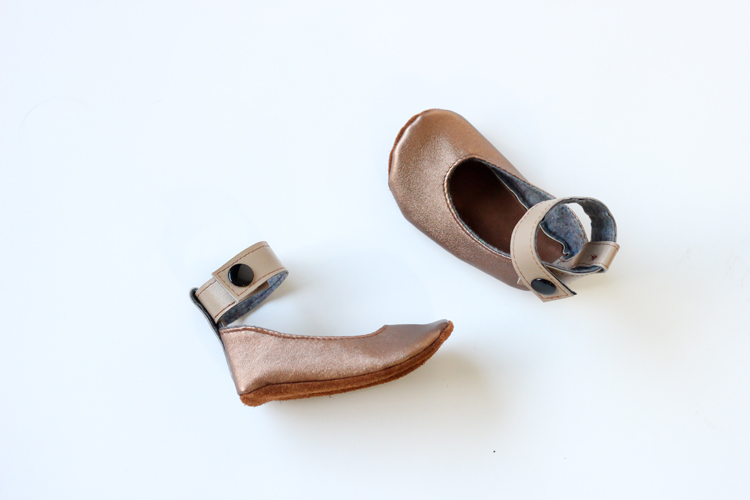 As for my pencil skirt, I waffled back and forth between whether I should sew the pattern up as is, with a zipper, or if there was enough stretch in the fabric for me to sew up the knit pencil skirt version.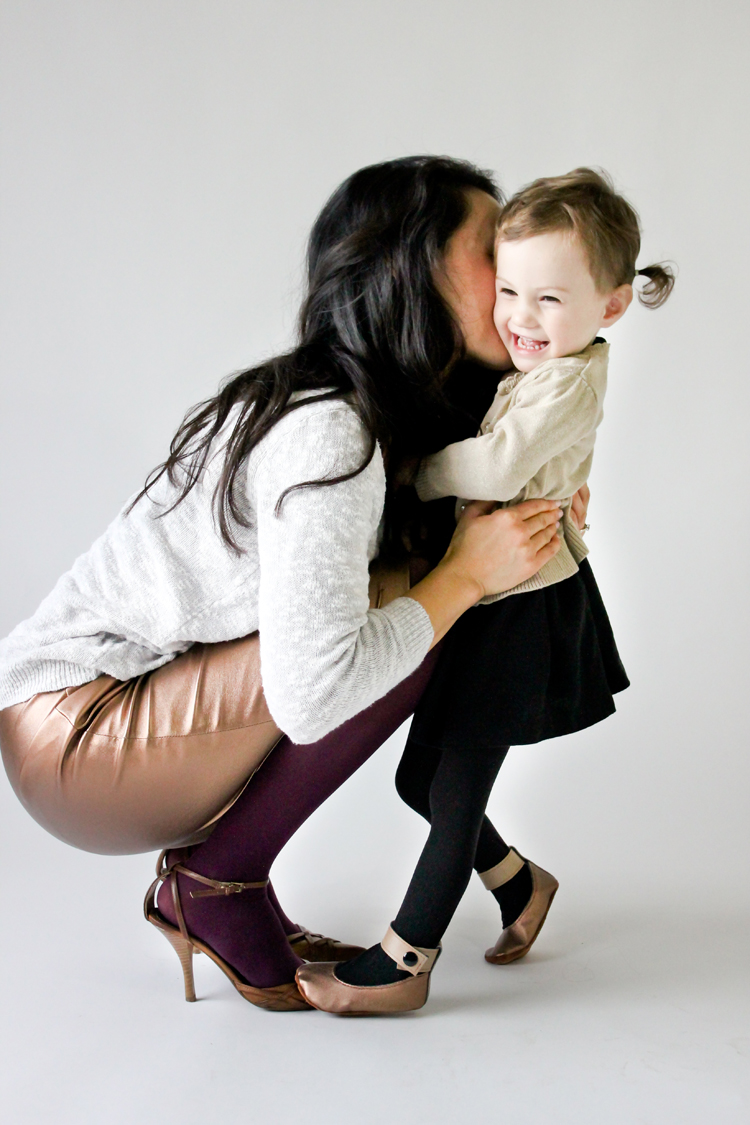 I finally decided on the knit pencil version, since I knew the fabric wouldn't pleat very well in the back. It also has just enough stretch for the knit pencil to work.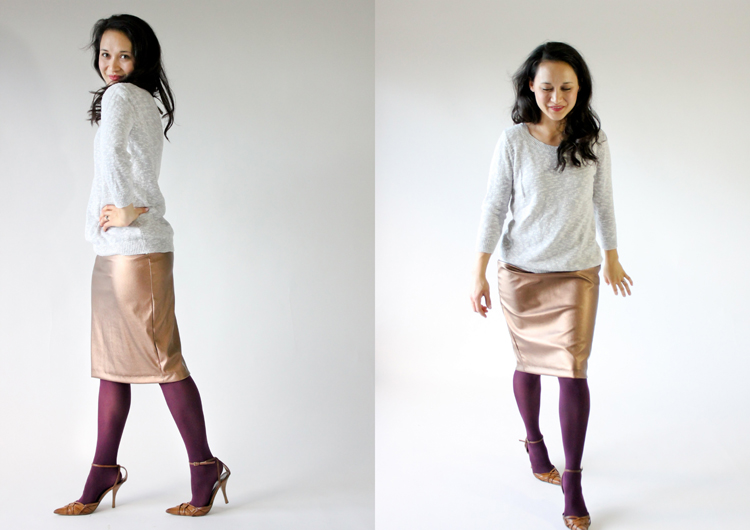 Even though it has stretch, it also has good recovery (it snaps back to shape really easily after being stretched).  I knew I needed to avoid making the skirt too tight, so I could walk comfortably.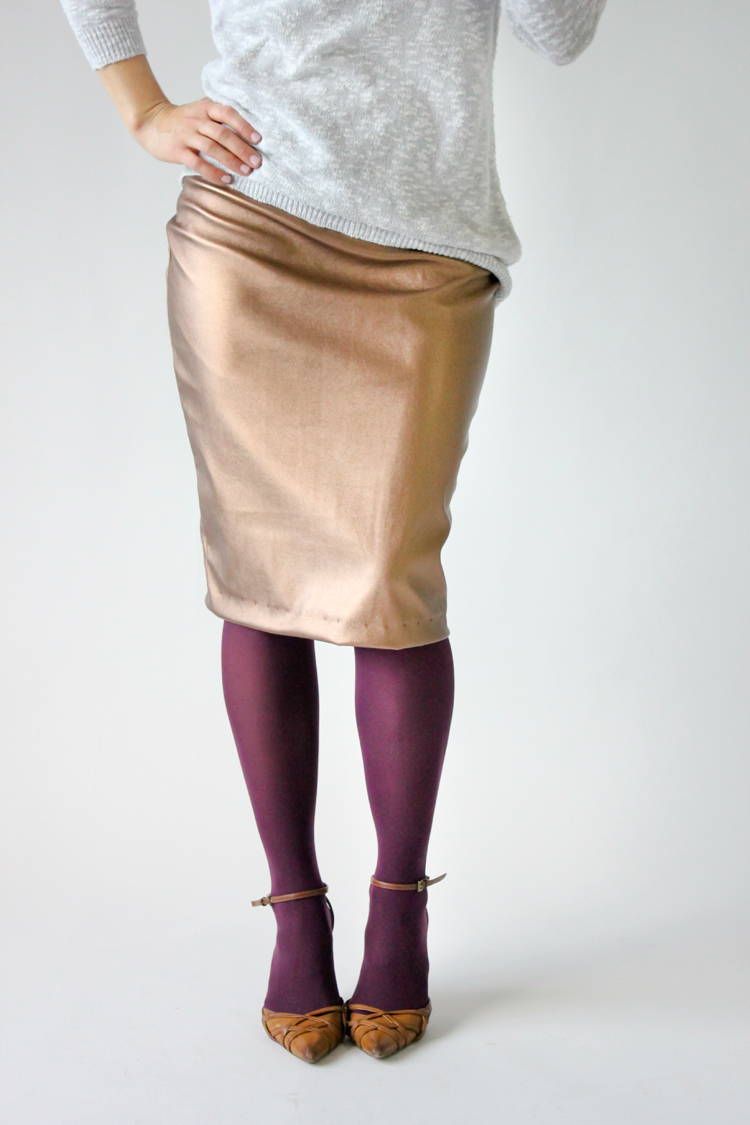 I ended up following the knit pencil remix tutorial but omitted slimming down the pattern. Instead, I cut two front pieces as is, and just tapered in the waist about 1/2 an inch. For the hem, I decided to sew an invisible zig zag stitch on my machine for a clean, but still stretchy finish (on my machine, it's the stitch right next to the regular invisible stitch, but it zig zags instead  of straight stitching). I had to use a press cloth and a warm iron, to help flatten the hem out. I almost wonder if a smaller hem, sewn with a double needle would be just as good.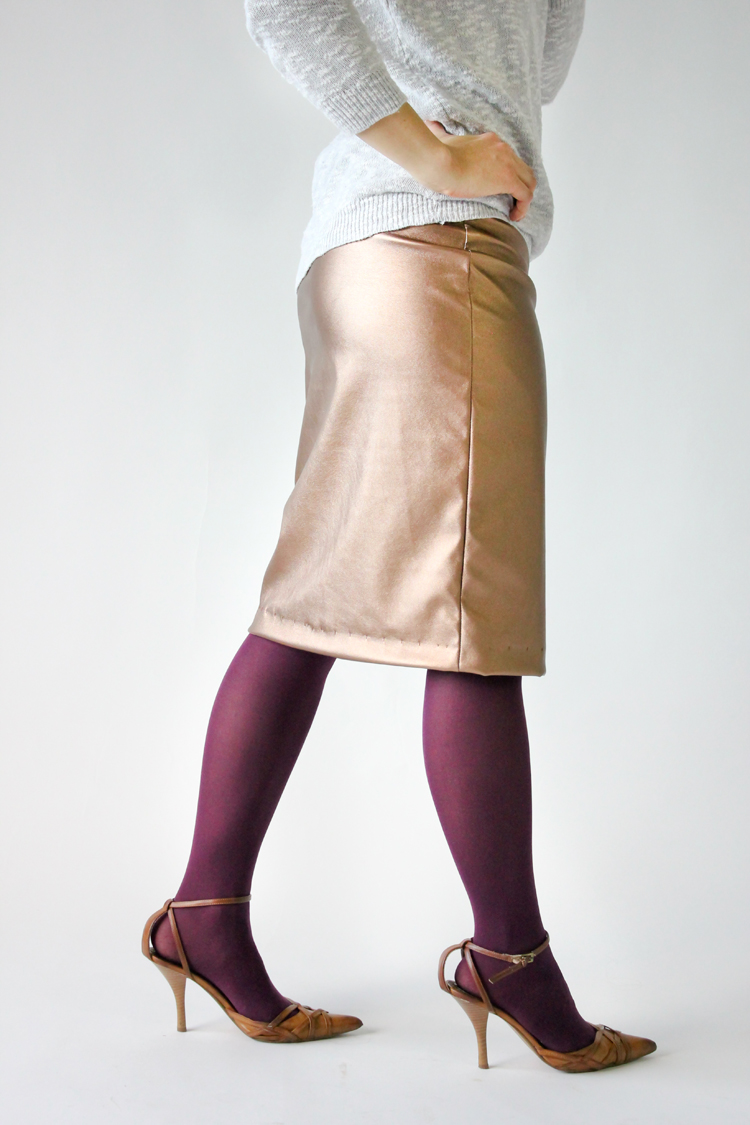 My next challenge was figuring out how to style it. I don't really have any fancy places to wear my skirt, so I didn't want to look over the top.
I decided on a casual, neutral sweater, and some jewel toned tights. The perfect balance between holiday fancy, and something I can still wear to church.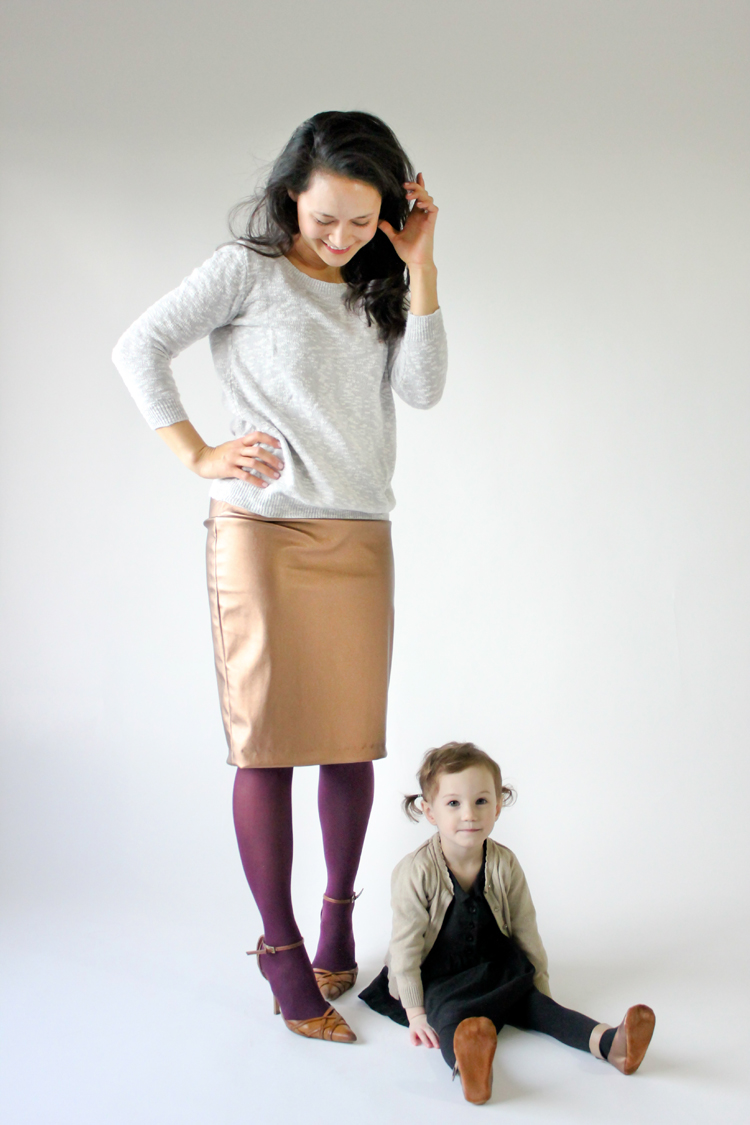 I am sure a denim shirt and some boots will work their way into the mix sometime too.
Natalie's shoes, on the other hand, go with with like…everything. 🙂 She has already worn them a bunch and I just finished sewing them last week!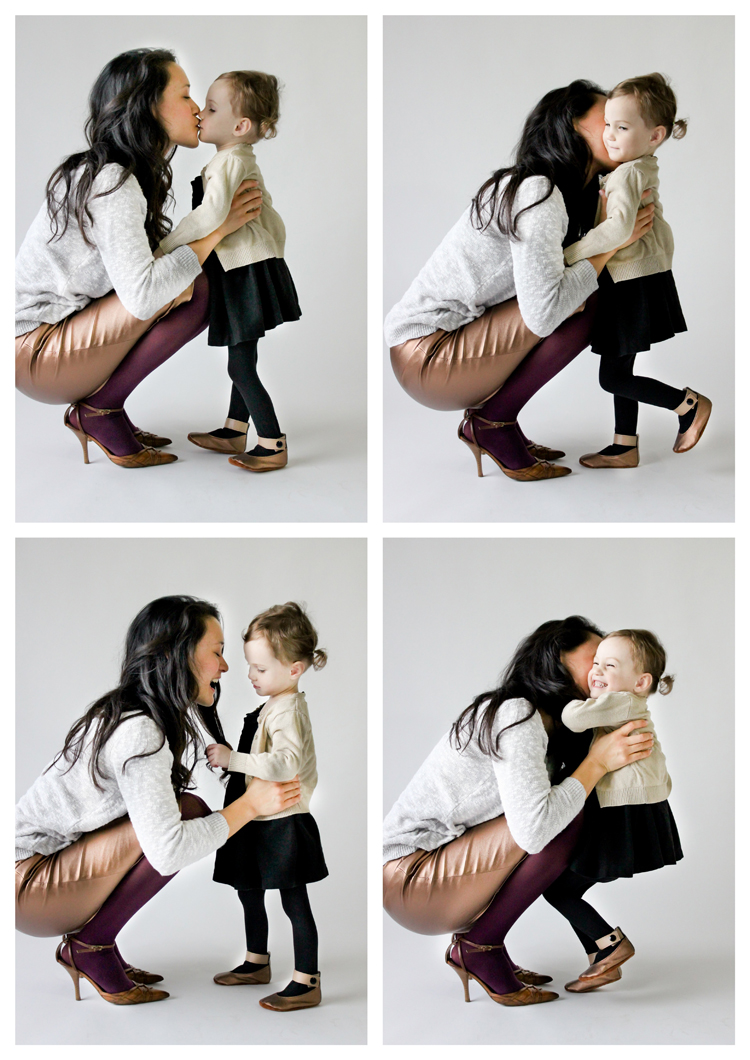 Alright…enough sewing chit chat! Let's have a giveaway!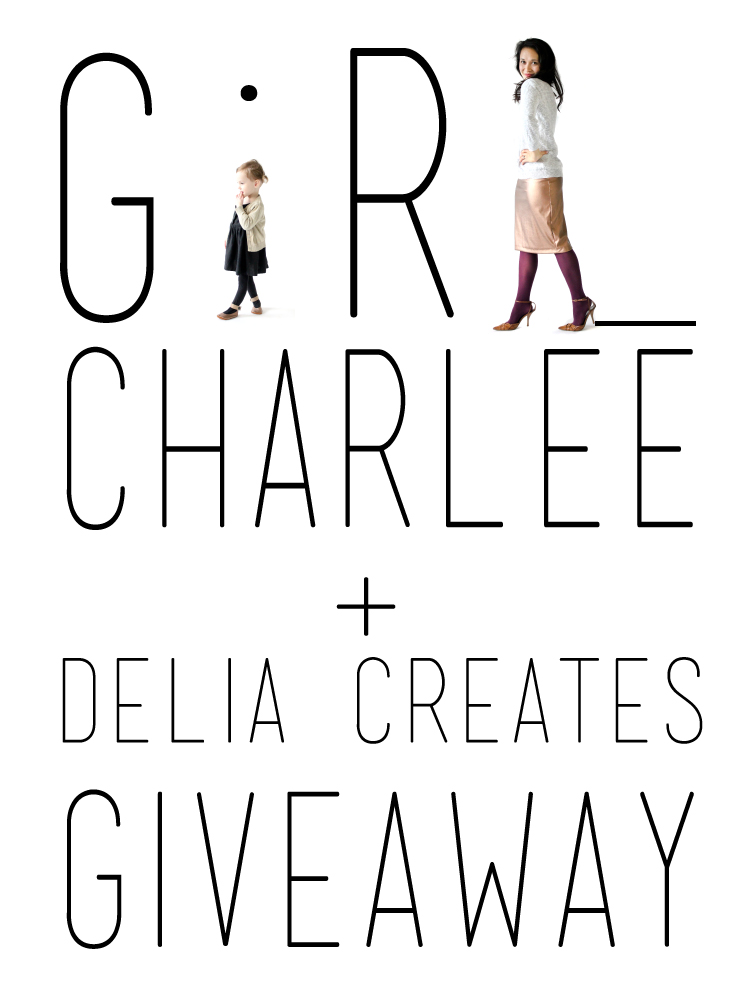 Girl Charlee is giving away two $20 gift certificates to their site! You can grab some of their new vegan leather, or check out their knits, their twills! (that's new too), their gorgeous specialty wovens…anything you want!
To add to the giveaway fun, I am also giving away two copies of each of my sewing patterns.
So, TWO winners will each win a prize package which includes:
A $20 gift certificate to Girl Charlee, a copy of the Pleated Pencil Skirt Pattern, AND a copy of the Natty Janes Pattern! ($48 value!)
If you already own my patterns, they would make a great holiday gift….just sayin' ;).
Enter in the rafflecopter widget below. It's open to everyone! Yippeee!
a Rafflecopter giveaway

Good luck!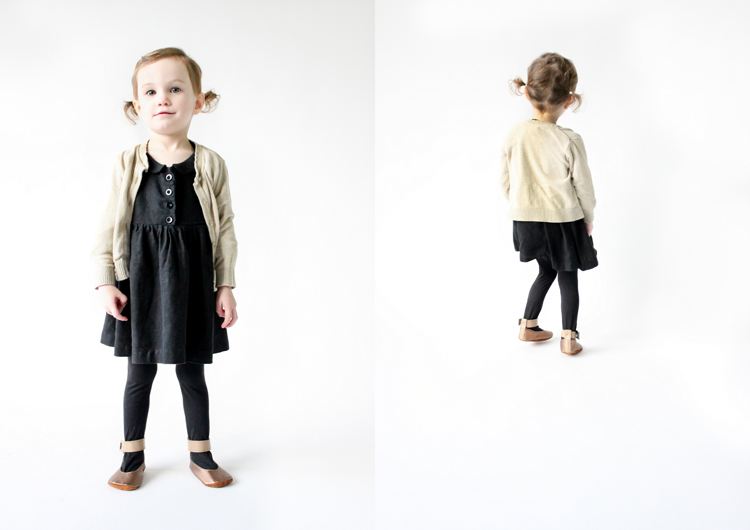 Sources: Vegan Leather is from Girl Charlee (of course!) || Black snaps on the Natty Janes are from Jo-Ann || Leather for the sole is from my upcycled leather stash || Girl's dress in black was sewn using the Five and Ten Designs Dress e-book || Girl's gold cardigan is from Walmart last year || Women's gray sweater is from Old Navy || Women's shoes are from Head Over Heels five years ago || Plum tights are from Kohl's
Disclaimer: This post was partially sponsored by Girl Charlee, but I honestly and truly love their fabric! 🙂