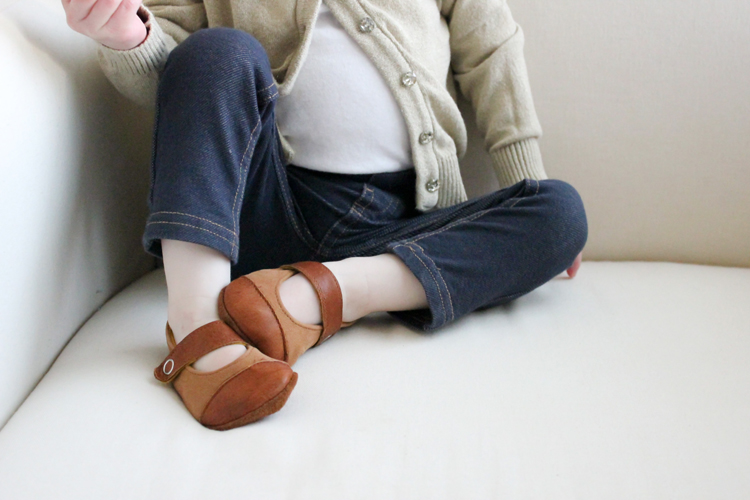 Hooray! My leather baby shoe pattern is HERE!!!
UPDATE: The NEW and improved Natty Jane Pattern is available HERE. This original version is no longer available.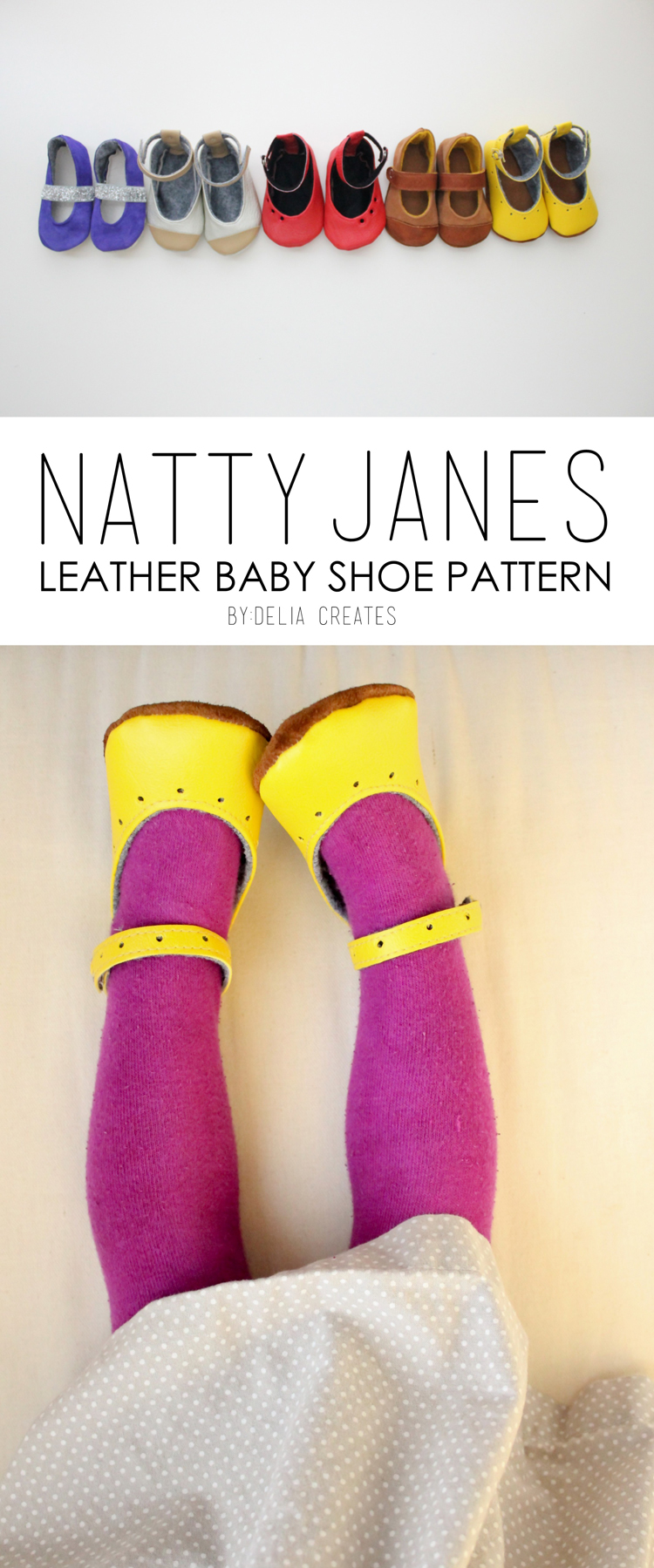 Baby girl feet everywhere rejoice! 🙂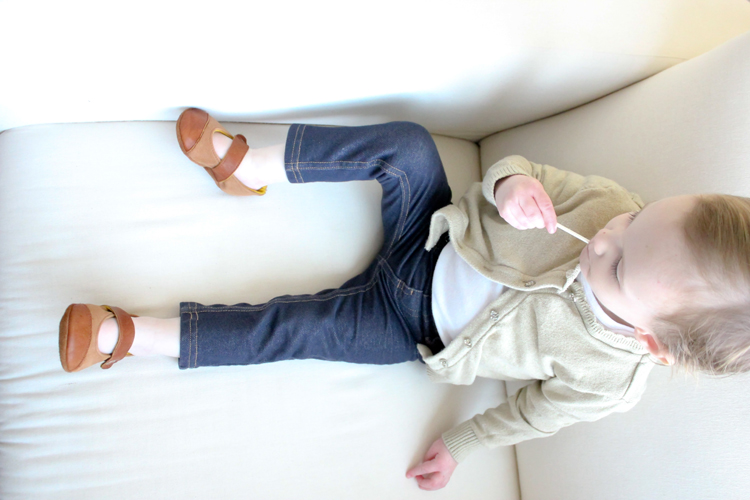 The history behind this baby shoe pattern dates back to one of my first solo sewing projects. I sewed a basic fabric crib shoe and, just like that, I was hooked on sewing. Baby shoes are still one of my favorite things to sew, because they require very little material, not much time, yet produce something useful and super adorable.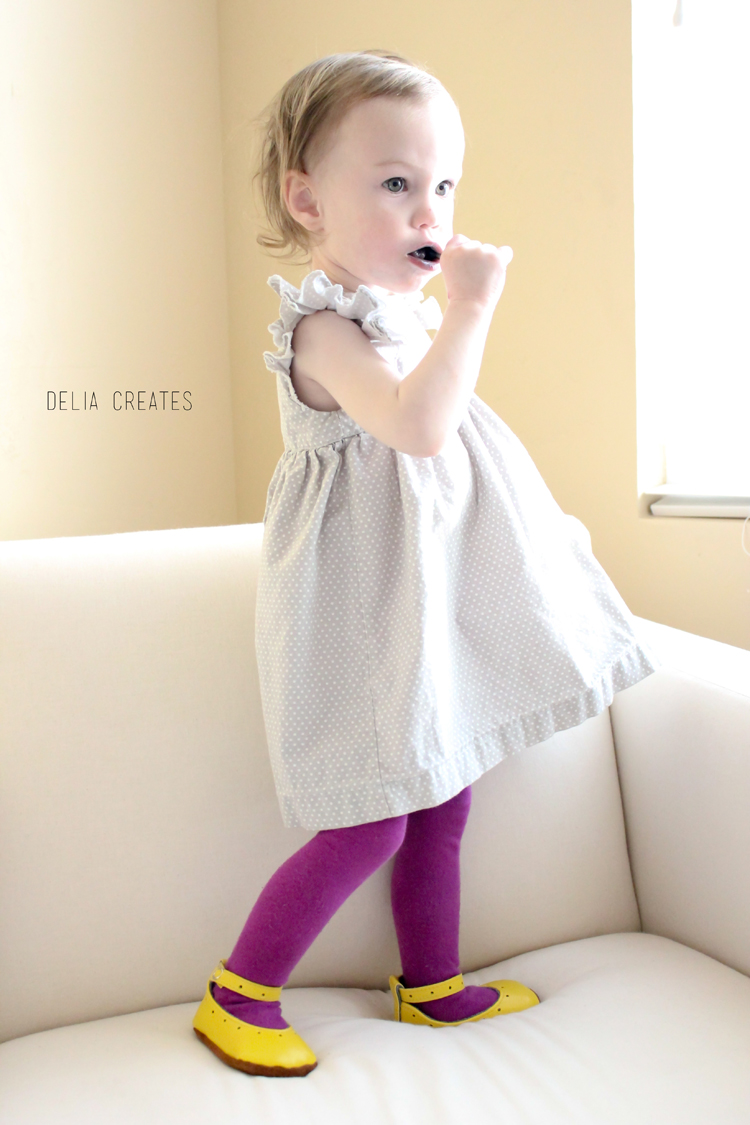 The few pairs I sewed up for Project Run & Play actually got the ball rolling for this pattern. It feels great to finally realize this dream a year later!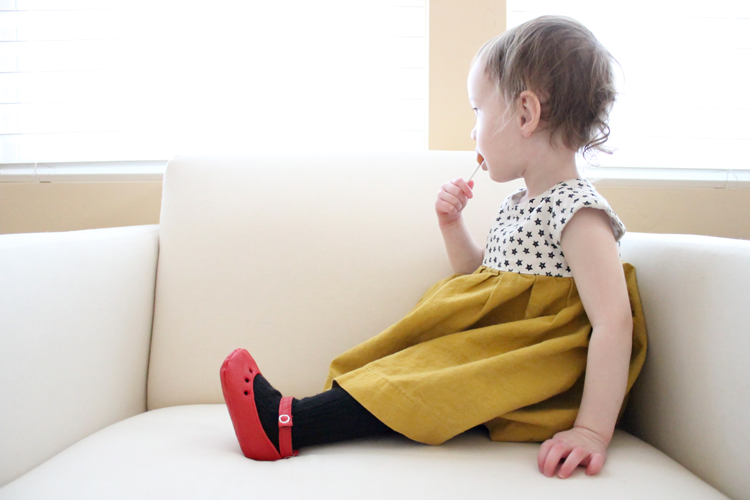 My real inspiration and the pattern's name sake is, of course, my daughter, Natalie Jane, who we affectionately call Nat or Natty.
Natty, also means fashionable or dapper. Which, I think suits this pattern quite well, imo. 😉
Finding it hard to shop for shoes for Nat's very petite toddler feet, I started sewing them instead, tweaking patterns, and finally creating my own pattern.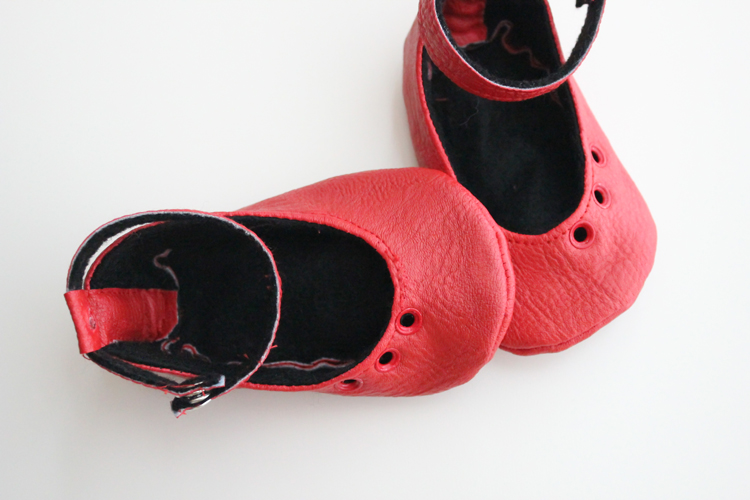 My goal in creating the Natty Janes Baby Shoe Pattern, is to give you a pattern that produces a professional looking, soft soled shoe that is durable, comfortable, and as cute or cuter than what you can find in stores. I want you to feel proud to give these shoes as a gift, or when your favorite little lady wears them.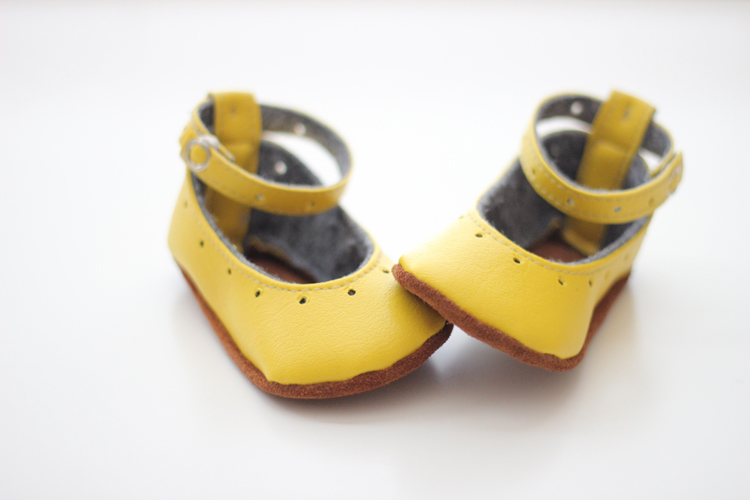 As a bonus, these shoes are also really affordable.
At $8 for the pattern, you can make a whole collection of shoes for less than you can buy at the store!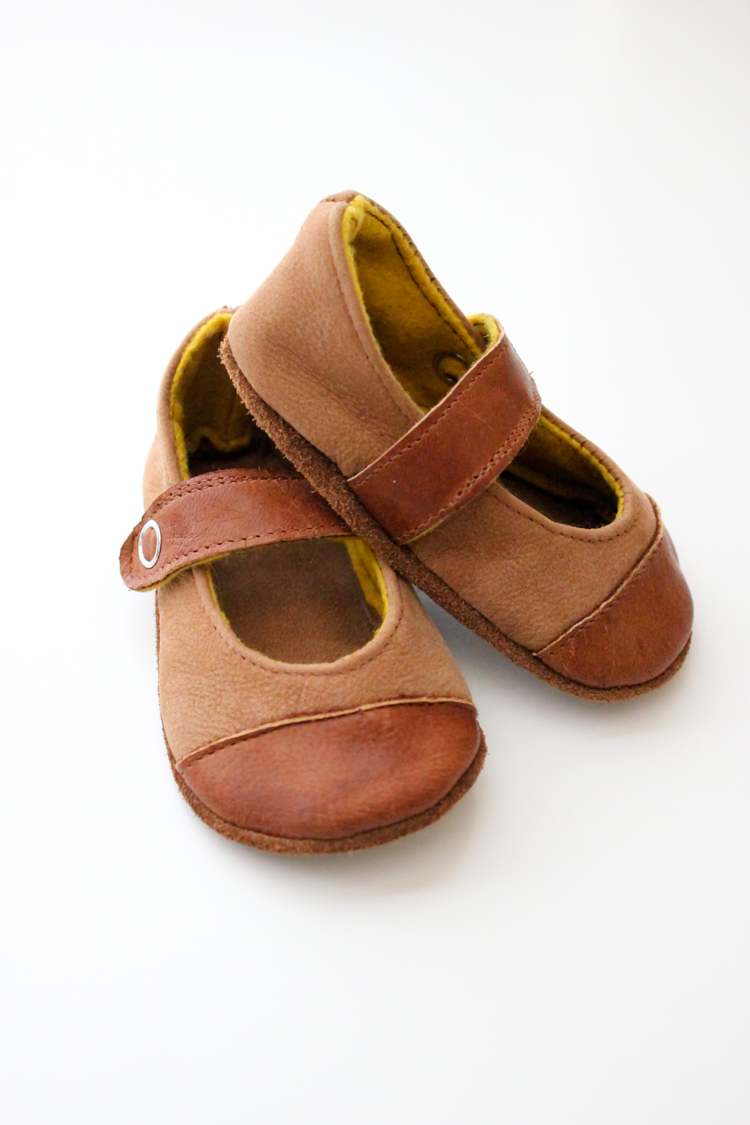 Whether you prefer soft leather shoes for your baby, or you don't like the selection available in stores, this is the pattern for you.
Got a baby shower coming up? These shoes are the perfect go to gift!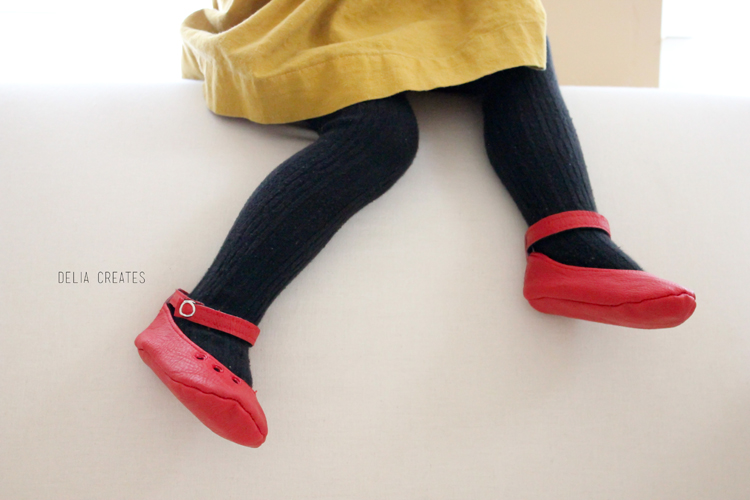 Let's talk pattern details, shall we?
-This is a  a 30 page PDF pattern, which you can purchase through Paypal by clicking here:
After payment is processed, you will automatically receive an email from E-junkie with a link in it  (check the email address associated with your PayPal account ). Click on that link and download the file. Please note that you have up to five attempts before the link expires.
STYLES
This pattern offers two styles, and a total of eight different variations.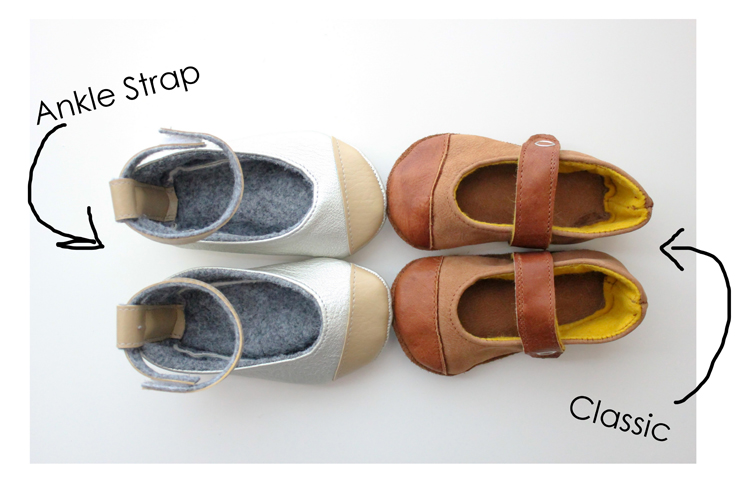 1. Ankle Strap Natty Janes
2. Classic Natty Janes
Each style offers Velcro or Snap closure options, and an optional contrasting toe cap detail.
PRINTING
Because the shoes are so small, printing is minimal. You only need to print 1-2 pattern pages depending on the size you choose to sew, with a total of six pages for the all sizes, and there is no pattern piecing! Woohoo!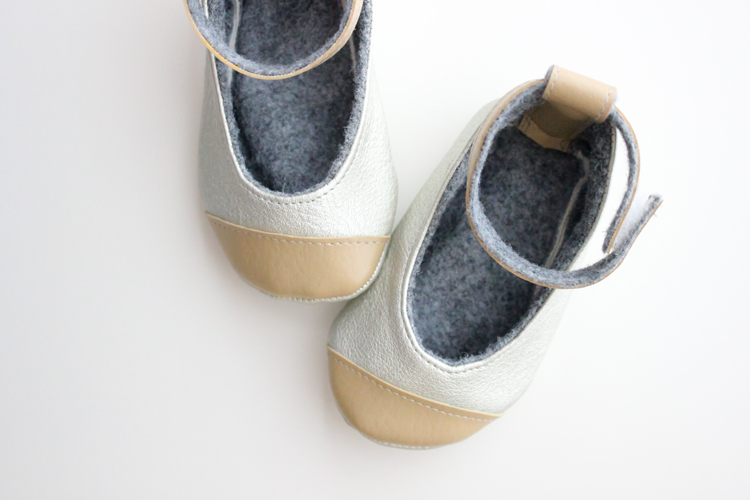 The pattern pieces are sized so that it will print correctly on both U.S. letter paper and A4 paper. However, always check to make sure it printed correctly by measuring the 1 inch test square on each page.
SIZING
| | | |
| --- | --- | --- |
| SIZE | FOOT LENGTH | *SIZE BY AGE |
| 1 |  3.5-3.75″ | 0-3 mo. |
| 2 |  4 " | 3-6 mo. |
| 3 |  4.5″ | 6-9 mo. |
| 4 | 5″ | 12 mo. |
| 5 | 5 1/2″ | 18 mo. |
The shoes are listed in commercial shoes sizes. I have included a commercial standard recommended age for each size for those who want to give these shoes as gifts. This is not, however, the most ideal way to determine shoe size. For example, my 20 month old daughter wears a size 3 or 6-9 month shoe. If at all possible, measure the recipient's foot length from toe to heel.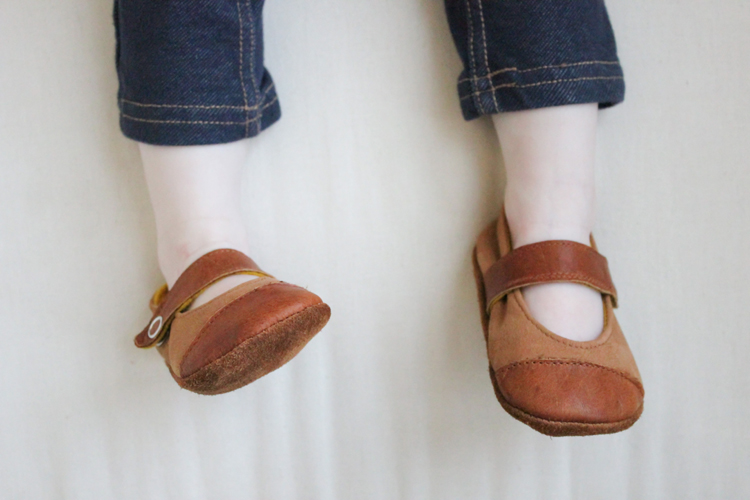 Materials
Leather, pleather, vinyl, and felt. There are no grain lines to worry about, or fraying. High five! 🙂
You also need a leather needle and all-purpose thread (regular thread).
*Everything is also sewn on a regular sewing machine!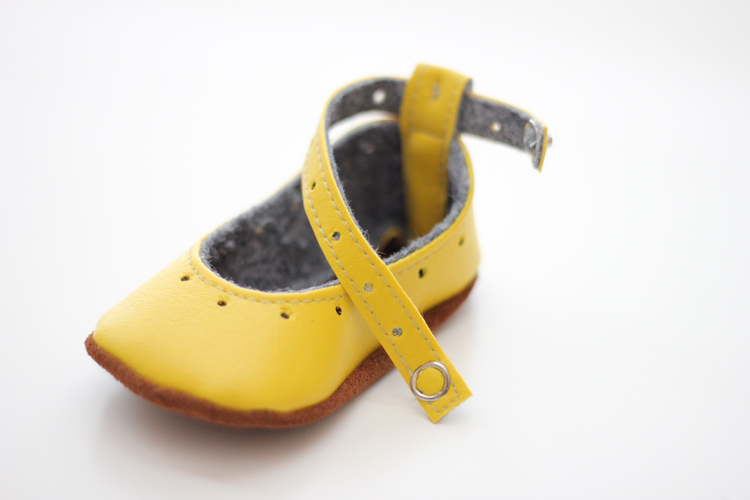 Not sure where to get leather and pleather? Hit up your thrift shop to seek out recycled leather from old purses and jackets. I also have an awesome leather hide giveaway coming up for you next week!!! Stay tuned for that.

SKILL LEVEL
Advanced Beginner to Intermediate
Don't let the small size of this project fool you. This pattern requires you to work with finicky materials such as leather, to use small seam allowances, and to sew some difficult curves. It takes patience and careful sewing, but the end result is well worth it.
If you are a beginner and still feel up to tackling this pattern, I suggest you sew at least one practice pair with just felt, if not more. This will help you get the feel for how to sew the shoes, without the fussiness of having to sew with leather quite yet. With a lot of patience, a willing attitude, and the right supplies (i.e. clamps or clips and a leather needle – you can read more about it in the pattern) you can certainly conquer a pattern like this as a beginner.
Time Investment
Depending on the material you choose and how many baby shoes you have made before, this project can take anywhere from under an hour to over three hours. But, don't rush! You want to take your time with the details, in order to get a truly beautiful pair of shoes. 🙂 The more you make the easier and faster it gets.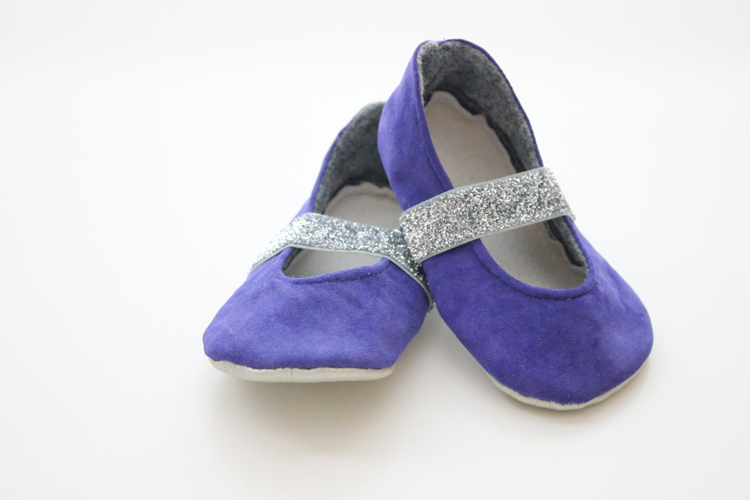 I designed the shoes to have a slight rise in the back as well as some well  placed straps to help keep the shoes on your baby's feet.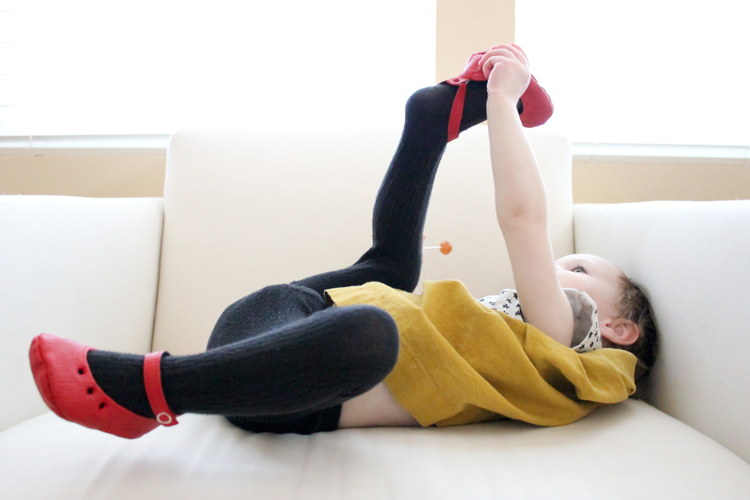 Well…for the most part. 😉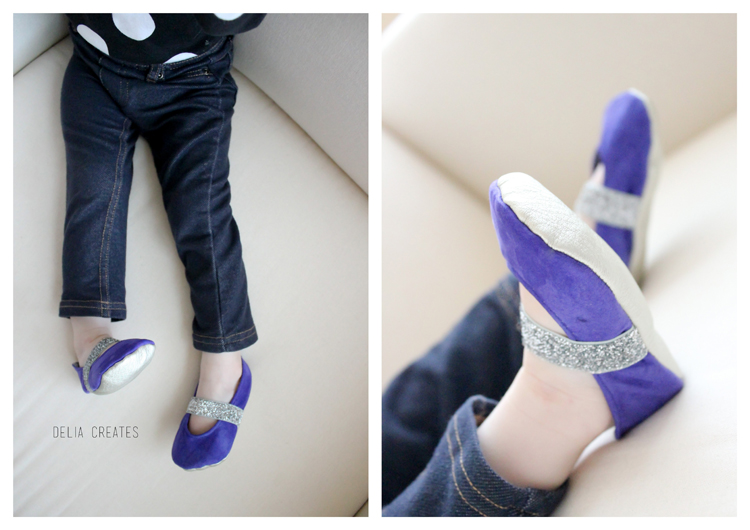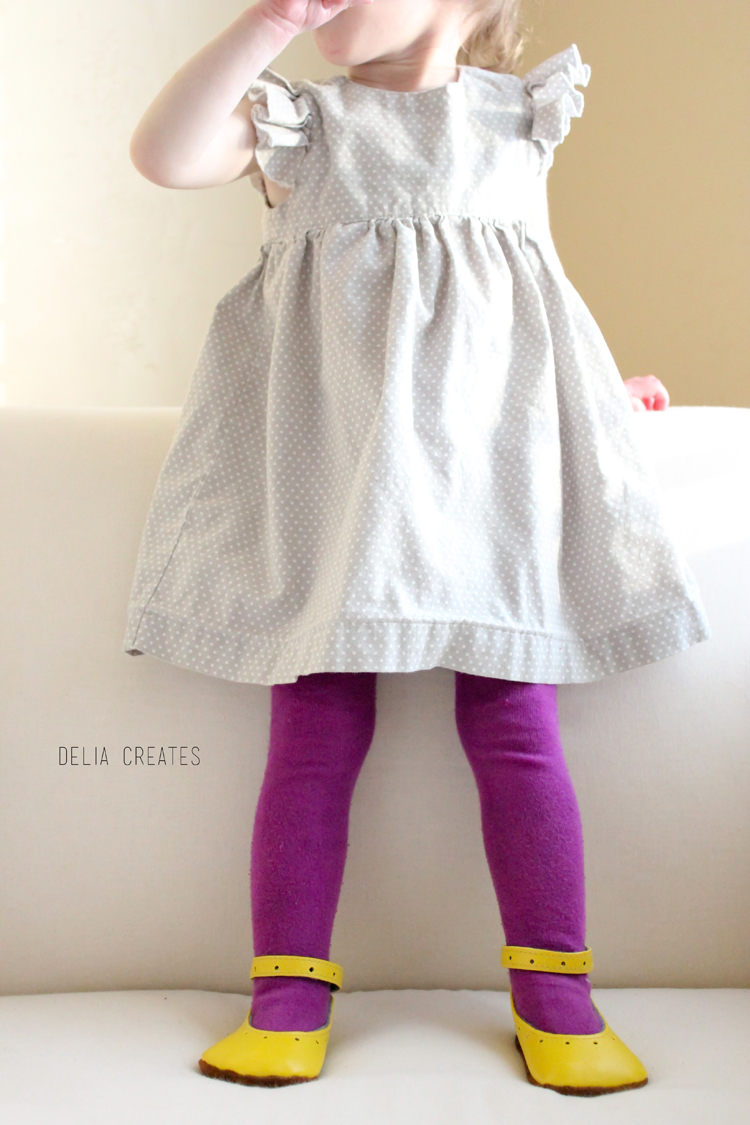 Thank you for allowing me to share my first solo pattern with you!
Have a great weekend!
Sources: The gray flutter sleeve dress and the yellow dress in this post are from Made By Rae's Gernanium Pattern. The gray, long sleeved shift dress is from this post HERE. The purple leather suede is from Michael Levine and the glitter elastic used on the same shoe is from The Ribbon Retreat . The other shoes are made from recycled purse and jacket scraps. The yellow shoe's upper is made from yellow vinyl from Jo-Ann, and the tan accents on the silver ankle strap Natty Janes are made from car upholstery vinyl found in the red tag section in Jo-Ann.