A few weeks ago I was excited to usher in soup season with a healthy take on my favorite chicken soup.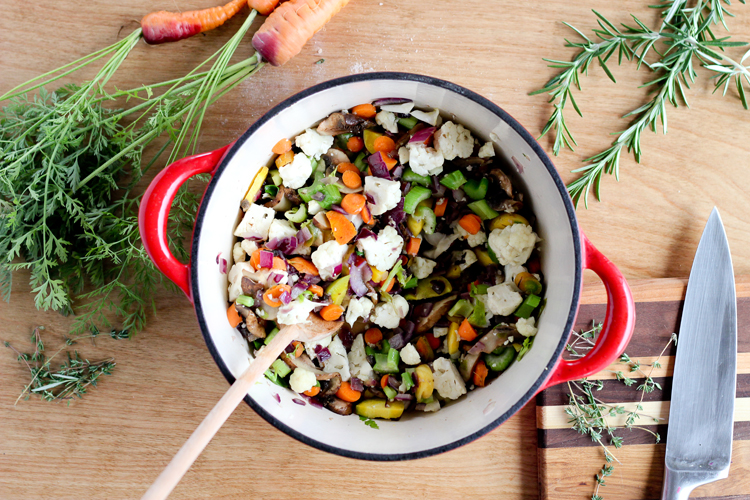 Today, I'm teaming up with Foster Farms again and sharing chicken soup's cousin: Chicken Pot Pie. Because really, chicken pot pie is pretty much chicken stew with a flaky, yummy crust on top. Mmm mmm.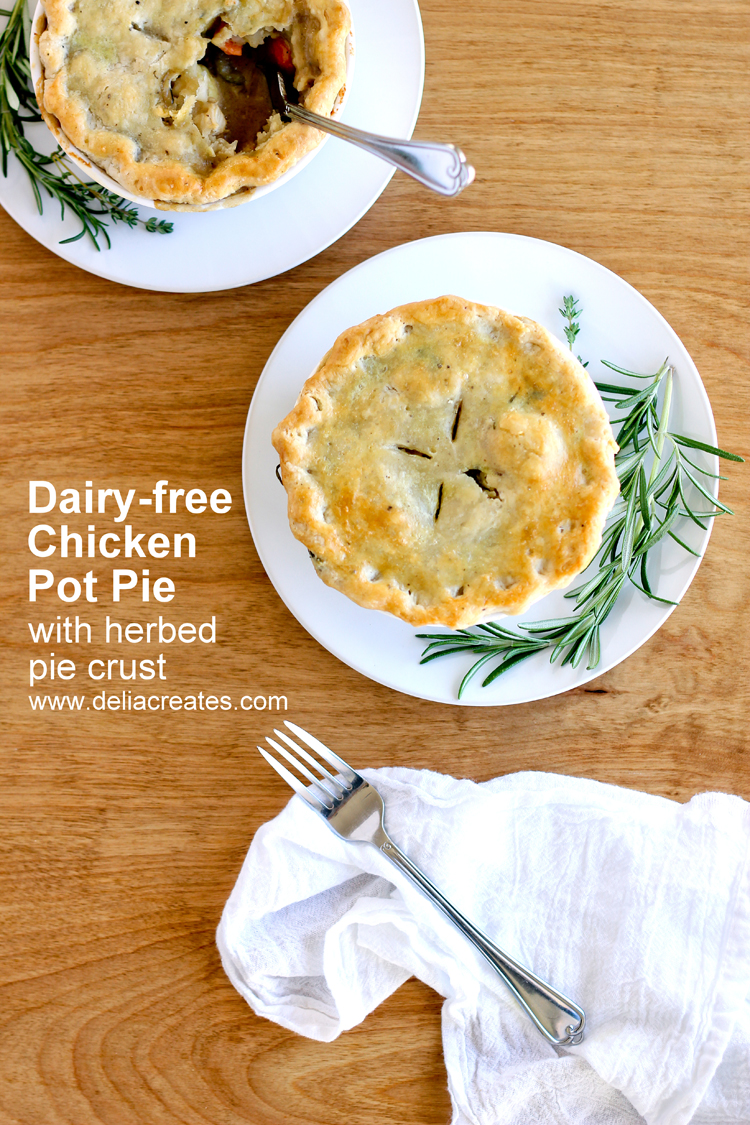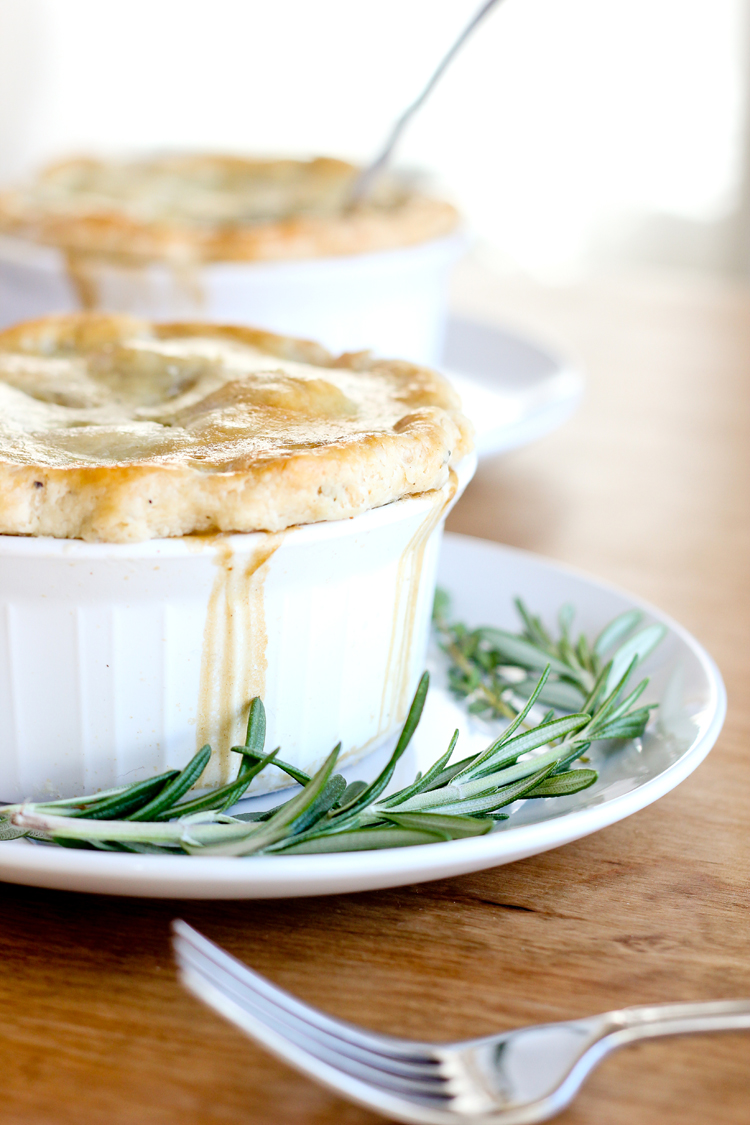 This pot pie recipe skirts the line between healthy, and stick to your bones comfort food. It's chock full of colorful vegetables, and lean, Simply Raised, always antibiotic-free, free range Foster Farm's chicken. You know…the kind of ingredients that you feel good about feeding your family, packaged in a crowd pleasing, tender, flaky crust.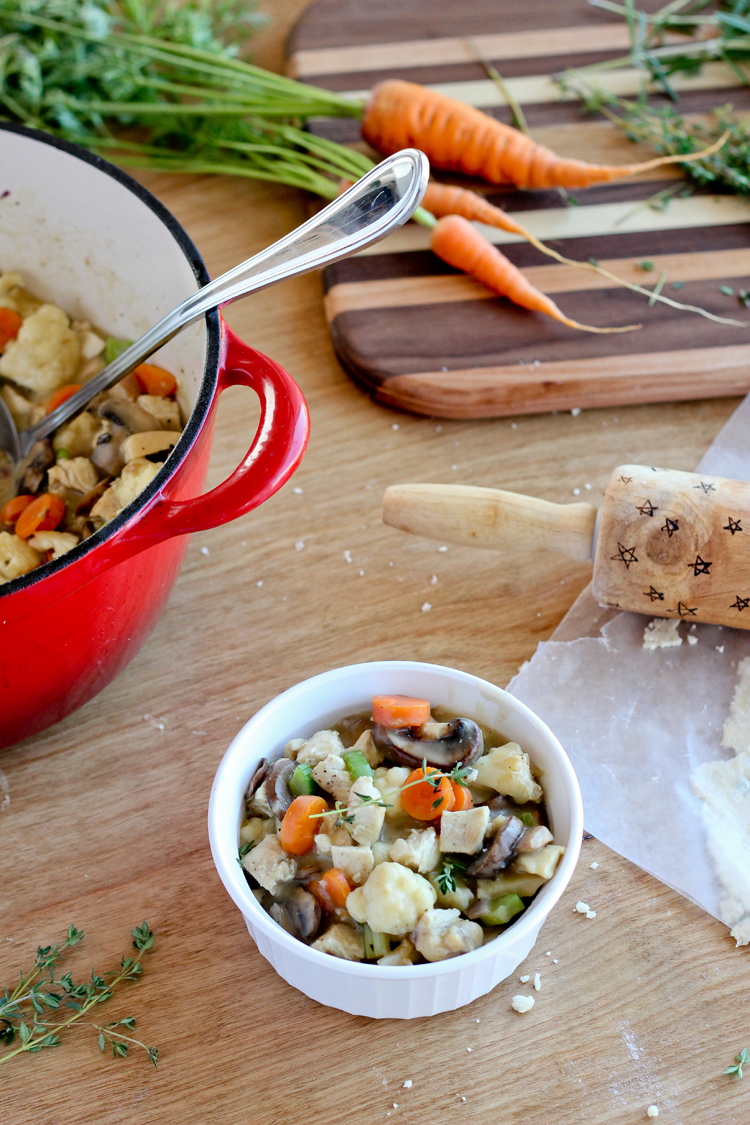 For this recipe, I poached the chicken which makes it: a. easy to cook and fail-free, and b. super juicy and delectable to eat.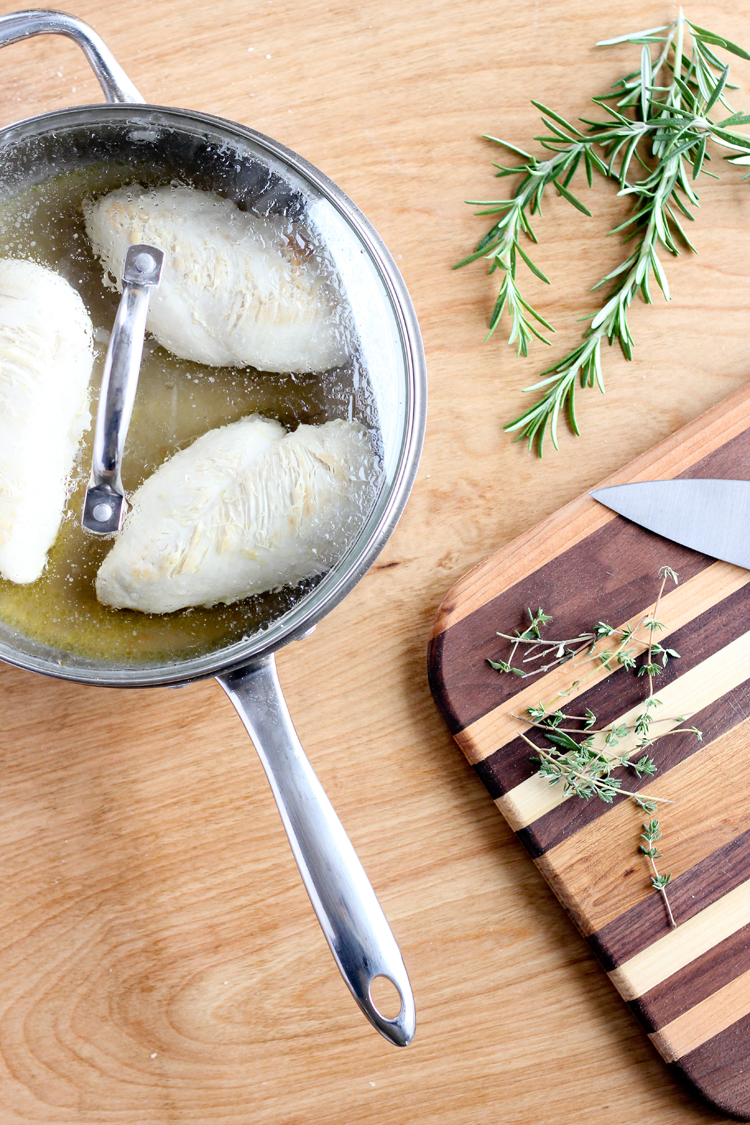 Oh and the crust…oh my…the crust. We have been eating all my crust experiments over the last few days, so we are preeetttty sick of pie crust around here. But this crust, that I finally landed on as THE crust for this recipe, I'm still craving. It uses a mixture of coconut oil and dairy free butter to create an incredibly flaky, delicious crust that has the faintest hint of sweetness from the coconut without adding any sugar. It's gooood…and it's surprisingly easy to make. Really! If you can make cookies, you are more than qualified to make this pie crust. Oh and it doesn't hurt that coconut oil is a healthy oil!
To make things easy, I've organized this recipe into four parts: Poached Chicken, Vegetables + Filling, Crust, Baking the Pot Pies.
Poached Chicken
If you haven't poached chicken before, this might be a game changer for you, like it has been for me. Traditionally, poached chicken is cooked in water. This recipe instead uses the chicken's juices to get it to cook to just the right texture. It makes perfect chicken every single. time. and it takes less than a half hour. Truly.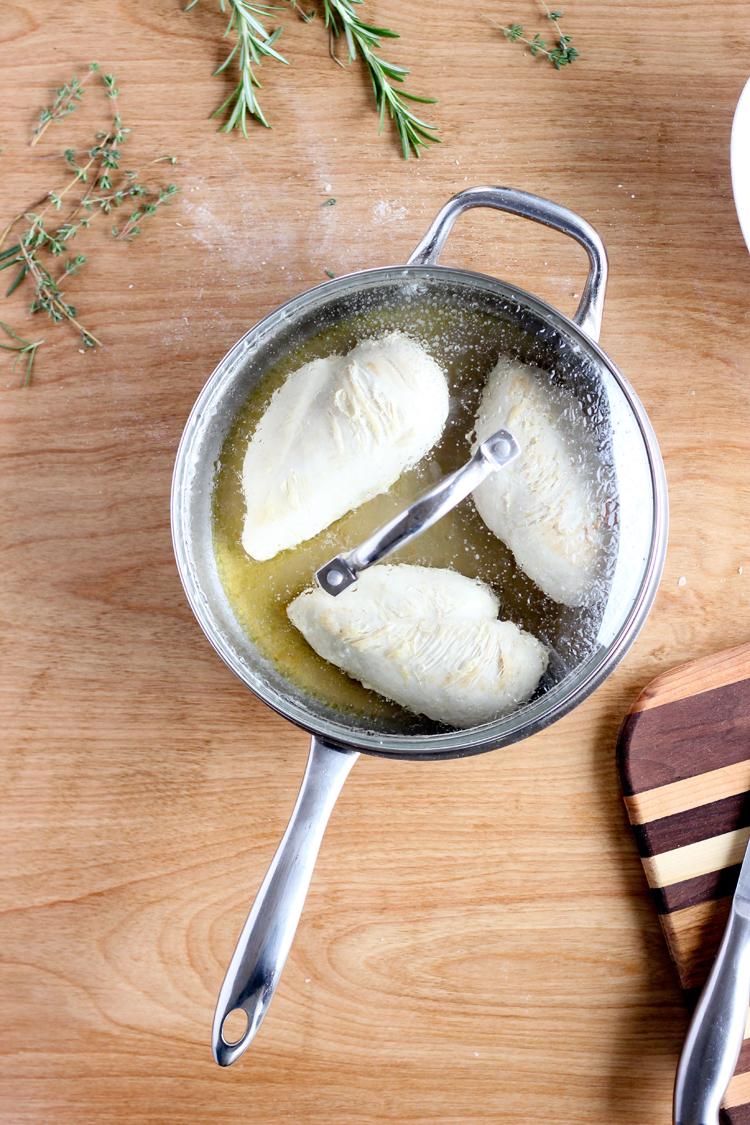 Ingredients:
1-2 tbsp. olive oil
salt and pepper to taste
skillet with a lid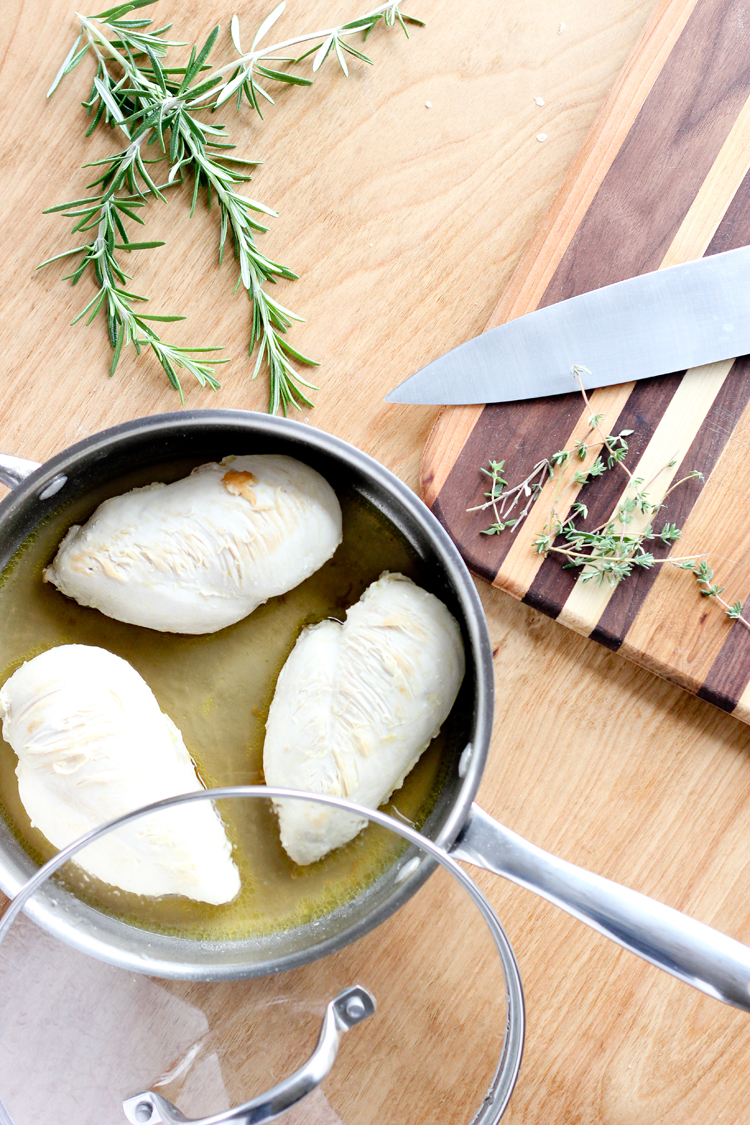 Heat the oil on medium high heat until the oil is shimmering.
Pat chicken dry with paper towels. Sprinkle with salt and pepper and add to the pan.
Turn heat to medium. Cook both sides until light golden brown, about 3-4 minutes each side.
After flipping to the second side and cooking for 3-4 minutes, place lid securely on skillet and turn the heat off. Allow the chicken to continue to cook over the hot (but not active) burner, covered, for about 20 minutes.
Remove from pan and dice in 1/2 inch pieces.
While your chicken is poaching for 20 minutes, get the rest of the filling ready.
Vegetables + Filling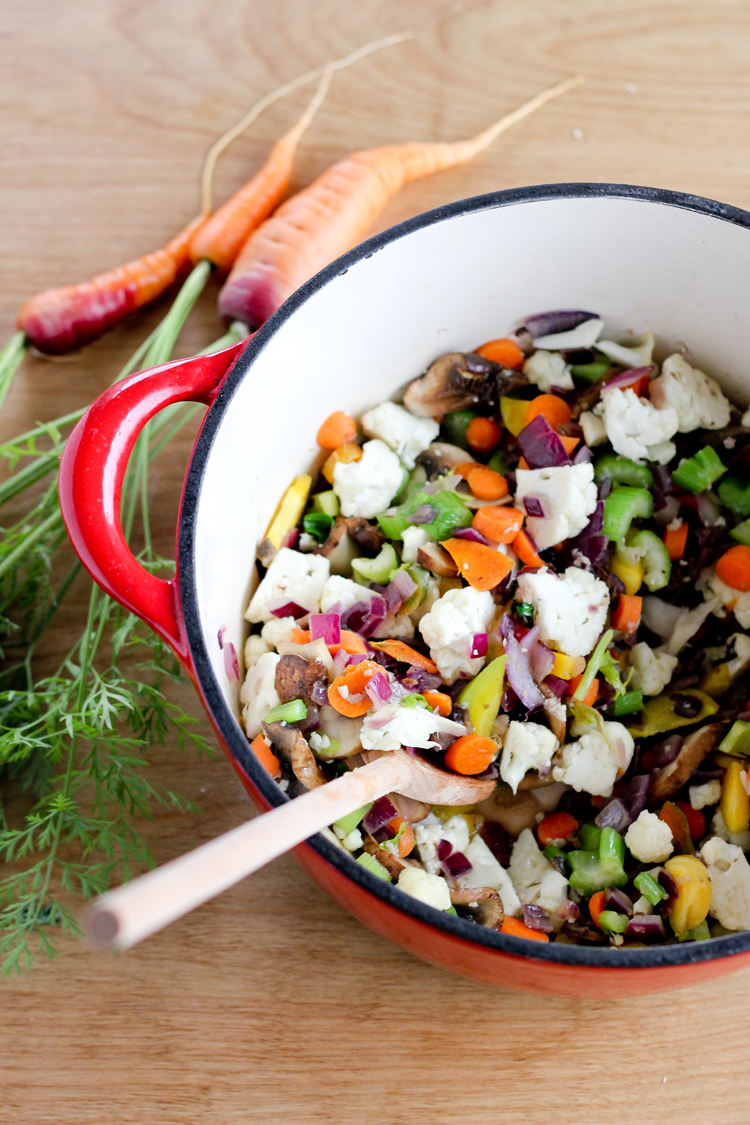 Ingredients:
1-2 tbsp. olive oil
1 large, minced red onion
3 garlic cloves, minced
4-5 cups chopped vegetables (carrots, celery, cauliflower, mushrooms)
1/2 cup dairy free butter (we use Earth Balance)
1/2 cup all-purpose flour
3 cups chicken broth
Salt and pepper to taste
Optional: sprigs of fresh rosemary and thyme to taste
salt and pepper to taste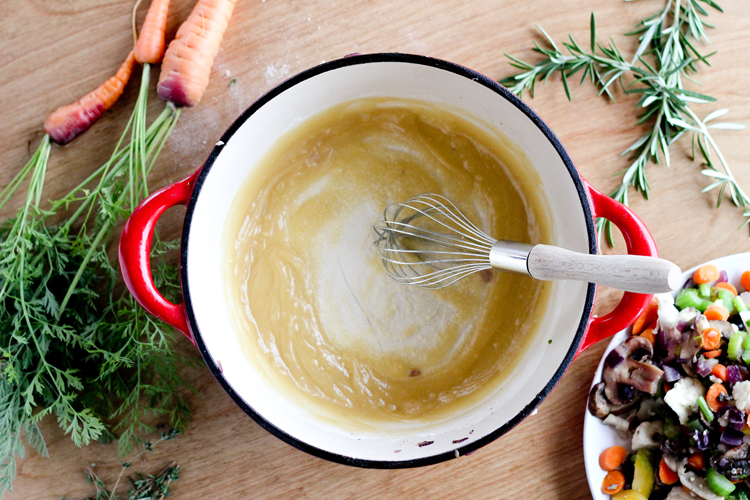 Heat olive oil in a dutch oven or large pot over medium high heat. When oil is shimmering, add onion and cook until translucent (4-5 minutes). Turn heat down to medium.
Add garlic and stir for another minute or so.
Add remaining vegetables and cover with a lid for about five minutes or until vegetables start to soften. Alternative: If using mushrooms, I like to add them just after the onions so they can cook a little longer.
Remove vegetables from pot and set aside.
Melt dairy free butter in now empty pot. Whisk in flour and cook for 30-60 seconds or until mixture thickens and starts to bubble.
Add broth. Whisk together well and cook until mixture thickens almost to the consistency of applesauce.
Add vegetables back in and diced chicken. Mix through.
Add salt and pepper to taste. Add fresh rosemary and thyme if desired.
Herbed Pie Crust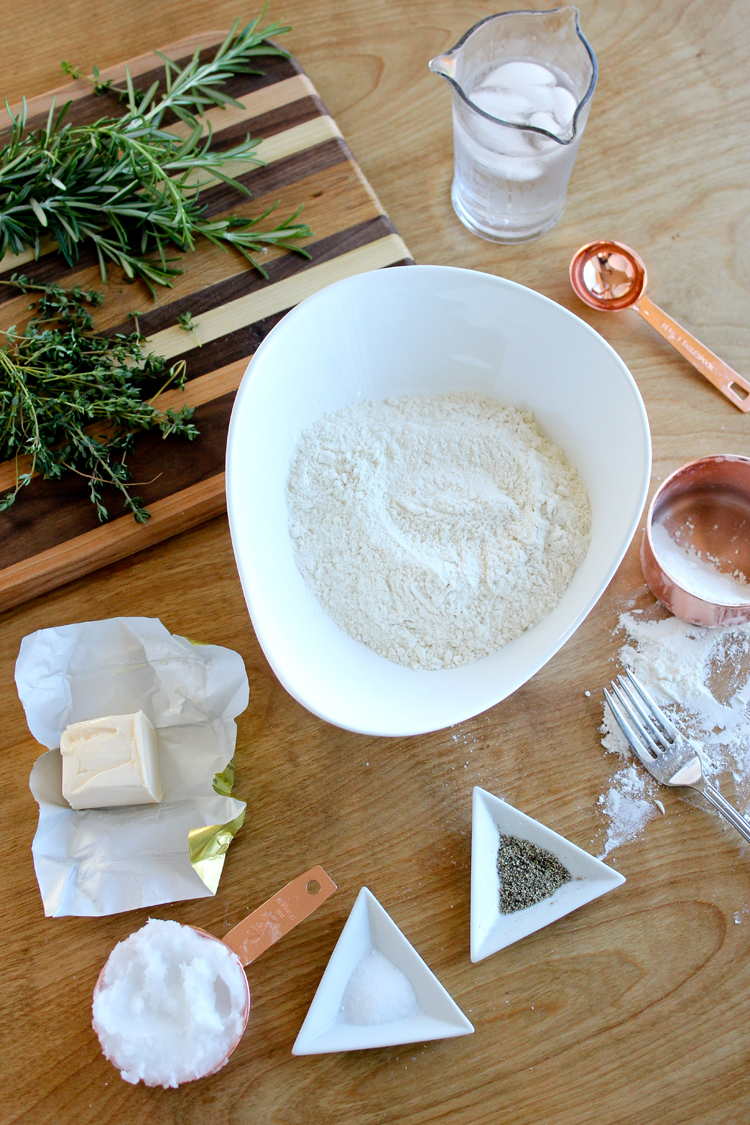 Ingredients:
2 cups all-purpose flour
1/2 cup coconut oil*
1/4 cup cold dairy free butter (Earth Balance)
1 tsp. salt
1/2 tsp. cracked black pepper
3-4 sprigs each fresh rosemary and thyme
5-6 tablespoons ice cold water
optional: an egg white to add egg wash
*If you live in a warm climate, you will need to refrigerate your coconut oil to a solid state before proceeding. If you want to use all coconut oil and no dairy free butter, simply add 3/4 cup coconut oil. It tastes just as good, but the crust may puff up a bit more and look more blonde when baked.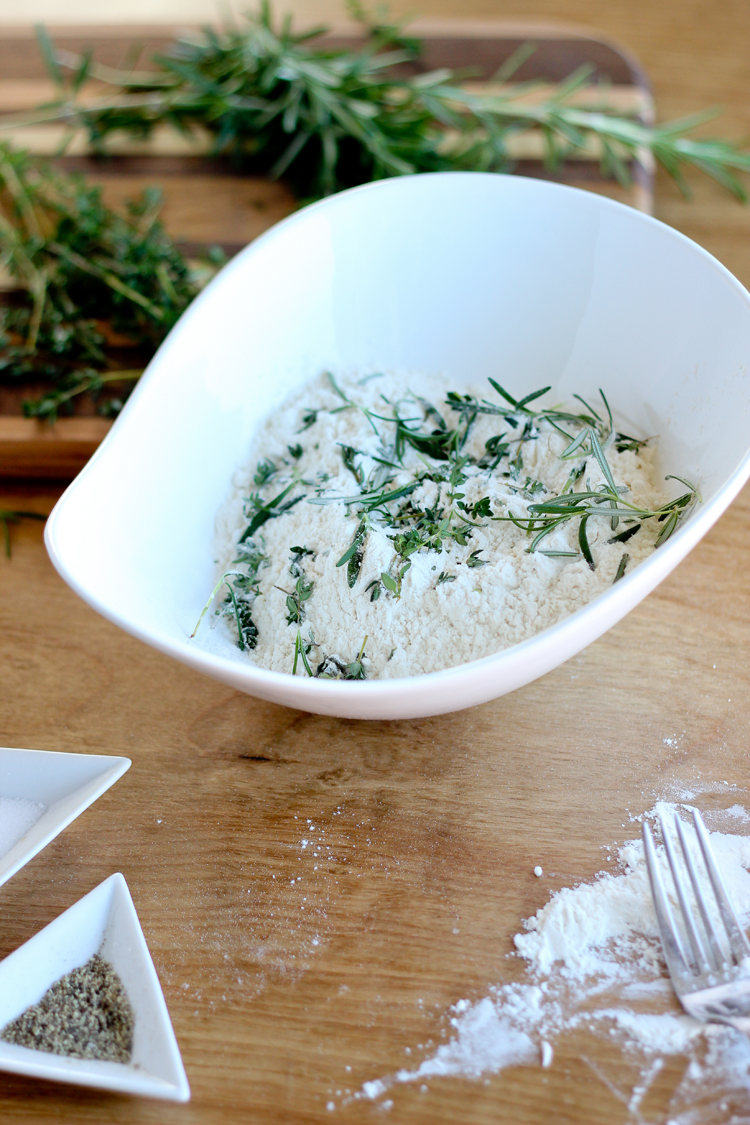 Preheat the oven to 400 degrees F.
Whisk together flour, salt, pepper, and herbs
Add coconut oil and dairy free butter. Cut the oils into your flour mixture using your preferred method: food processor, butter knives, or a fork. I find that coconut oil pie crust can be much more forgiving than all-butter and shortening pie crusts, so I just use a fork and I don't stress too much about it keeping super cold (unless you live in a really hot environment, then you might need to refrigerate between steps).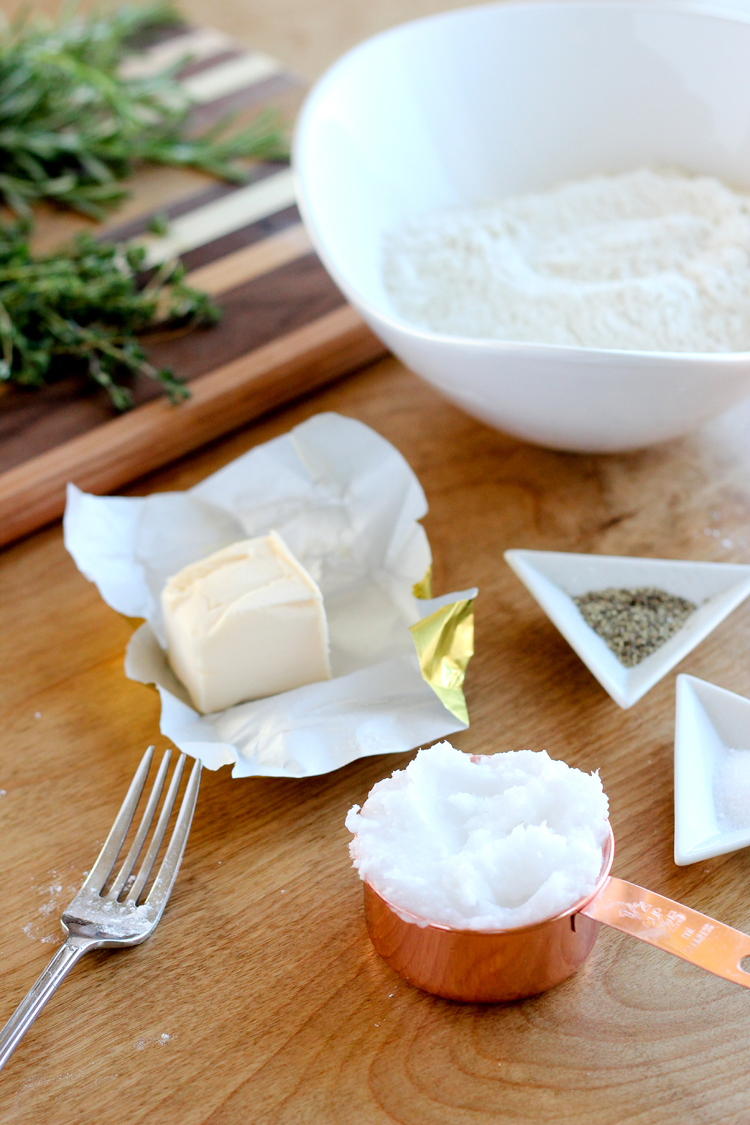 When your flour/oil mixture looks mostly evenly mixed and crumbly, add 5 tablespoons ice cold water. Mix together, first with a spoon until it can be worked by hand. Add another tablespoon (or more) of water as needed to get the dough to come together.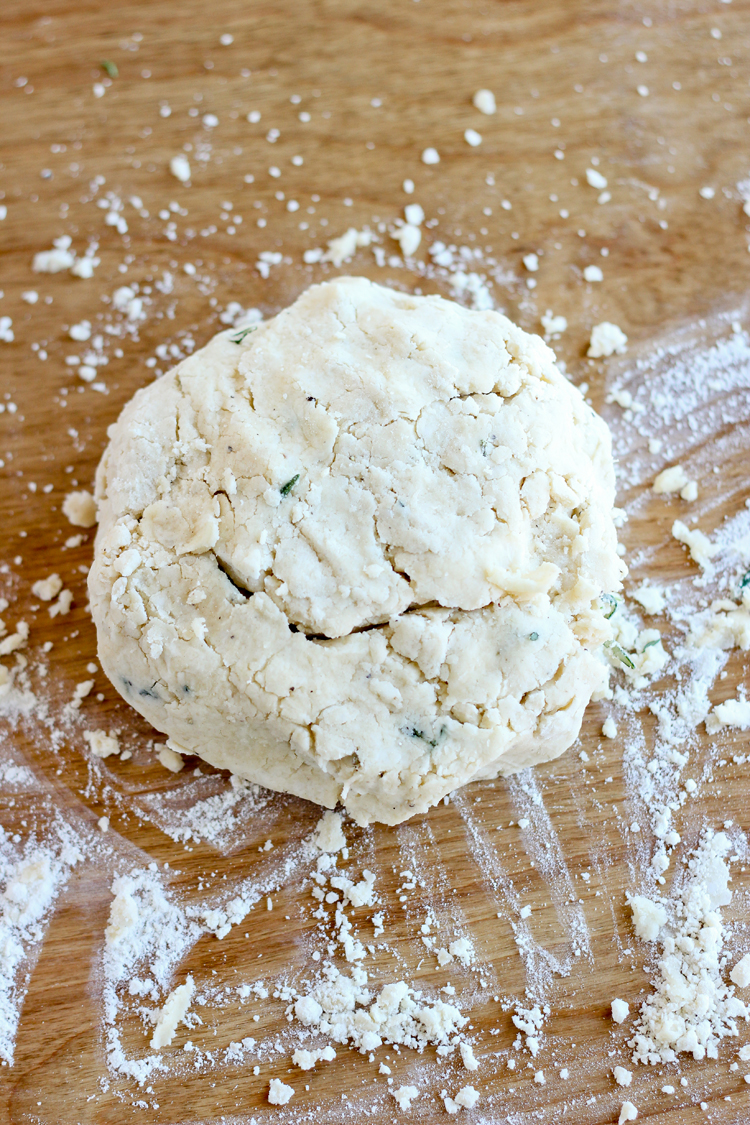 If you are not ready to use it right away, divide into discs according to the number of ramekins you are using. If you plan on covering a large 13 x 9 casserole dish, then form one large disc. This dough recipe can also accommodate four large ramekins or 6 smaller ramekins. Refrigerate discs until ready to use, up to three days.
Between two sheets of wax paper, roll the dough out to desired size. Peel the top layer of wax paper off and use the bottom layer to transfer the rolled dough to the dish.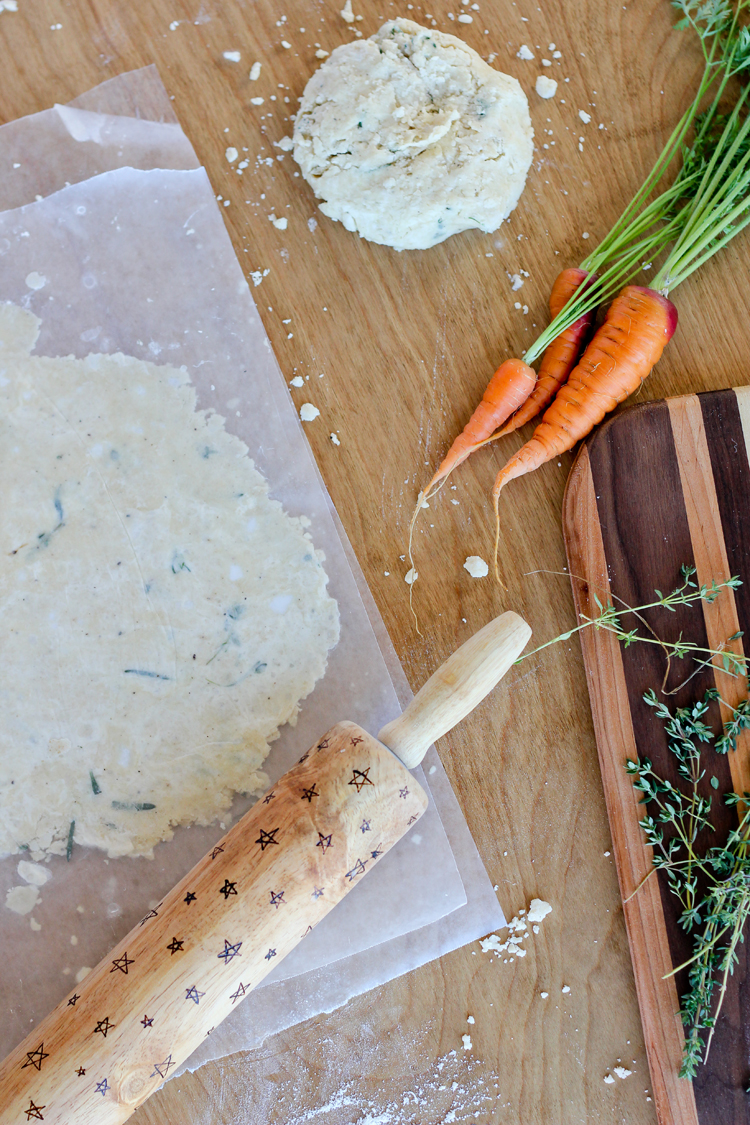 Baking the Pot Pies
Spoon the filling into a large 13 x 9 inch dish or similar sized dish, or into smaller ramekins. Make sure the filling comes all the way to the rim, for a nice full pie.
Add the pie crust dough. Tuck the edges of the dough under and seal by pinching the edges or pressing them closed with the tines of a fork. Cut vent holes at the center of the pie.
Bake at 400 for about 25-30 minutes. TIP: Place pan or ramekins on a cookie sheet to help catch drips. Add an egg wash for more color, if desired. The coconut oil crust does not easily burn or brown, so it will stay looking pale if you do not add a wash of some kind.
Then dig. in. Mmm.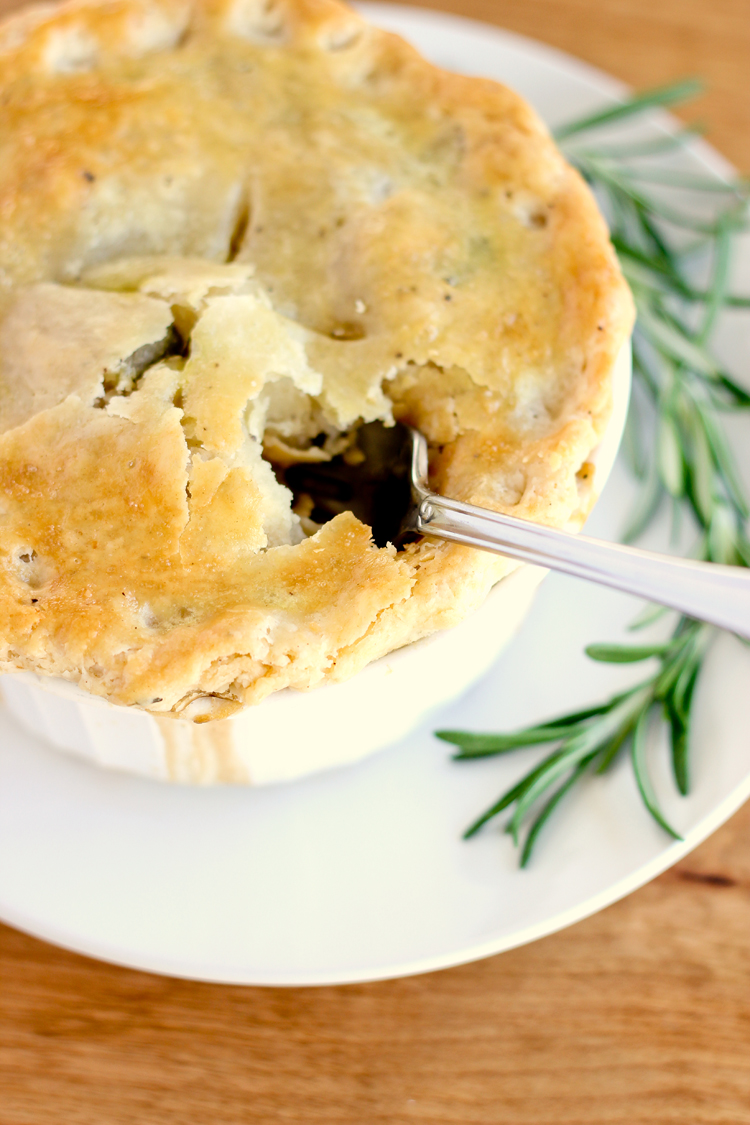 The crust keeps everything piping hot and the chicken nice and juicy until that first break into the crust…which is the BEST.
It's a hearty one dish wonder that will warm you right up on those chilly autumn days!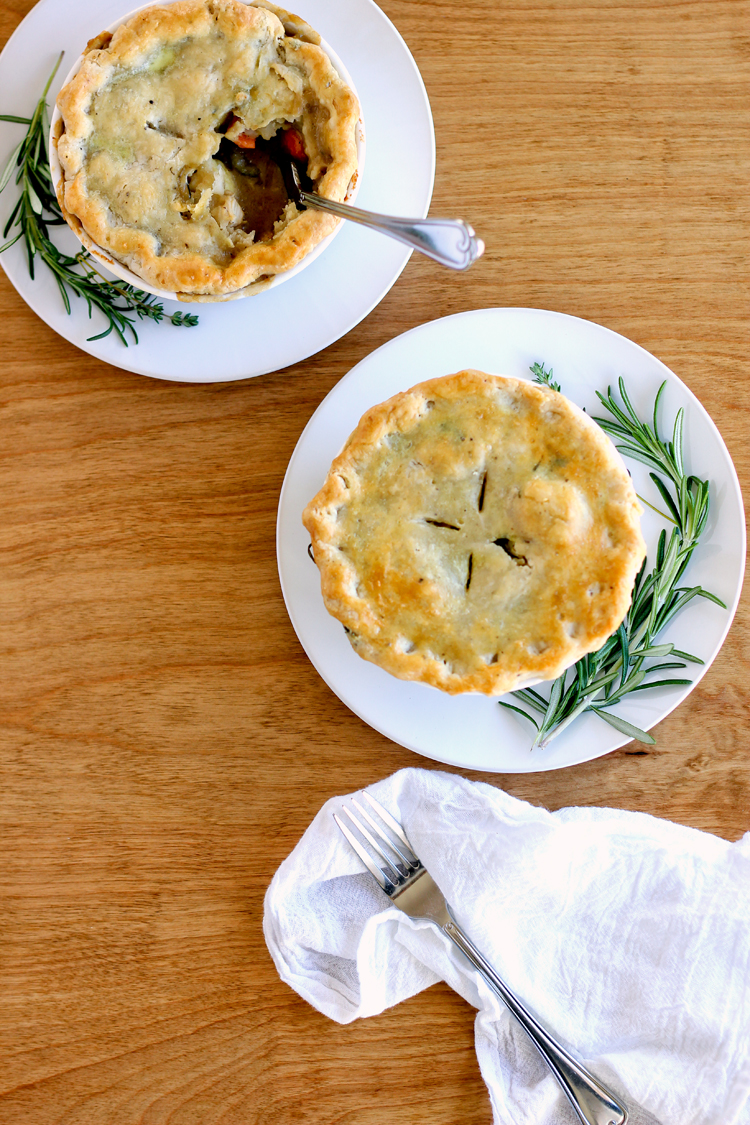 Here's the printable version of the recipe, for your convenience: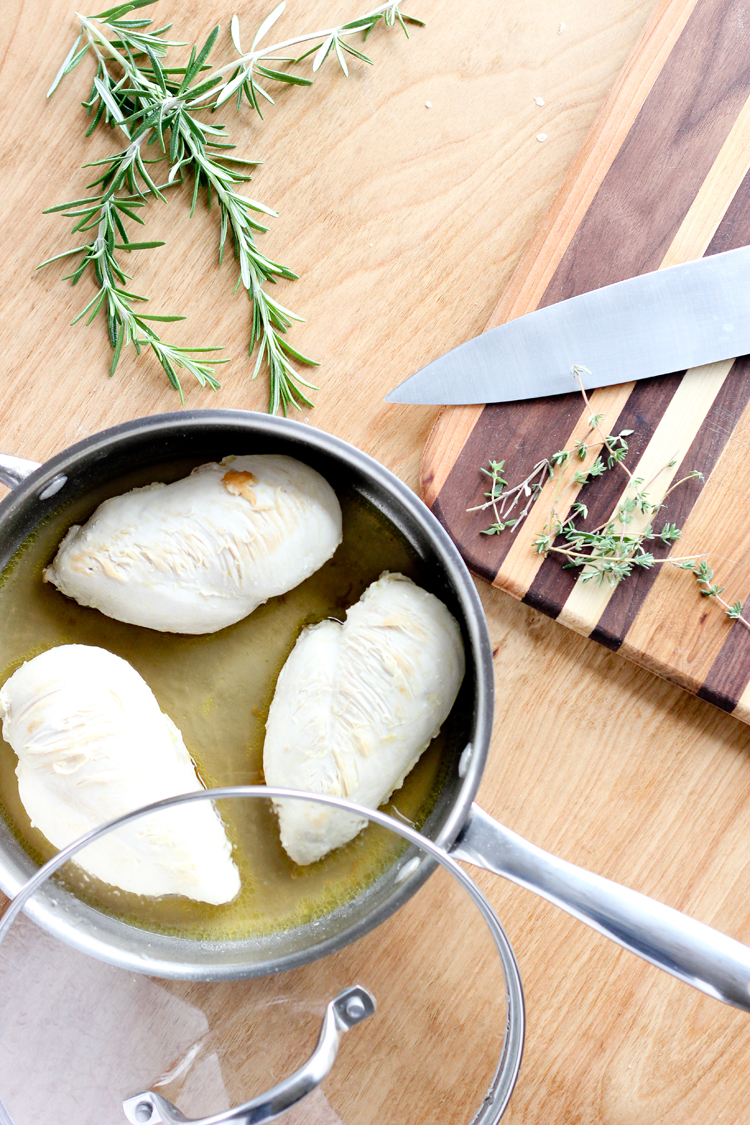 [amd-zlrecipe-recipe:4]
Disclaimer: This post is sponsored by Foster Farms. All opinions and content are genuinely and enthusiastically my own! Thank you for supporting brands who support this site.