This creamy vegan garlic dressing is a huge hit at our house, especially with our kids. They will eat several helpings of salad if this dressing is involved…which makes me love it even more!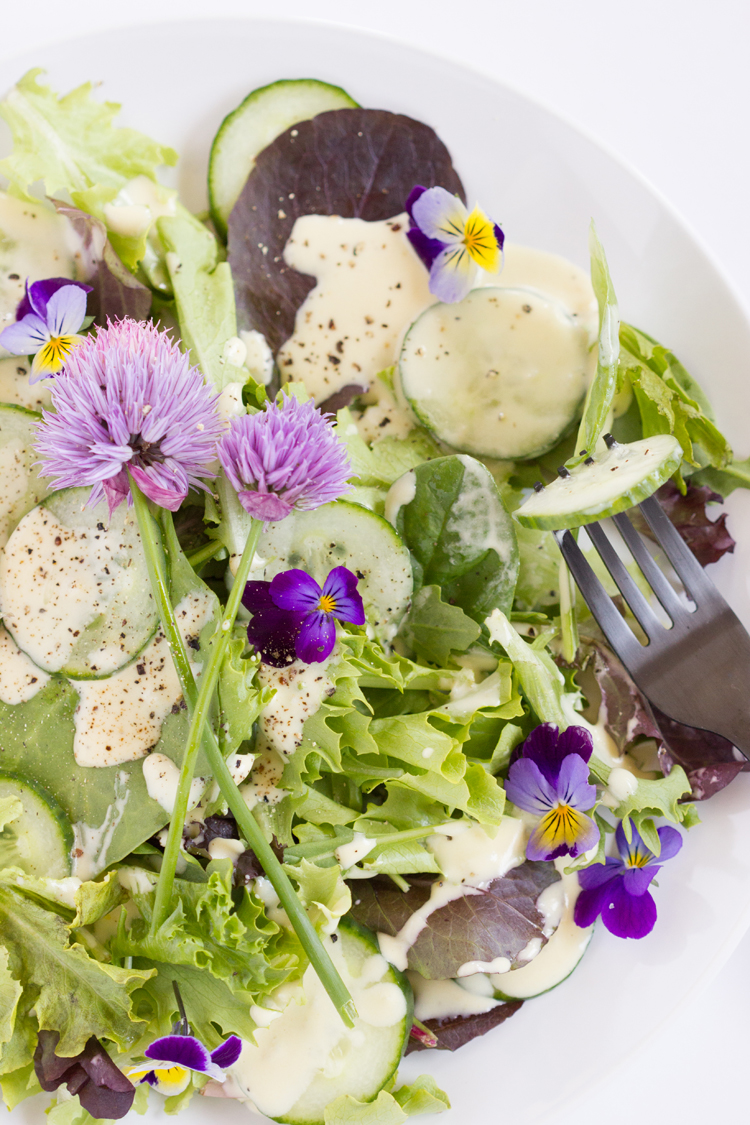 Since discovering our daughters' food allergies to egg, dairy, and nuts, we have found some pretty good substitutes for most foods. Finding a good "ranch" dressing though, has been much harder. Straight up ranch dressing variations haven't tasted quite right for us, so I started looking for similar non-ranch recipes. I found some success with the Creamy Garlic Dressing recipe found in the The America's Test Kitchen Family Cookbook. Then I tweaked it more and more over about a year, before we came up with something tried and true.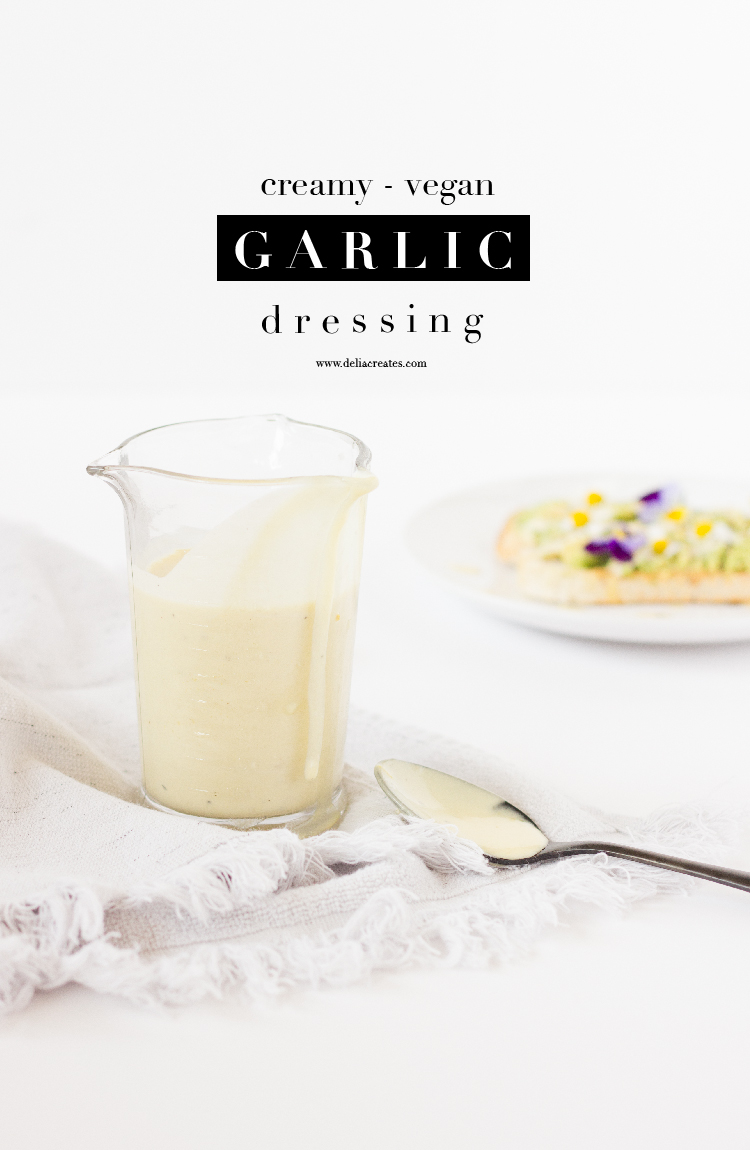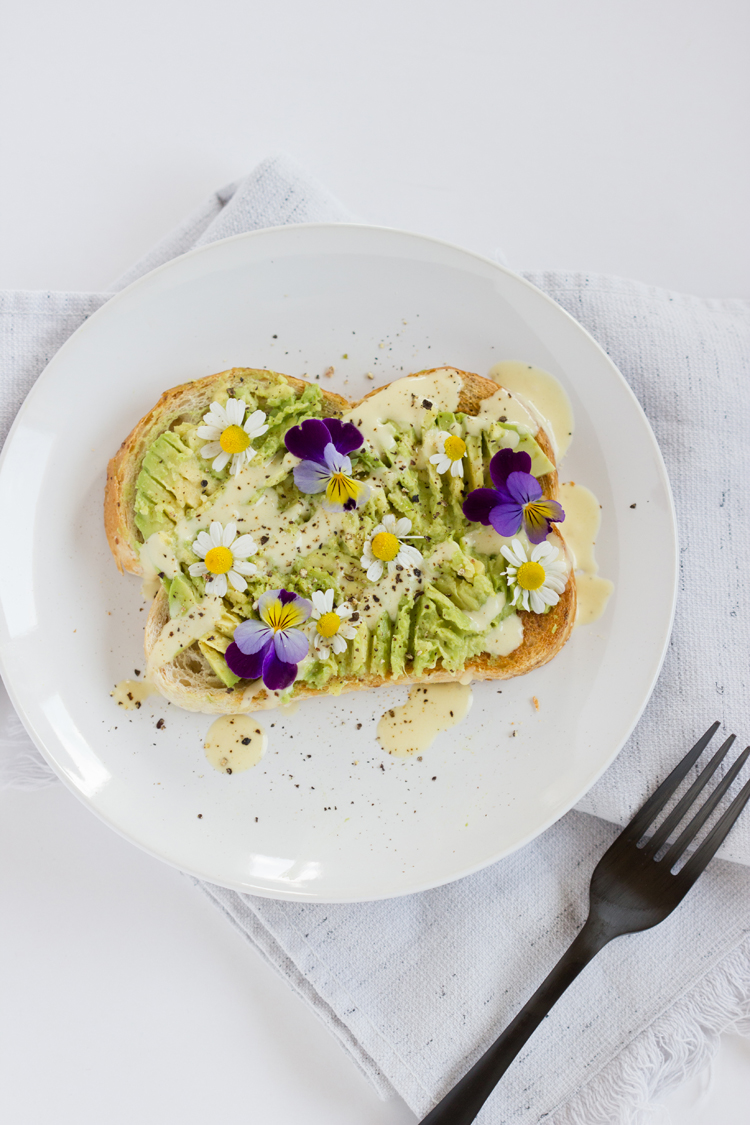 This recipe is an adapted version of that recipe, but is a little creamier, totally vegan (and allergy friendly), and has a savory hook to it that makes it irresistibly delicious. I don't have allergies, and even I have come to prefer it over real ranch.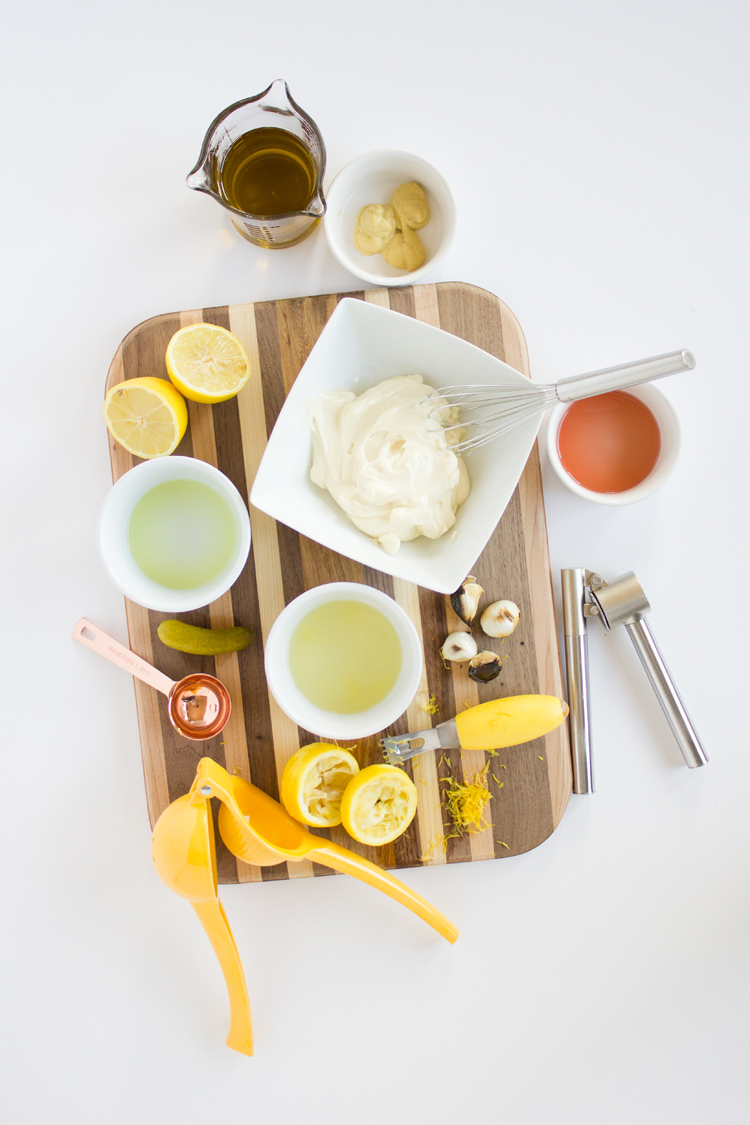 Mayonnaise and olive oil is the base of the dressing. Our favorite vegan/allergy friendly mayo is the shelf stable "Just Mayo" made by Hampton Creek. We love it because it tastes pretty close to the non-vegan version and you can find it at pretty much any grocery store. We also like Vegenaise which is a great healthier option.
Its secret ingredient comes from one time when I ran out of lemon juice and needed to quickly find a substitute. Everyone ended up loving my pickle juice concoction so much, that I have included a small amount of it in the final recipe. I know it's not for everyone though, so I've made it optional. You can also use green olive juice instead, or pickled pepper juice, if you want to add a little kick.
Another variation I like to use is lime juice in place of lemon juice. Sometimes, I'll add some fresh minced cilantro and use it as a dressing over a taco salad. Mmm mmm…so good!
One thing that is not flexible in this recipe though, is the garlic. Garlic powder just won't work (trust me, I've tried). You have to use fresh cloves, toasted on a hot, dry (no water or oil) pan until the skins get black and brown. That process both mellows and enhances the garlic flavor to perfection.
This dressing of course, tastes great drizzled on a salad, as a dip for veggies, or even on avocado toast!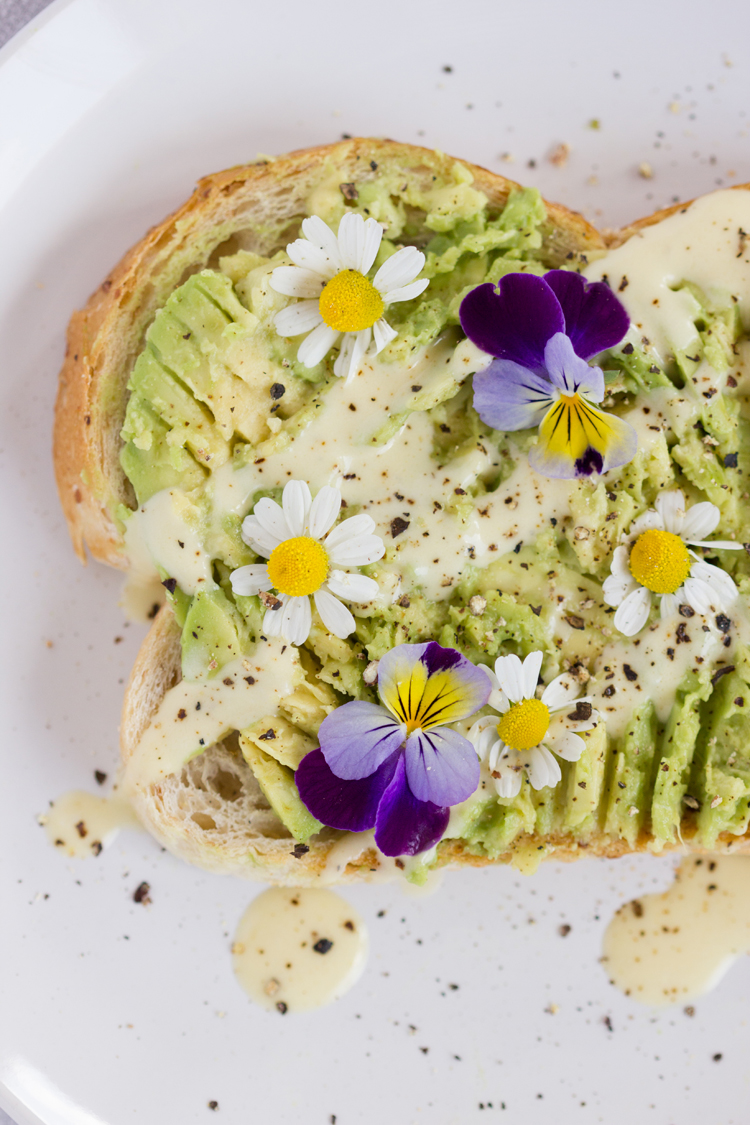 By the way…have you tried edible flowers? I've been growing some in my garden this year. Violas have a faint artichoke flavor to them and are my favorite. Chamomile flowers smell surprisingly sweet, but have a strong flavor that I can only think to call "tea" like probably because I've only had it as a tea before. They score high marks for beauty, but I try to use them sparingly on food because of their strong scent and after taste. Chive flowers are a little more obvious of course. They taste like onions. I like pull the bloom heads apart and sprinkle the tiny petals over my food for extra flavor.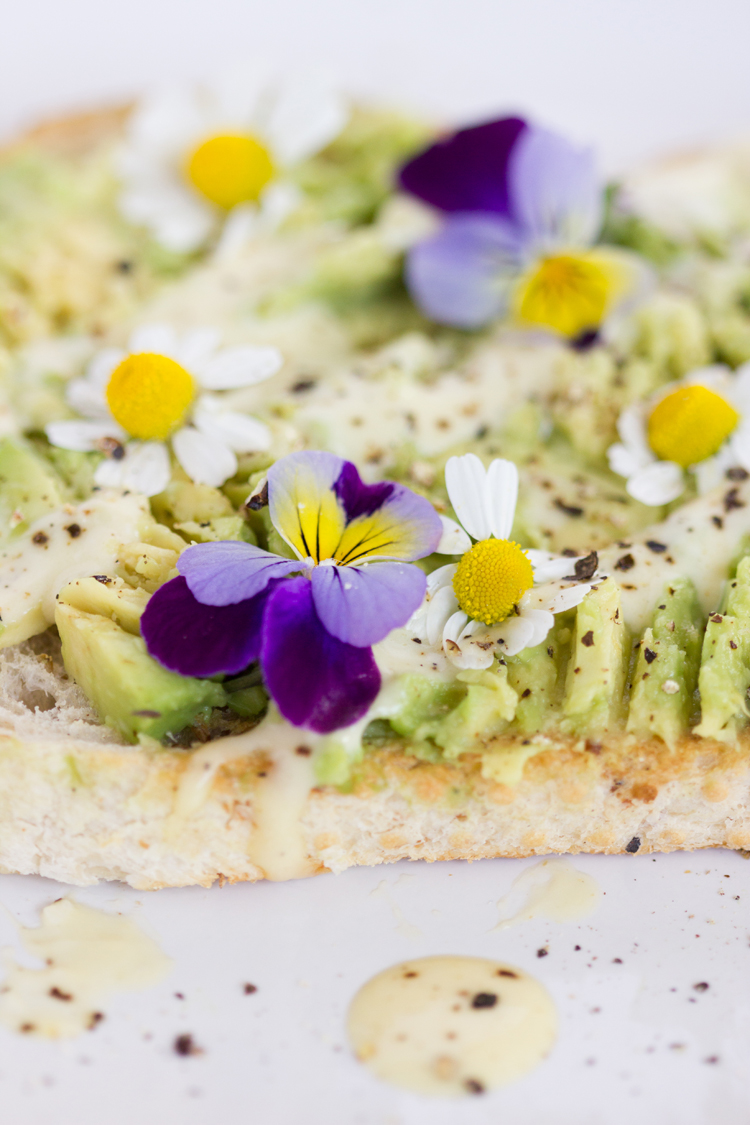 But enough flower talk. Here's the recipe in printable format. Enjoy!
Creamy Vegan Garlic Dressing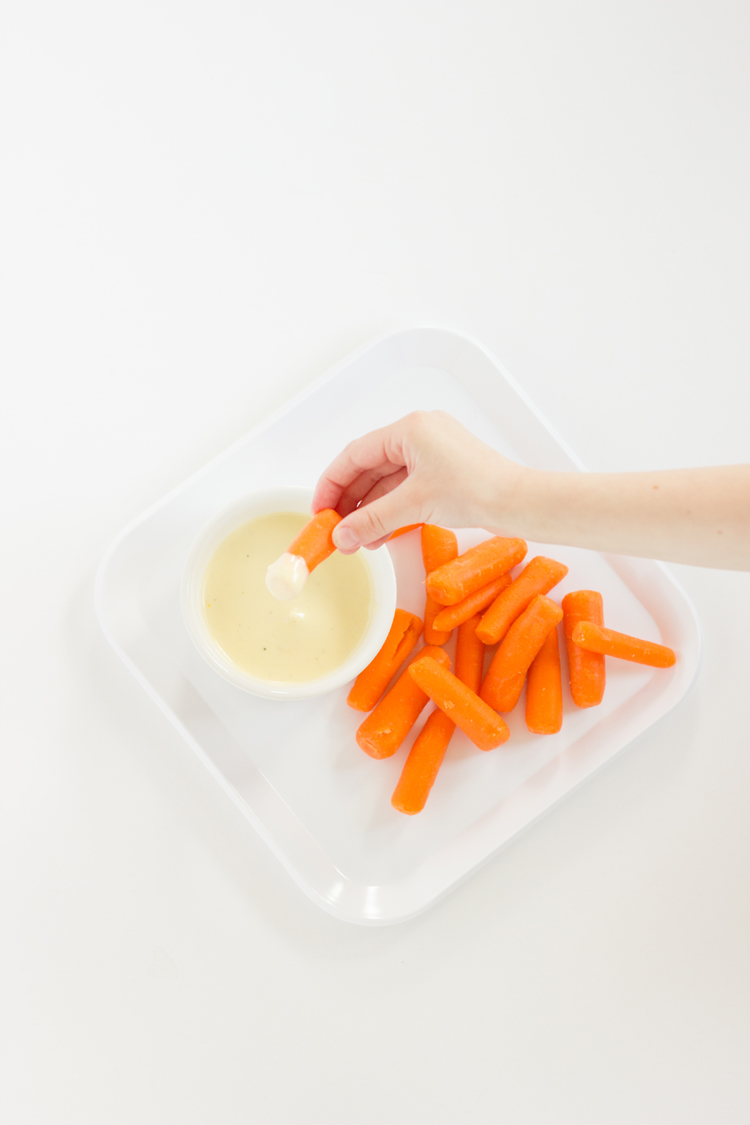 Ingredients
1/2 cup olive oil
1 cup mayo (we use a vegan mayo like Just Mayo or Veganaise)
Juice of one large lemon (about 2.5 TBSP) + zest (optional)
4 tsp Dijion mustard
2 TBSP vinegar (preferably white wine or red wine, but any will work)
4-5 cloves of garlic, toasted and pressed or minced
1-2 TBSP pickle juice to taste (optional)
salt + pepper to taste
Instructions
Whisk all ingredients together until creamy and smooth.
Variations:

For a thicker dressing, add more mayo. You may need to add a little more vinegar to taste.
Add juice of two limes in place of lemon.
Add green olive juice, caper juice, or pickled pepper juice in place of pickle juice.
Will keep in airtight container, in the fridge for 4-5 days.
https://www.deliacreates.com/creamy-vegan-garlic-dressing/