This post is sponsored by WeCrochet. Check out their beautiful yarns and hooks at crochet.com!

For this lesson in my Crochet Basics series, we are learning how to double crochet and make a beautiful infinity scarf!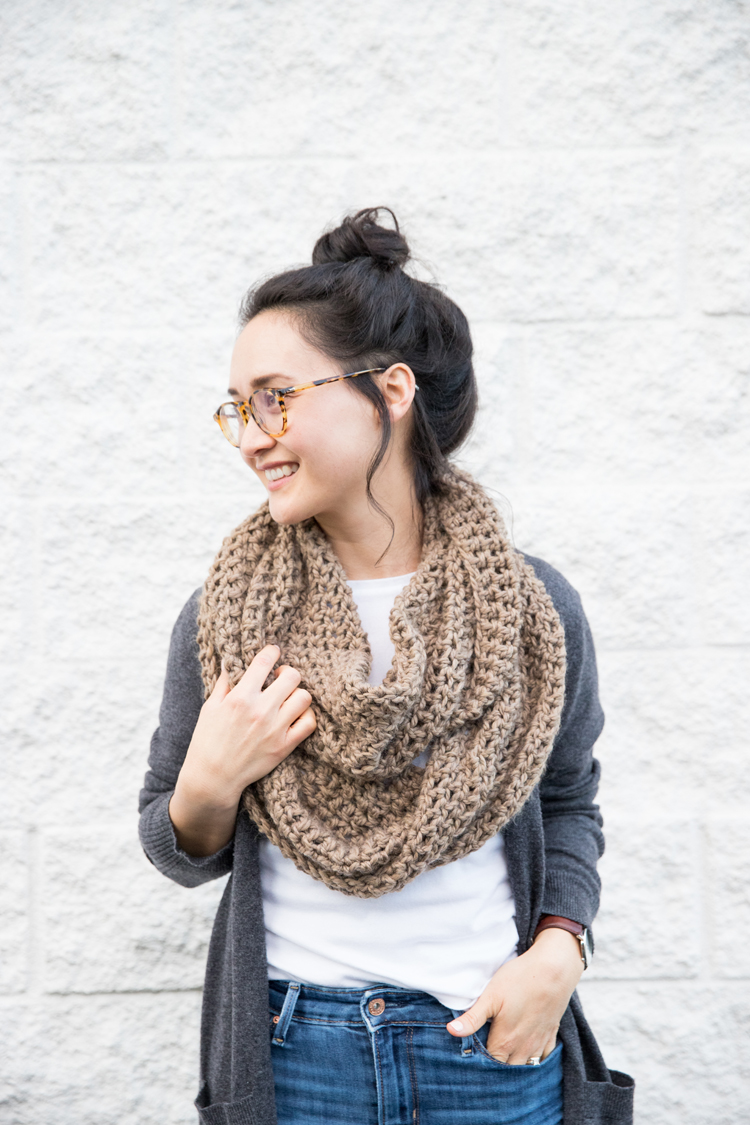 If this seems like a big jump in skill level from the bows we made in lesson two, both projects are actually really similar. This scarf is the same shape as the bows before they get cinched, it's just bigger! You can do this.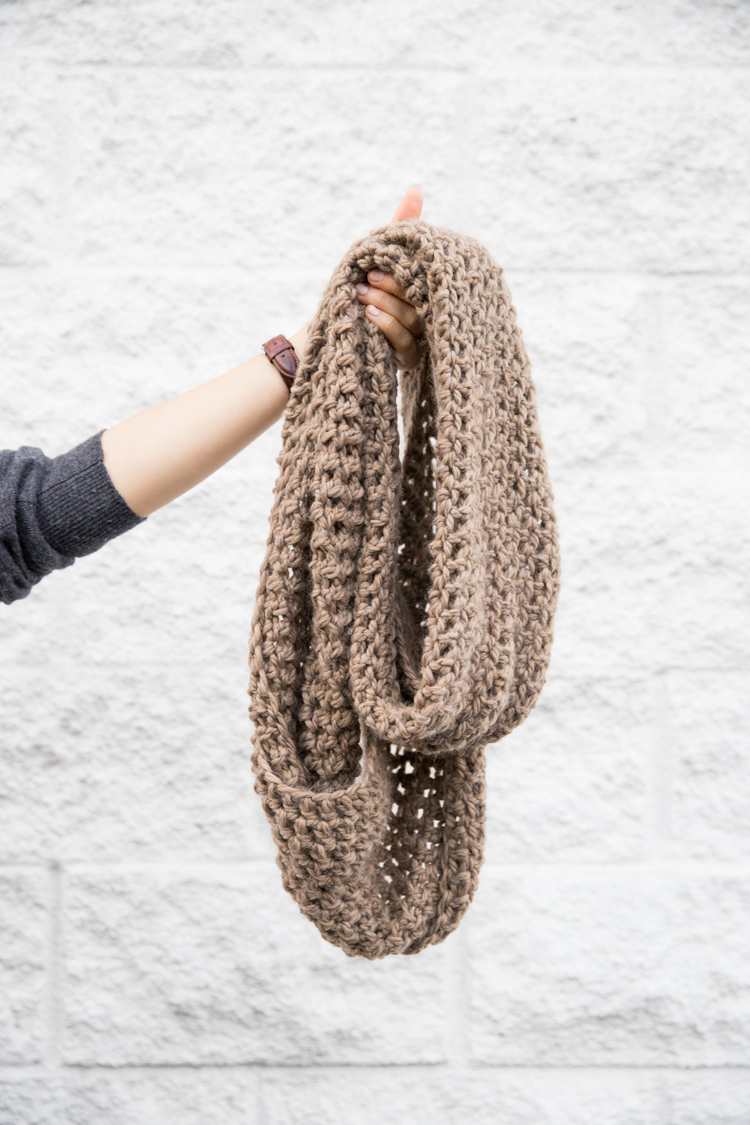 For this project, I used Biggo merino wool blend yarn in Rabbit, which is a category 5 or bulky weight, and a larger size N or 9.00 mm hook. Using a chunkier yarn and a larger hook works bigger stitches and helps this scarf come together in no time.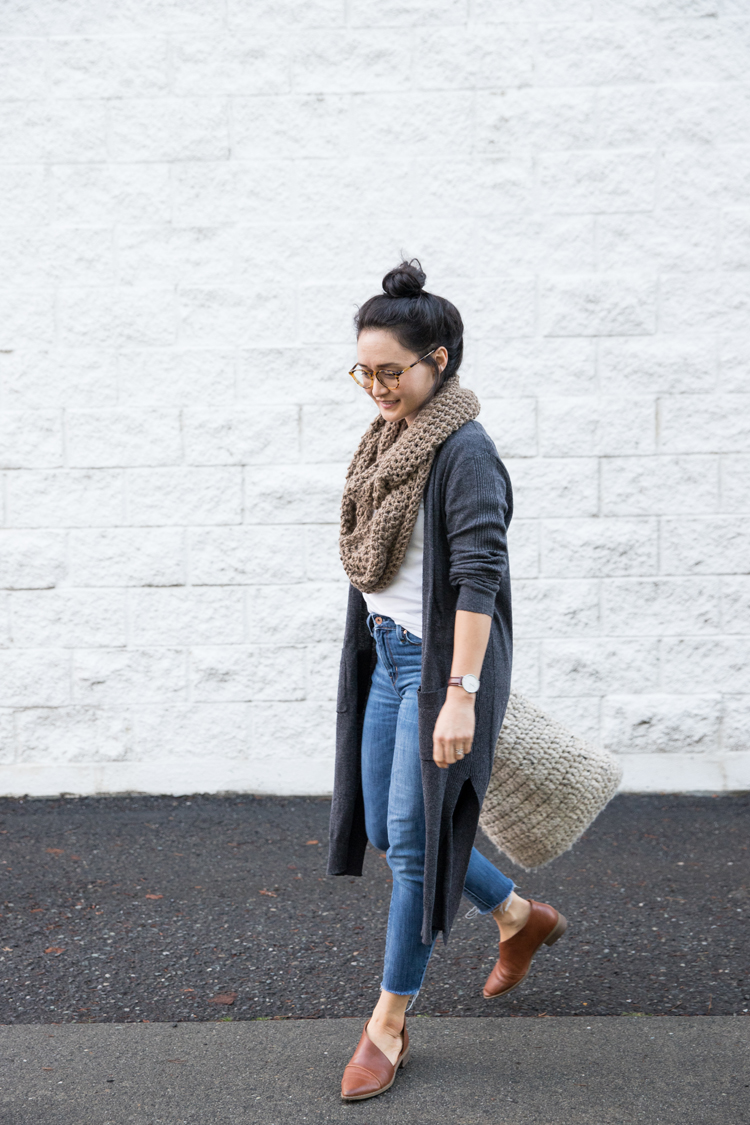 It also gives the scarf a nice defined texture, which I love.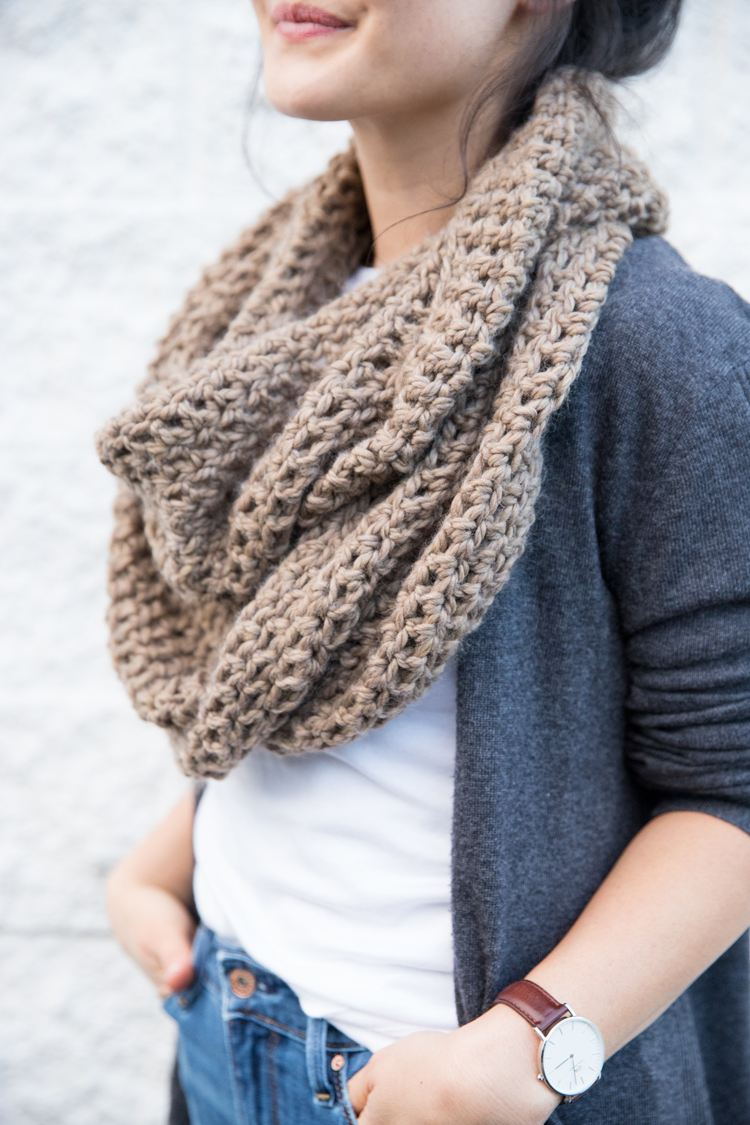 P.S. I just checked and WeCrochet is having a sale on the yarn I used. It's normally $10, but right now it's half off. For a premium yarn, at $5 a skein (insert mind blown emoji). You can't get that at a big box store. It's a great deal, and I promise you're going to love your scarf even more in this yarn.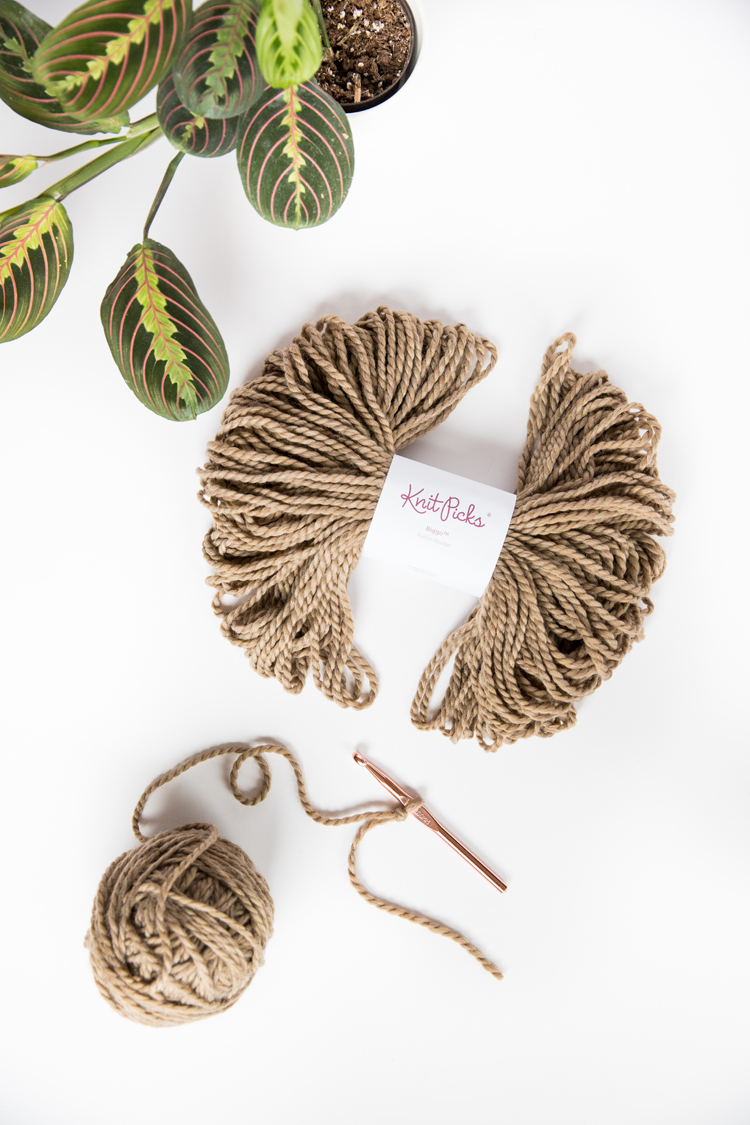 If you missed my first two lessons, be sure to check them out. Lesson one is a great place to start if you are a beginner or need a refresher. It teaches you how to chain stitch, how to determine yarn and hook sizes, and gives you the general nuts and bolts of how to get started with crochet. Lesson two is all about single crochet, working in rows, and leads perfectly into this double crochet lesson.
Materials
3 hanks or about 300 yards of Category 5 yarn*
N or 9.00 mm hook
yarn needle
*I used Knit Picks Biggo yarn from We Crochet. It's a merino wool blend that's super soft (no scratchy wool here!), warm, and washable, which makes it a great candidate for a scarf.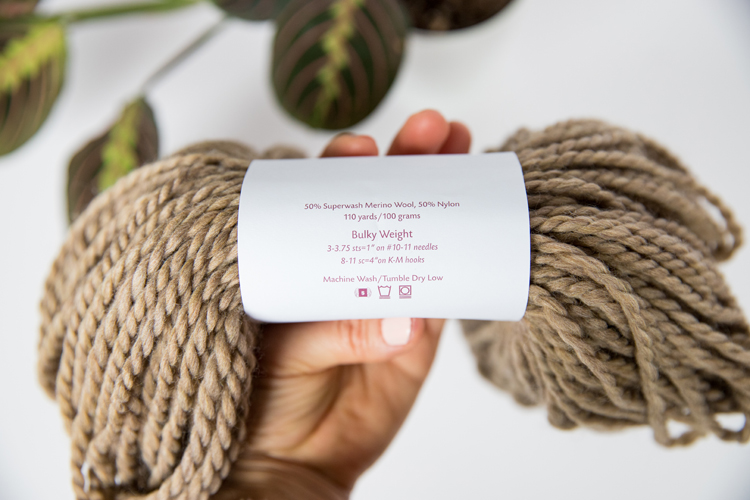 Gauge
4 x 4 inch square = 7 double crochet stitches x five rows
Note: This is a measurement that will help you know if you are crocheting too tightly or too loosely. Check out lesson one for more information on how to determine gauge and what to do if it's off. Be mindful that there can still be variations in size even if yarn is listed as being the same size. If you use a different yarn brand and type than I have listed, you may need to adjust your hook size.
Video Tutorial
Press play on the video pop up at the top of the screeen and I'll walk you through how to double crochet and then make a scarf!
In addition to double crochet, I also walk you through:
how to slip stitch
how to work in a looped row
how to join two balls of yarn together
how to weave in your ends. It sounds like a lot, but it's very easy once you get going.
It sounds like a lot, but it's very easy once you get going.
Written Pattern
If you need more help with how to read a pattern, see lesson 1 in my Crochet Basics Series.
Abbreviations
ch = chain
dc = double crochet
sl st = slip stitch
Pattern
Ch 110. Sl st last ch to first ch.
Row 1: Ch 2. Dc in next ch. Dc in every chain in the row. Sl st to the top of the second ch from the beginning of the row. (110, including the 2 ch)
Row 2: Ch 2. Dc in next stitch. Dc in every chain in the row. Sl st to the top of the second ch from the beginning of the row. (110)
Rows 3- 14: Repeat Row 2.
Tie off, leaving a 10 inch tail.
Weave in all ends with a yarn needle.
Put on a good movie or podcast and go to town!
Simple as that.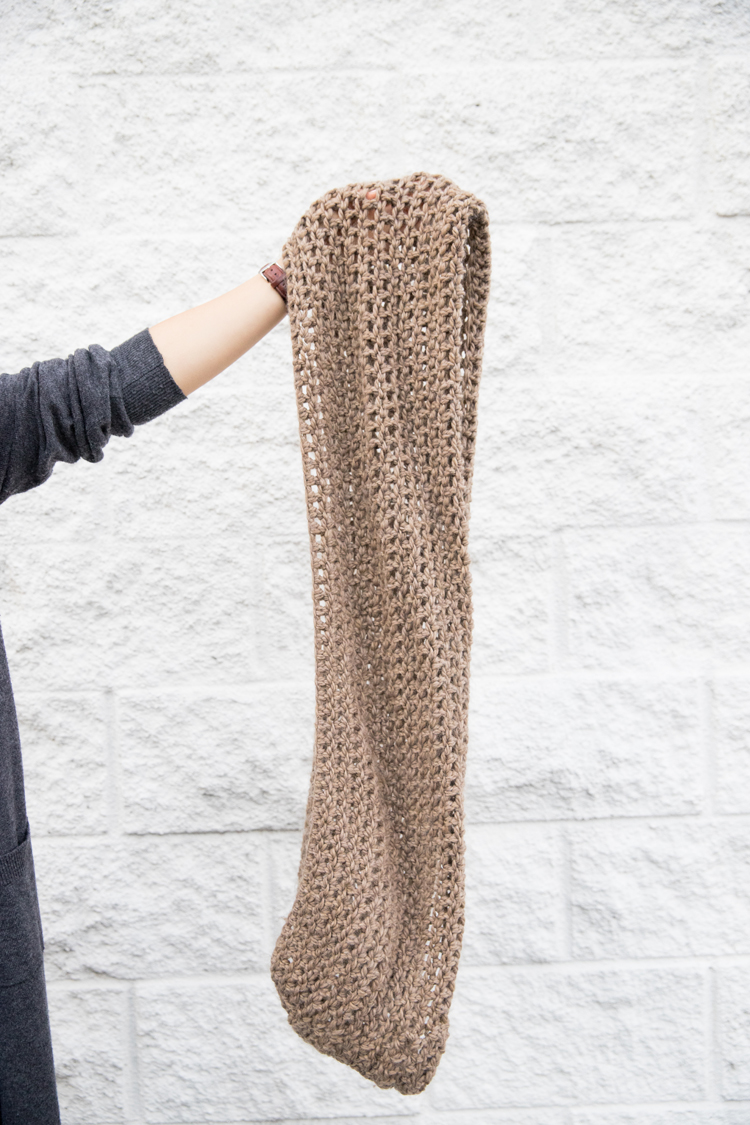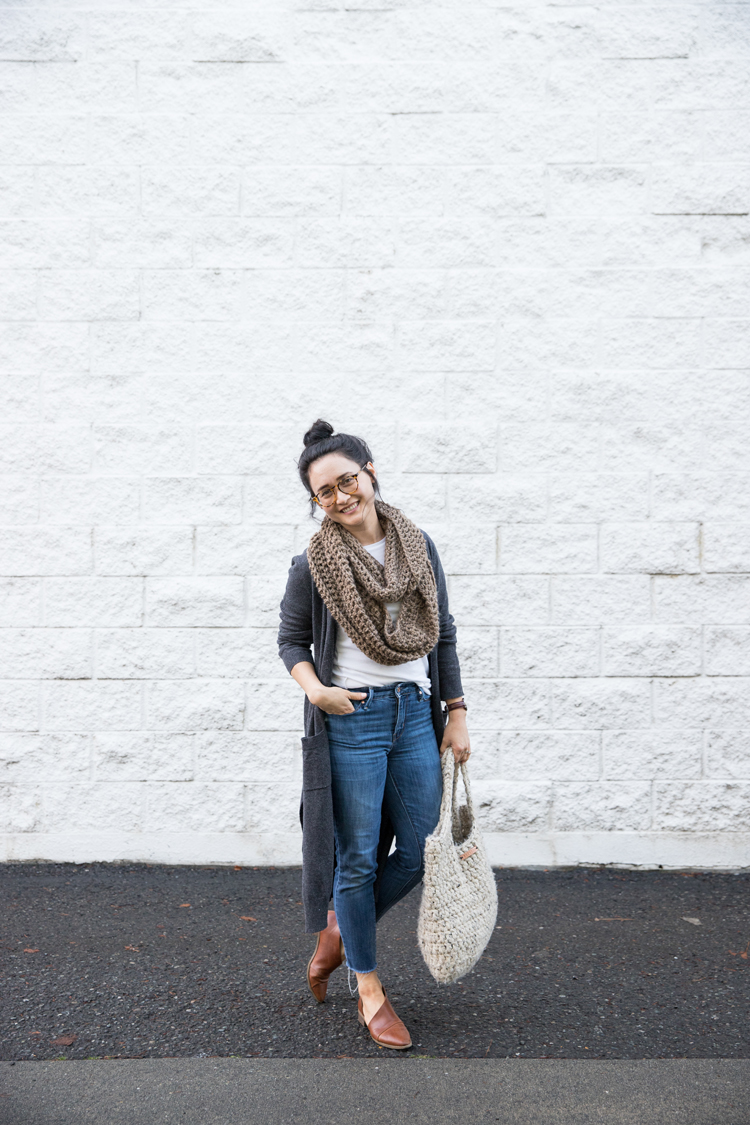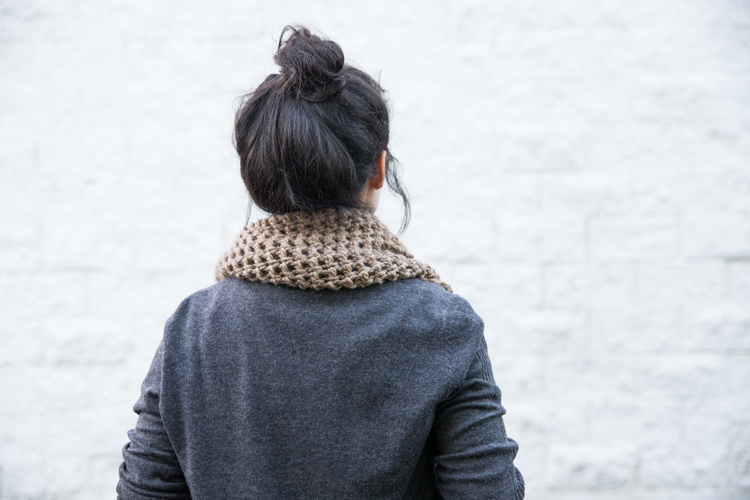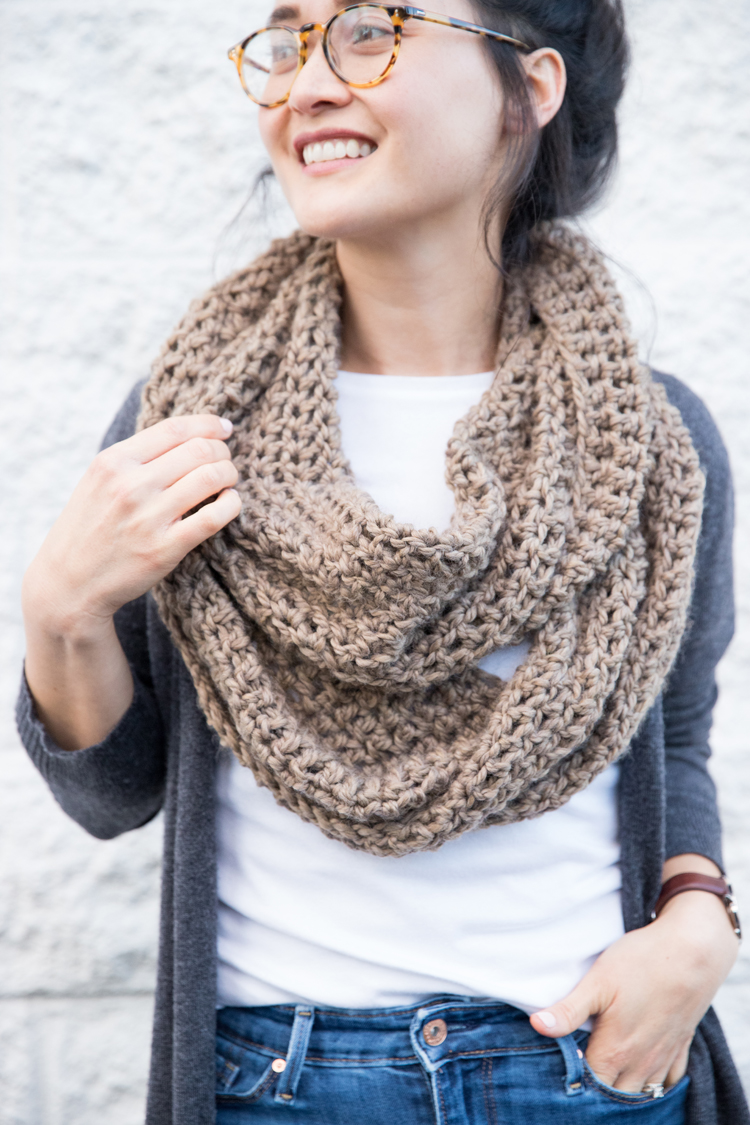 For the next lesson we'll be making hats with half double crochet. Stay tuned. 😉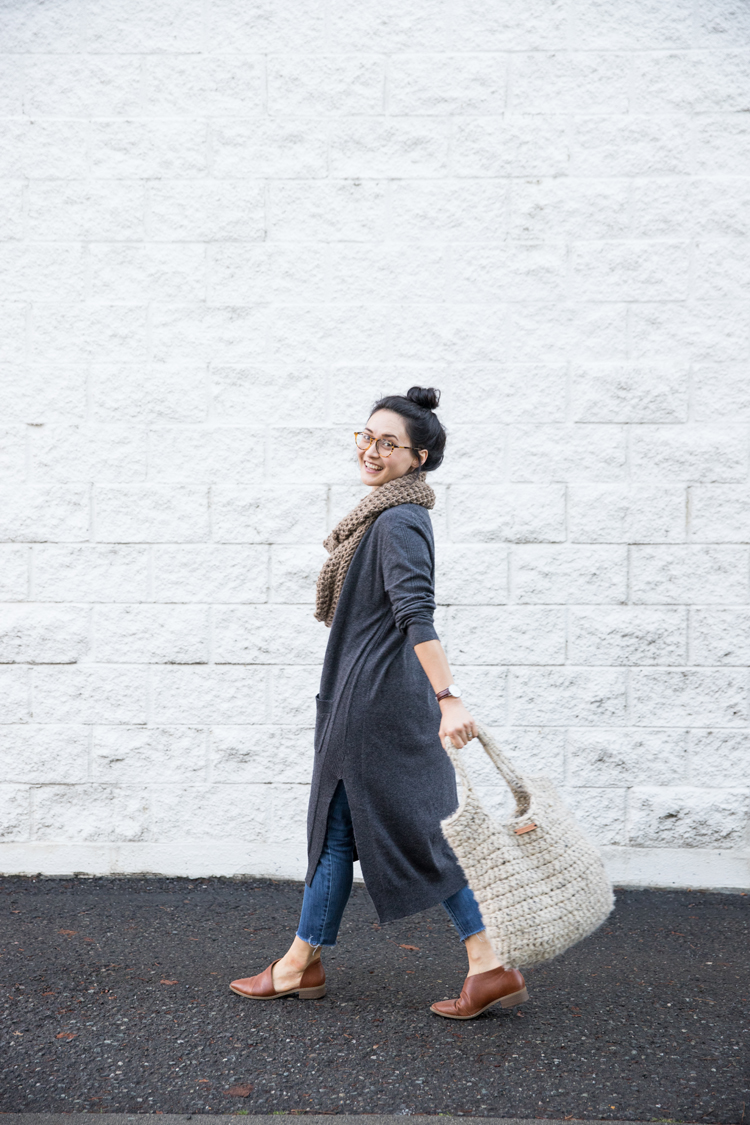 And if you like to learn how to make that bag. I have a free pattern HERE.
Video music source: Pleasant Pictures (I just signed up for a membership and am LOVING their selection!)