I'll admit…it's an ongoing process to recognize being a food allergy family as a blessing rather than a curse during food holidays, like Thanksgiving, Christmas, Easter…pretty much every holiday. 😉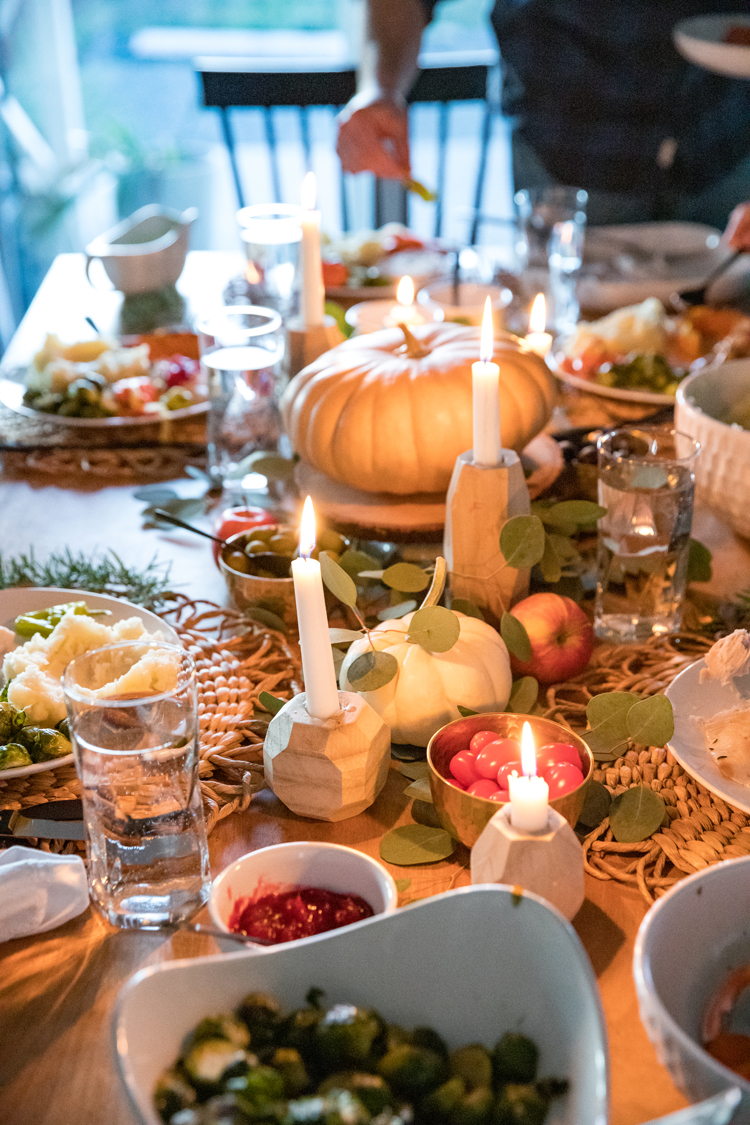 It means we usually have dinner with just our family of five, but I love how it's brought us closer in many ways. We also have more freedom to stray from the usual Thanksgiving menu because it's just us. We've had some years when we've ditched the turkey and made fish or steak instead. I made a turkey this year, and when I asked the kids what dish they missed from our table this year, all of them said salmon. Ha! That's saying a lot, considering I made them eat sugar free apple tart. hehe…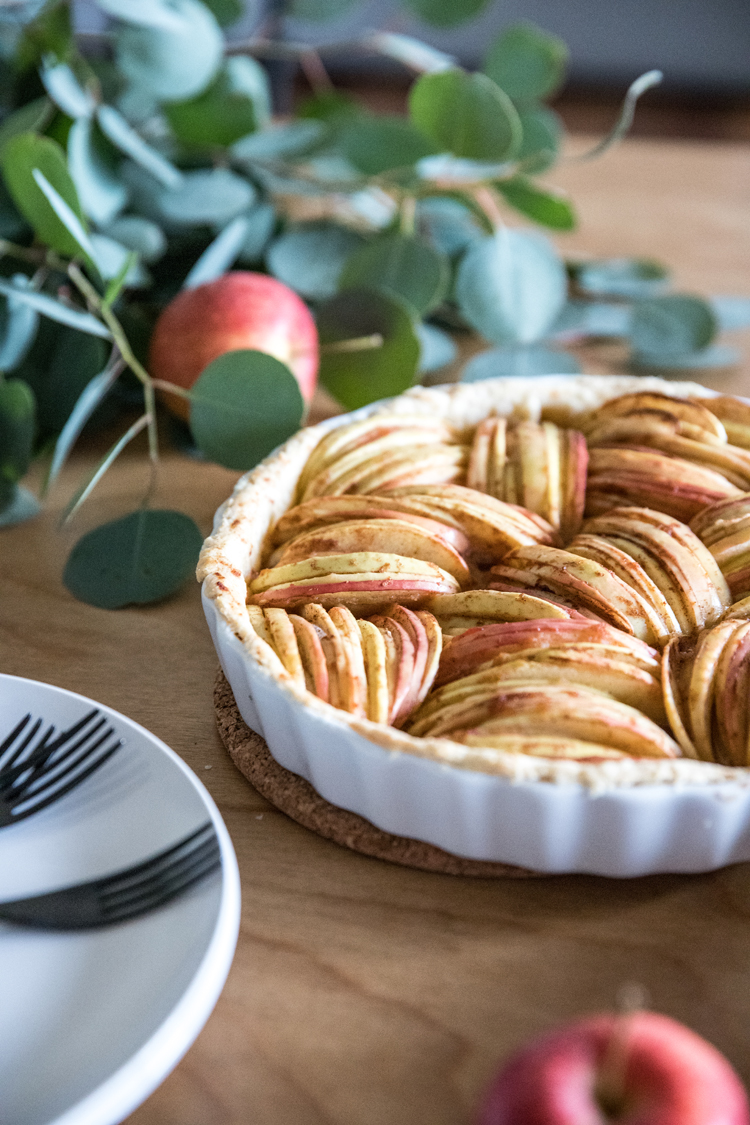 But really… it was actually delicious!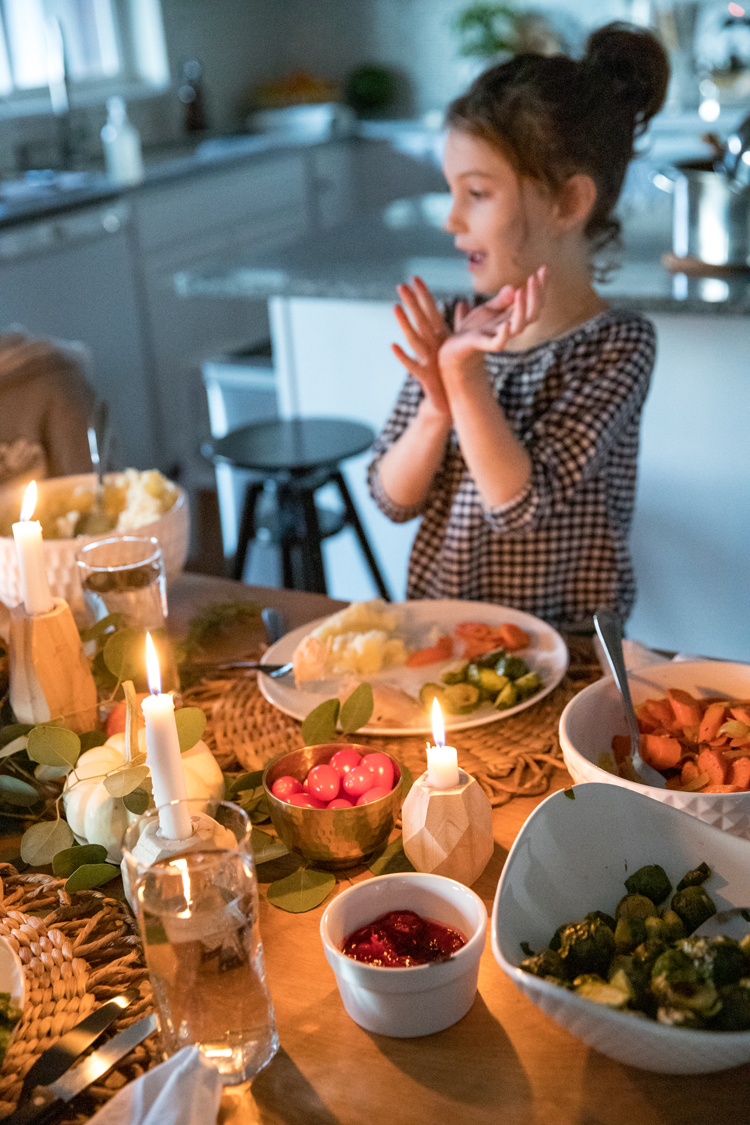 Here's everything we made this year, with either links to recipes or recipe cards, in case you are in need of some allergy friendly recipes as well. All of these recipes are free of tree nuts, peanuts, shellfish, dairy in all forms, and eggs. Everything is low on added sugar as well.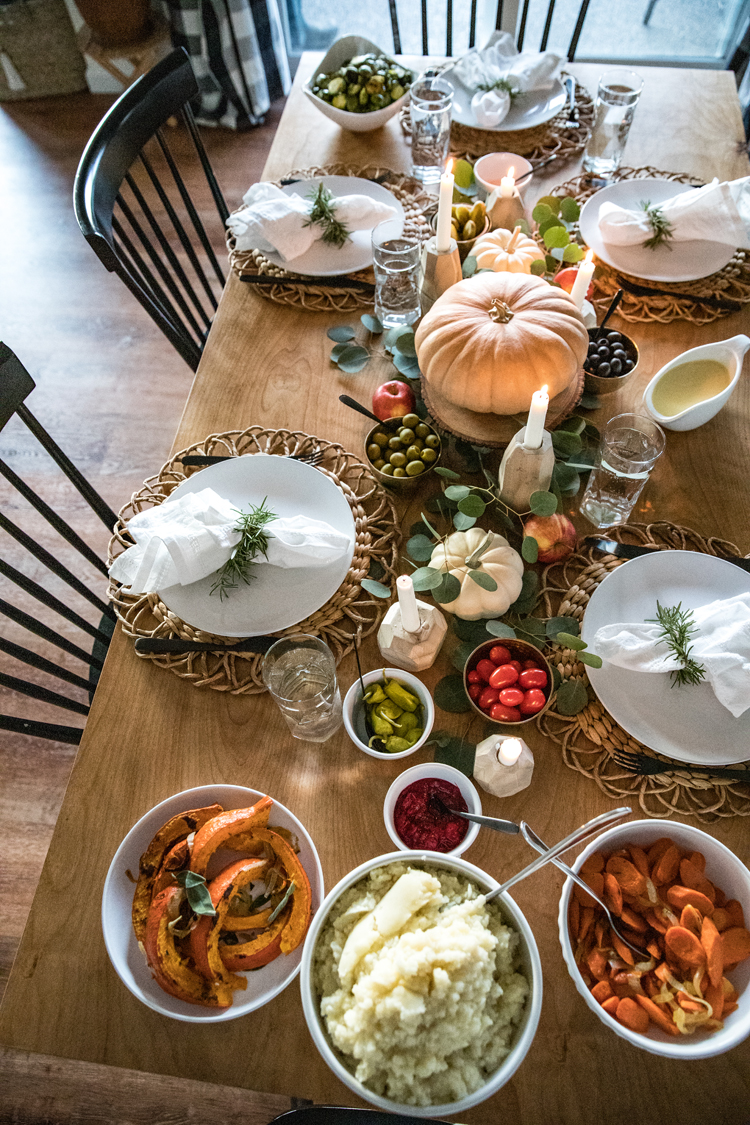 I love making our small space magical with stuff we have one hand. Check out this post for more tips on that. This year, I got a bouquet of eucalyptus from the grocery store for $4 to use as filler.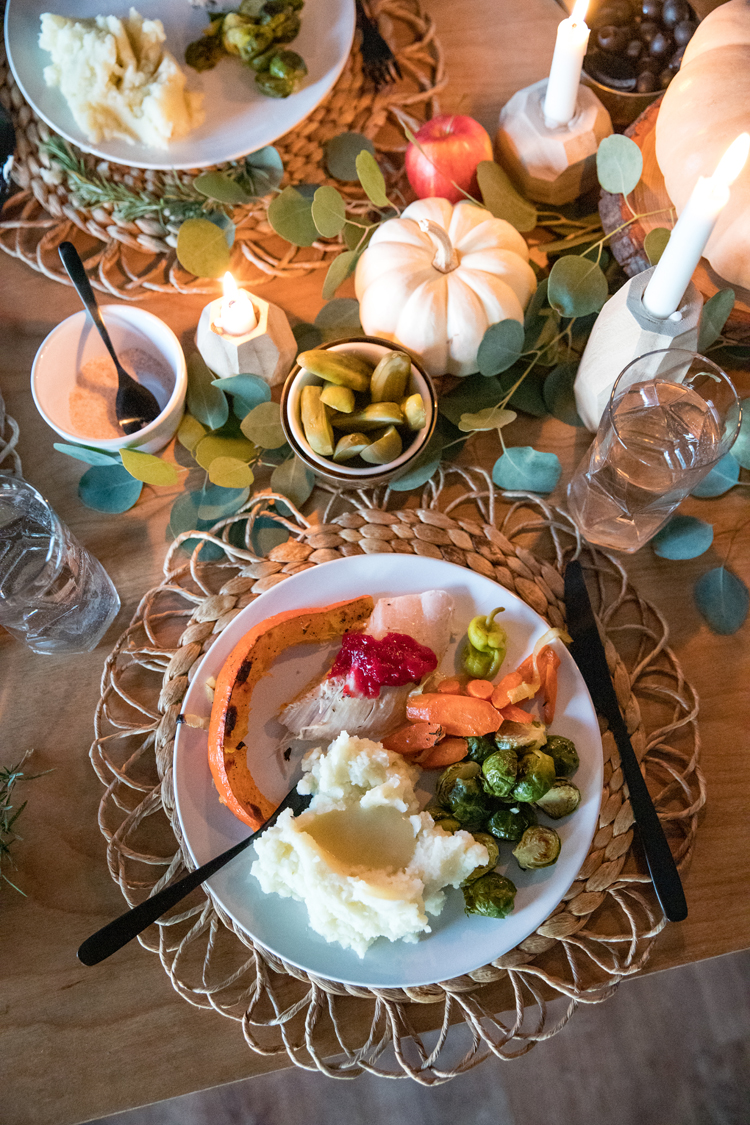 We don't really stick to a traditional menu, so if you are in search of something like that, Milk Allergy Mom has a great post with all the classics: click here.
Turkey
We used this recipe from Tastes Better From Scratch this year but with Earth Balance Dairy Free butter (see a picture of it in the mashed potatoes section).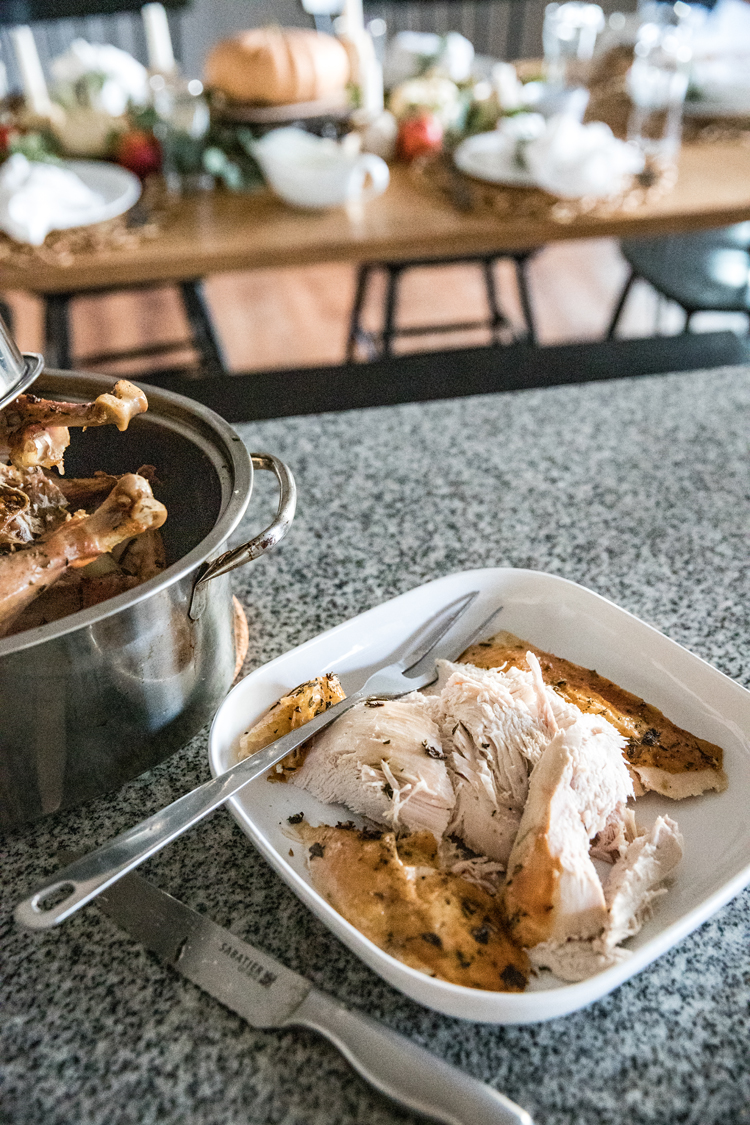 I loved the herbed butter and I think stuffing it with onion, apples, and lemons added really nice flavor. I would add more cooking time though. Our bird took longer than the recommended time for it's weight. We ended up cranking the temperature at the end, drying it out a bit, because we couldn't wait any longer. Otherwise, it was yummy.
Mashed Potatoes
This is a recipe that I have learned to make deliciously dairy free. I use dairy free butter of course, but the trick is to use broth instead of milk, even a plant milk. I think chicken broth is the most flavorful, but you can use vegetable or beef broth, or even turkey drippings.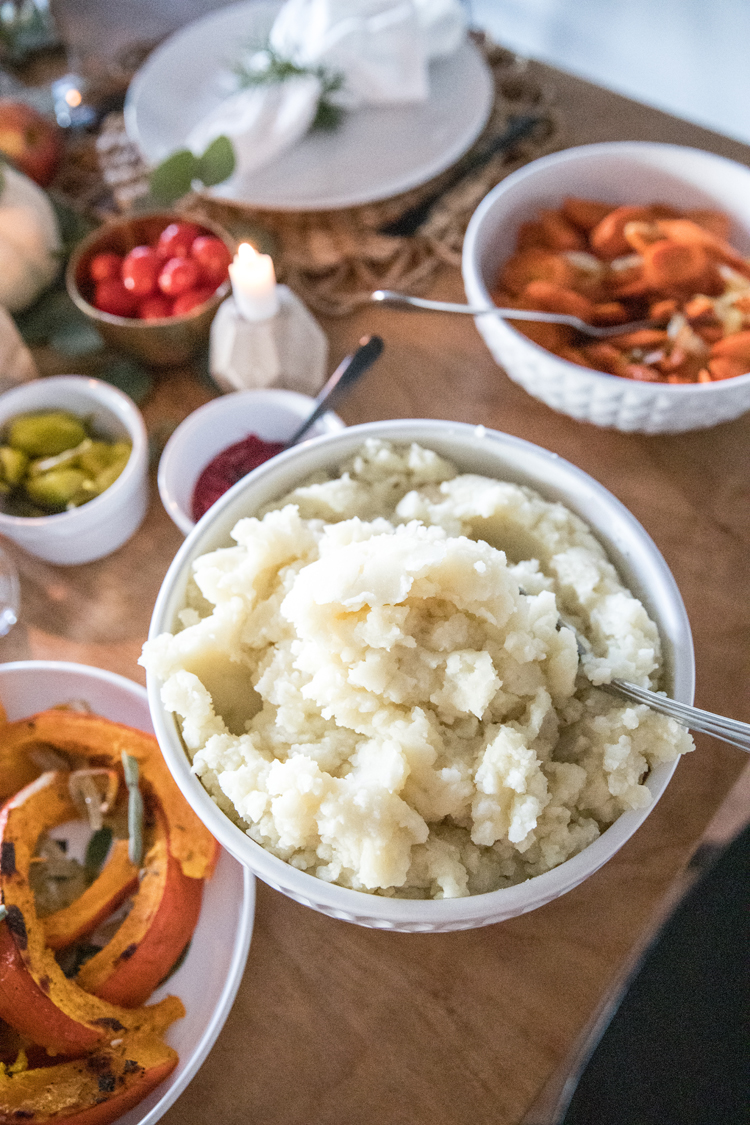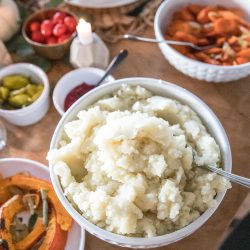 Dairy Free Mashed Potatoes
Ingredients
5

lbs

russet potatoes

washed and peeled

1/2

cup

Earth Balance dairy free butter

(one stick)

2

cups

broth

I prefer chicken

3

cloves

garlic

optional

salt and pepper to taste
Instructions
Cut potatoes into quarters. This makes the cooking time a little longer, but it results in less starchy, gluey potatoes. Trust me…just quarter them.

Cover with water and salt the water if desired. I use pink Himalayan salt. Cook on high heat until it starts to boil. When it reaches a rolling boil, turn the heat to medium and cover with a lid, leaving it tilted so steam can escape.

When potatoes are cooked through, drain and then return potatoes to the pot on the hot burner with the heat turned off. You want to cook off every bit of water left on the potatoes and in the pot. When the steam starts to subside, remove from hot burner.

Add stick of butter. Mash potatoes with a hand masher and incorporate butter throughout, until butter is melted and potatoes are chunky texture.

Add 1 cup of broth and mash. Add remaining cup and mash until potatoes are a smoother texture. Add garlic, salt, and pepper if desired.
Gravy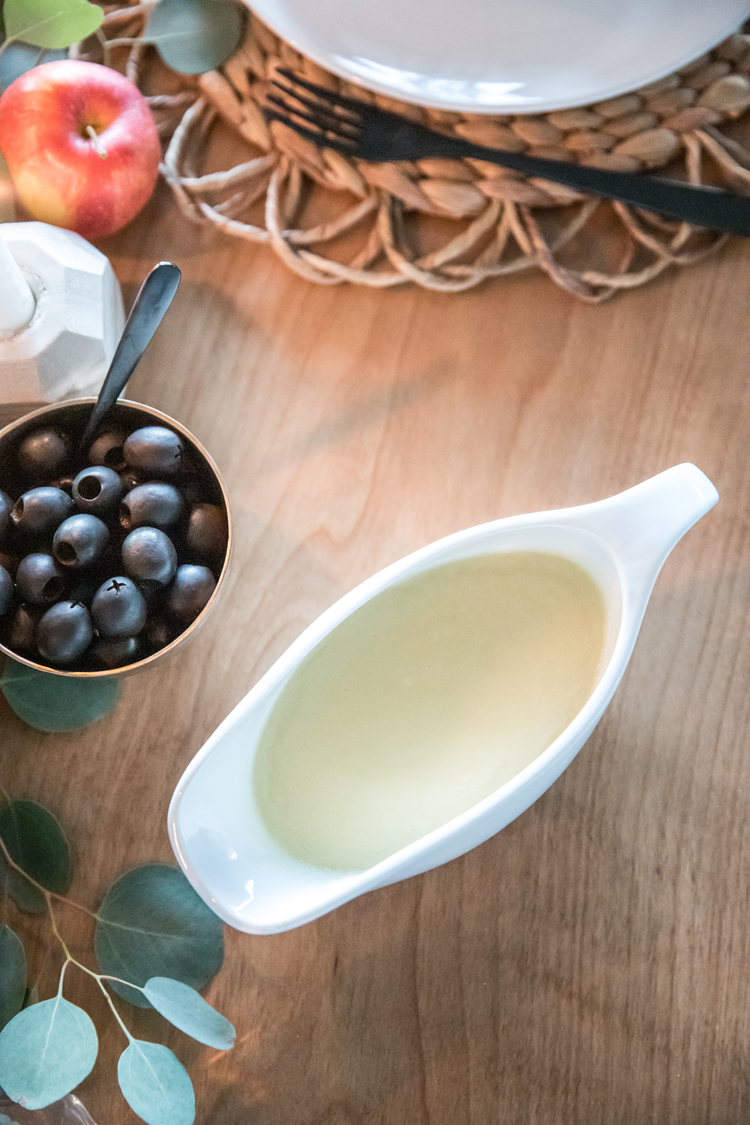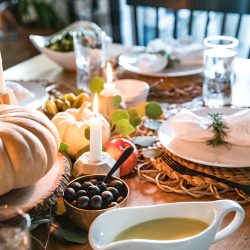 Dairy Free Gravy
Ingredients
3

tbsp

Earth Balance butter

3

tbsp

flour

2

cup

broth

1

bay leaf

2

cloves

garlic (I like to toast it first)

minced or pressed

salt and pepper to taste
Instructions
Cook dairy free butter over medium heat until melted and bubbling slightly.

Add flour and whisk to make a roux.

Add broth and whisk until well combined. Add bay leaf.

Simmer and stir regularly until mixture thickens to desired consistency. Add salt and pepper and garlic to taste.

Remove bay leaf and serve with dairy free mashed potatoes.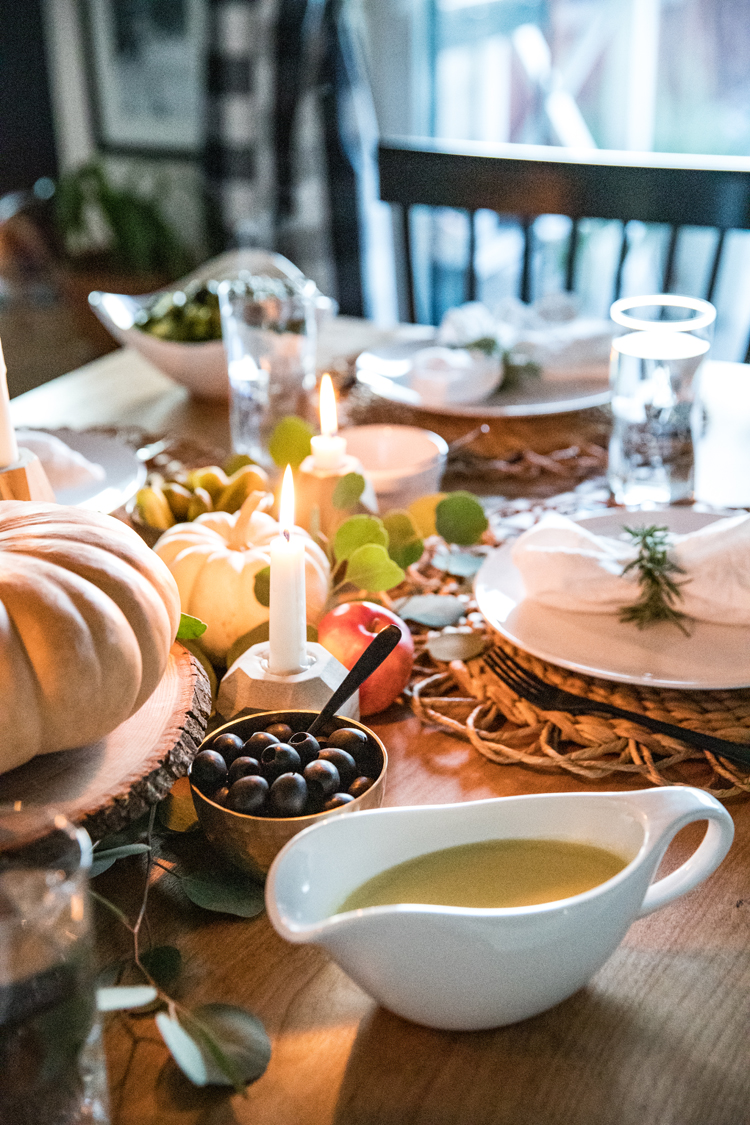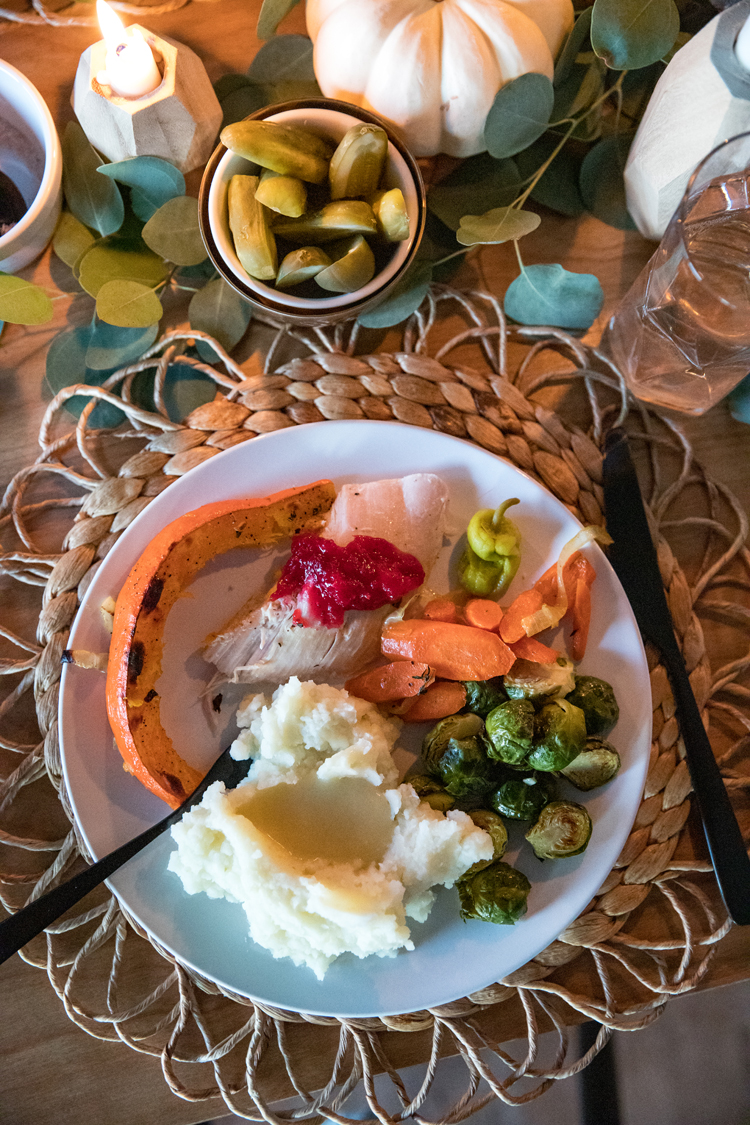 Cranberry Sauce
This is my favorite thing to make from scratch because it's so easy and tastes much better than anything you can buy. I usually add blueberries but didn't like the selection this year. After a poll on instagram, I decided to add apples and I think I have a new favorite add in!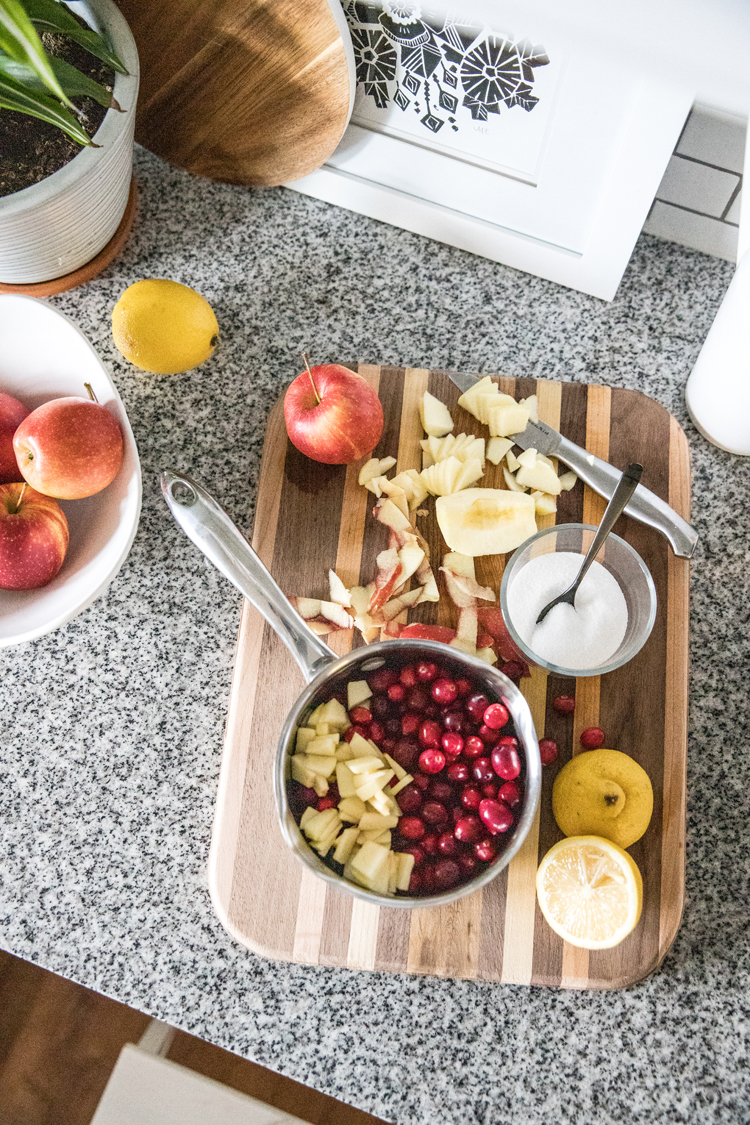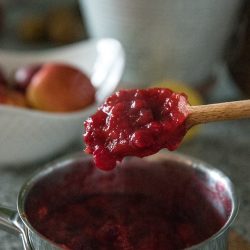 Cranberry Apple Sauce
Ingredients
1

cup

cranberries

1

small

apple

peeled and diced

2

tbsp

lemon juice

1/4

cup

sugar

add more if you like it sweeter

1/2

tsp

cinnamon

or add to taste

1

tbsp

water
Instructions
Add all ingredients in a small sauce pan and cook on medium high until cranberries start to pop and the mixture starts to bubble.

Turn heat to low and stir regularly. Mixture will liquefy and then thicken.

Remove from heat and serve warm or store for up to one week in the fridge and use later.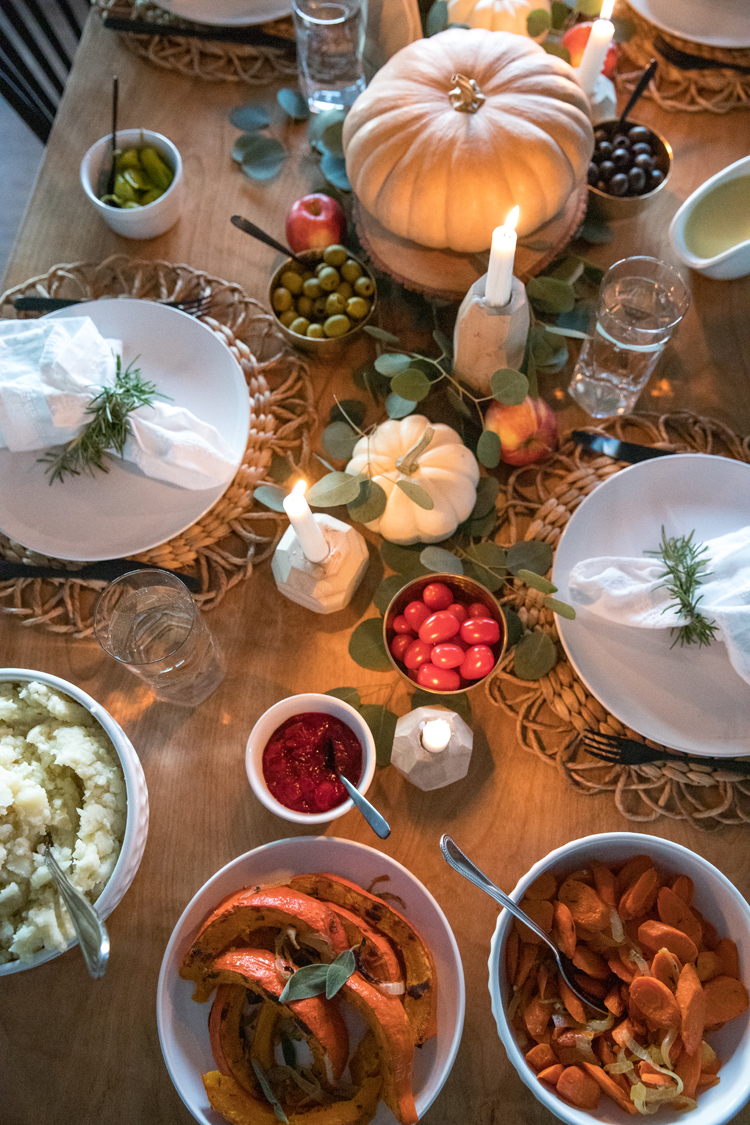 Roasted Vegetables
My husband and I don't care much for stuffing and our kids have either never tried it or they have and don't love it either. So, we usually make extra vegetable dishes instead. This year we made roasted carrots, kuri squash, and brussel sprouts.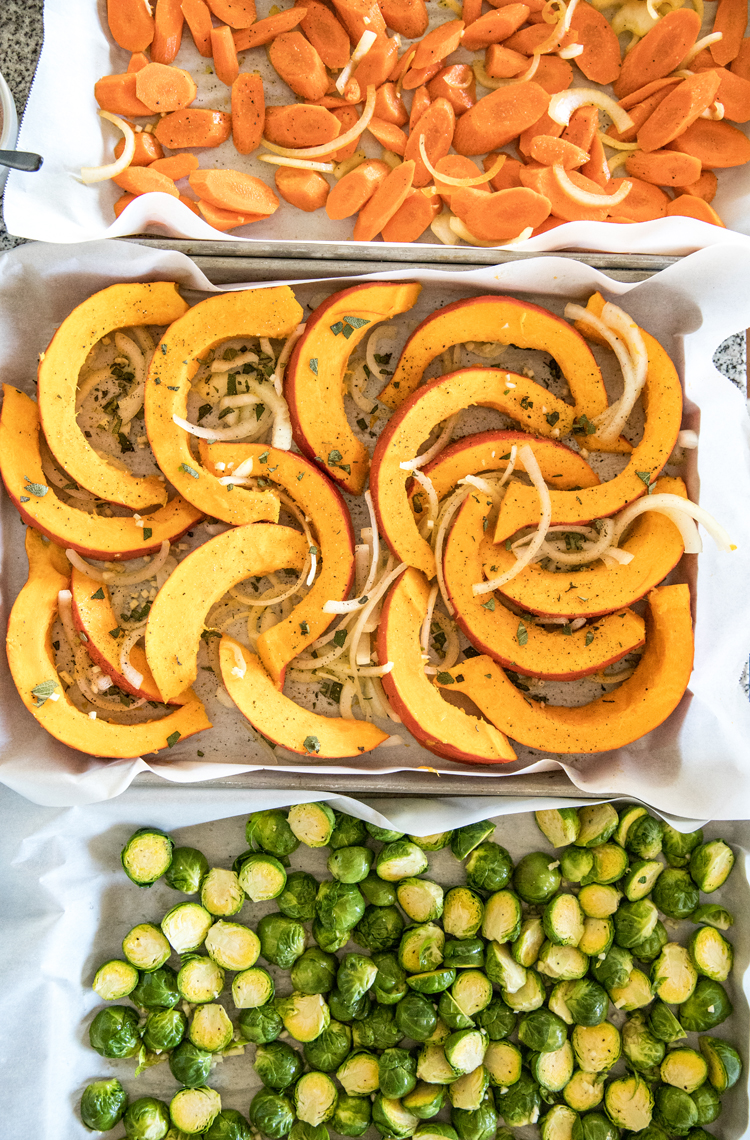 Simply toss or coat with 1-2 tbsp. of olive oil. Add onion and garlic if desired. Salt and pepper. Bake at 400 F until cooked through and crispy looking.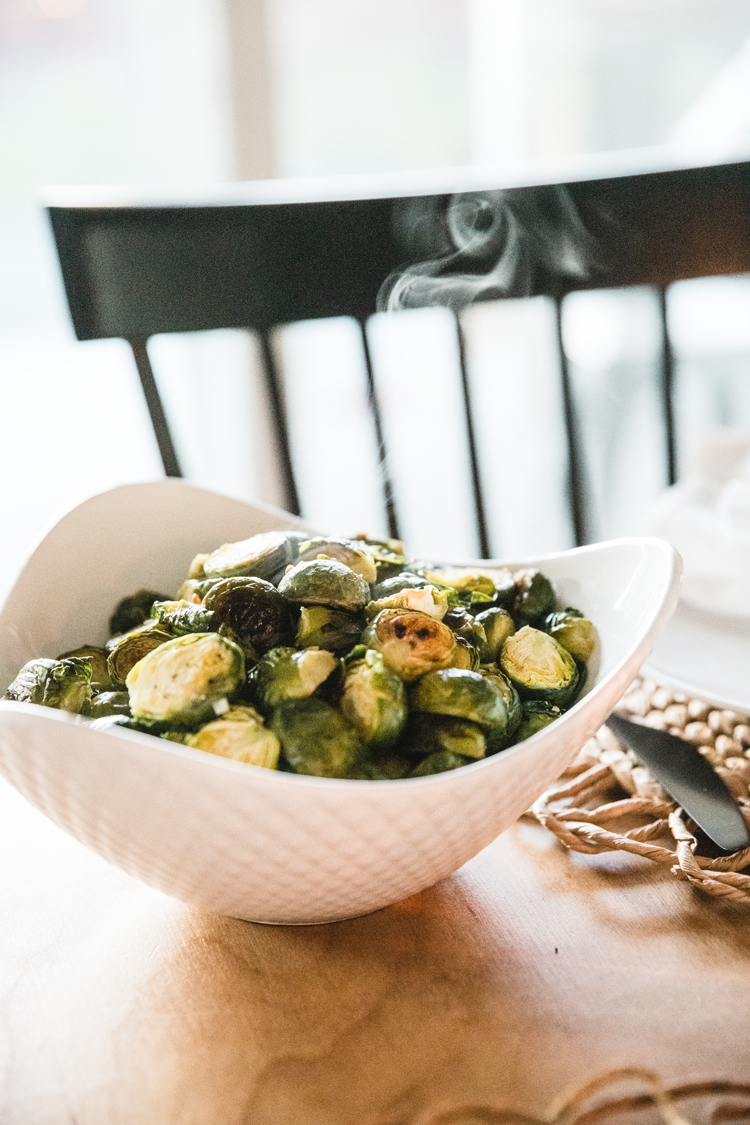 We broiled our squash on high for a few minutes at the end to give it nice color. It was probably my favorite dish of the night.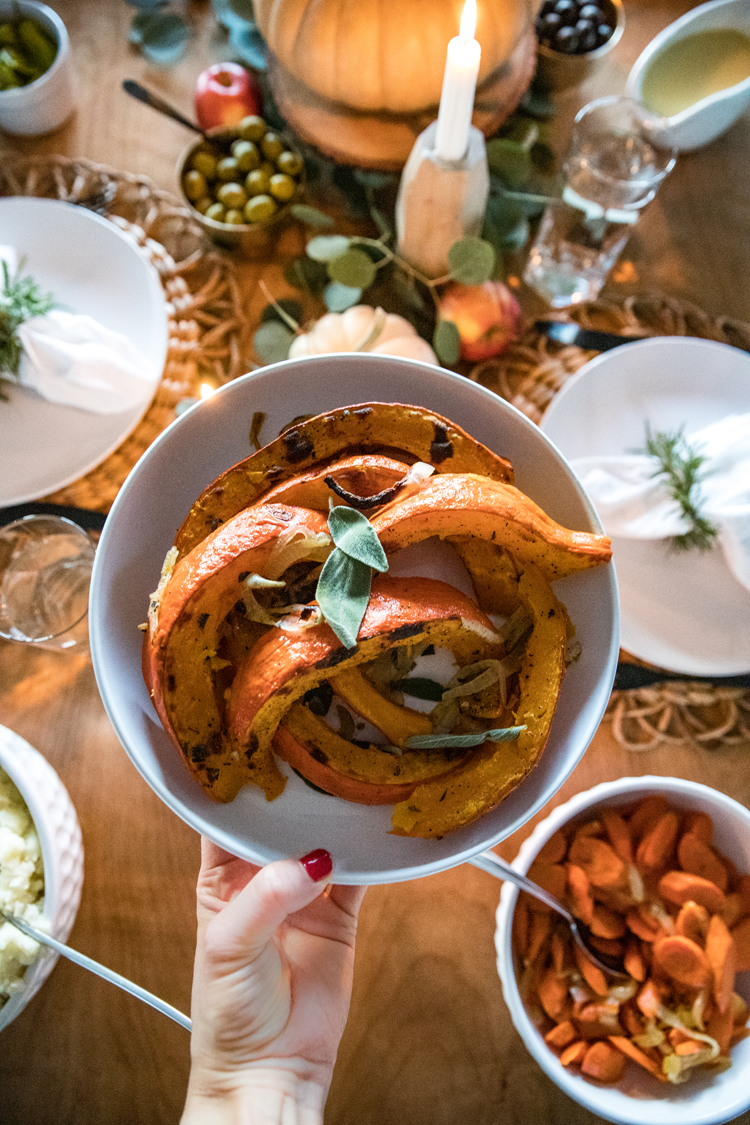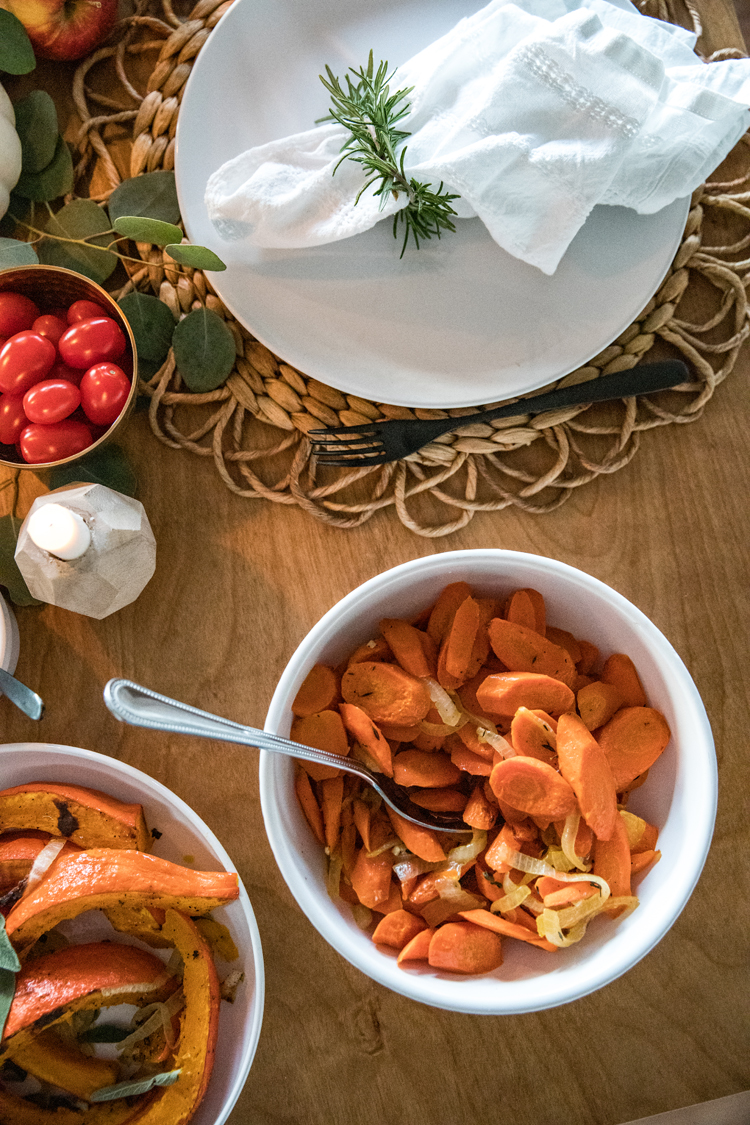 Bread/Rolls
We skipped making rolls this year, because I forgot. Meh…perks to having Thanksgiving ourselves. 😉
My favorite bread recipe is dairy free though. Check it out HERE. It works for monkey bread, cinnamon rolls, and regular rolls too.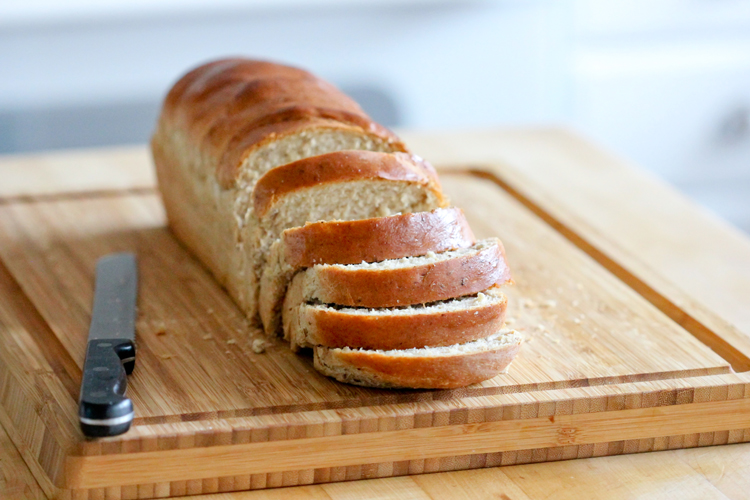 Apple Tart
I made a sugar free apple tart from Jennifer Tyler Lee with bated breath to see if the kids would revolt. I'm happy to say they loved it!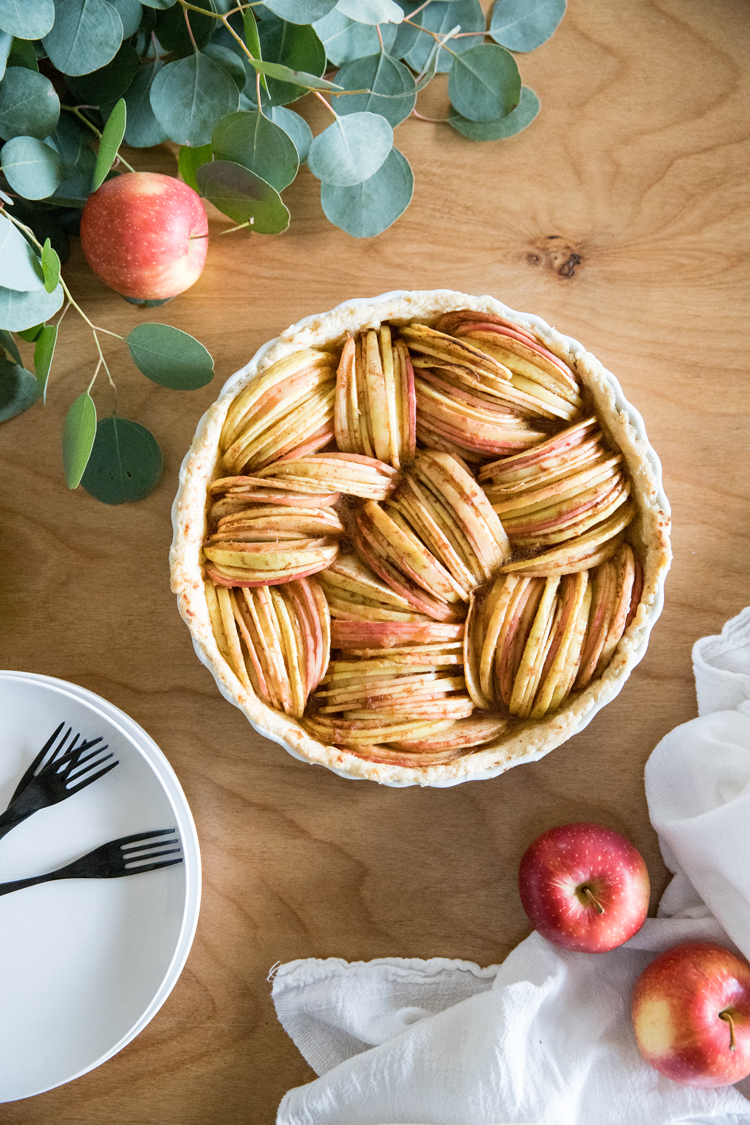 Jennifer's recipe doesn't use any added sugar or alternative sweeteners. It gets all it's sweetness from honey crisp apples and some unsweetened apple sauce and it's plenty sweet. I am a BIG fan.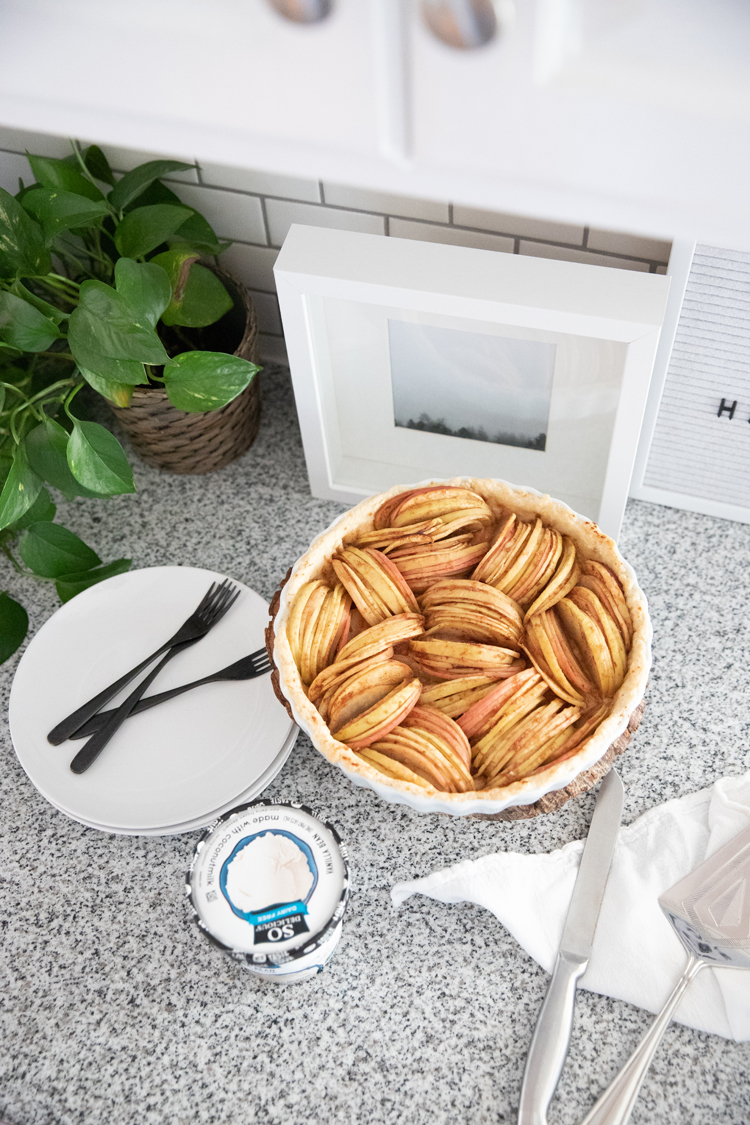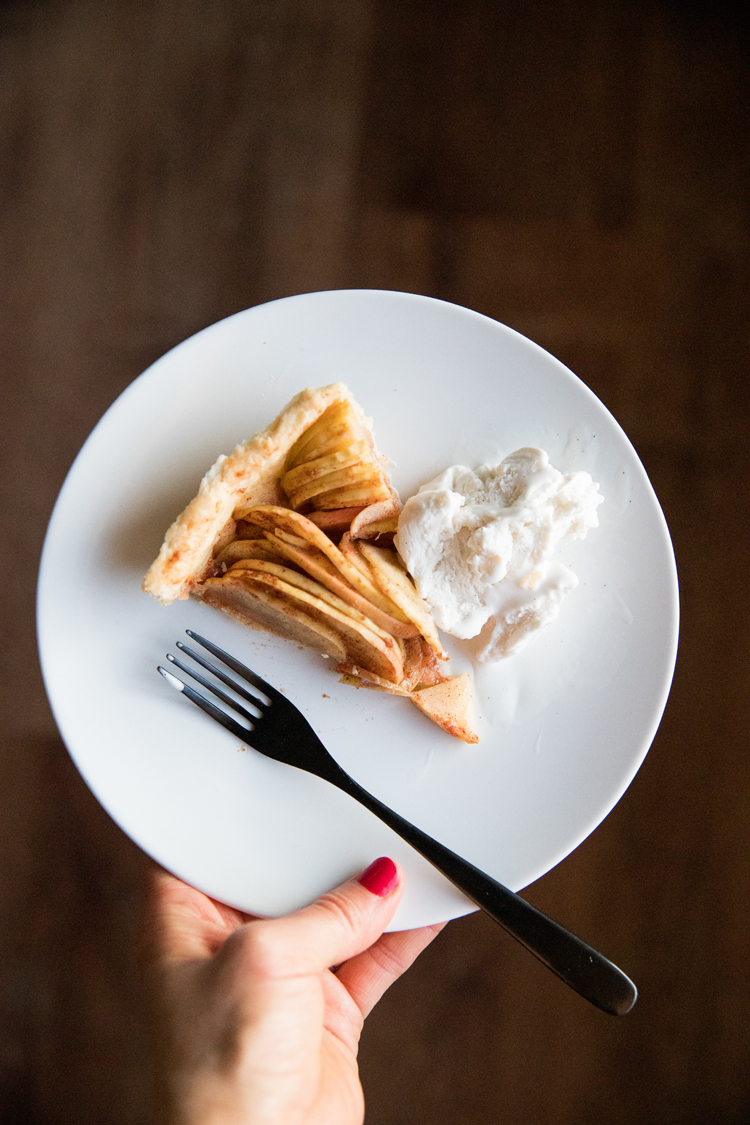 I did offer some dairy free vanilla coconut milk ice cream from SoDelicious along with it, so it wasn't completely sugar free. But instead of being a sugar rush to the head, it was just perfect.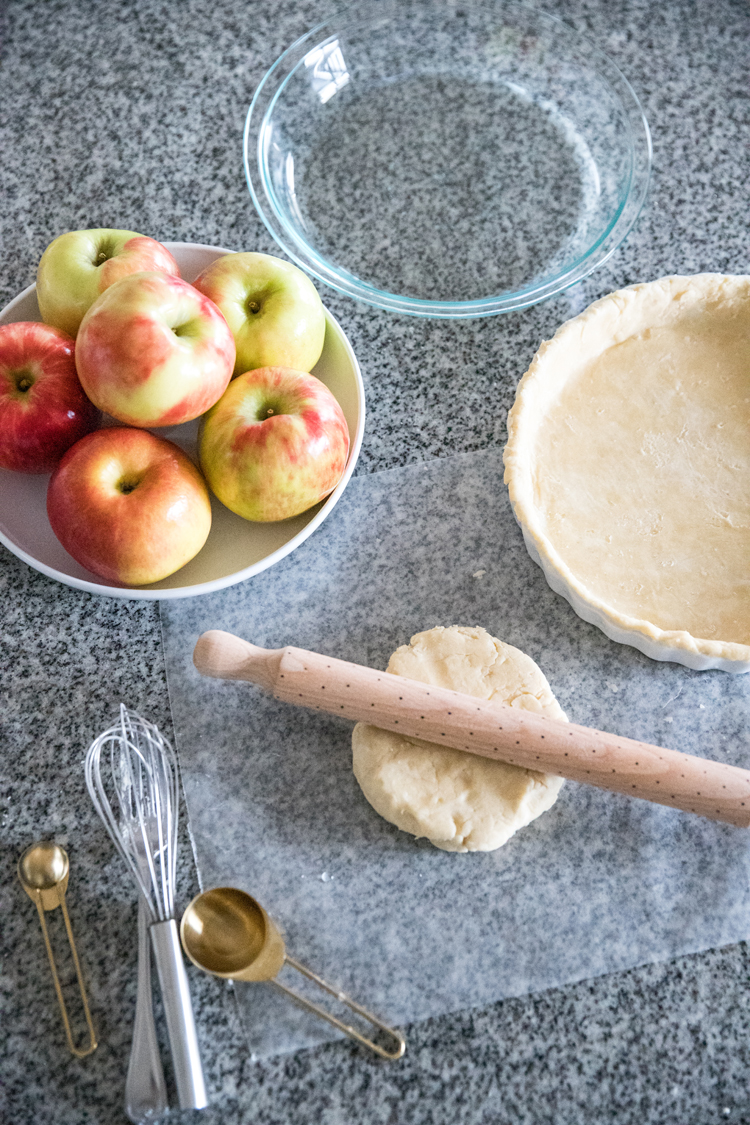 I used my favorite coconut oil pie crust recipe.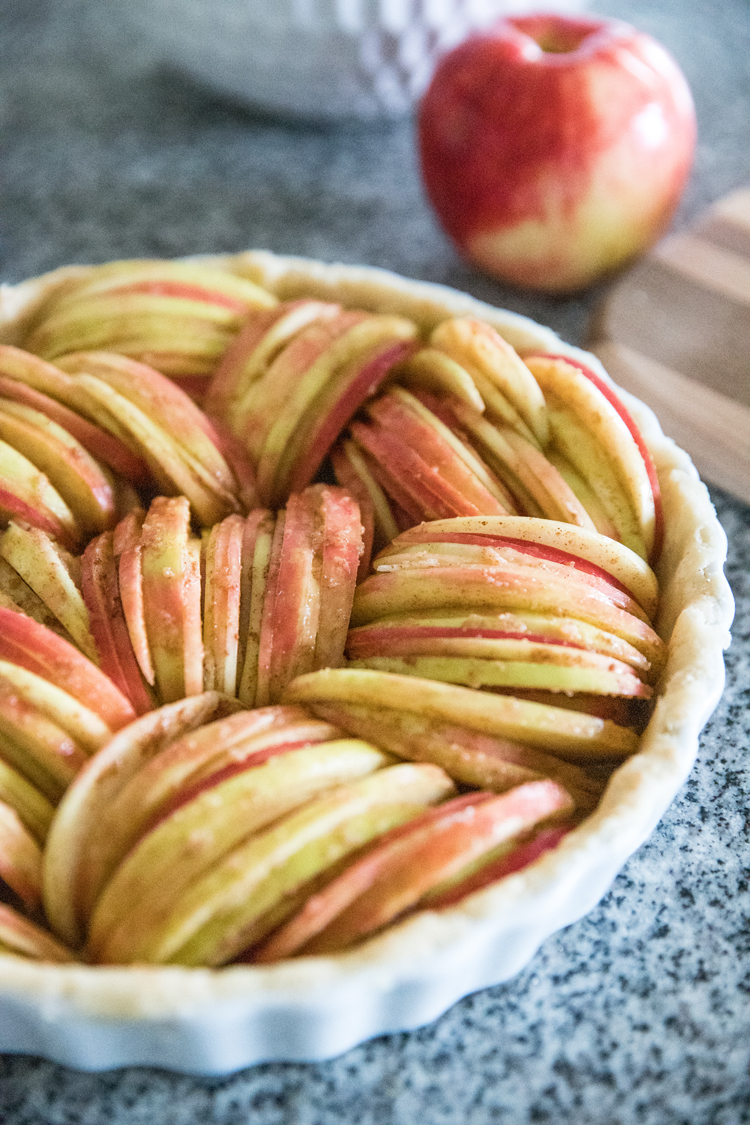 Then I left the peels on and arranged the apple slices like this pin (that unfortunately leads to nowhere). It was so beautiful at every step, especially when it was cut into, and it hardly took any more effort.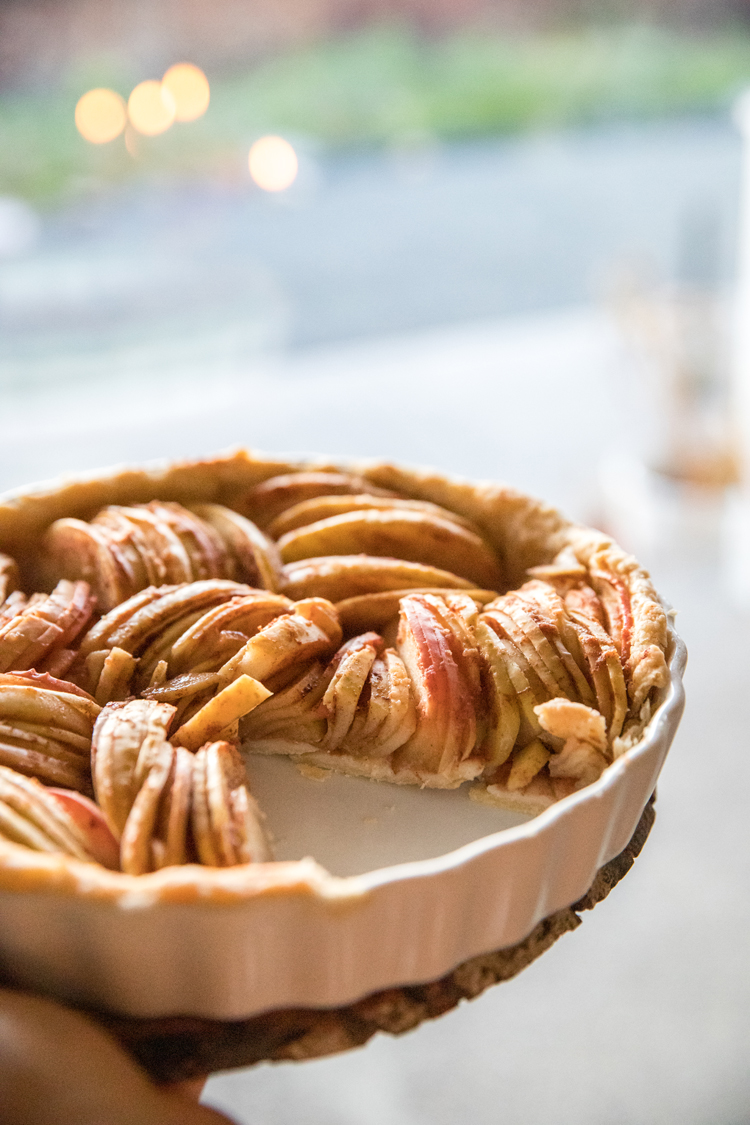 Well, that's it!
If you need a recipe for leftovers, this pot pie recipe is a favorite in our house.
Happy eating! 😉