My favorite projects are making something from seemingly nothing. I believe that a magical place setting doesn't have to be expensive or time consuming and it can be made from the things you have on hand!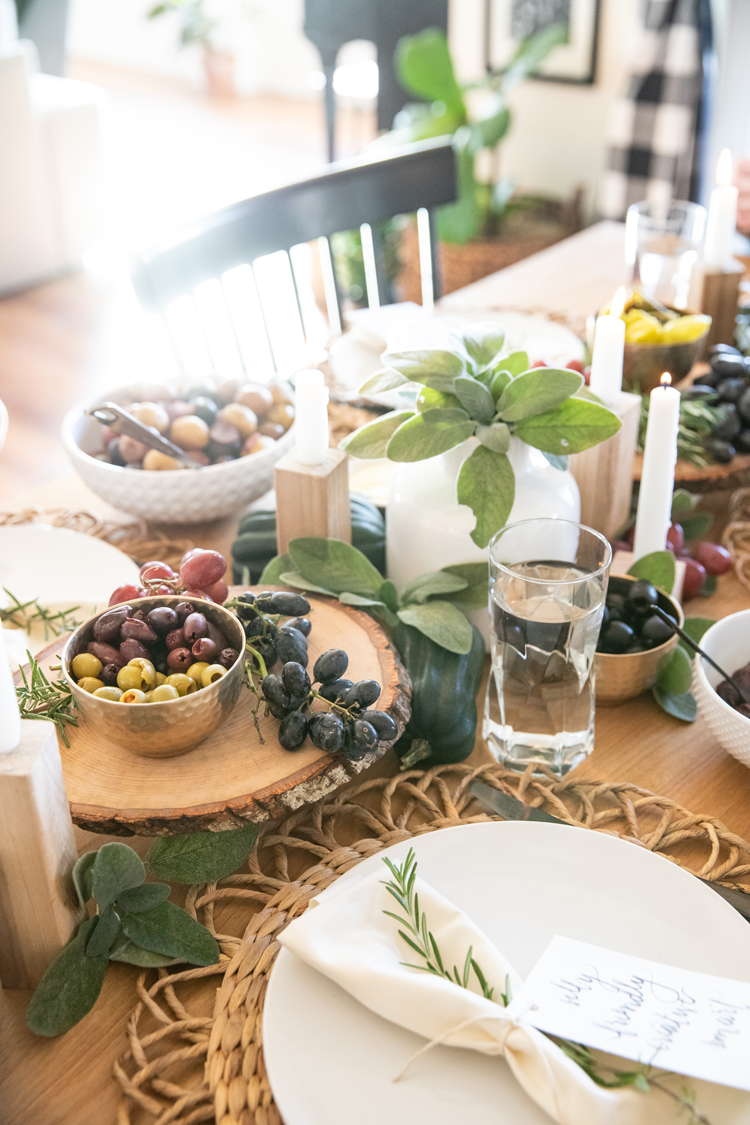 When I took pictures for the post I shared yesterday about making Thanksgiving more meaningful, I also snapped a few pictures of how I put our table setting together using our usual dishes and some produce! It was so easy and it makes the meal feel a little more special.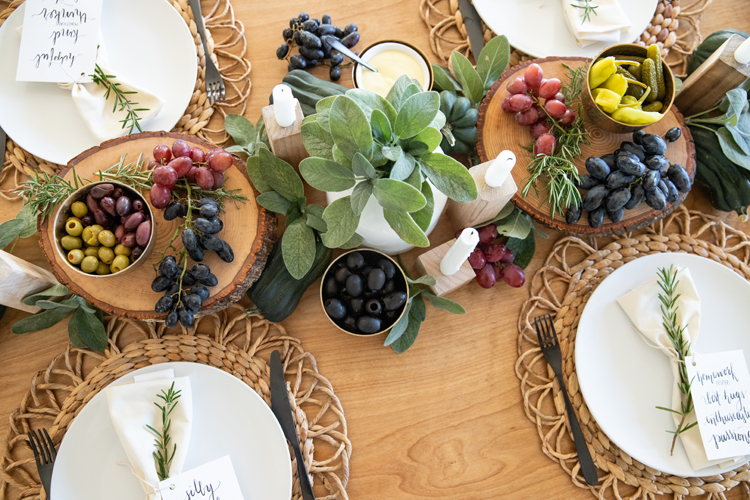 We also live in a small space, so our dining table is in our open concept living room/kitchen/dining room. It's pretty much where everything happens…homework, meals, craft projects, etc….so, I actually made our table out of plywood so that it would be seamless (no crumbs in cracks!) and completely kid friendly. You can read more about how I made it in THIS post.
Because we have just the one table, I decided to incorporate our relish tray into our centerpiece to save space.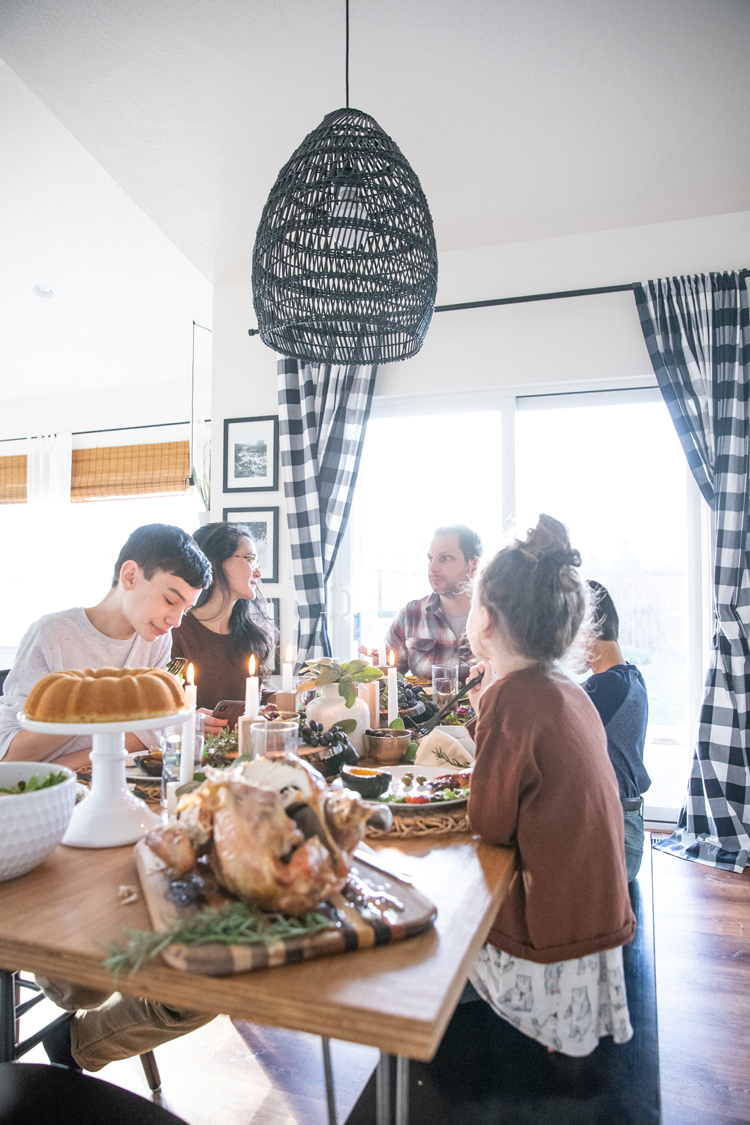 Using food as decor is a great way to save space, money, and create a table that looks elegant and bountiful. And the fruits and veggies pull double duty as a snack or meal for later.
It also allows you to make your table seasonally appropriate without having to buy special dishes or extra decor. Berries, parsley, and carrots are great for spring. Pomegranates and squash are perfect for fall/winter celebrations. Citrus is good any time of year!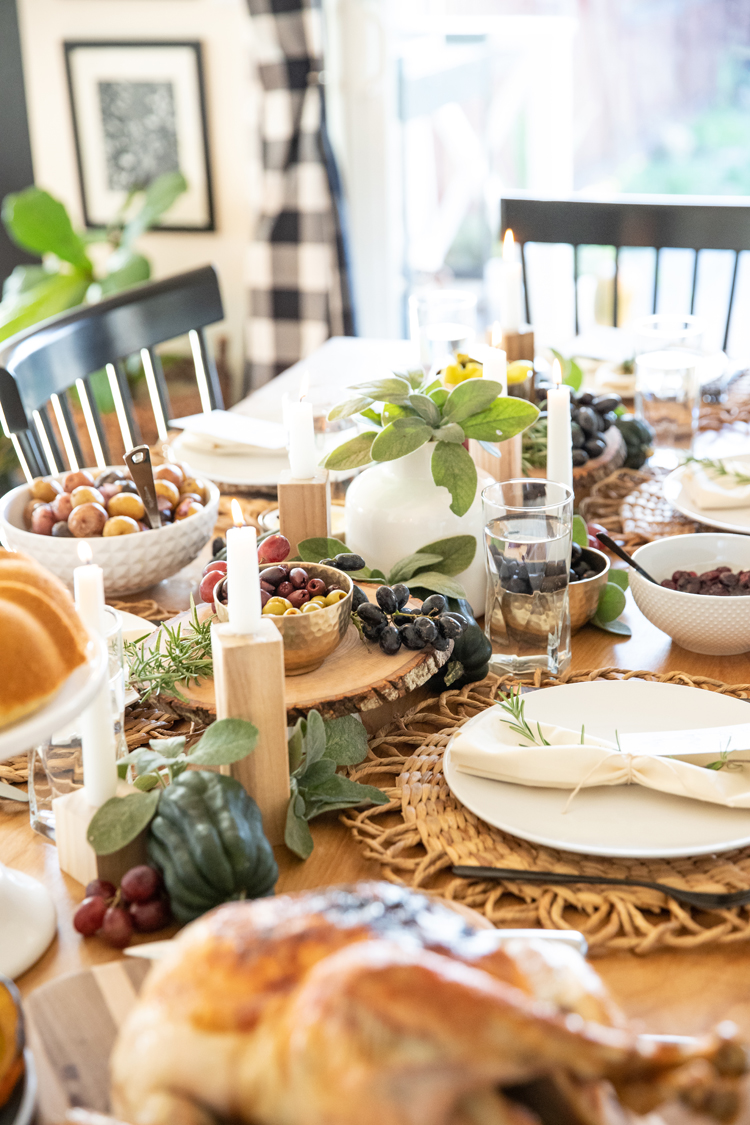 I'm going to share how I assembled our table setting using what we had on hand, but I also list some substitute ideas and inexpensive DIY ideas, in case you don't have some of these items.
MATERIALS
Short vase or some mason jars*
Cake plates**
Candle Sticks***
A variety of produce****
Small bowls*****
Relish tray items
Material Tips:
* Items look best grouped together in odd numbers. So, if you are using two cake plates, then one large mason jar/vase or three smaller mason jars would work well. If you only have one cake plate, make that the focal point and flank it with two vases. Just make sure they are not too tall because you want to be able to easily have conversations over the centerpiece.
** I made our cake plates out of wood slices and little ramekins from Goodwill. I have a really simple tutorial HERE. You can also use side plates on top of stacked books, if you're in a pinch. The produce will fill in the gaps so they won't be too noticeable. Or, if your books are pretty, it might add a nice creative touch.
*** I made our candle sticks using this idea from Live Free Creative & Co. All you need are some blocks of wood or wooden table feet. It's very simple and inexpensive. (I also shared this in my Make It In Minutes series on Instagram. I'm @deliacreates. Check out the MiiMM November story highlights.)
**** When shopping for produce, I like to look for structural leafy greens, like the sage and rosemary that I use here from my garden. Kale is a great one, especially Tuscan kale and it usually runs about $1 per bundle. If it would look pretty in a floral arrangement, then it's a good bet.
***** The goal is to use items you already have on hand, but if you don't yet have a collection of small ramekins or bowls or placemats, I suggest checking stores like Ross, Home Goods, TJ Maxx, Marshalls, and of course, Goodwill! You can get white basic ramekins or unique bowls very inexpensively. I got these food safe, brass bowls for $5 for a set of four at Home Goods. Our placemats are from Goodwill and were about $4 for a set of six.
TUTORIAL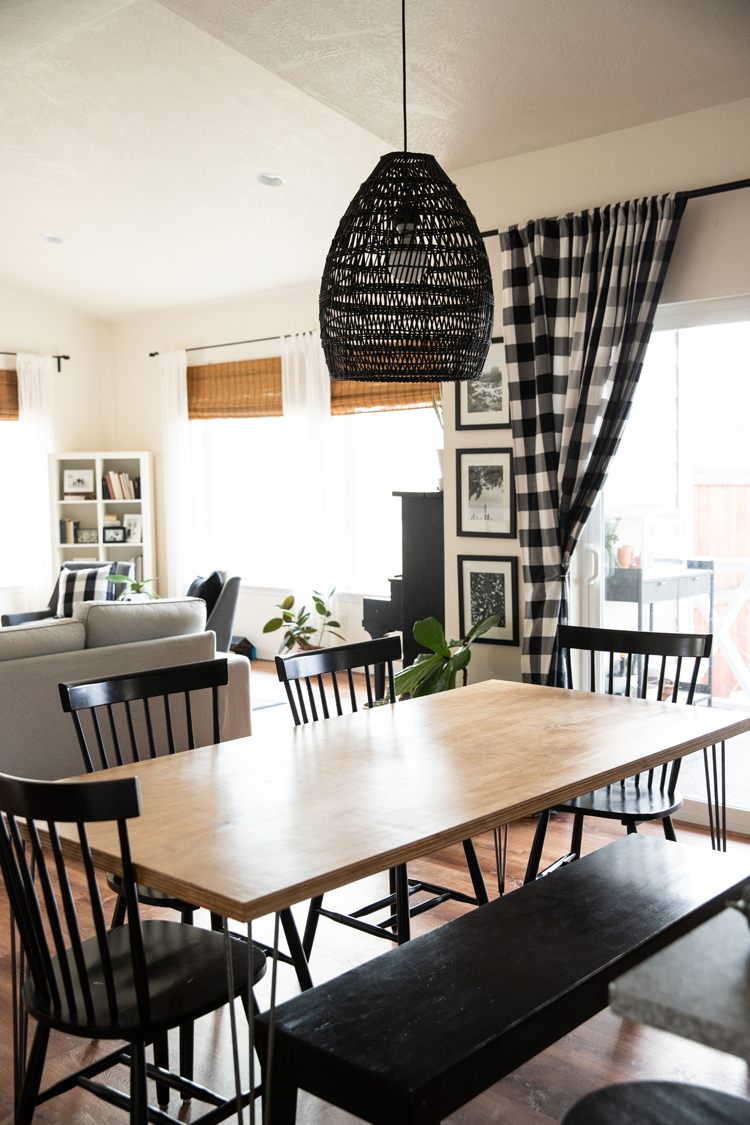 Step One: Clear the table and add your biggest items. Like I mentioned before, an odd number of items is the most pleasing to the eye. I like to add items with height like cake plates so that there are levels to the centerpiece.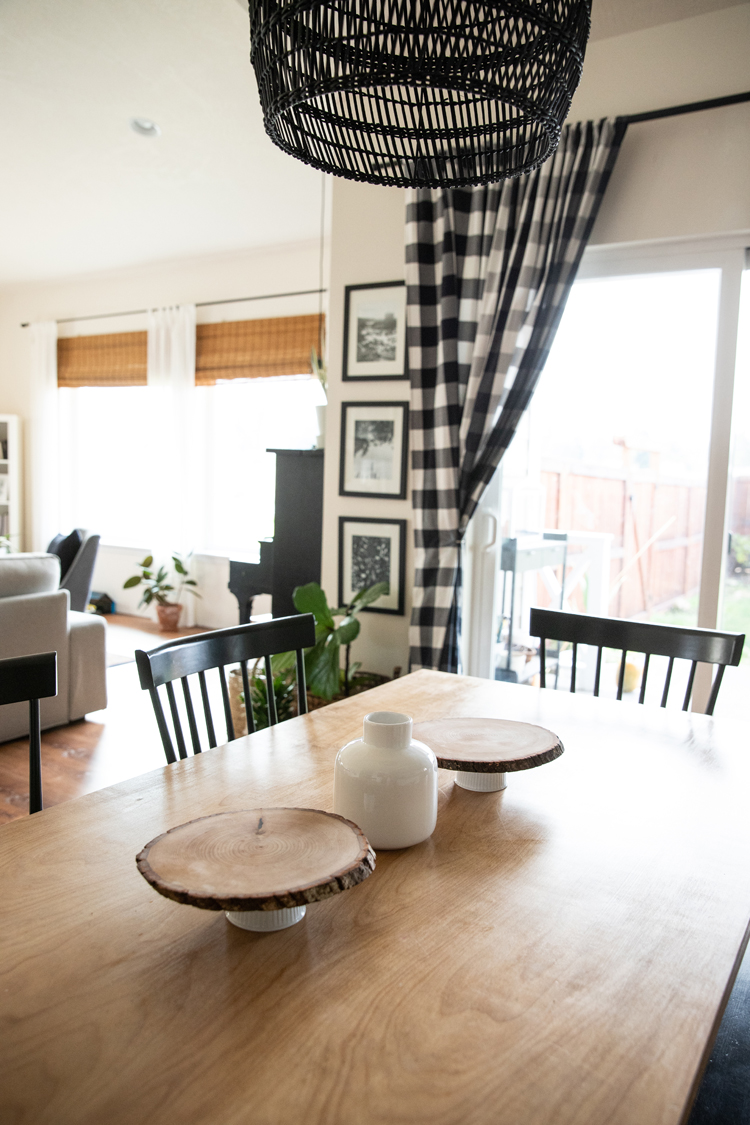 Step Two: Add small bowls (for relish tray items) and candles. Play around with placement. Put some up on the cake plates and tuck others around the vase. Aim for balance rather than symmetry for a more natural look.
Step Three: Add placemats and plates.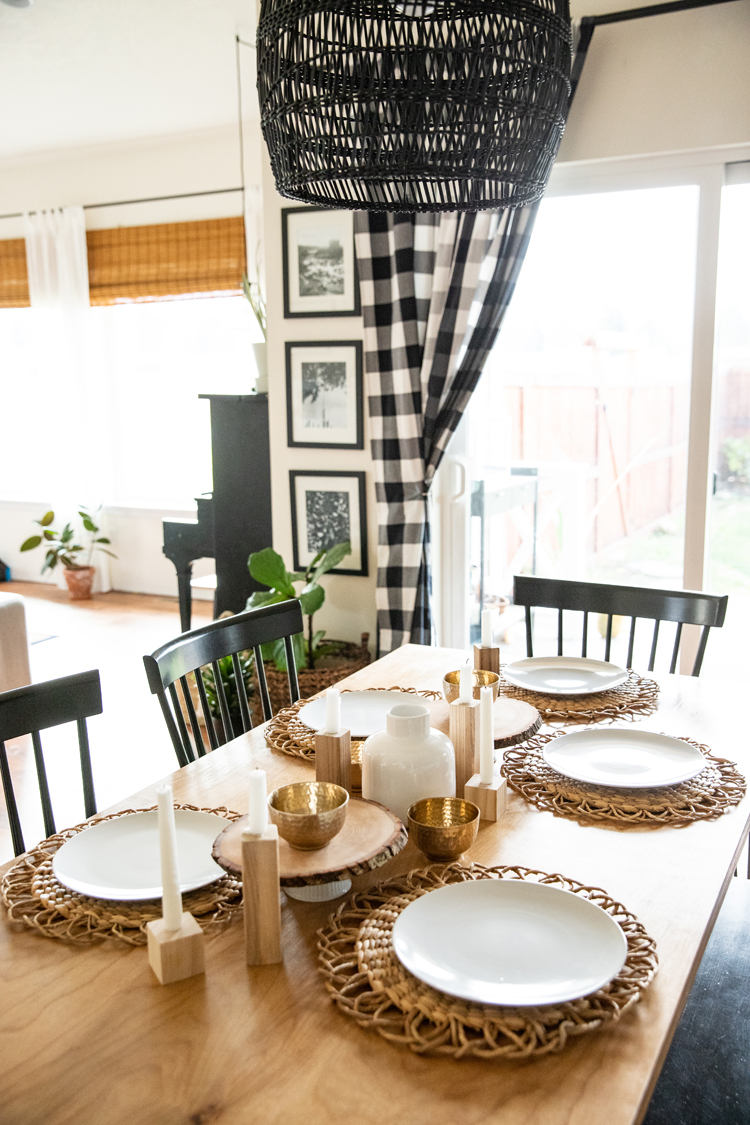 Step Four: Add greenery and produce. Nest them into empty spaces and fill in any gaps. I also used my sage greenery as my "floral arrangement" because it has a nice low profile and doesn't distract from the food elements that I really wanted to be the main focus.
Step Five: Add relish tray foods. Before you are about to eat, add the olives, pickles, etc. to the bowls and if you want, in piles on the cake plates, for a charcuterie look.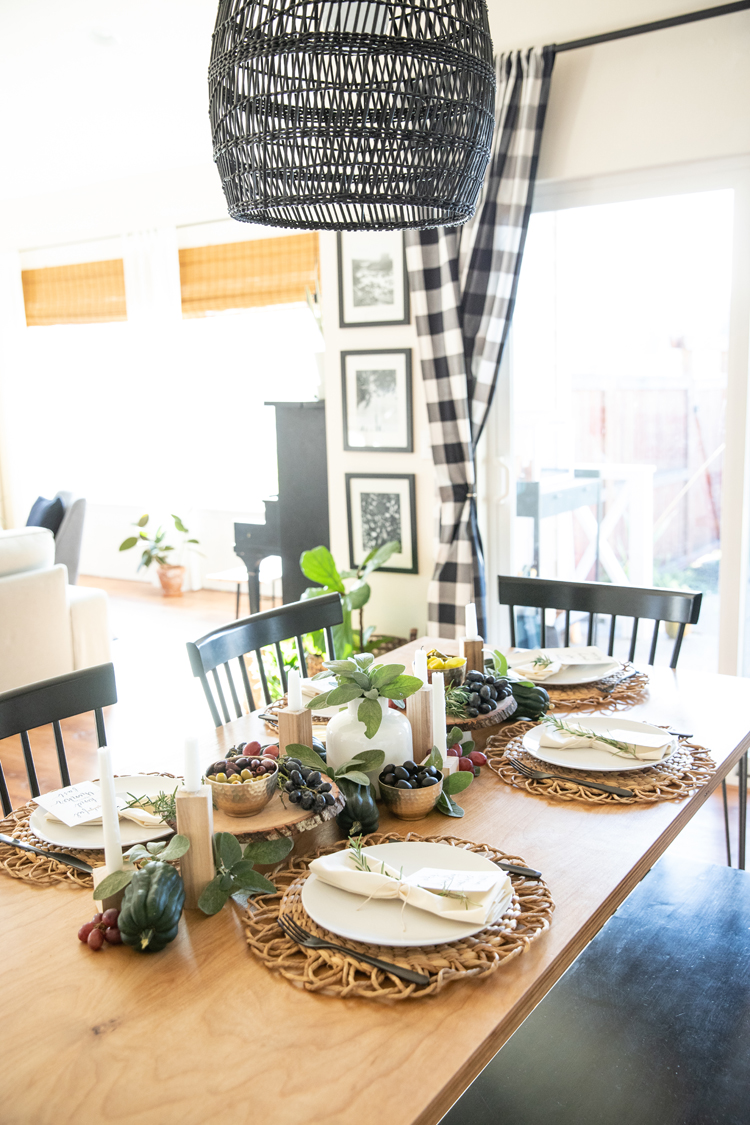 If you use any of these ideas to dress your table for the holidays, I would LOVE, love to see it. Tag me on social media…I'm @deliacreates. 🙂