Thanksgiving is one of my favorite holidays. It's not about gifts or busy-ness or decor really. It's all about connection and gathering with loved ones.
I've teamed up with Signature by Levi Strauss to share four simple ways we help make our Thanksgiving more meaningful; which is the perfect collaboration because Signature jeans make the perfect cozy Thanksgiving dress code. We want the day to feel a little more special, but we want to keep things casual and comfortable so we can truly enjoy the day!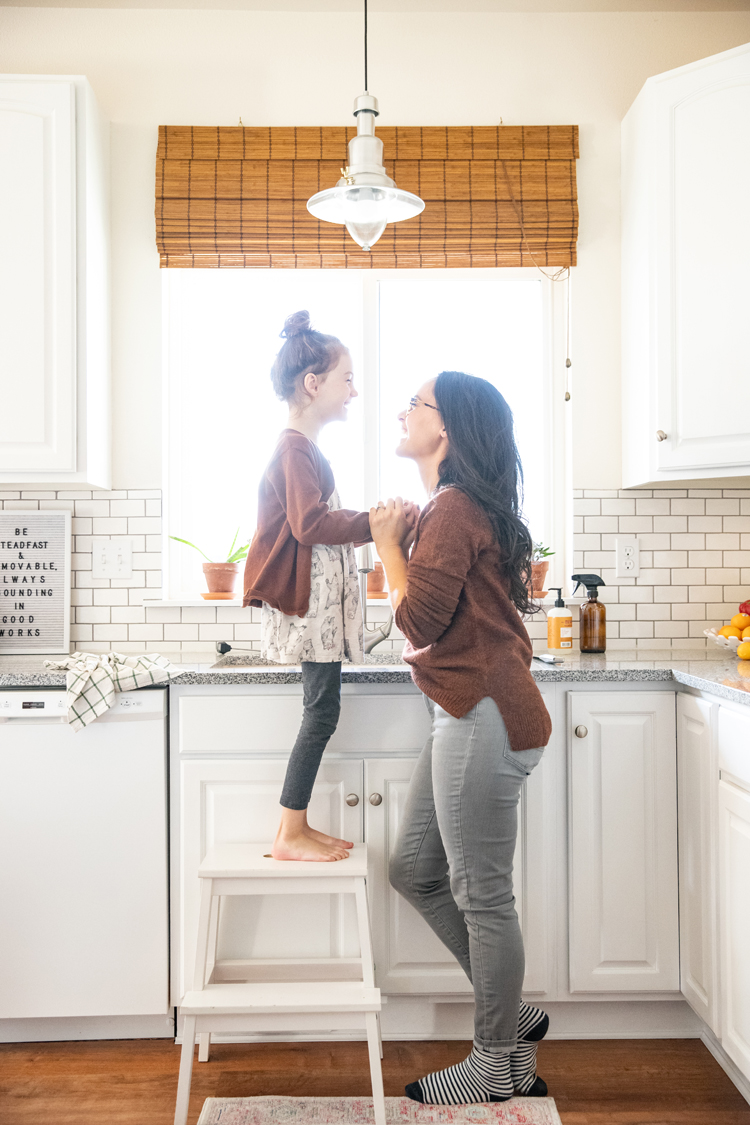 I'm seriously crushing on this Signature High Rise Ankle Skinny Cuff in Pebble. I've never had a pair of gray jeans look flattering on me, but somehow these do the trick.
The high-waisted, structured shape gives me a perfect fit all day. You know they're good jeans, when I still feel confident in them on the biggest eating holiday of the year. Ha! 😉 The material is also so smooth and stretchy, I almost feel like I'm wearing leggings, which is also a huge plus when I'm about to overeat. And at $20 a pair there's even more to be grateful for.
Note: The grey are sold out online right now (I told you they're good!) but hang tight…I've been told that they are being restocked following Black Friday (yay!).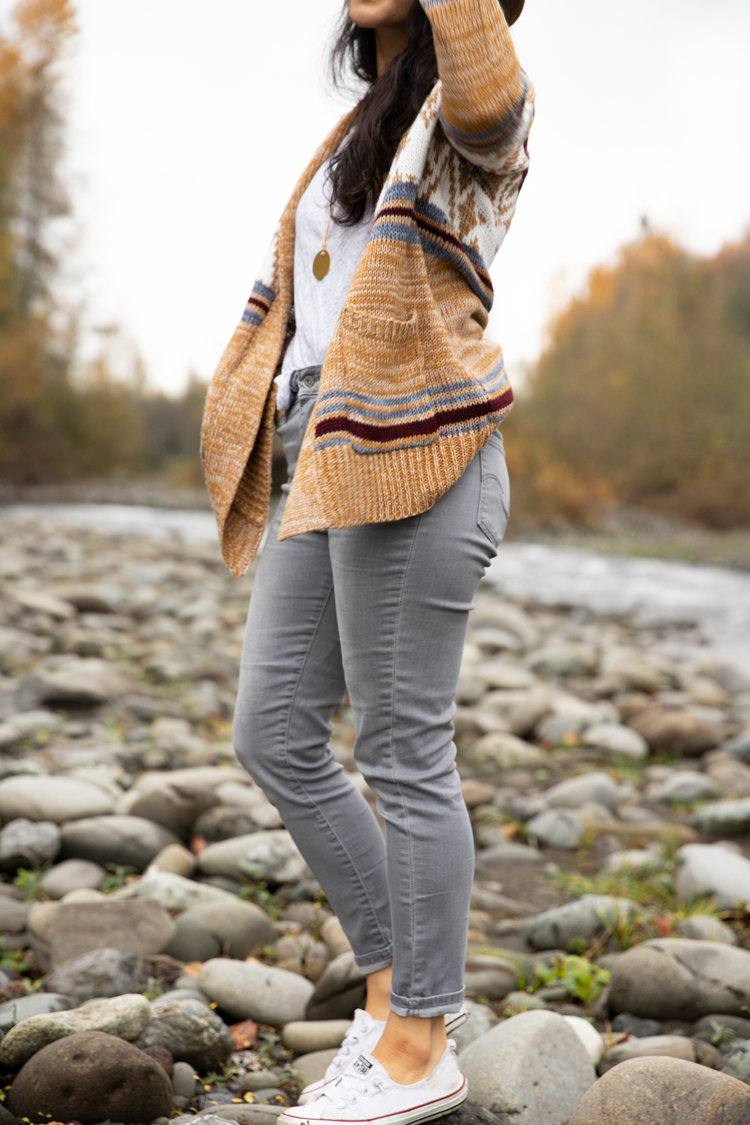 To complete the look I like to keep it casual with sneakers, a hat, and of course, a squishy soft cardigan is a must. Perfect for giving lots of snuggles.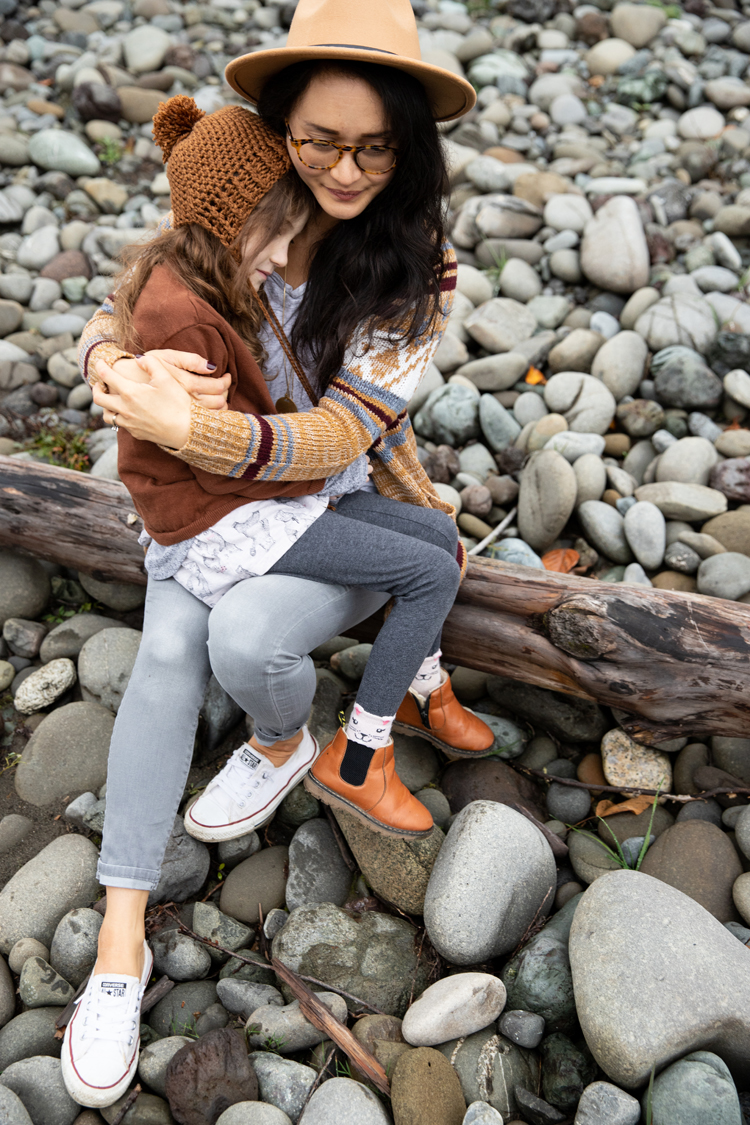 To help make our day more meaningful, I've really focused on small, and simple tweaks that help make the day run more smoothly, so it can be all about making memories!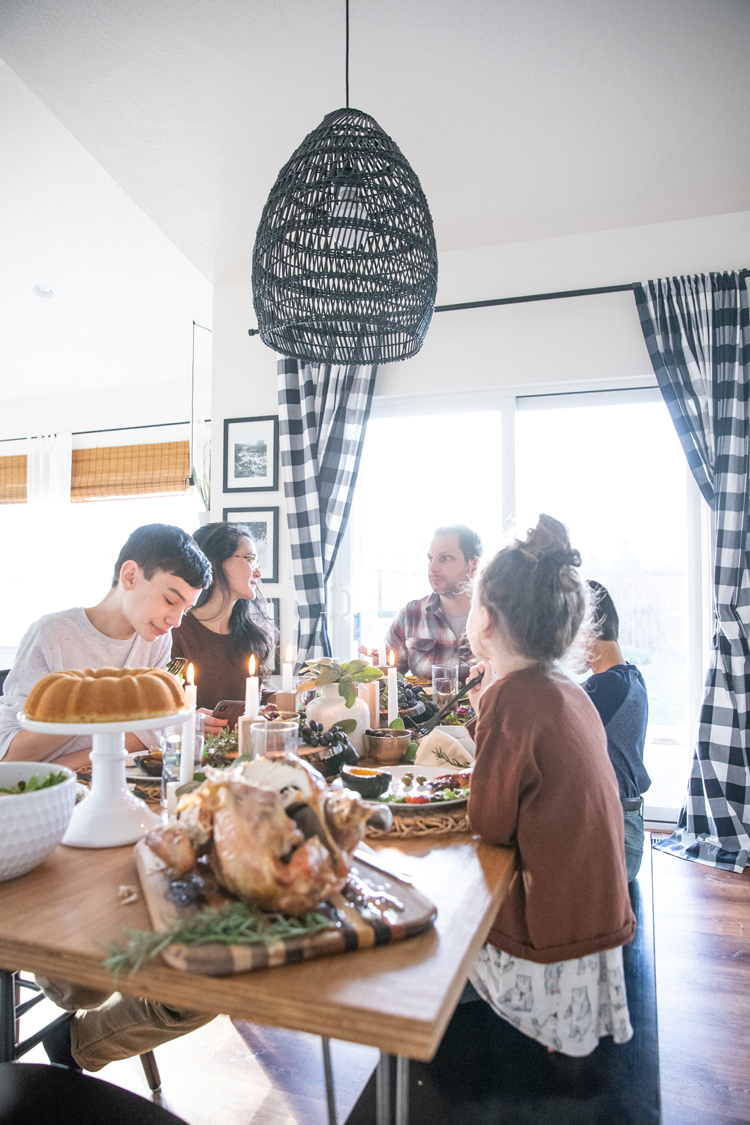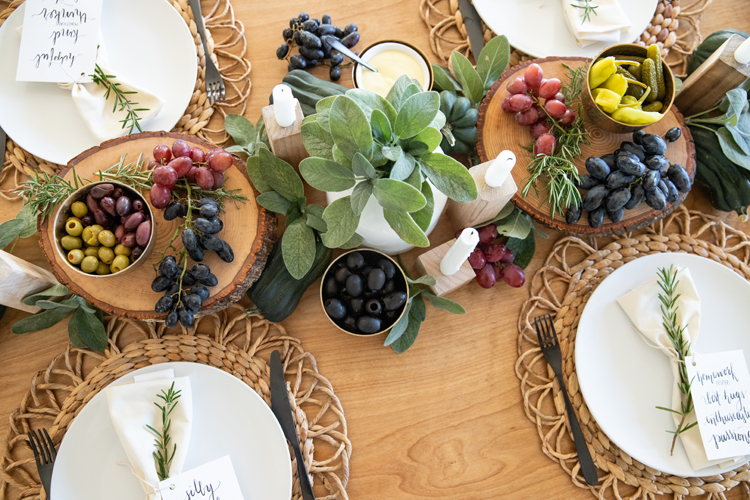 P.S. For an easy tutorial on how I put together our table setting using things we had on hand, check out THIS post.
1. Use compliments as place cards.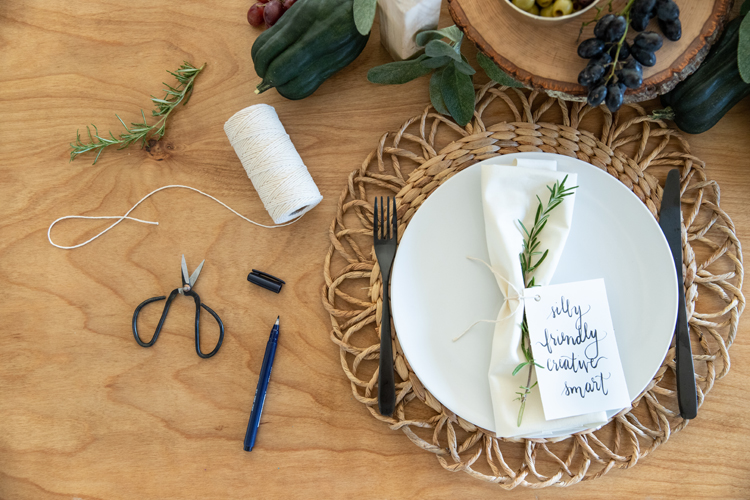 Prior to Thanksgiving, I ask each family member to write down a word or a short phrase about each family member. Things they admire about them, things that person has done for them, or other complimentary things they have noticed about that person. Then I hand-letter them onto a piece of plain white card stock to tie to their napkin with some cotton twine. (You could also type them and print them!)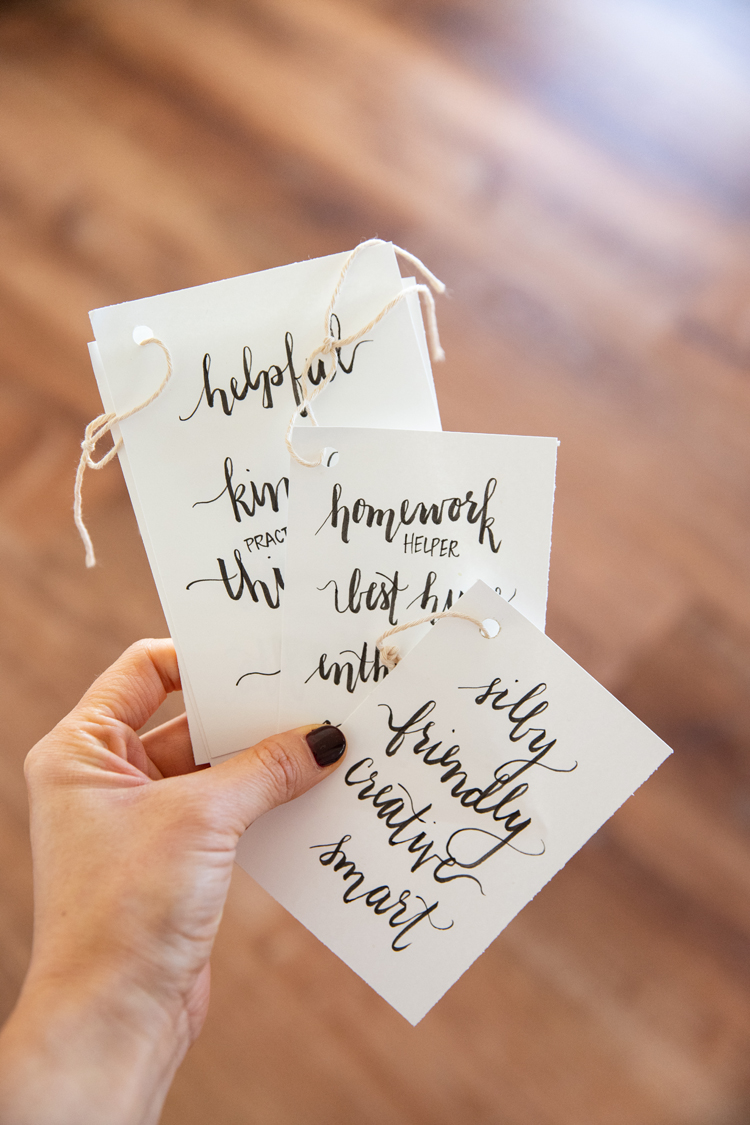 When everyone gets to the table, they have to figure out who the attributes belong to, to find their seat. Then during dinner, we go around and guess who wrote what. I have found that many of us guess wrong because we don't realize that certain family members see us in those ways. I love seeing my kids brimming with surprised joy toward their siblings who are usually arguing with them.
It can also be a great conversation starter if you're having dinner with someone you don't know well. Guests can go around the table and add one thing not on their list that others may not know about them.
2. Make gratitude a game.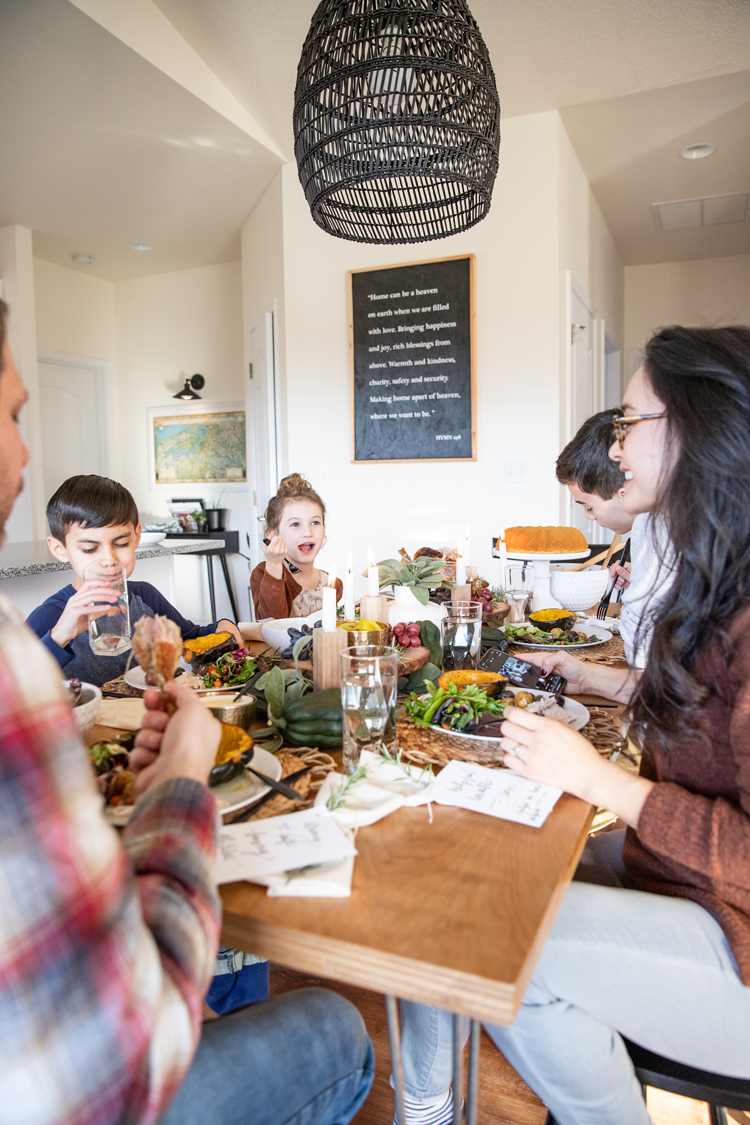 Instead of the typical go around the table to say what we're thankful for dinner conversation, we give our gratitude a theme. Name the tallest thing you're grateful for…the smallest thing, something red, a person, a store, a new invention, or a certain day. This allows everyone to be creative with their answers and if you give it parameters it can encourage reluctant (ahem, teenage) sharers to dig a little deeper to come up with a genuine answer. It's also a way to keep the gratitude conversation going. Take several laps around the table with a different theme each time.
Or, have everyone write down things they are grateful for anonymously. Read them aloud and have everyone guess who said what. Remember, making it fun helps the memories stick!
3. Prepare ahead of time to cook with kids.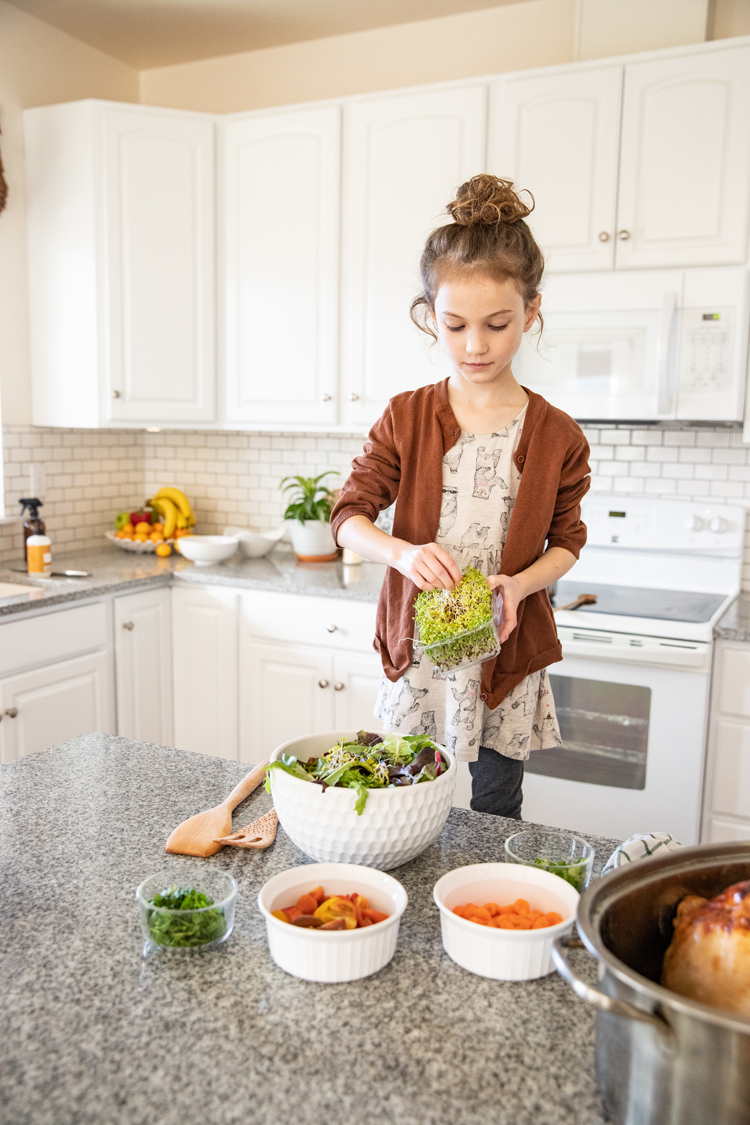 I don't know about you, but I have a lot of mom guilt about this one. On a typical day, I enjoy cooking with my kids. On Thanksgiving though, with at least 5-6 dishes doing a merry-go-round around the stove and oven… I tend to feel a little overwhelmed. It becomes much easier for the enjoyment to get sucked right out of the moment on a day when you want to be creating happy memories. Instead of shooing them out of the kitchen altogether, I've decided to set us both up for success and prepare ahead of time for them to help.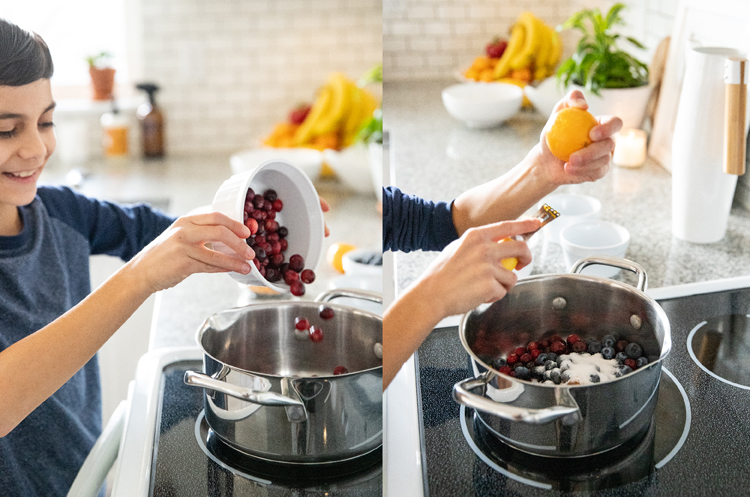 For me, cooking for Thanksgiving often takes two days. One day is for breads, pies, and the things that don't have to be cooked on the day, so that I can free up my oven for the turkey and other dishes. The day of, is reserved for things that need to be served hot. So, on the first day, I act as their sous chef. I gather, pre-chop, or organize the ingredients for dishes that my kids have volunteered to make. On the day of, I can set the ingredients out for them in little bowls like they're on their own cooking show and let them at it. They're able to make a meaningful contribution to our meal with minimal help. It's win win!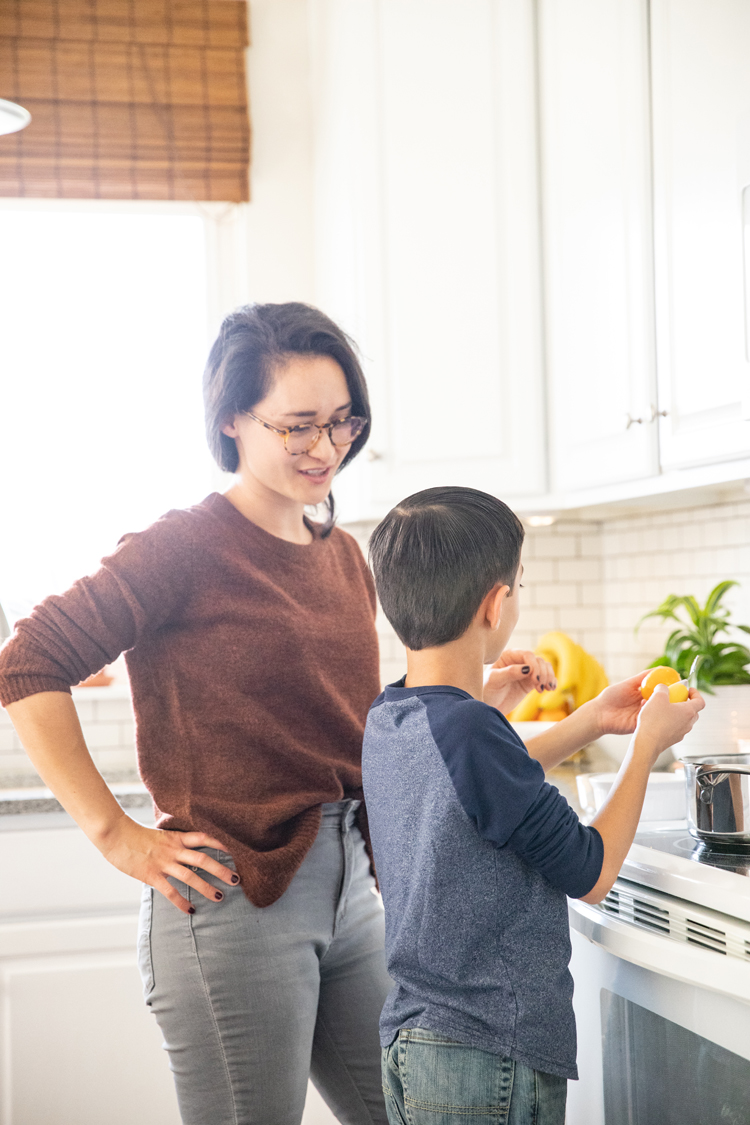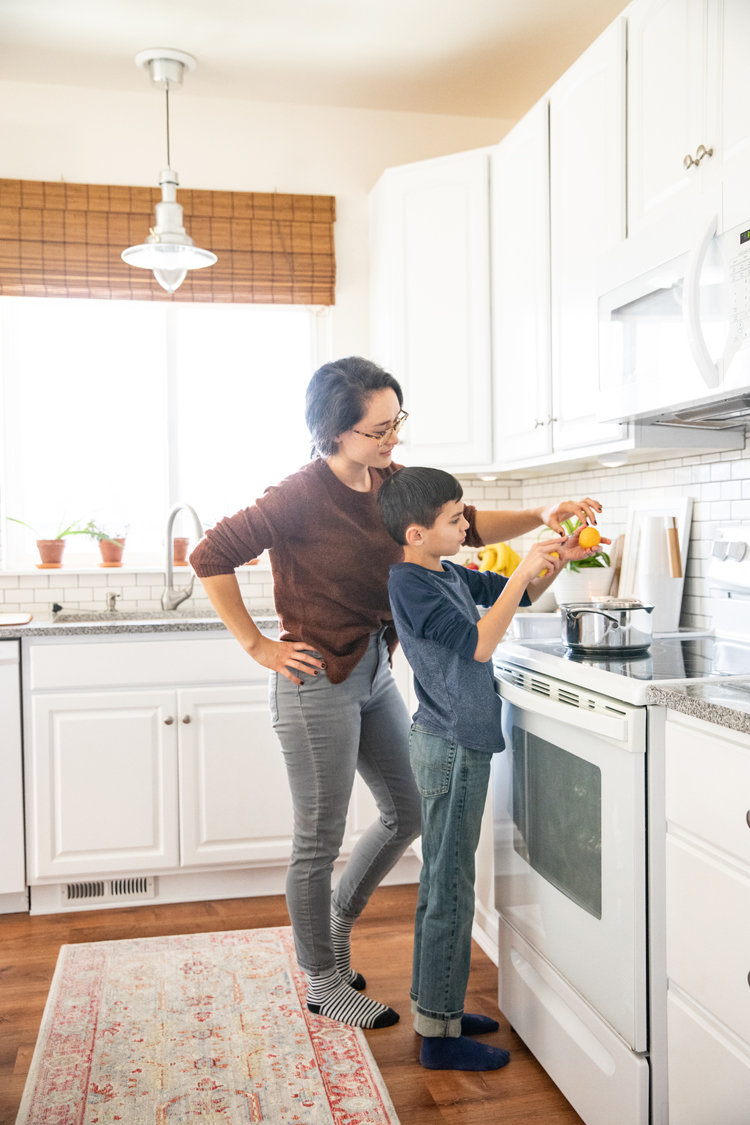 It requires only a little extra effort, and maybe a few more dishes, but the stress-free, warm fuzzy feelings make the preparation completely worth it. Not to mention, that kids tend to eat more of the dinner when they help with the preparation. Our six year old was so proud of her salad that she ate extra helpings!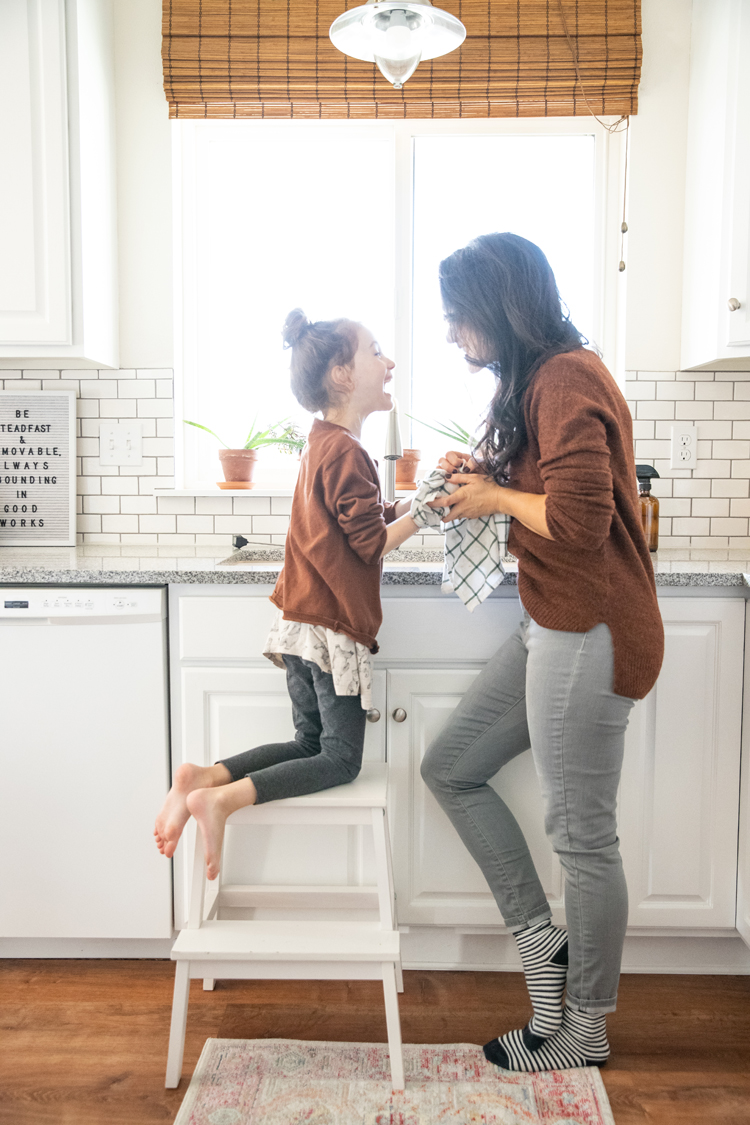 4. Make blessing bottles.
Making service apart of our Thanksgiving celebration has always been the source of great memories, and with this "blessing bottle" project, it is easy to accomplish. The winter months are particularly difficult for the homeless population, so this year we assembled these care packages we can keep in our car and pass out to those in need.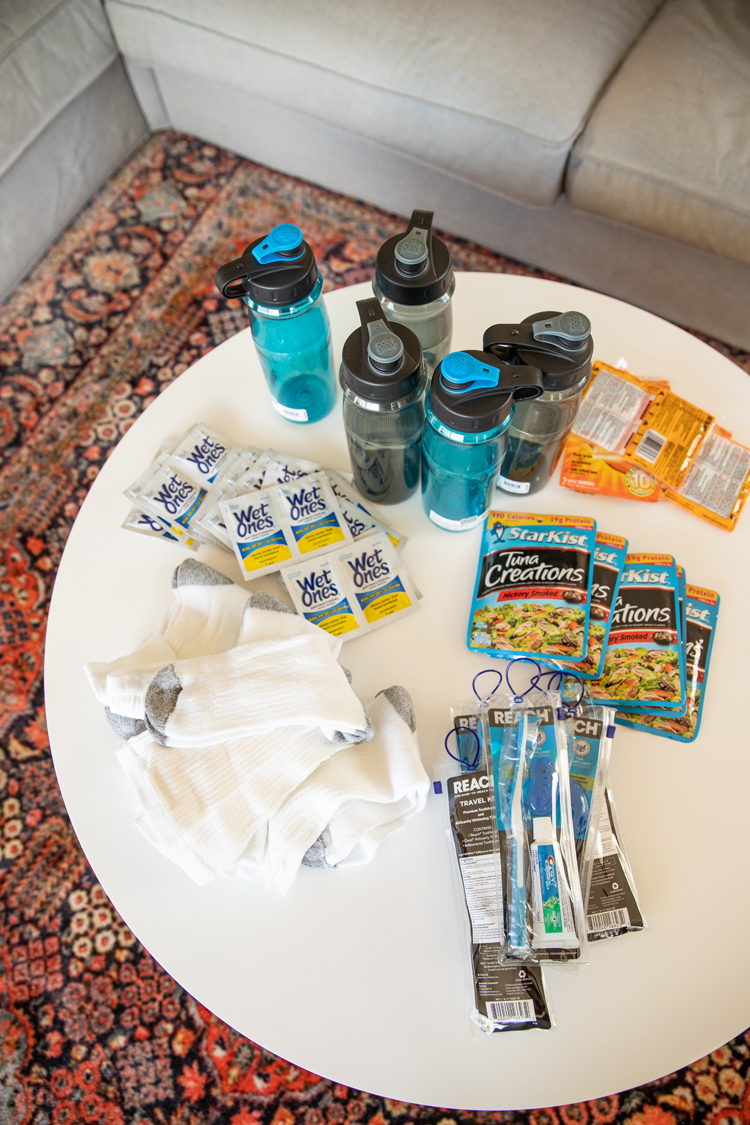 While I picked up ingredients for our dinner, I also picked up a pack of socks, some water bottles, hand warmers, face wipes, tuna packs, and toothbrush/toothpaste kits from Walmart, plus a little cash. After dinner, we assembled the kits together as a family. We found that everything fit in the bottle very nicely if you took the toothbrush and toothpaste out of the bag. I felt like the tooth care bag could come in handy so I attached it to the spout of the bottle as another option.
There are lots of ideas for blessing bags on Pinterest, if you need more inspiration.
Sometimes serving with small children, can be tricky. I love that this activity is something even a very young child can easily help with.
This also sparks important conversations and helps them be aware of those who might be in need as you're out and about.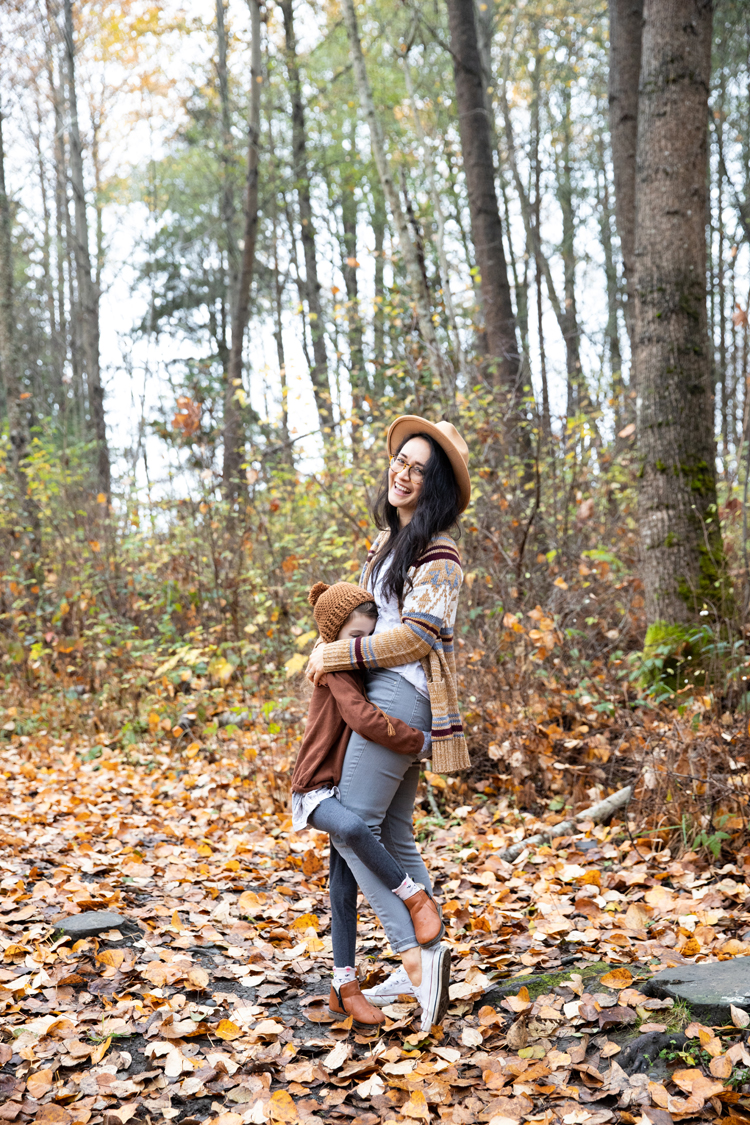 I am a believer that holiday magic doesn't have to be stressful. When it comes to keeping holidays centered on what matters most, simplicity is king.  And there should always be room for lots of fun!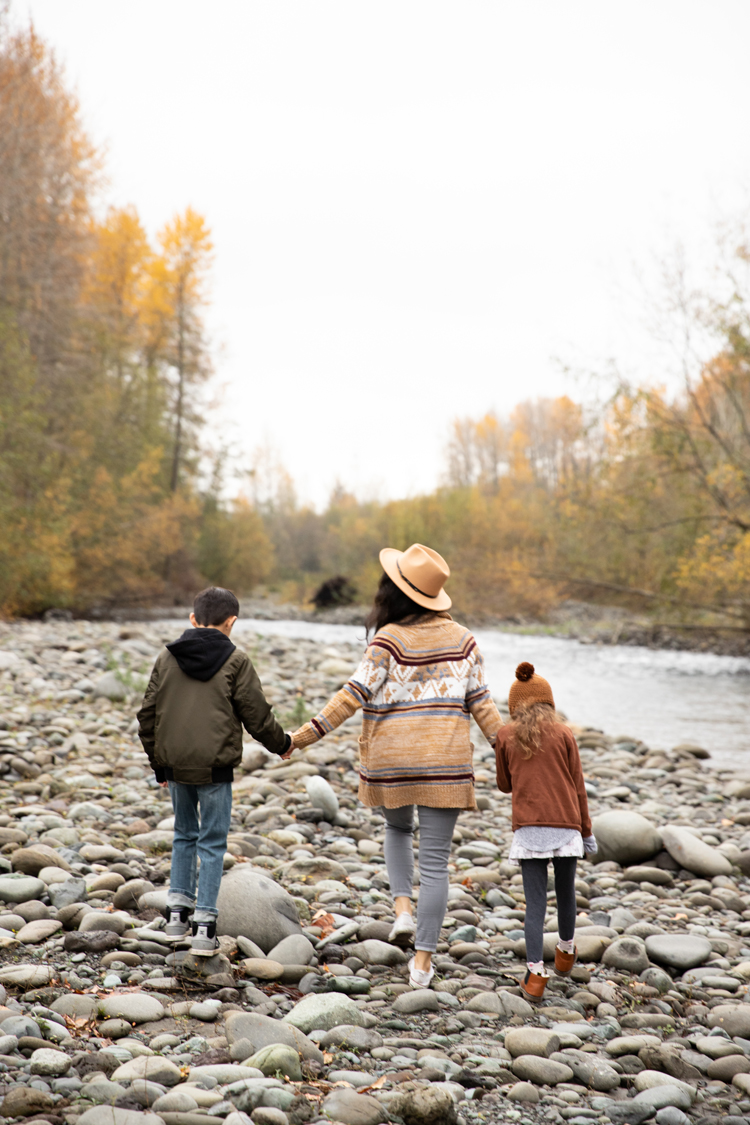 All of these ideas make the day special, while still leaving time for football, a movie, or a nature walk in your favorite Signature jeans. 😉