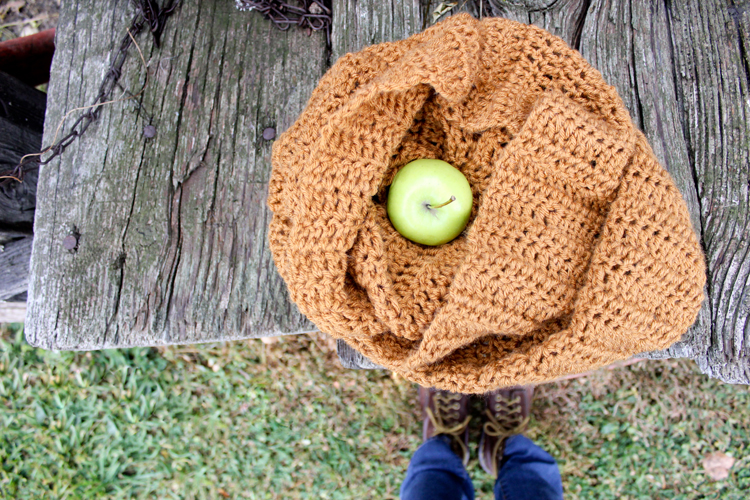 I promised a double crochet project for Hip Hooks, and I'm here to deliver.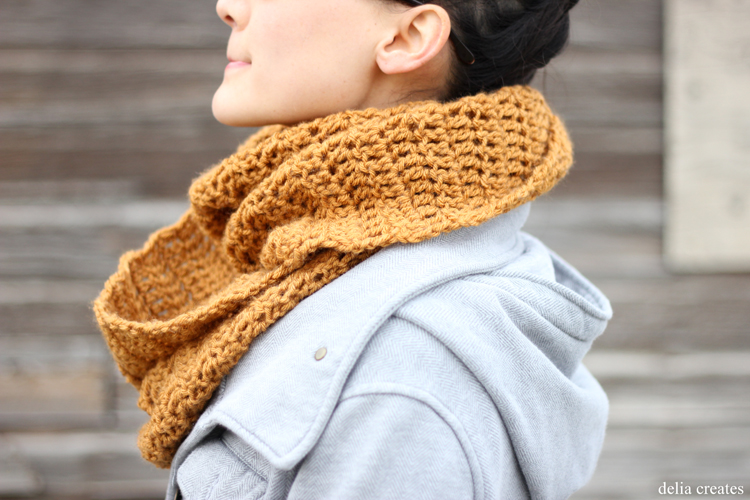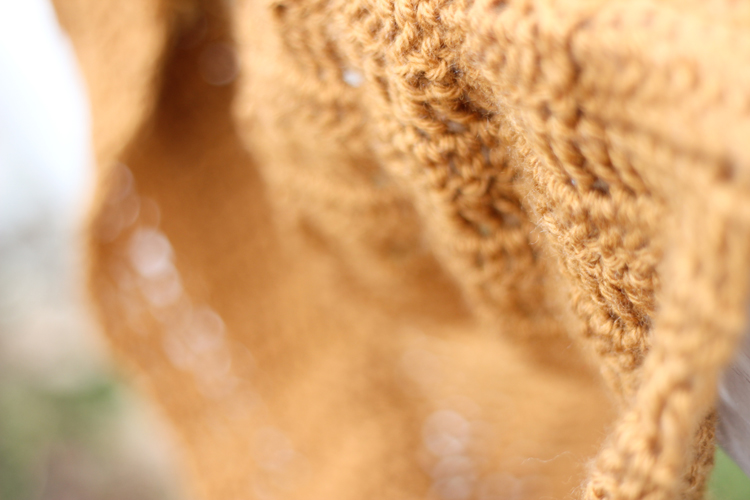 It's cozy, full of lovely texture, and really simple!
You need:
2 skeins of worsted weight yarn (I used Lion Brand Vanna White's Honey acrylic yarn – 3.5 oz./170 yards)
N-hook, US 9 MM (we want a loose weave,  a large hook helps keep the tension loose – but be sure to check your gauge to see if you need to go up or down a needle size to suit your own tension preference)
a yarn needle to weave in ends
Gauge:  6 rows and 12 stitches per 4 inch square
You need to know how to:
slip knot, chain, double crochet, seam your work, weave in ends
Foundation Row (Row 1): Double crochet (dc) in the 3rd chain from the hook (see picture above).
dc 30 across the chain and turn (this will yield a total of 31 dc if you include the 2 chains you skipped at the beginning of the row as a dc)
Tip: Lay the tail of yarn at the end of your chain, over the top and crochet over it as you approach the end. This weaves the that end for you, so you don't have to do it later.
Row 2: ch 2, dc 30, turn.
Row 3-72 : Repeat Row 2.
* This means that you repeat  what you did in row 2, 70 times, so that you end up with a total of 72 rows of double crochets.
This project takes two skeins. When you get to the end of one skein. Tie the end of the new skein to the end of the old one and keep crocheting. Tuck the ends of the knot in as you crochet, so you won't have to weave those ends in later…in a similar fashion to how you crocheted the tail into your work on your foundation row (see above).
I am picturing this with different yarn, so don't let that throw you. The idea is the same: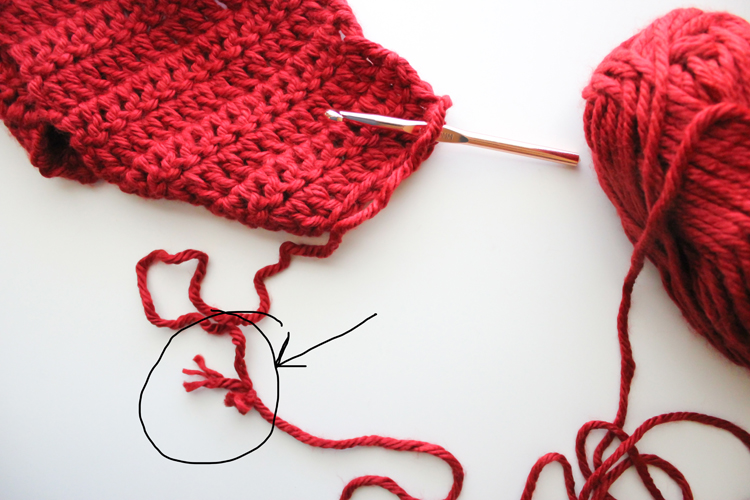 As you crochet make sure to crochet under the top two loops (see #2) instead of the chain space, or gap in between the stitches in the row below (see #1). You can crochet into the chain space, but you will lose the subtle ribbed texture that you achieve when you crochet under the top two loops.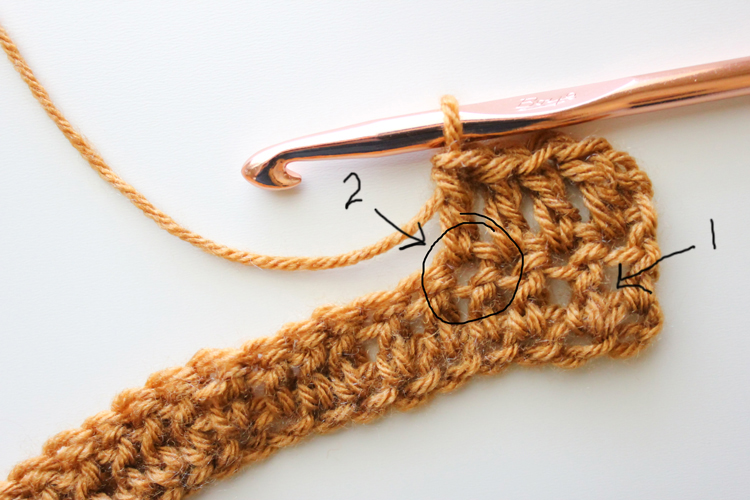 If you are a beginner crocheter, take care not to put too many stitches in each row. Your work will start to grow from side to side as well as long, which you don't want. I go back and count my stitches every few rows to be sure that I'm still on track. Also, keep in mind, that when you start a new row, it will look crooked. Keep going. It will shape up as you get to the end of each row.
Okay…now that you have your 72 rows of dcs. Let's seam the ends together to make it an infinity scarf.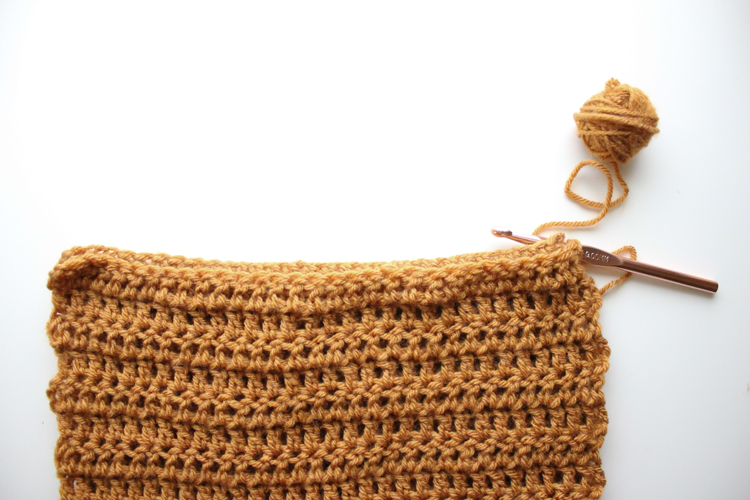 There are a lot of ways you could do this. See Aesthetic's Nest post about seaming your work HERE. I choose to do a slip stitch across.
Just put your needle into both the previous row and the end of the other side, yarn over, and pull all the way through. Continue on down the line… Check out THIS how to from Lion Brand Yarn's site if you need a visual.
Tie off the yarn by cutting it from the skein and pull it all the way through the loop. It will tie a knot and release your needle from your work.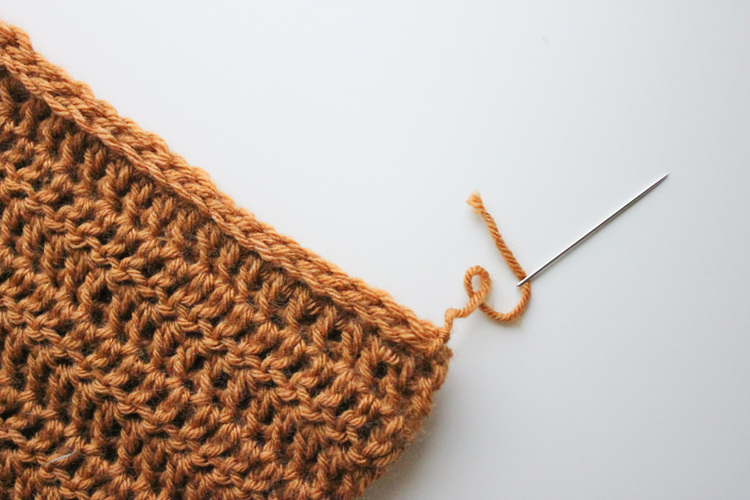 Weave in the ends with a yarn needle. Go HERE for a tutorial on that.
Tip: Do not slip stitch or seam too tight. The ends will pucker and the seam will be more obvious.
This is what it looks like after it's seamed together. See the raised ridge?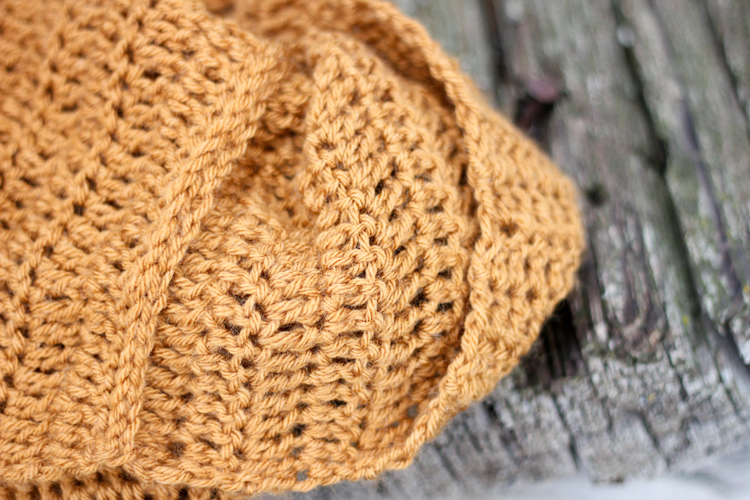 Now a word about gauge. Gauge is how tight or loose you need to crochet. Go HERE for more information on that.
The gauge for this project is 6 rows and 12 stitches per 4 inch square.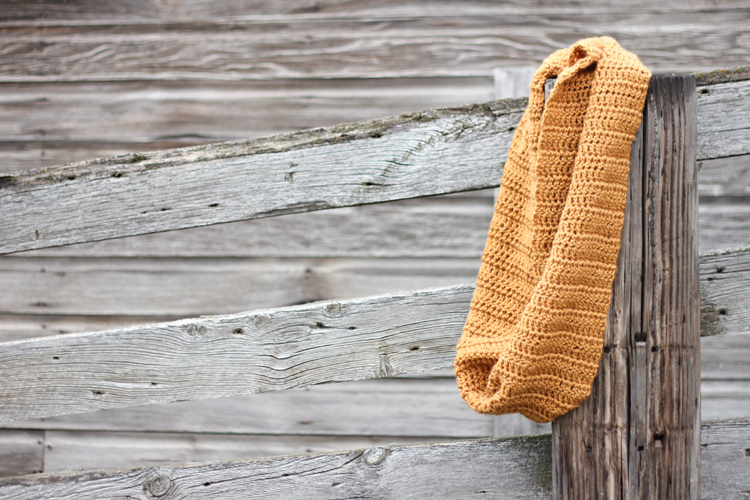 And that's it! One cozy warm infinity scarf done.
I know I choose this color or colors like it a lot for my projects. I can't help it. The rich caramel warmth draws me right in!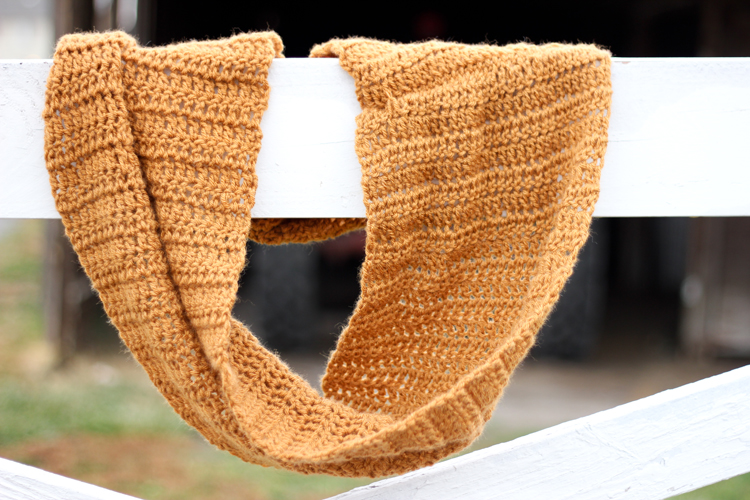 Okay and a disclaimer about why my patterns might be different than other traditional ones you have used before.
Traditionally, it is assumed to be correct to chain 3  at the beginning of a row before doing a double crochet stitch, and you are supposed to skip the stitch next to the chains before proceeding. Whenever I follow these "correct" patterns, my work personally doesn't look as nice. There are gaps on the sides of my work and drooping chains. When I work in the round, I also always end up with a noticeable seam. It may not be "proper," but I make my patterns a little differently to combat what I consider to be flaws in traditional crochet. If you are used to crocheting the traditional way without issues, then please feel free to add another chain and skip a stitch space so that it works for you.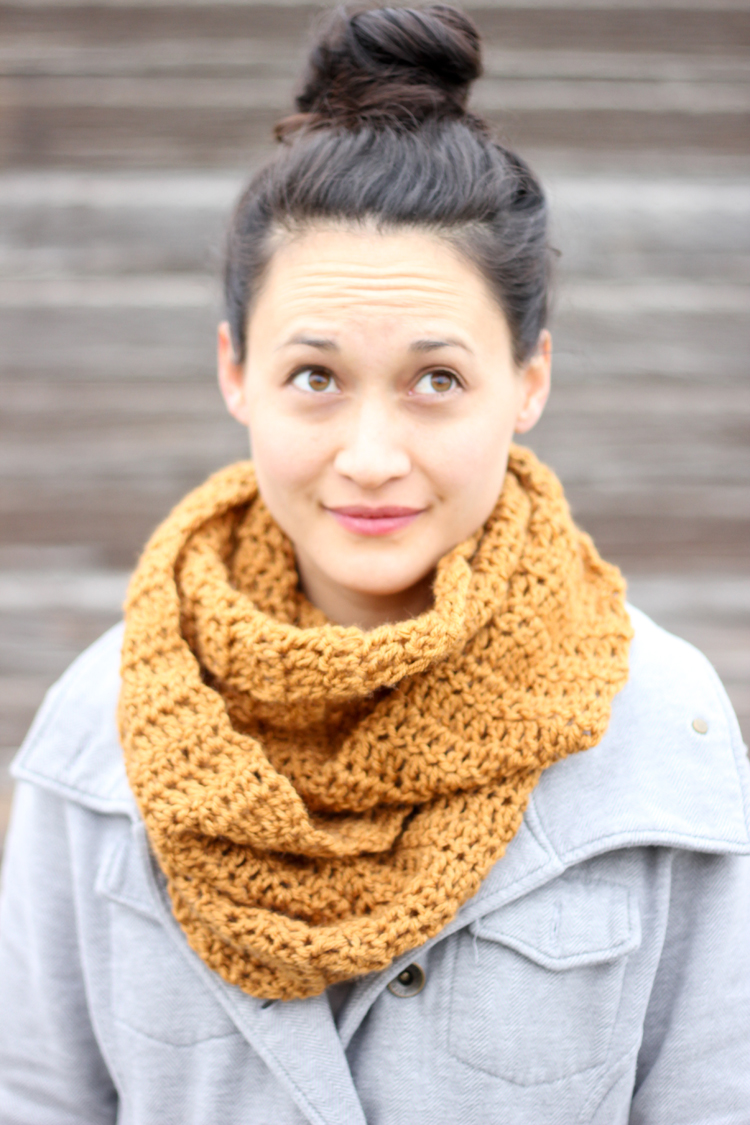 Here is the pattern in quick copy form for your reference:
EASY DOUBLE CROCHET INFINITY SCARF – free pattern
Materials: 2 skeins of worsted weight yarn, N-hook (9.0 MM)
Gauge: 6 rows and 12 stitches per 4 inch square
Chain 33.
Row 1 – dc in third chain from hook, 30 dc across, turn (31)
Row 2- ch 2, 30 dc across in top loops only, turn
Row 3-72 – repeat Row 2
Slip stitch short ends together, weave in ends.
Enjoy!