You guys…I think I'm really getting into the wearing a blanket trend.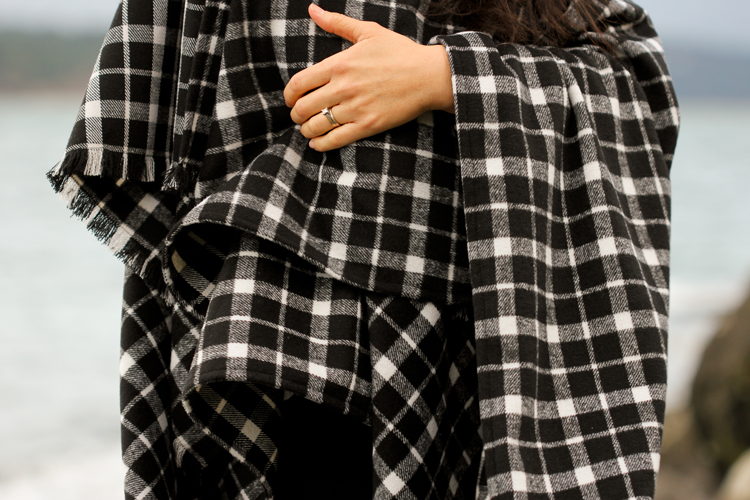 Blanket scarves, warm ponchos…and my favorite: cape scarves. Give them to meeeee!
But today, let's talk about cape scarves and how to make them…yes?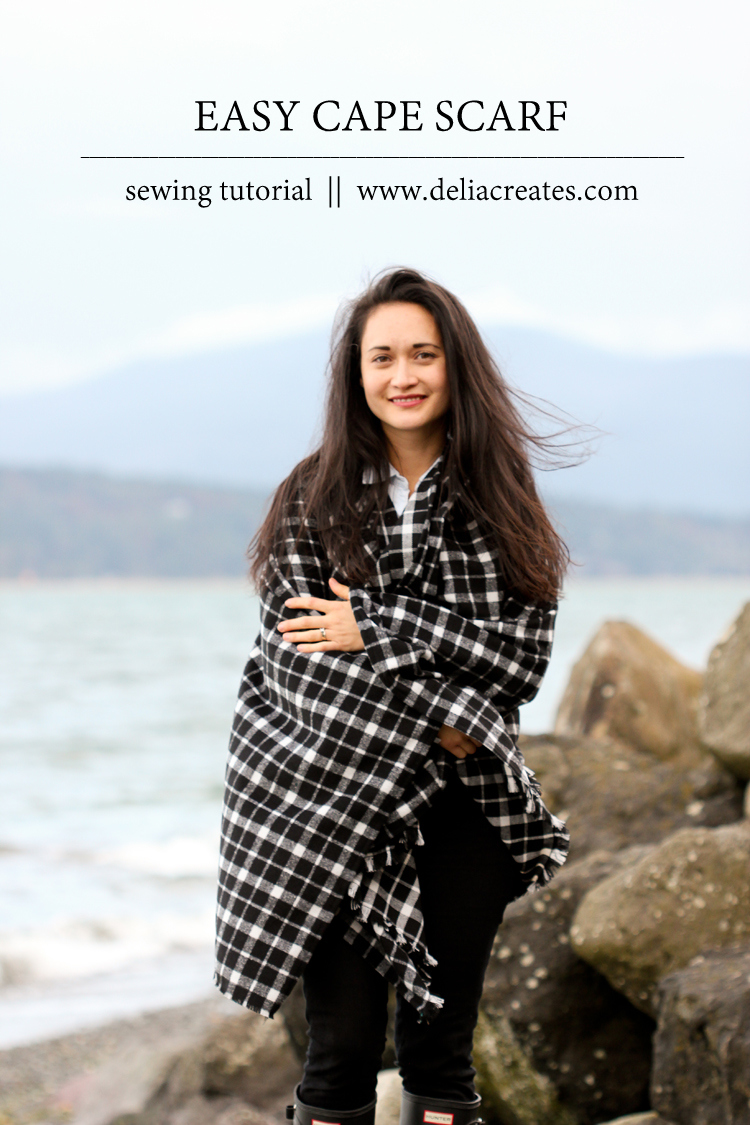 FABRIC SELECTION
The key to a great cape scarf is ALL in the fabric. The sewing part is easy breezy…it's basically a blanket after all…which makes fabric selection paramount.
A nice thick flannel is good, maybe a thicker knit would work…or if you really want to make it cozy and luxurious splurge on wool.
Wool is crazy warm and it instantly makes your cape look more high end. But…wool cape scarves can run $70-$150 in a department store. The good news is that if you make your own, and shop your fabric just right, you can save a TON of money.  I made this one for just $14 (maybe $20 if you tack on shipping)!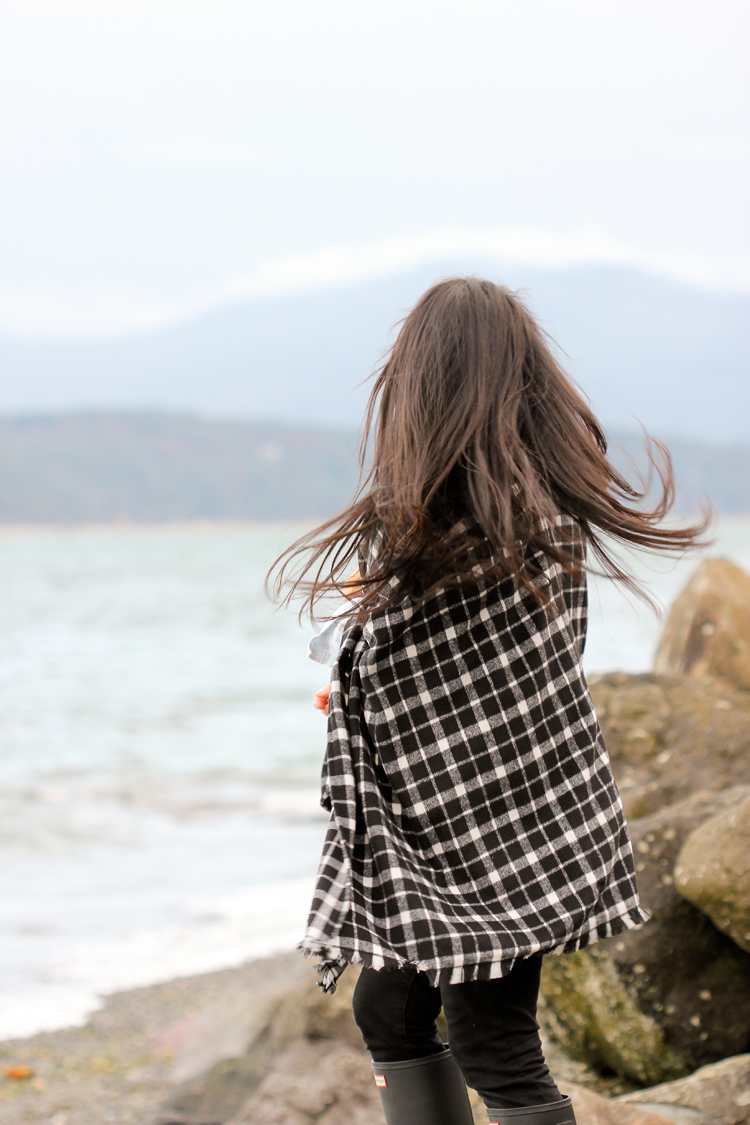 Now, you can't choose just any wool. Most wool fabrics are really thick, much too thick to make a drapey cape from. Look for "light-weight" or "medium-weight" wool fabrics when shopping.
I found this amazing checked wool fabric  (affiliate link) from Fabric.com that has wool on one side and polyester on the other. If wool makes you feel itchy, this fabric is the perfect blend of comfort and warmth. It does say that it's medium to heavy weight but it has the perfect weight and drape for a cape.
Warning…it does say dry clean only. This is a garment you can easily hand wash with some wool-lite though!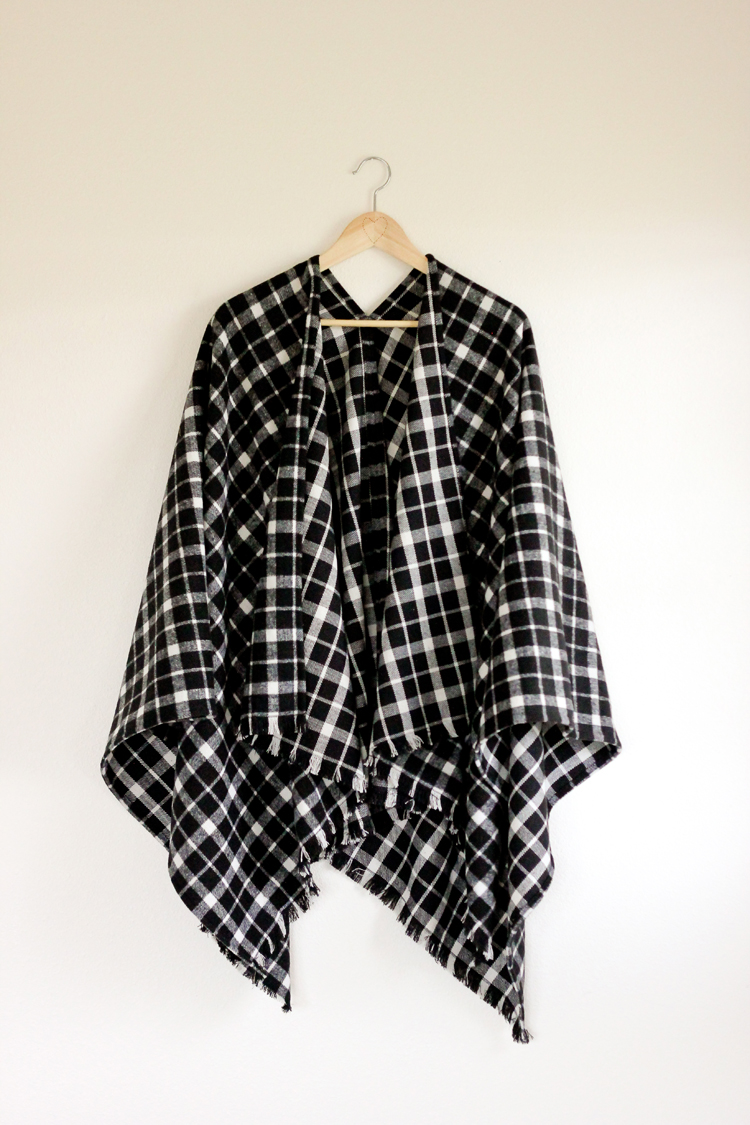 It also comes in red and blue checked, a beautiful grid-like print in navy, burgundy, green, gray, and brown, and other similar plaid prints (affiliate links).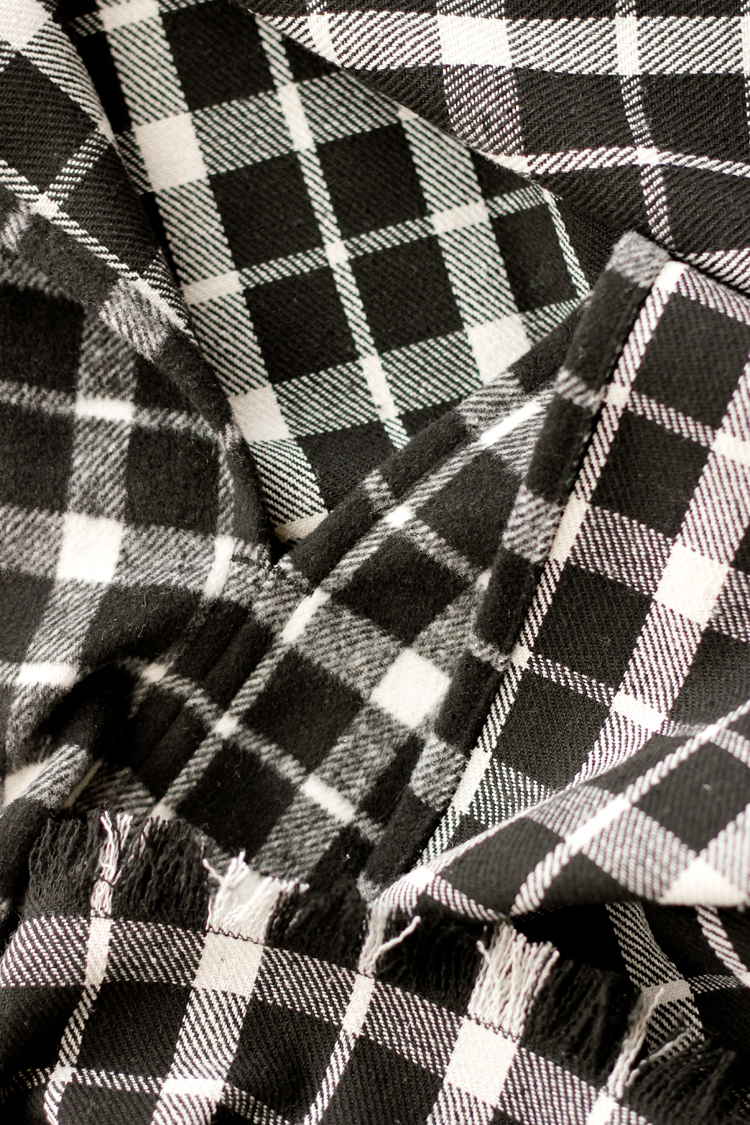 Usually wool is expensive, but all those fabrics, with the exception of the plaid prints, are $7.98 a yard. That's not even a sale! It's kind of amazing!
TUTORIAL
Okay, let's get to how to make it.
MATERIALS
1 5/8 yard of 58-60″ wide fabric*
matching thread
rotary cutter or scissors
basic sewing supplies (machine, pins, etc.)
seam ripper
*NOTES:
-If you want to use a fabric that is not wide enough, simply double the fabric requirement and cut it down to size making sure any fabric patterns match up. 
-This cape is designed for an average height woman (I am 5'4″ and it's a tiny bit long on me). If you would like to make the cape taller, 1 3/4 yard of fabric should be plenty. Drape the fabric over your shoulder to get a feel for where it would hit your legs.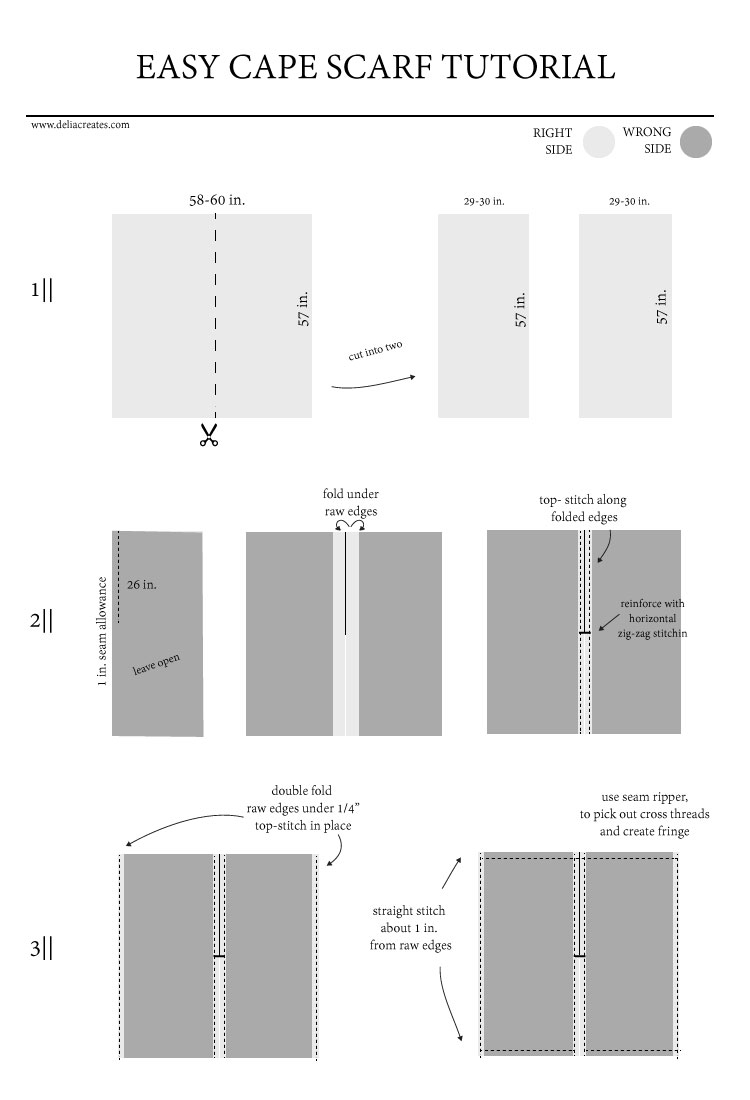 Here's a close up of the dense zig-zag reinforcement stitching I sewed at the part where the cape splits open.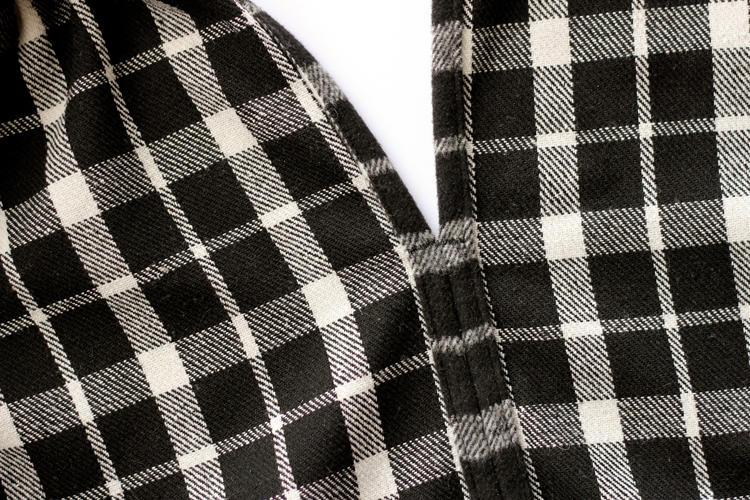 And here's how I pulled out the fringe.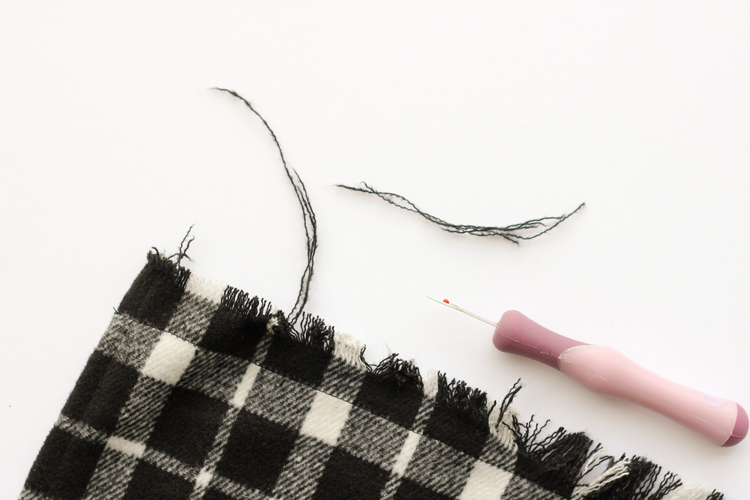 This part is actually the most time consuming part of the project. Sometimes the cross threads slide right out, and sometimes they are so tightly weaved in, that they need to be lifted out at every thread with the seam ripper. It's a great activity to do while watching a movie or to tote along to meetings, etc. I'd say it took me over an hour to make a good inch of fringe for the whole scarf.
The rest of the project is super fast though. These make great gifts!
Another bonus for cape scarves? You can snuggle kids under them. The best. <3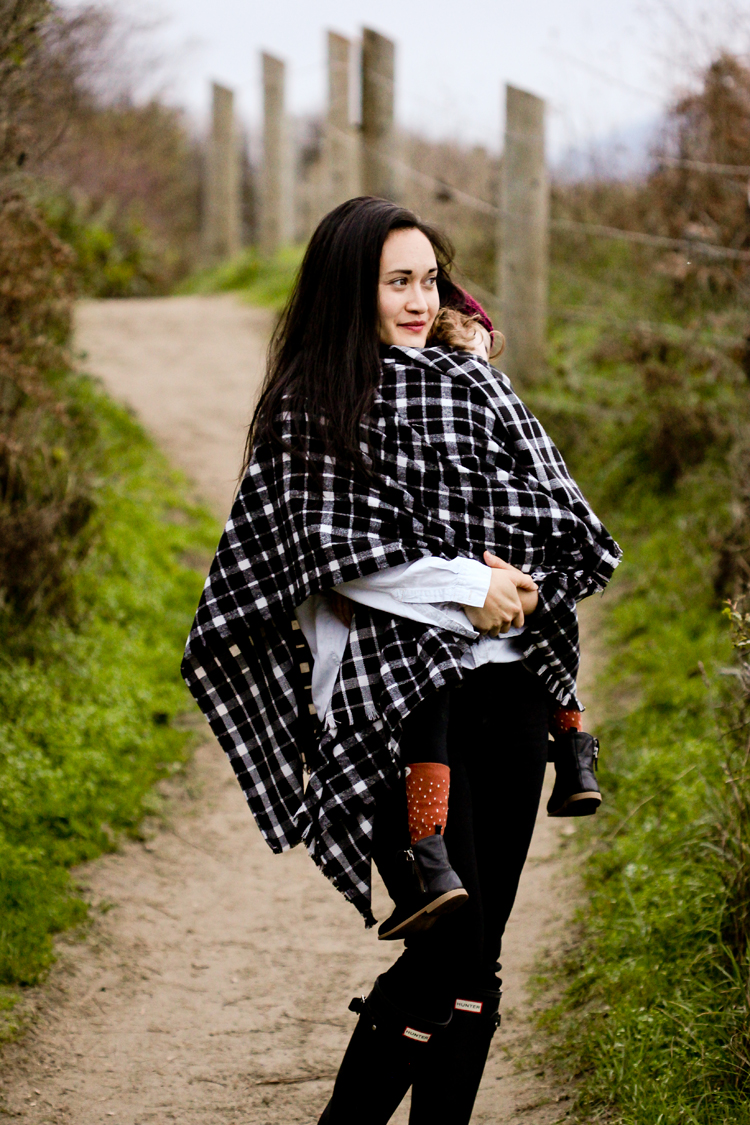 Note: This post contains affiliate links to fabric listings. This means I get a percentage of any sales made if you click a link and make a purchase. This does not affect the pricing of the product or your buying experience.