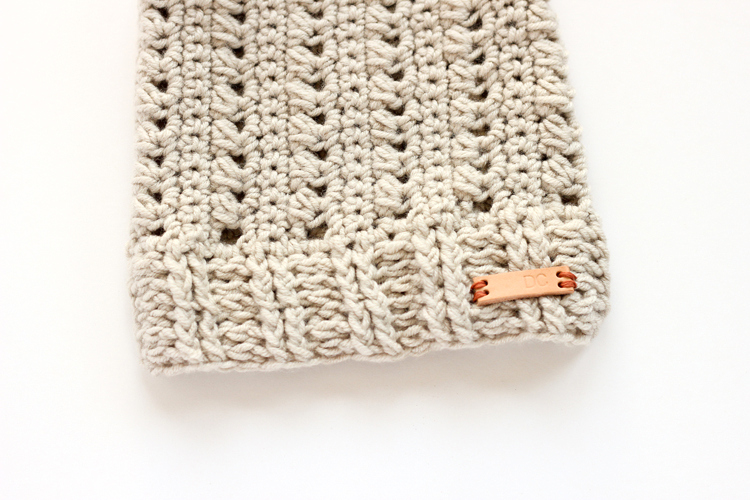 For those days when you're on fourth or fifth day hair…
Braids, buns, beanies, and dry shampoo are where it's at!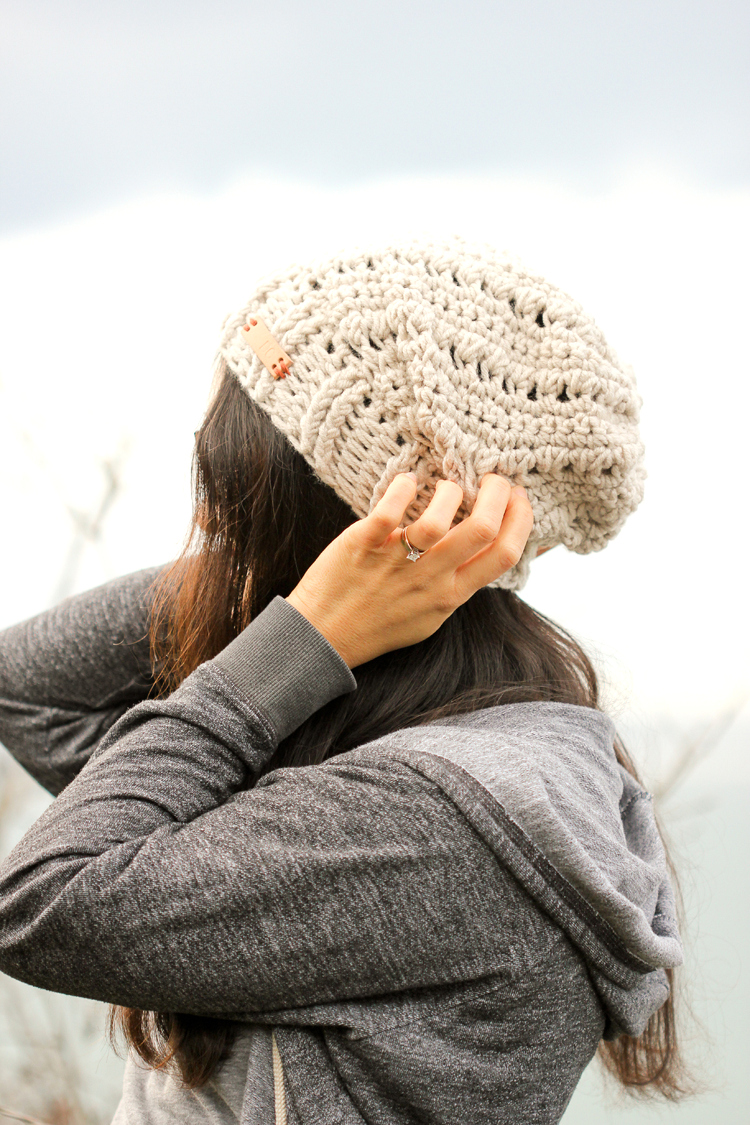 The first two are pretty self explanatory, but I've got a free pattern (scroll down) and recipe for the last two. I had been using drug store dry shampoo, but I have dark hair and I always ended up looking like I got in a flour fight. Aura Cacia asked me if I wanted to try their dry shampoo recipe using their new elevate oil blend from their hair care line, which so happened to be great for dark hair too. I was a go!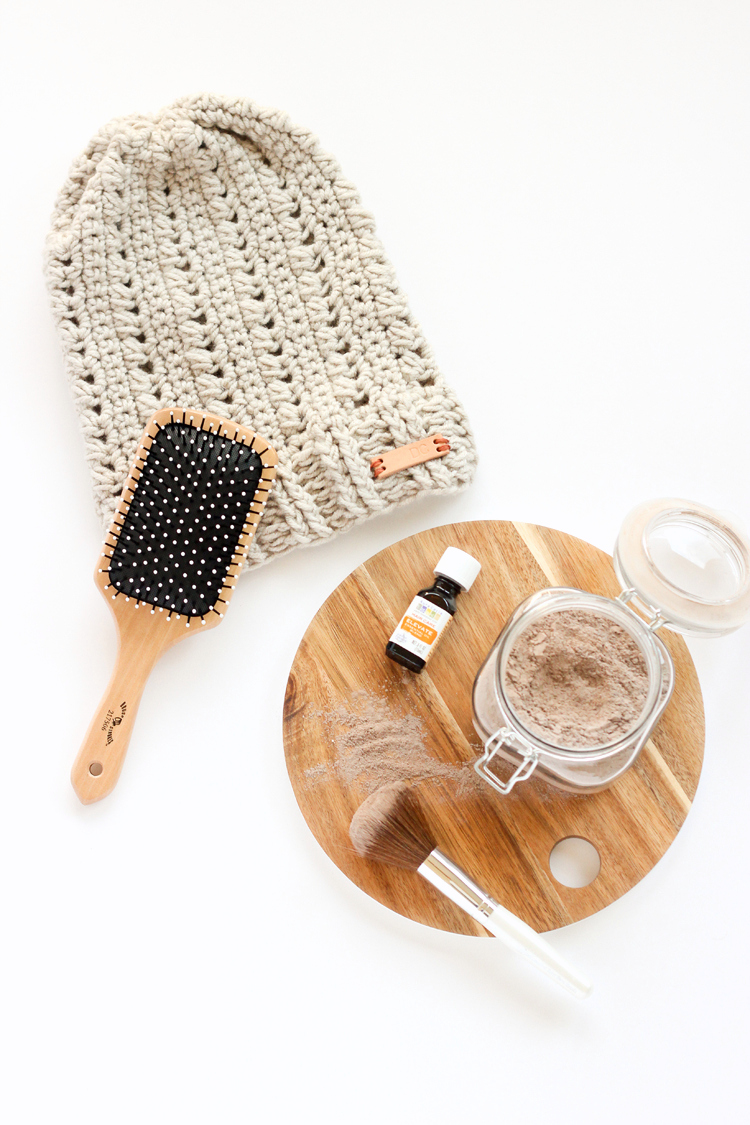 It smells…amazing…fresh, a little chocolately (it uses some cocoa powder) and not chemical-like at all; which is a nice change from the aerosol, alcohol based dry shampoo I've been used to. Plus, it's all natural and feels good going on. It does still look a bit powdery when I put it on, but because it's darker, it blends in easier until it's absorbed. I also like how it adds texture to clean hair without making it feel heavy.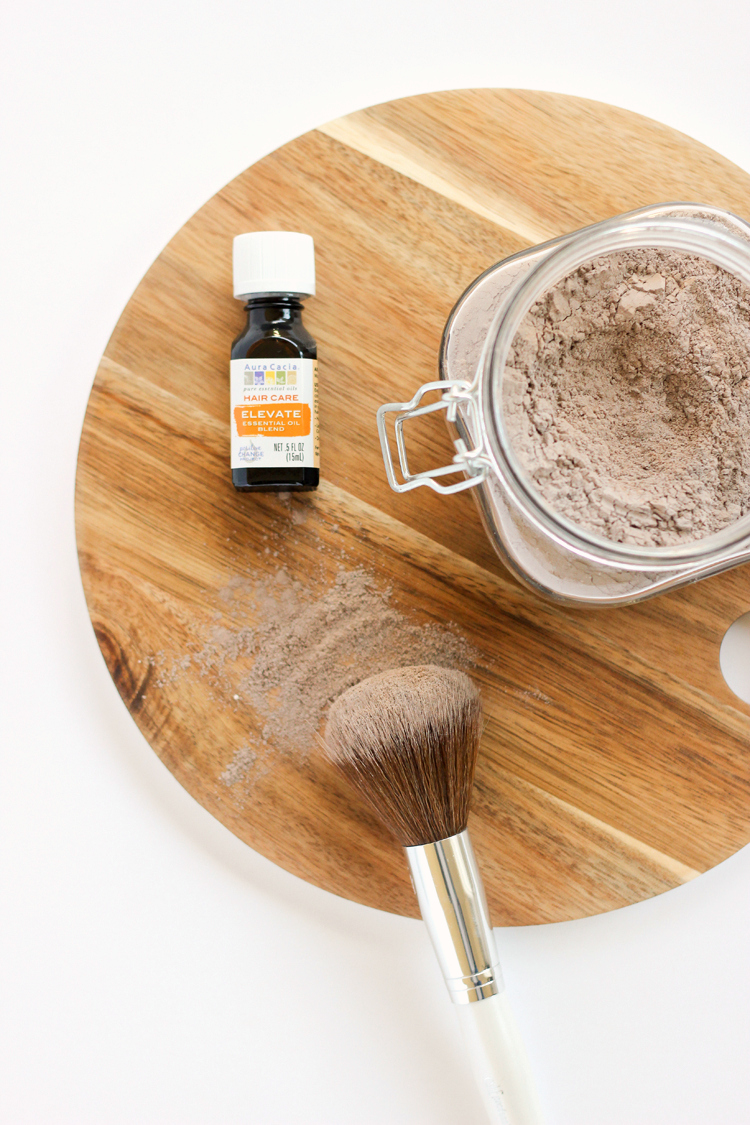 You can get all the ingredients on Aura Cacia's site, or you can sub a few of the ingredients from your own kitchen. It's really simple to make!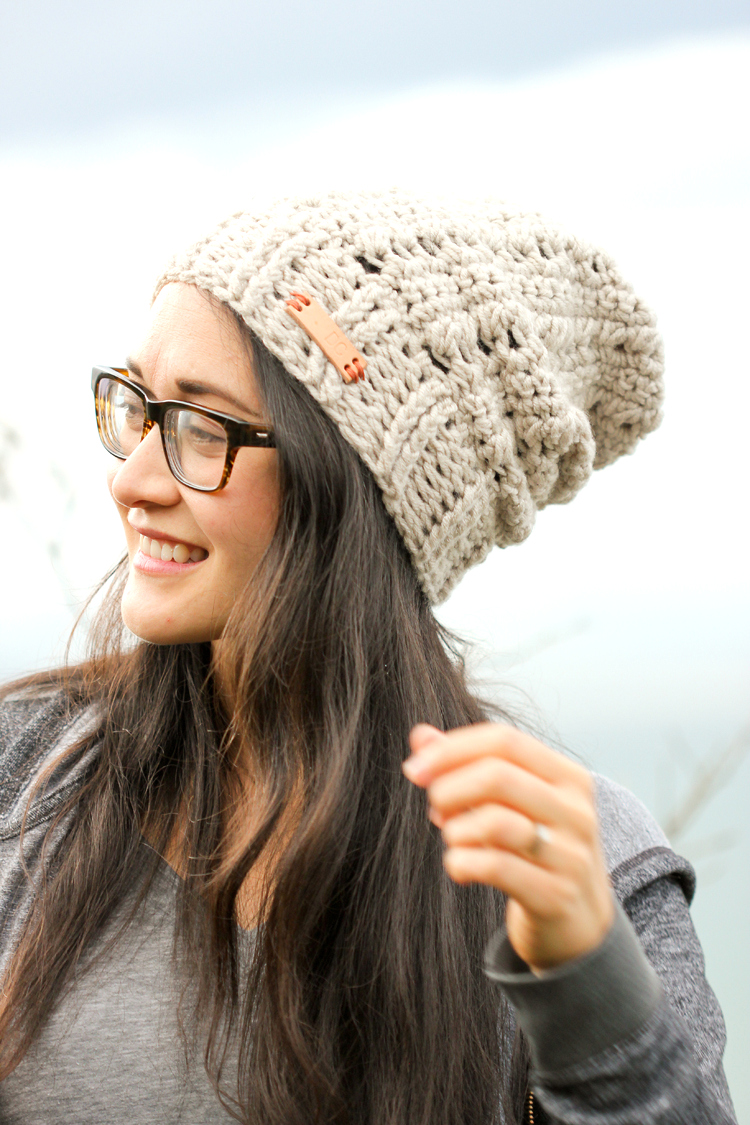 And when all else fails, there's always the beanie. 🙂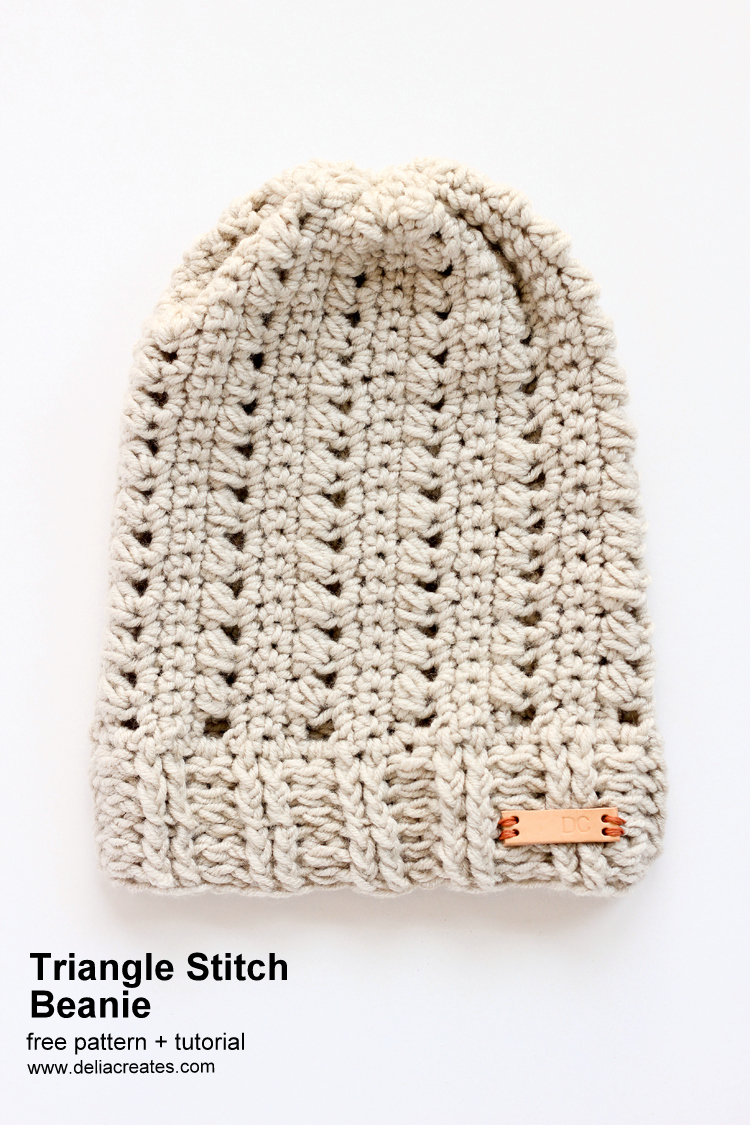 This beanie pattern is made from triangle stitches and a ribbed band. It's an ideal pattern for an intermediate crocheter or an adventurous and patient beginner.
MATERIALS:
150 yards of worsted weight yarn (4)*
5.5 mm hook
yarn needle 
scissors
*I used Big Twist yarn in Premium Pigeon. 
ABBREVIATIONS: 
ch = chain
sl st = slip stitch
sc = single crochet
hdc = half double crochet
yo = yarn over
fphdc = front post half double crochet
bphdc = back post half double crochet
GAUGE: 
4 x 4 inch square = 6 triangle stitches x (1 row triangle stitches + 3 rows sc + 1 row triangle stitches + 3 rows sc)
NOTES:
I have shared projects using the triangle stitch and front and back post double crochet stitches if you need more instruction. You may also find it helpful to do a video search.
This makes an adult medium beanie. To enlarge it, add an extra 2-4 rows of sc at the end of the slouch hat portion (or space them out in between rows of triangle stitches).
PATTERN:
Slouch hat
Ch 29.
Row 1: Sc in 3rd ch from hook. Sc across (27)
Row 2: Ch 3 and turn. Yo, insert in 2nd stitch from hook, pull through stitch, yo, insert into next stitch, yo pull through, yo insert into next stitch, yo, pull through, yo and pull through all seven loops on hook. Ch 1.
Yo, insert in same stitch you just worked, pull through stitch, yo, insert into next stitch, yo pull through, yo insert into next stitch, yo, pull through, yo and pull through all seven loops on hook. Ch 1. (This is one triangle stitch)
Complete 10 more triangle stitches for a total of 12 triangle stitches. 1 hdc.
Row 3: Ch 2 and turn. 2 sc in each space (chained gap) across row. (27)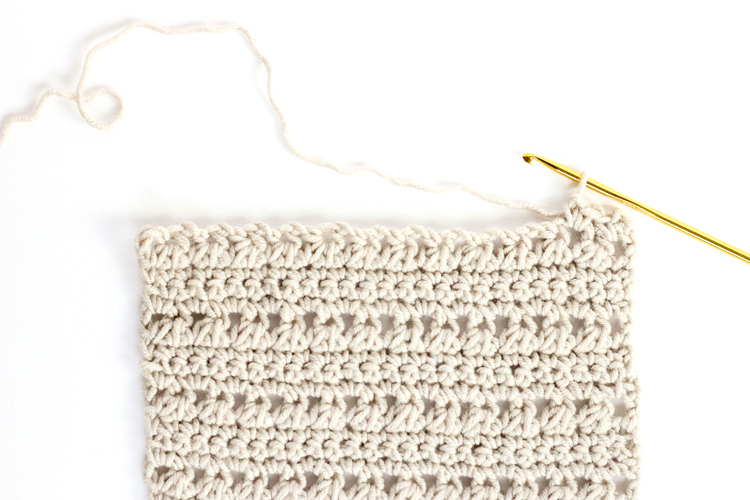 Row 4: Chain 2 and turn. Sc in each stitch across. (27)
Row 5: Repeat Row 4.
Row 6: Repeat Row 2.
Row 7:  Repeat Row 3.
Row 8+9: Repeat Row 4.
Rows 10-41: Repeat in order: Row 2, Row 3, Row 4, Row 4.
Row 42: Repeat Row 2.
Row 43: Repeat Row 3.
Row 44: Repeat Row 4.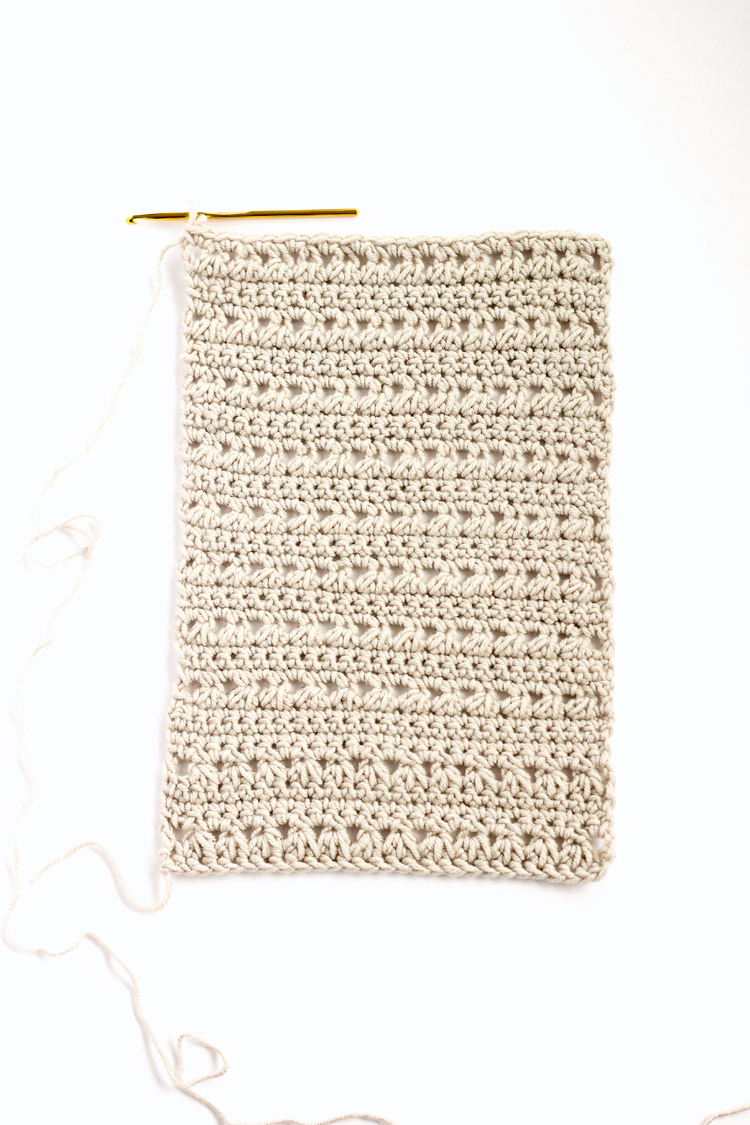 (not all rows pictured and if you have snake eyes, you'll notice a few rogue sc rows…but I fixed everything for the pattern…not to worry! ;))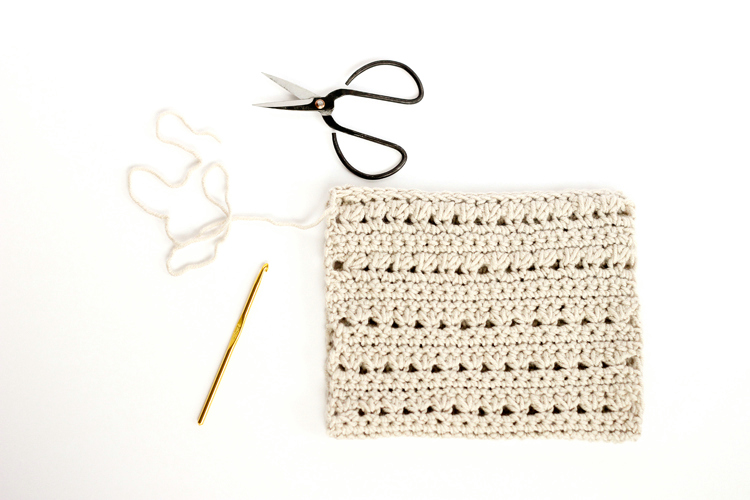 Fold work in half, width wise.
Seam together into a tube, by slip stitching edges together.
Tie off end, leaving a long 15 inch tail.
Using the yarn needle, weave the tail around the edge of the end of the tube and pull tight to cinch it closed into a hat shape. Sew through the gathers at the end to tighten and secure it even more. Weave the rest of the tail into the hat.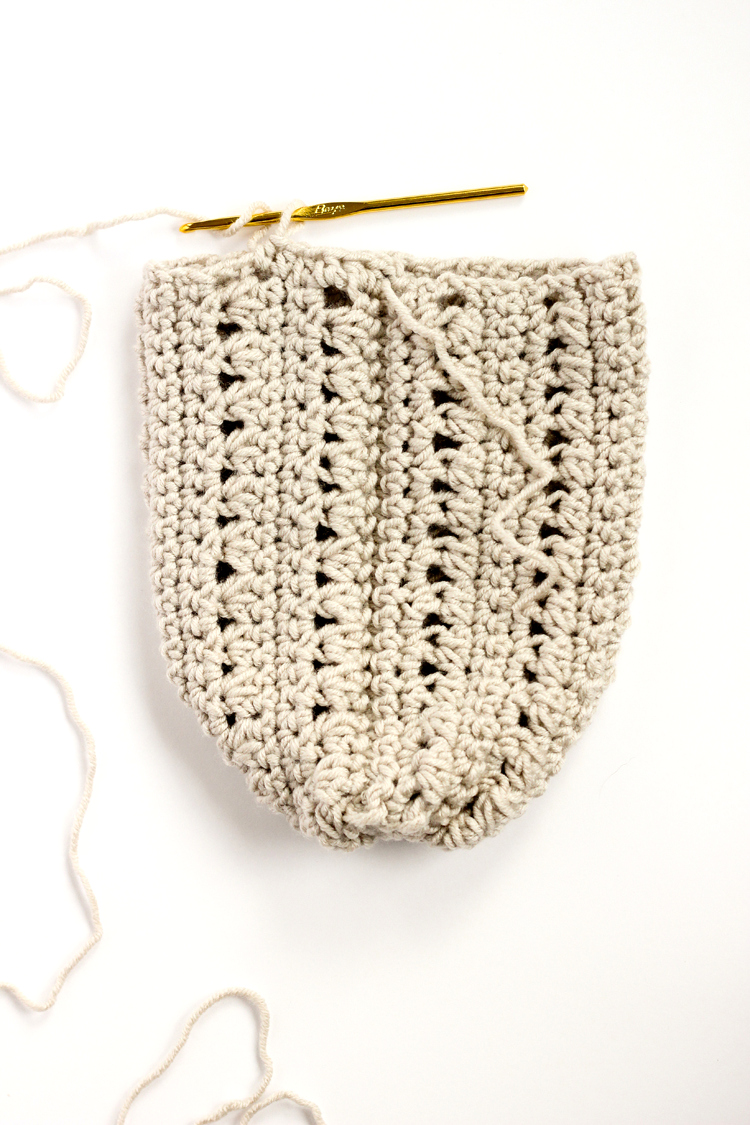 Ribbed band
Sl St into the open end of the hat. Anywhere is fine, but I like to start at the hat seam.
Row 45: Ch 3. Hdc around hat (44)
Row 46: Ch 3. Hdc in next stitch. *2 fphdc, 2 bphdc*. Repeat from * to * 10 times. 2 fphdc, sl st into top of ch 3 to complete looped row.
Rows 47-52: Repeat Row 46.
Tie off, leaving an 8 inch tail. Weave in tail with yarn needle.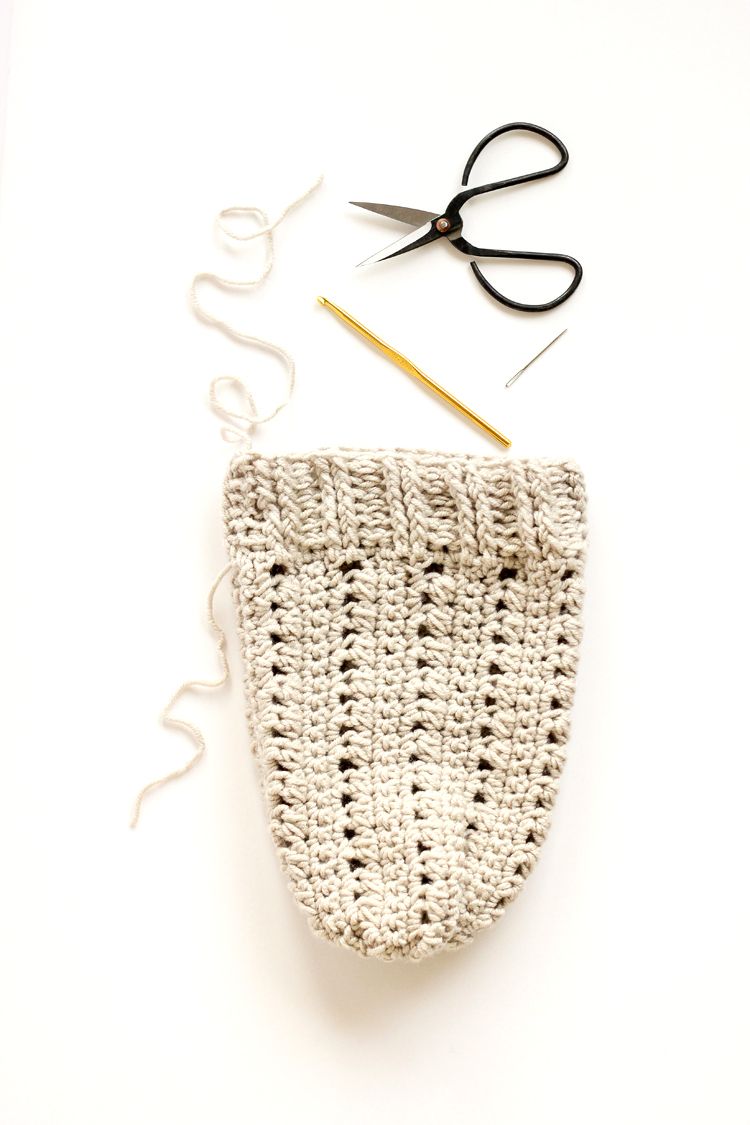 Add a leather tag if desired…I'll be sharing a tutorial for this soon. I'll add the link back here when I do.
Disclaimer: This post is sponsored by Aura Cacia. All content and opinions are enthusiastically and genuinely my own!