My favorite time of year is when the weather is brisk enough for layers, but not so cold that you need a jacket….which happens to be most of the year here in our new PNW home. I love it!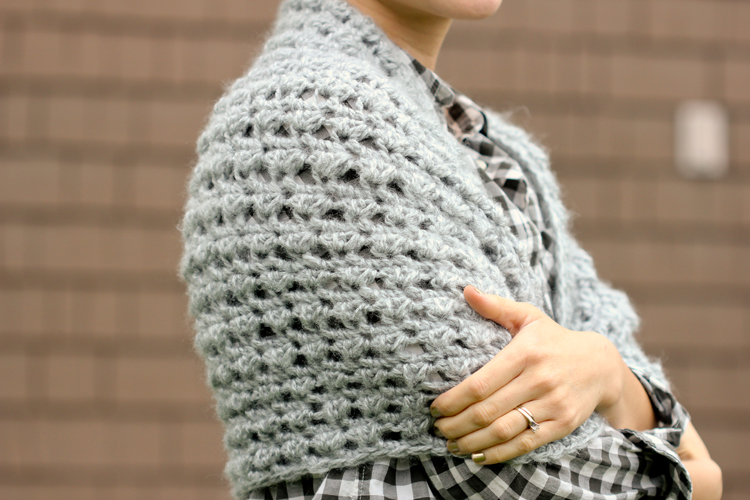 … as in I love it so freaking much. 🙂
This shawl scarf is perfect for that favorite weather. It's the right size for throwing over your shoulders as a pseudo jacket or for squishing into a chunky scarf.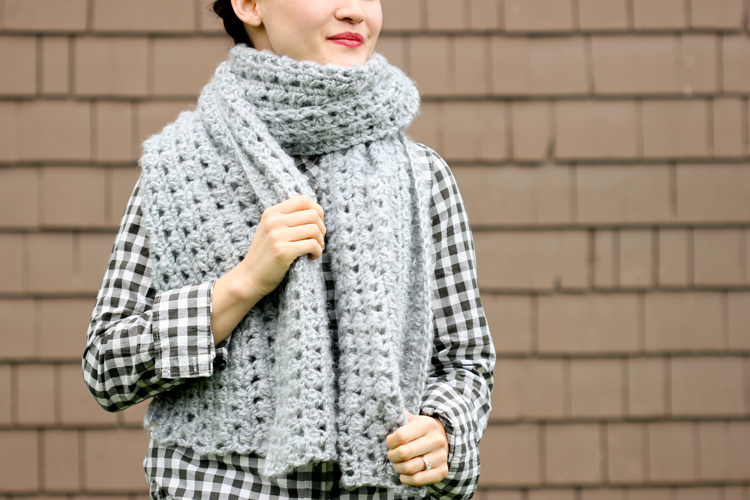 Its slight mesh texture is due to a really fun triangle crochet stitch. It will seem like a complicated stitch at first, but once you master it, it's a total breeze. I also like it because it feels less monotonous than basic stitches. You'll see what I mean…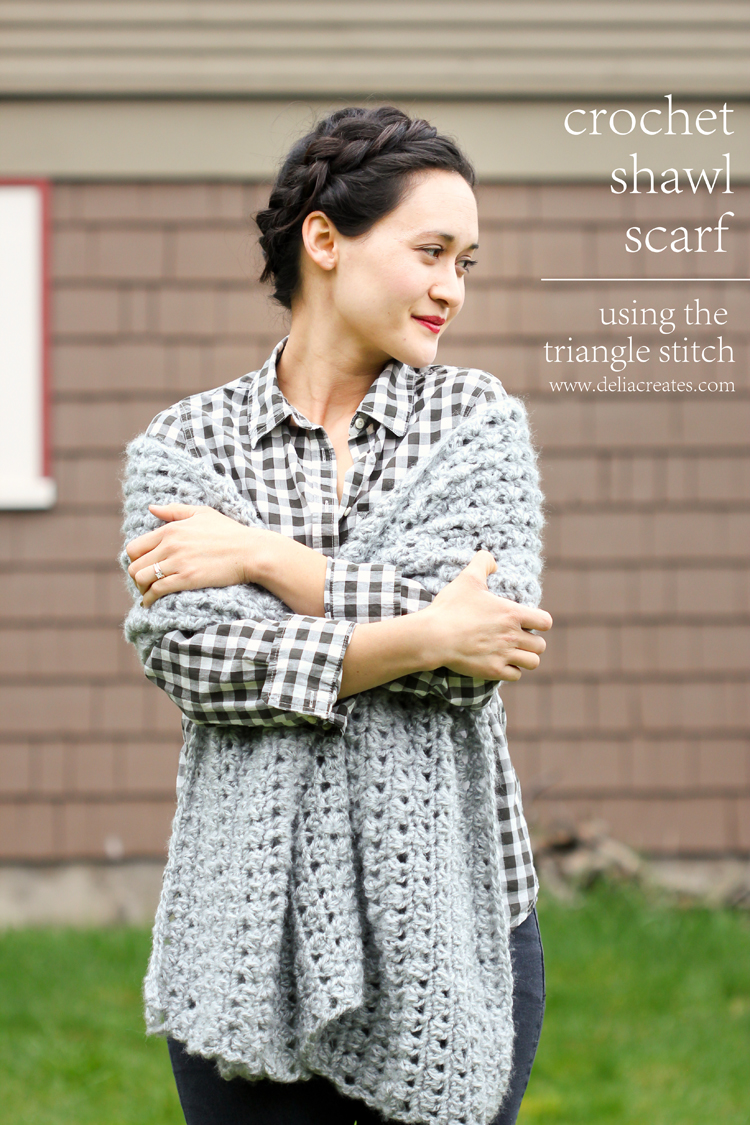 First let's learn how to do the triangle stitch.
My pictures show a few rows already done, so that you can see the texture a little better. The texture will be tricky to see for the first few rows of the pattern, but just keep going. It gets better and easier to manage with each row.
Please note, I will be using abbreviations in this tutorial. The abbreviation guide is listed with the pattern below.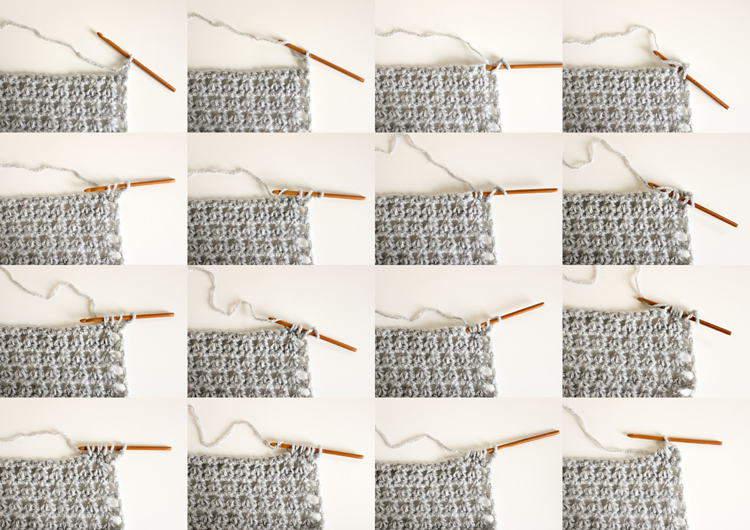 Before starting a triangle stitch, you need to build it upon a row of sc stitches. So ch the foundation row, according to the pattern, then sc across.
Next, (following the pictures) ch 3*, yo, insert into second stitch from ch, yo, pull through stitch, yo, insert hook into next stitch, yo, pull through stitch, yo, insert hook into next stitch, yo, pull through stitch, yo, and now pull through all SEVEN loops on the hook. Ta da! You have created a triangle stitch!
*Note: Traditionally, most patterns will say to chain 4 before starting a triangle stitch. Because of the way I hold my tension, I think it makes the sides look wavy, so I reduce the chains to three. Do what suits your crochet style. If you tend to pull your chains tight, you may want to ch 4.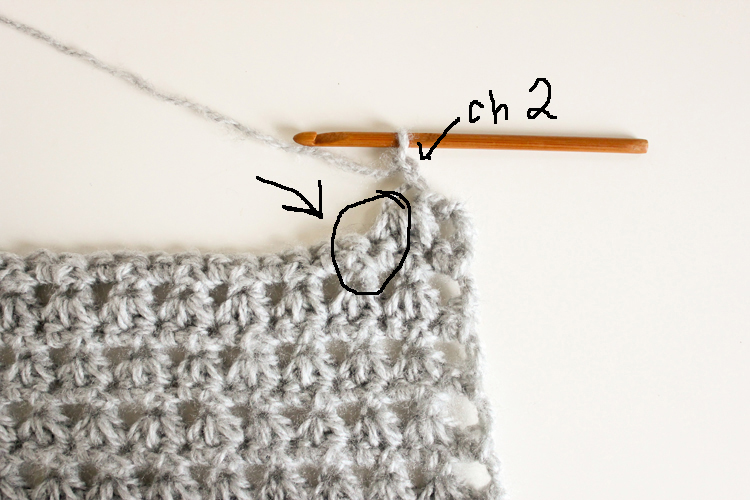 Then, ch 2, and repeat the same process, but begin by inserting the hook into the last stitch you just worked (see the circle above).
I should mention, that is the actual triangle stitch, but the stitch isn't quite complete, until you complete the next row. When you get to the end of your row of triangle stitches, you complete your last triangle stitch, ch 2, and then dc into the last stitch.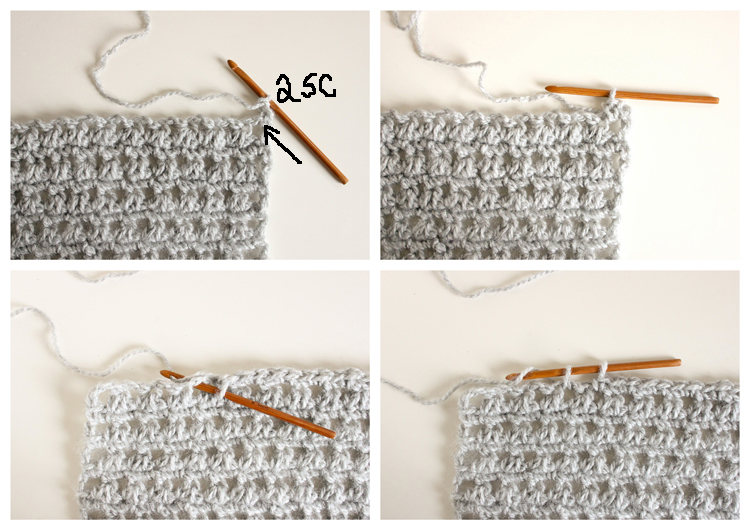 Ch 1, turn and then work 2 sc into each chained gap/space across the row.  When you sc into each chained gap, it will help the triangle stitch below take shape.
I understand, this might be tricky to understand in words and pictures. Sometimes a video is easier to understand. Search "triangle stitch"  on Youtube, and you should get a bunch of great triangle stitch tutorials there.
Once you feel comfortable with the triangle stitch, you're ready for the pattern!
MATERIALS
Bulky (size 5) yarn – five skeins for about 650 yards* K or 6.5 mm crochet hook yarn needle     * I used
Lion Brand Jiffy Yarn in Silver Heather
. It's a super soft acrylic yarn that is almost a little bit fuzzy looking. It's a pretty yarn, but beware, that it is really tough to pull out if you make a mistake and have to go back. So if you are a beginner, maybe choose a less fussy yarn to work with. 
GAUGE
4 rows of triangle stitches (8 rows if you count the sc rows) x 4 triangle stitches = 4 x 4 inches
ABBREVIATIONS
ch = chain sc = single crochet dc = double crochet yo = yarn over
PATTERN
Foundation row: Ch 139. Row 1: Sc in second chain from hook, sc crochet in each ch across. (138) Row 2: Ch 3, work 68 triangle stitches across the row, dc in last sc. (70, including ch 3, triangle stitches, and dc) Row 3: Ch 1, turn, 2 sc in each chained space between triangle stitches across row. (138) Row 4: Repeat Row 2. Row 5: Repeat Row 3. Rows 6, 8, 10, 12, 14, 16, 18, 20, 22, 24, 26, 28, 30, 32: Repeat Row 2. Rows 7, 9, 11, 13, 15, 17, 19, 21, 23, 25, 27, 29, 31, 33: Repeat Row 3.  Tie off end, and weave in tails.   
All done!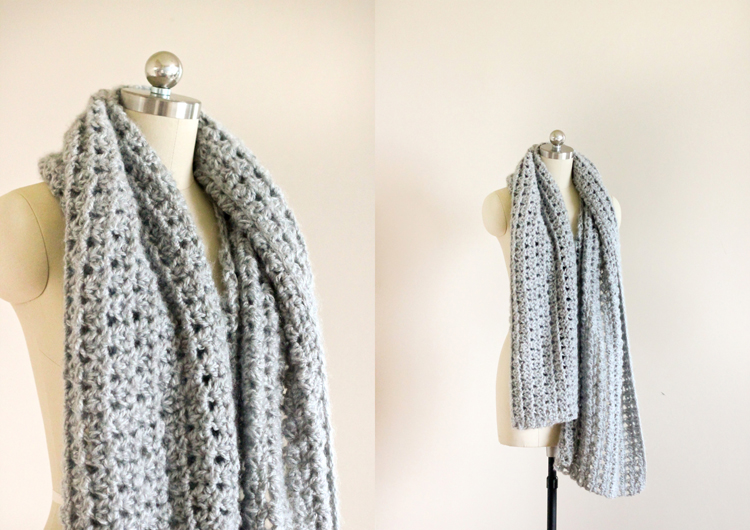 Of course, if you're up for it and have more yarn, you can make it larger by adding more rows. Hey…make it a blanket scarf even and square it out if you want to.  Just be sure to end with a row of sc and you're good to go.
I love it's versatility. It's easy to dress up and down, and configure every which way.
That wraps up my week (and a half) of free crochet scarf patterns for Scarf Week! For a full listing of all my free crochet patterns you can check them out HERE.