Today's scarf might be my favorite scarf I've made to date.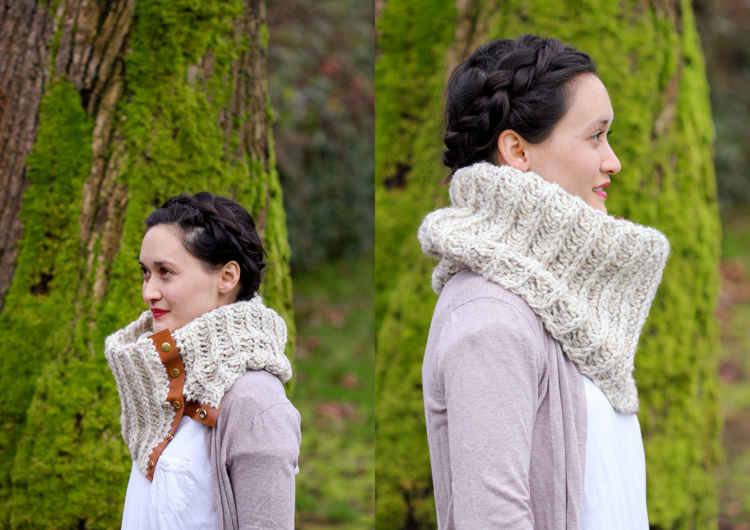 It's a blend of projects I've done in the past: my Leather and Flannel Snap Scarf and my Crocheted Leather Flap Clutch.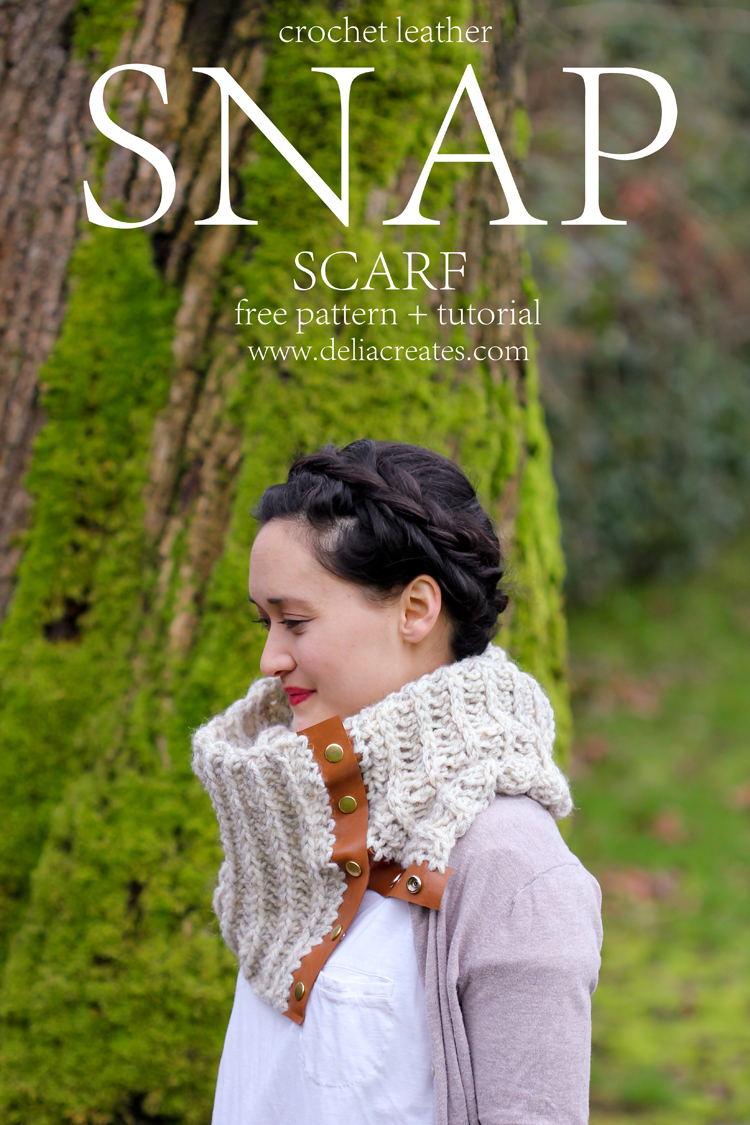 Put them together and you get a Crochet Leather Snap Scarf!
Isn't that texture just yummy?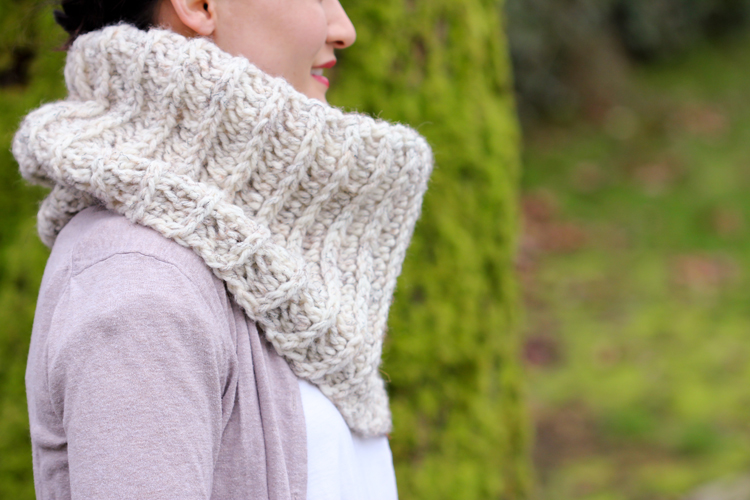 I'm using the same hdc rib stitch or camel stitch I used with my striped ribbed fringe scarf, but with very different results!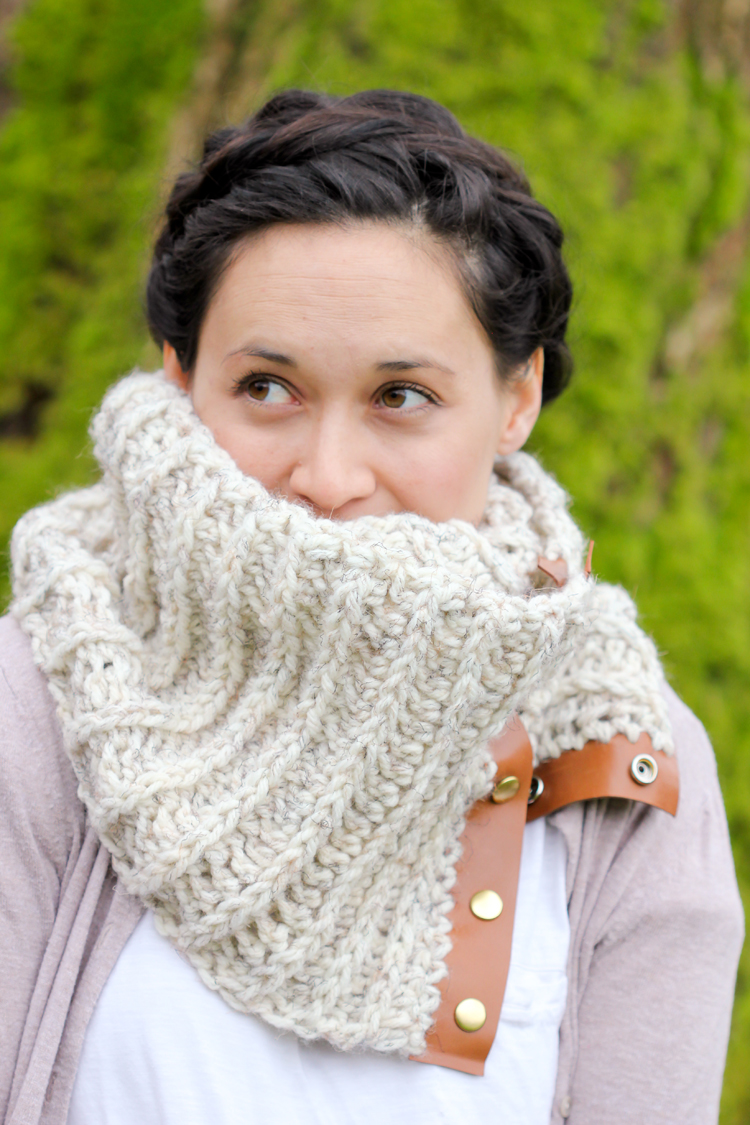 Let's get to the pattern shall we?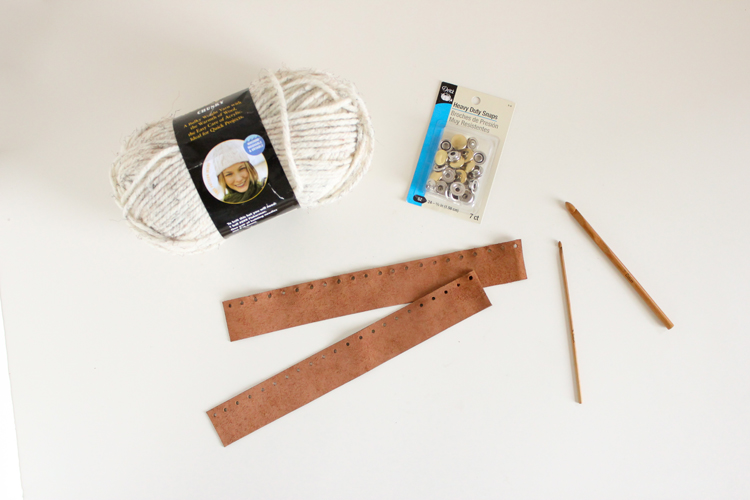 MATERIALS
2 small strips of pliable leather cut to 11 inches x 1.5 inches (avoid suede, it's too flimsy)
Leather punch
or snap punch tool Hammer
Dritz 7 Heavy Duty Snaps – Brass
 (affiliate link)
Dritz Heavy Duty Snap Tools
 (affiliate link) Ruler 3 or 3.5 mm hook 6.5 or 7 mm hook* Bulky yarn (size 5) – 2 skeins or about 300 yards ** Yarn needle     *I used a 7 mm hook, but I know in US sizes, it is easier to find a K hook or 6.5 mm hook. Either works as long as you maintain the correct gauge. Maybe go a little looser if you are using a 6.5 mm hook.   ** I used
Wool-Ease Chunky in Wheat
from Lion Brand Yarns.  
GAUGE
4 x4 inch square = 8 stitches by 6 rows
ABBREVIATIONS
ch = chain sc = single crochet hdc = half double crochet
NOTES
– Because this is a mixed media project which uses leather and yarn, there will be some tugging and curling of the leather and some minimal shrinking in the middle of your scarf. This can all be remedied with some wet blocking and keeping a nice loose gauge.    – Don't forget to learn how to
hdc rib stitch
or
camel stitch
(different names, same stitch) before proceeding with the pattern.  
PATTERN
Prepare your leather strips.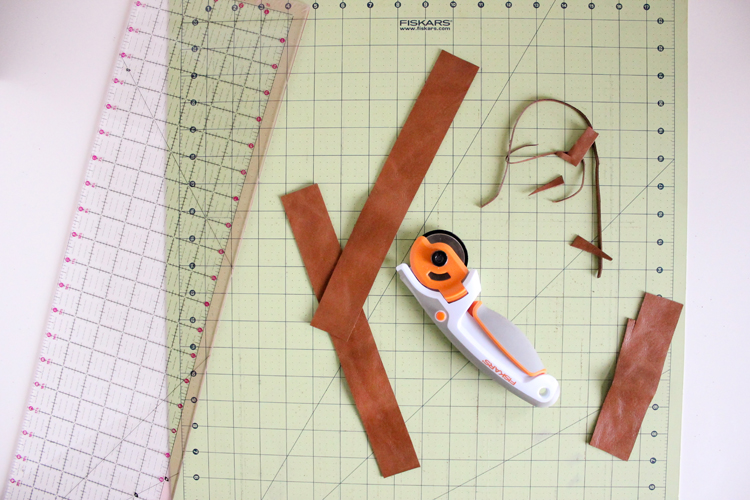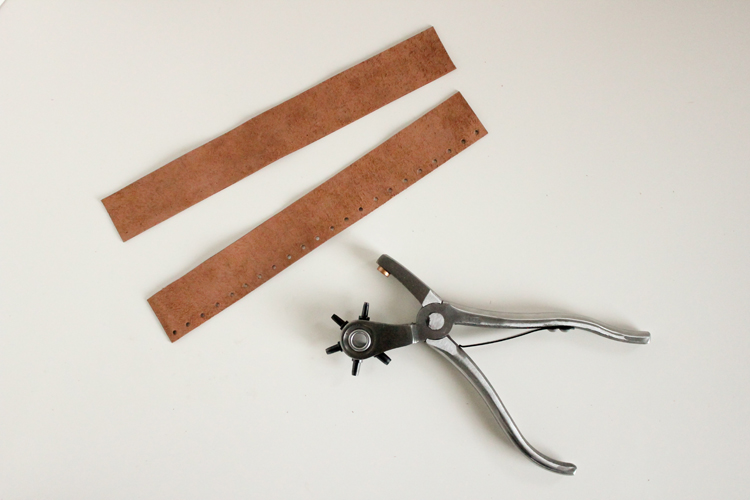 1. Once they are cut to size, measure and mark dots along one edge of each leather strip. They need to start and end 1/4″ from each end, and then be spaced every 1/2″ across. Total number of holes = 22.  2. Carefully punch out the holes with your leather punch or snap tool.  3. Selecting one of the strips, begin the crochet pattern…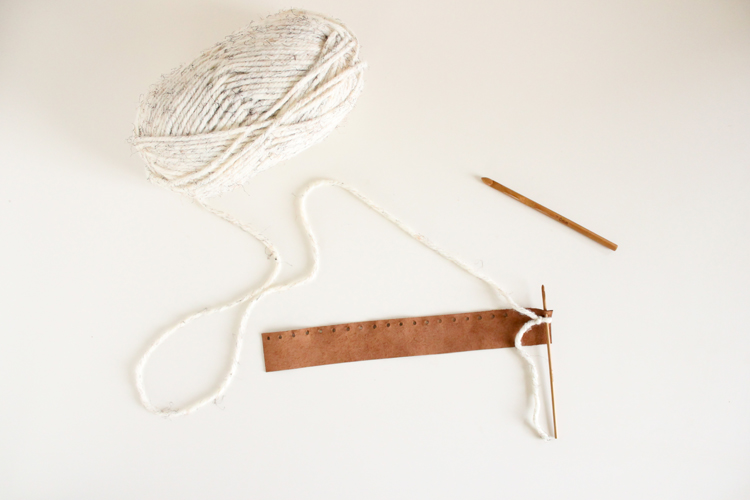 Foundation row: Using the smaller hook, slip stitch yarn into the first hole, ch 1, and then sc across, working the yarn into each hole in the leather strip. This will take patience, working with a smaller hook. Try to keep an even loose gauge..  Row 1: Switch to the larger hook. Ch 2, hdc in each sc stitch across. (22) Row 2: Ch 1, turn, hdc camel stitch (or hdc rib stitch) in next 20 stitches, hdc in last stitch. (22)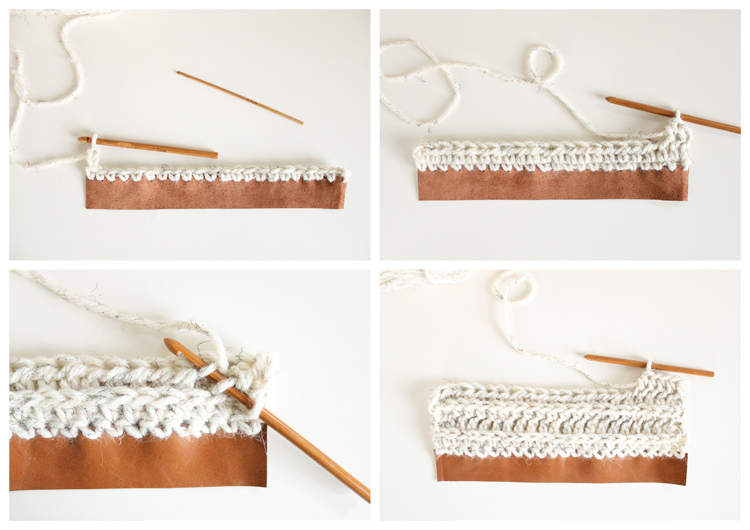 Rows 3 – 78: Repeat Row 2.  Connect to other leather strip. Switch to smaller hook. Insert hook into first leather hole. Grab yarn and make 1 ch. Sc across into each leather hole and hdc stitch.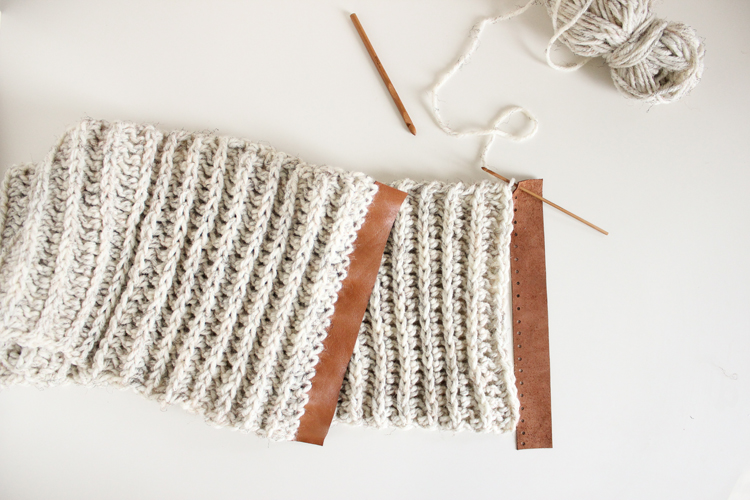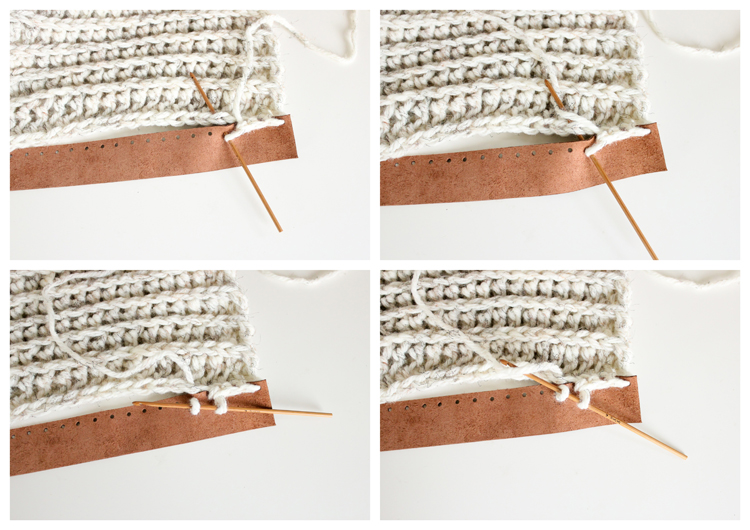 Tie off yarn. Weave in tails.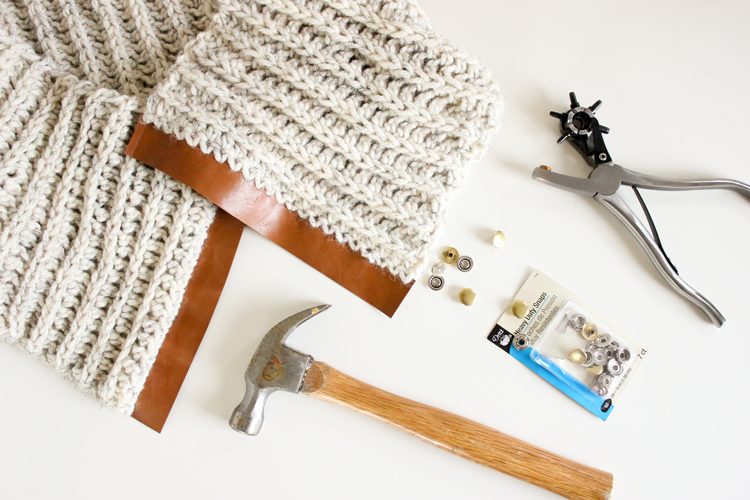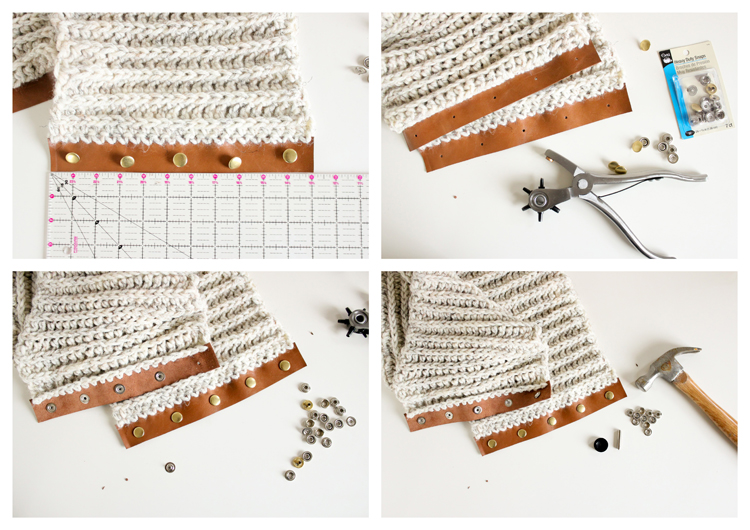 1. Mark snap placement. Centered down the middle of the strip. Mark snaps 1″ inward from each end. Then space the remaining snaps 2.25″ apart.  2. Punch holes for the snaps. Use snap tools to install the snaps according to manufacturer instructions.    Hand stretch or hand block the scarf to make sure it doesn't pucker and twist the leather. If desired, try wet blocking the scarf to get it to maintain a good shape. You only really need to wet block the portions closest to the leather strips. The rest of the scarf will get twisted up when worn.   Please note: This yarn I used is only partially made of wool, so it will only wet block so much. Natural fibers such as linen, cotton and wool will wet block better than acrylic and rayon.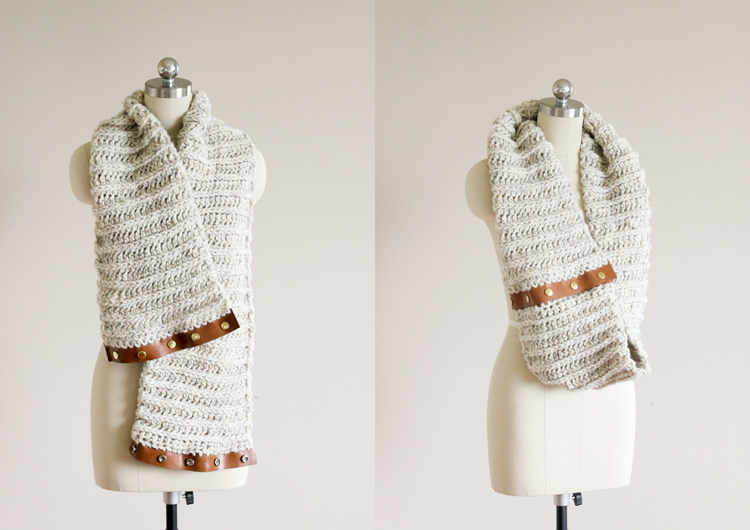 You can wear it like a regular scarf, or an infinity scarf, but it's really meant to be doubled up into a cowl and snapped halfway like this…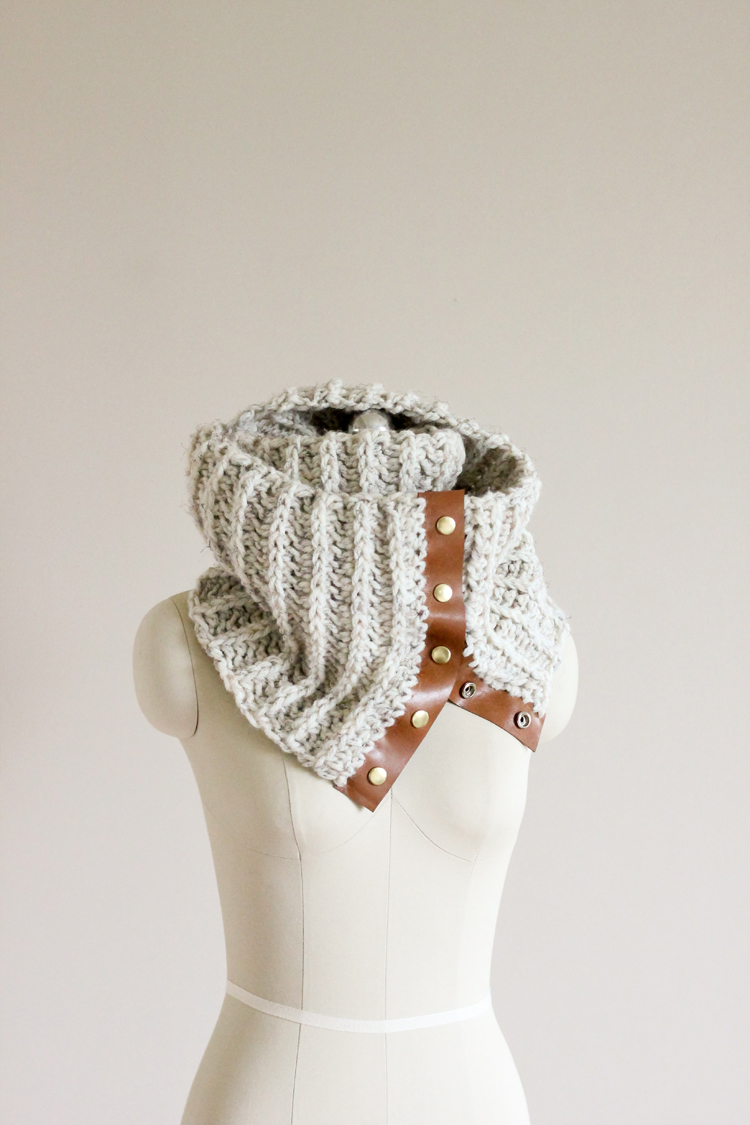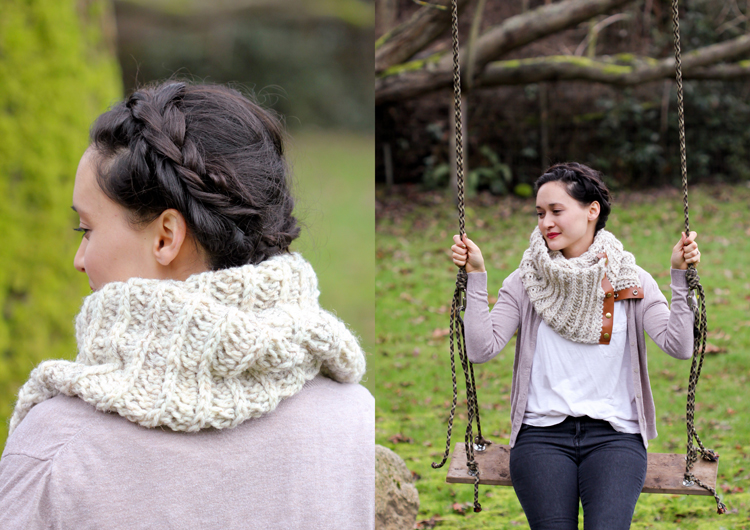 The first loop of scarf adds extra warmth and it supports the outer loop of scarf so it stays in place.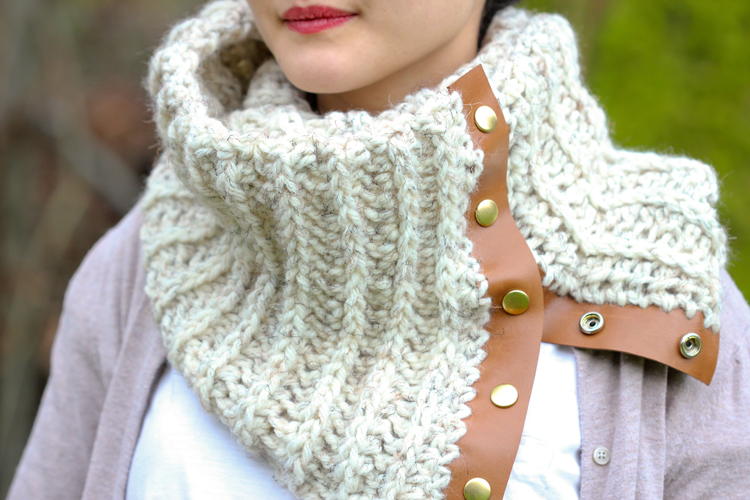 And warm it is. It's totally my new favorite scarf, with last week's Knit Look Cowl coming in a close second.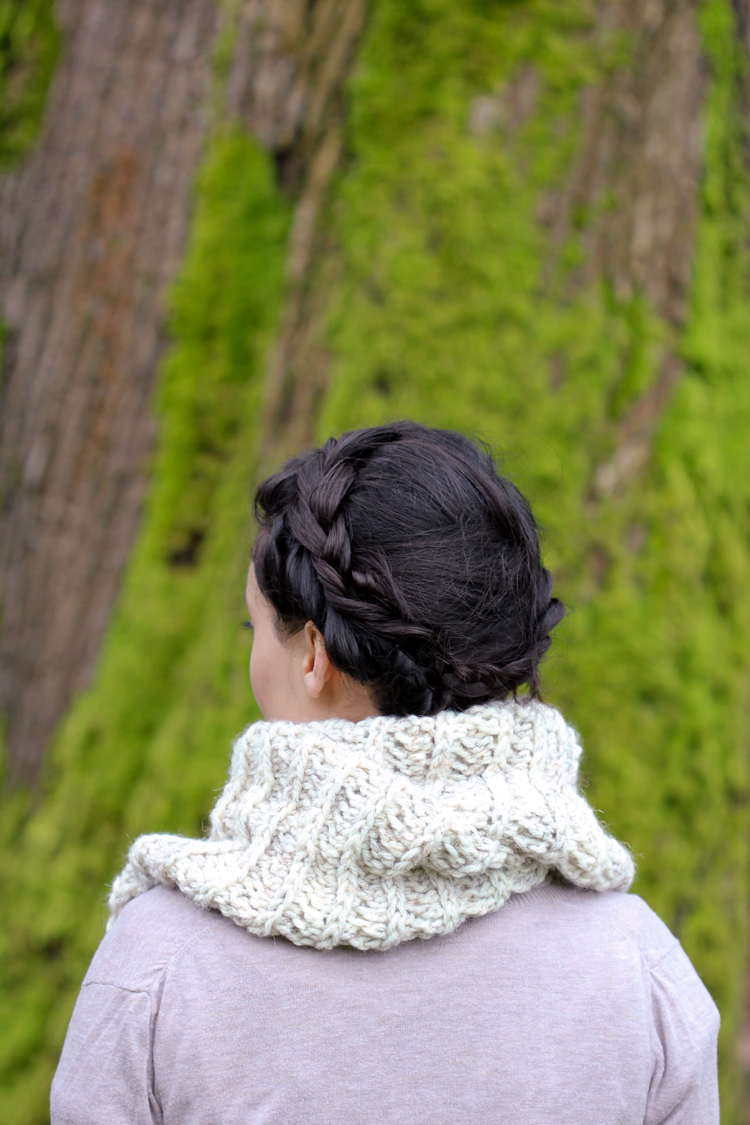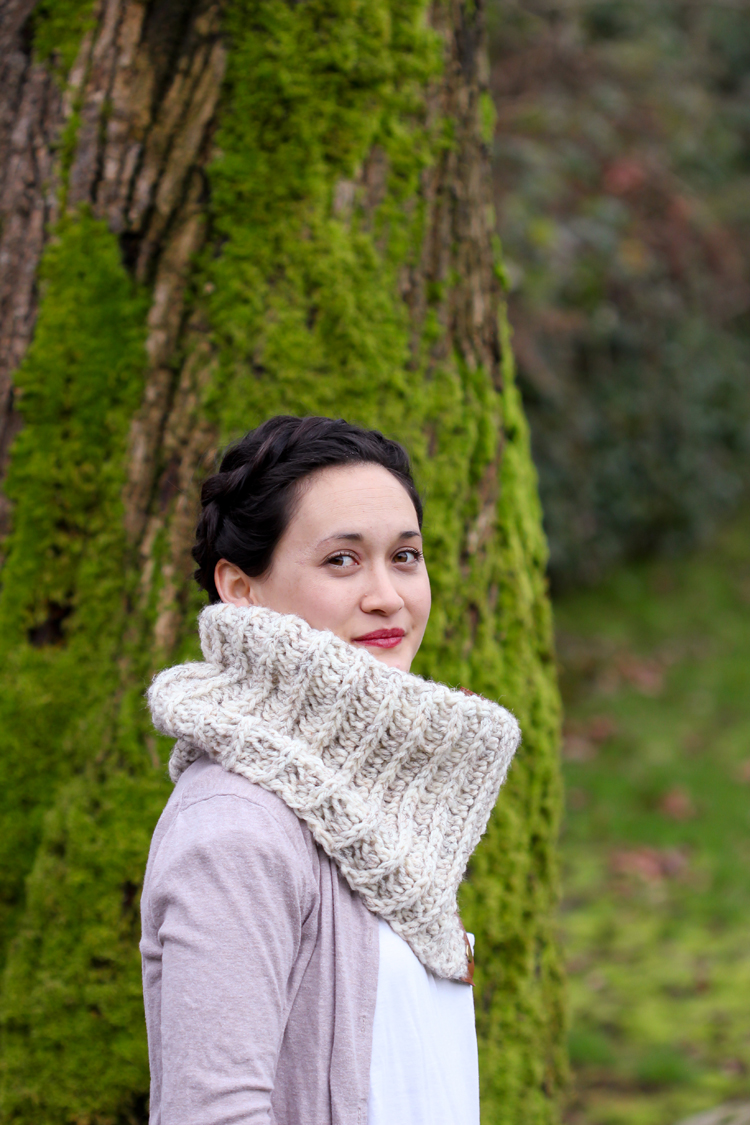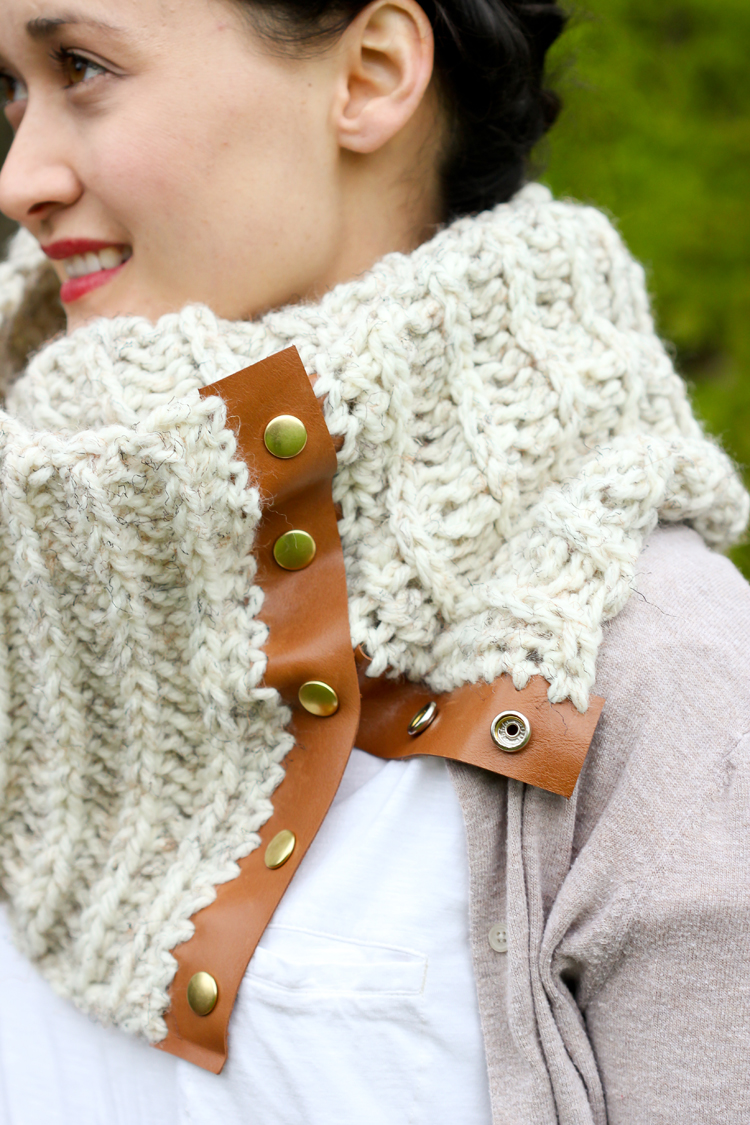 Only one more scarf left in Scarf Week. See you tomorrow!