There are a couple of things that you should know about me when it comes to fashion.
For the most part, I prefer simple classic looks, and I hate spending a lot of money on clothes.
My husband may disagree, but he often clumps fabric and clothes shopping together, so… 😉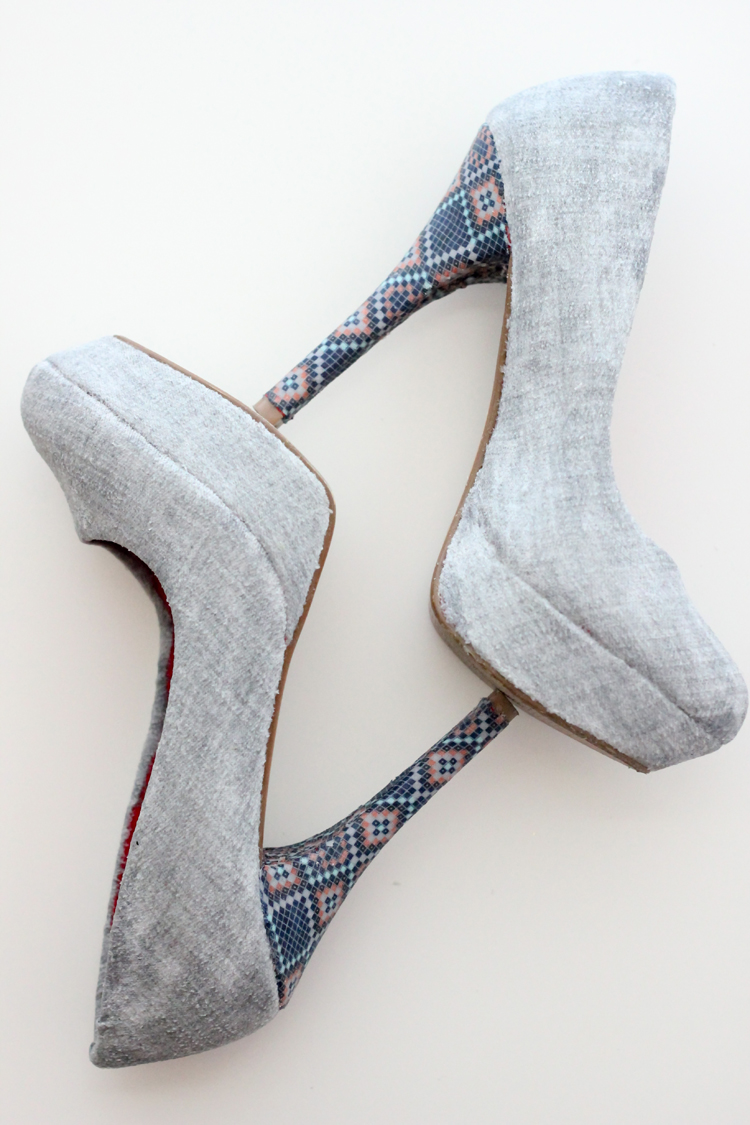 Enter…these shoes.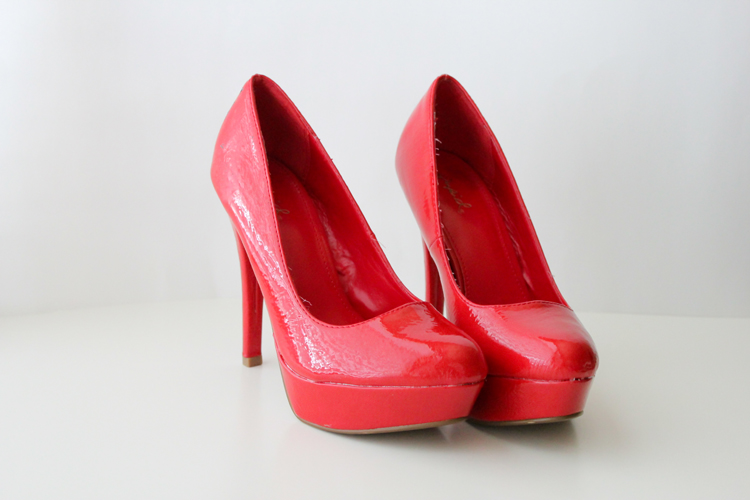 I found them on the clearance rack just in time for ALT so I snatched them up. They worked fine for bouncing around to parties at a blogging conference but they have since felt a little too loud and hard to style with my everyday wardrobe. Not that I don't like red. I have a pair of red flats that I adore, but the red plus the height = too much for me…so, I felt it was time for a make over!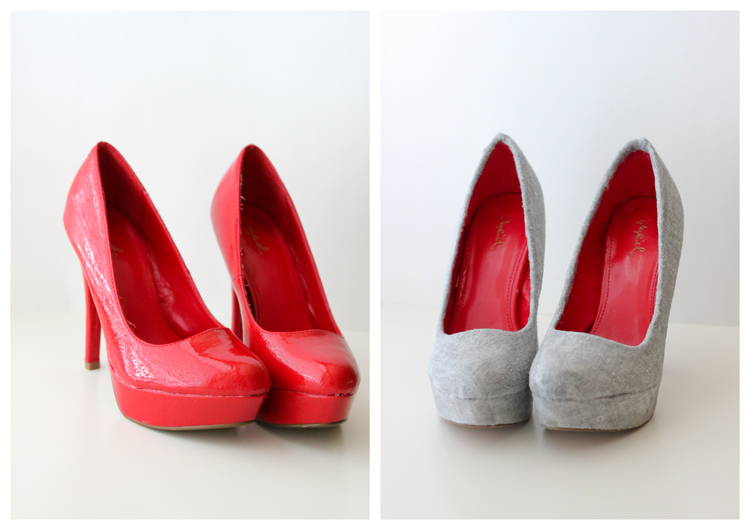 I considered all the options: spray paint, fabric, paper, even gold leafing and finally went with mod podge and fabric.
I won't share a tutorial because these two are fabulous: Love Maegan and Make It and Love It.
But I'll share some tips and my take on the whole process.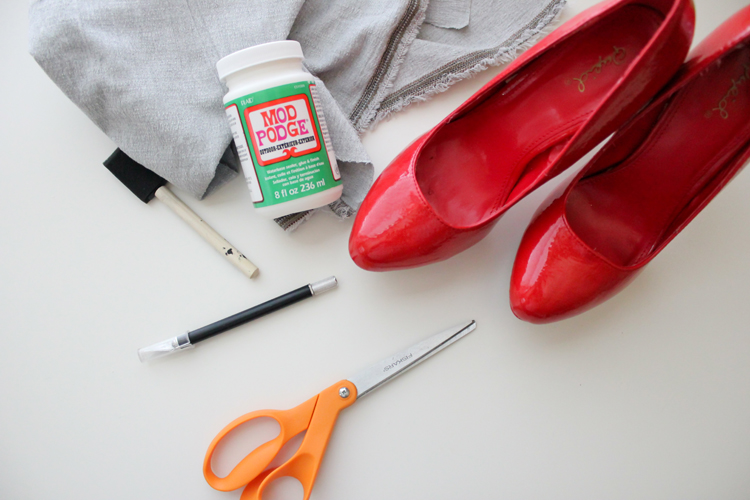 #1 This is deceivingly a super time consuming project.
The next time you say to yourself, I should cover those shoes with fabric. It will totally be a quick project…slap yourself. This project is tedious and long. It's not totally painful, but it did take me a full nap time and an entire evening. That could have a little to do with my fabric choices, which I explain in tip #4, and the fact that I am a perfectionist.
I am not saying this to discourage you! Just make sure you are realistic about the time it takes going into it so you don't end up frustrated. Also, the first shoe takes longer than the second shoe. So, once that first one is done, you are more than halfway done. 🙂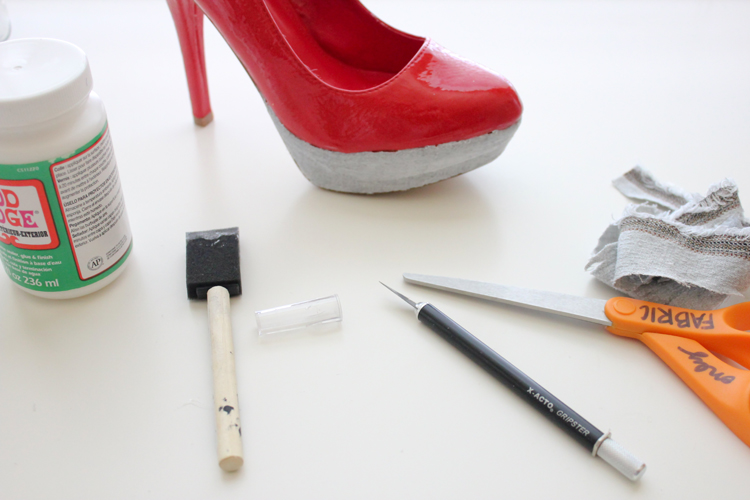 #2 Never too much mod podge. Make sure you have plenty of it when you begin because you will likely use more than you thought would need.
I used outdoor mod podge which I felt worked really well. Some parts of the shoes ended up darker than others though. I think I applied it too thickly in those areas?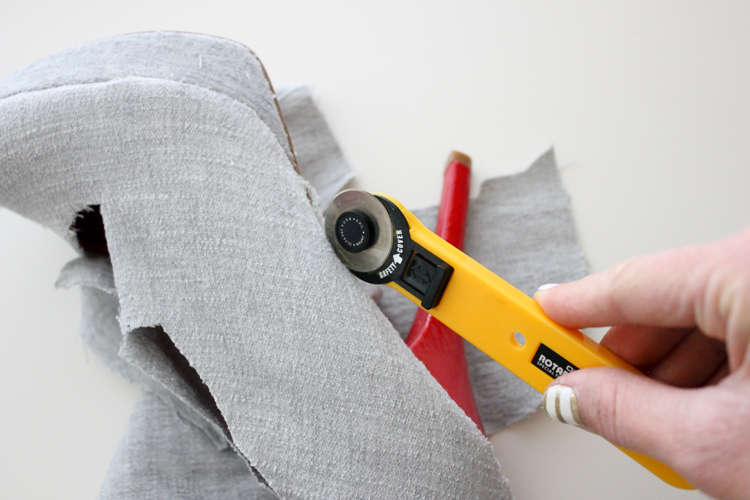 #3 Consider using your rotary cutter and exacto knife.
If you have a small rotary cutter, even better. It helped me get nice precise cuts. The exacto knife was not as handy as the rotary cutter, but it did help better than just using scissors. I used the blade to help me tuck the edges of the fabric into the folds of the shoe.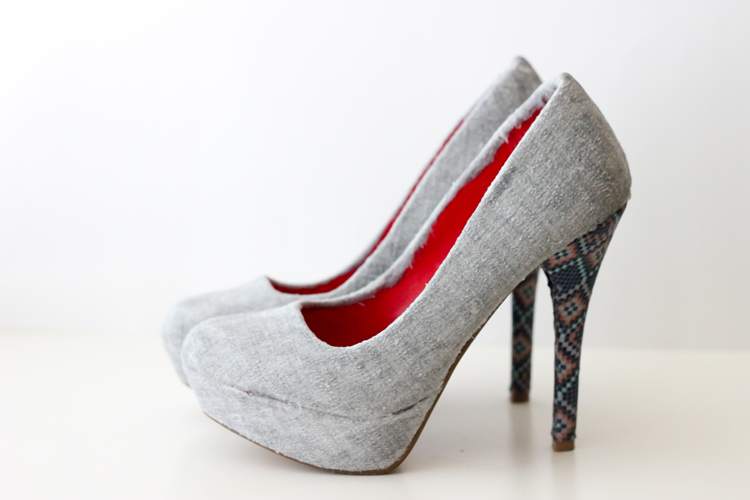 #4 Consider your fabric carefully.
I used this thick, gray, stretchy fabric (source unknown – from the $1 Walmart bolts) for the main shoe, so I have some puckering that was harder to get rid of. The fabric also did not curve into the inside as cleanly as I would have liked. It frayed as you can see. The fabric I used on the heel was a quilter's cotton and was MUCH easier to apply. If were to do this again, I would use quilter's cotton.
Other Notes:
– I did not clip the fabric before turning it under into the inside (see the tutorials I have already linked to if this is confusing). Most fabrics have at least some stretch to them, use that stretch instead of cutting it if you can. Just to make sure I am not being confusing…When I say that it didn't curve into the inside cleanly, I am only referring to the fraying.
– Because of the thicker fabric that I used, I also did not fold the heel fabric to get a cleaner seam. Again…using a thinner woven cotton would be better for this project so you can get a cleaner finish to your shoes.
– I didn't include the ribbon that Love Maegan used on her shoes. I tried tucking the fabric into the fold of the shoe with the exacto knife instead and I think that actually turned out really well. I used the blade to grab the edge and then I firmly pushed it into the seam of the shoe while the mod podge was still wet.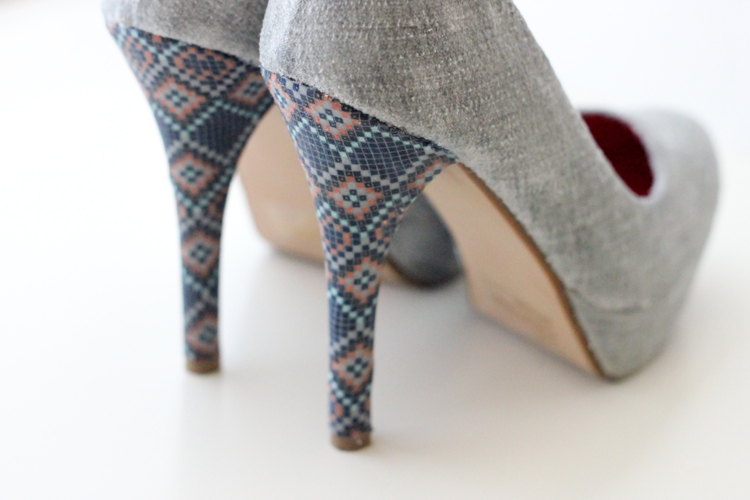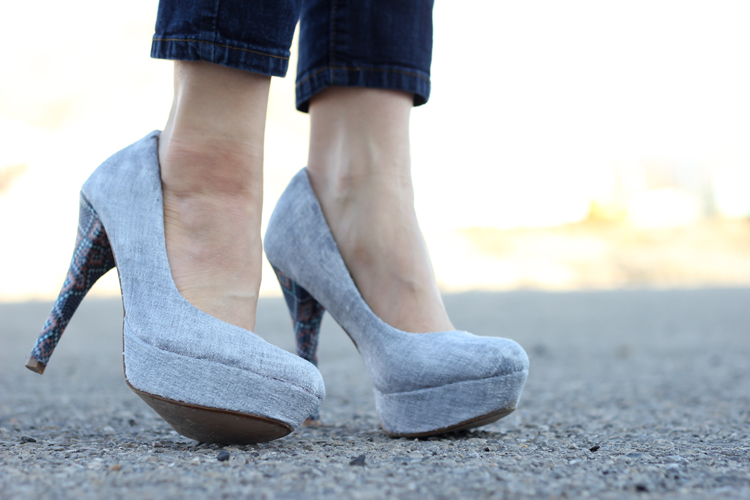 Even though this project took a while, it was fun choosing my own fabrics to get a look I couldn't buy.
Which… I should have been more careful with because… I don't have a lot of dresses or skirts that these heels go with right now. Doh! Wasn't that the point? It's okay…you can laugh at me. 🙂 Oh well, I'll just have to get sewing. 😉 And now, at least the shoes are more "me."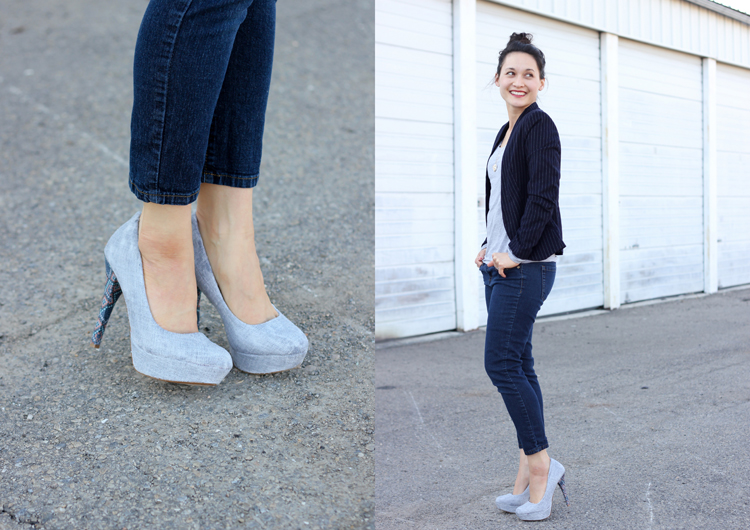 The heels go well with jeans for now. Not really everyday wear with kids, but totally appropriate for a date. 
Now, for my thoughts on how the shoes actually wear:
My husband asked if they were uncomfortable or scratchy because I mod podged the edges over into the inside. Honest answer: No. That could depend on the shoe though. These were not super tight at the heel or the toes before, which I think helps a lot.
Do they get dirty? Not really, but I mod podged the entire surface of the fabric with a generous layer of mod podge. This darkened the color of the shoe a bit, but has been great for keeping it clean…er. It's still a shoe after all.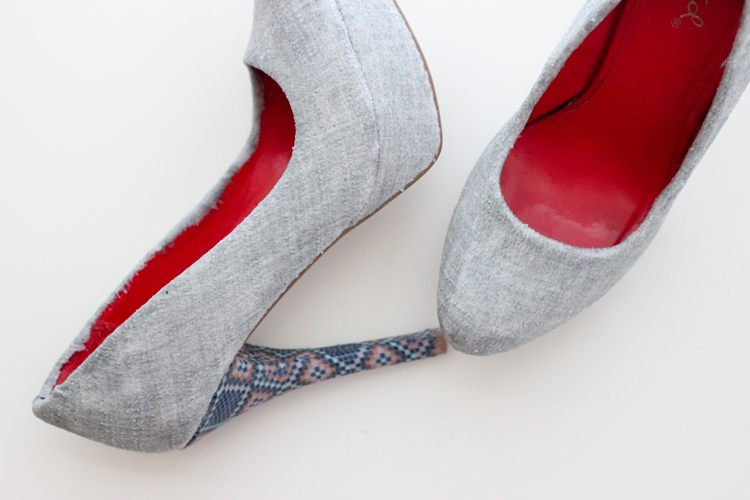 Sources:
Jeans – Forever 21 | Blazer – H&M  | Gray Tee- Old Navy | Necklace – DIY tutorial found HERE | Gray fabric – Walmart Clearance | Cross Stitch Aztec Print – JoAnn (old stock, I have been unable to find more, or I would have likely covered the whole shoe in it)