Fall weather means fall sewing!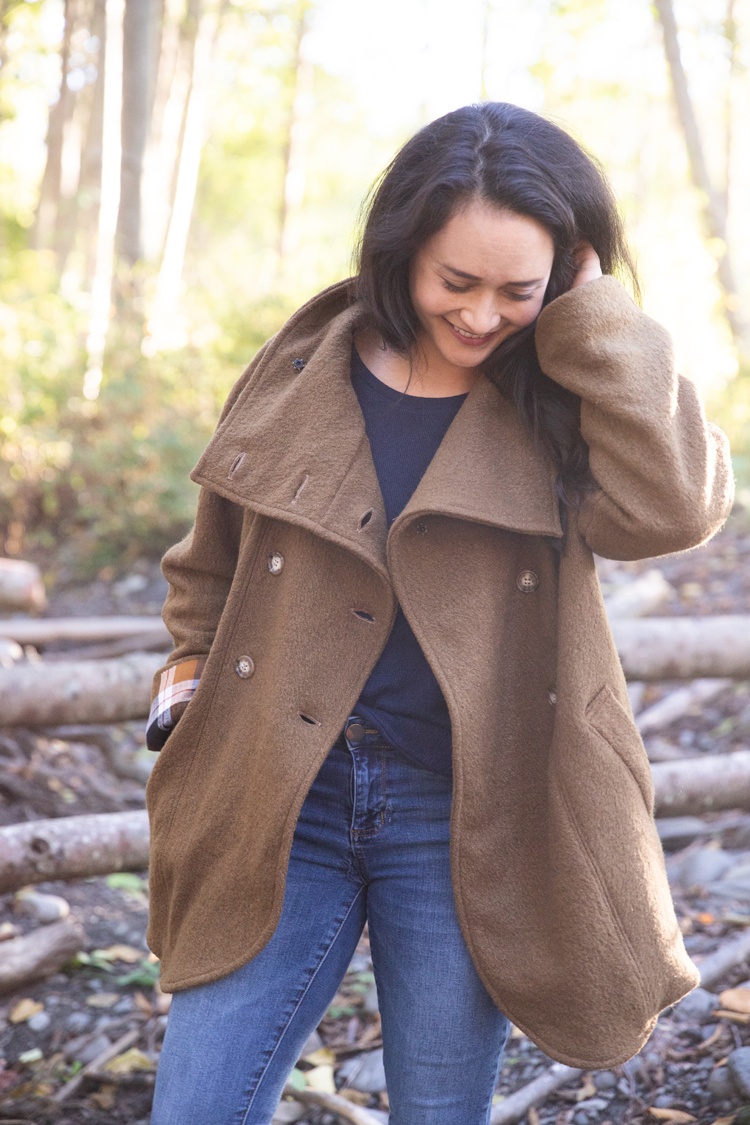 Today, I'm sharing what I sewed for the Style Maker Fabrics Fall Tour using some beautiful fabric from their new autumn collection.
Yuzu Wool Coat
I've had my eye on the Yuzu Coat Pattern for some time. I actually bought it over a year ago and have been waiting for the right time to sew it.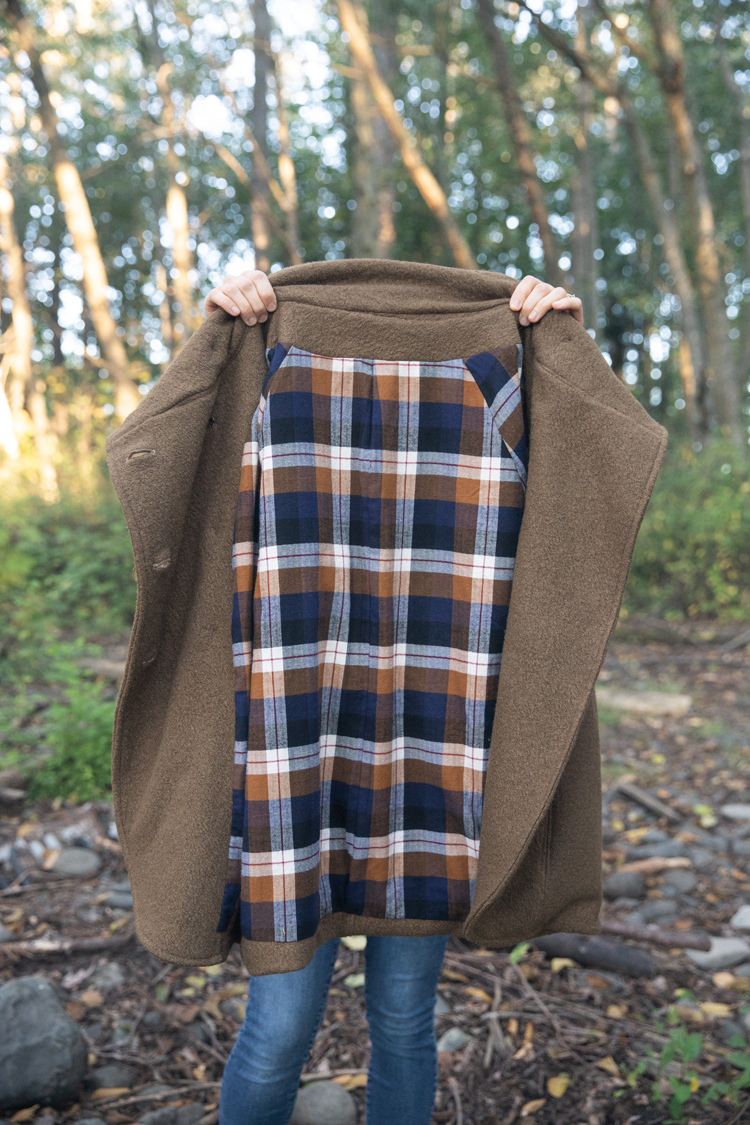 Fabric
Michelle from Style Maker Fabrics sent over a beautiful boiled wool for me to use. It has a great texture, and because it's rayon/wool blend, it's not really itchy and it's machine washable. I had never previously sewn with boiled wool, but now I'm a fan. It's listed as sepia colored but I think it has an almost olive tone, which I love.
I knew my sweatshirt was going to be navy, so we chose this navy and rust colored plaid flannel for the lining. It's a really nice quality flannel that isn't fuzzy or prone to pilling. It would be a dream to sew up for some pajamas.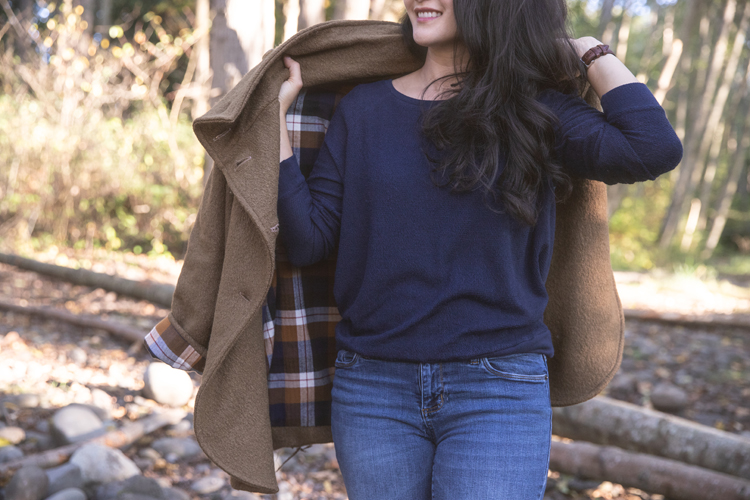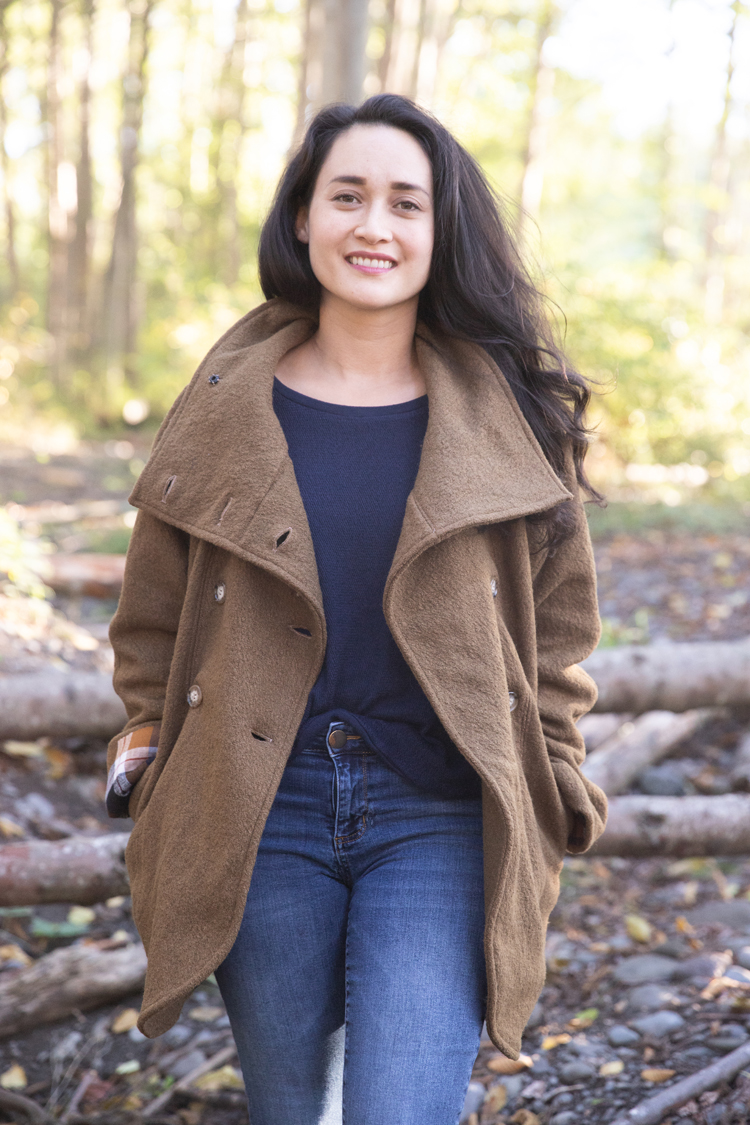 Pattern
The Yuzu Coat Pattern is listed as an advanced pattern, which I'd say is very accurate. It was kind of a beast to sew, but the finishes were well worth it. I think it will be easiest to break things down by what I like about it, and things I wish I had known before sewing it.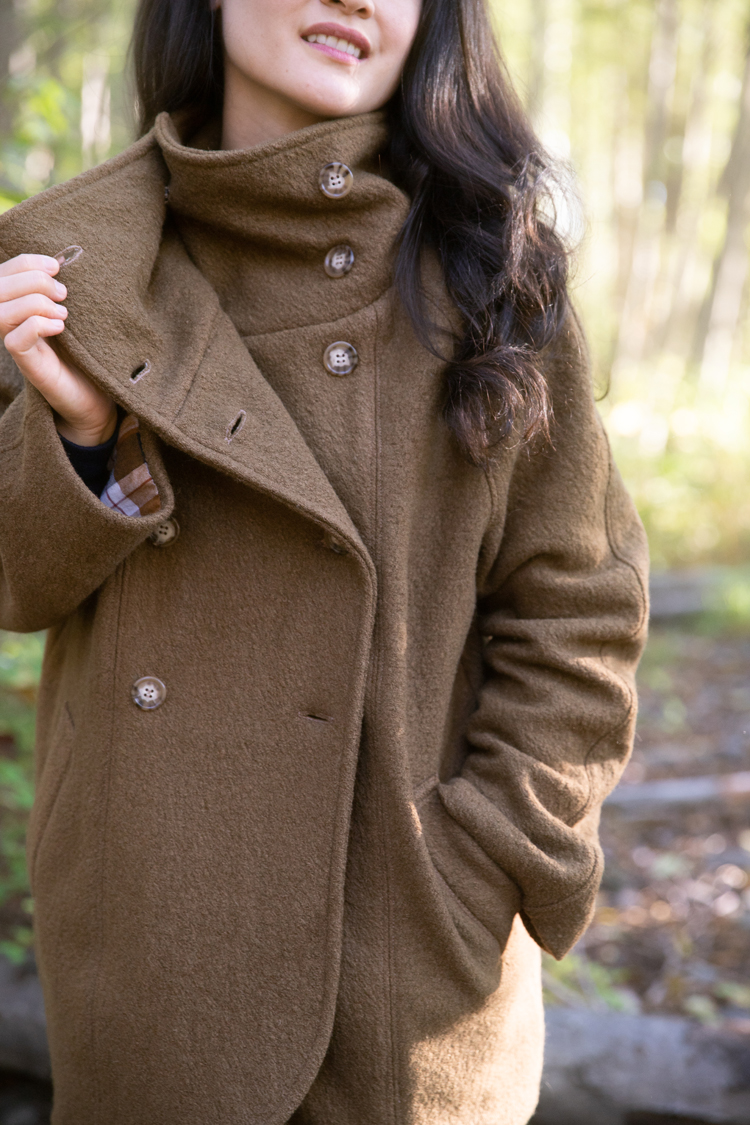 What I like about it:
– Layered pdf files allow you to select and print only your size. I like that the instructions and patterns are different files, so I don't have to scroll through as much to find what I'm looking for.
– It is a very well thought out pattern with professional finishes. It takes some time to complete those finishes, but the results are amazing. I have sewn many a welt pocket, but not one so well done. Of course, it required hand sewing (!) and it was a mind bender trying to figure out the first one, but all the effort was well worth it. There are also darts sewn into the lining and pleats at the seams which I have never done before but have seen in designer jackets. This pattern is the real deal.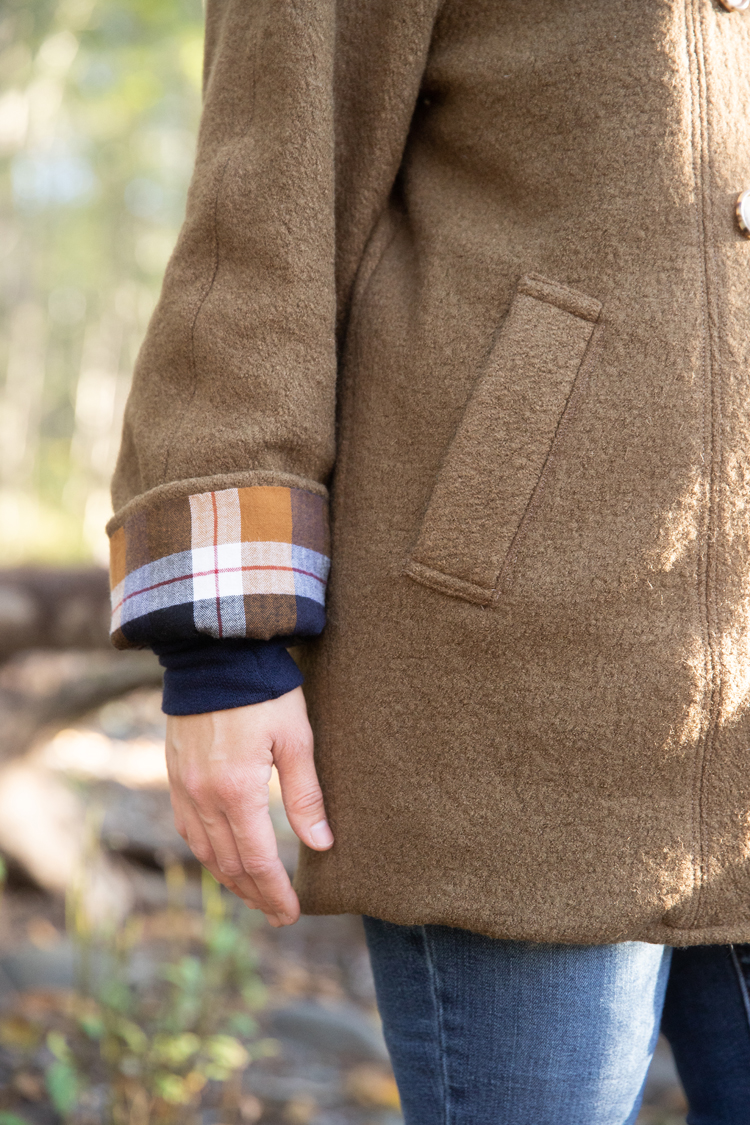 – I love the design. It tapers inward at the bottom just slightly for a cocoon shape. The buttons at the top only give enough coverage while allowing comfortable movement in the legs.
– The pattern calls for snaps on the inside, which is a nice touch. I used the sewn in kind and they work beautifully.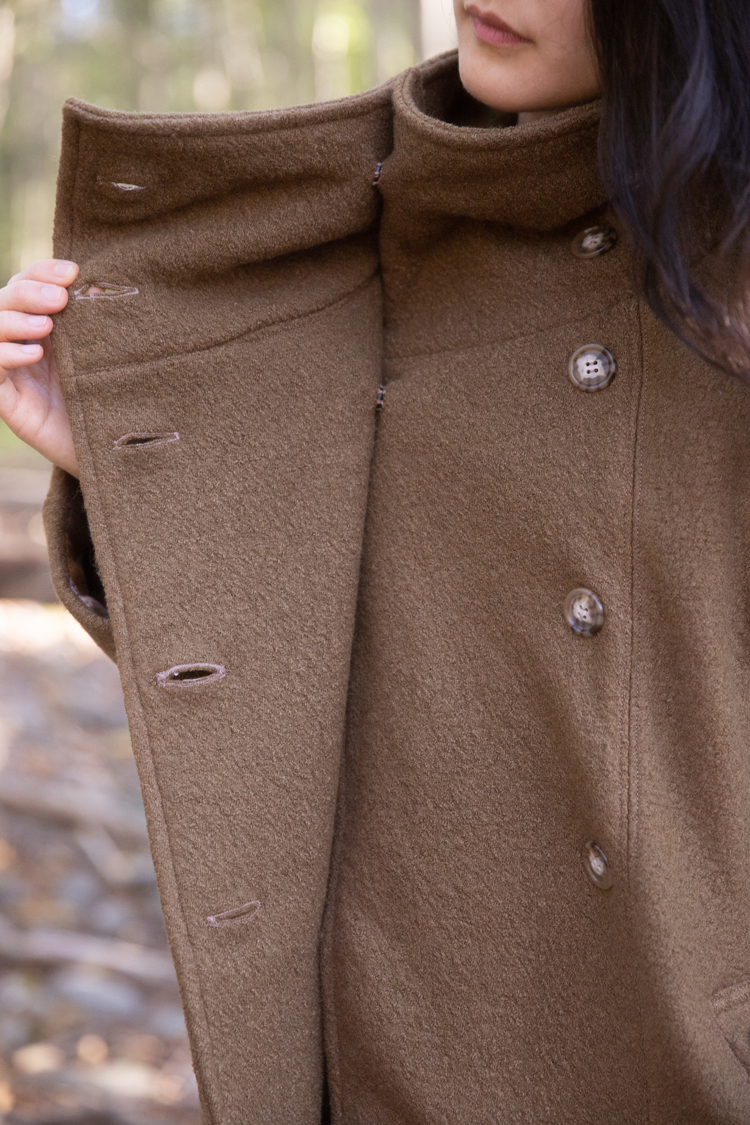 What I wish I had known:
– Sizing runs large. I sewed a size 38. My measurements were either spot on or very very close to the measurements listed in the pattern, so I figured I was safe with the 38 size. It ended up oversized and the sleeves are too long.  I wished I had sewn one or maybe even two sizes smaller. If I attempt this coat again, I will definitely make a muslin shell first. So, in that sense, it was kind of user error that I did not take the time to sew a muslin.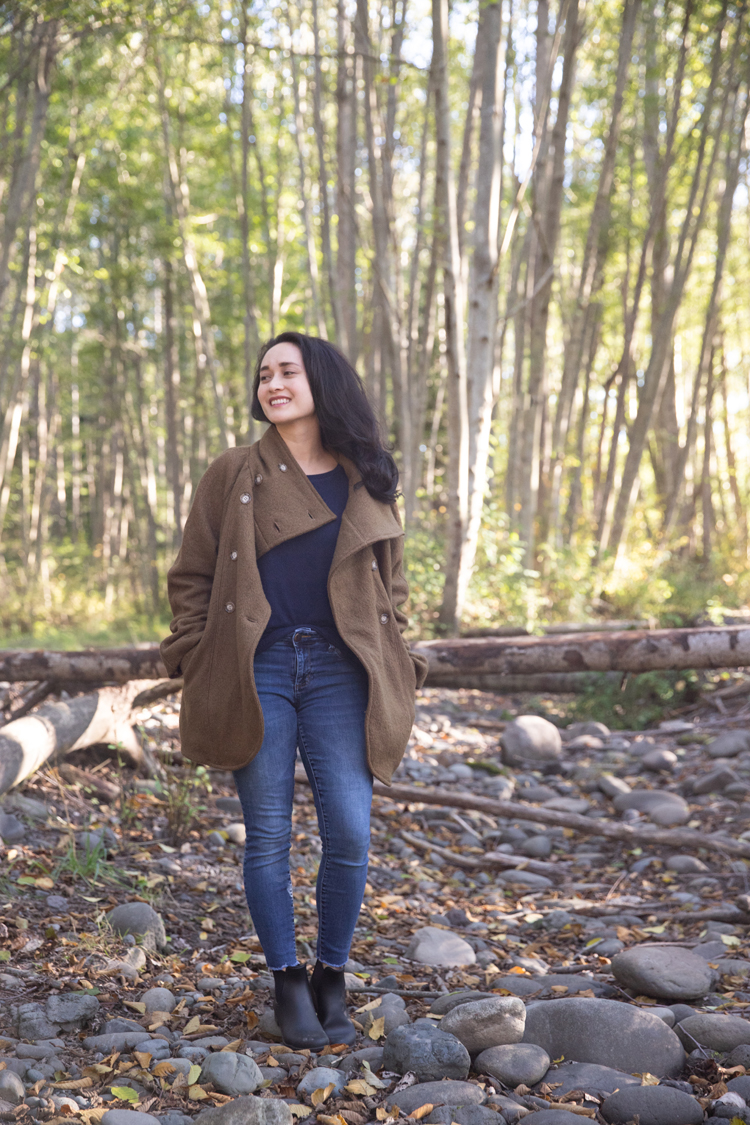 – Some of the instructions were a little cryptic to me. It could be that I am just not as experienced a seamstress, but I spent a lot of time studying the diagrams and trying to decipher what the pattern was asking me to do. Once I figured it out though and worked through each step, I could see how well designed everything was. The pattern designer thought of every little detail. The way the lining fit perfectly with pleats at the seams…it was like magic.
– This pattern uses TONS of paper. There are separate shell and lining paper patterns so there was A LOT of printing, taping and cutting involved. I spent an entire evening just on assembling the paper pattern.
– Interfacing is not included in the main tutorial. The cut and prep diagram will indicate where the interfacing goes with a dotted patterning. There are not separate interfacing patterns either.  You have to follow the guides on each lining and main pattern piece. I hand to kind of eye ball the curves on some of the pieces.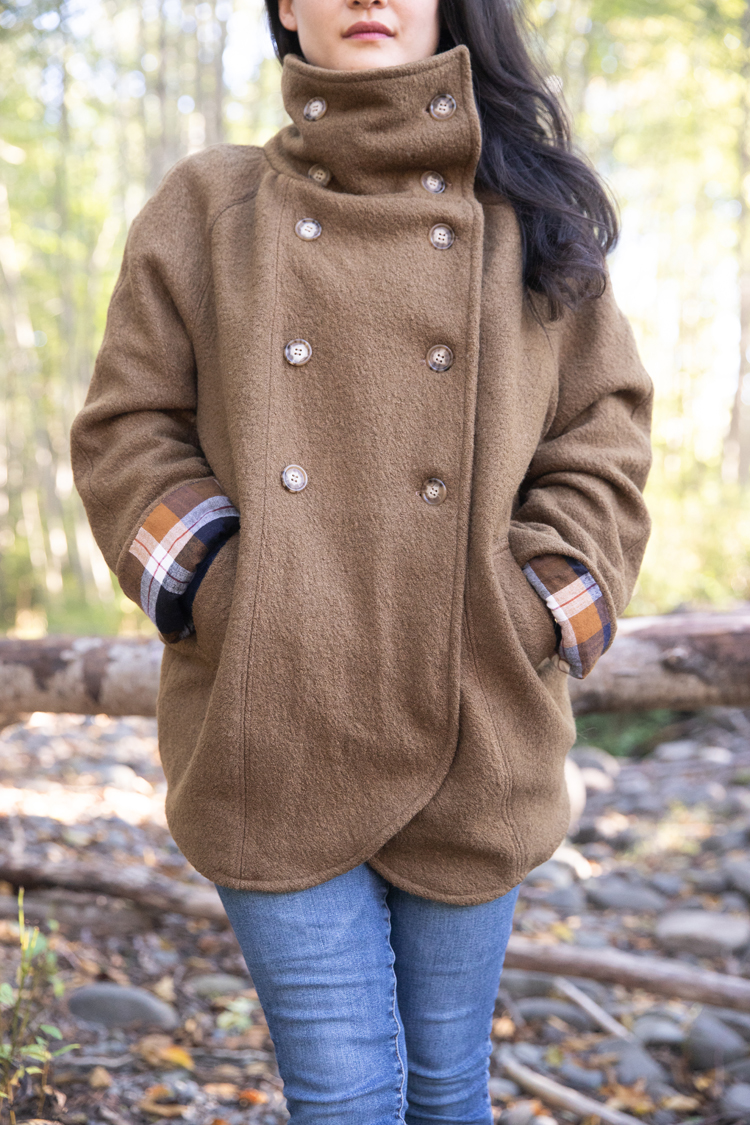 – There is a lot of hand sewing, which I surprisingly quite enjoyed. The hem is mostly hand sewn and the sleeves are as well. I think you can machine sew the sleeves in, but that part of the instructions were confusing me and I figured I could hand sew them in faster than I could figure it out. Ha!
– I skipped securing the collar in the way the pattern called for, because I started to get lazy. It is the least professional looking bit on this coat. Sigh…I wish I had known not to skip or modify any of the steps. Each one really makes a difference.
Overall, I love the coat. I tried sewing it in two days, which was kind of intense. I think it would be a much more enjoyable sew if spread out say…over a month. I'll probably give it another go at a slower pace next time.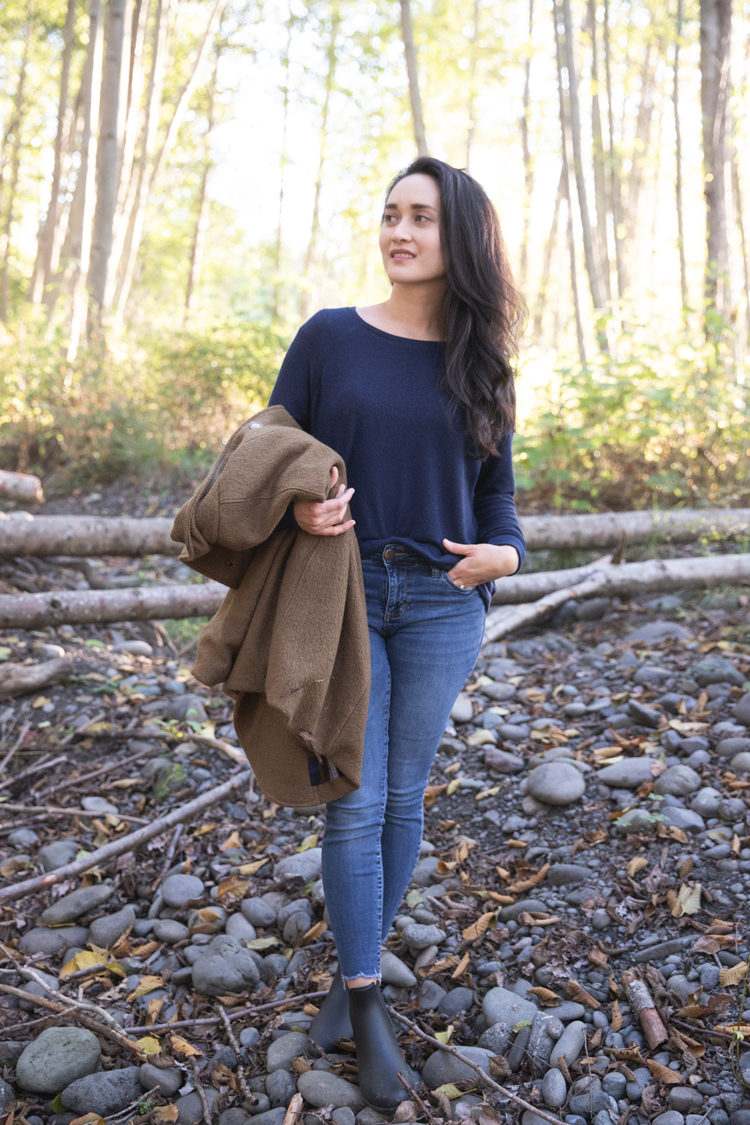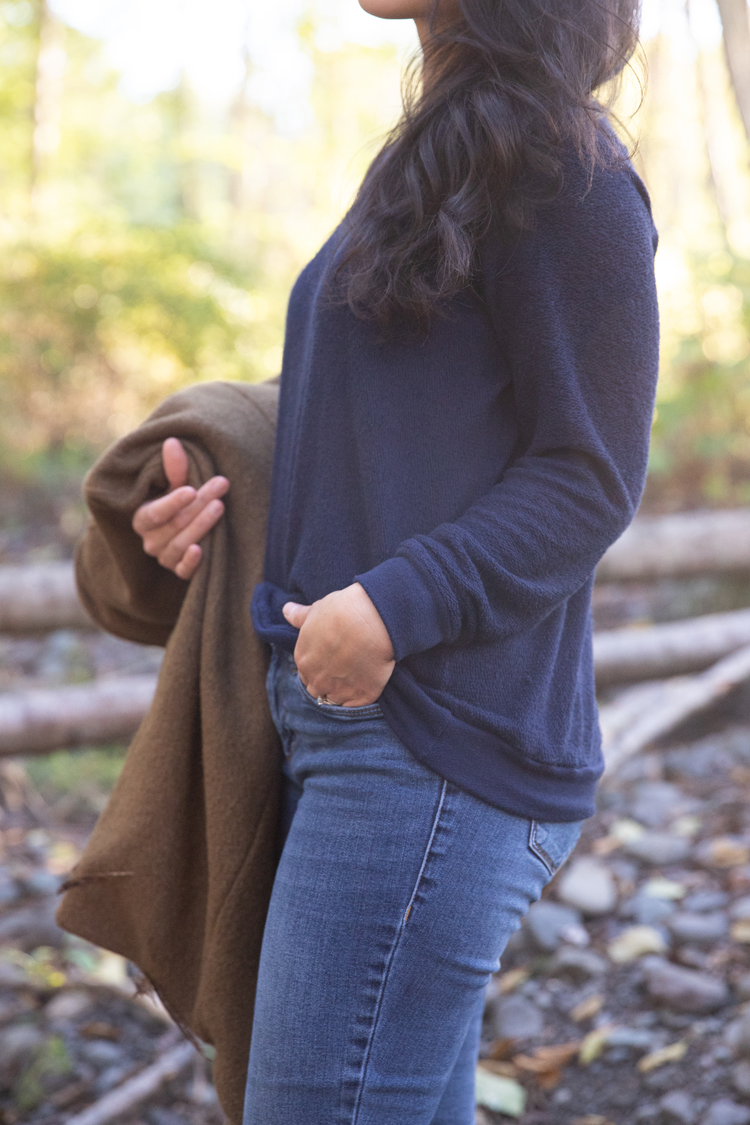 Linden Sweatshirt
Pattern
I LOVE this pattern. Not only was it such a quick, rewarding sew after the more labor intensive coat pattern, but the fit is perfection. The neckline is just right and it has a little bit of slouch. It was fast and easy to assemble the pattern, and a super fast sew. Because everything was finished with bands, there was no hemming (wahoo!), I was able to sew it up exclusively on my serger. I will definitely be making more of these.
Fabric
I sewed this Linden Sweatshirt in a soft French Terry Sweater Knit in navy. True to it's name, it is so so cozy and soft. I decided to add texture by flipping the wrong side of the fabric outward and making the right side of the fabric show just for the neck, sleeve, and hem bands. I love the contrast and the texture. The only catch (ha!;)) is that it does snag fairly easily, because it's not meant to be worn outward (duh)…I don't care though. I love it as is and I definitely want some more of that French Terry to make more Lindens!
I spent very little time sewing this summer, so it's been nice to kick off fall with lots of sewing!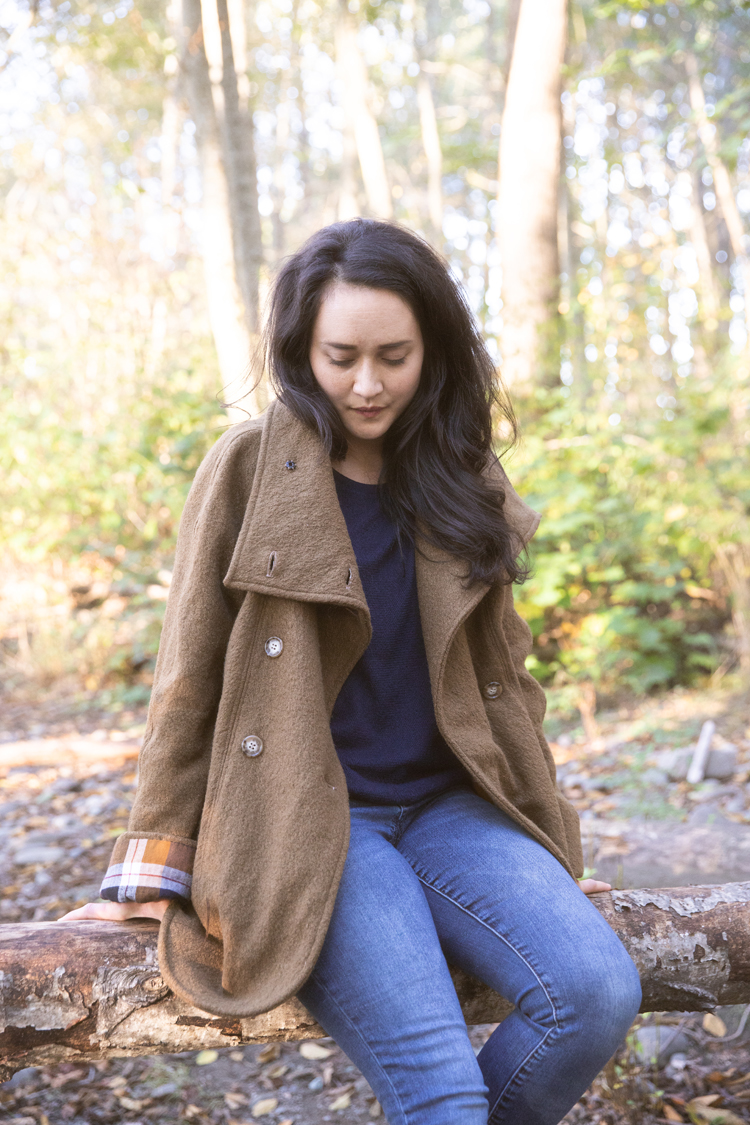 Next on the Style Maker Fabrics Tour is Lori from Girls in the Garden (great name!). Check to see what she sewed up tomorrow!
Disclosure: Fabric was provided to me for this tour. All reviews are genuinely my own.