This is going to sound trite, but I recently sincerely had the most fun experience buying eye glasses than I ever have before. I'm super excited to be partnering with Zenni to share my experience, PLUS (!) I have a new chunky crocheted infinity scarf pattern that I made to go along with my new specs!
Buying Glasses Online
I am no stranger to online glasses shopping. Usually there's some measuring, consulting, try-on pair mailing back and forth, etc.
Zenni cuts that all out.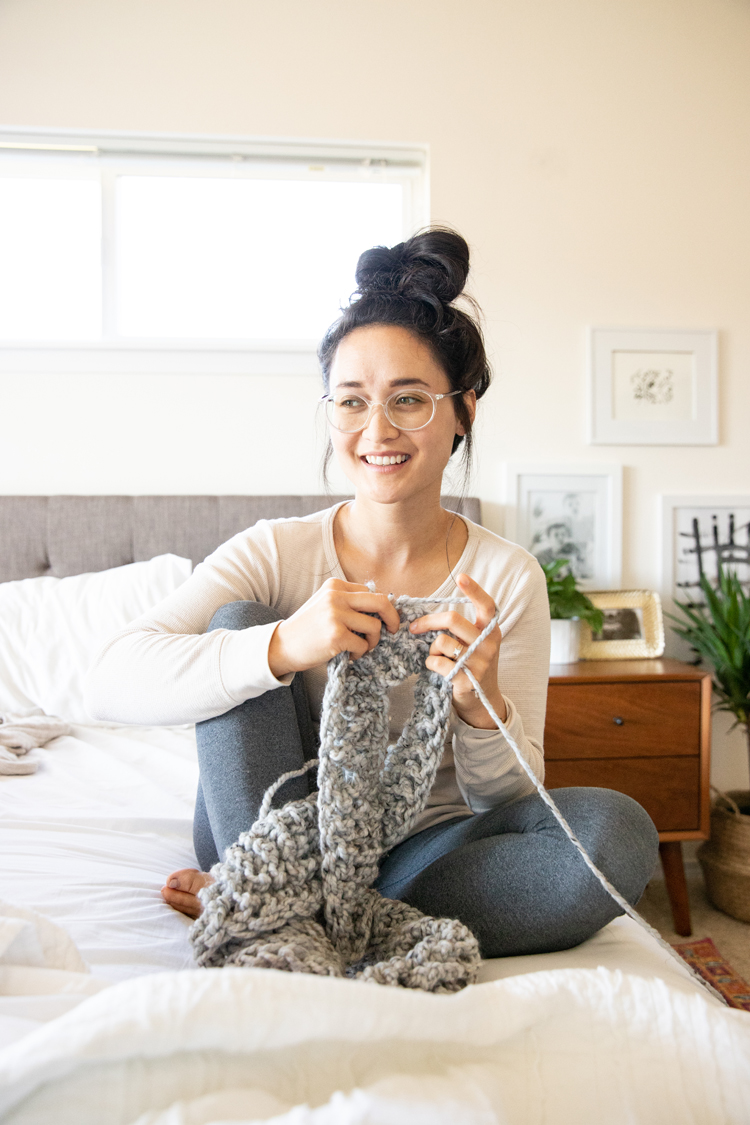 All you need to do is take a selfie, measure the distance between your pupils, and then scroll through their seemingly endless collection of frames to see how they look on your face in real time.
Is your mind blown like mine was? So. cool. right?! I'm sharing a video of the process in instagram stories if you want to come see it in action (I'm @deliacreates).
The other great thing about Zenni frames is even though they're high quality, they're really affordable as well. Most frames are between $10-30. Even for folks with strong prescriptions like me, who have to get all the lens upgrades so that they don't end up with coke bottle lenses, each of my pairs ended up being under $50. That's so good, it's nuts.
That's the kind of price point that makes me feel brave enough to try something out of my norm. Like these ghost frames…
I've always wanted a pair, but I've tried to be conservative and get what will go with most of my outfits. These frames were just $10, so I went for it…And I'm so glad I did! They're becoming one of my new favorite pairs.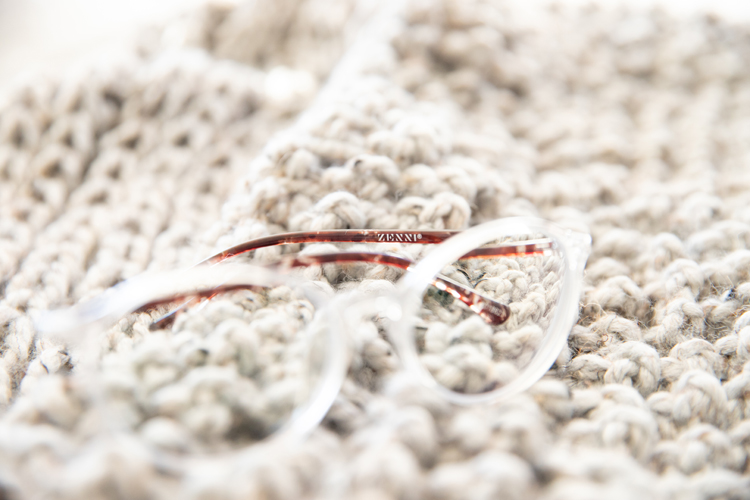 Once you have your frames selected, you go through a series of lens options: thickness, material, coatings, you can choose ones that darken in the sun, or even make any frames just straight sunglasses. Then you put it in your cart and check out. With regular shipping, mine came in just a couple weeks. Easy. peasy.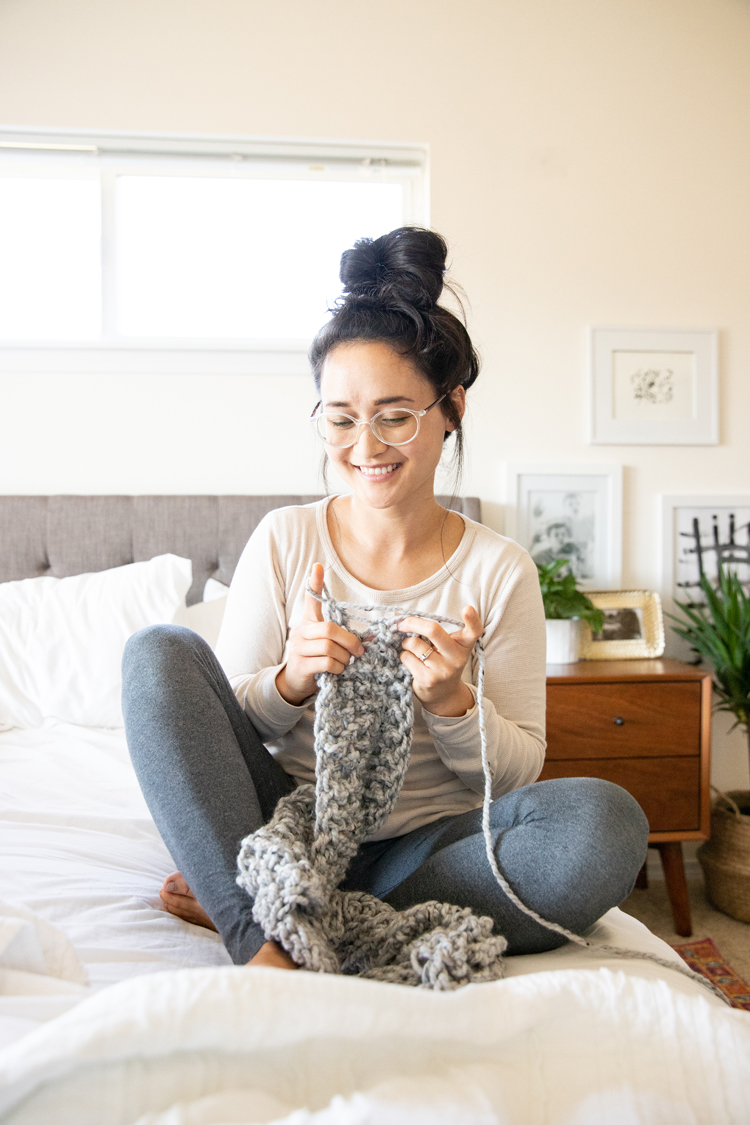 I was a little nervous they would be tight on my head, that is the most common issue I run into with glasses, but I was happy to find that they fit perfectly. They're also really lightweight, which is a big deal to me because I get face fatigue and headaches even if they're just slightly too heavy.
For my other pair, I decided to try round, black frames. I think they look Lisa Apple cute…have you seen Splitting Up Together? My husband, on the other hand, thinks I look like Velma from Scooby Doo. She was always my favorite character, so jokes on him! Ha!
I was drawn to the subtle texture of the frame, so I made a really cozy crocheted scarf with black flecks in the yarn, to pair with it.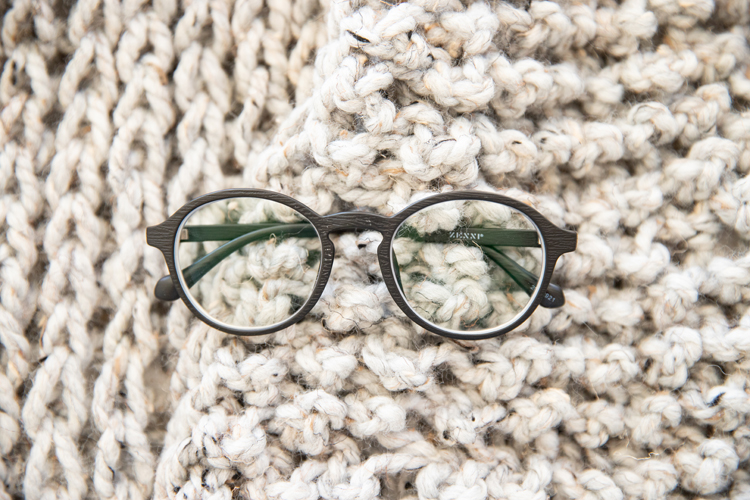 See the texture on this scarf? It looks so good, yet so different on each side!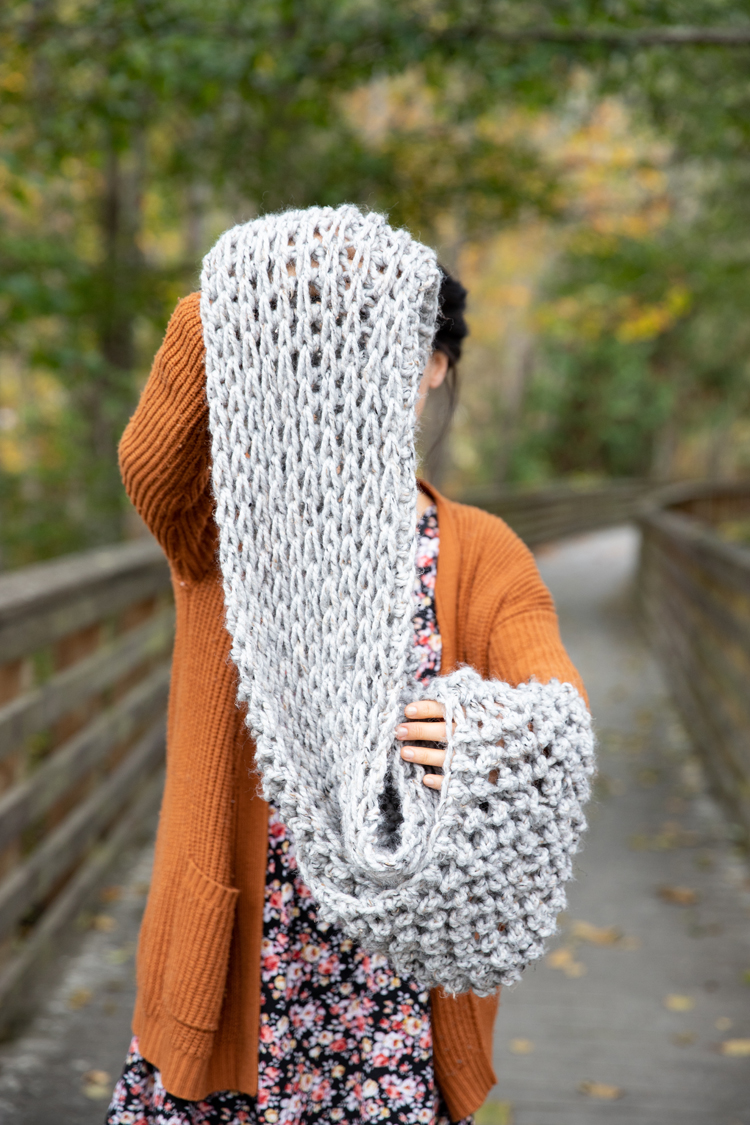 This pattern is super simple and it's finger crocheted, which means there's no hook.
All you need is about 250 yards of bulky yarn and your hands!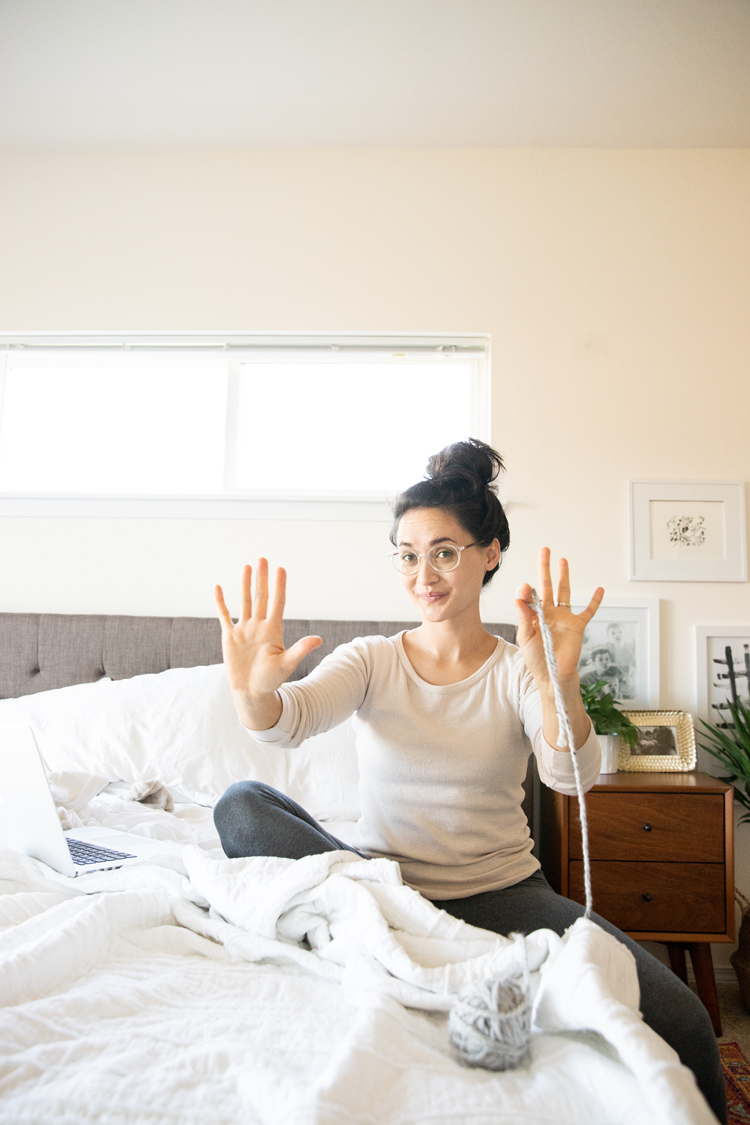 It takes just a couple of hours too. It's a great make and take project to work on anywhere you have to wait.
Finger Crocheted Chunky Infinity Scarf
---
MATERIALS
About 250 yards of Category 6, Super Bulky yarn*
*I used about 2.5 skeins of Lion Brand, Wool-Ease Thick & Quick in Grey Marble.
GAUGE
4 x 4 inch square = 4 stitches x 5 rows
Note: This style of stitch has a lot of stretch, so make sure to measure gauge with it completely contracted.
ABBREVIATIONS
dc = double crochet 
NOTES
This pattern is using a modified camel or knitted v stitch. The camel stitch is a half double crochet stitch worked in the 3rd loop under the top two loops. For this pattern, we will be working a double crochet in the third loop and calling it a "dc camel stitch."
This scarf if worked in a looped row. That means, instead of going back and forth to make a rectangle and then sewing the ends together, we will slip stitch the ends together as we go. 
PATTERN + TUTORIAL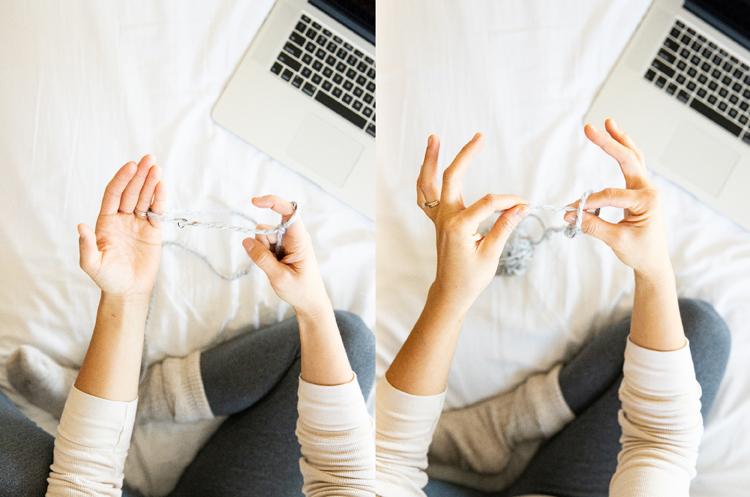 Create a slip stitch. Grab the yarn and pull it through the loop to make another loop. Your finger is technically your "hook" but I like to use my pointer finger and thumb to pull the yarn through. Chain 68.
Connect the last chain to the first chain by slip stitching, or essentially chaining through the first chain.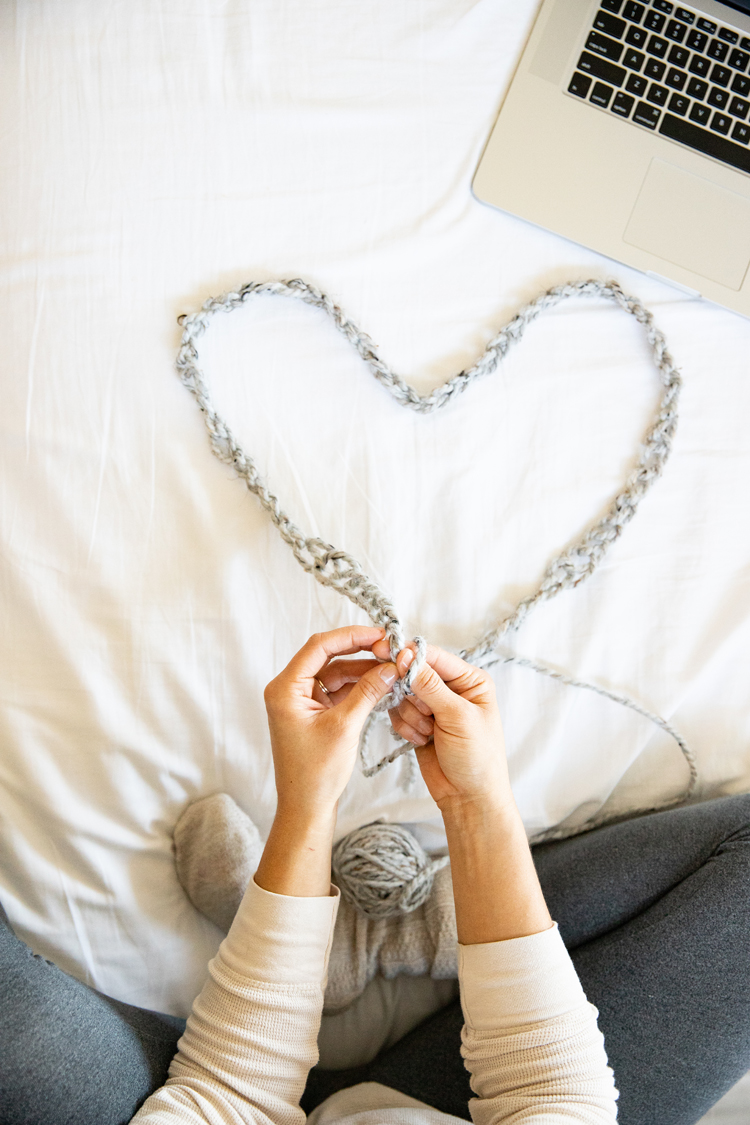 Chain two, so that it creates a little off shoot from your loop of chains.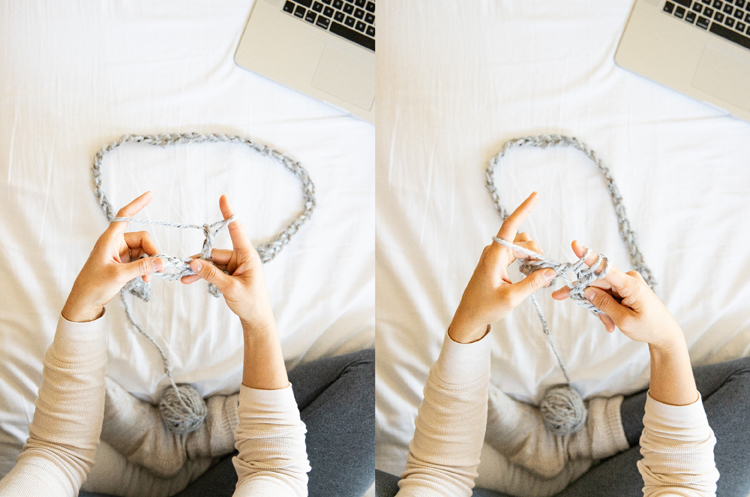 Double crochet in the chain or space left of the 2 chain off shoot. You do this by wrapping the yarn around your working finger ("hook"), insert you finger into the chain space and pull through another loop, so that you have three loops on your finger.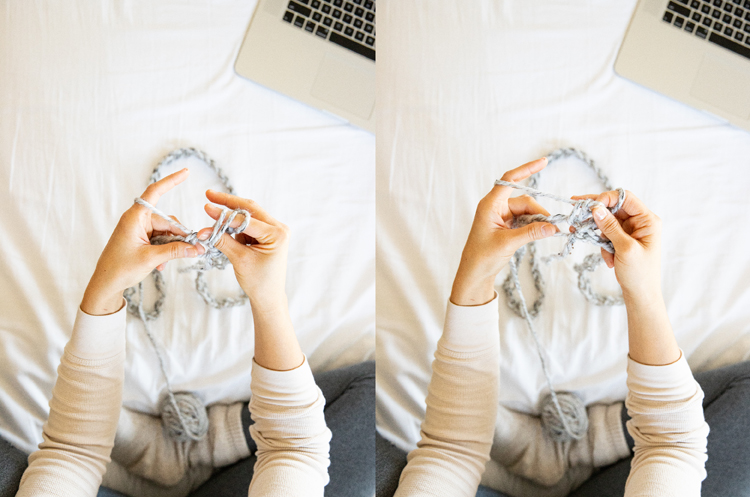 Pinch a loop of yarn through the first two loops only.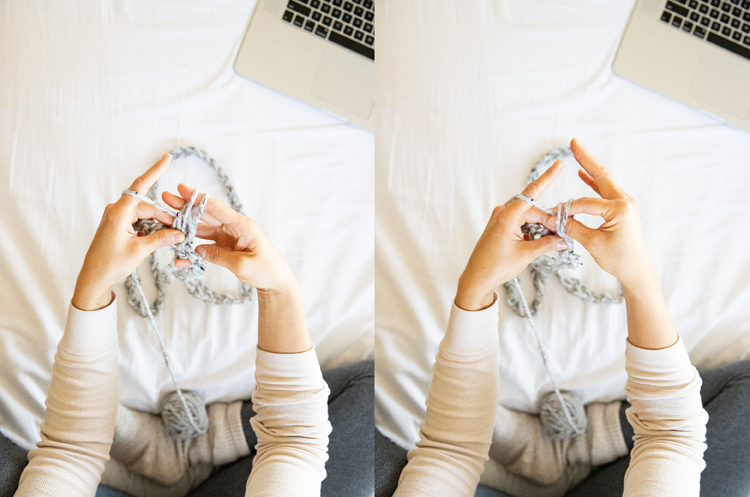 Then pinch again through the remaining two loops. That is a double crochet stitch.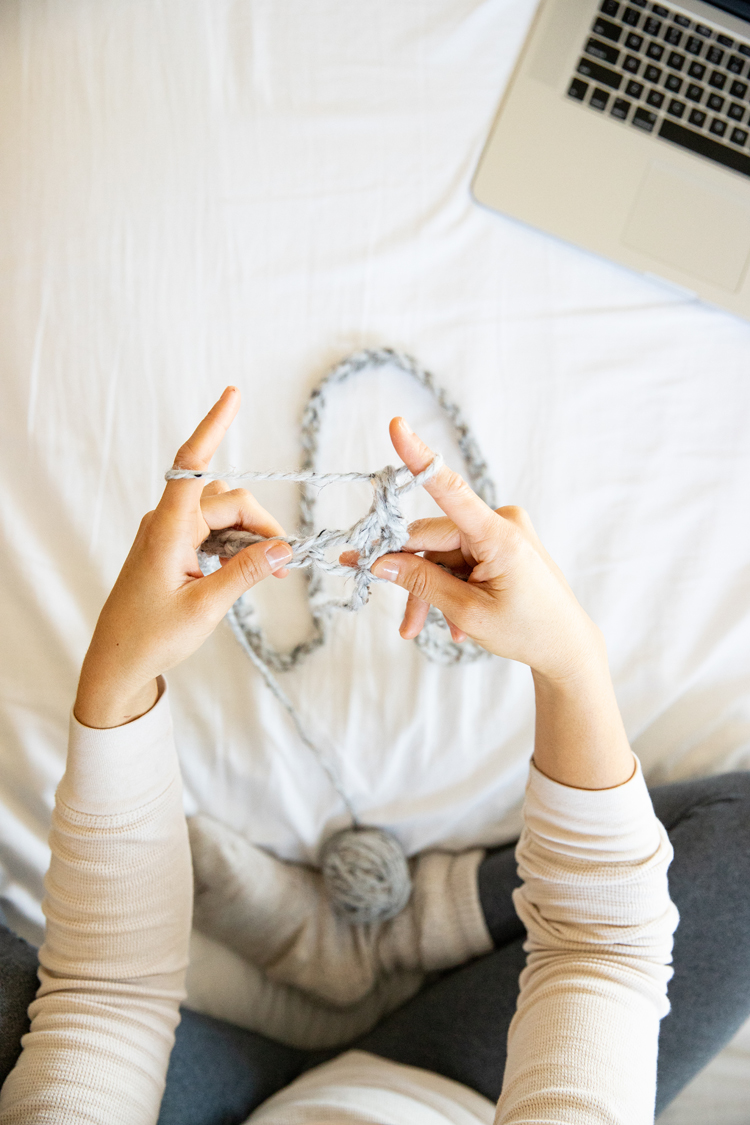 Dc around the whole row. Slip stitch through the top of the two chain off shoot you created at the beginning of the row.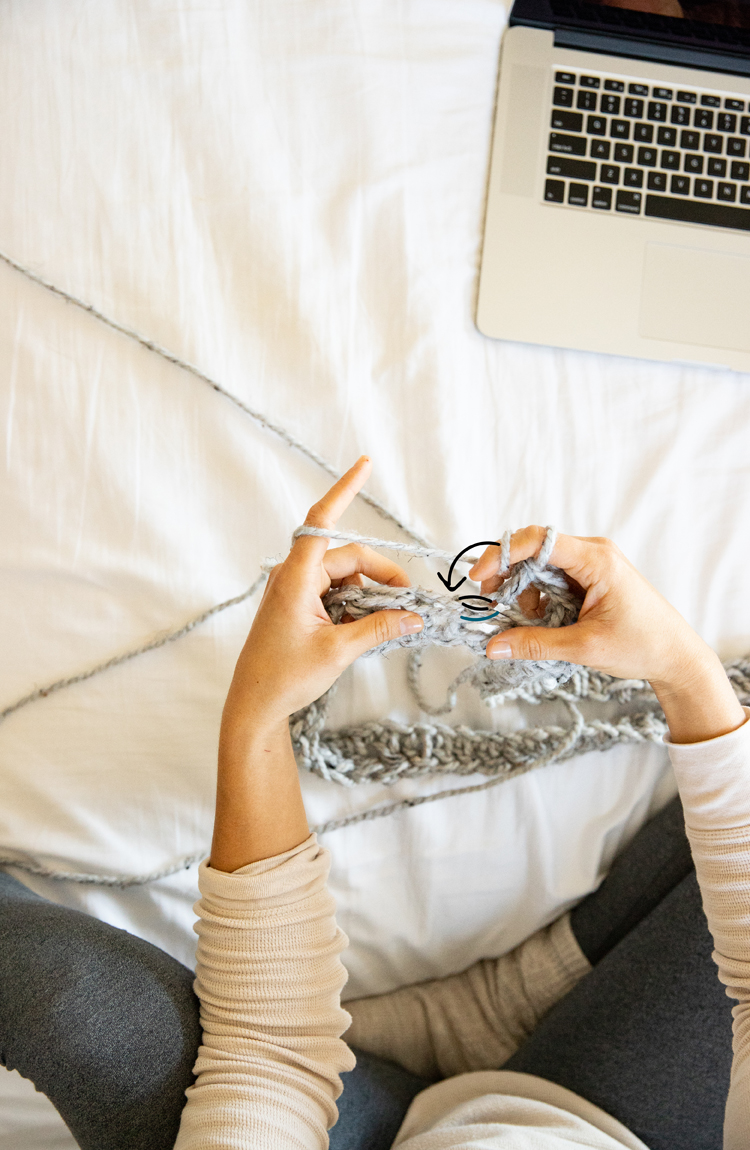 You will do the same thing you did before, only this time, you will work the dc stitches in the bottom or third loop by grabbing it from the back. See the blue loop in the picture.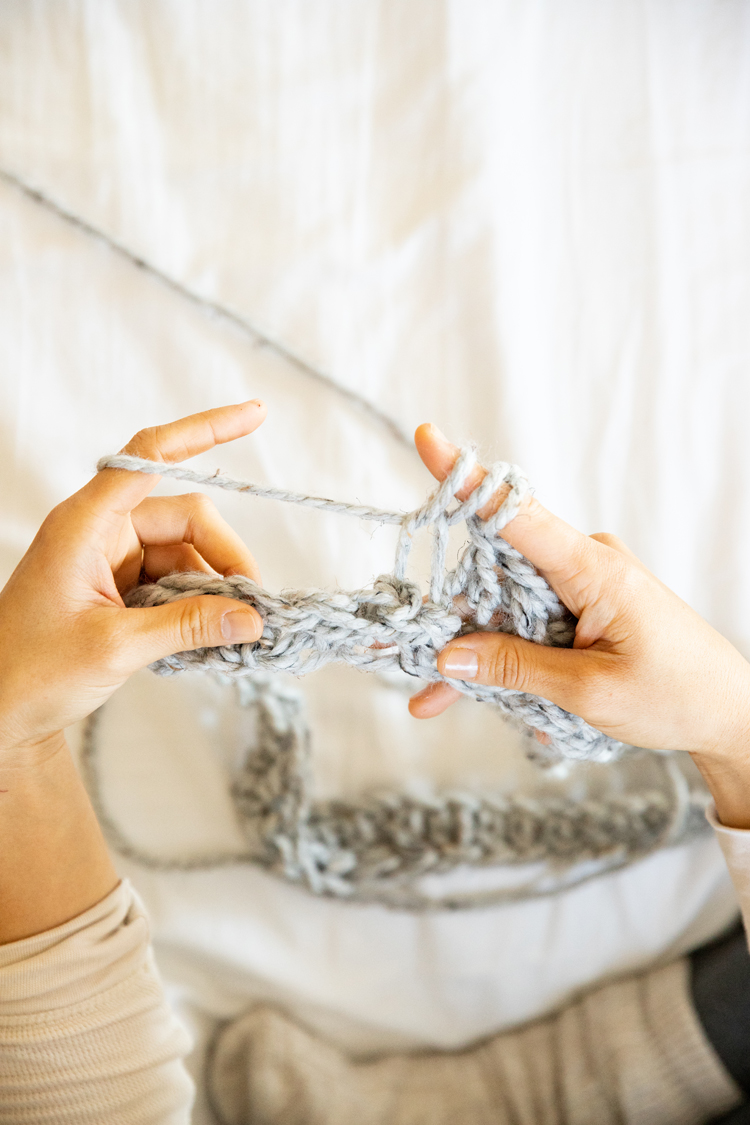 Work nine rows of dc camel stitches, for a total of ten rows altogether. Cut the end of the yarn, leaving about a 10 inch tail, and pull it through the loop completely, to tie it off. Weave in all loose tails and ends into the scarf.
Here is the quick, condensed version of the pattern for your convenience:
---
Chain 68. Slip stitch last chain to first chain. 
Row 1: Chain 2, dc 67. Slip stitch to top of chain 2. 
Row 2- 10: Chain 2, dc camel stitch 67. Slip stitch to top of chain 2. 
Tie off and weave in ends. 
I loved it so much, I wore the scarf, glasses combo two days in a row. These bold frames pair really well with hats!
Having different frame options has made accessorizing outfits so fun! It makes me excited to do more virtual try ons and maybe snag a red or green pair next time! Do I dare!?