I think I say this every year, but I loooove Fall. With the pumpkins, crunchy leaves, and snuggling up on the couch with a new crochet project, what's not to love?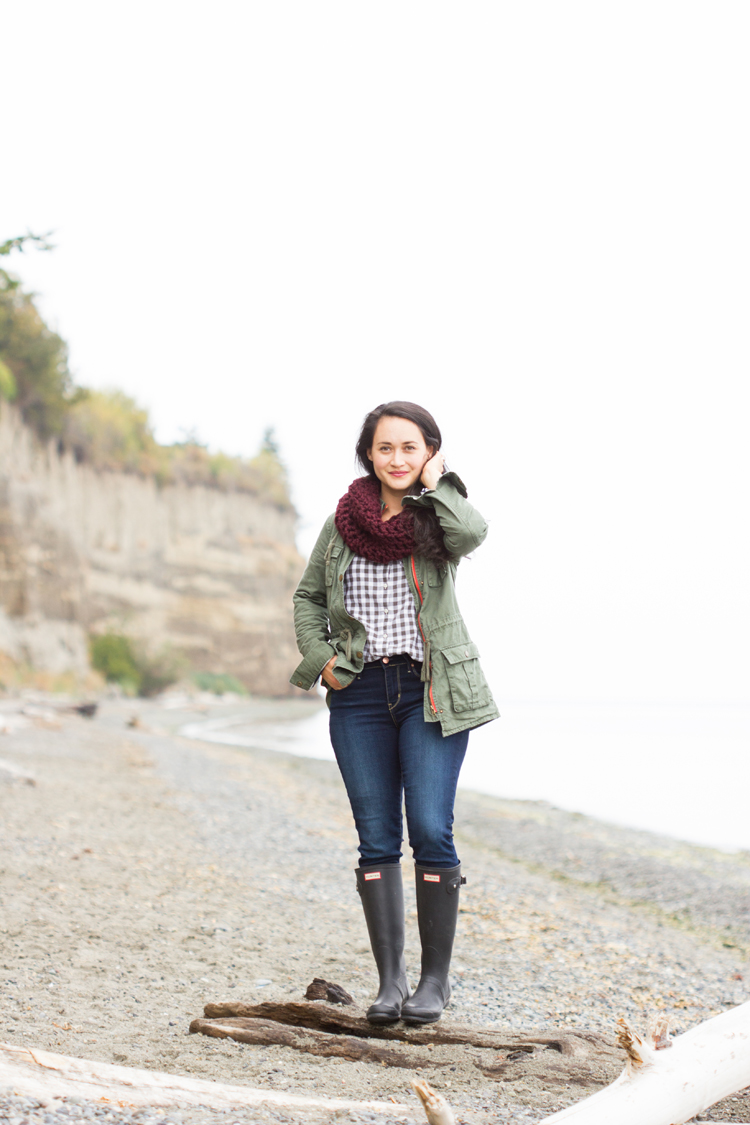 I can't complain that the crisp jacket weather also calls for a little wardrobe revamp. It's my favorite time of year to stock up on new denim.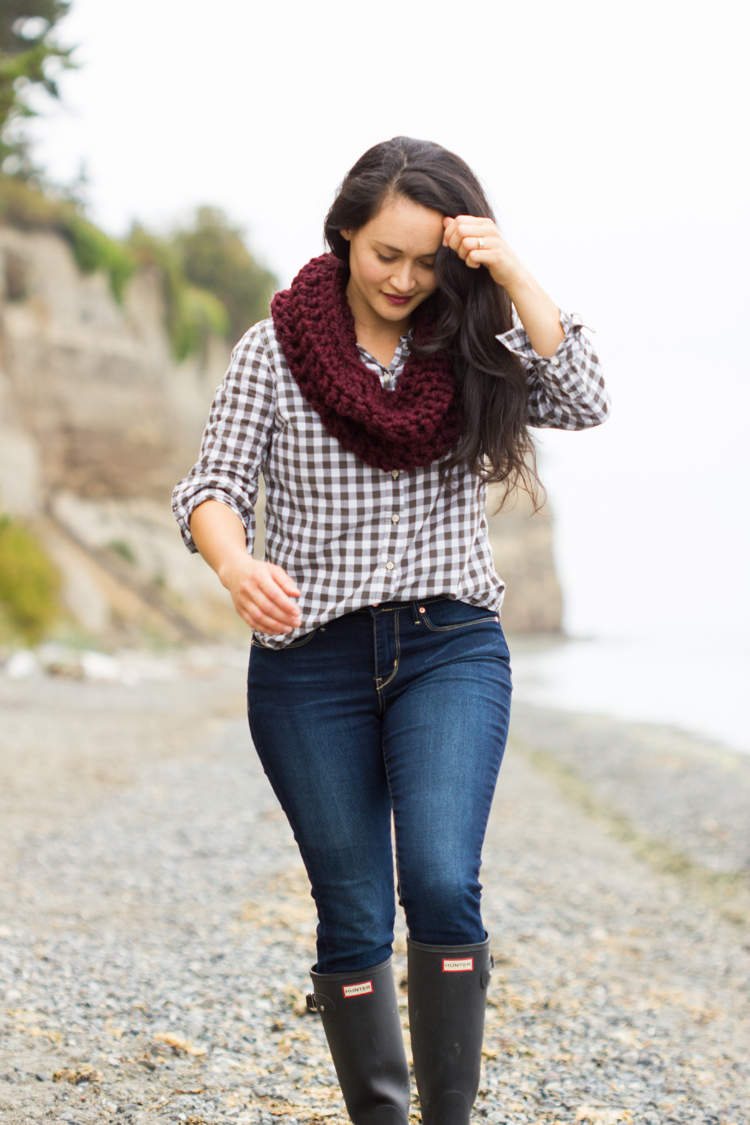 Today, I've teamed up with Signature by Levi Strauss & Co.™ to help welcome the Fall season, with some cute new jeans, and a fun crocheted cowl scarf to cozy up to.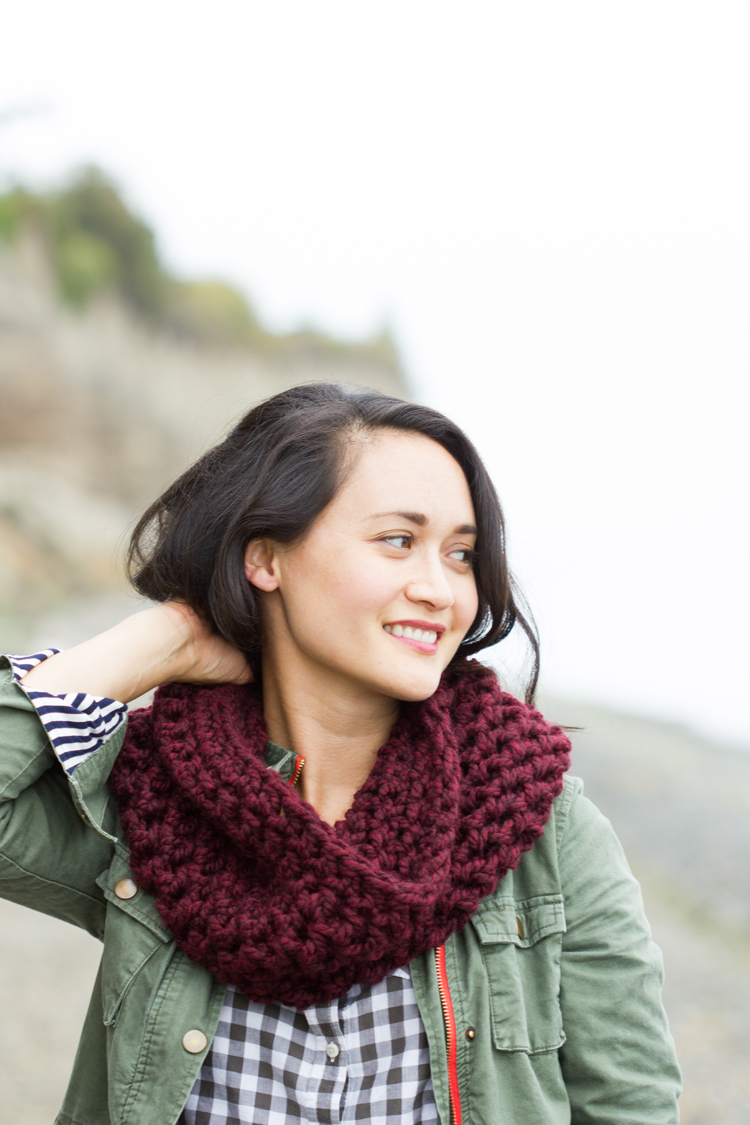 My new Modern Skinny jeans are becoming a favorite staple in my weekly mom-i-form.  They're both snug and stretchy in all the right places which makes them comfy and flattering. In other words, it hugs the booty and holds in the gut, but in a really comfortable way, even when I've got a taco baby.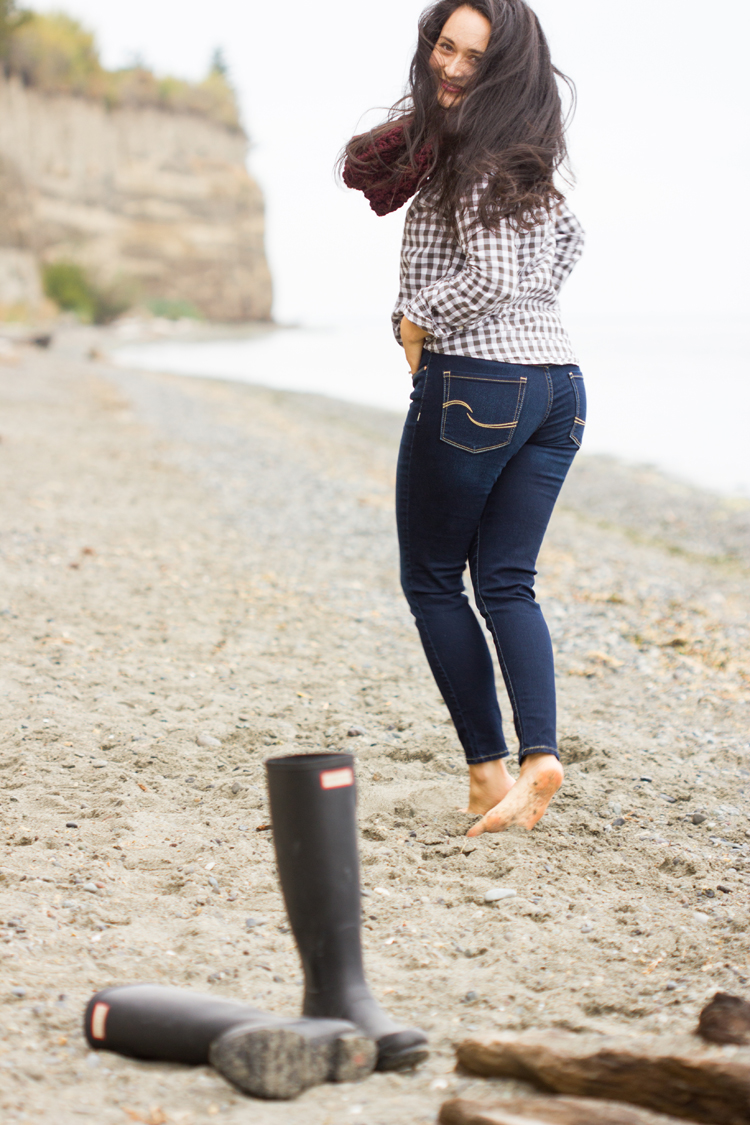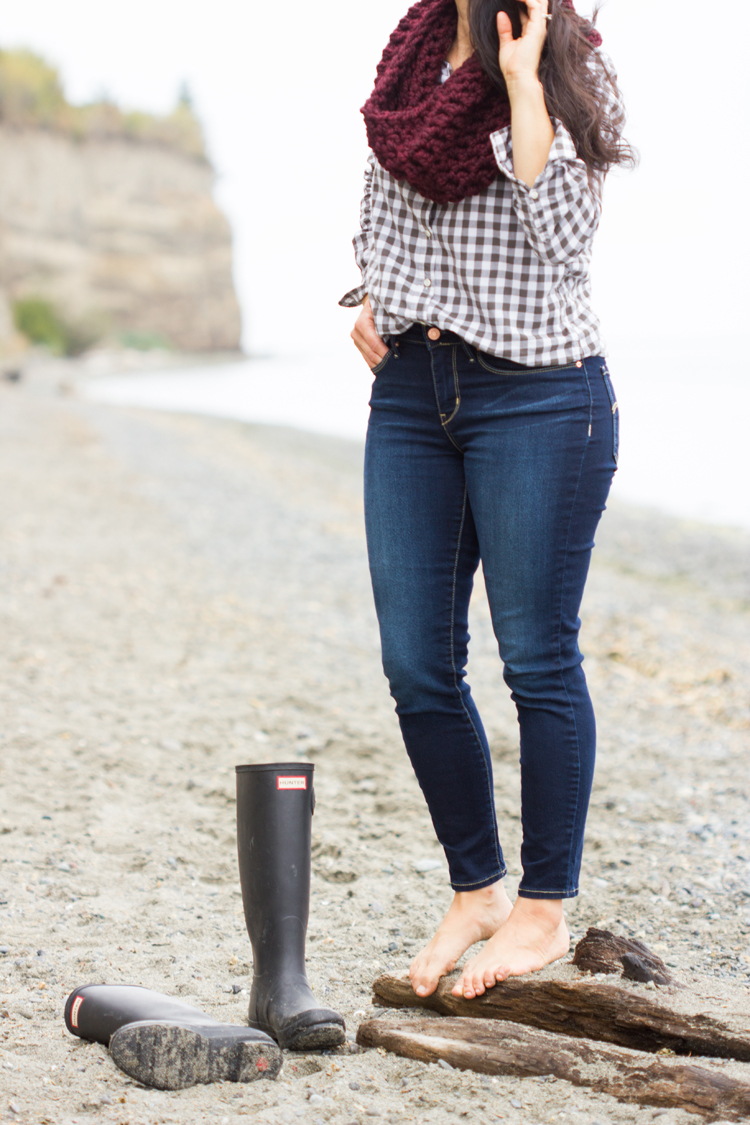 At $20 a pair, you can't beat that!
And they go with almost everything. Most days, I'm always on the go, so I keep it casual with boots and a button up shirt, or sneakers and a hoodie.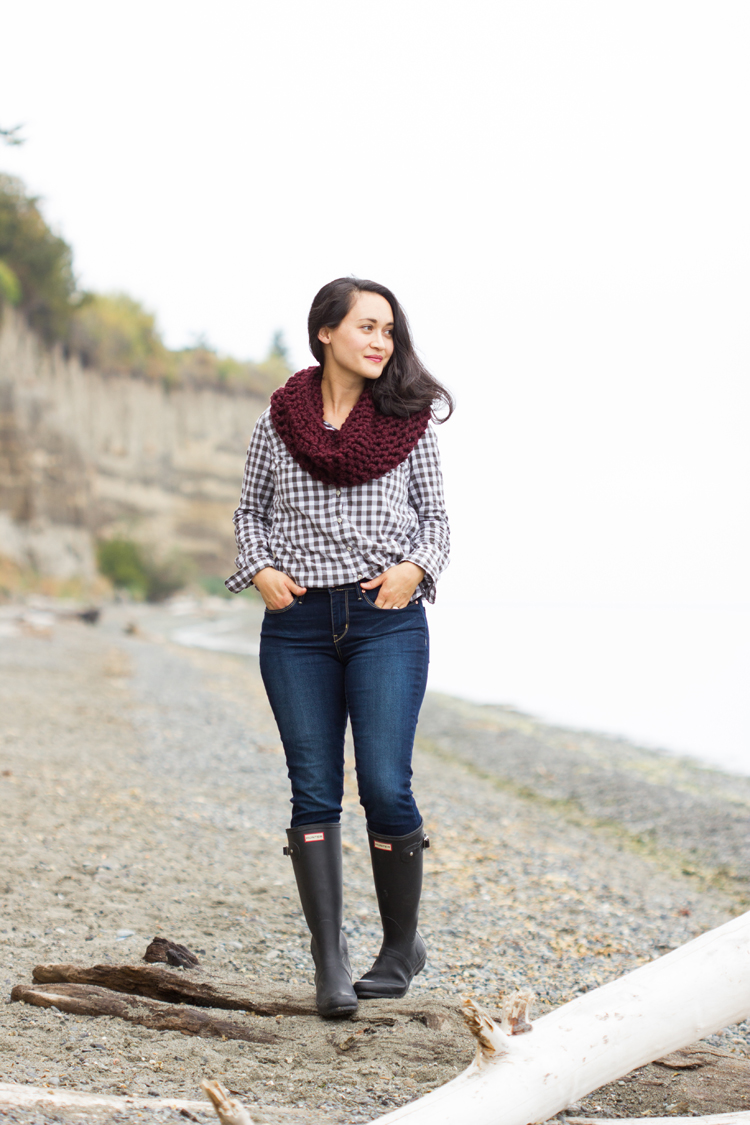 Now, this cowl… is off the hook! Literally. 😉
Usually crochet uses a hook to work the yarn into loops and knots, but with finger crocheting you do away with the hook altogether. It's kind of like arm knitting, where you use your arms as needles, but in this case you use your fingers as hooks.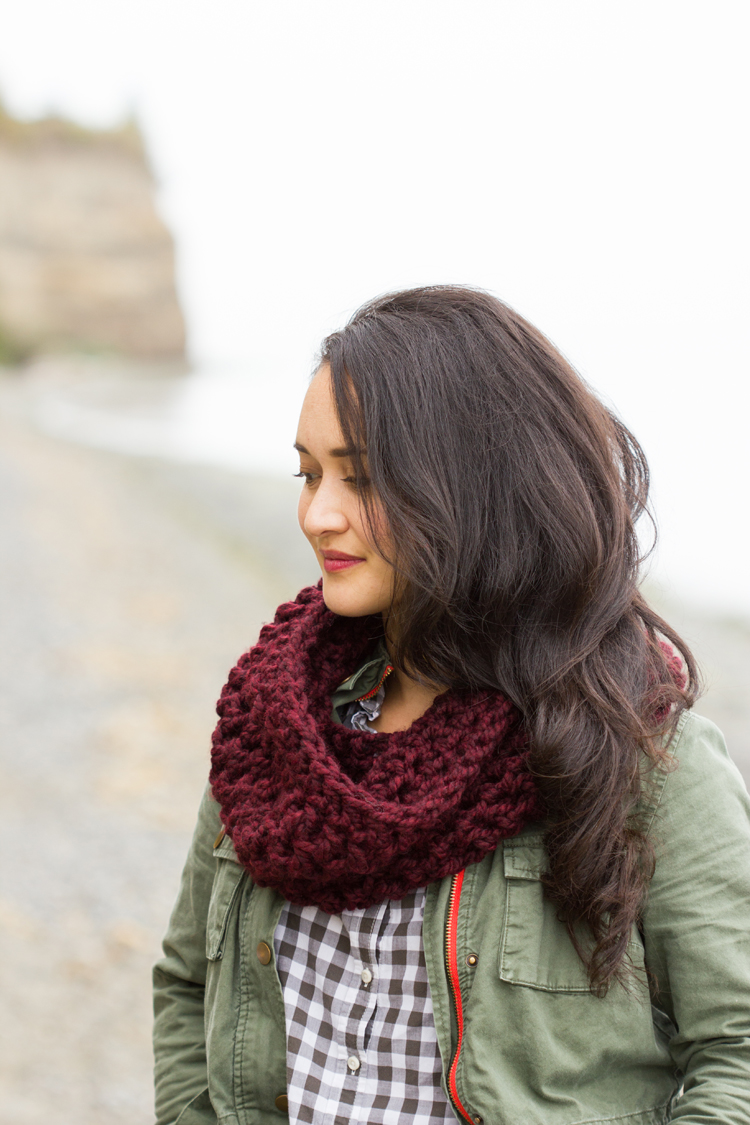 If you are a seasoned crocheter, it can take a minute to adjust to going hookless, but once you get going it's pretty fun. If are new to crochet, then I actually think it would be easier to learn hand crocheting right out the gate, because you don't have to figure out how to hold a hook.
***My biggest tip for experts and beginners alike, is to loosen it up a bit.
Don't try to pull things too tightly, and pay extra attention to how big your top loops are so you can make sure they look consistent. If your top loops are too big or too small, simply pull out the stitch, adjust your tension, and try again.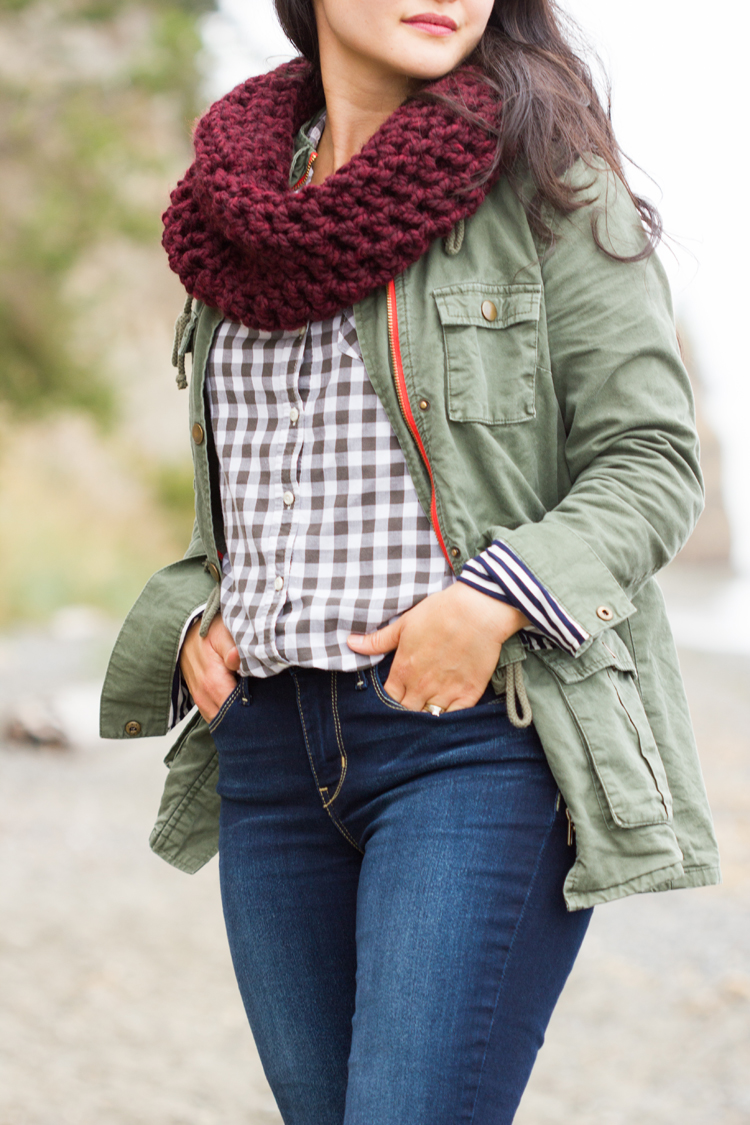 I'd also like to add a disclaimer that all hands are different sizes. I've listed the measurements of the scarf, so that you can adjust your stitches accordingly. You'll want to use my pattern and gauge as more of a guideline.
MATERIALS
about 160 yds. or 8-9 oz of size 6, super bulky yarn
scissors
GAUGE
4×4 in. (10 x 10 cm)  = 4 rows x 5 stitches
SCARF MEASUREMENTS
15 inches wide by 14 inches tall (38 x 36 cm) unstretched
Note: I have written instructions with beginners in mind. For a concise pattern, see the italicized pattern at the end of the post. 
PATTERN + TUTORIAL
1. Create a slip knot.
2. Slide your pointer finger through the loop and wrap the yarn attached to the skein around your other hand to create tension, as pictured.
3. Reaching through the loop, hook or pinch the yarn attached to the skein and pull it through creating another loop. Keeping pinching more yarn through the loop to create a string of loops or a chain.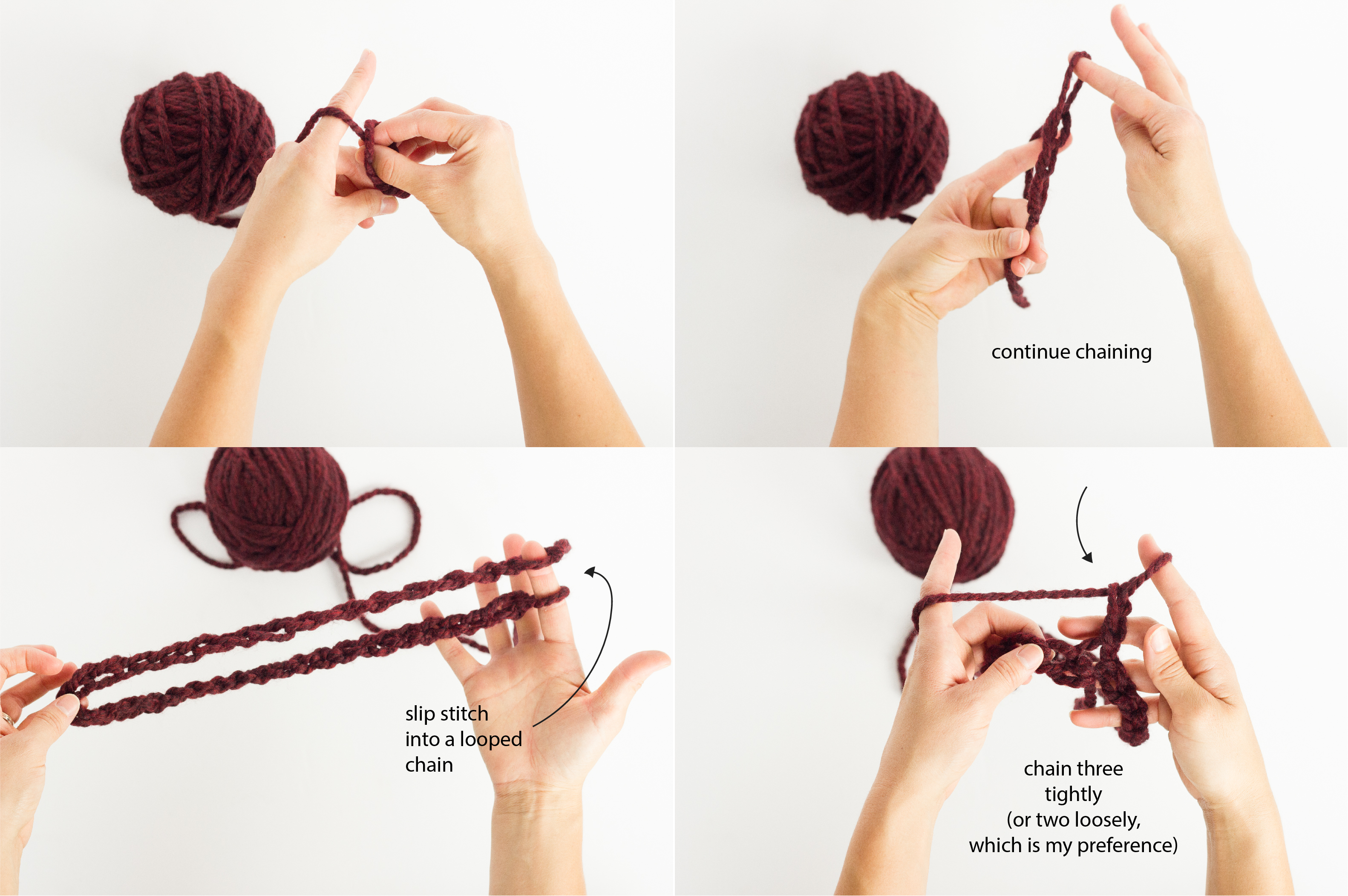 4. When you have a string 37 loops or chains, slip stitch the last chain to the first chain by putting your fingers through both chains and pulling another loop of yarn through.
TIP: Make sure the the string of chains is not twisted before you slip stitch it together.
5. Chain three more to start your next row and pull them a little tighter than before.
Note: You'll notice that as a style preference, I only chain two because I think it creates a less noticeable seam. The traditional way is to chain three (more tightly), but you can choose what you like best.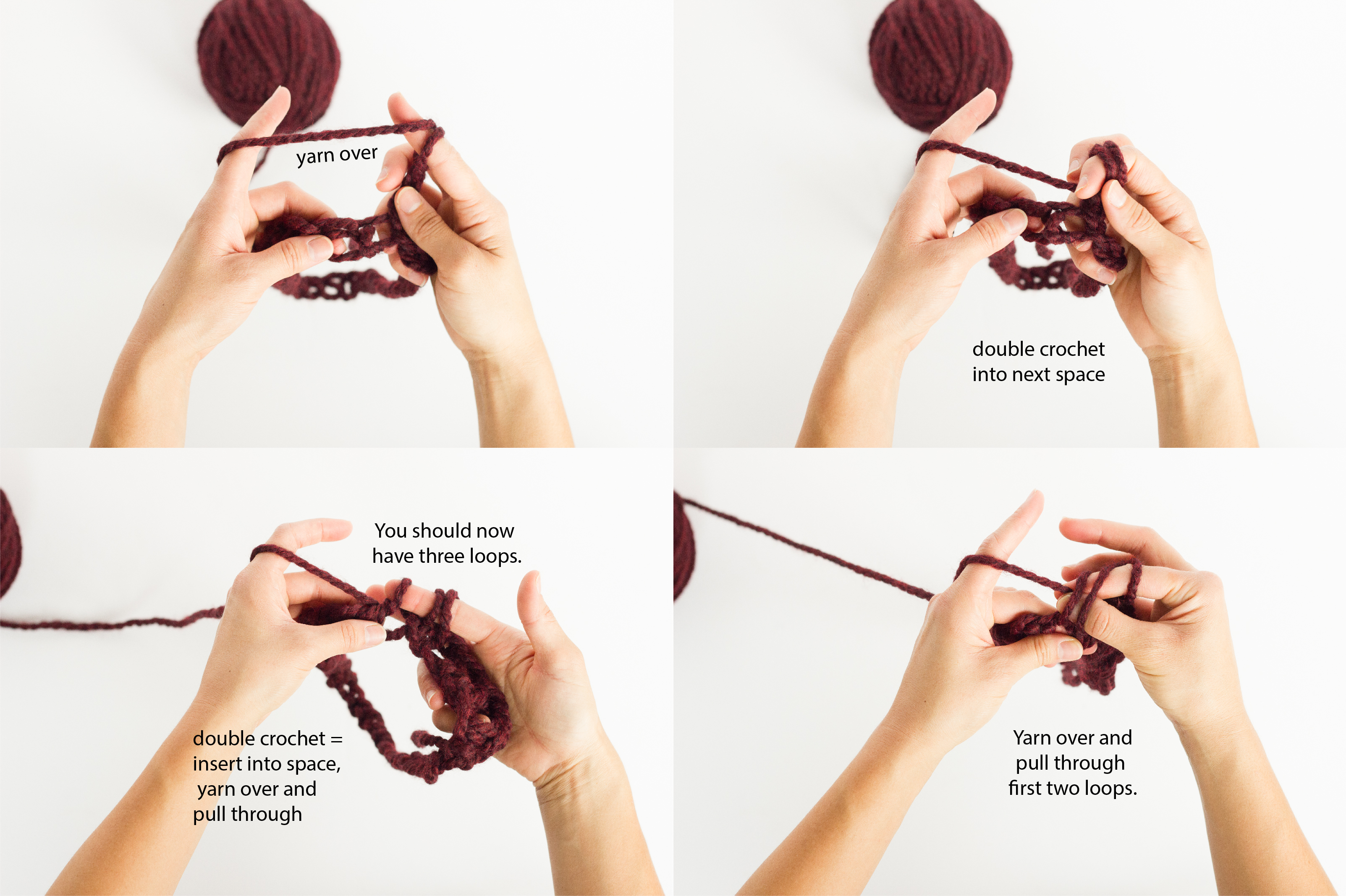 6. Now, you're going to yarn over, which means you wrap the yarn around your finger.
7. Skip the first chain (loop) next to the chains you just made, and insert your finger(s) into the next chain. Yarn over, grab the yarn and pull it through the chain, so that you have three loops of yarn wrapped on your finger.
8. Yarn over, and pull the yarn through the first two loops only.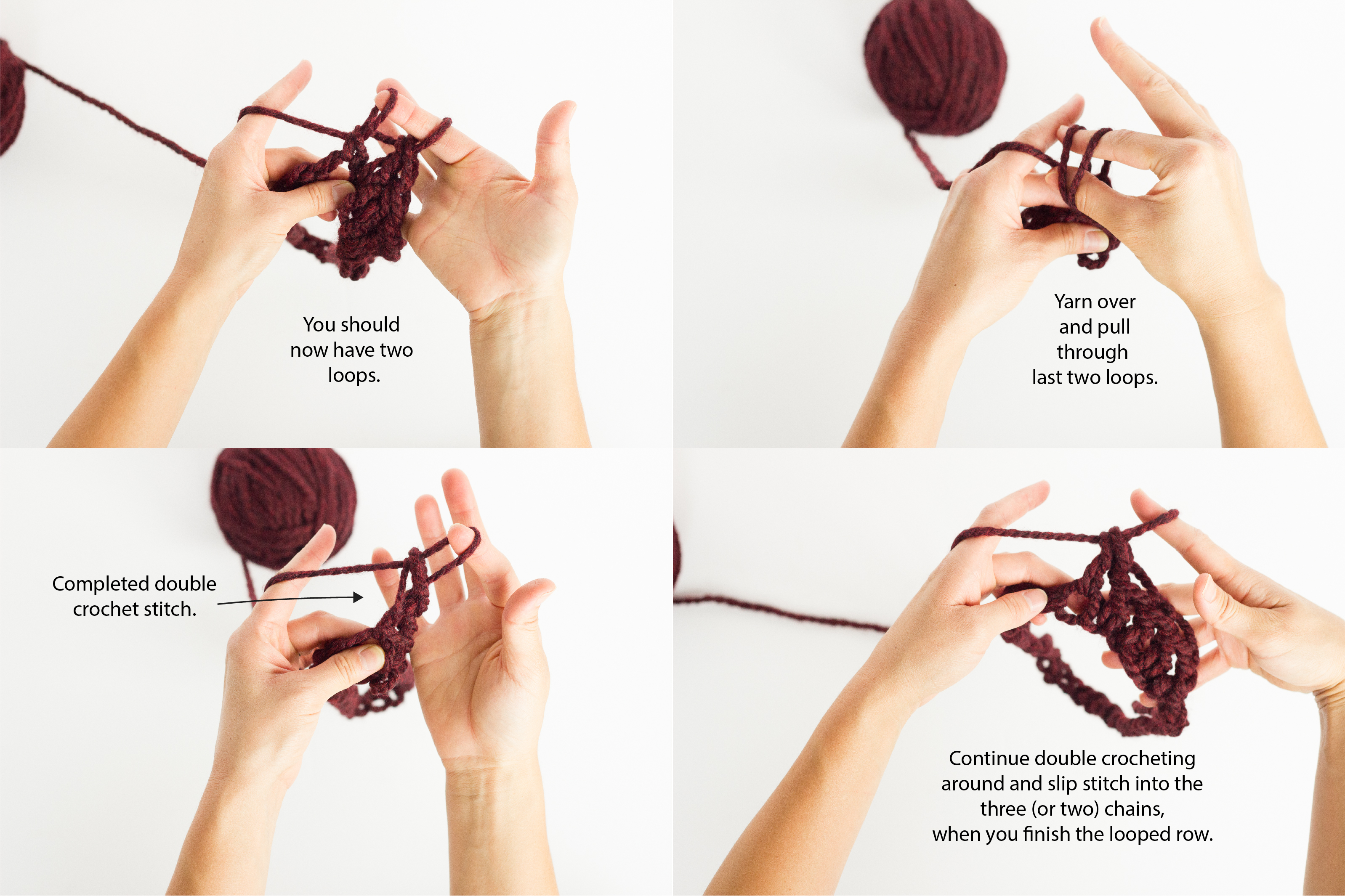 9. You should now have two loops on your finger. Yarn over again and pull the yarn through the last two loops. You have completed a double crochet stitch!
10. Continue double crocheting in each chain all the way around until you come back around to the chain 3 you created at the beginning of the row.
*Count your stitches and make sure you have 36 stitches + the chain 3 which counts as a stitch for a total stitch count of 37.
Slip stitch the last double crochet to the chain 3.
Then repeat this for 12 more rows, for a total of 13 rows.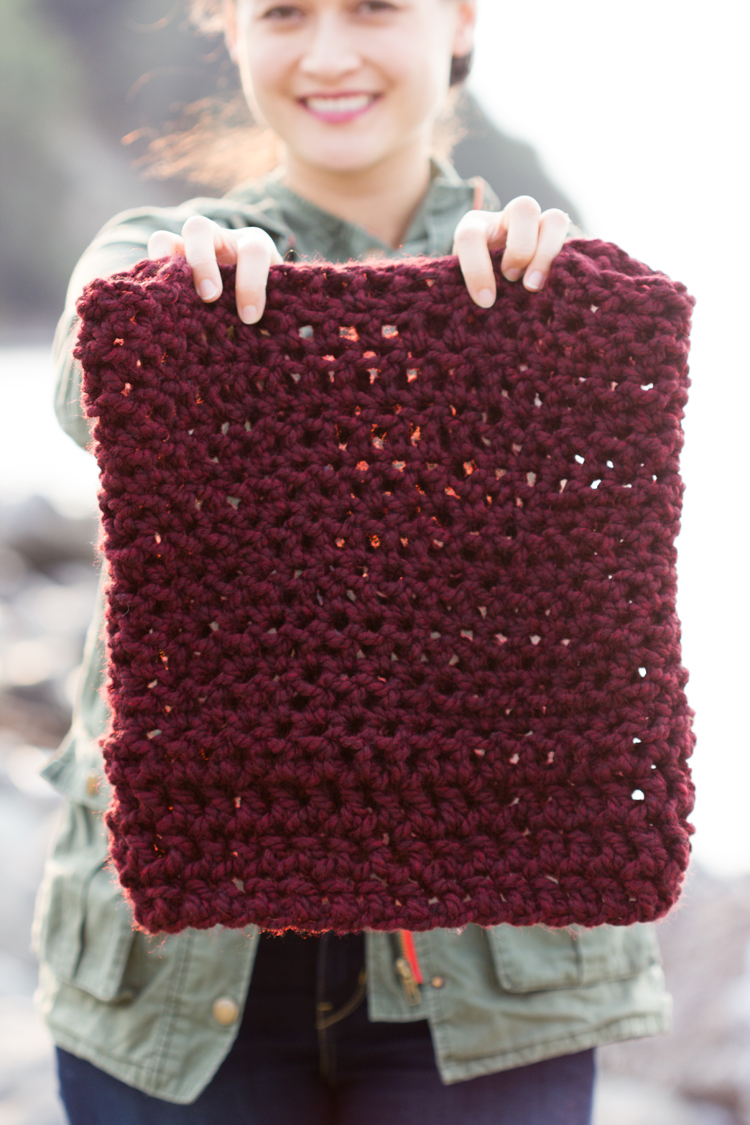 When you're all done, cut the scarf away from the skein of yarn, leaving 10 inches of extra yarn. Pull it all the way through the loop on your last slip stitch and it will tie it off. Then weave in that 10 inch tail, along with the tail of yarn from when you first started, into the stitches in the scarf. This keeps the scarf secure and safe from unraveling.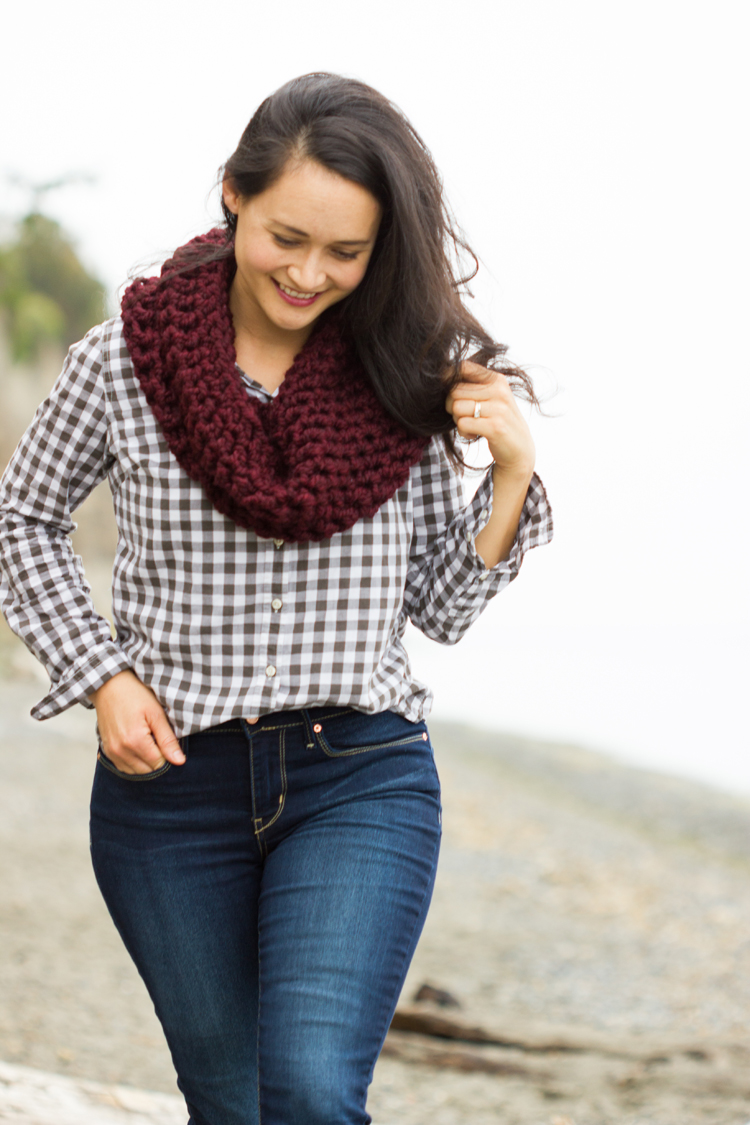 And here's the concise version of the pattern:
Ch. 37
Slip ends together to create a looped row, taking care not to twist the chain.
Row 1 – Ch. 3, in second stitch from chain, dc. Dc in remaining chains around row. Slip stitch to the top of ch. 3. (37, including ch. 3)
Rows 2 through 13: Repeat Row 1.
Tie off end, leaving 10 inch tail. Weave in ends. 
Easy as that! A scarf you literally made by hand. 🙂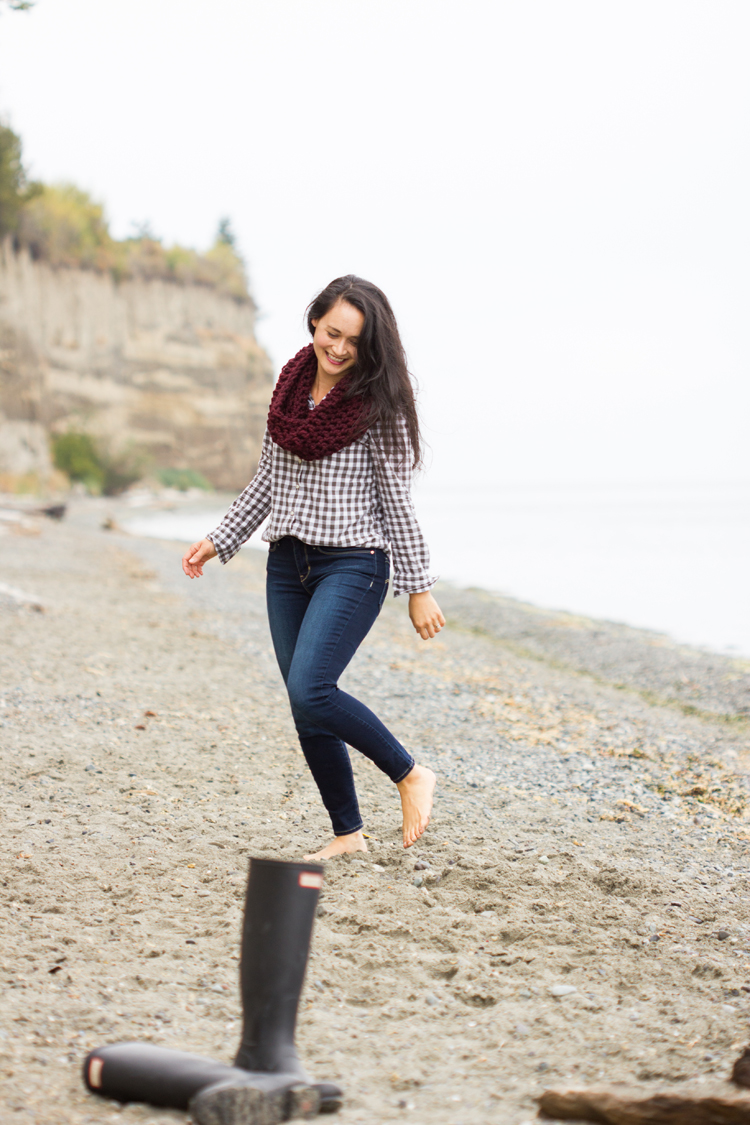 Now you can pair your new cozy scarf with super soft denim from Signature jeans for the perfect fall outfit for both indoors and out! You can find the latest styles in Modern, Curvy and Plus fits at Walmart and Walmart.com.