Today, I cheated…er upcycled…depending on how you look at it. 😉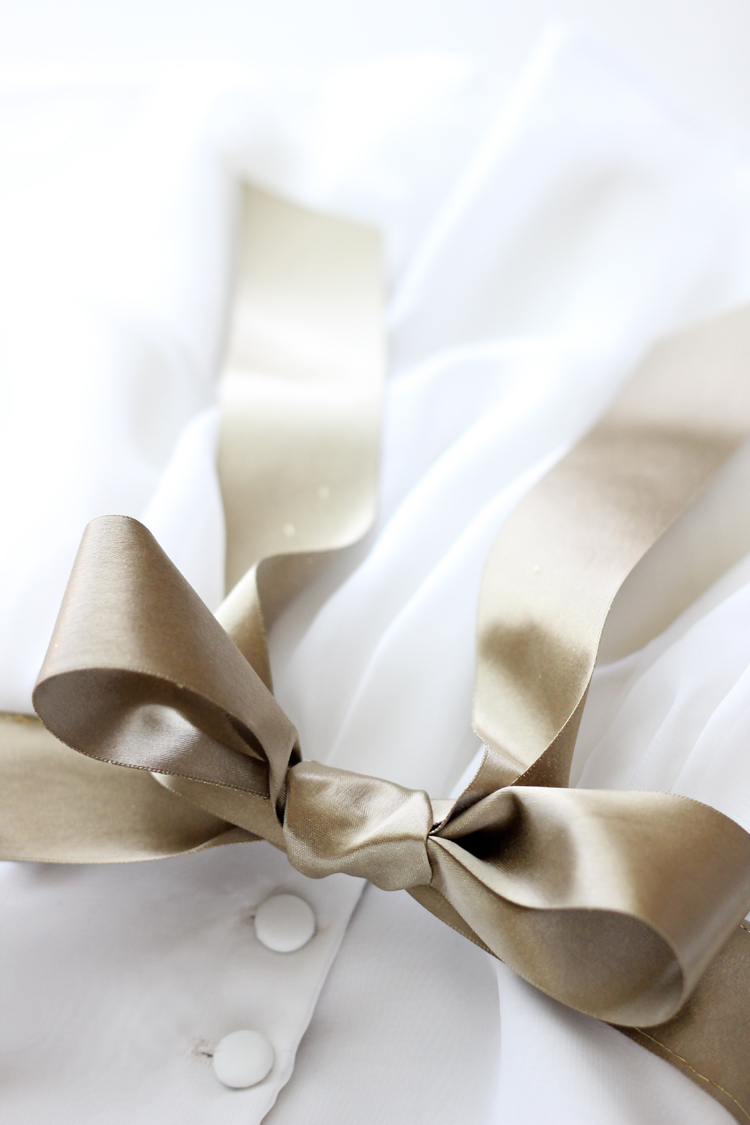 I took Natalie's chiffon holiday dress, replaced the black velvet ribbon with this gold satin ribbon from The Ribbon Retreat…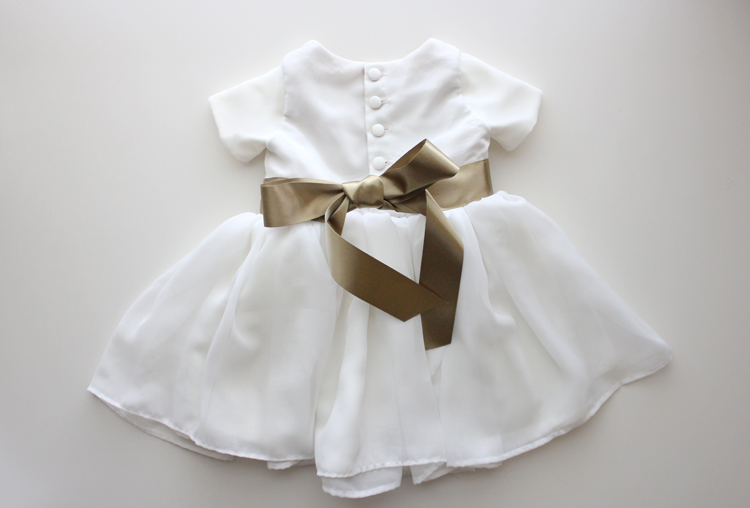 and…Bippity Boppity Boo…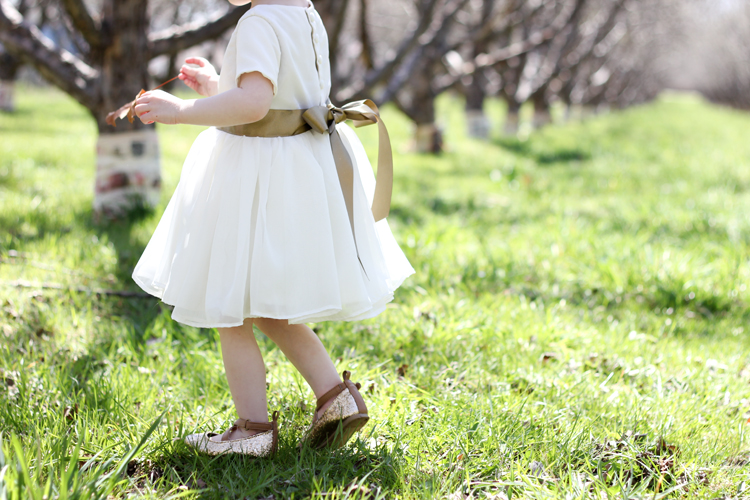 Her new Easter dress!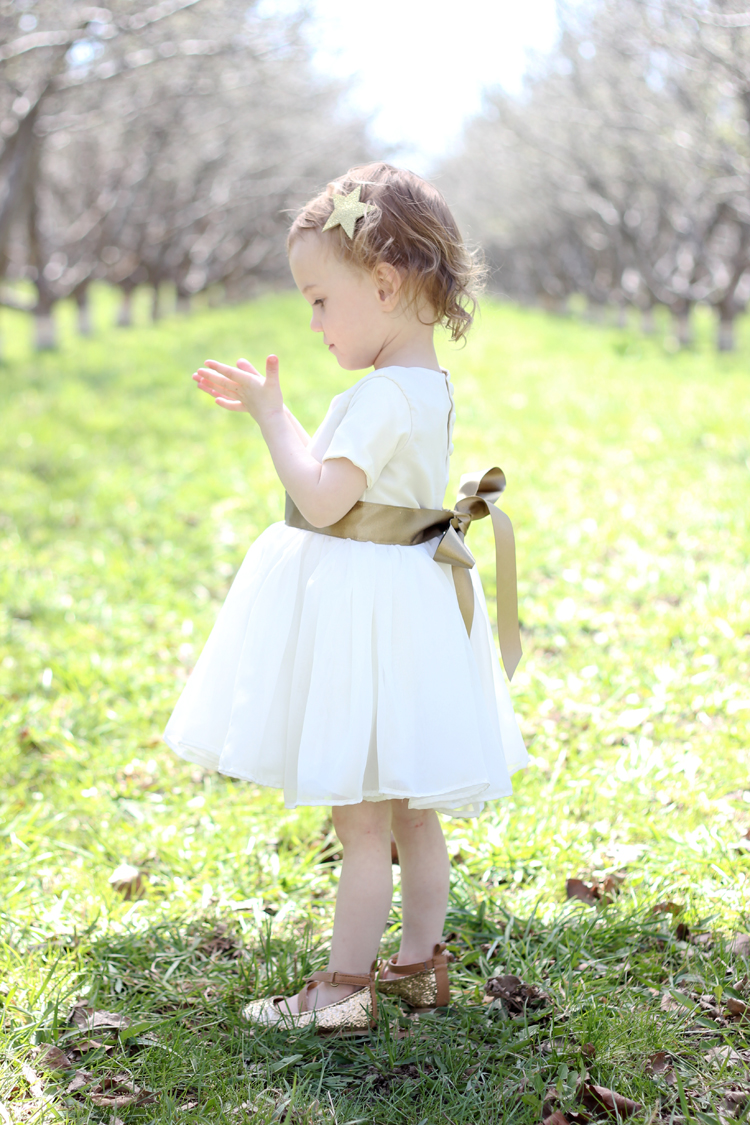 It's one of the pros of making a white Christmas dress I guess. 🙂
Plus, those tiny chiffon hems, and tiny satin and chiffon covered buttons were a labor of love that I couldn't pack up just yet.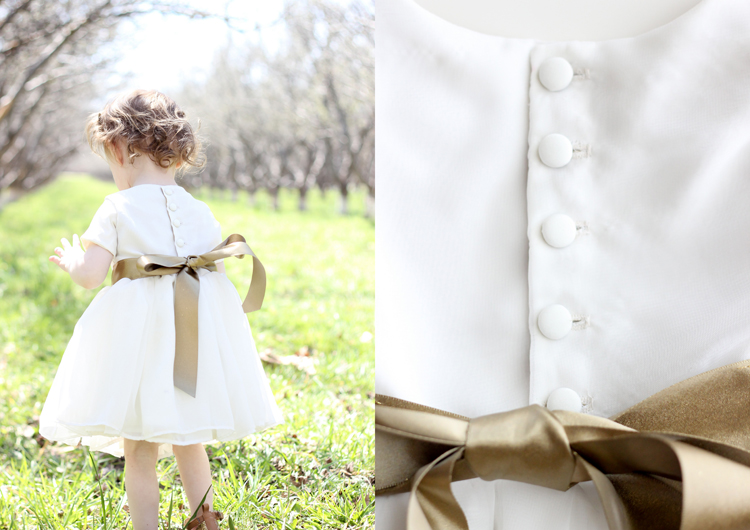 Unpicking the old ribbon and replacing it was easily done.
The lovely gold satin ribbon from The Ribbon Retreat (go here for a $50 giveaway also running this week!) is a little stiffer than I anticipated, but I think it should hold up well through hand washing. Or who knows? Maybe I'll shake things up and keep replacing it with a new color until she grows out of the dress. I do have some blue satin ribbon in my stash…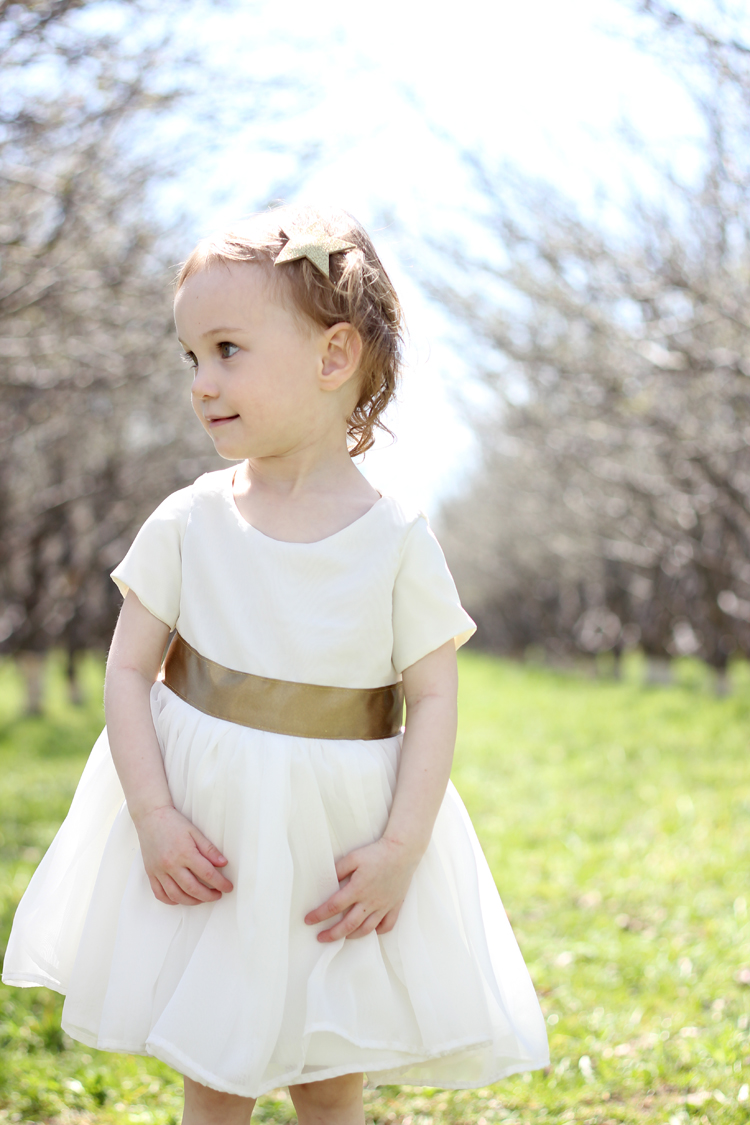 It's no secret that I love the basic Five & Ten Designs dress with sleeves. (Scroll to the bottom for the Five and Ten e-book giveaway!)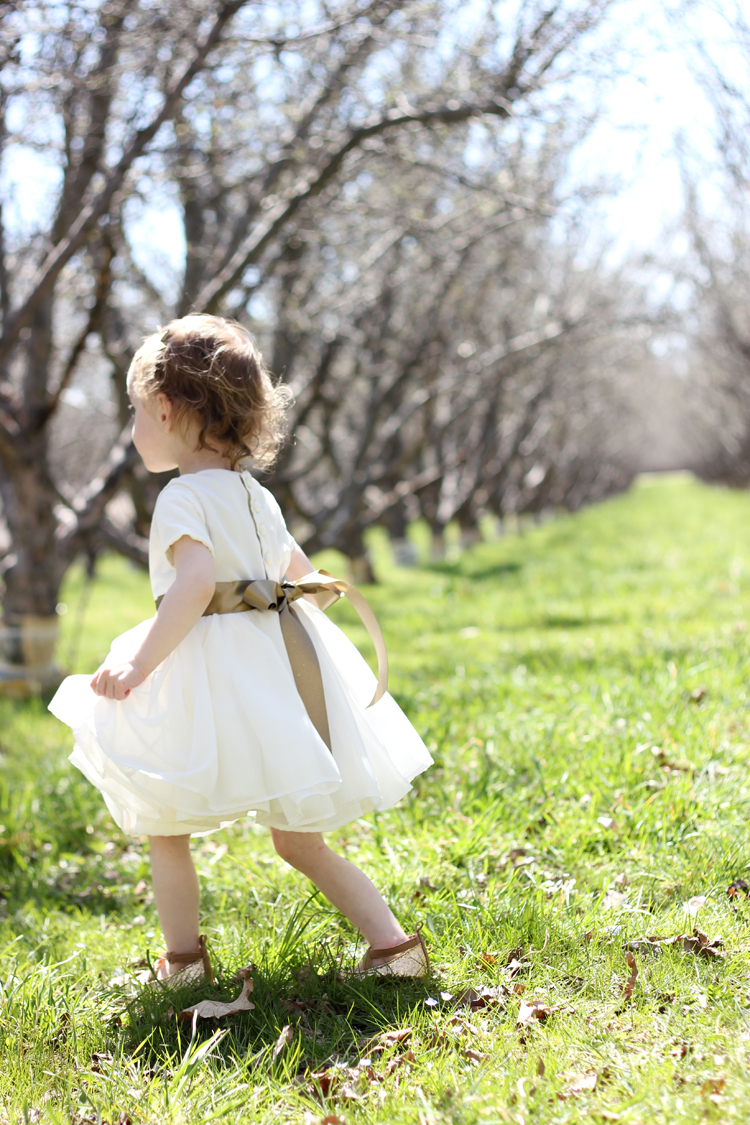 I'm not just saying that because I am one of the authors of the Five and Ten e-book. See my other versions as proof here, here, here, and here. It's totally my favorite go to basic dress pattern.
The original book comes with sleeveless and cap sleeve options like these ones I made here and here, but I am a sucker for standard to mid length sleeves. Especially since, the unique method we use (see the free sleeve download on our site) gives you a completely lined sleeve with no raw edges or frustrating sleeve setting. It is a slimmer sleeve pattern than most, but I prefer it.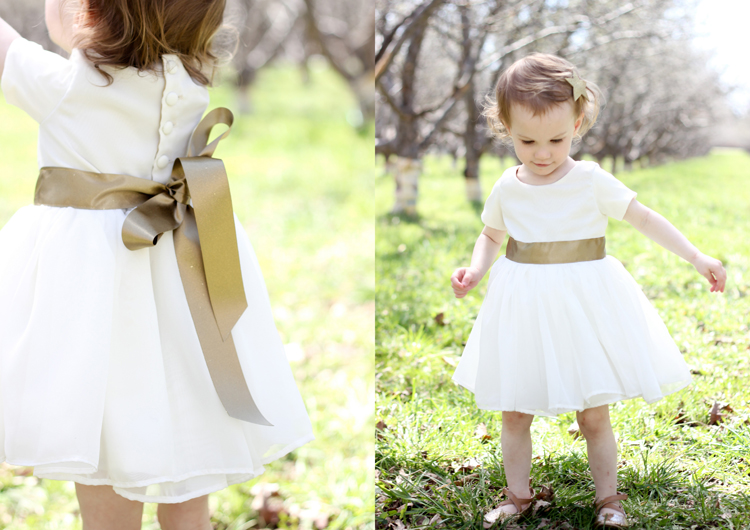 Natalie's gold star hair clip is from this post here.
The gold shoes are from Old Navy from a year ago. I have been hoarding them for Nat, hoping she would have grown into them by now. They are size 5 and are still too large if you can believe it. She is just barely fitting into size fours!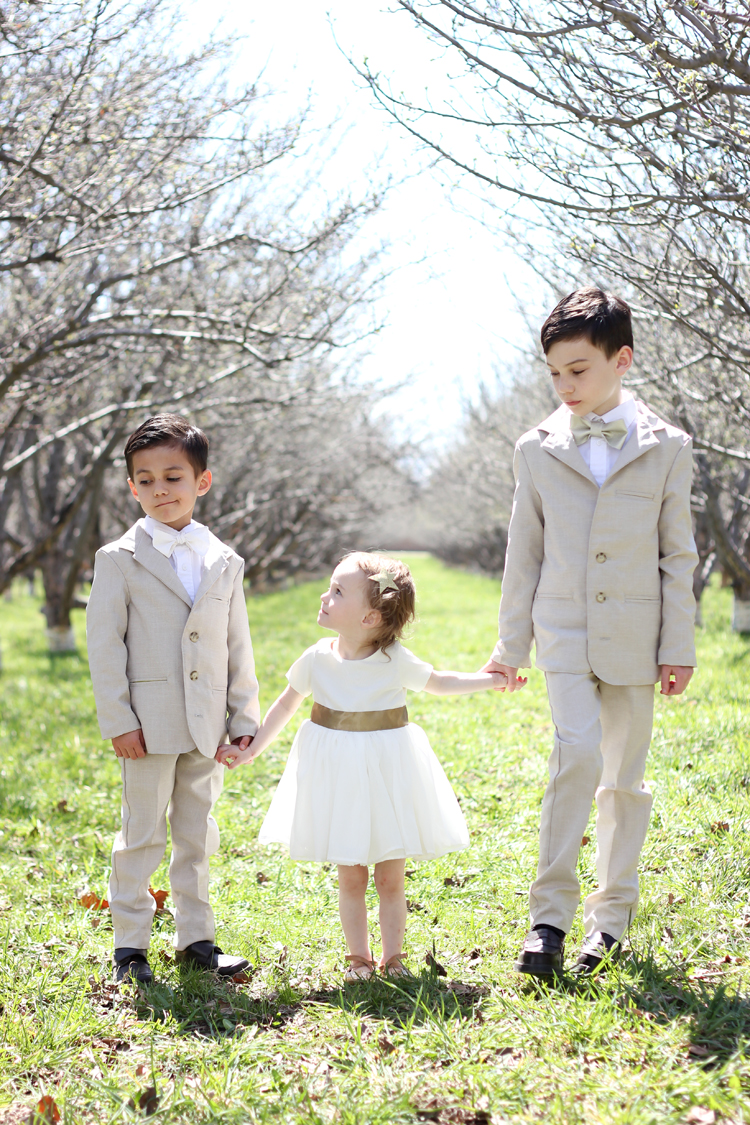 I love how the gold in Natalie's dress complements the boys' Spring suits I shared yesterday. Gold is definitely shaping up to be our color of the year this year.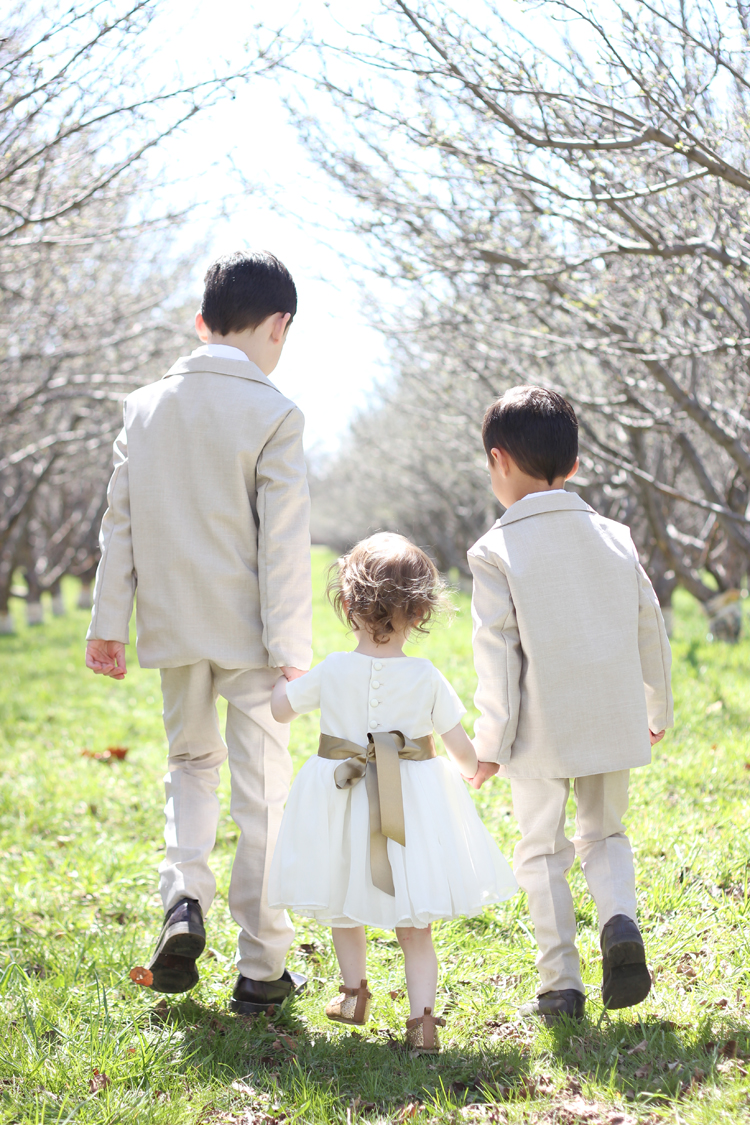 Oh goodness. These three. 🙂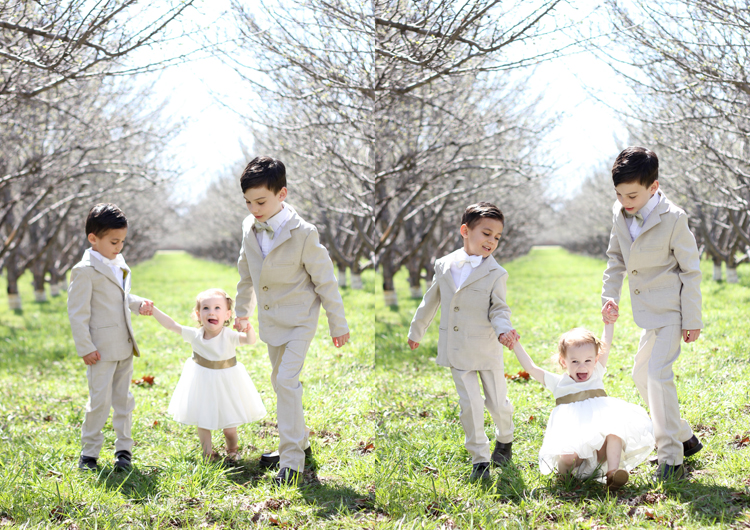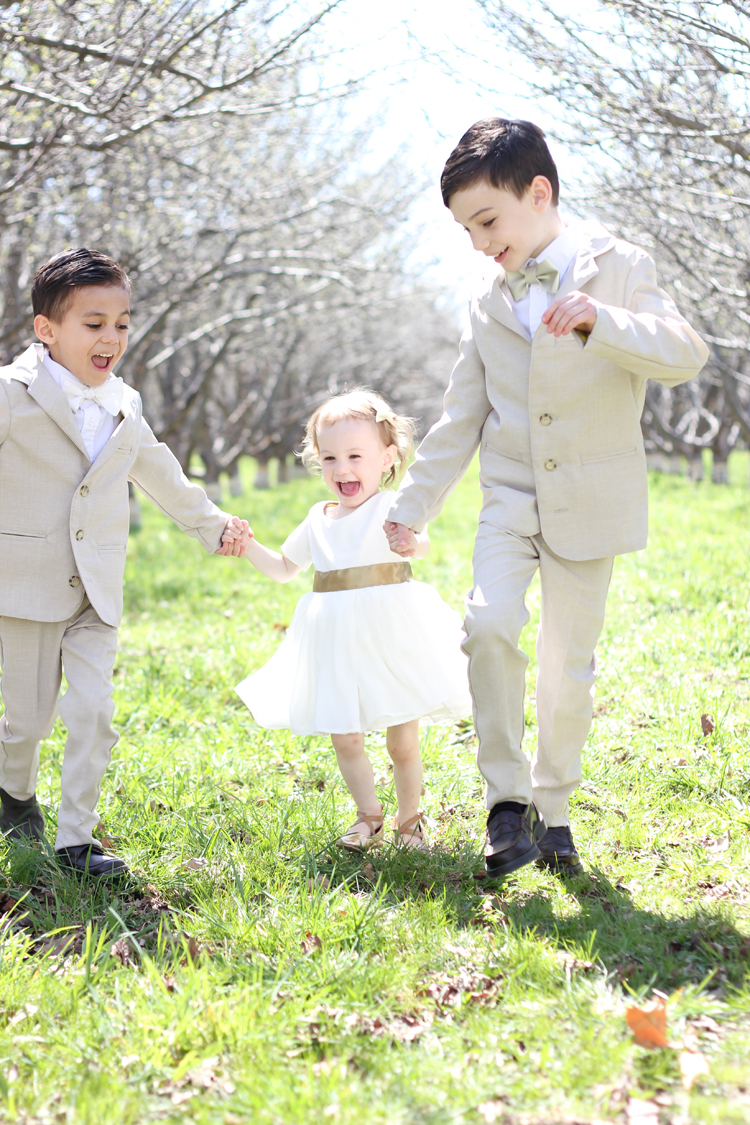 I was totally lucky to get some good ones of all three of them together…even though they wouldn't all look at me at the same time.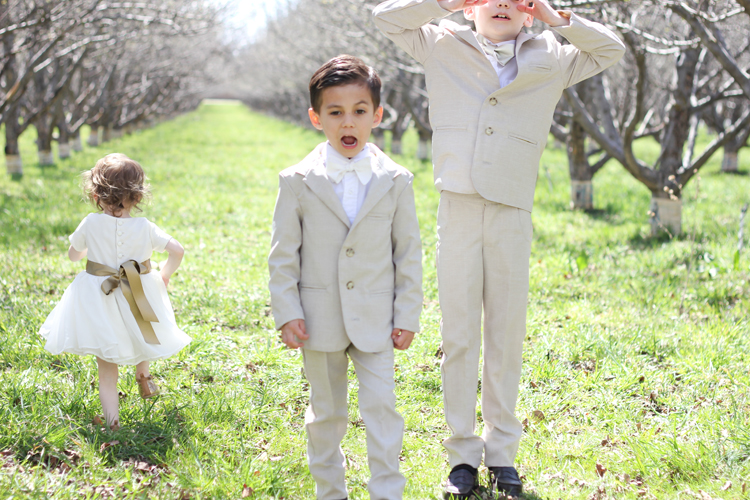 This picture more accurately sums up how the rest of the shoot went. hahahaaa.
Okay, you ready to win a copy of the Five and Ten Designs Dress E-book!?
Let's do it!
I get to give one copy away to one fabulous reader!
Simply enter in the rafflecopter widget below. I have included liking the facebook pages of my fellow e-book authors as entries, as well as one non-social media entry for those not on facebook.
a Rafflecopter giveaway

This giveaway will run until Sunday, April 13, 2014 at midnight EST and is open to all readers.  The winner will be notified by email and announced on Facebook.
Good luck!