Last Christmas, we were really resistant to the idea of getting a tablet for our kids. We had a family tablet that had "parental controls" but our kids always found a way to get around them, or they would try to buy things in the in-app purchase pop-ups. I was over it.
We needed something educational, more kid-friendly, and something that was more of a parenting tool than a parenting headache. We researched like crazy and finally decided to get the Amazon 7″ Fire Kids Edition for each of our children. A year later, we're still big fans!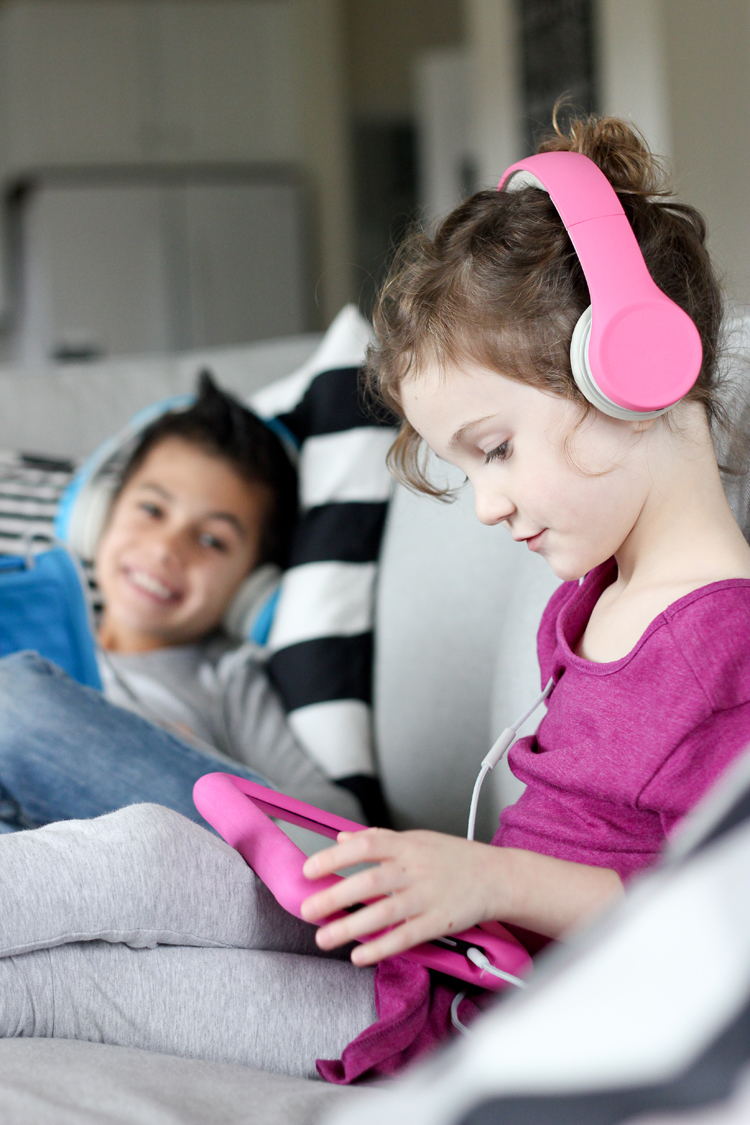 Amazon reached out to me about sharing our Fire tablet buying experience, which was a no-brainer, "heck yes!" I had already been telling friends about how much we love it and even sold our mechanic on buying one, after he saw my daughter peacefully make it through a lengthy car repair.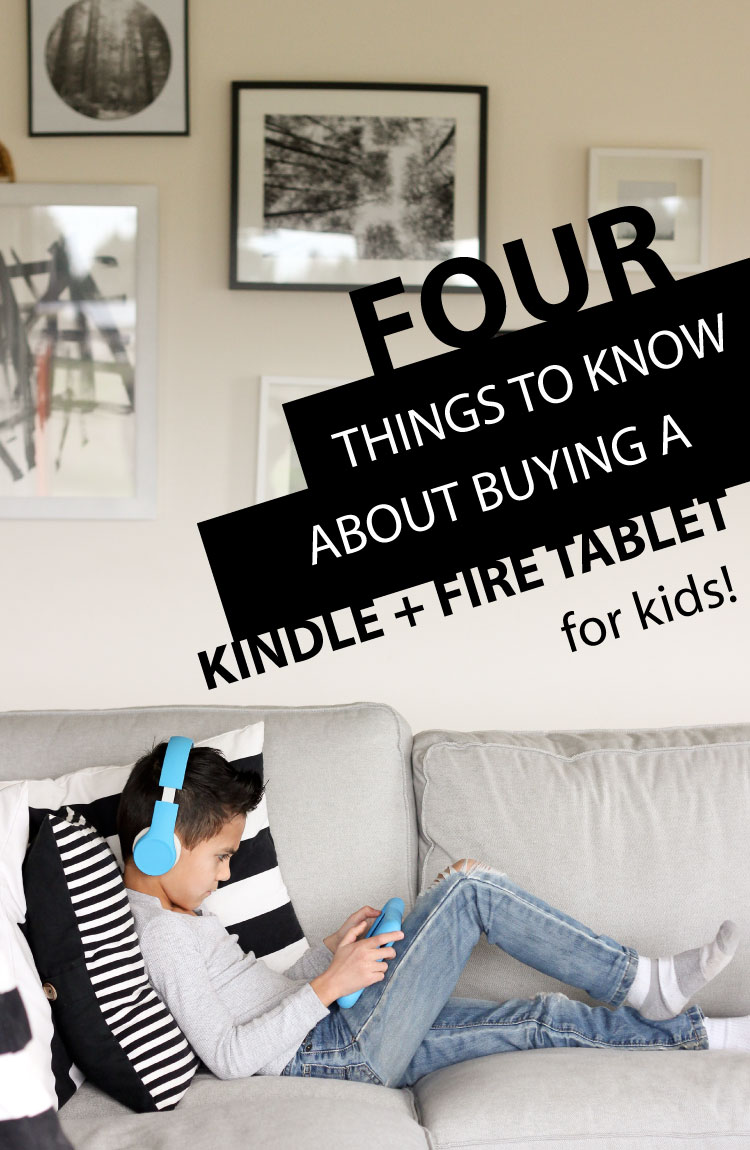 Here are my top four things to know when you're buying a Kindle reader or Fire tablet.
ONE – Know your options.
There is a Fire tablet and a Kindle reader – these are two different devices.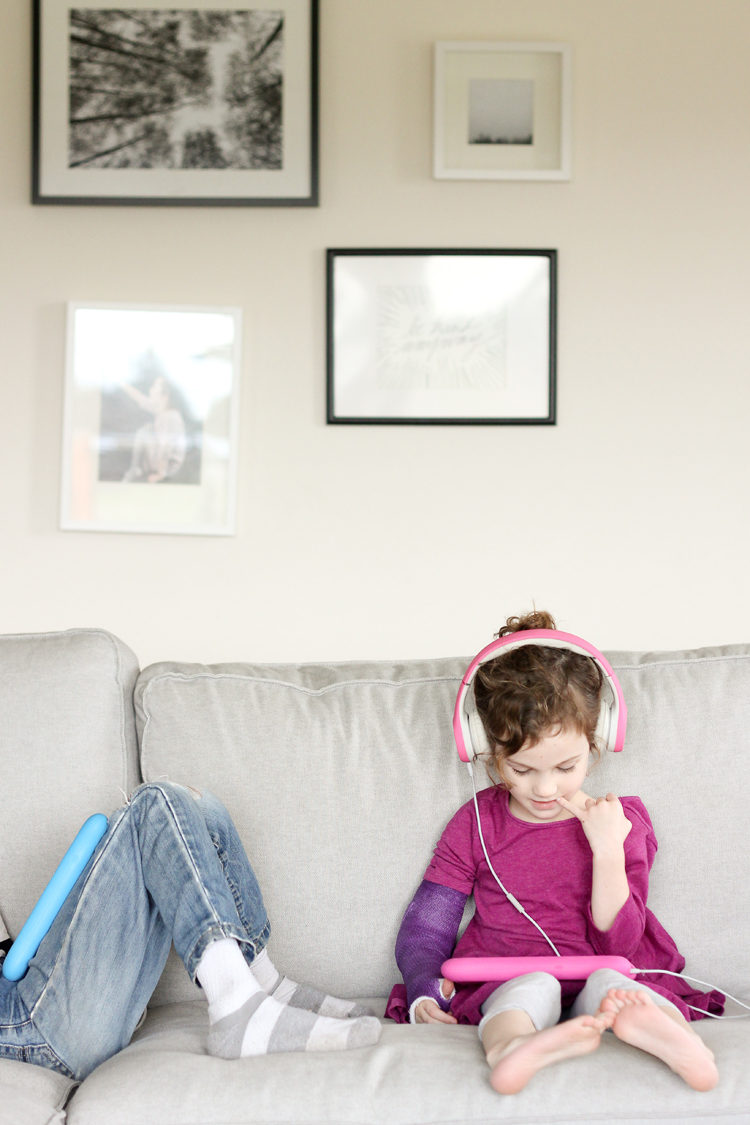 The Fire is a tablet that works off wi-fi.  What makes it kid-friendly is the FreeTime app, which I'll get to in a moment. All you need to know for now, is that it's amazing. It can also function as an e-reader, but it has a glassy screen and shorter battery life than…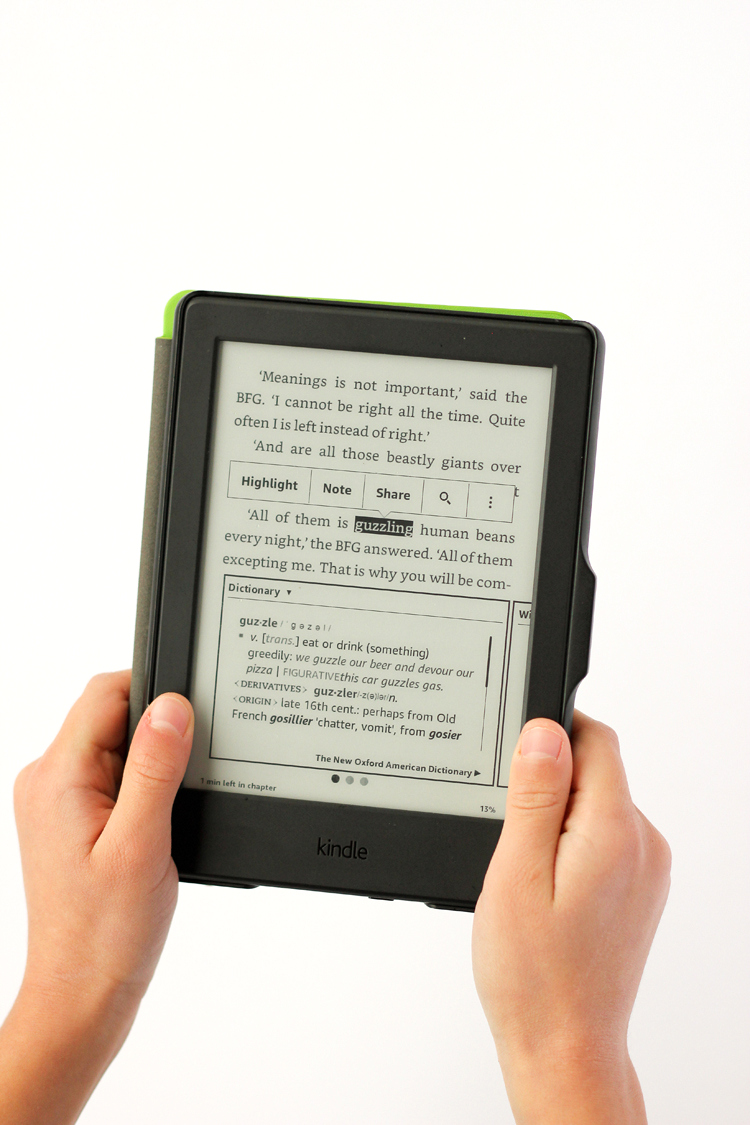 The Kindle reader. It has a matte, no-glare screen, and battery life that last WEEKS (seriously, it's amazing). You cannot browse the internet like you can with a tablet, which can be a pro for parents, but if you're connected to wi-fi, you can download books, and get definitions for words you don't know simply by pressing on them.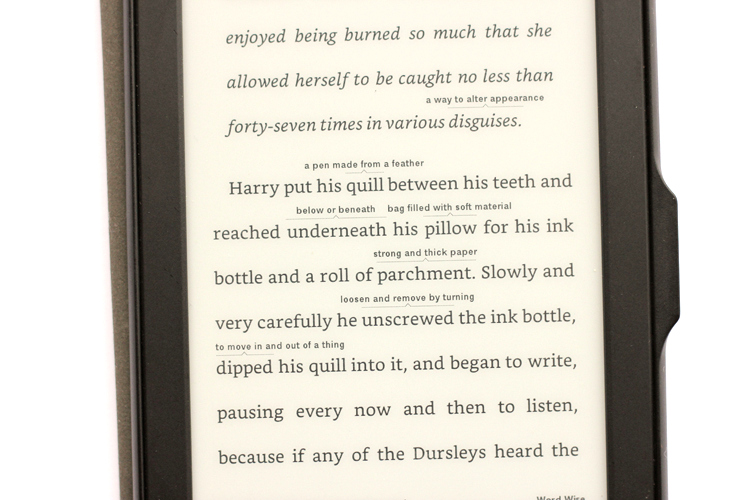 And, if you get the Kindle for Kids Bundle (I talk more about this in #3), there is a "Word Wise" function that automatically defines words you may not know. This is a great vocabulary builder for kids!
TWO – FreeTime is your friend.
This is the number one reason we ended up choosing Fire tablets and Kindle readers over other options. Amazon FreeTime is a parental controls app and I cannot say enough good things about it. Once your kids are in it, they cannot get out of it without your password. No back doors, no home buttons that let them escape it, no pop-ups to send them elsewhere. It's fantastic.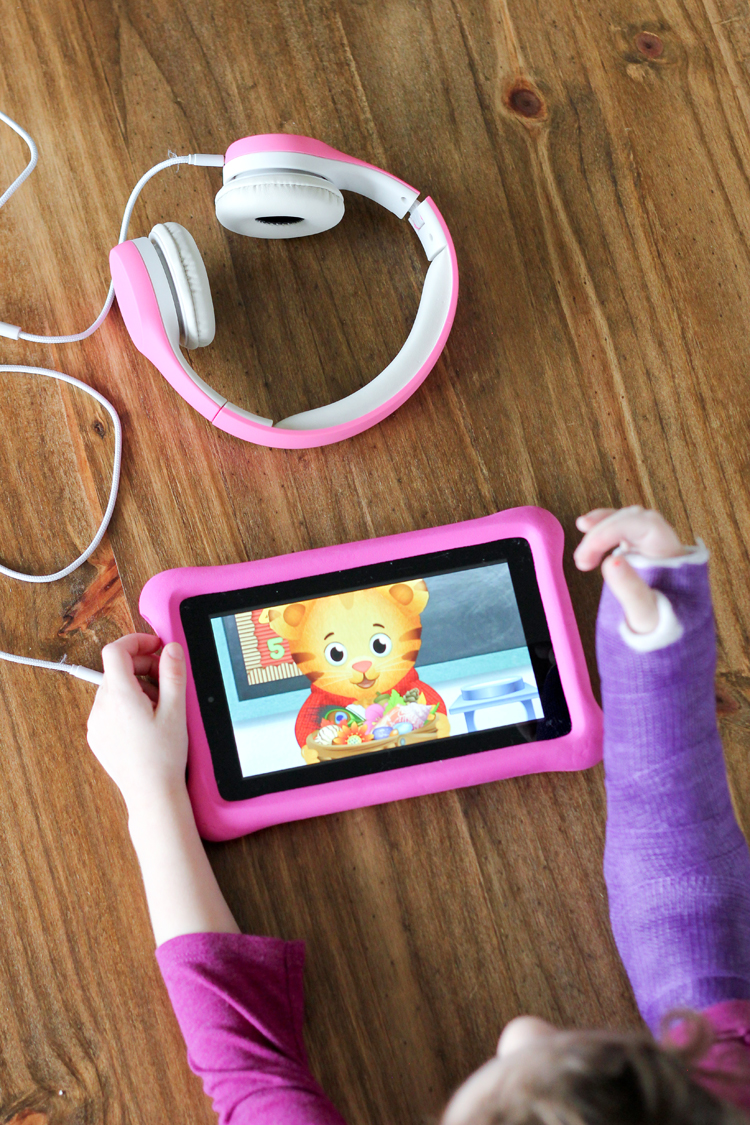 Even better, it's so much more than that.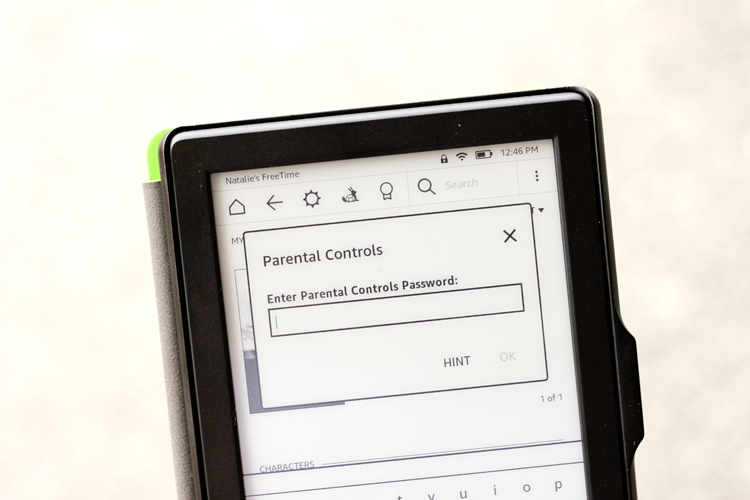 On a Kindle reader, it tracks reading progress and achievements and it manages their reading selections so that they are age appropriate. It also sports the Word Wise vocabulary builder function I talked about in #1.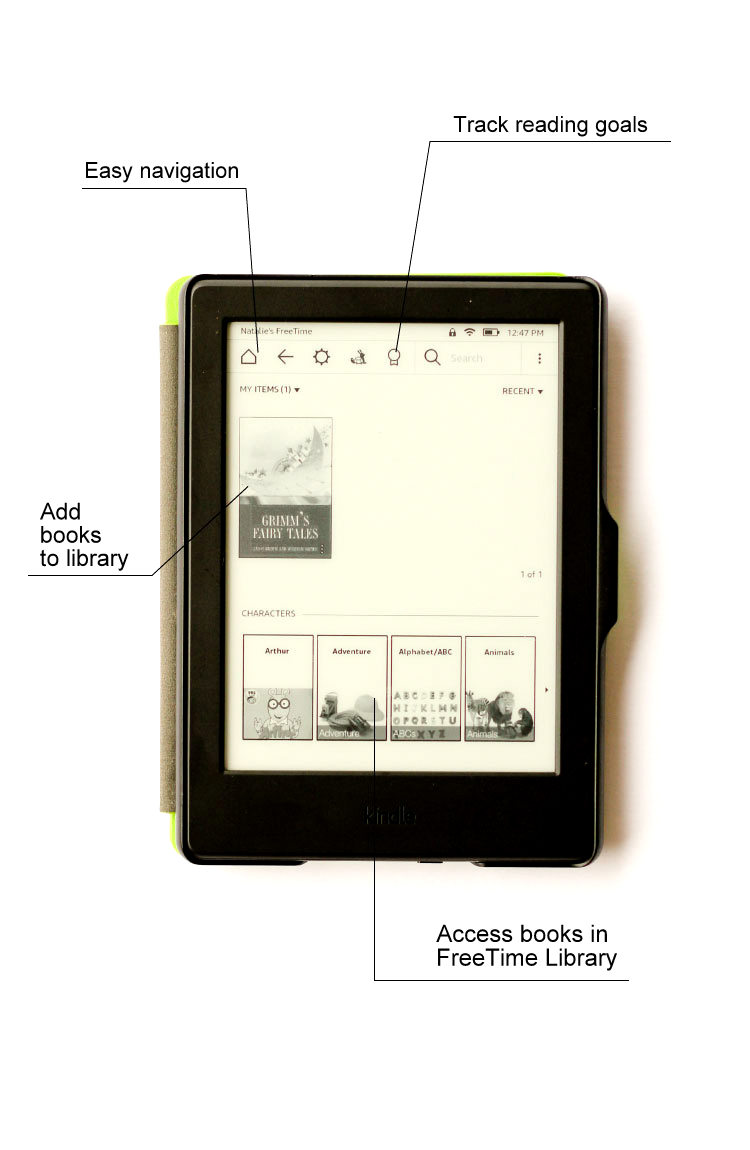 On a Fire tablet, it also filters books, apps, and videos to ensure they are age appropriate. It ALSO blocks access to all games and videos until their reading goal is met. You can set time limits by activity (apps, videos, and reading), for any screen time, and/or give your tablet a bedtime so that it can only be used during certain hours of the day. You can also set different parameters for weekdays and weekends. When they try to access their Fire outside the parameters, it gives them a screen that either says "All done for today!" or it will suggest another activity they can do, like read. We usually make it so they have to read 30 minutes before accessing other apps, but we don't cap how much they can read if they want to read after their 45 minutes of app time is up.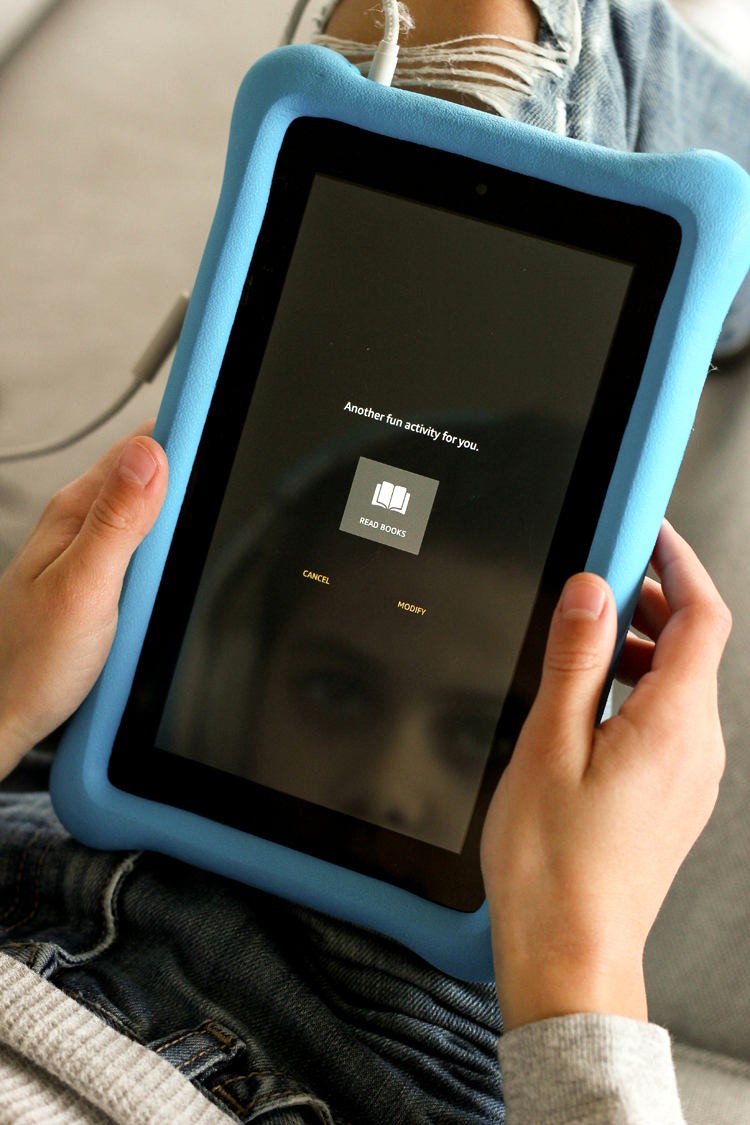 Seriously, a parent must have invented FreeTime.  It's SO nice to not have to nag my kids about reading 30 minutes a day. Their Fire tablet and Kindles both track it and give them incentives to get it done.
For both the Kindle reader and the Fire tablet, if you subscribe to FreeTime Unlimited, which is an extra subscription you can purchase or is included with Kindle bundles, you get access to their ginormous library of books, apps, and videos. All the Harry Potter books are on there, as well as fun Disney apps. My kids are so happy with the selection, the only additional app they have requested I buy, is Minecraft.
One other great thing FreeTime does is organize your kids into profiles. That way they have their own personalized controls and it will keep track of the content they have saved and downloaded. We decided to get each kid their own device, but if you don't want to do that, FreeTime makes sharing a single device simple.
3- Bundle it.
If you're thinking of buying a Kindle, I highly recommend their bundles. You may be tempted to buy a Fire tablet on it's own, or a Kindle reader by itself because it's cheaper, which is fine if you're buying it for yourself. If you're buying it for your kids, the bundles are more than worth the extra cost.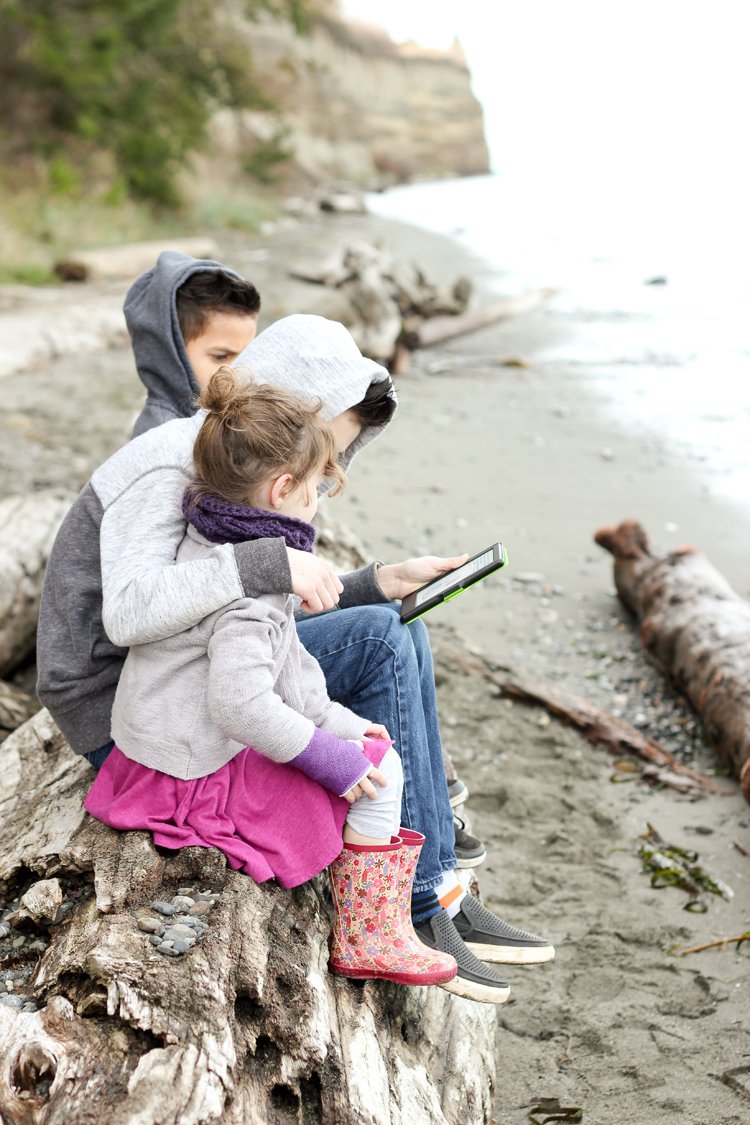 For one, they come with a warranty…a really good warranty. If it breaks, you can send it in to get fixed or replaced at no extra cost and with no limit. It has come in handy with our four year old a few times this past year. Honestly, we were a little worried it would take away lessons of accountability and responsibility if our kids were careless with them, but really it has only just saved us money. We haven't told them about the warranty and just treat the tablets as if there isn't one. This has caused the older two to take really good care of their devices and has given us peace of mind, as our four year old tries her best to do the same. 😉
The bundles also come with one year of FreeTime Unlimited. This is huge. I think what makes the Fire tablet and Kindle reader so exciting to use is the huge selection FreeTime Unlimited offers (see #2). When you buy in a bundle, you get a year's worth at a discounted rate.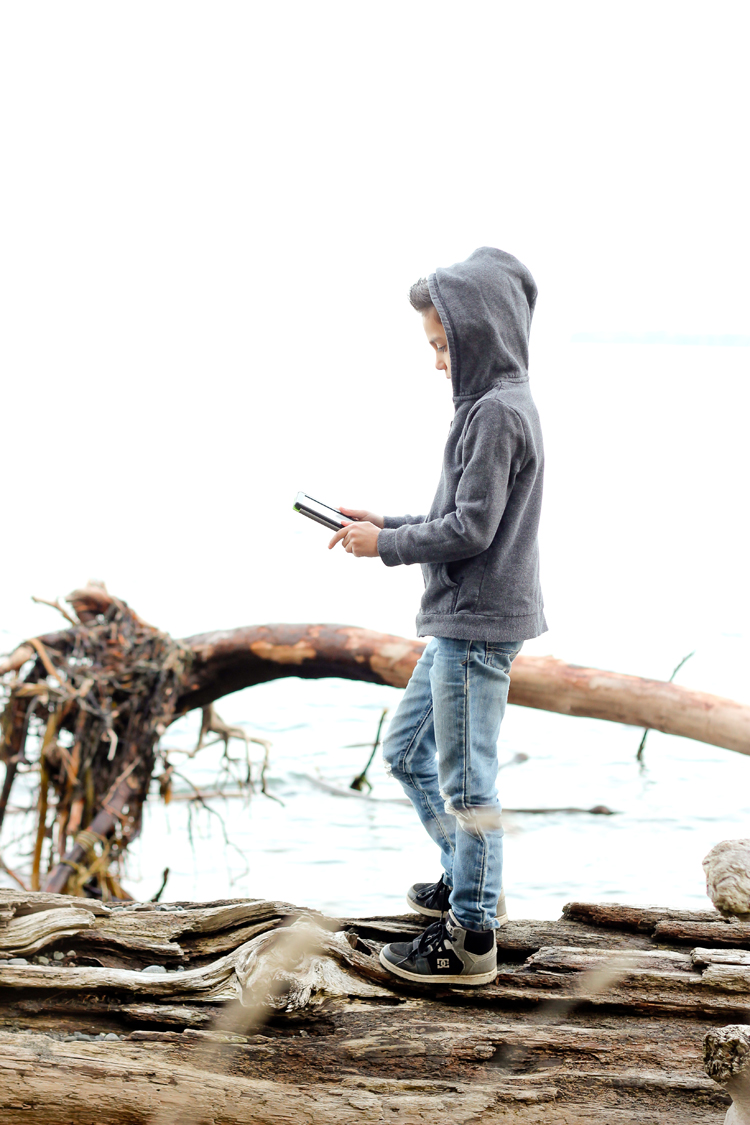 And lastly, it comes with a case. The Fires come with a bumper case that protects it from damage and makes it easier for younger kids to hold. The Kindle for Kids bundle comes with a slim fitting case with a protective cover. This makes it easier to bring with you on the go!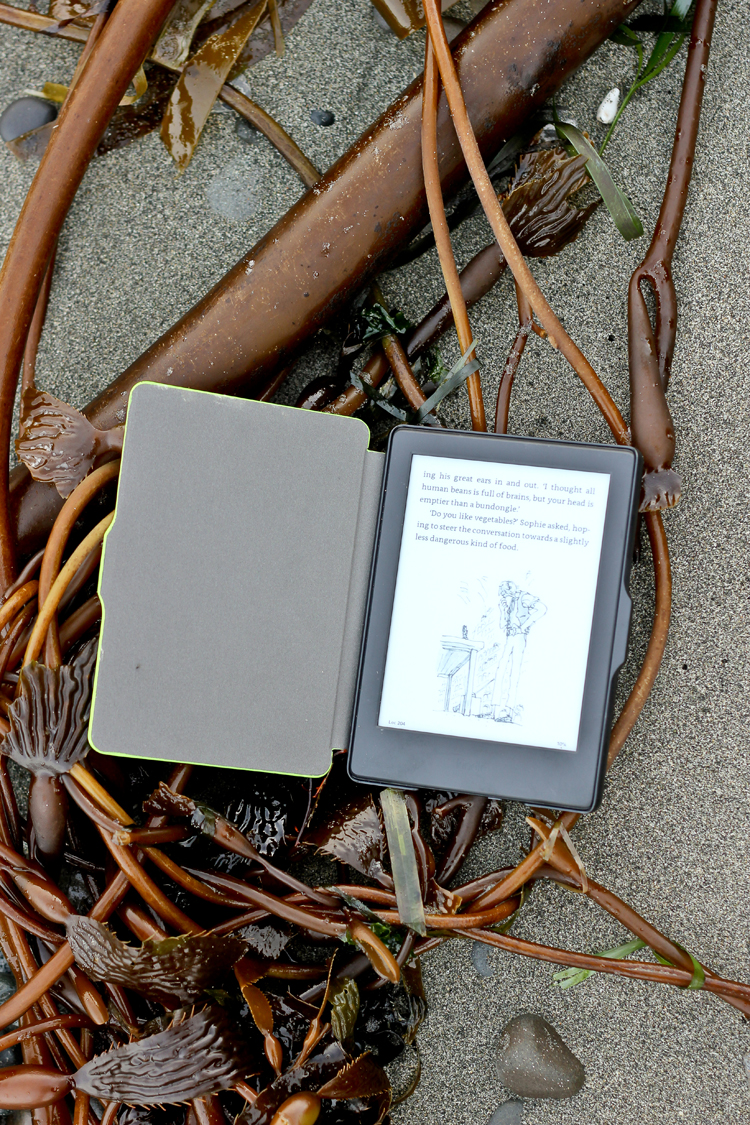 Four – Accessorize!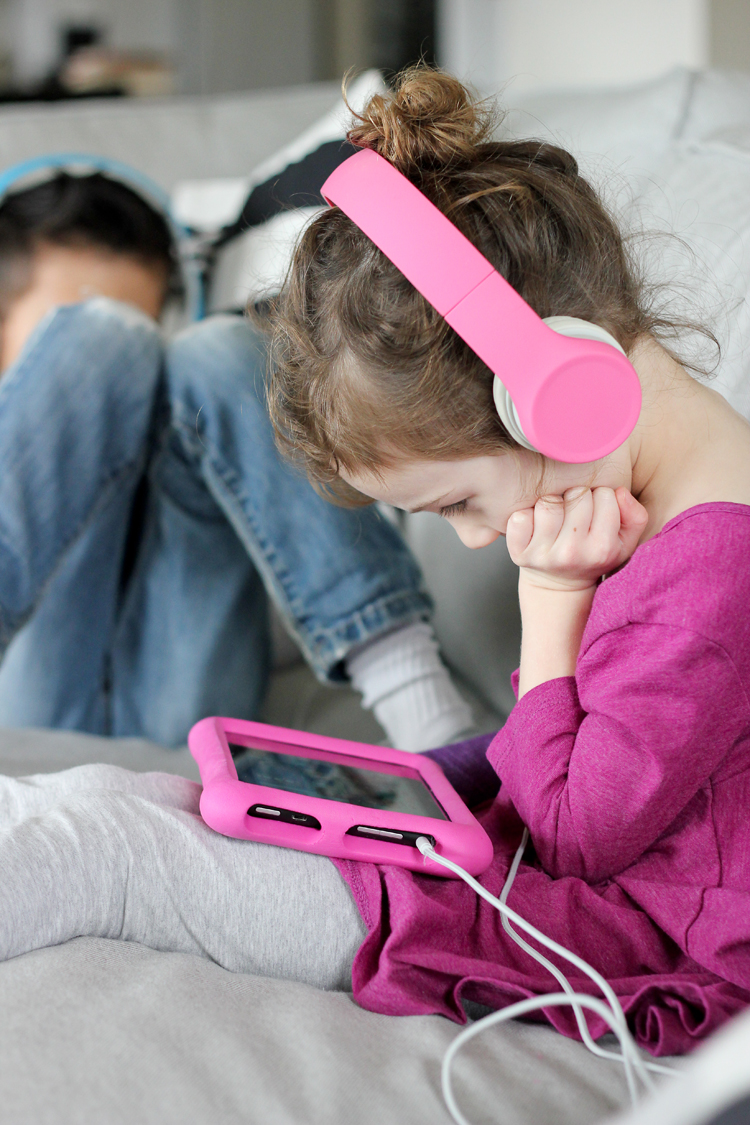 This is just for the Fires, but it's super important if you are thinking of buying one:
Headphones. These are a must if you're traveling, but it's also nice to not have to hear the "Wheels on the Bus" on full blast over, and over, and over, again. 😉 We bought our headphones on sale last year. They have held up great and they don't let the volume get too loud, to help protect young ears. Their blue and pink headphones also match the Fire bumper cases almost exactly so they look like they belong together.
Micro SD cards. One thing that the Fires lack, is sufficient storage. Luckily it has a micro SD card slot to make up for that. The tablets work off wifi, so when you're not connected to wi-fi, you can still use your tablet only with books and games that have been downloaded. This micro SD has been made specifically for Fires, so that you can expand your storage capacity. For trips, this is an absolute must!
USB charging cable – One thing we didn't buy, but I wish we had (and will now), is an aftermarket USB charging cable. The ones that come with the Fires are short and a bit inflexible. This is fine if you plan on not using it while charging it, or if your kid doesn't yank it around while it is plugged in (not likely). If you find your Fire is not charging properly, it is most likely your cord that's the problem. This flexible USB charging cord may help. I haven't used it yet, but I just put it in my cart.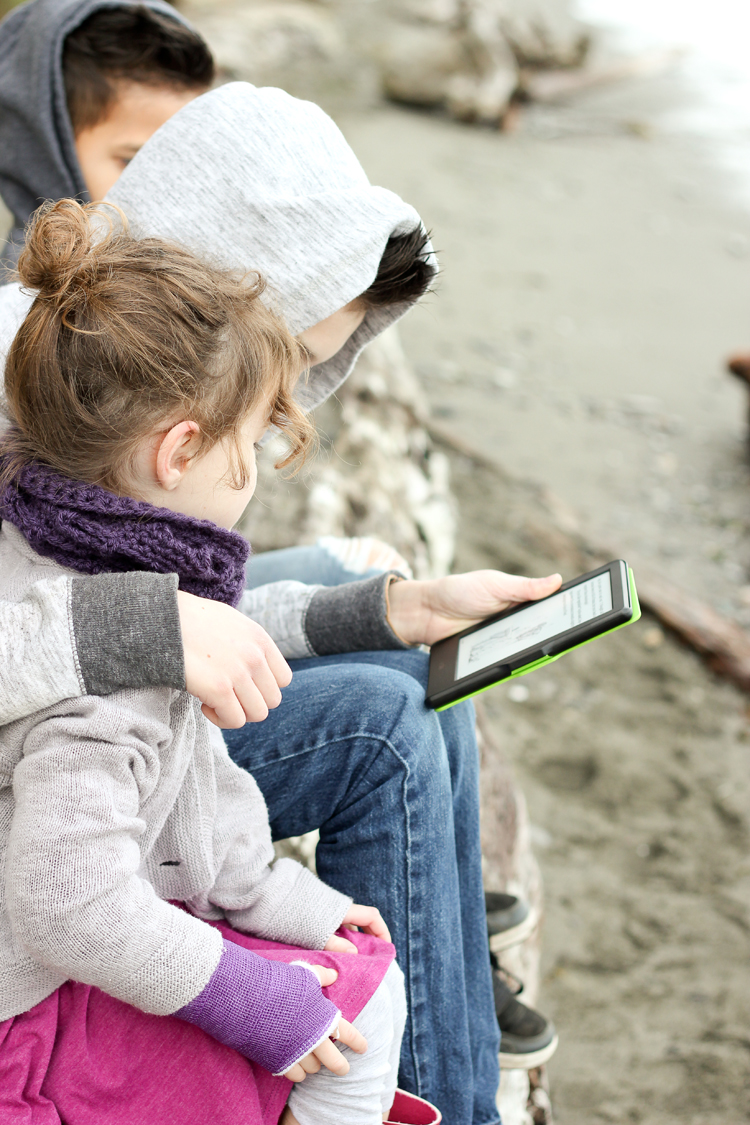 Now, as much as we love our Fires and Kindles, nothing is perfect. There are a couple of things that we don't love about the Fires. 1. If your battery life gets lower than 5%, you cannot use it while it's charging. It can't charge faster than you use power at that point. 2. It says the battery life is up to 7 hours. Expect that to be 4-5 hours when using it for anything other than reading. This is no problem for home use, but when we're travelling, we have to be mindful of it.
Overall…though, these are small quirks, for the great win-win tool it is for parents and kids!
If you're looking to buy either device, NOW is a really good time. We bought our Fires last year during the week of Cyber Monday sales, and I saw that they are running the sales again! It's worth it!
Disclaimer: This post was written in partnership with Amazon. All opinions and content are genuinely, unbiased and my own.