One holiday activity we both love and dread in our family is gingerbread houses or candy houses.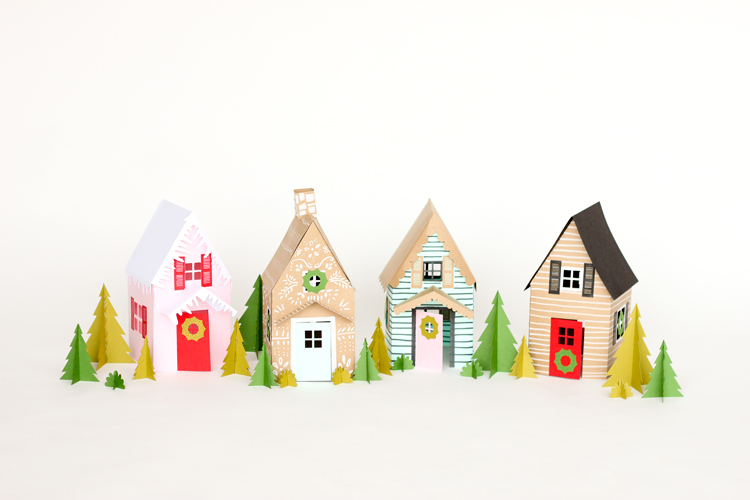 We love them because they are so fun to do, but we (okay, I) dread them because they are a ton of work and make a huge mess.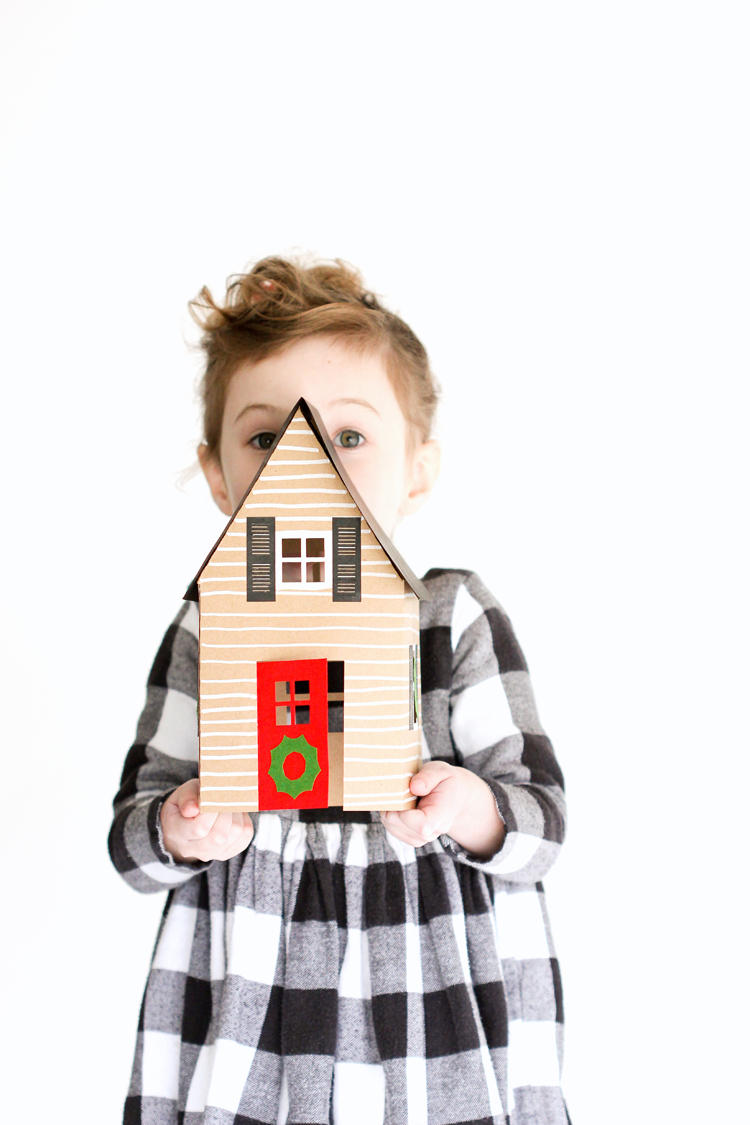 So, for this month's Michaels Makers post, I came up with a food-free, stress-free way to get our mini house building fix…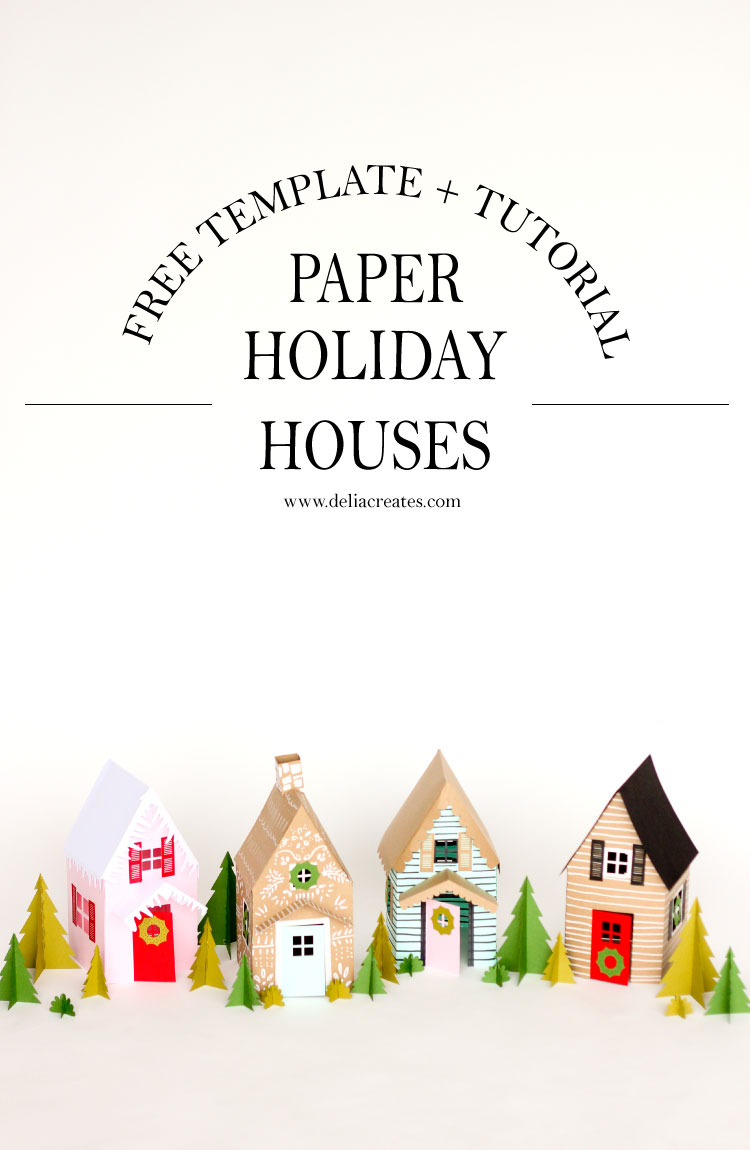 …by using paper of course!
All you need is some scrapbook paper, glue, markers and things to cut the paper with. Easy.
You can cut the paper by hand with an exacto knife and scissors, or use a cutting machine. I've included template files for all those options.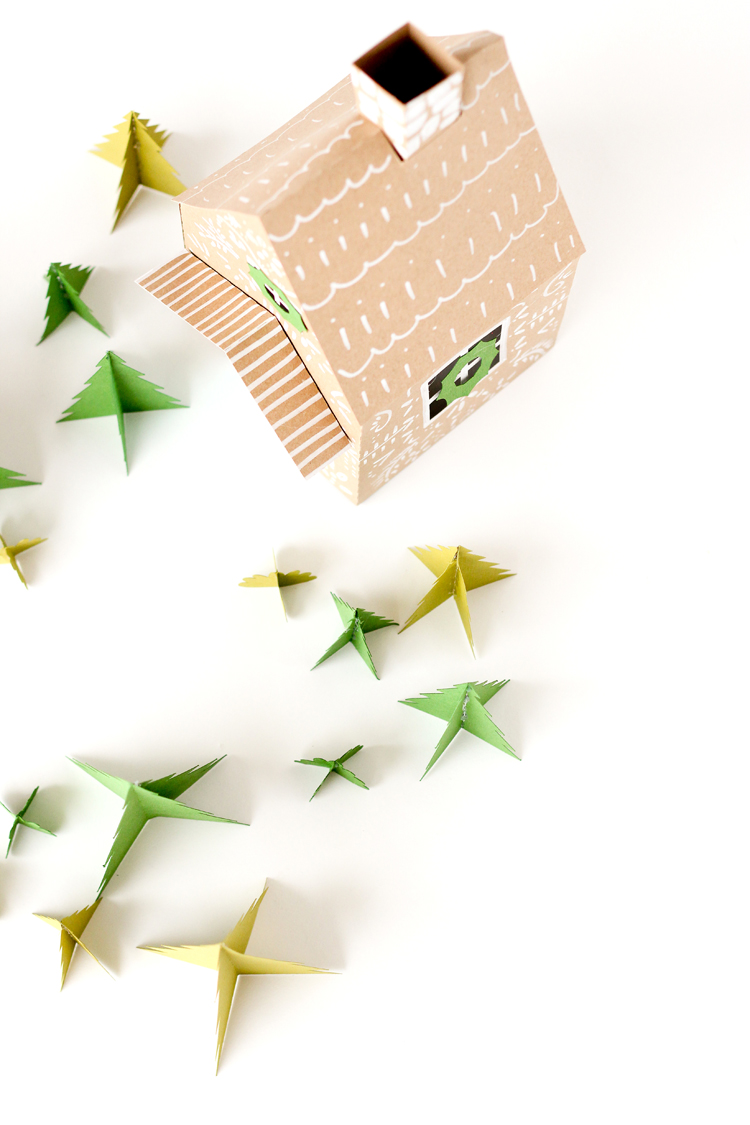 If these houses look familiar, I based them off one of the houses I created for my Advent Christmas Houses (and Halloween Houses).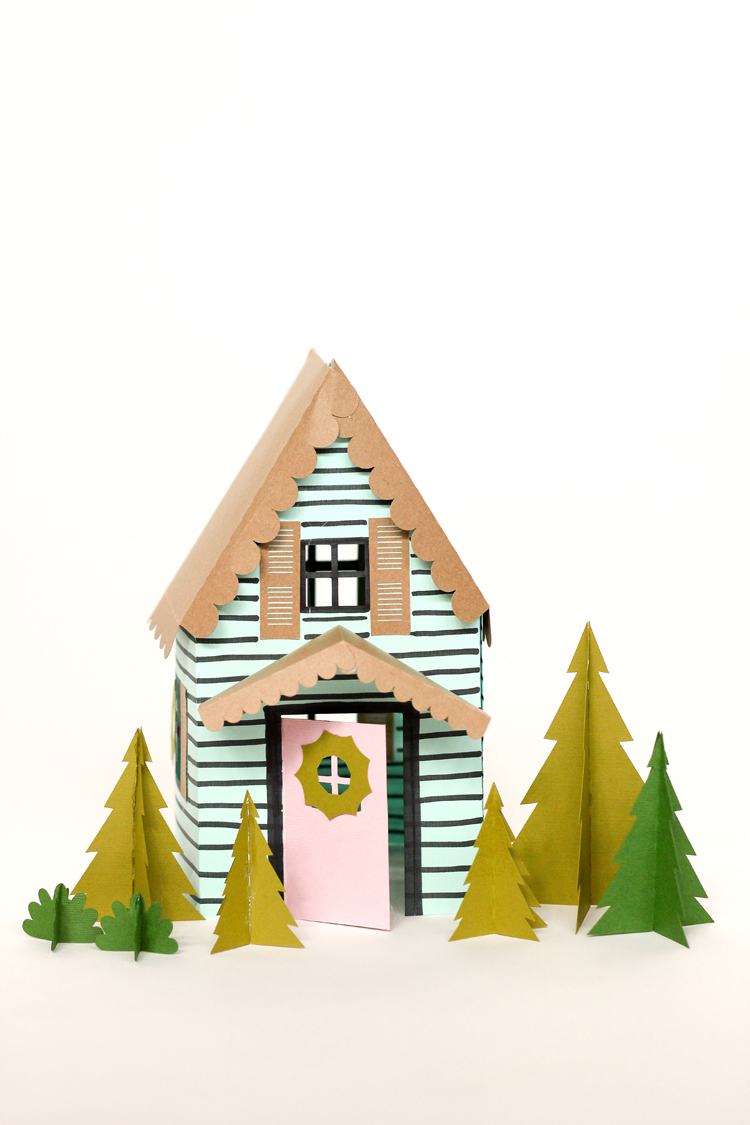 Because the houses are much bigger, I was able to add more detail, like shutters, windowed doors, and wreaths. The rest of the details I drew on with marker. It was super fun!
When I do this with my kids, I think it will be fun to take them to the craft store so they can pick out their own paper colors. It takes about 4-5 pieces of 12×12 paper to make a house (if you want variety), which would make these around a $1 (!) if we get them when there's a paper sale.
The rest of the supplies you can find by raiding their craft bin.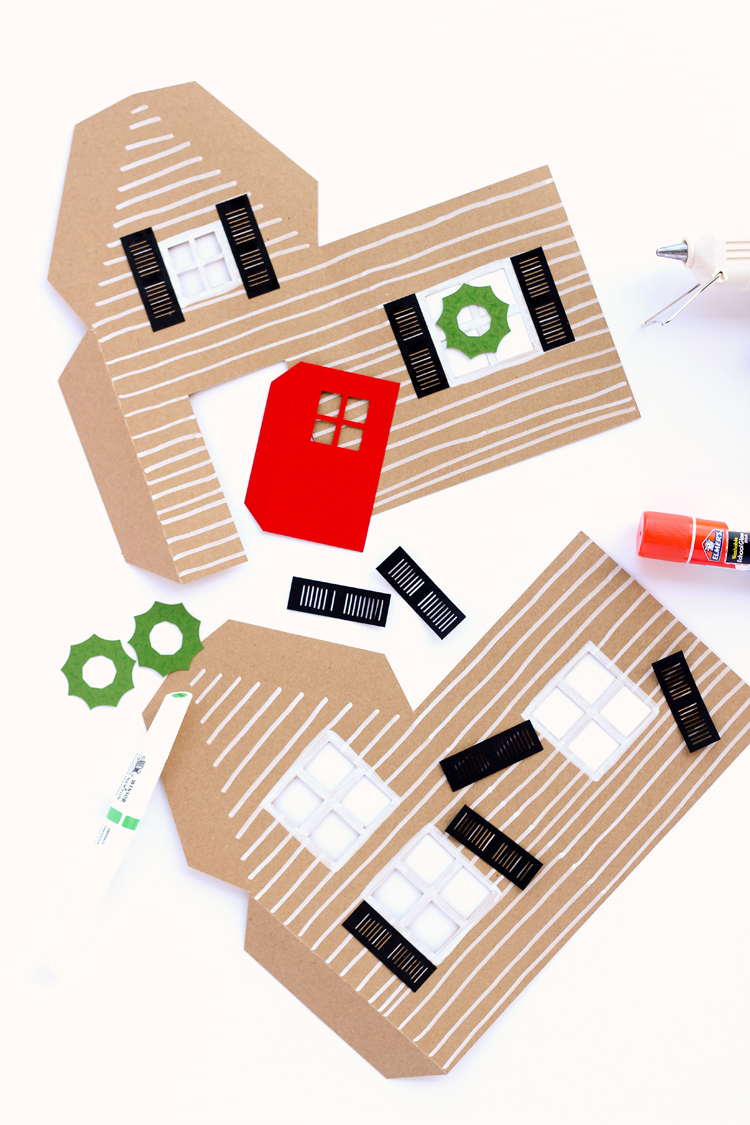 MATERIALS
12 x 12 scrapbooking cardstock
hot glue or school glue
glue stick
exacto knife and cutting mat or cutting machine
scissors
optional: markers (I really like the white scrapbooking markers from Recollections)
STEP ONE: Templates.
Grab your choice of template.
If you're cutting by hand, download this PDF file: paper-holiday-houses
The files are sized to 12 x 12, so you'll have to print them at a print shop.
If you're using a cutting machine here are .svg files (this is a zip file with multiple files):
Holiday House SVG Files DELIA CREATES
*NOTE: If you are using a Cricut, follow these steps (edited to update 11/15/2023): Once you upload each file and add them to a new project, you'll need to select the entire canvas, right click, and select "ungroup". Then select the inner lines and change them from cut lines to score lines. The original file has them as score lines but Cricut software changes them when uploaded. Then select the whole canvas again and group them together again. While it is all selected select "attach" on the bottom right hand of the software before selecting "make" to cut it out. If you don't group and attach them, Cricut software will rearrange all the lines and dismantle the houses when you select "make."
I have saved them as PNG files as well if that works better for whichever cutting machine you are using: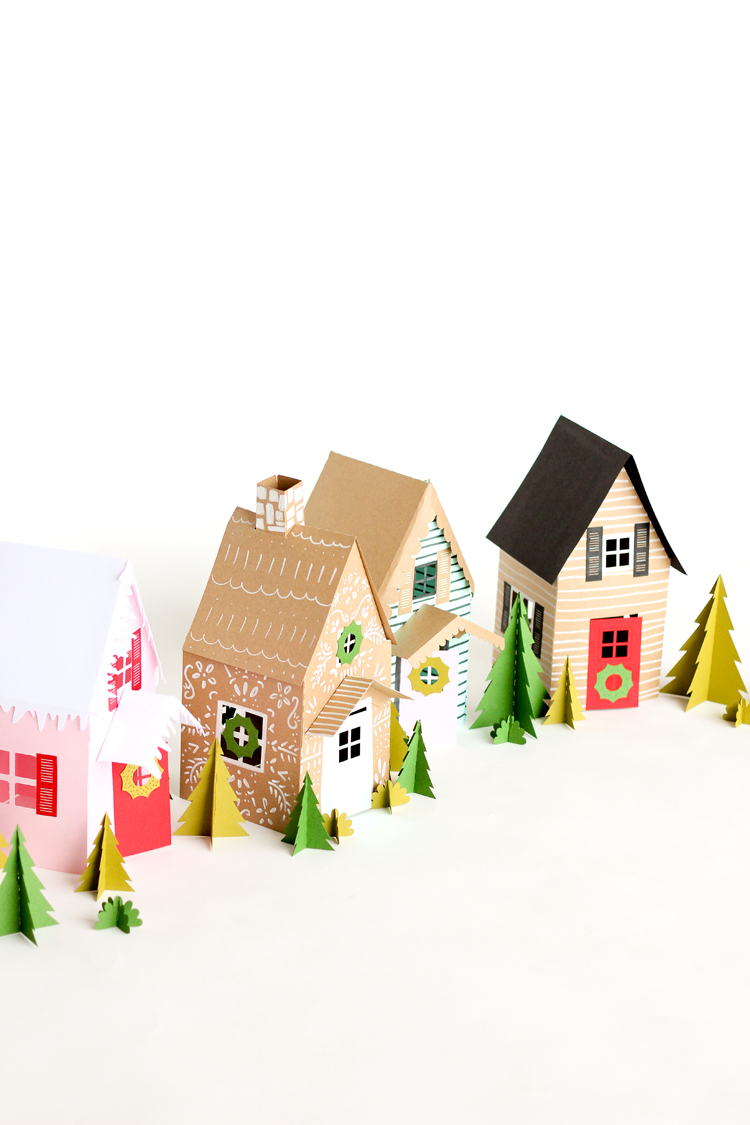 STEP TWO: Cut and glue.
Cut out your paper. All the fold lines are perforated for cut files, to make folding easier.
You can assemble the house first and then decorate it, but I find it much easier to draw and glue on the house pieces when they are still flat.
I highly recommend using a glue stick for the shutters. The hot glue is too messy for those fragile slats.
STEP THREE: Assemble house. 
Glue the house together at the flaps.
When adding the roof, I find it helps to glue one side at a time.
You can cut the roof from the templates I share, or you can cut your own. My roof templates are more of an exact fit because I needed to fit them on a 12 x 12 cut file. You can easily cut your roof larger and add eaves.
Hot glue is faster, but you can certainly use school glue (or double sided tape)  if you don't want your kids using hot glue guns.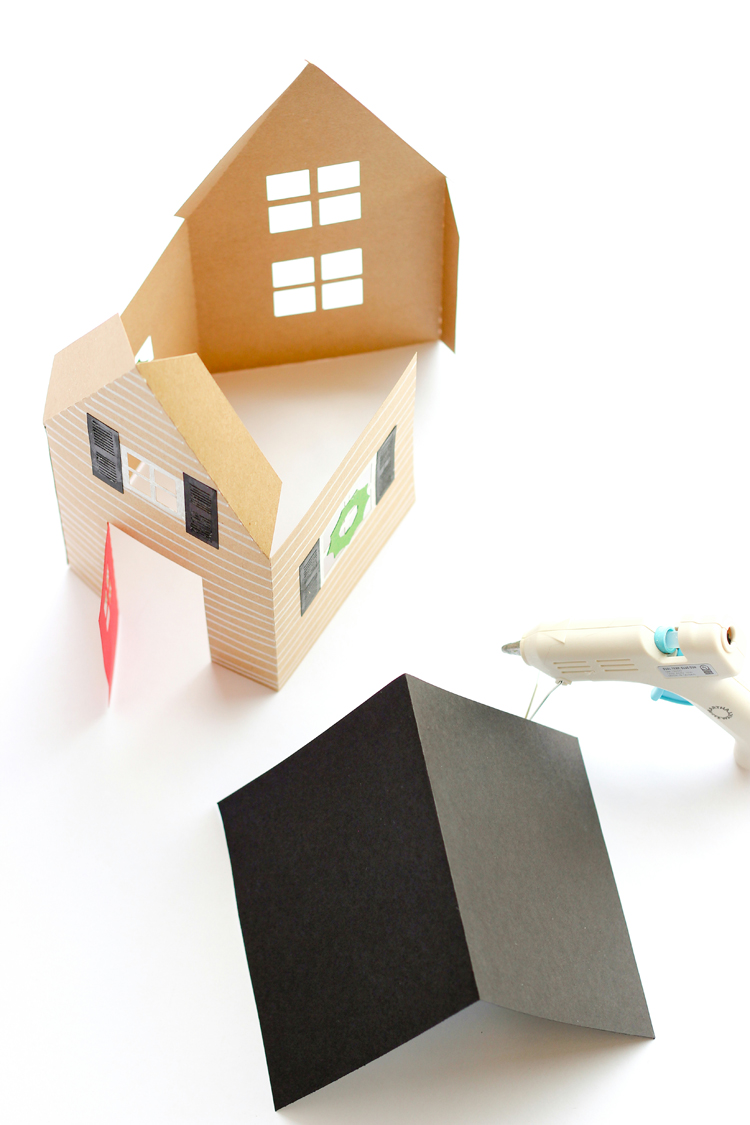 STEP FOUR: Make trees and bushes.
Simply fold the trees and bushes in half at the perforated fold lines. Add a line of school glue or hot glue to the crease and add another tree piece at the crease. Let dry or cool.
Enjoy!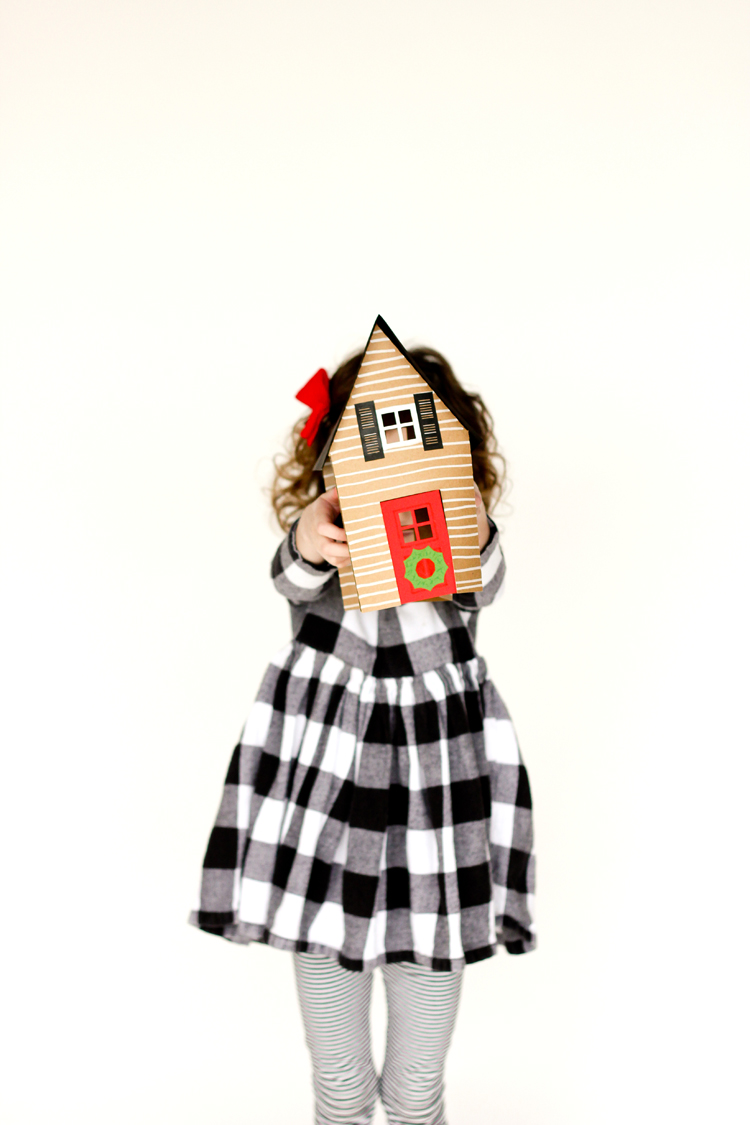 I loved these cardboard gift box houses that The House That Lars Built shared last year, so I mimicked a similar design with my white Recollections marker.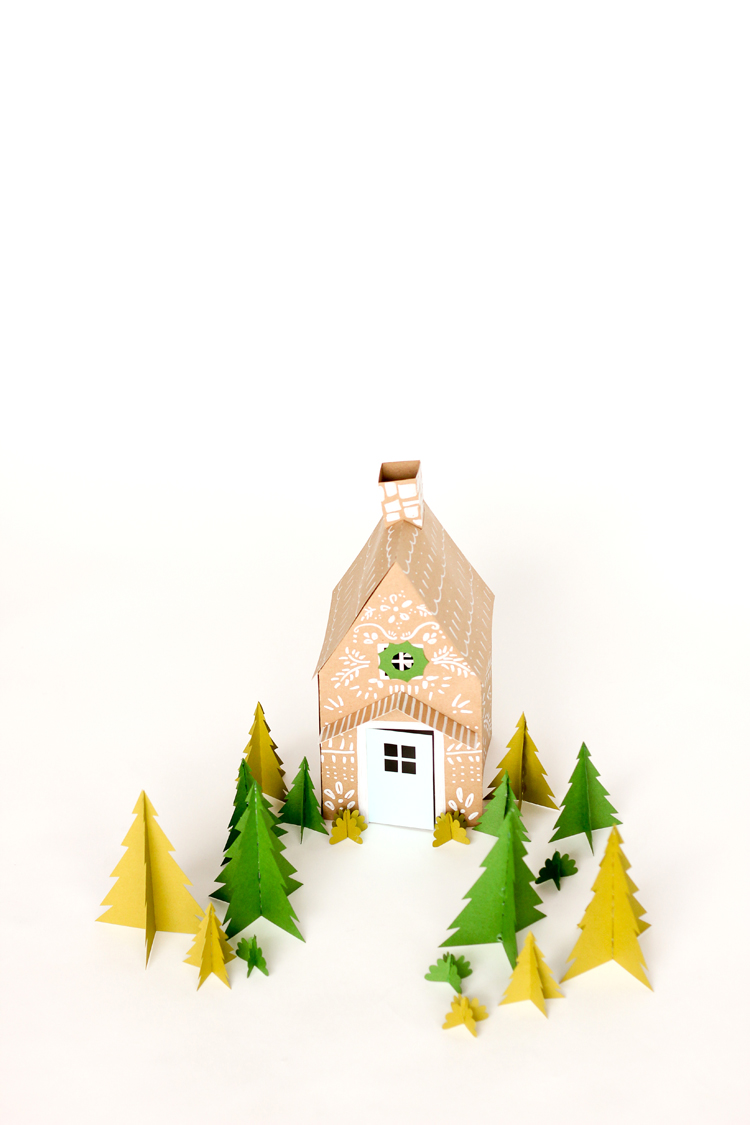 One perk to these paper houses is that they are pretty much mess free and play friendly. My daughter has already snuck them into her room so she can put her peg dolls and animal figurines in them. 🙂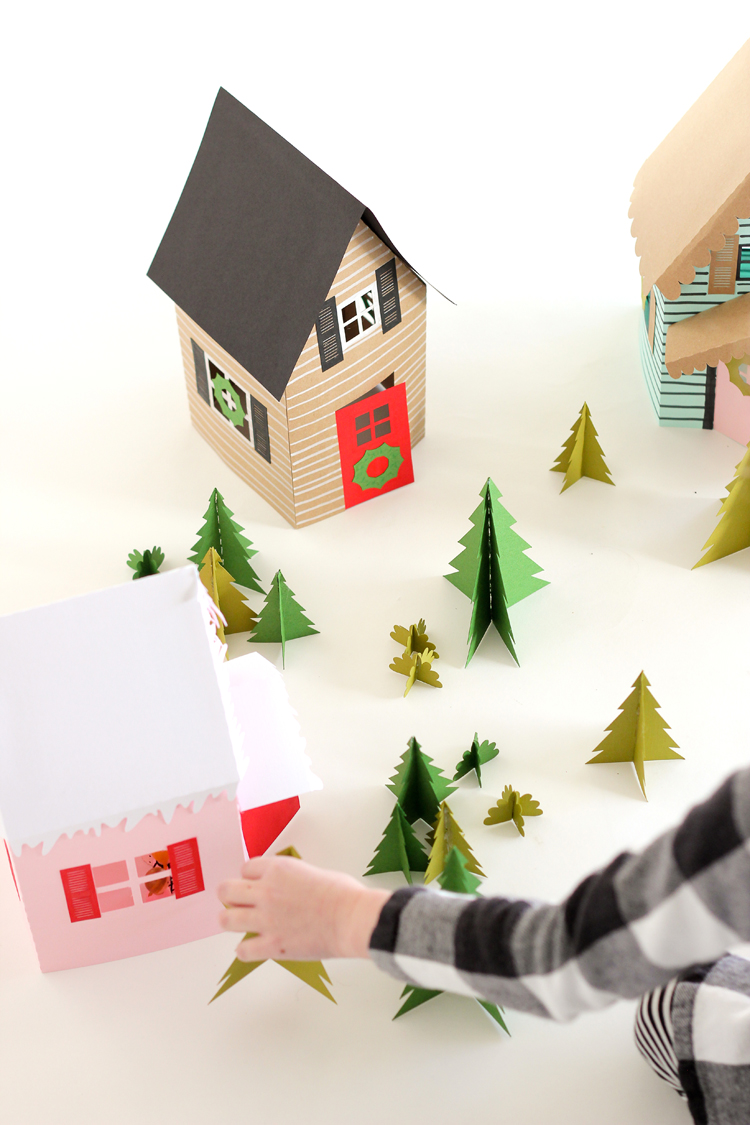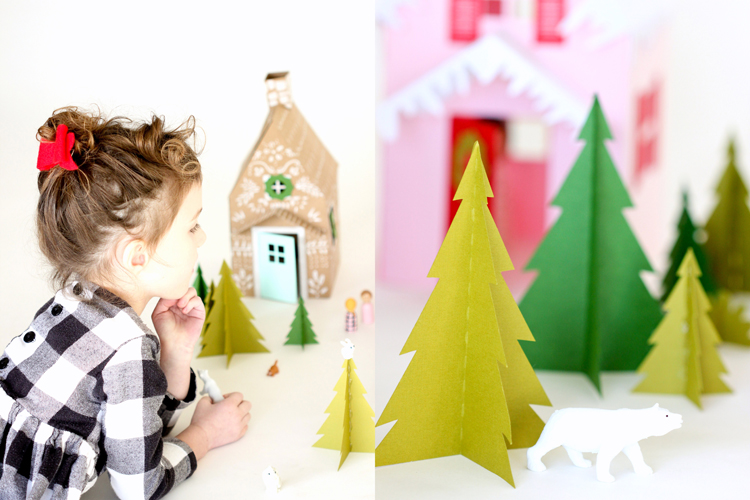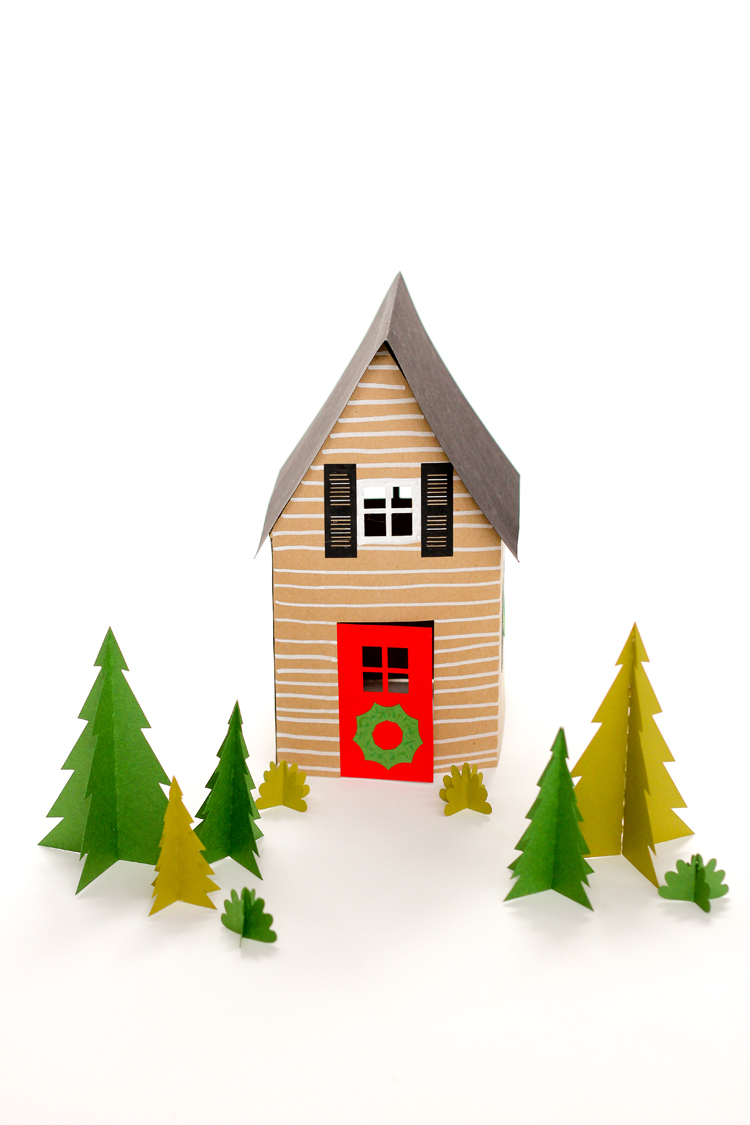 I don't know if my kids will let me get away with not doing candy houses this year, but I think making paper houses will be a fun new tradition to start, that can last a little longer and that requires a less neurotic mom presence. ha!
Disclaimer: This post is sponsored by Michaels. All content and opinions are my own.