One of my favorite things about Christmas, is counting down to it.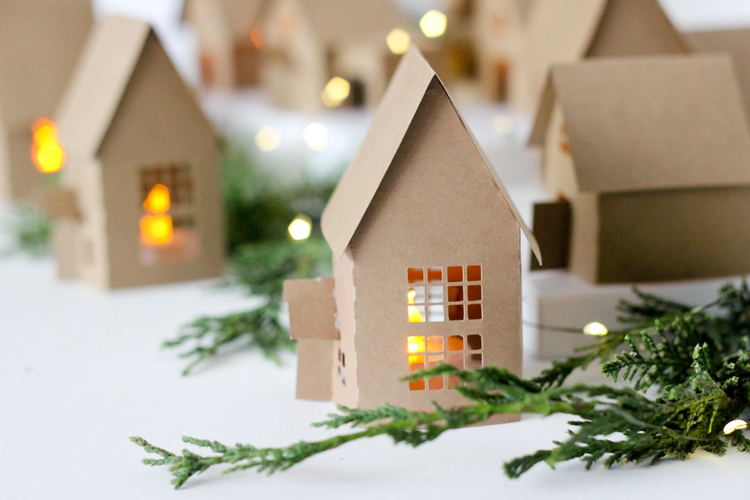 When I saw these paper advent houses from Grosgrain, I fell in love! I wanted to recreate the same thing for my house, but I needed the paper houses to be smaller. I don't have a mantle, so I'm planning on putting them on the top of my piano.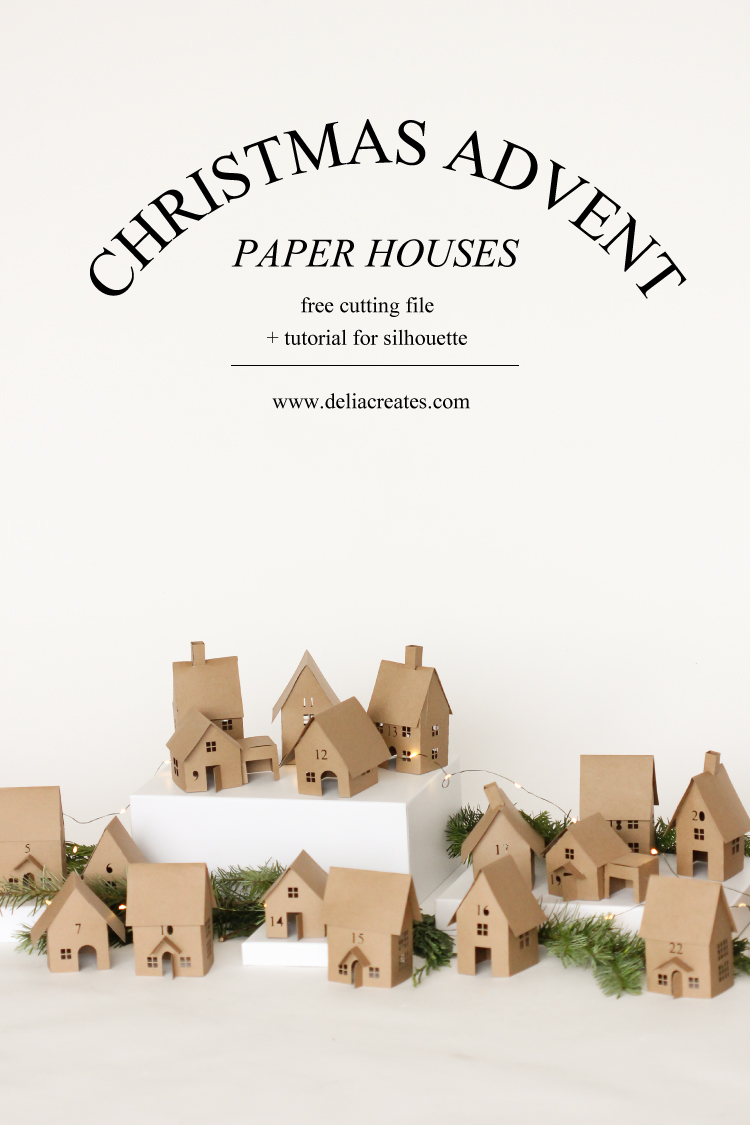 I decided to take on the challenge of designing my own paper houses using my Silhouette and I think they turned out pretty cute!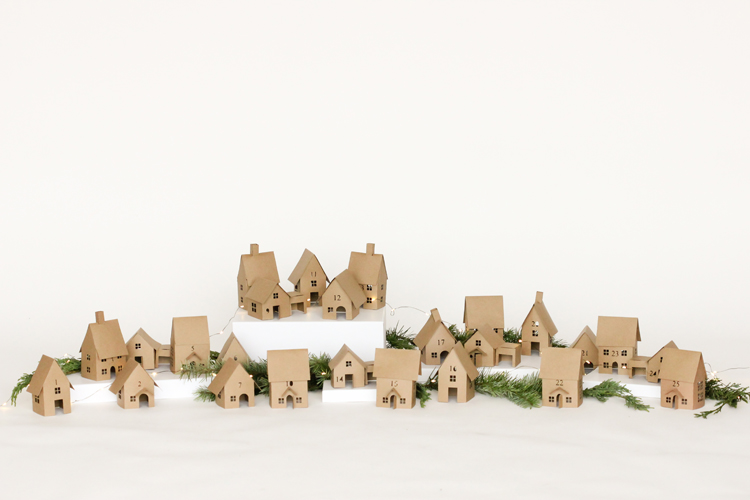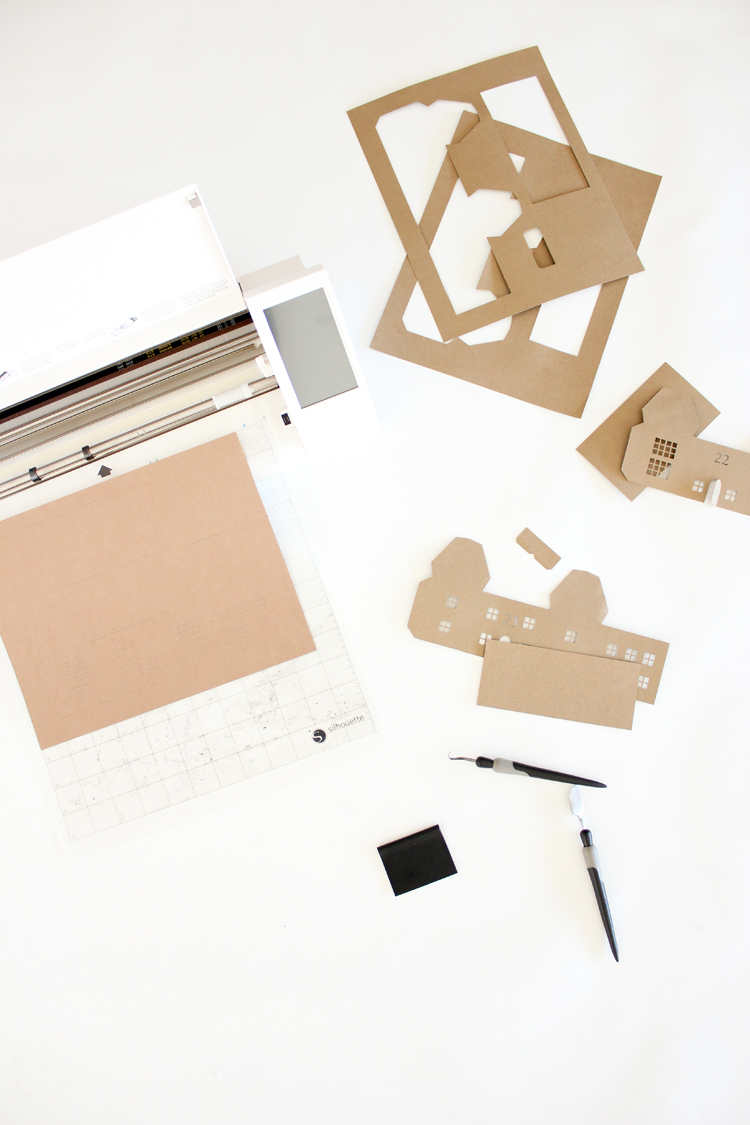 They are a lot simpler in design which makes them great for personalizing however you want. Dress them up with snowy glitter on the roofs, paint on fine details, or choose a gradient of papers in pink or green. I chose to keep things uniform, and simple in all kraft paper. There are lots of possibilities!
Plus, the cutting files are free!
MATERIALS
25 + pieces of 8.5 x 11 inch card stock paper (the extras are for contingencies)
Silhouette cutting machine and accessories
low temperature glue gun
optional: votive candles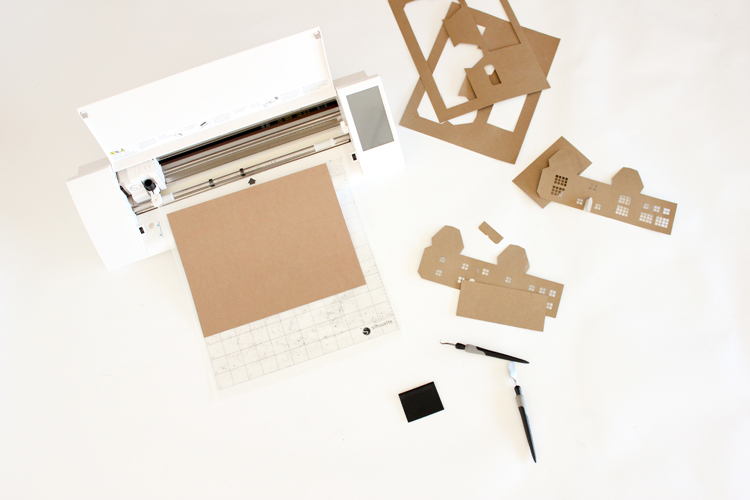 STEP ONE: Download the cut files.
Click the link below to download a ZIP file of the svg files:
DELIA CREATES Advent Houses SVG FILES
Click the links below (be sure to grab both for all 25 houses!) for zip files for the Silhouette Studio files:
DELIA CREATES Advent Houses 1-18 SILHOUETTE FILES.zip
DELIA CREATES Advent Houses 19-25 SILHOUETTE FILES.zip
If these links don't work for you, I have download buttons at the very end of this post that may work better for you. You can also email me at [email protected] and I'd be happy to email them to you by attachment. Please be advised that there may be delays in response, especially as the holidays near.
If you don't have Silhouette here is a pdf version that is similar. It only has three houses styles and no numbers, but you can easily add them yourself.
I actually designed five houses (three for the pdf file), and repeated the design five times to achieve 25 houses.
To help break up the monotony I exchanged the roofs and the little portico awnings. I have also included extra chimneys and portico awnings with the first two houses. You may need to trim some roof lines down, if you switch them up, but that is an easy fix and can even be done after gluing the roof on.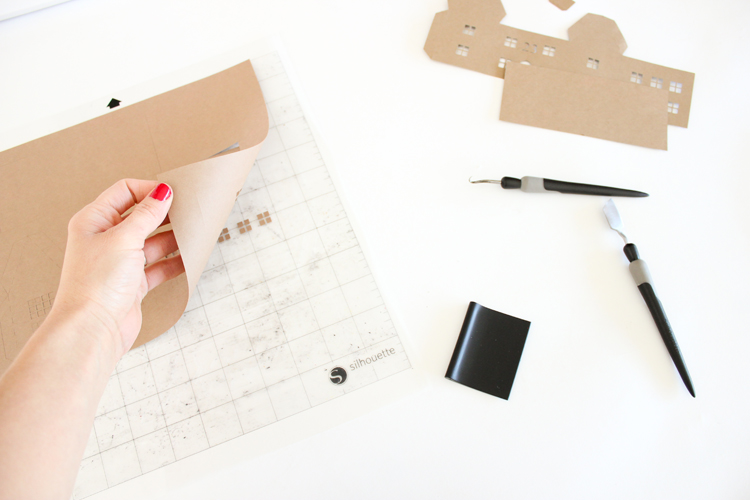 STEP TWO: Cut the files and weed them out.
The houses include the numbers already cut into the houses, so that helps save a step!
***Be sure to set your cut settings to overcut by .1 or .2. This will help you achieve a cleaner cut and will make the window weeding soooo much easier.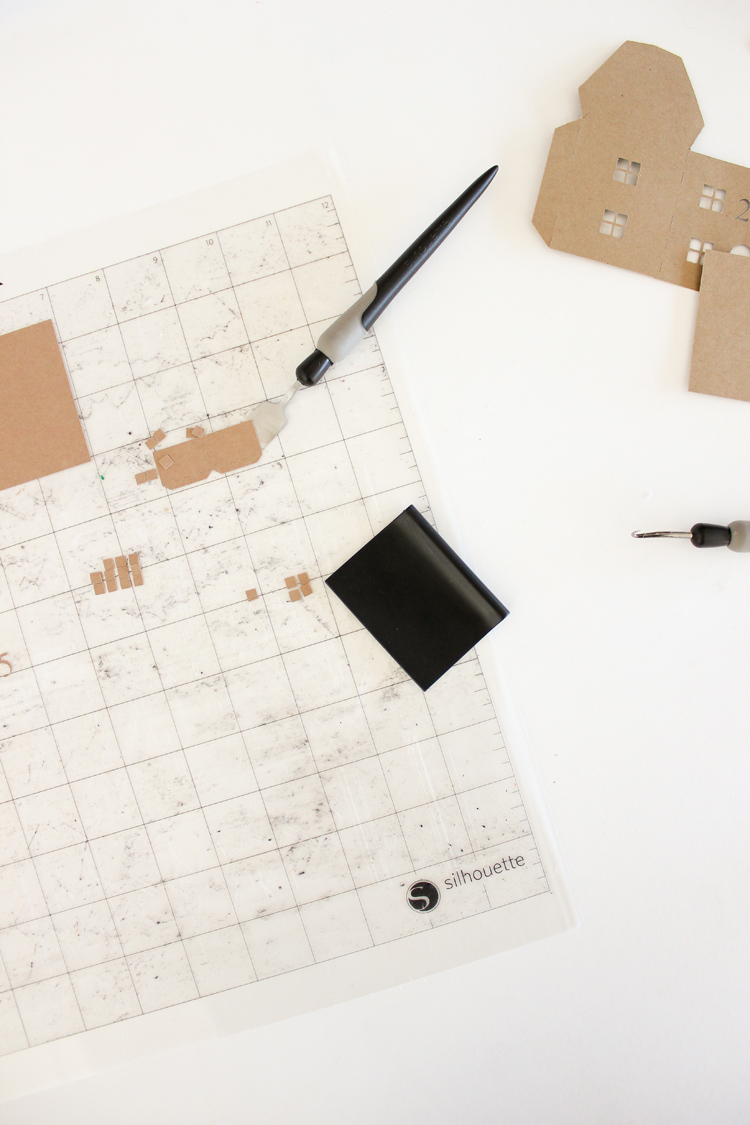 TIP: This is a lot to cut. I recommend cleaning out your blade and physically resetting the blade setting every few houses or so. I'm not sure if my blade is getting dull, but after about 2-3 houses, if I twisted the blade numbers up and down and then back to the original number I needed, it just seemed to cut better. If you run into trouble, try that and see if it helps.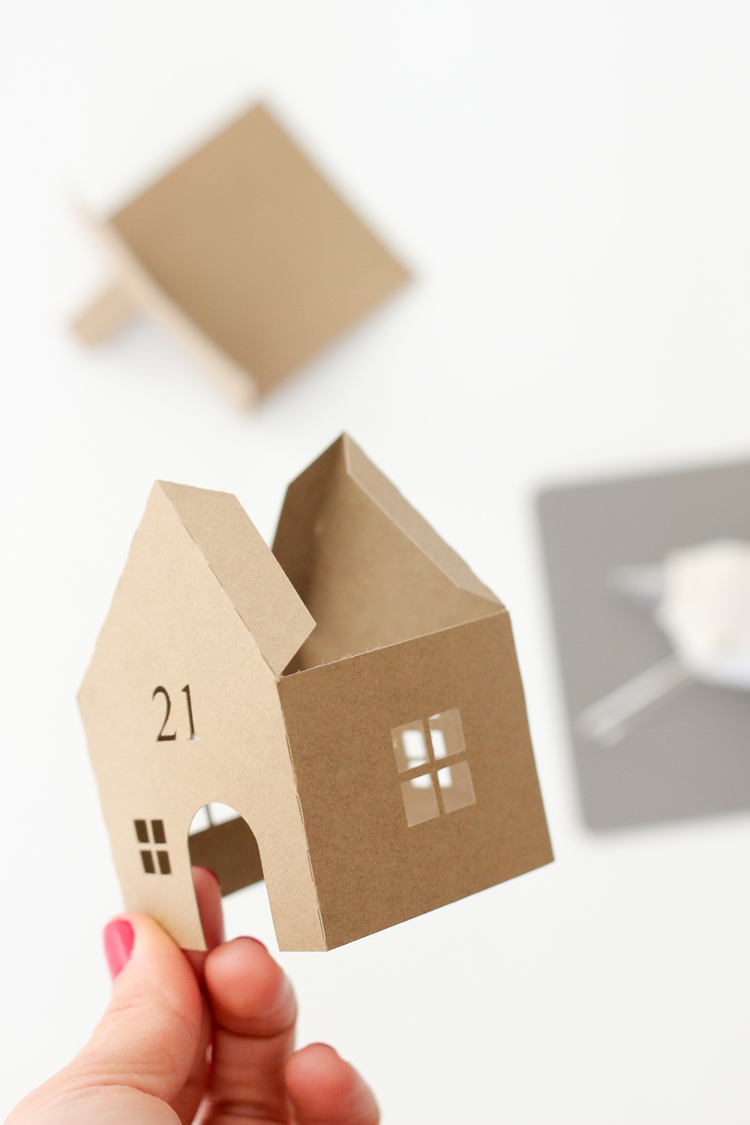 STEP THREE: Assemble the houses.
The fold lines are perforated, except for the roofs. Those are left flat, so you can have flexibility to fold them how you want. I didn't make any of my roofs asymmetrical, but with this cut file design, you have that option.
The chimney is assembled like so…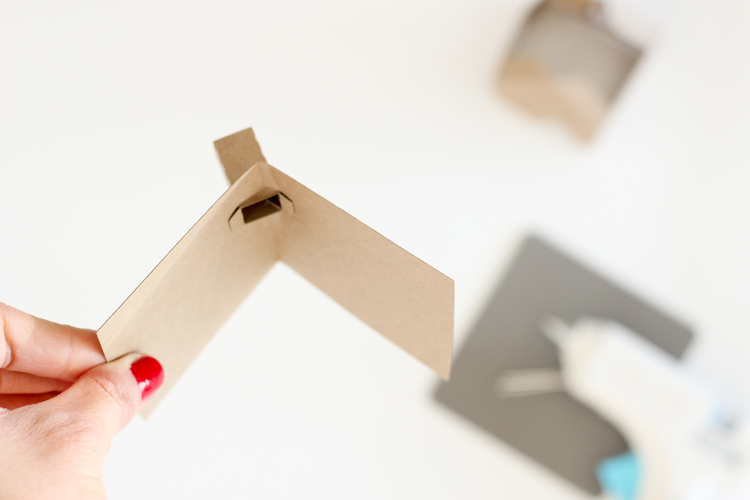 And the rest is all glued at the tabs with low temperature hot glue. Easy peasy!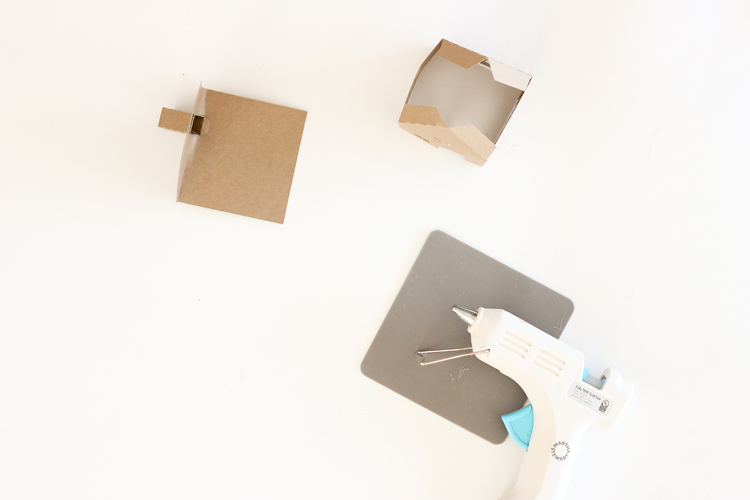 You can put little pieces of candy or a scripture verse under each house. My plan is to place a flame-less tea light under a new house each day. I'm already planning on the process being a little tedious as we get closer to Christmas, but I have lots of little hands I know will be more than happy to help! I might revert to one traveling tea light as well… We'll see how things go by the 25th. 😉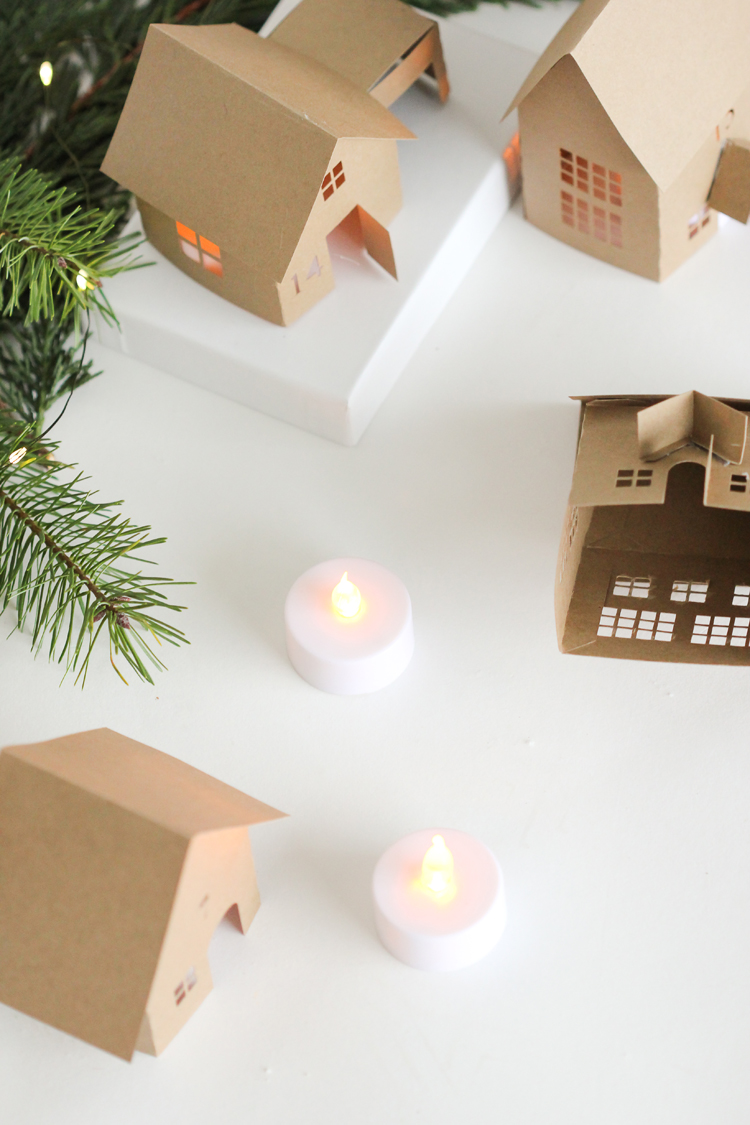 It sure is fun to see all the houses lit up.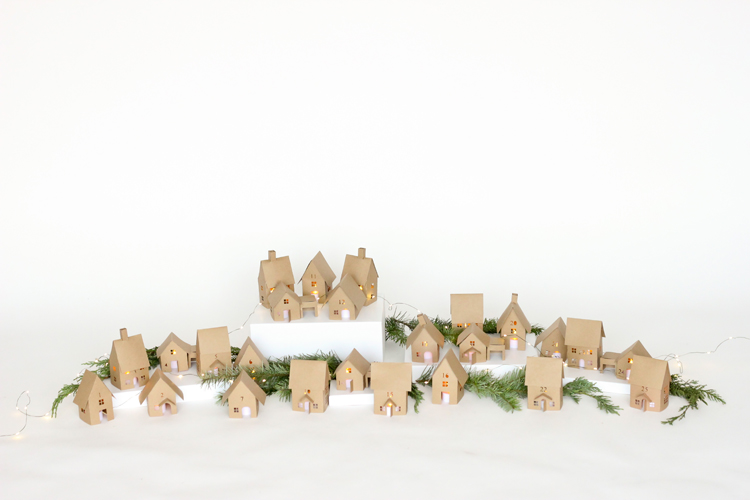 If you like a more modern house, Brooklyn Berry create cut files for THE cutest 60's/70's style paper houses. Go HERE to check them out!
Disclaimer: This post was created in partnership with Silhouette. All content and opinions are my own. Thank you for supporting the brands that help support this site!
P.S. If the previous file links did not work for you, here they are again with download buttons: