It's an exciting day in our house when a little green box…er crate… 😉 shows up in the mailbox.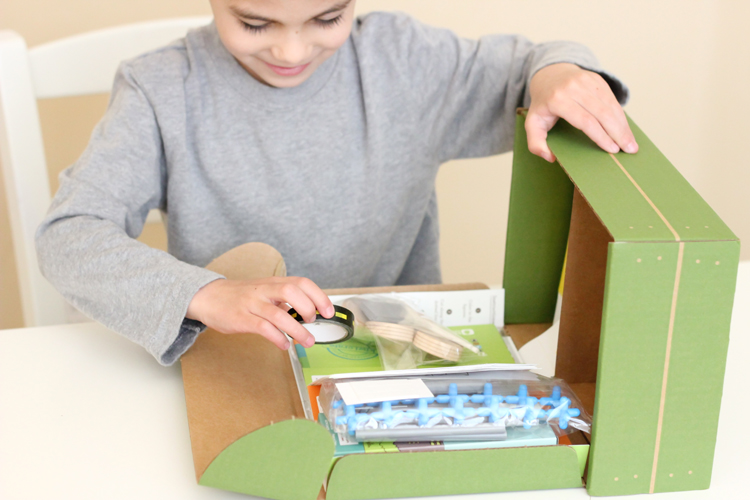 That's because that means we got a Kiwi Crate!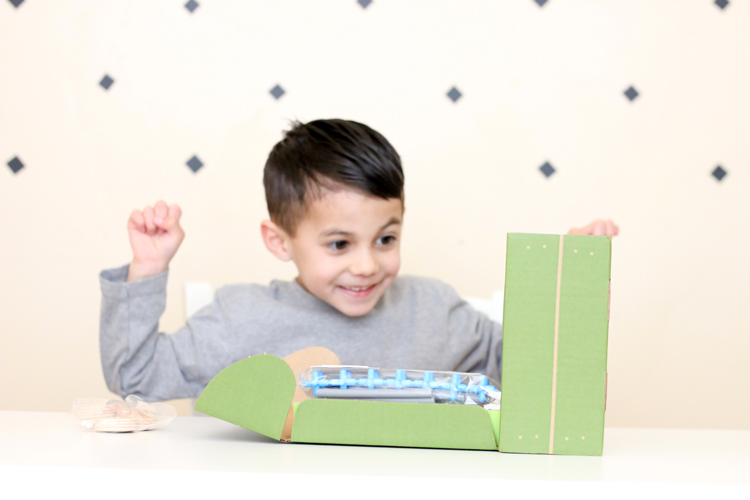 Kiwi Crate is a subscription for fun monthly crafts just for kids. This is basically how it works:
You can see past reviews I have done HERE and HERE.
Kiwi Crates are for kids ages 3-7, so Reid, age 5, was the lucky recipient of this crate and he was THRILLED!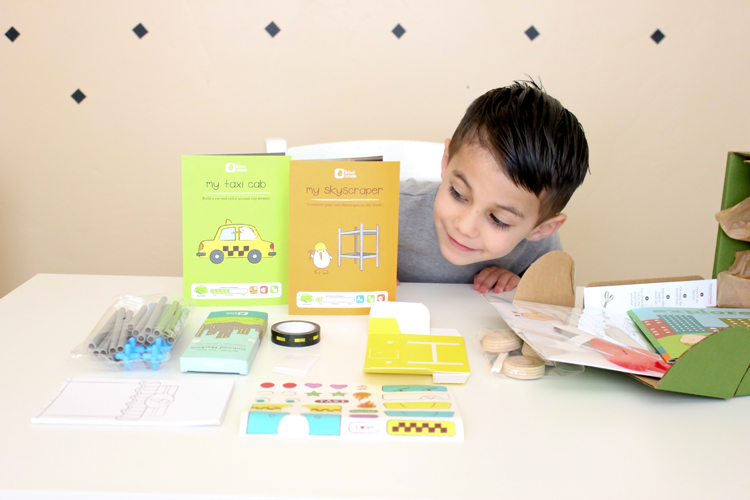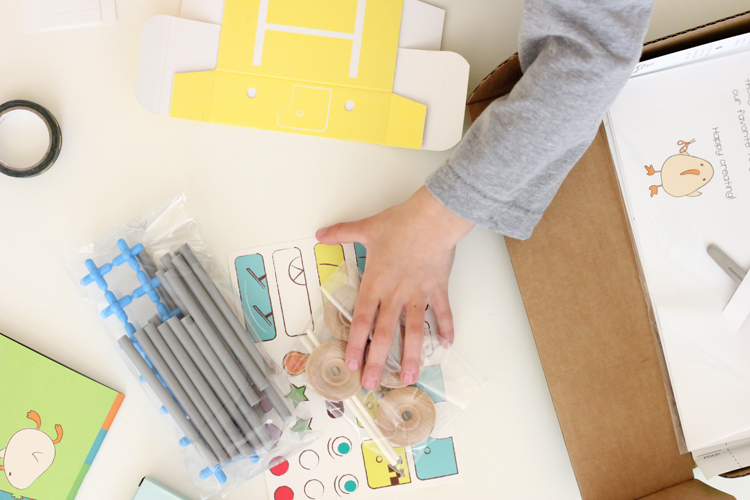 Having had several crates so far, with my kids being at different ages each time, the activities really suit the 3-7 crowd well. The activities are interesting, they're cool, and a lot different than what you will find with any kit you can find at the store.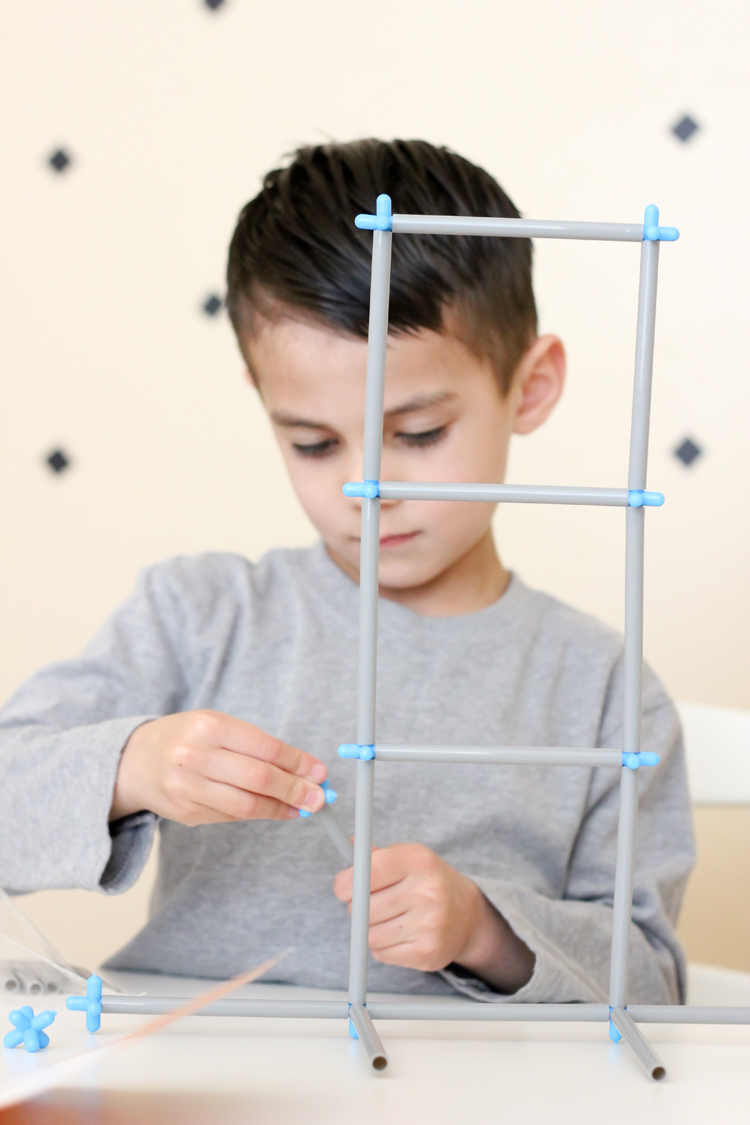 They are also doable for little hands…which is a big deal. The projects are broken down in simple illustrations which make it easy for kids to take charge of the creative process.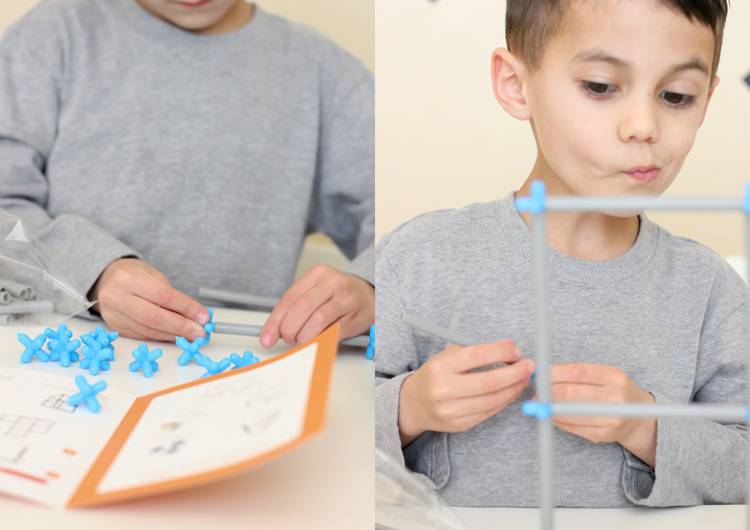 Plus, the crates come addressed to your kids, with their names on the package. They already take ownership of the project the minute the crate comes in the mail. The joy they derive from that one small detail is anything but small. 
Now, not all of the projects are totally hands off. Each crate comes with at least two projects, each one with varying levels of skill and parent involvement. Each project card shows you just how much is needed right on the cover, so you both know what to expect. It also indicates what learning skills each project promotes and what messiness factor to expect, which is another plus.
The crate we got to review this time is the City Adventure crate. It pretty much could have been called, The Perfect for Reid Crate. 😉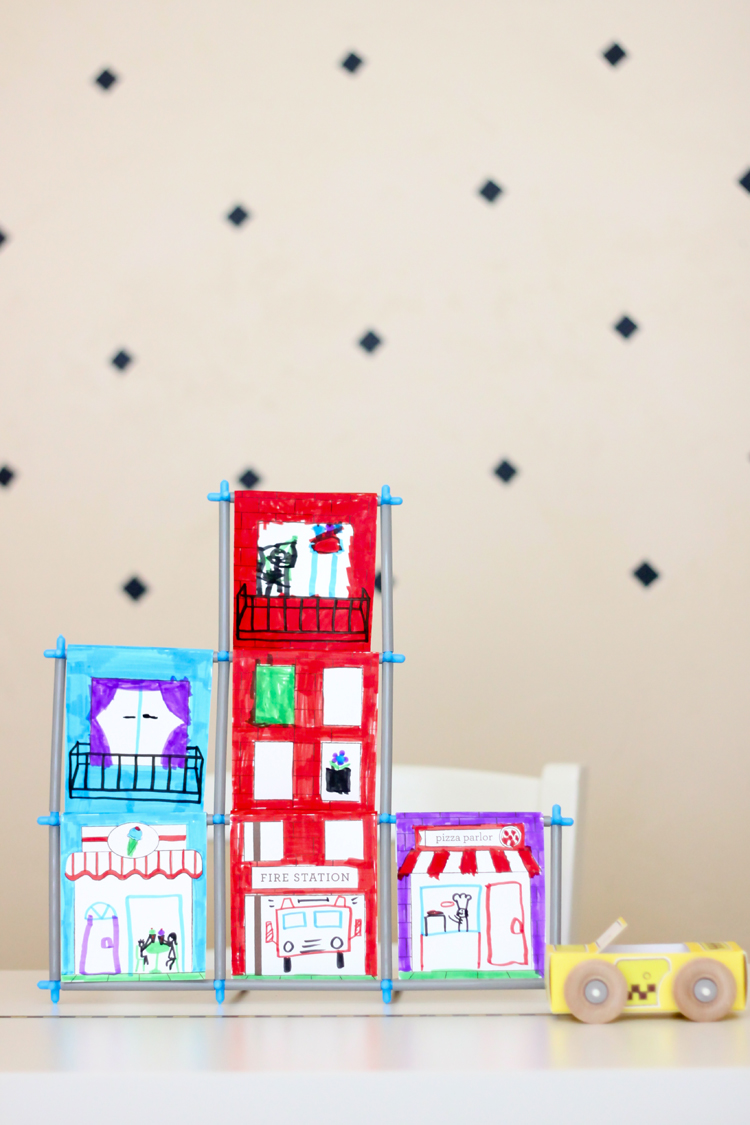 He loved every step. He really could have done each project by himself, but I sat down and helped him complete them anyway, because I just don't spend as much one on one time with him since our family has grown.
He wanted to make everything exactly like the pictures in the project pamphlets, and commissioned my help for some of the artwork. It was fun collaborating and working side by side.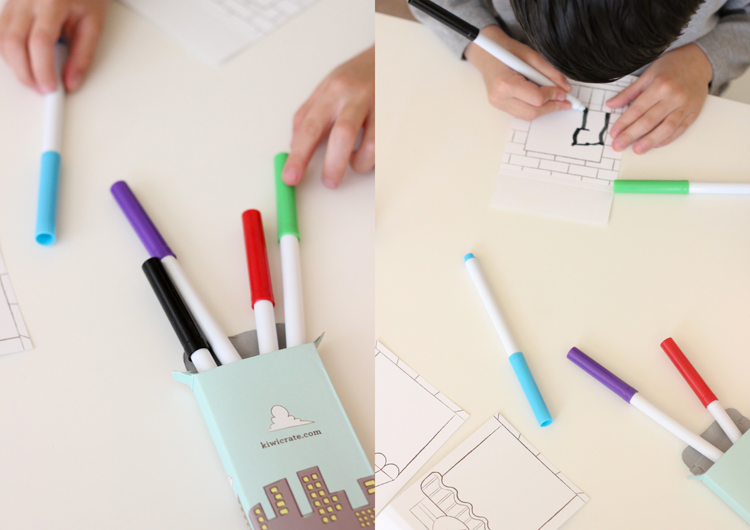 One of the things I love about Kiwi Crate is that I don't have to supply anything for the projects. No running to the store to get this or that to complete projects. Everything that is needed is included in the crates, and all of the supplies are high quality. If you get the monthly subscription, they also send little extra tools and supplies that will be used with future crates, like their favorite brand of safety scissors, which was the case this time.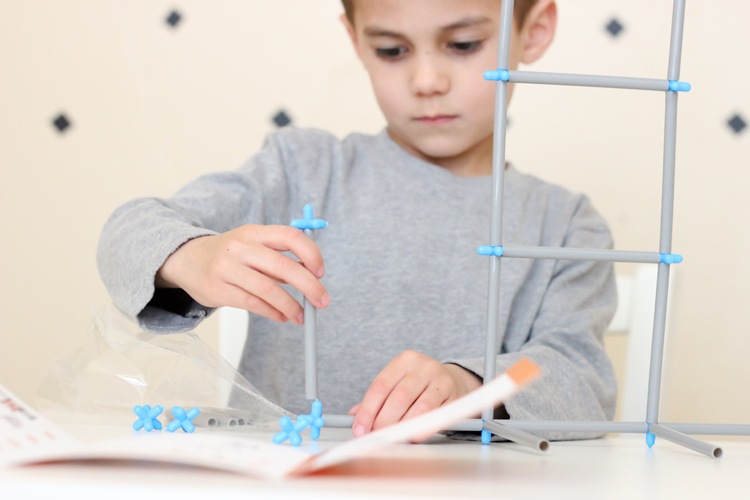 I imagine this aspect would make it great for grandparent visits? 😉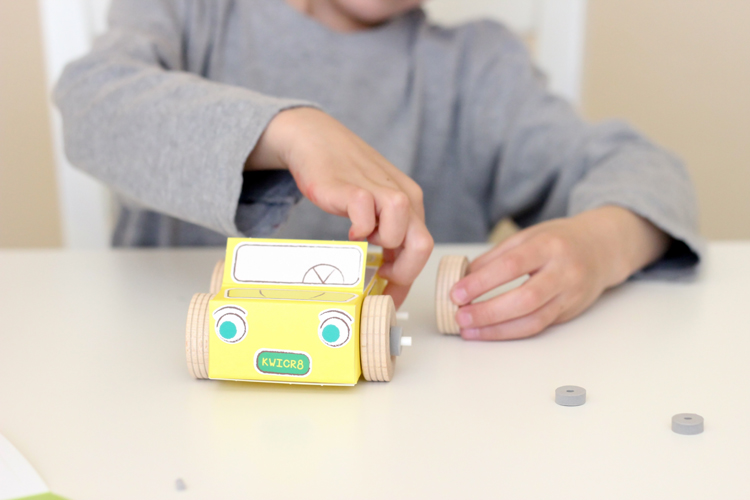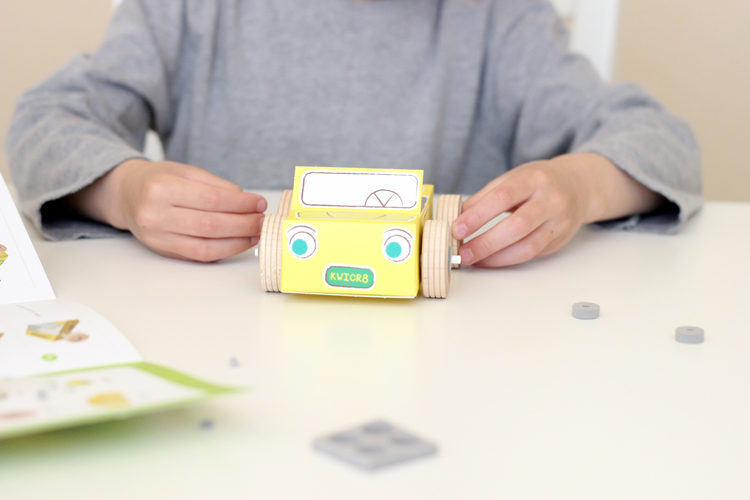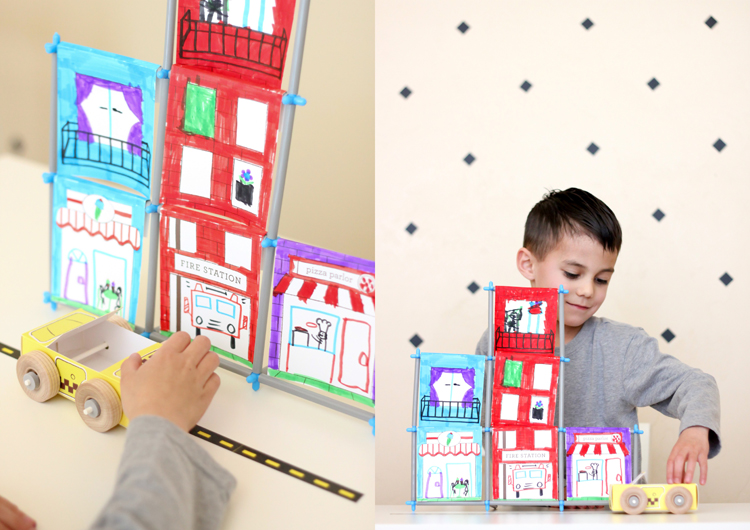 I just love the street lines tape that was included in this crate.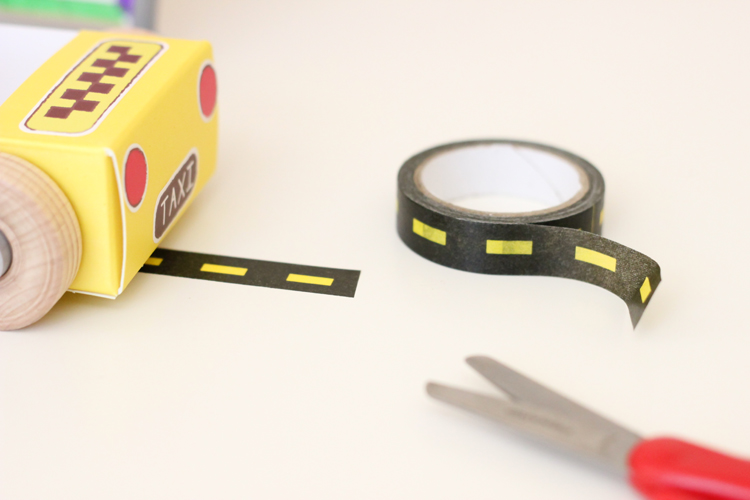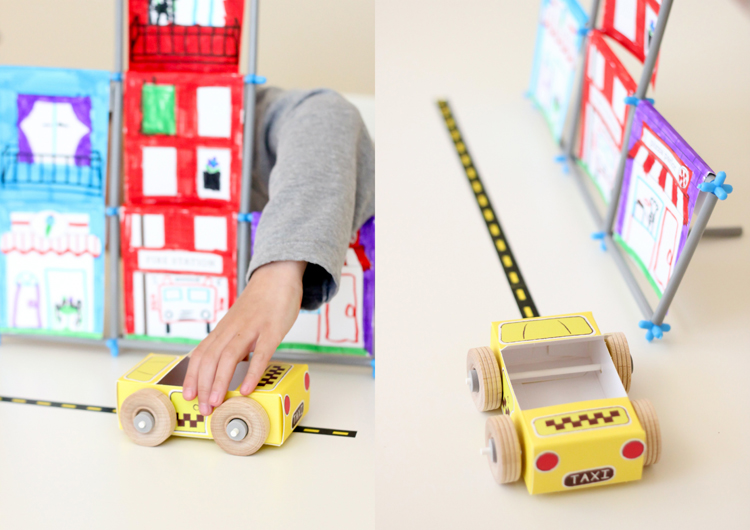 It's really washi tape so I don't have to worry about the adhesive causing a mess or damage to walls or furniture…and boy has it been all over our furniture already.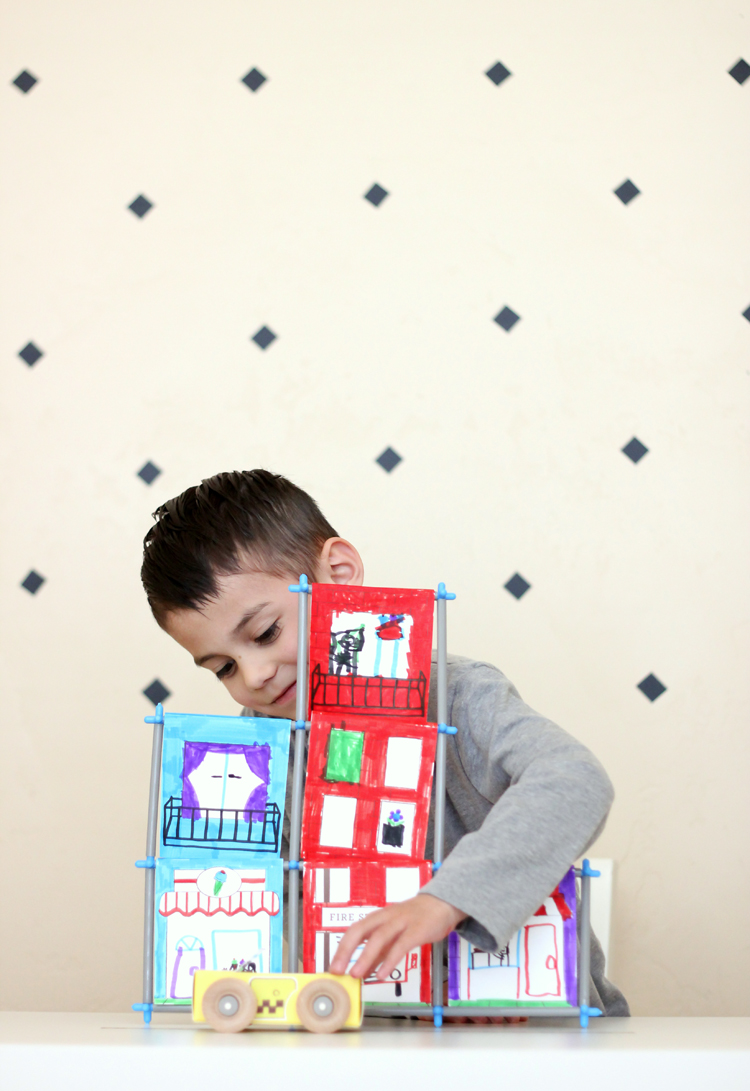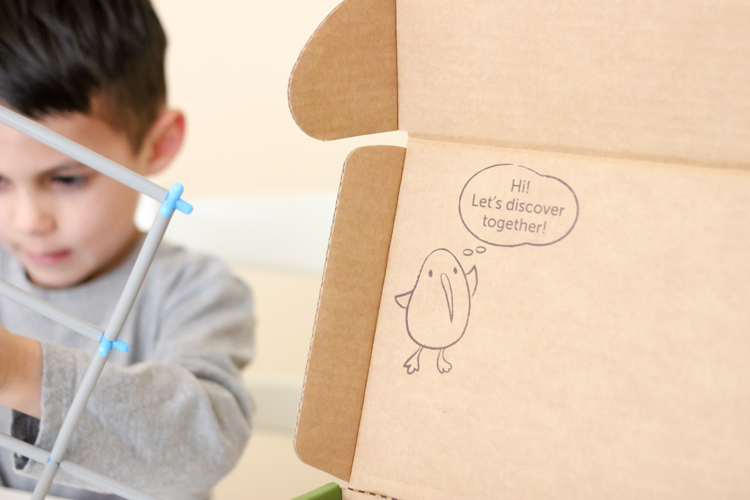 The fun doesn't really have to end with the two projects included in the crate. The crate or box itself has adorable coloring book illustrations that invite you to keep creating (there is a playground scene at the bottom of the box).
As has been mentioned earlier, you can order monthly subscriptions or individual crates that you select online. If you order a subscription, your crate comes with a cute little magazine filled with more activities and fun project ideas: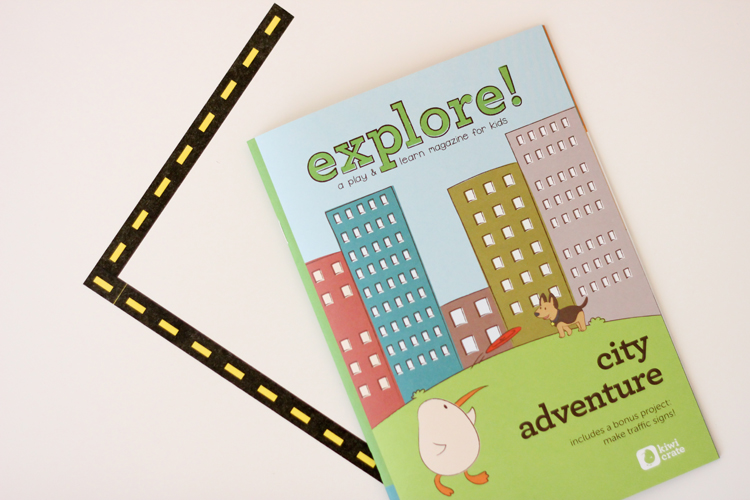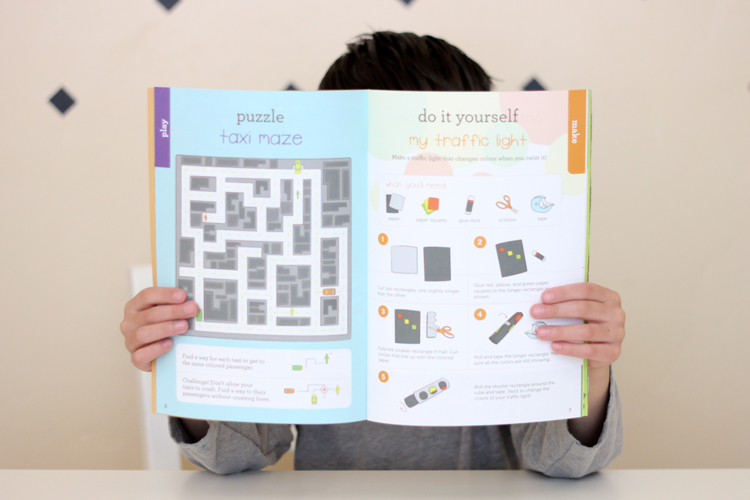 At the back of ours, there were also cut outs for traffic signs, so we added them to our city scene:
If you want to learn more, or order a crate subscription of your own, check out the Kiwi Crate website HERE. Enter SPRING25 at checkout for 25% off your first crate (excludes sibling add on). It might be a fun addition to an Easter basket. Yes? If you are not ready for a subscription they have single crates and crates for birthdays or party favors. Awesome right?
You know what else is awesome?
Kiwi Crate is giving a City Adventure crate away to one lucky reader!
Normally only regular subscribers get this crate, so that's kind of a fun bonus.
Open to U.S. Residents only. Giveaway is open now until Friday, March 28, 2014, midnight EST.
Enter in the Rafflecopter widget below. Good luck!
Disclaimer: This is a sponsored post, but as always, my opinions are honest and sincere. I take great care to promote companies I personally like myself and think will benefit you.